A Guide On How To Use LED Step Lights In Indoor Spaces
For some extra impact in your home's foyer or some more safety in the dark basement, LED step lights can help. Over the last few decades, lighting has undoubtedly come a long way, and many people no longer look at their interior lighting as a convenience but a great necessity. Interior level changes and stairways can now be enhanced by the current placement of LED lights not just for their decorative effect but as a safety measure. While a majority of homes include wall-mounted or ceiling fixtures to the stairs leading to the basement or a second story, sufficient lighting at foot level is a crucial consideration for anyone with vision problems in addition to anyone who is mobility impaired. Step LED lights now increase the safety quotient and supply instant convenience in addition to dramatic accents.
If you are wondering how to use LED step lights in indoor spaces, then there is a lot that you need to know regarding the same. When it comes to using these lights, the first thing should be deciding where you would like the lights to go. Moreover, you can find a great variety of all types of LED lights on https://www.brightlightz.co.uk/decorative/led-rope-lights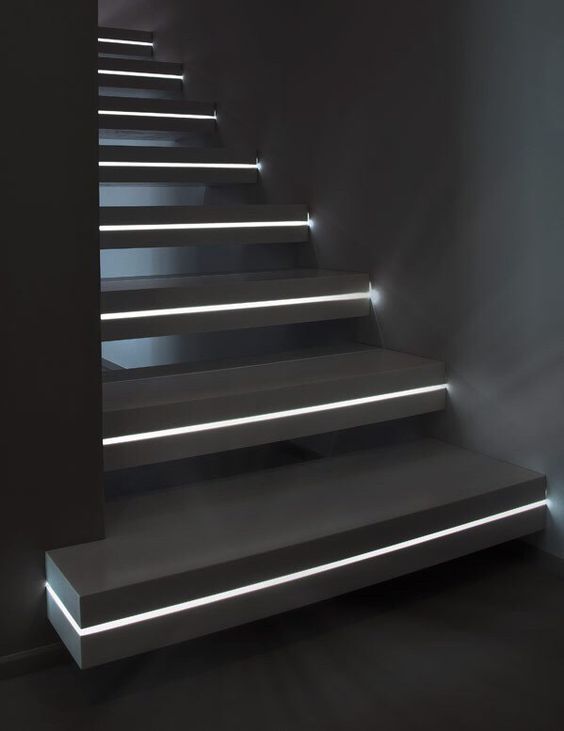 3 Essential LED Step Lighting Placement Options
On the Step
If you are looking to have a subtle accent in every step you make to your basement or up the second floor, you could install LED lights within the tread (horizontal) or the riser (vertical) portion of the step. Your stairs will definitely have some more impact, but these lights will not have a significant effect on the overall brightness of your room. During installation, it is not necessary that a light is placed on every step, but you will want to have them spaced in a manner that there is a general glow created without the presence of dark spots.
When installed on the tread, the LED lights should be located on one side or at times alternating as you go up the stairway. And when the lights have been installed into the riser, they should be centered. Tread lighting tends to give your steps a runway-like appeal whereas the riser lighting helps illuminate the center section of your stairs. For open steps, there is usually the option to install a light on the lower side of the tread, therefore, shining some light on the step beneath. Installing lights here means that some portions of the steps will be cut to set as well as hardwire the lights.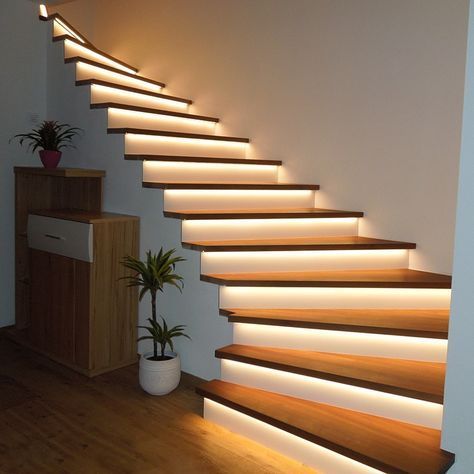 Beside the Step/On the Staircase Wall
This is another common LED step lighting option that will add more brightness to your home's overall level of lighting. In this case, the step lights are installed on the wall next to your staircase so that the LED lights will cast beams directly onto the step onto which you are walking. And since you will not be mounting these lights on the surface of the step, you have some more artistic freedom left for you to exploit. These lights must not be drilled into the wall, and one could have them a little flashier if they wanted to. It is recommended that you install one light after every three steps. However, you could as well play with this number depending on the level of brightness you want to achieve on your staircase.
Click here to get these stair lights
Under the Step
If you have a floating or open staircase with no riser between each successive stair, you could also use LED step lights underneath every step. The appropriate low-profile lights are going to make every step appear to glow. And based on the structure of the flight of stairs, you could install your lights in two ways:
Round-mount or side step lights on each side of your step for a bright look.
Run some linear LED step light fixtures through the bottom of every step for a more polished and bolder aesthetic.
After deciding on the placement options, you can now proceed to determine the kind of LED lights you want to use and here are the possibilities.
What Kind of LED Step Lights Can You Use?
Recessed or Surface-Mounted
Do you want the Led lights to be flush to the wall or step or would you like them resting on top of it? If you will be installing the lights within the step, the best way to go about it is to have them recessed lest you could trip on your way up. For the lights that will be installed on the wall beside each step, the distinction is upon you to decide. At times, recessing LED step lights into a wall creates a sophisticated appeal, but if you have selected fixtures which make a bold statement on their own, you could mount them on the surface to draw more attention.
And based on how low-profile the equipment you will be installing below the floating steps might be, you might want to recess it. People do not like the view of bulky fixtures protruding like a sore toenail for a minimalist design. However, if your steps are thin, you might find it hard to tell the difference when they are laid under the steps.
If you attach lights to the railing, it could be challenging to recess the lights in such a limited area. In such an application, it would be easier to use thin surface-mounted lights that are tucked away from your sight.
White or Color-Changing?
Most of the step lights that were used in the past only provided cool or warm white light. While this might be the preference for those who prefer to have their houses illuminated with one color, the modern-day LED technology presents a change in the lighting game. With LED step lights, you have more color options than ever before. And the beauty is that when you go for color-changing LED tape lights, or a color-changing step LED light kit, you could play with an array of hues when trying to create your perfect staircase lighting scheme.
There you have it. Go ahead and get those LED step lights today for a new look in your home.