A 3bhk Apartment Giving Subtle Visuals With Colourful Interiors | Aakaar Interior
A little sneak of our latest project at Avadh Carolina in Surat city. Each project is a reflection of our trust we have with our clients. When we first met our client, they told us "we need a home that's beautiful, functional, and reflects who we are." Initially, while we met for discussions they were firm on their decision of less usage of wood or any wood texture and asked us to avoid as much as we can, thus keeping in mind their requirement we tried our best to fulfill it.
Visit: Aakaar Interior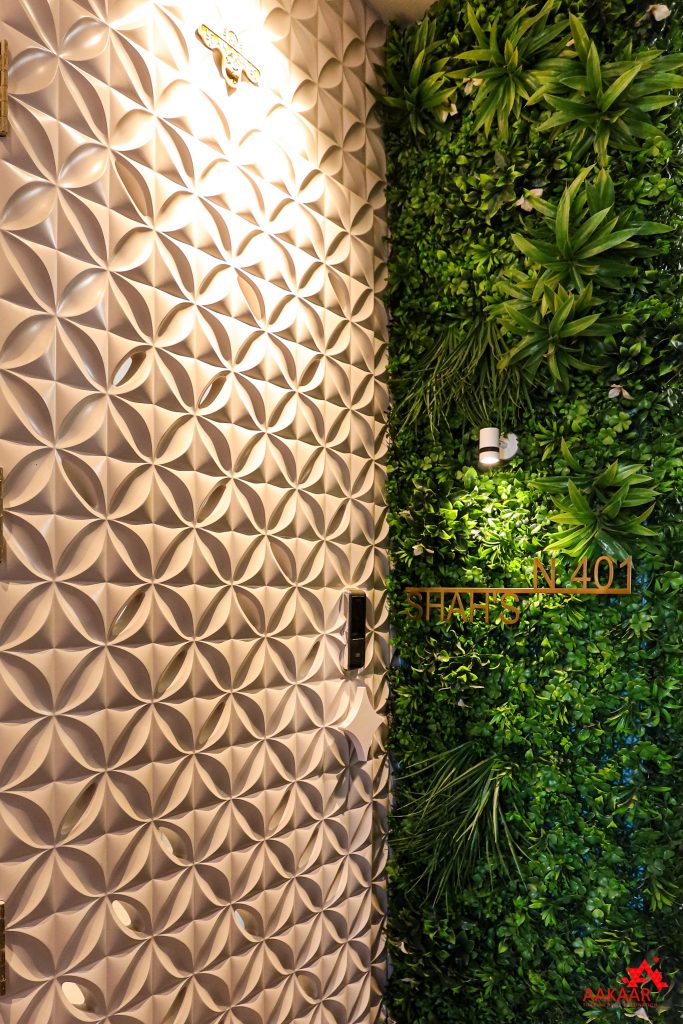 The entrance of the apartment is designed with a particular motif in three dimensional. The jali of the door is also set in the same design as the main door, highlighted with a green wall with a brass nameplate on it.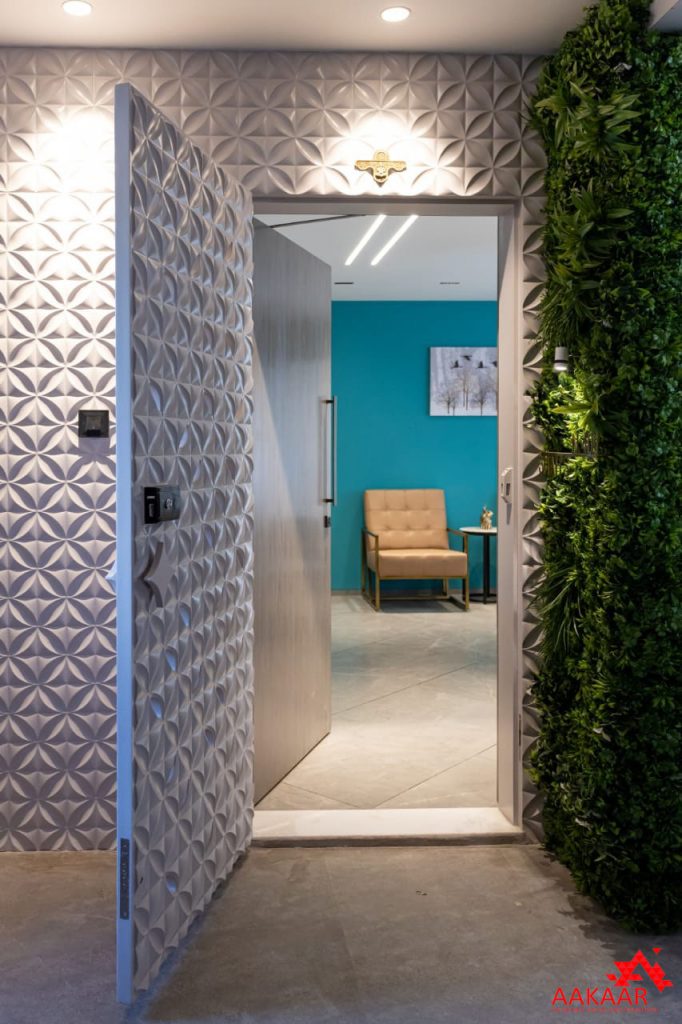 Serious is a word that should be entirely avoided when it comes to decorations, hence the living room welcomes you with a Teal color – a more sophisticated version of turquoise. To make it attractive we selected the sofa texture contrast to it which is appealing also there is a corner bar unit with a 3D design on the doors with white color on a background of the teal wall is the eye-catching visual while entering the main door, designed to create the coziness, relaxation and enjoyable atmosphere which is required in a living room.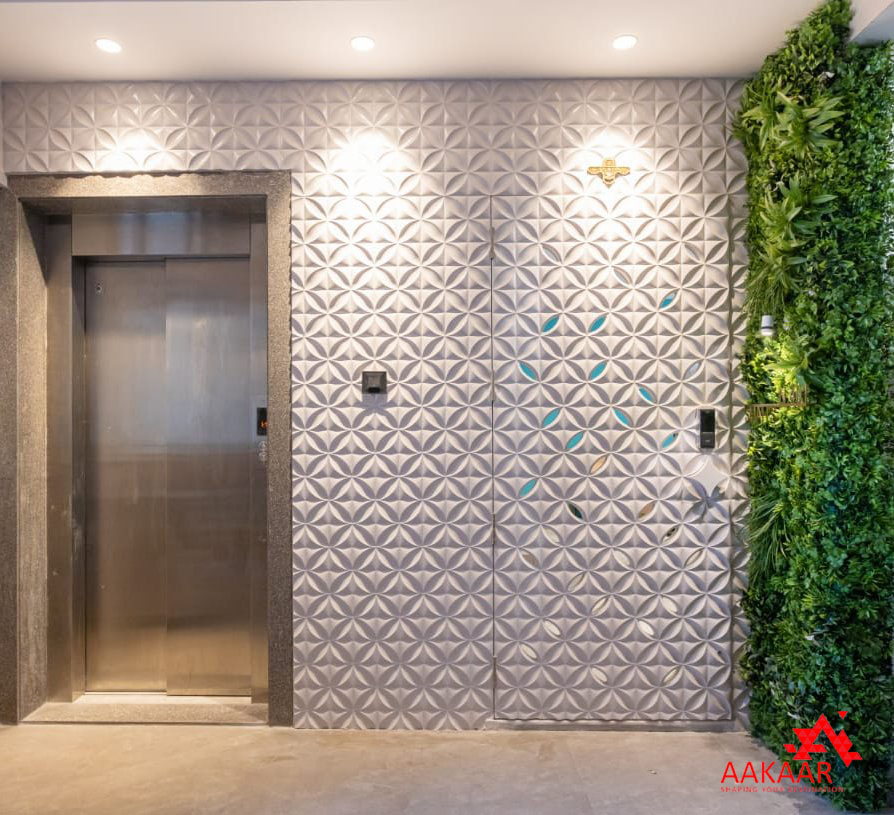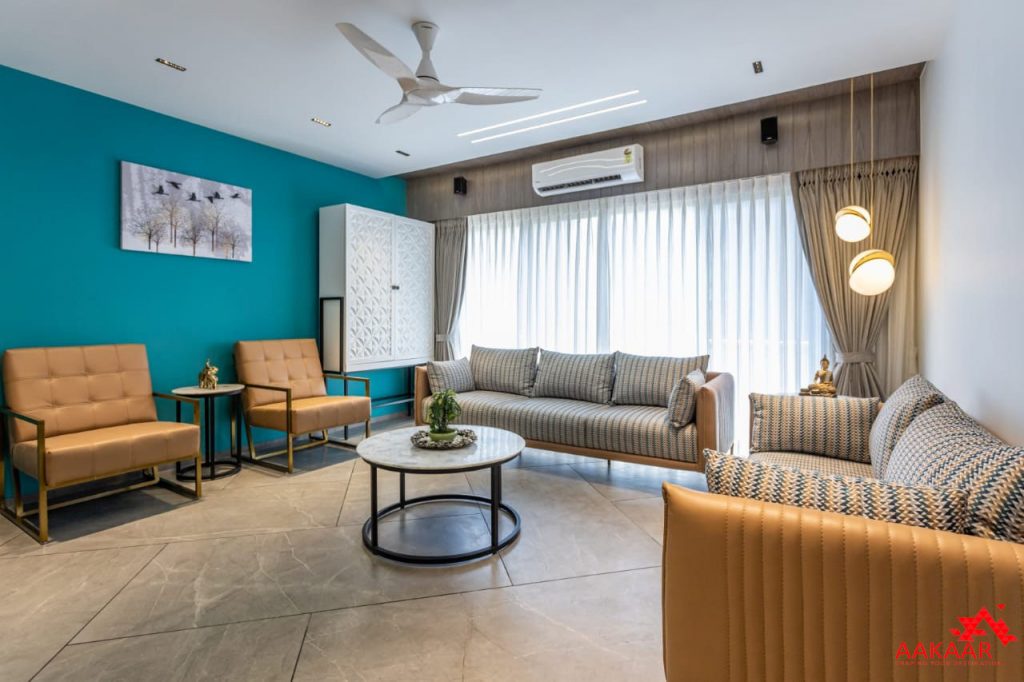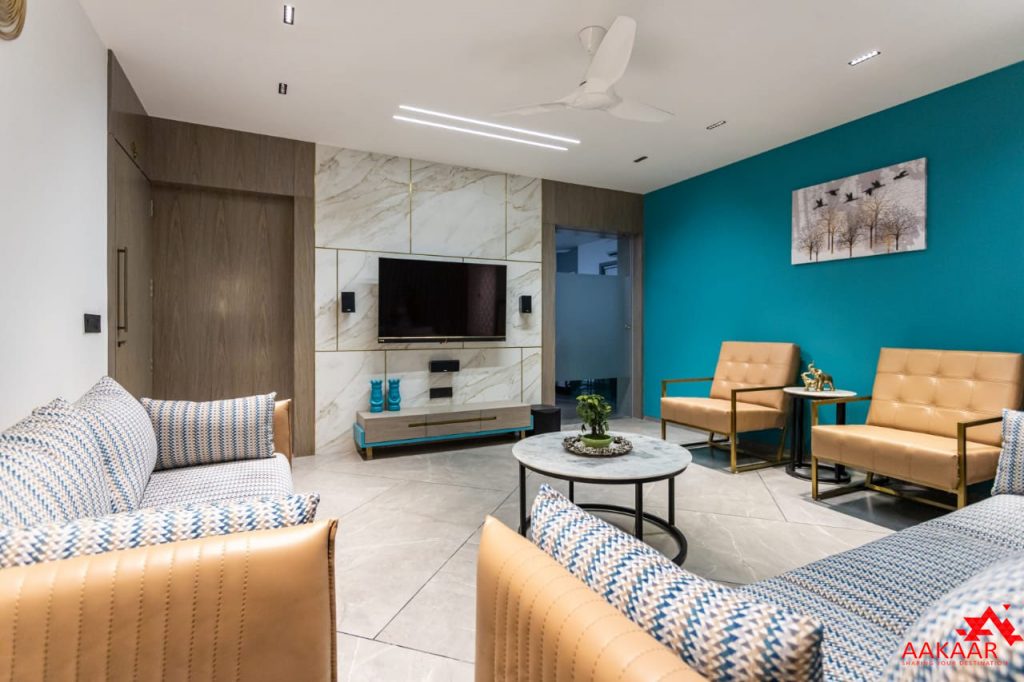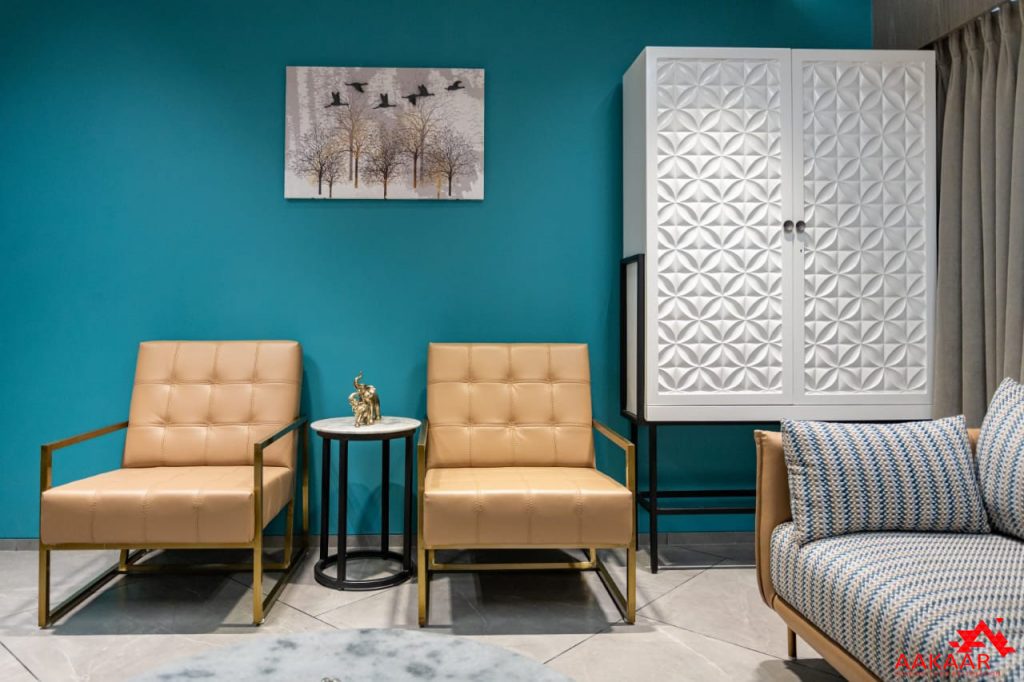 The kitchen and dining have been designed keeping in mind that Mrs. Shah is a top chef in our city and everything is designed according to her convenience, as that's what is important in a kitchen – is fun food and life. Sleek units in the corners are provided for aesthetic purposes.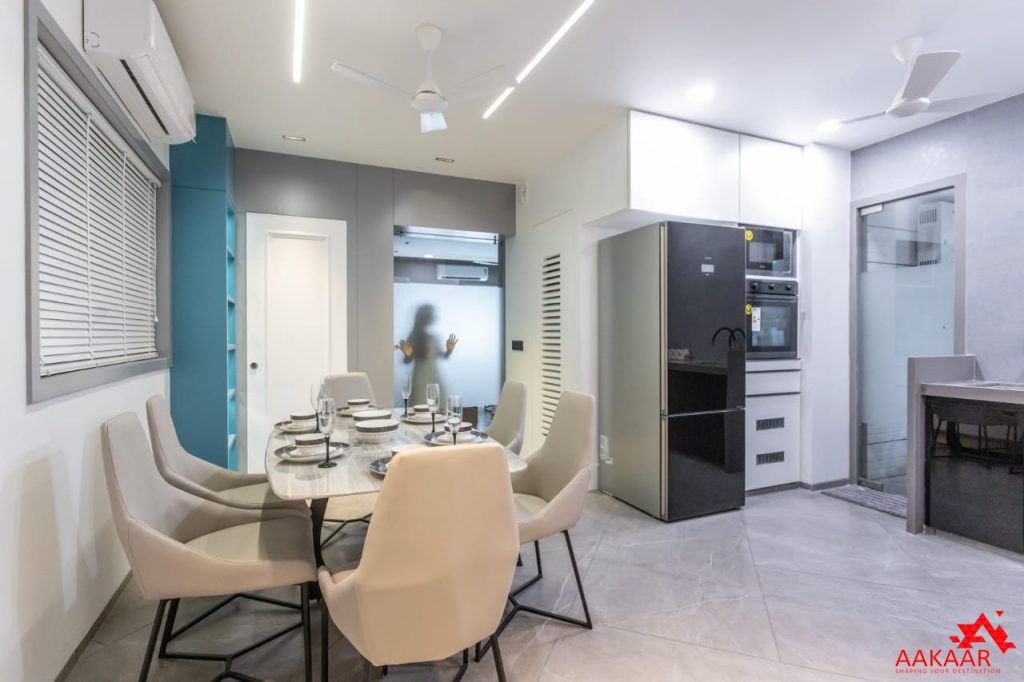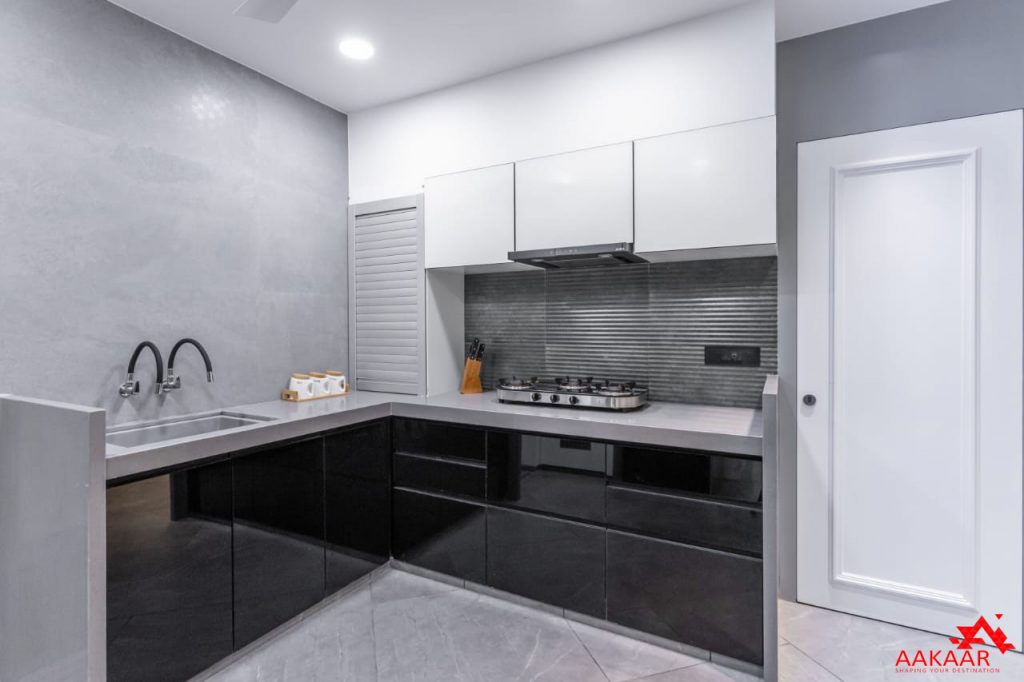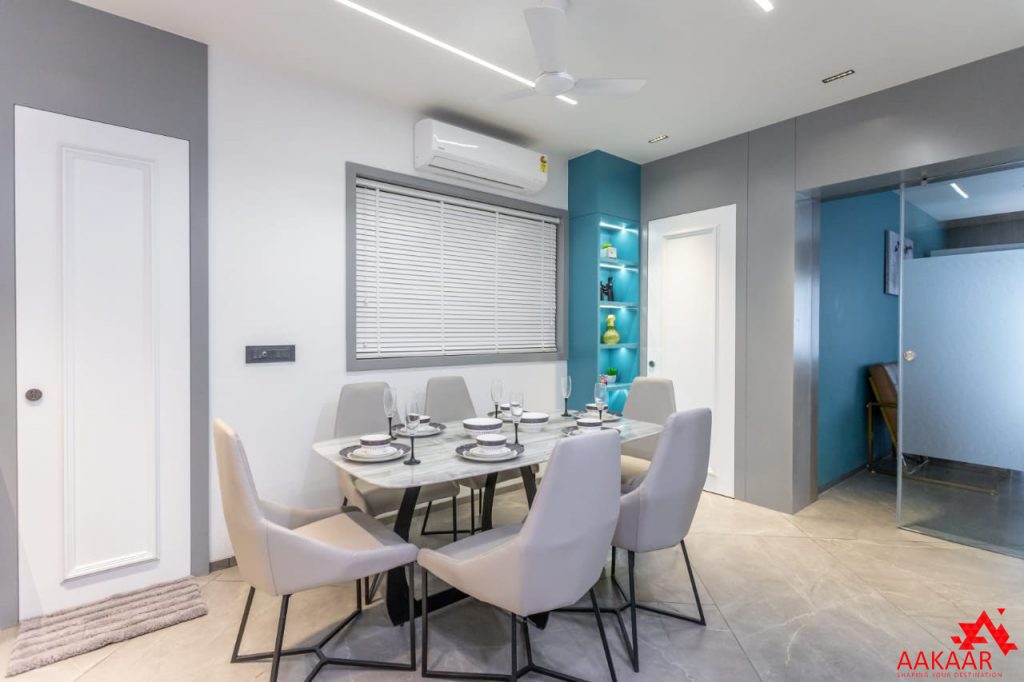 The Master bedroom with a concrete textured wall along with the green suede fabric bed is a perfect vibe that mimics their personality. The oval mirror on the wall with the light is provided on one side of the room for them. The room is designed with a particular shape 'OVAL', that reflects on each furniture like Bed, T.V unit, side- units, and dressing mirror. The brass finish material is used in the wardrobes of the master bedroom to give a luxury touch in it.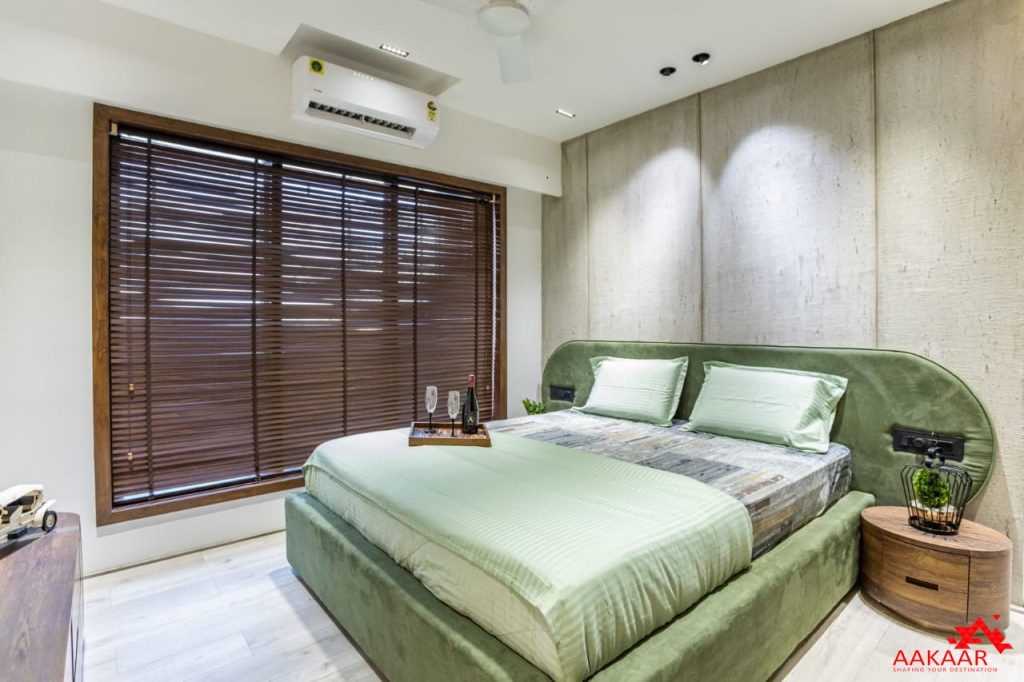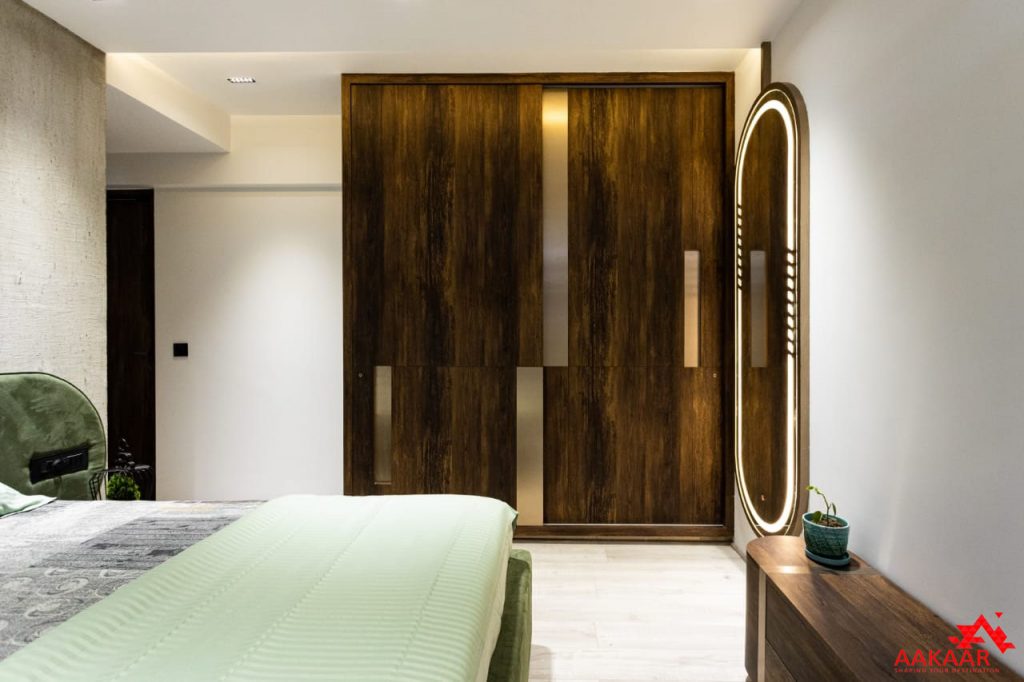 Coming to the kid's room, perfectly balanced with each element and shades of colors used for the calmness at the same time to make it interesting we have used bunny kids chairs, cheerful curtains, and wallpaper to create a child-friendly environment. The kid's wardrobe is designed according to their needs by giving proper storage of their accessories overhead units and also big niches with backlights to highlight their toy storage along with it. The handles of the wardrobe are with smooth and curved edges in bunny ears shape so that they don't hurt the little one.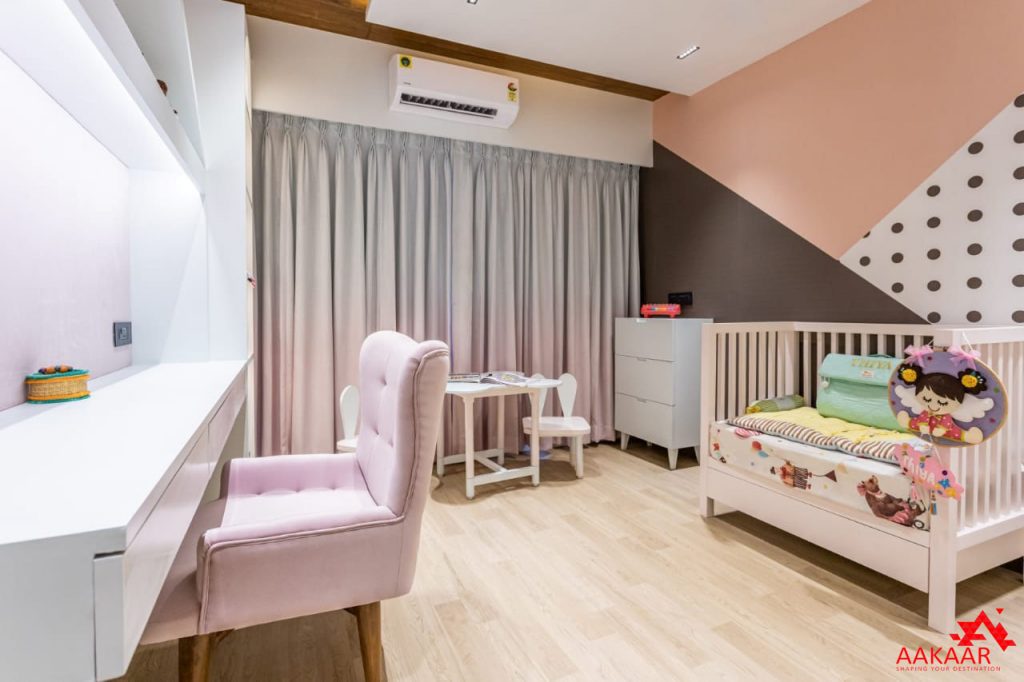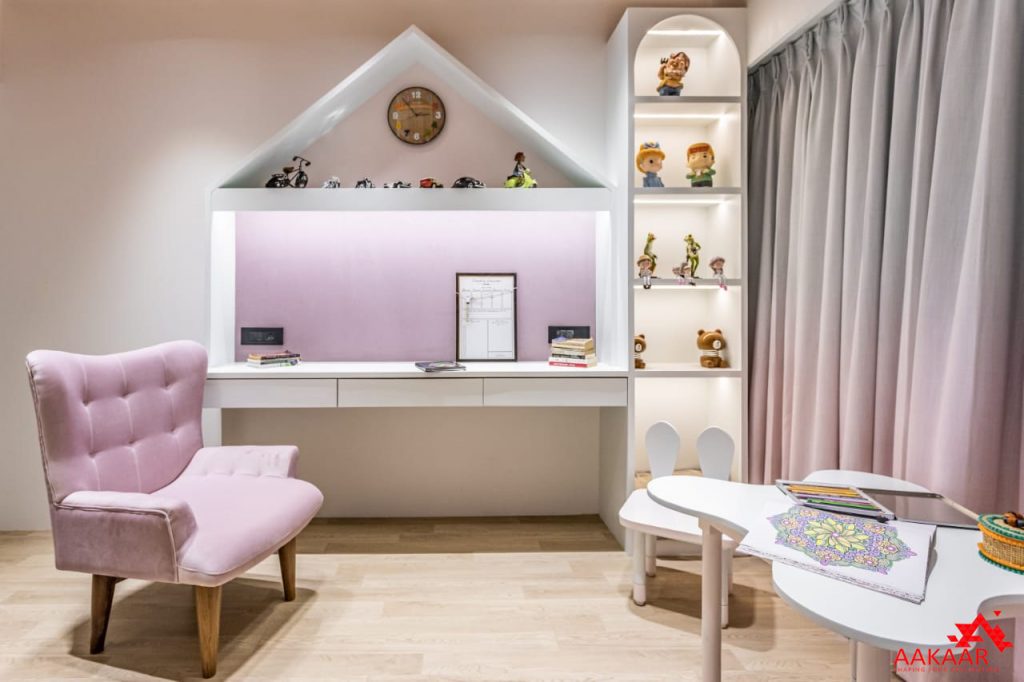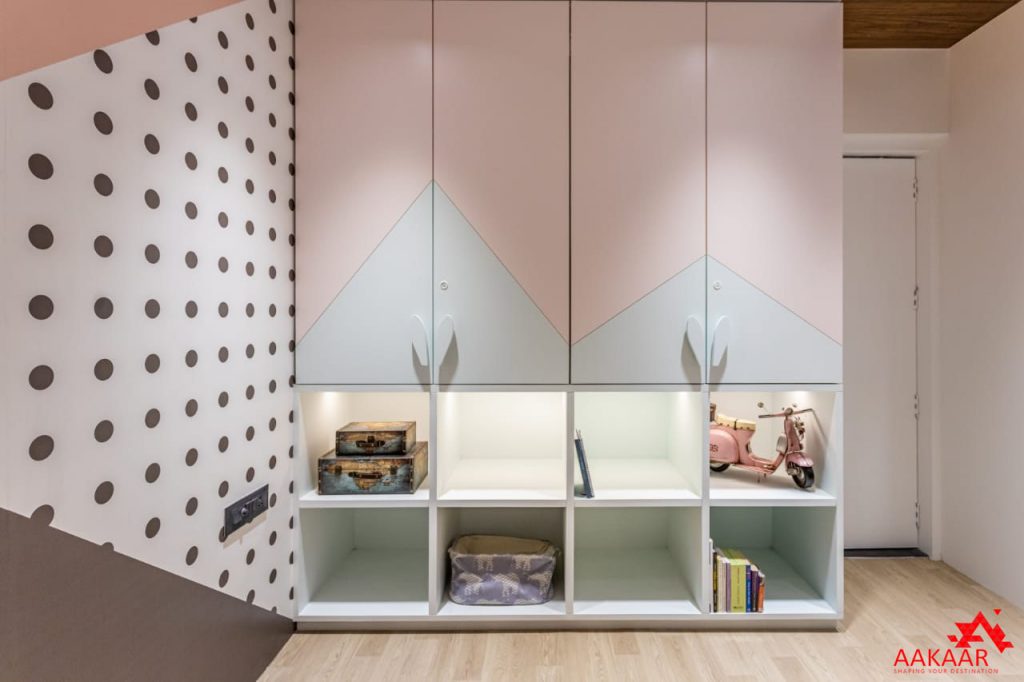 The guest bedroom is all about the color pallet – grey and yellow which breeds happiness. As the room is small highlighting the furniture with minimal use of shapes and materials was kept in mind. Vertical grooves on the back wall of bed and wardrobes are provided to define the height and space of a small room. Concluding on the basics of designing which our firm keeps in mind, less is more. The texture is essential, as well as scale.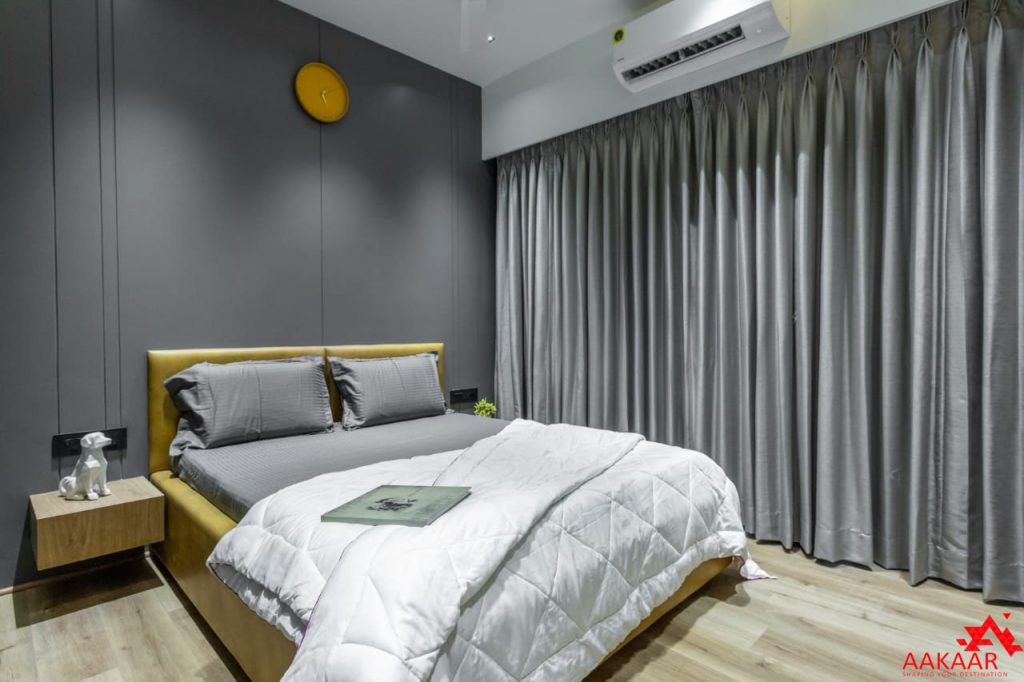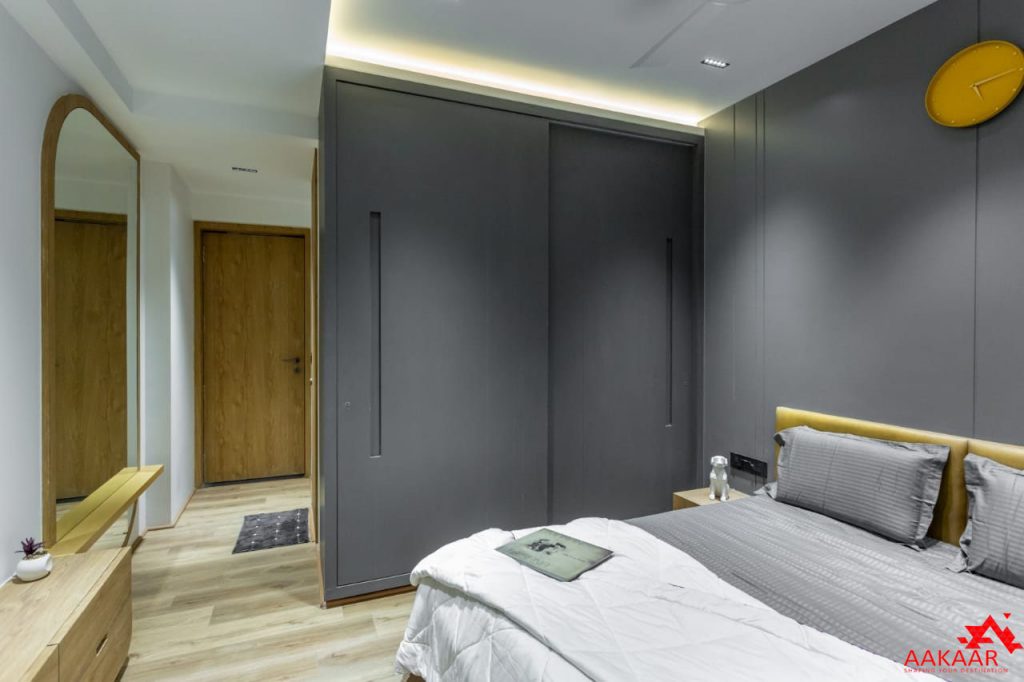 "Aakaar has really put our dreams into reality- Says Client. We had a vision of colourful and vibrant home with good vibes and they understood our needs so well. Each and every corner is designed beautifully and taking care of all our needs. Each detail is executed with perfection. I was really very sure of what I wanted and I have finally got that space."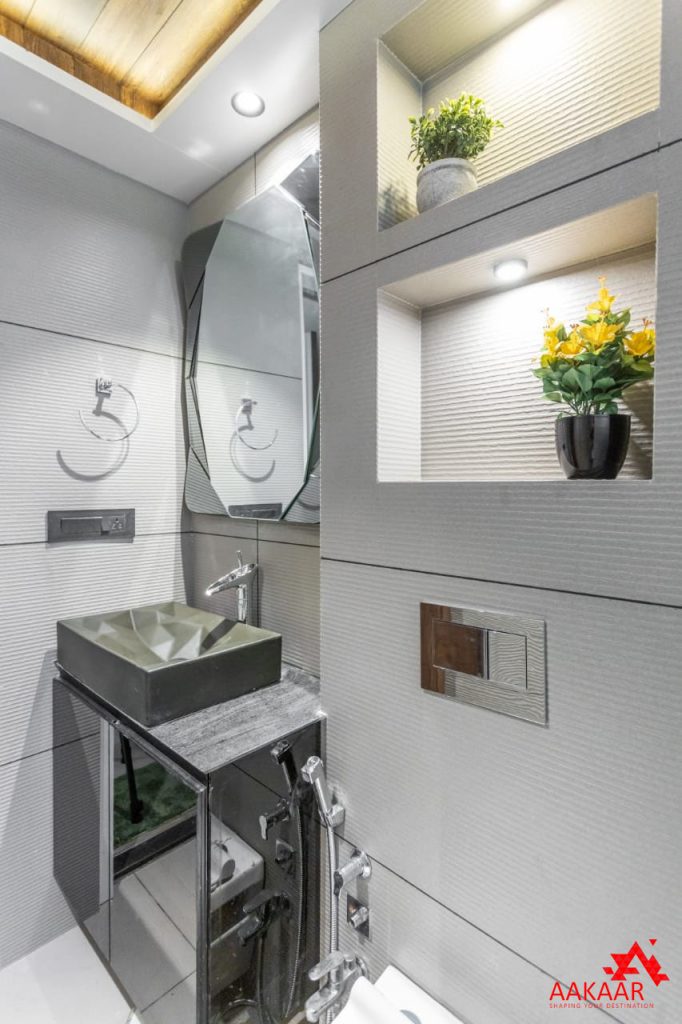 FACT FILE:
Firm: Aakaar Interior
Category: 3BHK Residential Flat
Location: Avadh Carolina, Surat
Built-Up Area: 1170sq.ft
Principal Architect: Mr.Firdos Katpitia
Design Team: Himani Unadkat, Sakshi Punamiya, Priyanka Tawaniya
Photo Courtesy: Kinjal Panchamia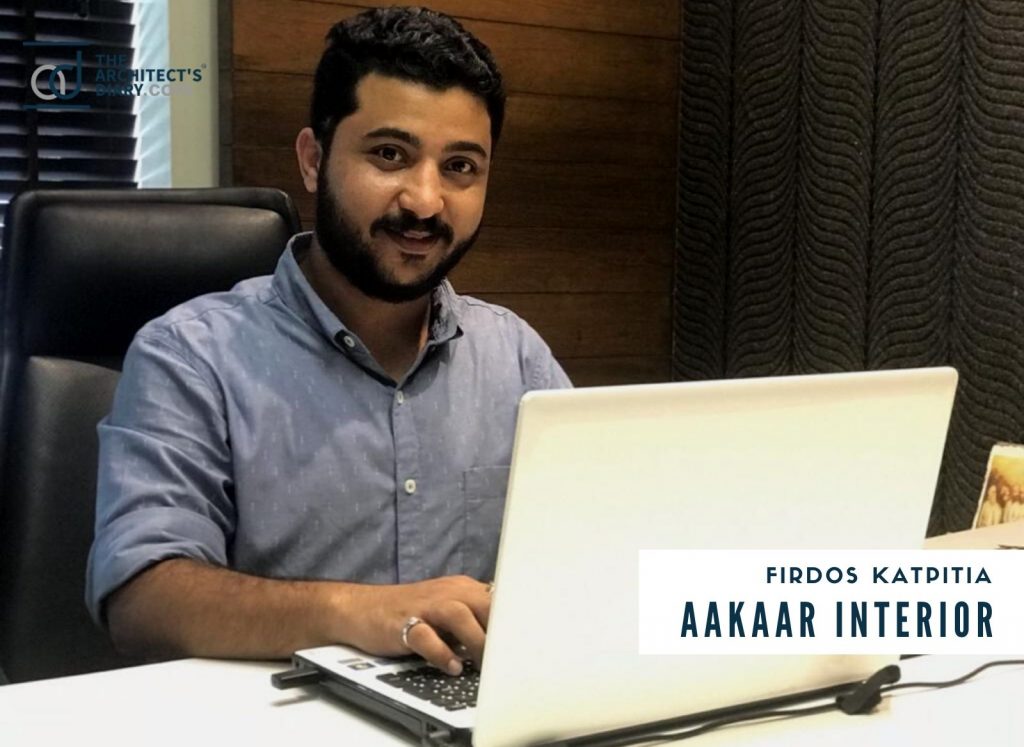 Website: www.aakaarinterior.com
Facebook: https://www.facebook.com/aakaarinterior
Instagram: https://www.instagram.com/aakaarinterior/