&nbsp
850 Sqft Mumbai Apartment Exudes Contemporary Yet Minimalistic Interior | Urvi Singhania Design
A house is made into a home by sheer sentiment emotion and the joy shared by the family that lives, eats, sleeps, prays, and dreams in it. However, before that family can move in and start doing all those things, the task to make the house into a home falls upon the trusty, creative and meticulous shoulders of a visionary that can transform a bare shell into a warm and comforting abode.
visit: Urvi Singhania Design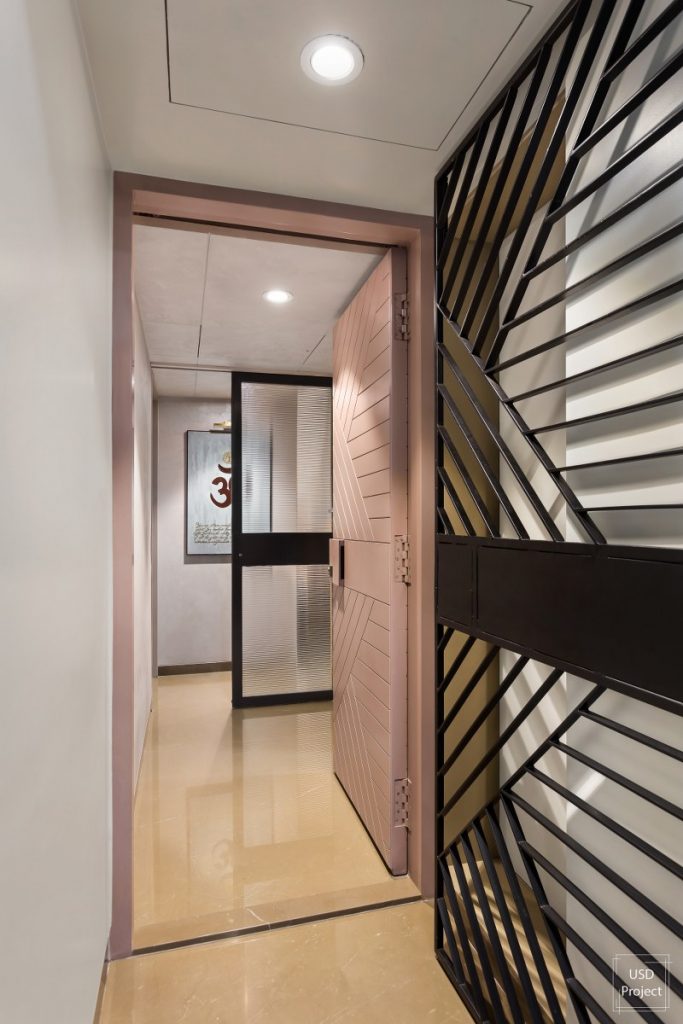 Our brief by this young millennial Mumbai couple was clear; contemporary overtones that complement a Mumbai lifestyle but yet cozy and fuzzy with enough nooks and corners that spell togetherness and happiness in equal measure. This young couple is blessed with a 5-year-old angelic daughter who also had to be factored for, considering this was now the home from where she would take her first steps out from infancy and into adolescence on her journey to become an adult. The brief seemed simple enough, our task seemed to cut out.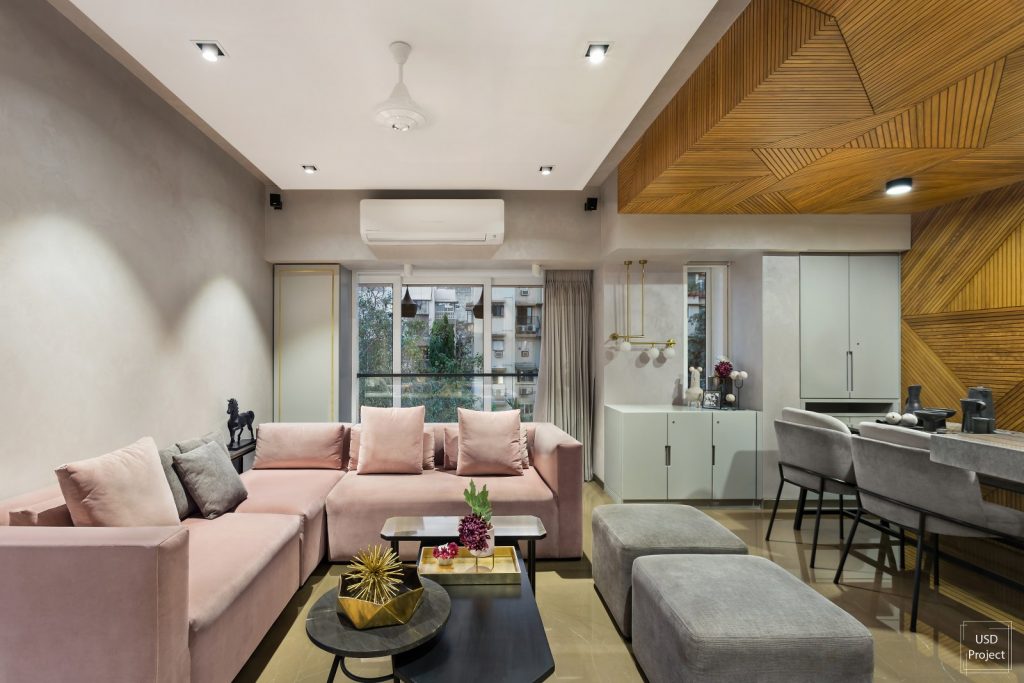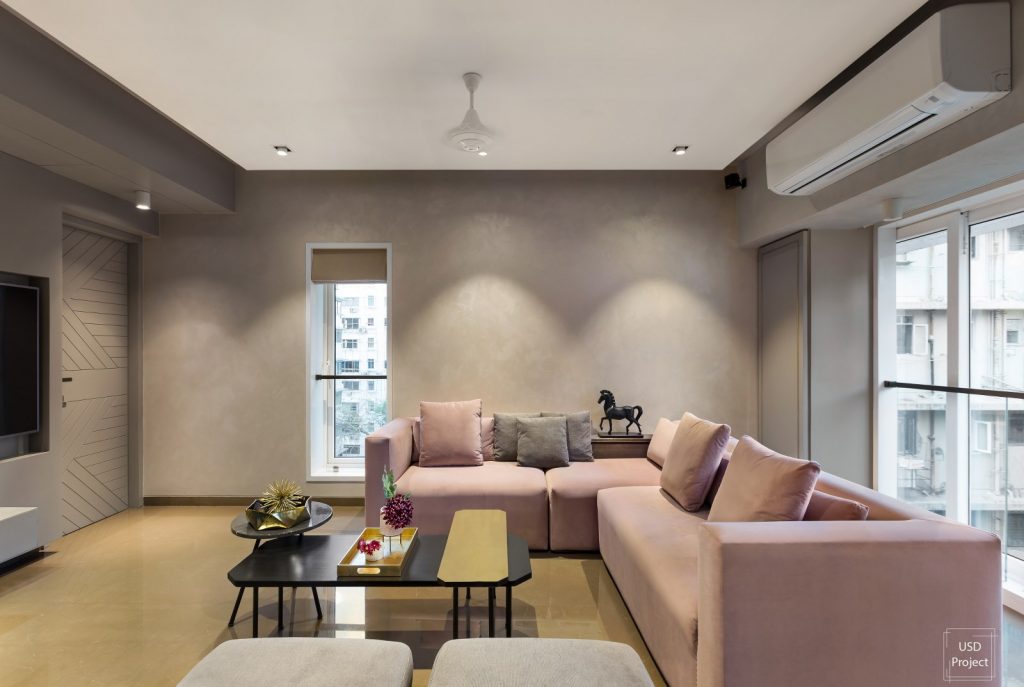 From Planning
Step alpha was obviously to zone and then plan how this 850 square feet of bare shell was going to evolve progressively into a home for a family that is modern in outlook and traditional in thought. In a place like Mumbai where you pay dearly for every square foot, it is also an important responsibility to ensure that every inch, passage, and cranny of the apartment is assigned utility during the planning stage itself (not forgetting Vastu compliance). We decided to go with a concept of subtle angles around the house that would exude aesthetically contemporary overtures with a modern yet minimalistic touch.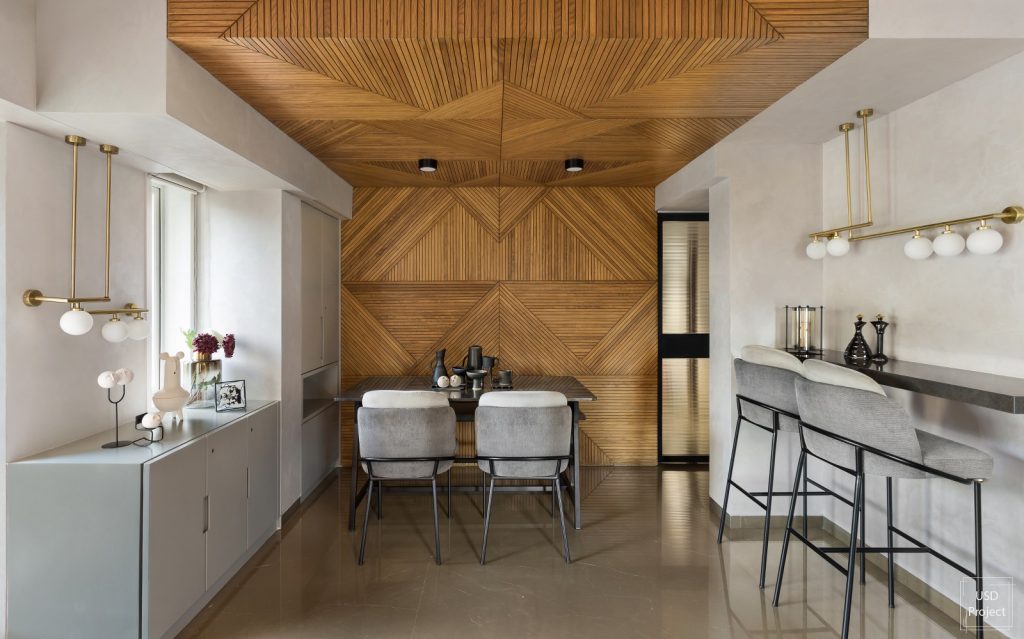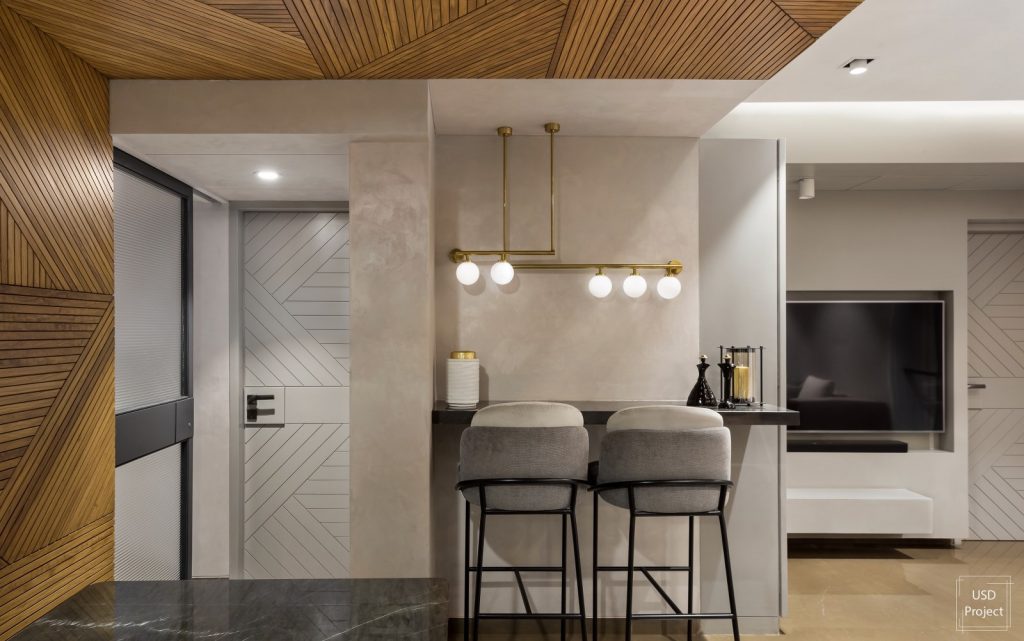 To Placing
One sure way of bringing any room to life is bedecking it with the right kind, amount, and type of furniture. Our choice of the look was sleek, detailed, and yet functional, accommodating all sorts of essentials. We saw the furniture is finished in solid, clean, painted polyurethane surfaces, using soothing neutral hues. The loose furniture received our favorite blush and grey palette that complimented the offbeat and muted salmon coloured main door as well.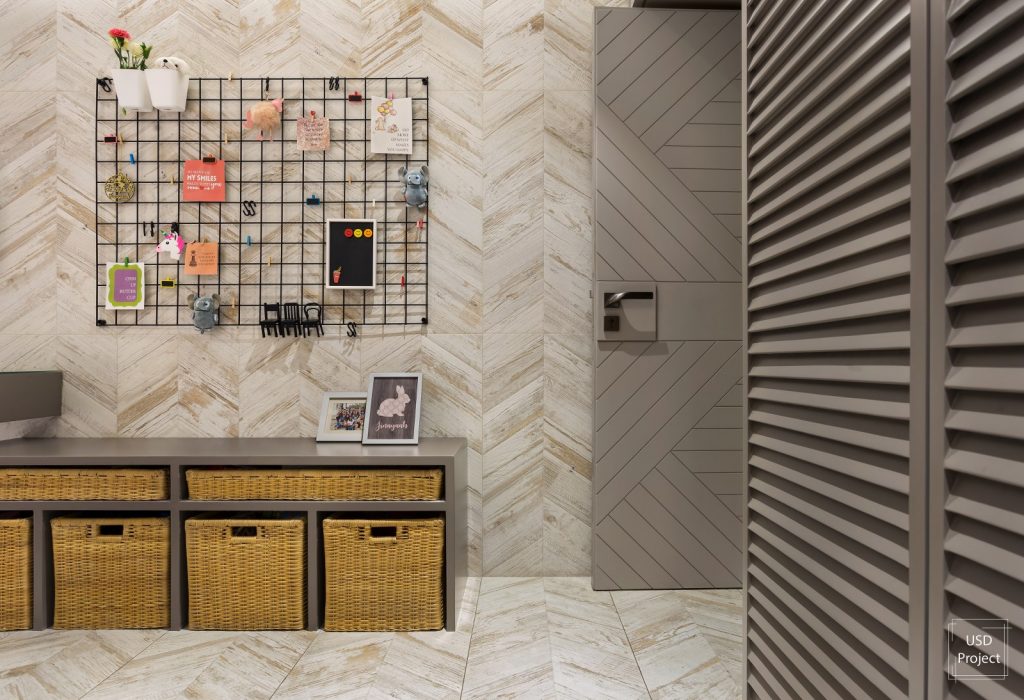 To Panelling
We saw paneling as an important avenue not only to contort familiarity around the home but also to bring in the use of various textures across angles. This resulted in the dining panel concept flowing across the home in the bedrooms and also across all the doors including the main door, achieved by using different materials and textures to break the monotony.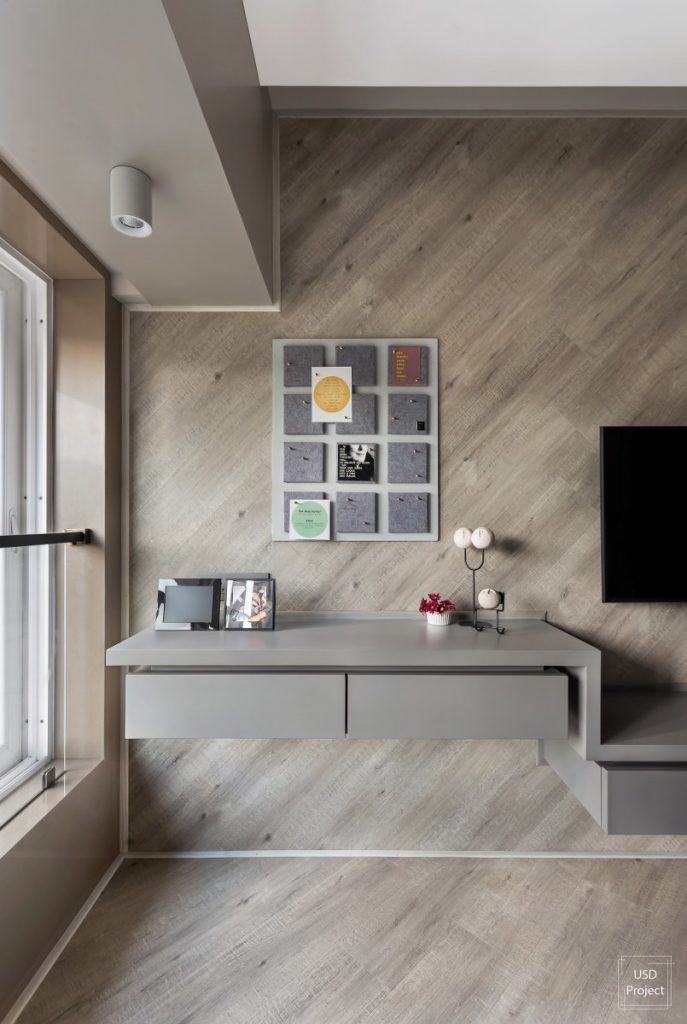 Using time tested but the bonafide combination of stone, metal, and wood helped us strike the all-important equilibrium between contemporary, modern feels and warm homely spaces. The dining area was adorned with a natural wood handcrafted backdrop adding a sense of grandness to an otherwise informal and cozy dining set up.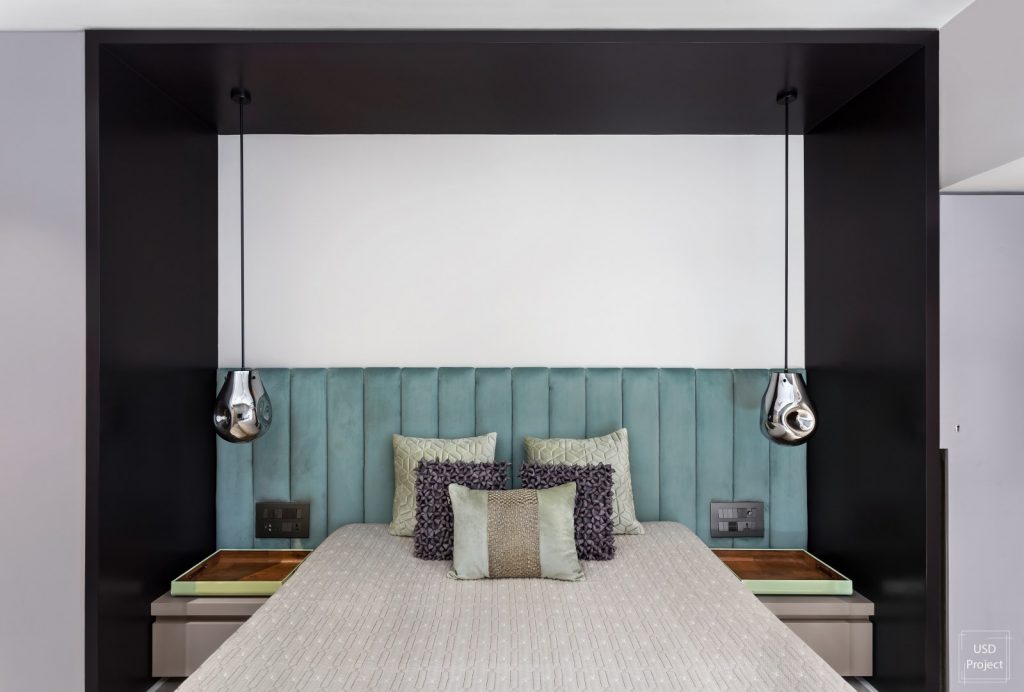 To Illuminating
When as much thought was going to be put into the furniture and the paneling, there was no way the lighting could be anything less of the mark. We did away with the normal tubes and bulbs and instead went for dimmable at the same time functional, mood-setting, general lights. We then custom-designed accent light fixtures that not just were functional but also lit up the many corners of the home beautifully. The light thrown over the warm, muted hues created an aurora of colours in asynchrony like none other.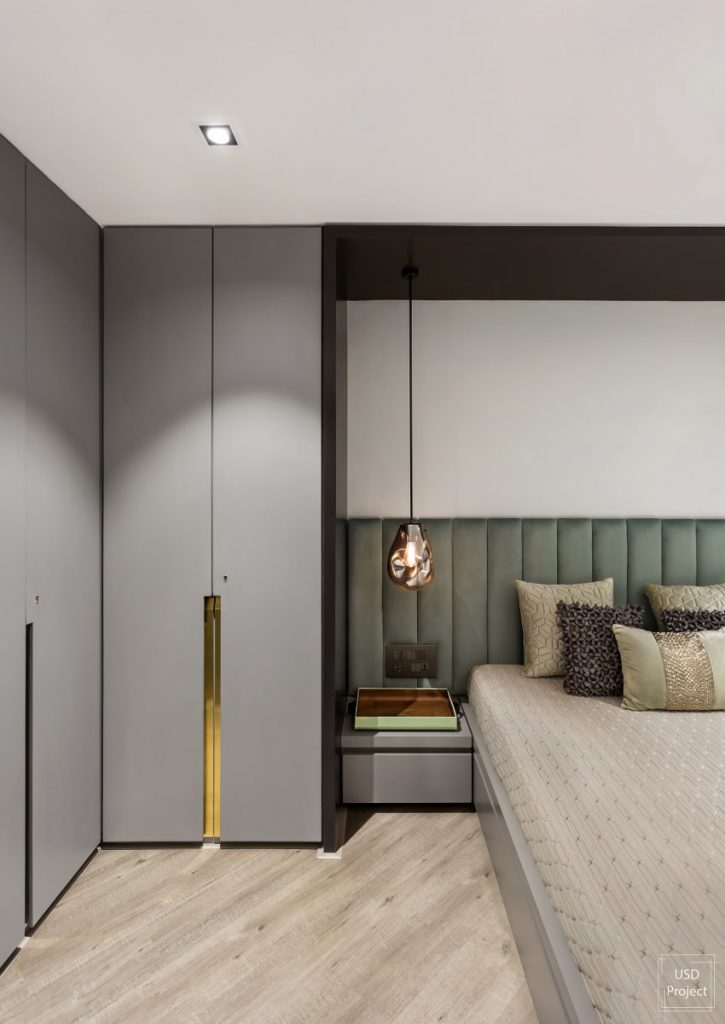 To Bed and Beyond
The bedroom is a part of the house that needs to be the most functional while still looking and feeling cozy at all times. After all, most happy memories initiate and culminate in this space. So we continued the design flow and had the floors pulled up on a wall to breed uniformity.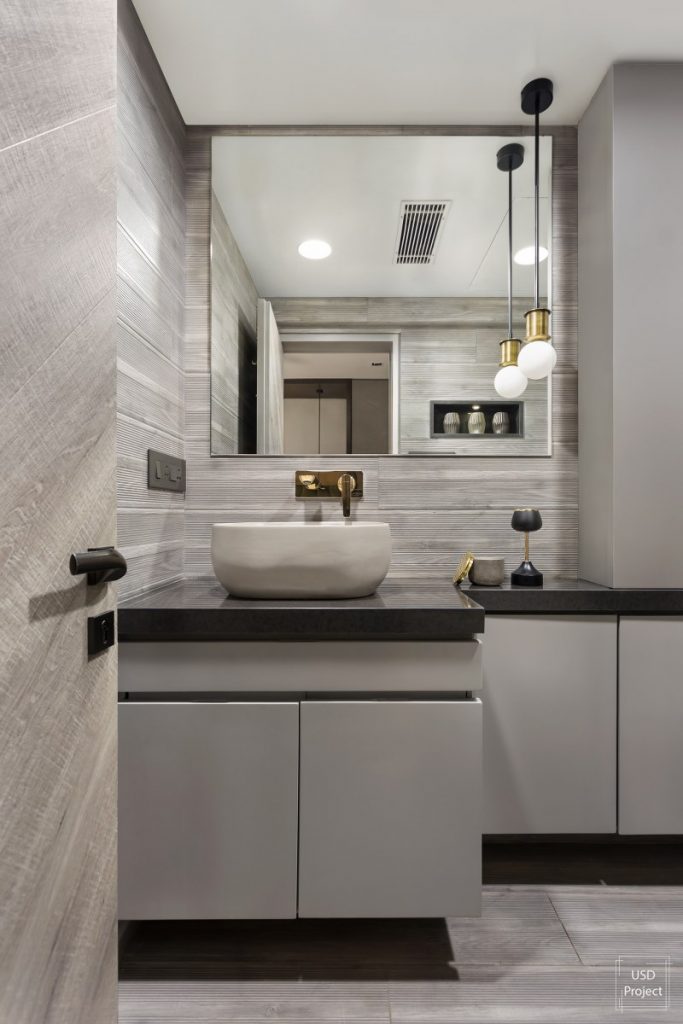 We also ensured as much storage as possible again using every inch available, in different forms like wardrobes, tall cabinets, and drawers. We strongly believe that providing a combination of these, over and above the wardrobe, requirement enables our client to organize better without the need for extra bulky storage units which make the room feel heavy.
FACT FILE:
Firm: Urvi Singhania Design
Project Name: A home with a contemporary heart
Project Type: Residential – 2BHK Apartment
Area: 850sq ft
Location: Mumbai
Photography: Kunal Bhatia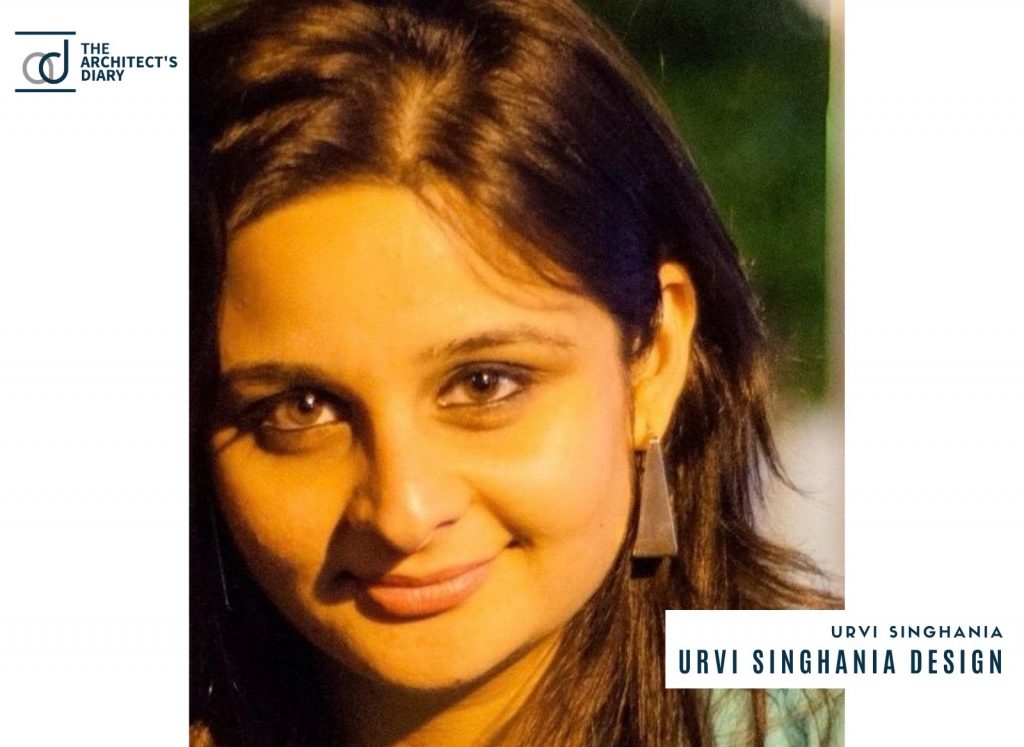 Facebook: https://www.facebook.com/www.urvisinghaniadesign/