Maybe you can't afford to go extravagant to redo your living space! However, If you have a cluttered, messed up, or even years old set up still existing in your living room, you can always utilize the existing stuff with a little innovation. All it takes is a different mindset and vision to instantly change the visuals and aura of the same dull living room.
Imagine yourself entering your home after a tiring day at work and find nothing welcoming in your home. This dreadful feeling can make you feel even worse. If your living space is not welcoming at all, then you need to go through our creative ideas for a warm and inviting living room décor.
It's not tricky. All it requires is a smart sense of styling and a few things for a unique yet instant transition. While many home staggers may tell you the highest amounts required to get your living room shaped as per your demand, but let me tell you, there's no need to go out of the way when you can make it possible, all by yourself!
When you are modifying a space, the first and foremost thing is to create a mind map. It would help if you had a definite scheme and a range of inspirational designs in mind.
Having complete imagination and a vivid picture ahead helps reduce the risk of excessive buying and saves you from overspending. Get ready to mark our sorted out and easy tips to make your living room an inviting and warm place for newbies coming to your place.
A wisely transformed place in terms of style, spacing, and ease becomes a favorite place for guests to hang. Once it is done, it becomes an irresistible place to spend time in there. Please have a look through our expert tips and ideas.
Make it Cozy with Rugs:
Not costing you much, a simple rug can add an element to your living room. The sudden splash of color and pattern on the entrance make it look captivating. A tip to incorporate rugs in a small room is to go for larger rugs.
Yes, a large-scale carpet makes the room look a bit wider and spacious. Not only this vigor, but rugs also define the shape and work as a staple to help you design the rest of the things around. There are multiple designs to make a style statement:
Faux Rugs
Make these rugs a definite pick with a soft pastel theme along. The easiest way to bring a spacious illusion to a small living room is to inject breezy and soft pastels to make the room look wider and cozy. When paired up with light neutral, these faux rugs become the center of attention. The smooth and refreshing texture of such rugs, relaxing to feet, further make you feel rested.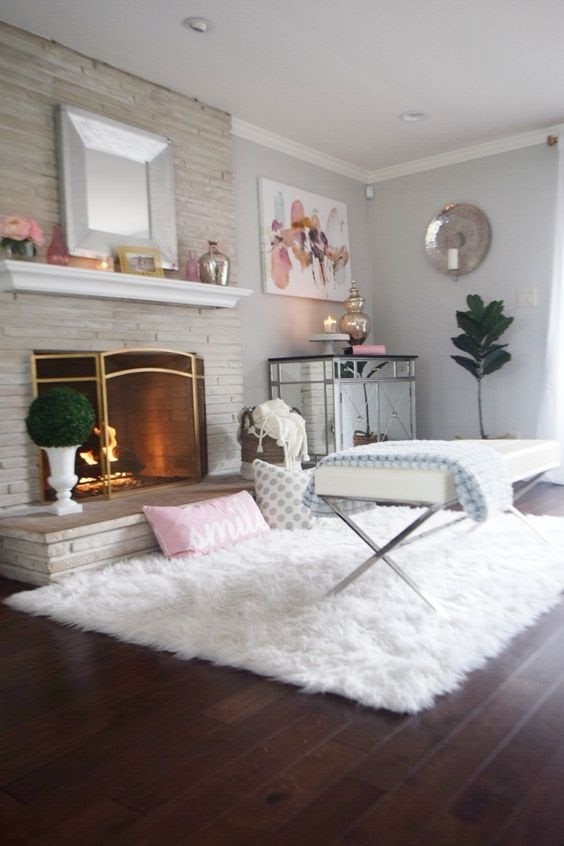 Skin Hide Rugs
Unique in their appearance, these rugs make a perfect match with vintage and plain interior. Being textured in their nature, if paired up with relatively more straightforward décor and subtle décor, the warm tone they bring along makes a living room a cozy and calming place to enter.
Vintage Rugs
Vintage rugs have been an enduring trend till now. While complying with every shifting trend, these rugs have never failed to make their mark. Most suitable to use with a traditional design of the living room, these rugs are likely to complement the surroundings and bring out the room's aesthetic and vintage aspect. Despite their cluttered patterns, they add to the beauty and warmth of a place.
Natural Texture:
A fully occupied living room, stuffed room with furniture never appears to be good enough. To cover up your demand for a sufficient sitting area in the living-room, there are other more straightforward ways to make things look more organized and stylish rather than adding piles of furniture in there.
Minimalistic Furniture:
Before you go for large scale sofas and seaters, which leave out little space for anything else to be placed along, look for natural wooden furniture with a delicate appearance. It is seemingly ancient but too trendy, looking wooden chairs with colored cushions and bringing an instant vibe and cozy atmosphere to the living room.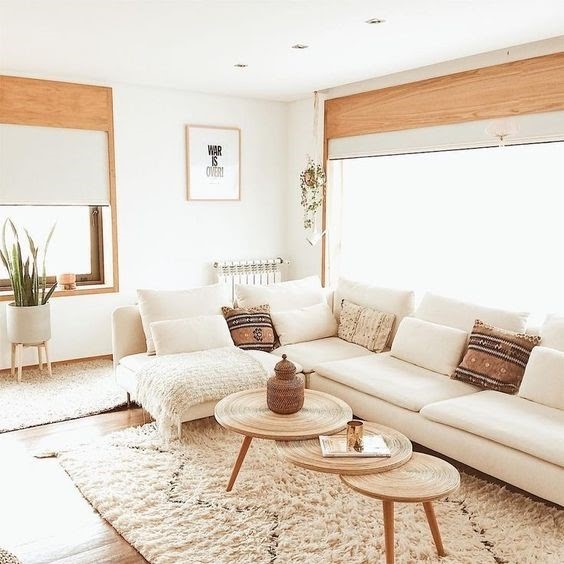 Planters:
Who doesn't like freshness around? The mere accommodation of natural planters in the room recharge the whole mood. Despite adding color and naturalistic impact, they assist in purifying the room, making it irresistible for anyone to avoid sitting in your living room. While you sit near nature, it's impossible not to feel relaxed and energized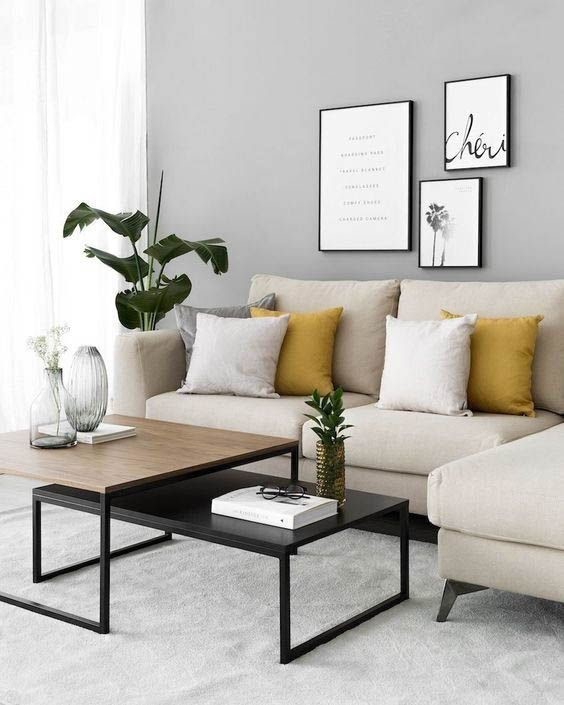 Lightning Hues:
The only magical thing! Yes, lightning is the magical trick, which, when done right, can make your place look insanely different. Ranging from cool led neon light to monotone light shades, there's a variety to choose from, as per your needs. , it is advised for a quiet place like the living room to stay a little moderate to make it incredible.
Hanging Lights
Hanging indent lights have surely made their mark! When it comes to functionality, these have surpassed every other type of lightning. Thus are very much prevalent around. Usually, when you see inspirational home décor designs, you must have seen these lights set up somewhere in the house. That's sole because hanging lights are the winner when it comes to enhancing warmth and building up the vintage and aesthetic aspect of any place.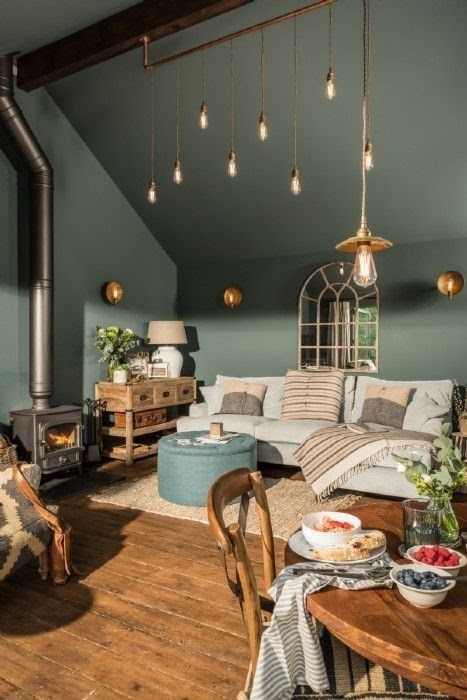 Warm Monotone:
If you are somebody who loves dim lightning as much as we do, warm monotone lighting is a perfect match for your place! As soft as it appears to be, it significantly helps in lighting up your place's mood and vibe. It typically looks wondrous when paired up with a more traditional setup.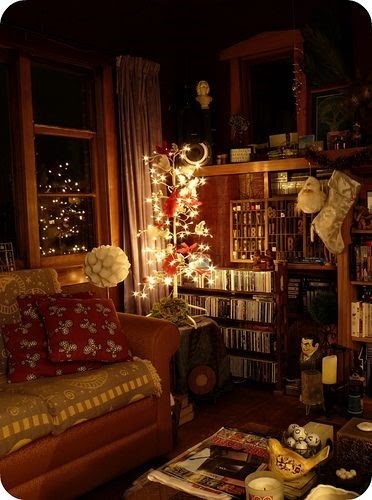 Sleek Lamps:
Wall lightning may be a smart solution to add vibrant effects but sleep lamps are more modern than a revolutionized outlook of your living room. Perfect for their placement on the sides, these sleek sconces add an electric look to the entire living space.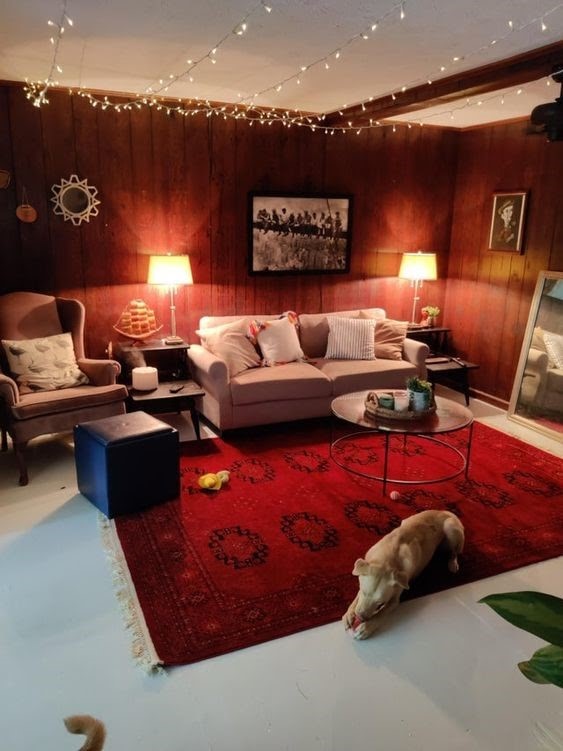 Go Creative With Sitting:
Space is the most stressful factor when it comes to redoing your living room. Making appropriate estimations, to have good sitting yet extra space to move around, all of this feels like a never-ending hustle but, with our expert ideas, this hustle would not last any longer.
Keep it Together:
The prior mentioned usage of a large scale rug makes your living room look wider and works as a staple to have an organized set up of sitting. Place your sitting on all four sides of rugs, and you get a clear distinction to arrange other things around. There's a clear difference between clutter and organized setup. Hence, all it takes is a smart sense of styling, and you are done.
Use of Ottomans:
When you lack space, putting sofas around is not a necessity. A very wise choice is to use ottomans to cover up extra area and scarcity of sitting. Top them with flower trays and embellishments to serve a legal purpose. When it comes to Family time, they do as footrests as well.
Floating Furniture:
An ideal set up for a small living room involves left out a chunk of spaces, which gives the illusion of a wide-scale room. Therefore, restrict your urge to move everything back to the wall, and keep the distance between furniture and the place to appear more expansive and managed.
Artwork:
No décor is complete without artwork! Bring your artistic skills to display and make a small wall appear higher. Yes, a gallery wall does this job with perfection. An entire wall filled up with photos may sound ridiculous, but it ultimately makes the room look spacious. This wall art may also include blue pottery to add more color and spice to your place. Our other tips for artwork includes:
Mirror Work
Well, mirrors are a must have at every place! They have eventually become a necessity to make a place more fun and attractive. They add reflection and light to the room and add glam and modern light to the room. Imagine yourself lying down on the sofa meanwhile having the luxury to secure mirror selfies. What a perfect place to spend time in!
Flower Setup:
Flowers are a piece of art in themselves. Add a crisp of dry flowers to your place for a more soothing and artistic vibe. Even if you like fresh flowers over these, you can style them with your interior, and your living room would turn out to be a pure piece of art and dedication you've put into it.
To Sum it Up!
Everything put in with love and care can make your place extend out healthy and cozy vibes around. Small living rooms need to be kept well managed. Make little things an eternal part of your place to make your living room look wondrous yet tidy.