The pandemic has definitely brought out the best and worst of our homes. With almost everyone forced to stay and work at home for longer periods, we've become all too aware of the nicks and bumps in our houses. We've noticed the microscopic tears along the edges of the wallpaper in the living room. The uneven hue of paint in our bedroom has suddenly become more obvious and a bit annoying to look at.
With some restrictions are still in place, there's no telling when we'll be able to find normalcy in our in-office work. Thus, this year might be the best time to roll up our sleeves and muster our inner do-it-yourself spirit as we engage in rehabbing our home sweet home. Don't worry if your sweet spot requires more work than you can handle. Reputable contractors are only a call or a web chat away.
Consider the following home updates to make the rest of the year more comfortable and positive for you and your family:
Inquire for Modular Kitchen in cabinet pullout shelves roseville.
1. Renovate Your Bathroom
Aside from using the toilet in the traditional way–taking a shower, shaving, and getting ready for school or work–most people hide in the bathroom for 'peace and quiet.' Despite a great deal of time spent in this part of the house, it's typically at the bottom of the home renovation list.
It's time to give our bathroom the attention it deserves. If your toilet needs major sprucing up, contact bathroom renovation in Mississauga or any contractor near you. Make your bathroom feel more like a safe refuge by re-designing it and changing or adding fixtures, like a small countertop. If you want a more relaxing sanctuary, have a jacuzzi installed, or replace your shower walls with glass for a more modern look.
Otherwise, perform minor repairs like re-caulking your tub, re-painting the walls, and replacing your outdated shower heads and doors, giving you that fresher feeling. After making these repairs, head on to your cabinets and get your disinfectants for a major toilet cleaning activity.
2. Remodel Your Kitchen
Do you feel that your kitchen area has become too small for your family? Try removing extra fixtures and stick to compact and space-saving cabinets, shelves, and countertops. Re-arrange your kitchen to see whether you can further save some space. Add in cabinet pullout shelves roseville to make it easy to use all of your cabinet space.
For instance, replace your bulky gas range with a sleek cooktop. Place countertops that can double as an eating bar. Purchase a new wall over if you have enough cash to spare. If you want, you can also paint your kitchen walls with neutral or bold colors, depending on your preference. You may replace your aging kitchen tiles with trendy and easy-to-clean ones. Look at your floor to see if it needs re-tiling, too.
Going for a low-budget kitchen remodeling project? Try sanding and repainting your cabinets or simply rearrange your appliances and tables. Remove extra fixtures and transfer them to other portions of the house. It doesn't hurt if you update your kitchen by adding or replacing window molding, too.
3. Let There Be (More) Light
Have you ever wondered why horror movies heavily feature dimly-lit scenes? That's because lighting can influence an overall vibe of a place, your home included. A dark room evokes negative feelings of sadness and emptiness. Inversely, a well-lit place appears welcoming, warm, and, overall, happy.
Put your home in the best light by adding more illuminating lamps. You'd be surprised at how much your home looks much better and bigger just by strategically playing with lights, so to speak. Place lights in the corners of your room or in poorly-lit spaces and watch your house come alive.
If you can spend some more cash, snag some fancy ceiling fixtures, such as chandeliers, to evoke a more sophisticated look in your home. Make sure that your ceiling is high enough to accommodate dangling and heavy lights. To find the ideal size of your chandelier, add the room width and length in feet. The resulting figure should be your chandelier's diameter in inches.
Want to avoid your electricity bills from spiking? Try adding more windows or making them bigger to allow more natural light to come in. Apart from brightening up your home, bigger windows also help promote indoor ventilation and improve energy efficiency.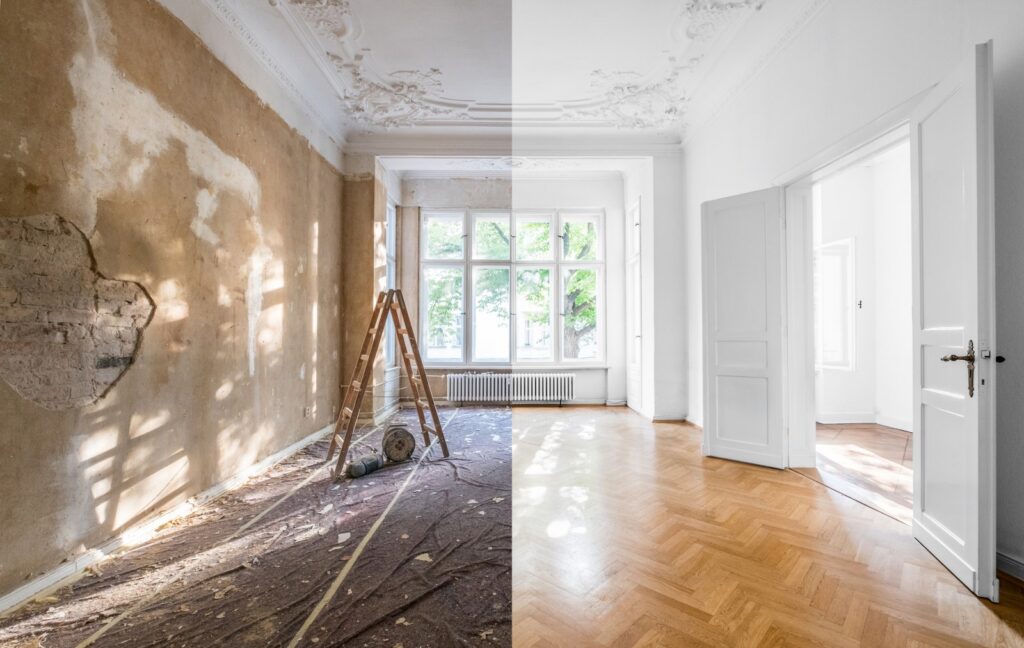 4. Pimp Your Deck, Patio, or Porch
Movement restrictions were in place for months to prevent the spread of the virus. And, many of those who got stuck didn't want to spend hours staring at the four corners of their homes anymore. Thus, the pandemic has brought a higher demand for better outdoor space.
In most occasions, boredom was temporarily cured by placing a table and chair outside. Feeling the sun's rays on your skin, smelling the fresh air, and seeing your well-manicured lawn may have partly comforted you during the tough times. It's time to give back by making your outdoor space bigger by beautifying it.
For starters, building a nice pathway, as well as placing fancy pavers and bricks are good ideas. Add some more green by putting on ornamental plants to help purify the air while uplifting the overall mood of your outdoor area. A huge plant may also be strategically positioned to hide flaws in any section of your house. Remodel your porch railings to make it more aesthetically-pleasing, too.
To enhance your entire outdoor space, upgrade your landscaping design. Add in more lovely plants, put in more flower beds, and trim those bushes and shrubs for a cleaner and more appealing look. Your yard is the first thing that greets you and your visitors, which is why it should look welcoming.
5. Living Room And Bedroom Redesigning
Updating your living room and bedroom should be on your to-do list this year, too. It doesn't have to be a high-cost design overhaul. Sometimes, less is more.
Upgrading specific details like moldings, window trim, and chair rails can already make a difference, no matter how subtle. To liven up your living area, you can change the drapes, add more lights, place additional decors, and add fresh flowers. Also, enlarge your living room space by rearranging the furniture away from the walls. If your house has low ceilings, create an illusion of length by putting drapes higher on the wall.
For your bedroom, a repaint or a new wallpaper may be in order. If you have a wooden floor, consider sanding and refinishing them to give your room a fresher look. Having your carpet professionally cleaned or replaced will likewise give your room a happier feel. It can likewise prevent you from suffering from respiratory problems.
Conclusion
Your home is your safe refuge, and it should always evoke feelings of comfort, security, and happiness. Over time, some sections may show signs of wear. Fortunately, you can always spruce it up with simple home upgrades and renovations.