4500 sqft Luxury Apartment Reflects A Vibrant Mix Of Cultures | The Urban Ensemble
Scope of Work: To conceptualize and design a 4500 sqft apartment for an older couple that reflects a vibrant mix of cultures, diverse personalities, globe trotters, and love entertaining in style. Having lived in various parts of the world, we knew we had to give this home an international flavor to reflect the tastes and travels of our client. We've painstakingly handpicked furniture, lighting, sculptures, and art from Italy, China, Philippines, Vietnam, Africa & India. Tailor-made furniture and wall art were weaved into the concept to tie the elements together.
visit: The Urban Ensemble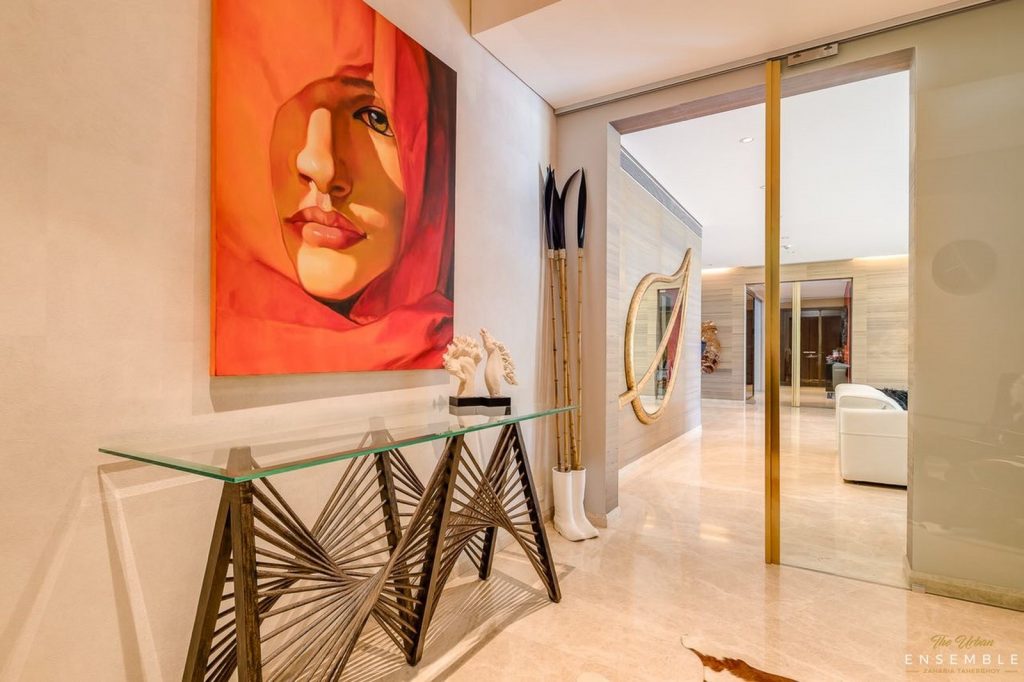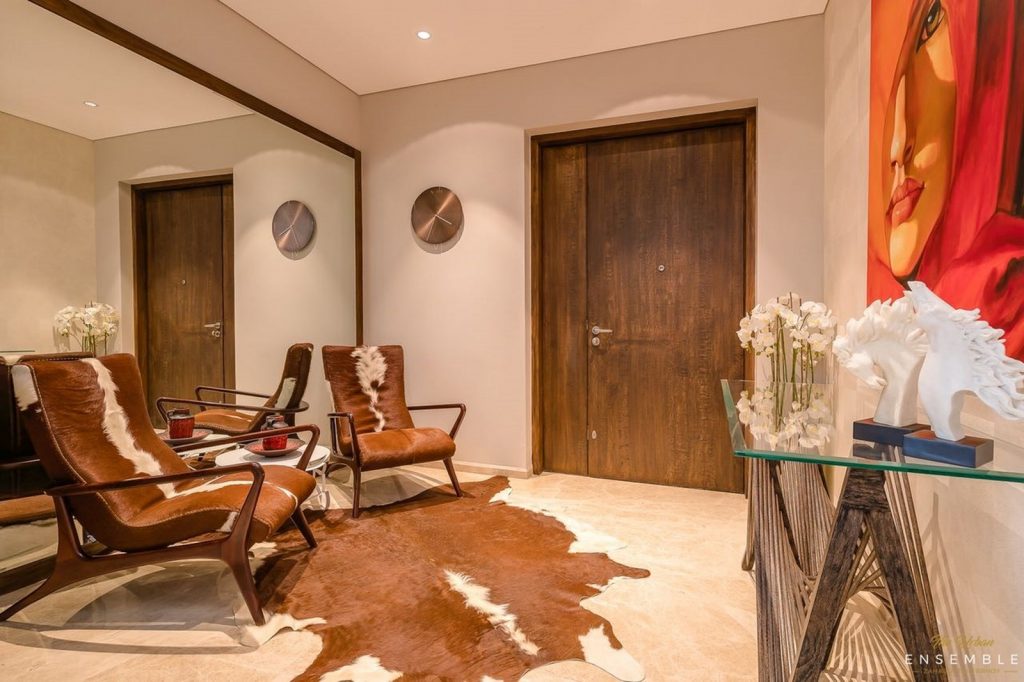 The client wanted a space that wasn't over the top, yet elegant and luxurious at the same time. Heavy wall cladding, paneling of any kind was a strict no-no. They wanted us to keep the walls clean and minimal with subtle hints of color and texture, for which we've accentuated with silk, bamboo, and subtle textured wallpapers.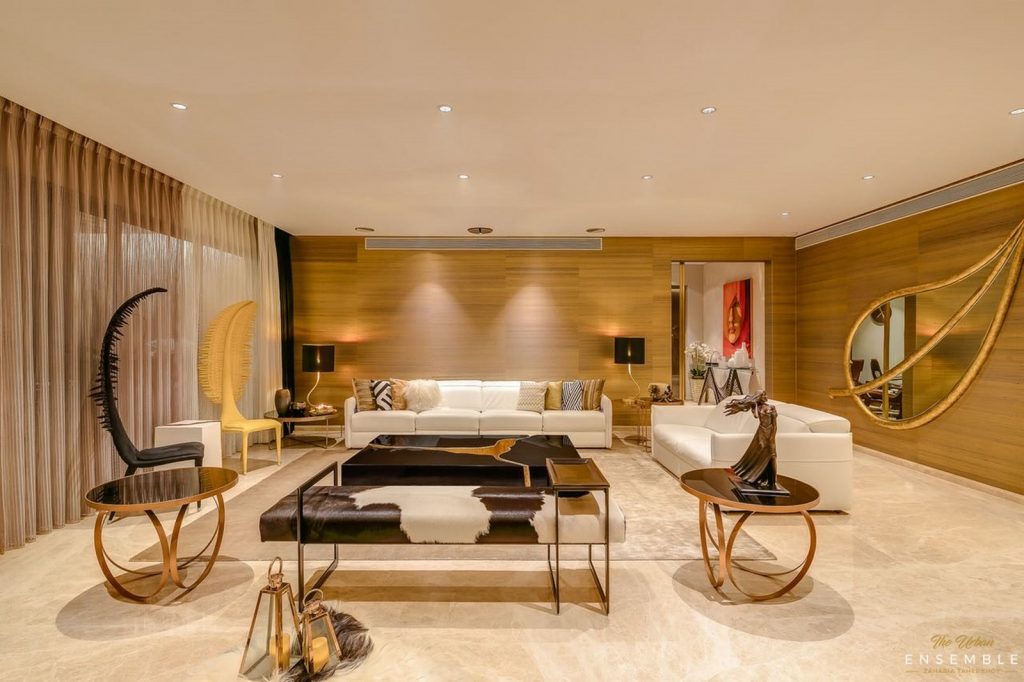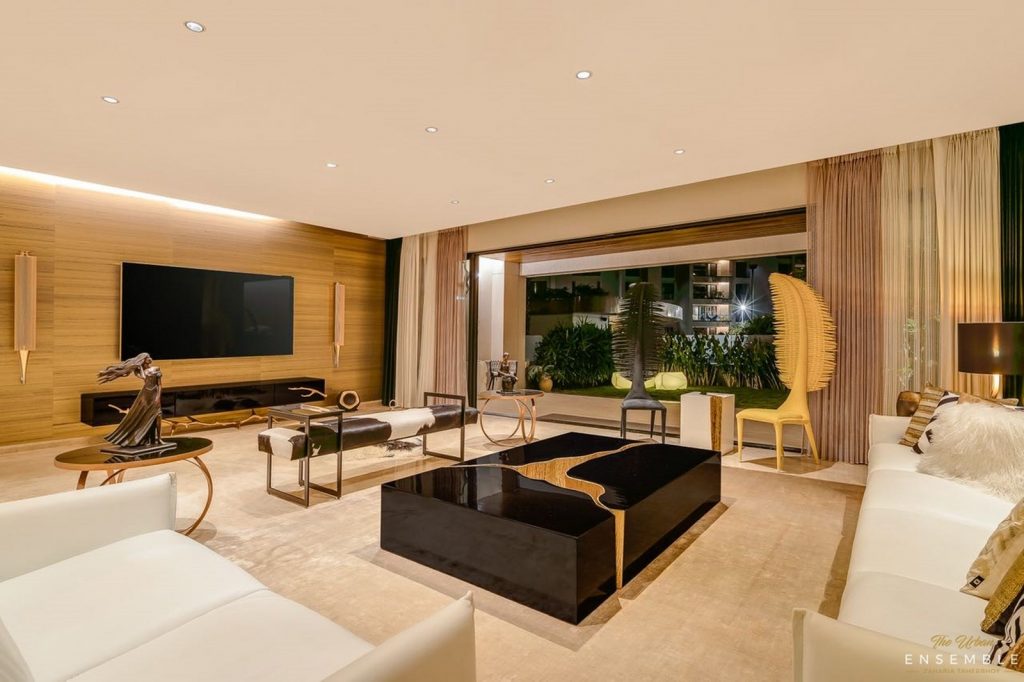 The Living room is a spatial experience for its sheer grandeur and expanse into the outdoor, making it the perfect place to entertain. One of our favourites being the outdoor bar design that we custom made to enthrall. Plush marble flooring, silk for the walls, statement metallic accents, and dramatic furniture elements invigorate the space while keeping it elegant and tasteful.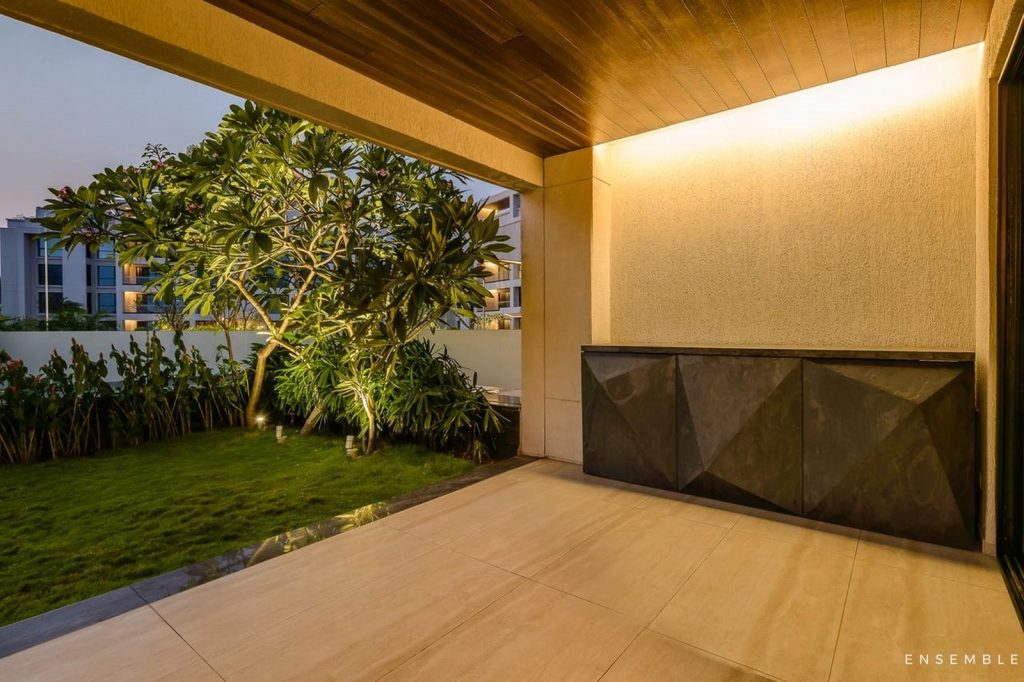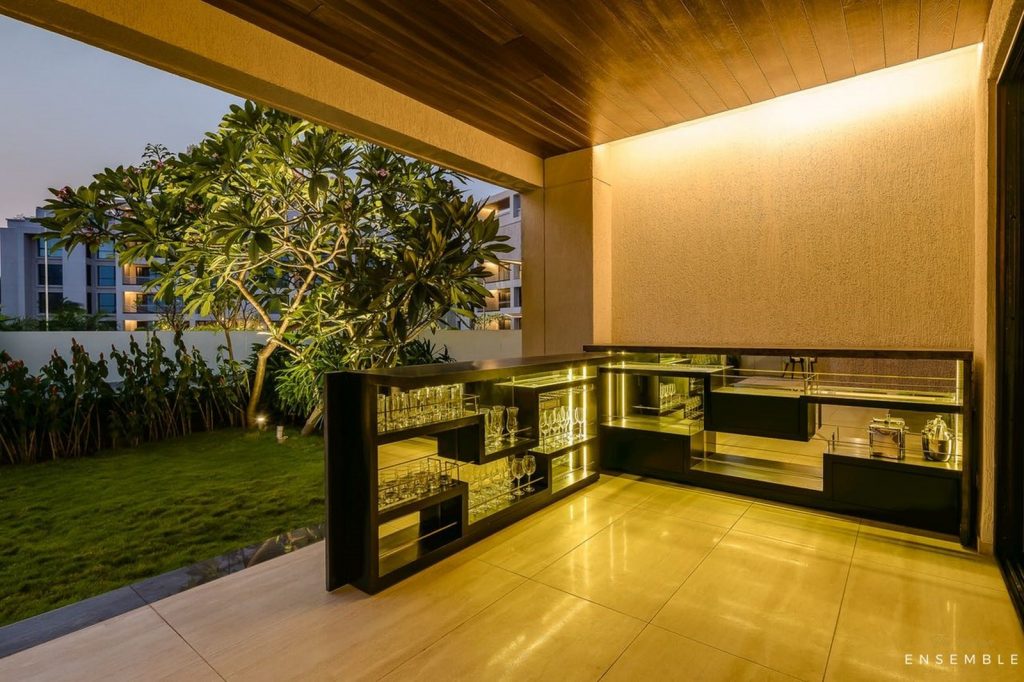 The one challenge we faced was the size of the walls, we were strictly requested to avoid any kind of paneling or detailing and treating it with art and sculpture off the shelf just wouldn't do justice to it, so we had to custom make the installations, mirrors, and the art.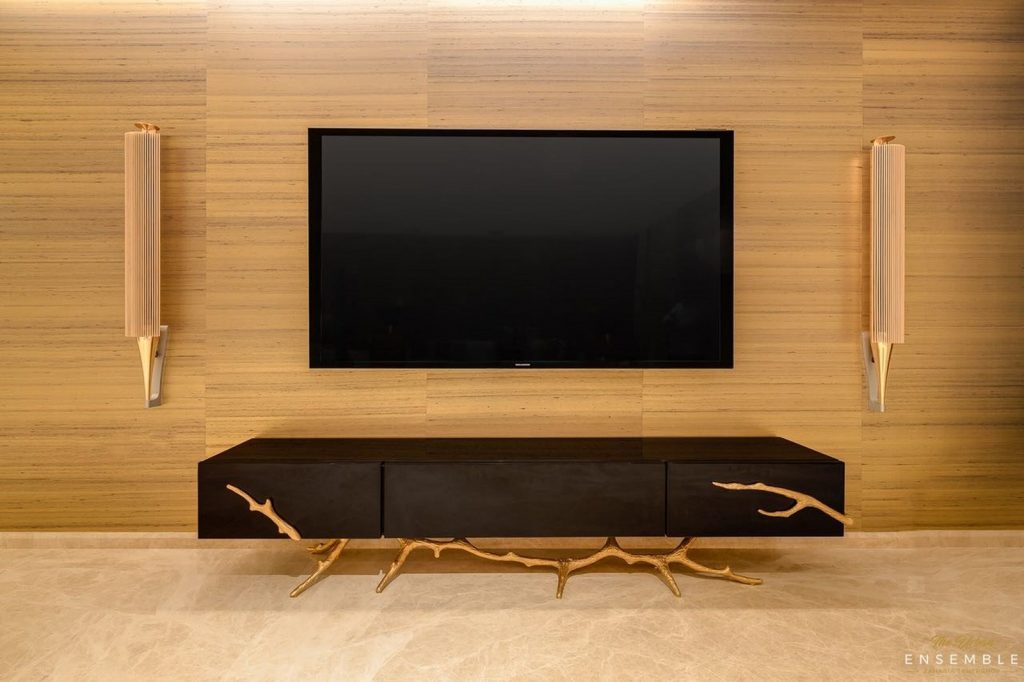 The Dining room wall installation was custom made to reflect an enchanted forest in shades of copper, bronze and gold metal that creates a deliciously designed space that serves bespoke luxury, personality and magic on a platter!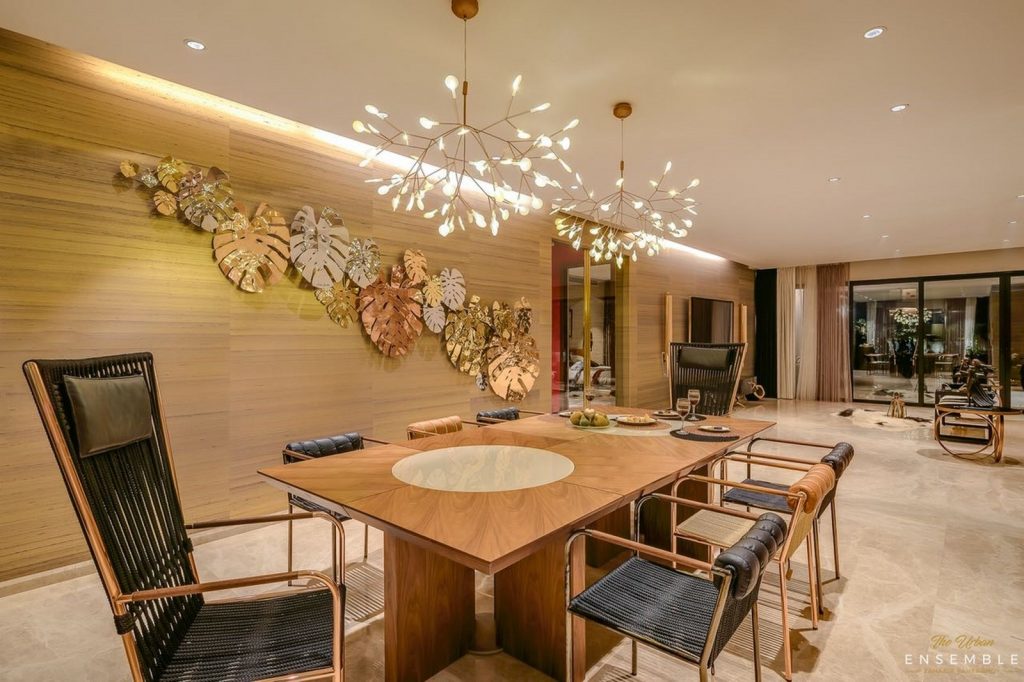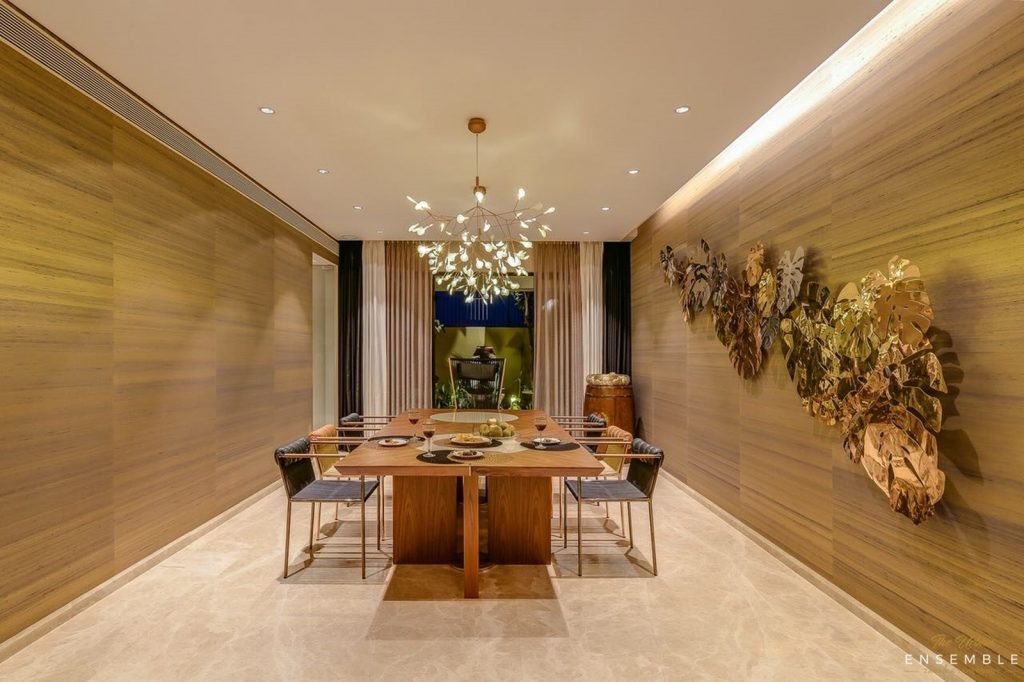 Integrating spaces has always been one of our top priorities on the drawing board, so the minute we find an opportunity we seize it! The home office walls were knocked down and replaced with tinted glass sliding doors, which instantly magnified the space and it's adjoining passage way creating a larger, more open floor plan.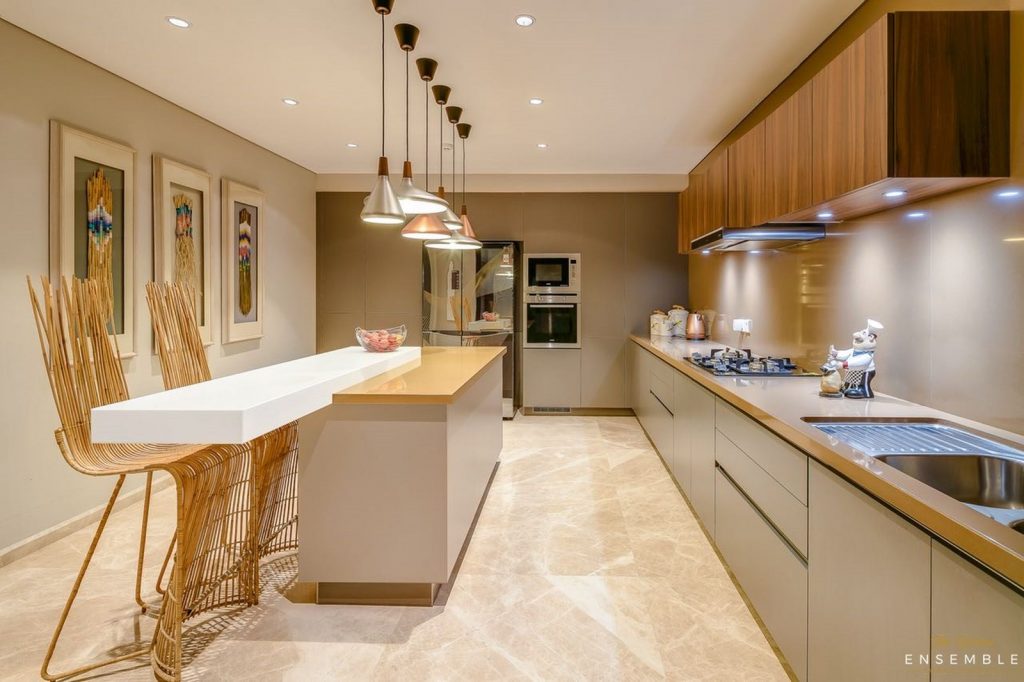 The kitchen reflects a classically muted colour way, plush marble flooring with copper and chrome accents, this open spaced modern kitchen is minimalistic with hints of industrial, keeping aesthetics & ergonomics a priority.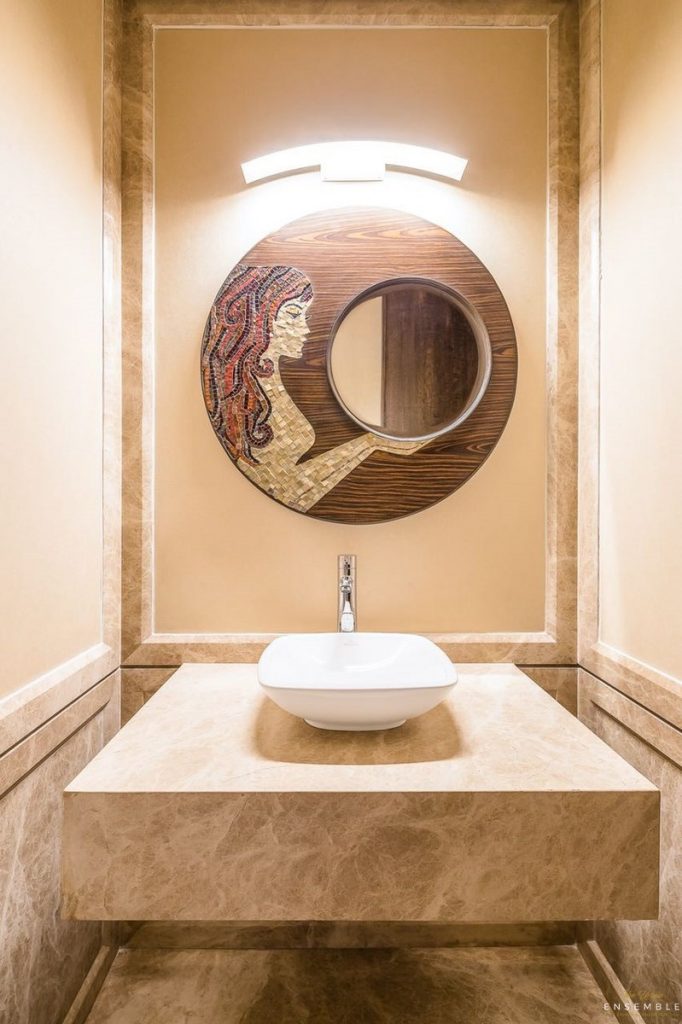 The bedrooms were designed to be subtle yet distinctly different from one another.
The Master Bedroom is about soft understated elegance which is effortlessly showcased in an interplay of botanical prints along with various textures in a soothing colour scheme of ultraviolet, mauve, blush, ivory, taupe and muted grey. We wanted to create a soothing tranquil environment that ushers you to slow down and appreciate the nuances. It's a confluence of subtle glamour, calmness, romance and everyday luxury-living done in inimitable style.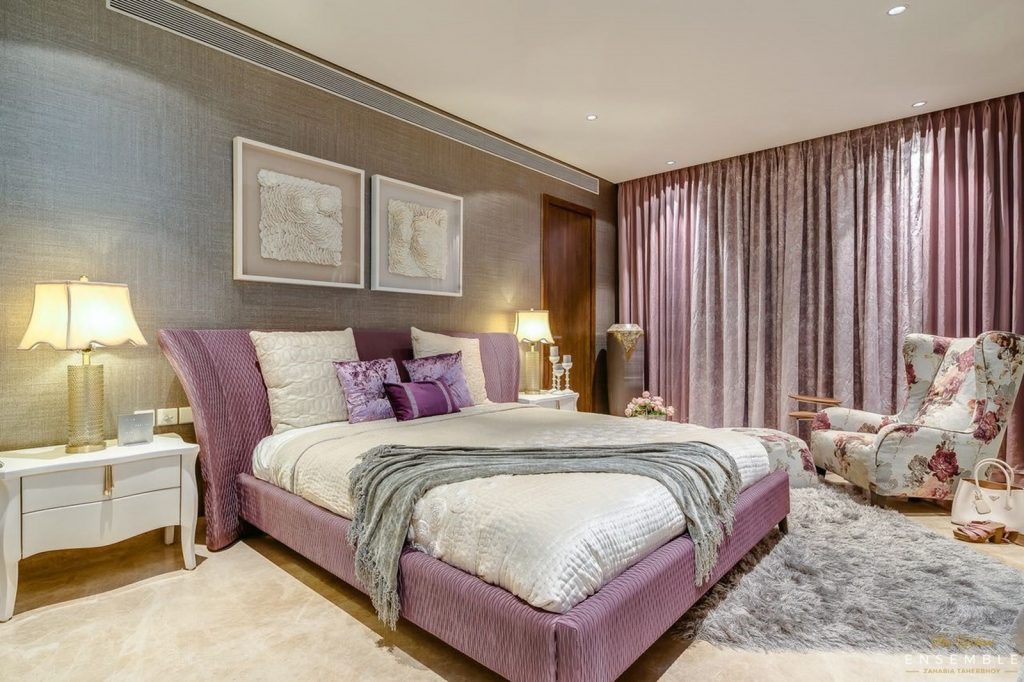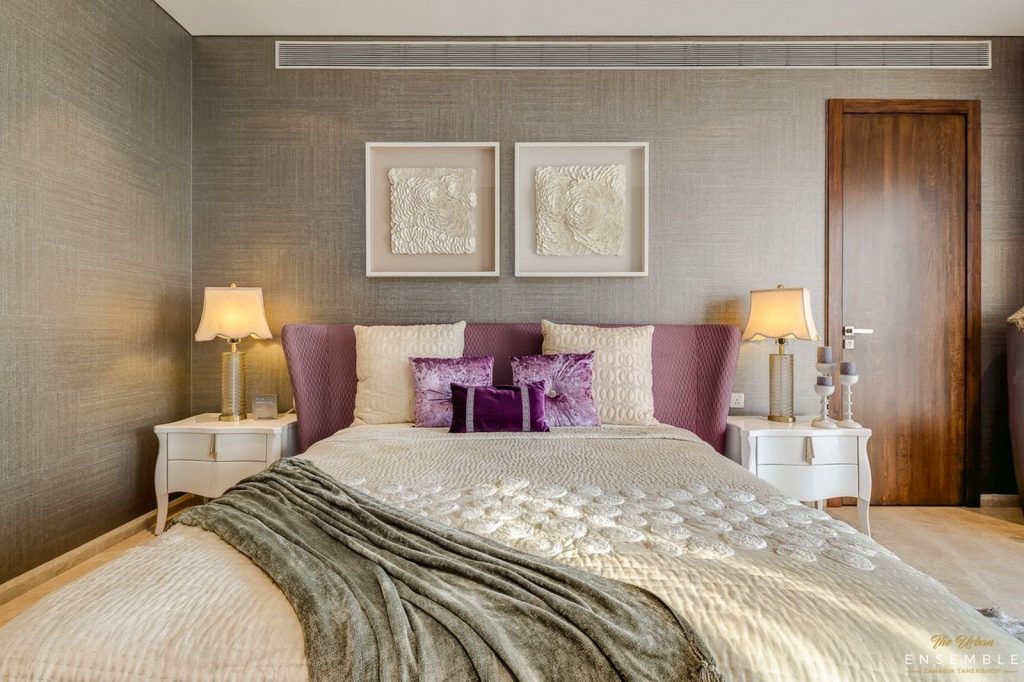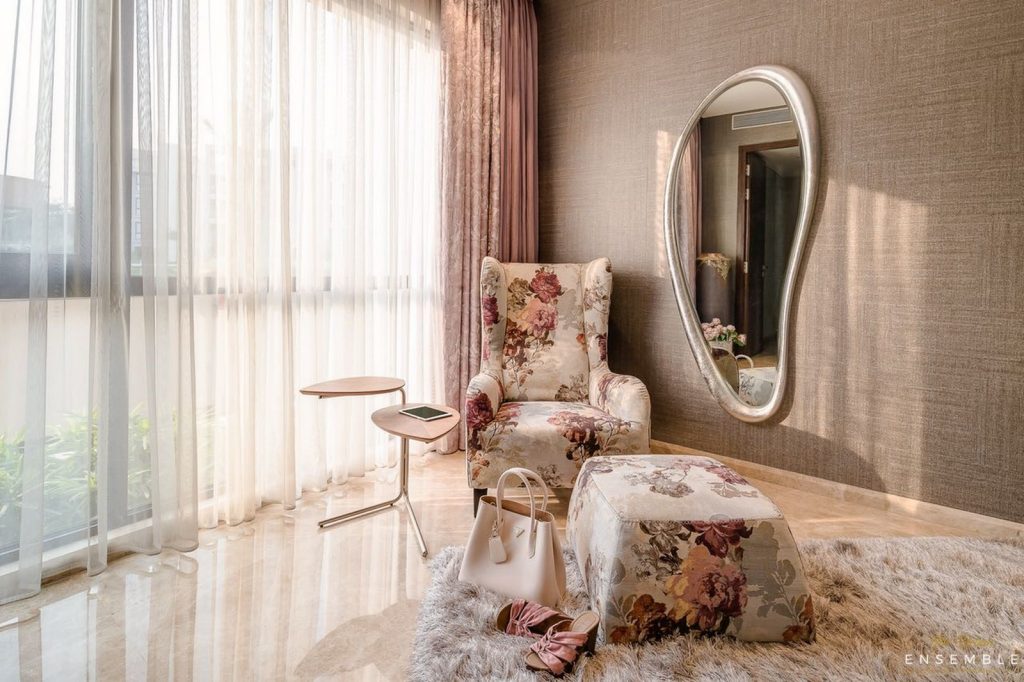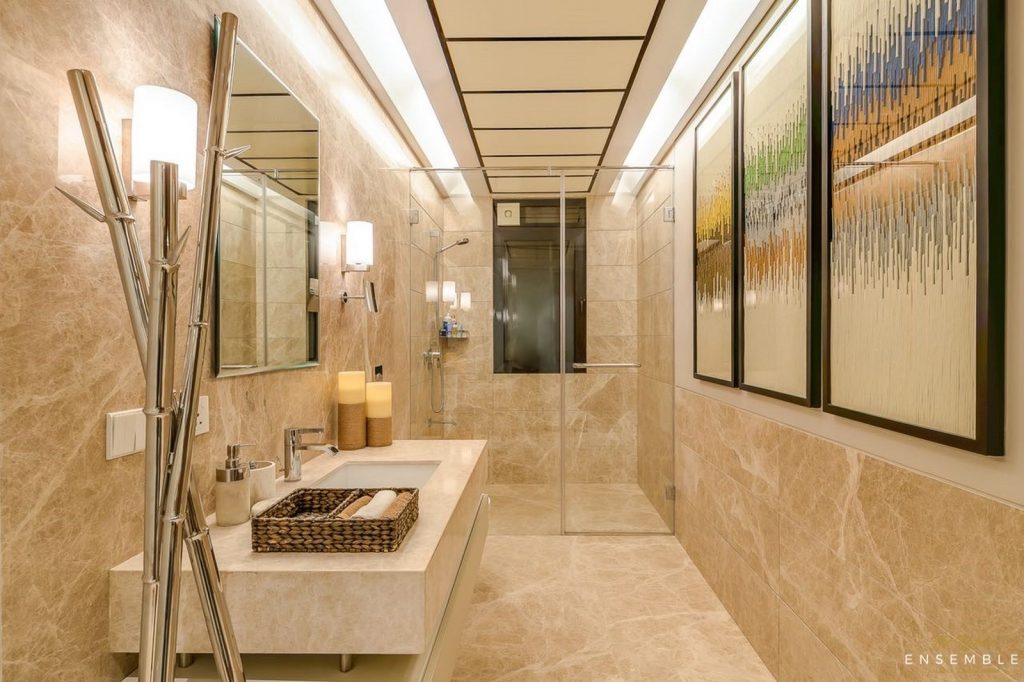 The Daughter's Bedroom ( blue/green) was Inspired by the colours of the ocean, uninhibited adventure infused with distinct personality and a pop of colour, this modern bedroom breaks the mould with its striking charm and 'artsy' take to living spaces. We've played around with a gamut of textures, colours and patterns and interlaced them with a few elements from the client's previous home to create a sense of nostalgia.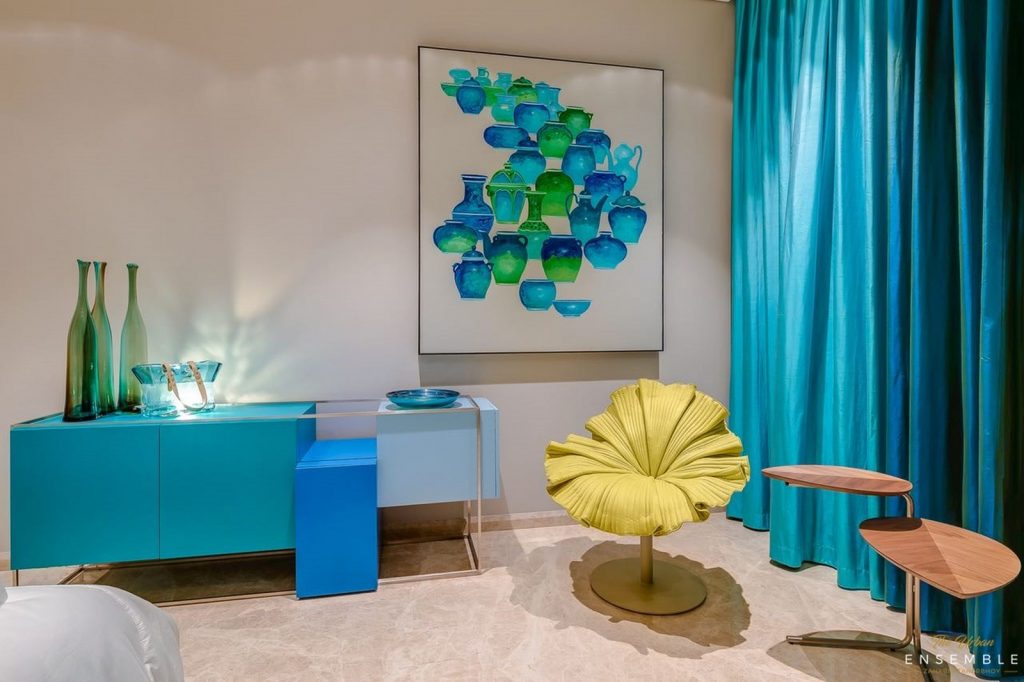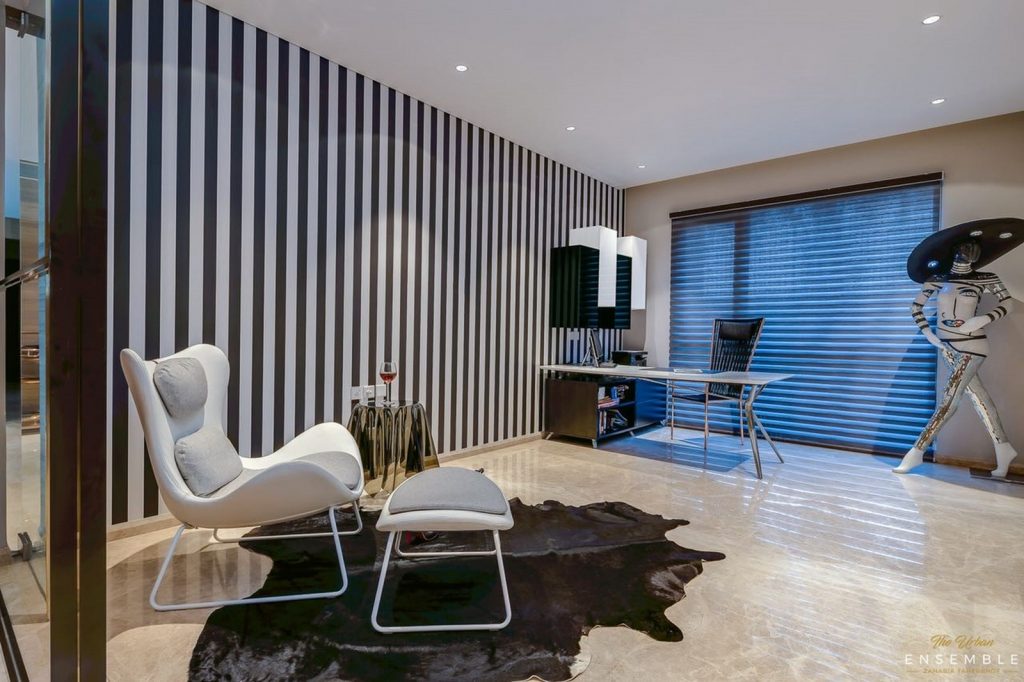 What's a home without beautiful memories from the past? We like our spaces to be closely connected with the owner through memories, sentiments, and emotions and we'll always walk the extra mile to tweak designs to accommodate elements of sentiment.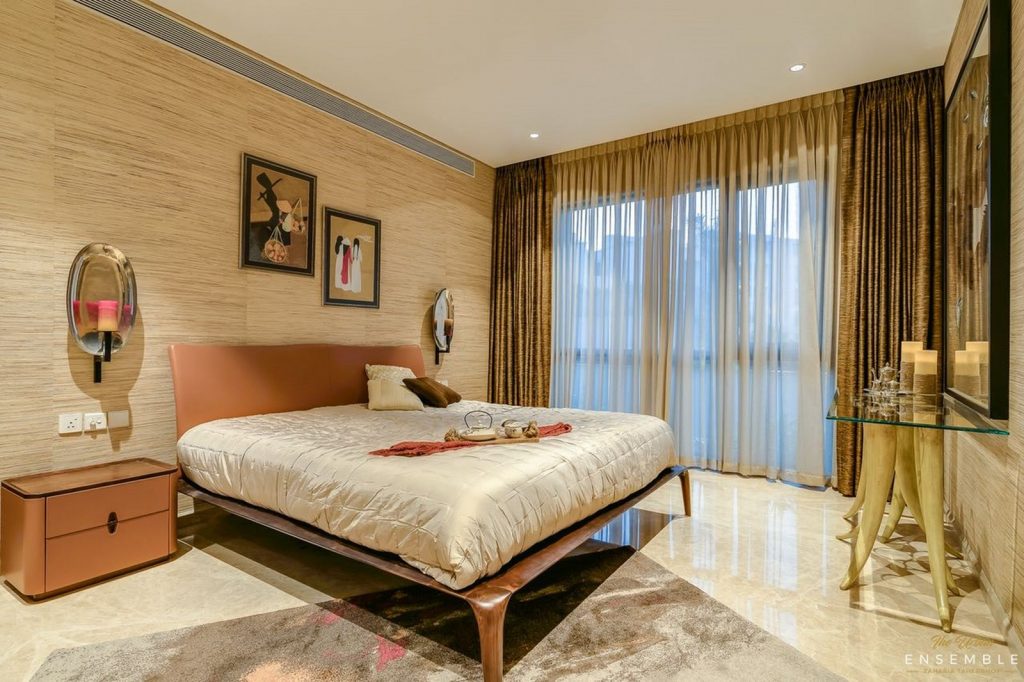 Designing this project was an absolute delight and seeing our ideas manifest into this gorgeous house that turned home – right from the design process, to brainstorming, to understanding clients at a deeper level has been challenging, inspiring, gratifying and heart-warming all at the same time.
FACT FILE:
Firm: The Urban Ensemble
Location: Pune
Project Type: Luxury Apartment Interior
Area: 4500 sqft
Founder & Principal Designer: Zahabia Taherbhoy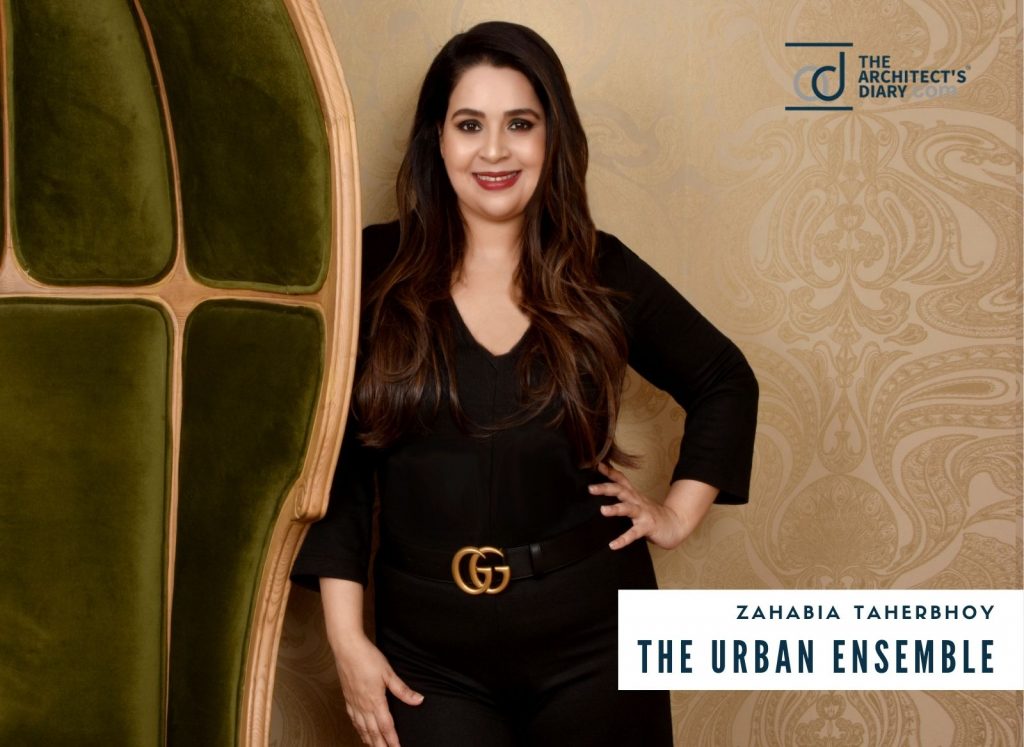 Website: http://www.theurbanensemble.com/
Facebook: https://www.facebook.com/theurbanensemble/
Instagram: https://www.instagram.com/theurbanensemble/