&nbsp
3BHK Residence Interior With A Lively Combination Of dark And Light Shades | Ekta kamdar Design Studio
The journey is more experiential and experimental when the design is not just beautified but also crafted with serenity and logic. The perfect example is this 3 BHK residence located in Vadodara. The area is about 1750 sq ft. this interior design project compels one to ponder upon the brilliance of material used along with exquisite furniture adding to its ambience. The home has come out into a lively combination of dark and light shades. It is so amazing to see different shades and tones coming together to form a beautiful ambience. The overall theme used here is modern.
Visit: Ekta kamdar Design Studio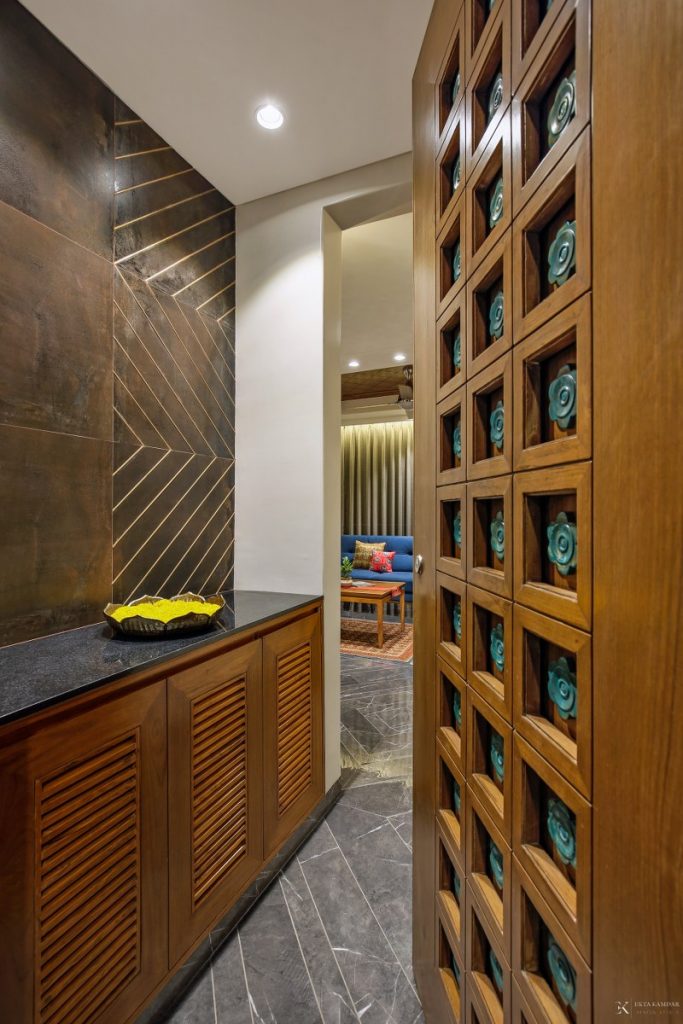 We enter through a beautiful brown door designed for safety with beautiful motifs embossed on it. The entrance is decorated with brass patti inlay in tiles. With an overall tile flooring, we also get to see a glimpse of the herringbone pattern, the look is absolutely simple but impactful due to the wit applied in the palette used all around.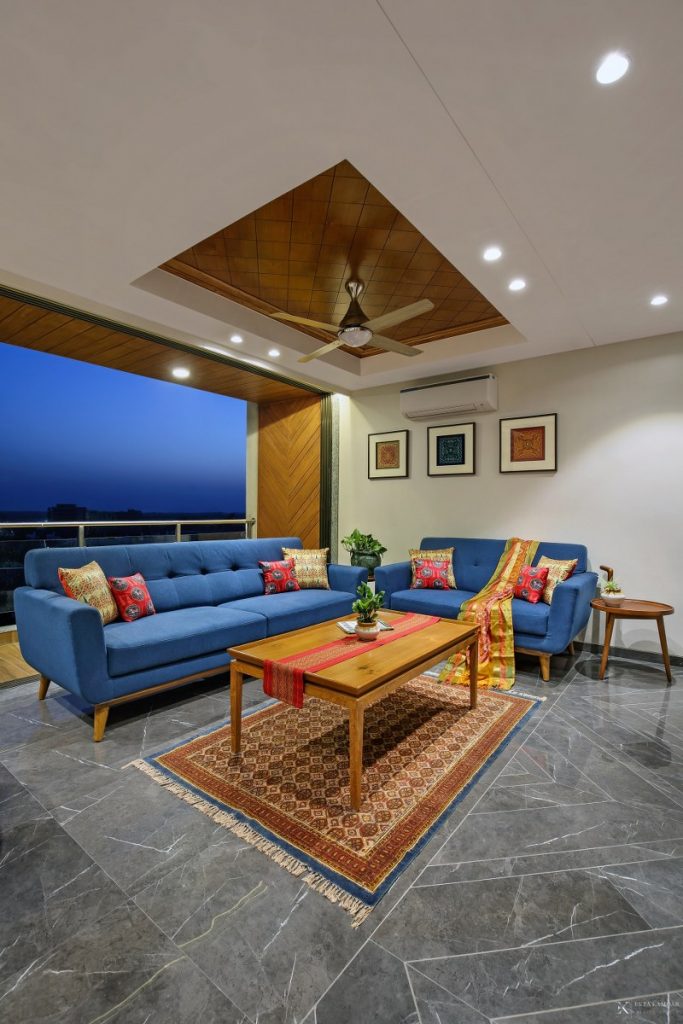 The living room comprises of Italian marble table top's dining table, veneer, and wood furniture. The ceiling is of p.o.p with designer wooden Patti and veneer. This Wooden Ceiling design play's a key role in enhancing the overall aesthetics of the living room space.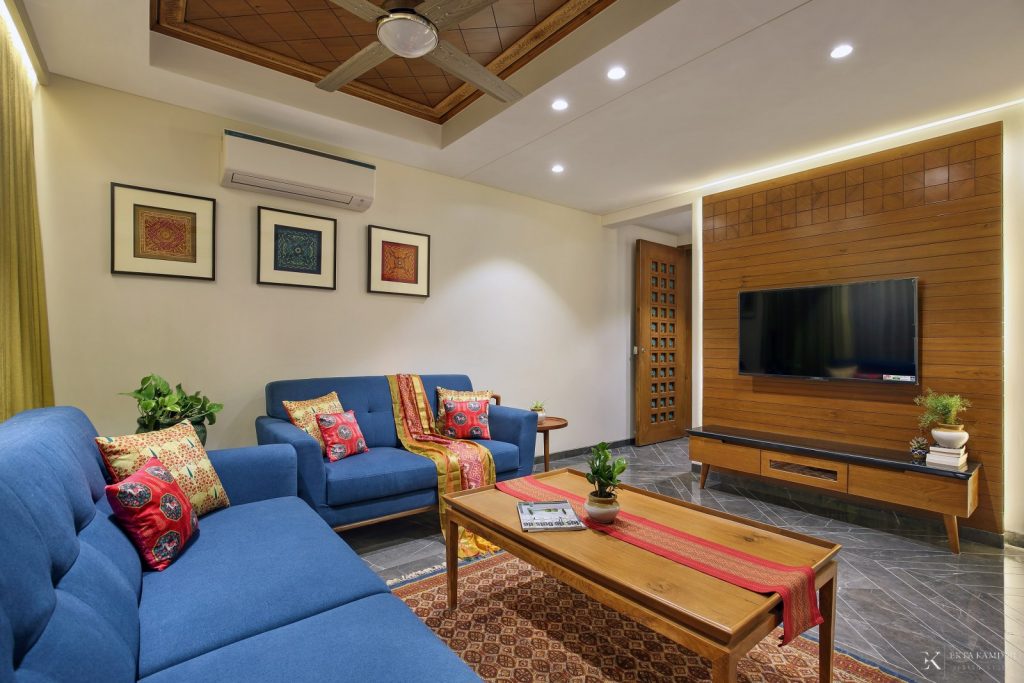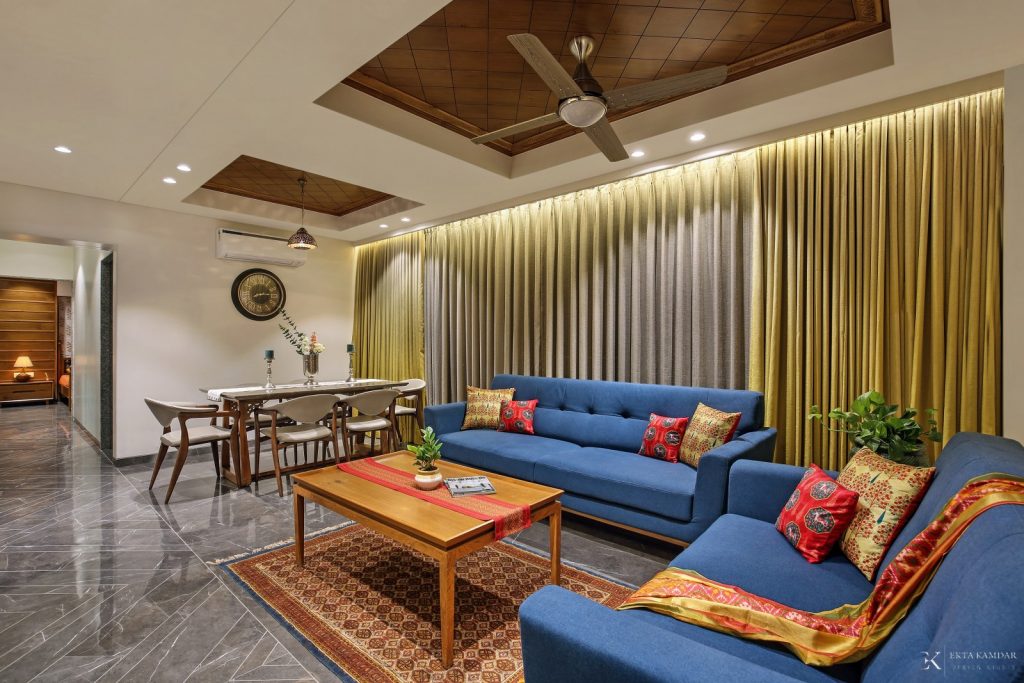 The balcony is a calm space designed with concept of oneness with wooden on the floor, shera ply on the wall, and roof. The best thing about this space is the openness and natural light it offers through the full-length huge opening towards the balcony covered with shear curtains to allow light during day time.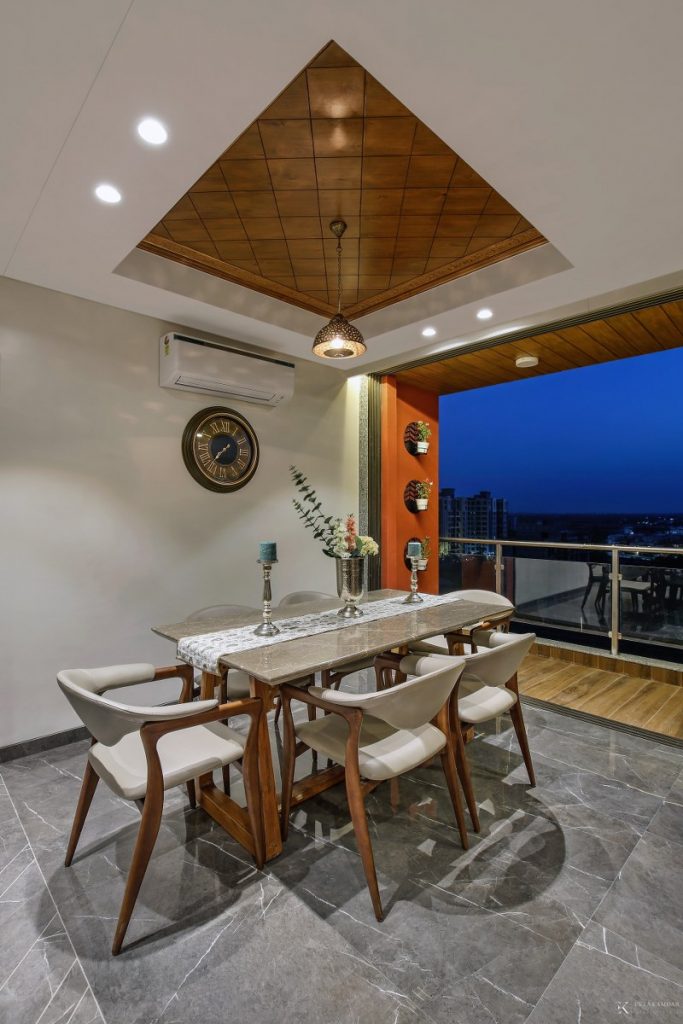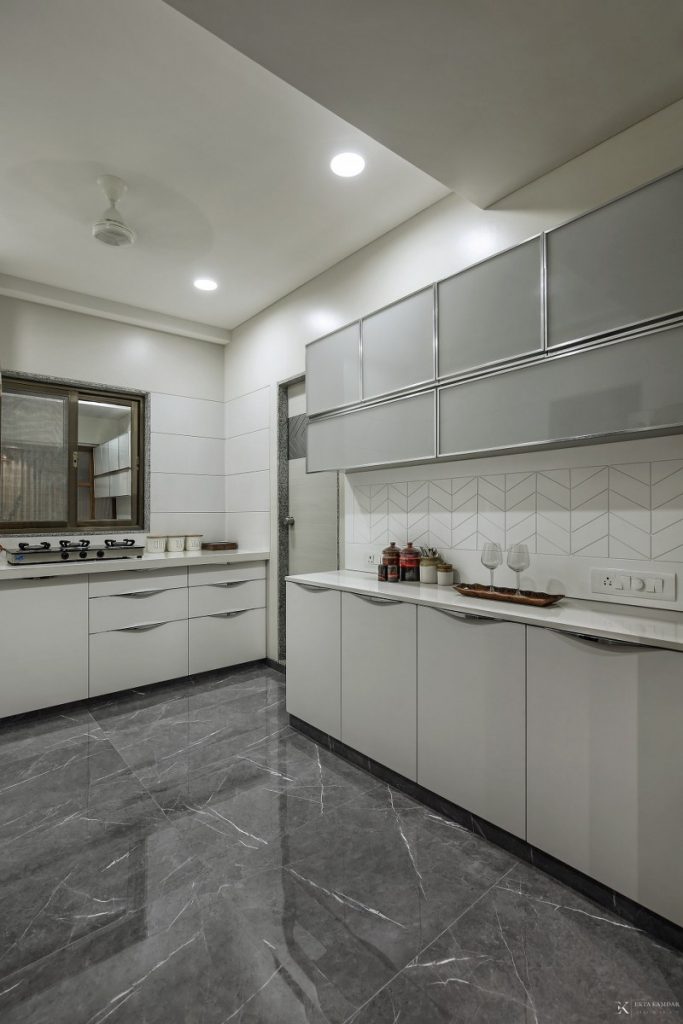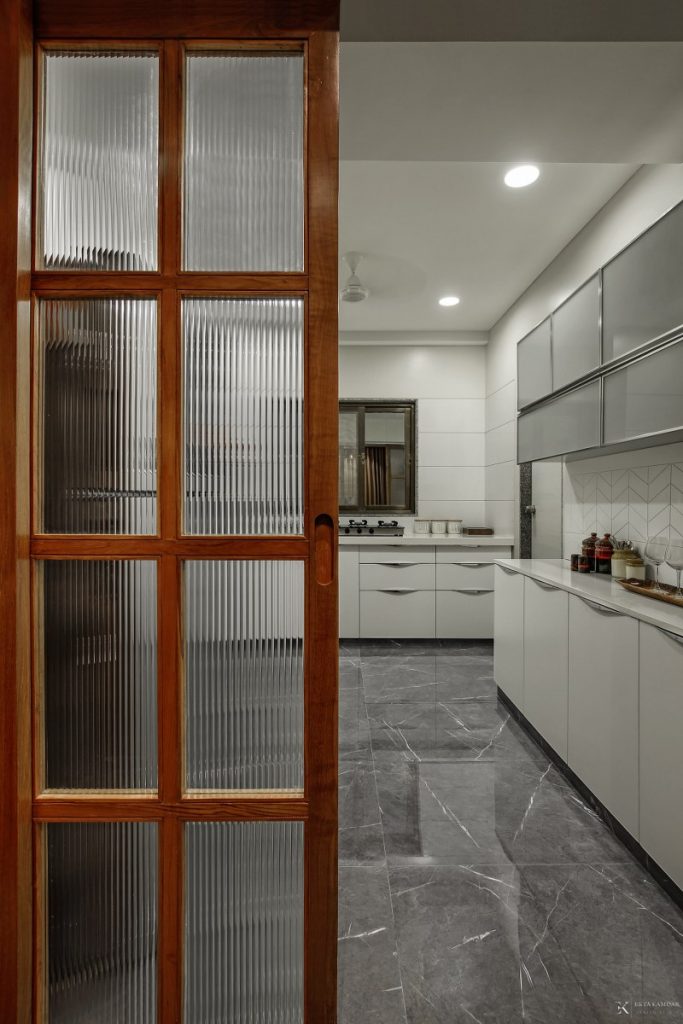 The dining is attached to the living room which completely opens itself to the balcony through the sliding door. The kitchen is the most sophisticated of all is ' all-white', white back-painted glass, and white Duco paint finish shutters compose beautifully with the p.o.p ceiling. The entrance sliding shutters use bamboo glass and wooden frame, however.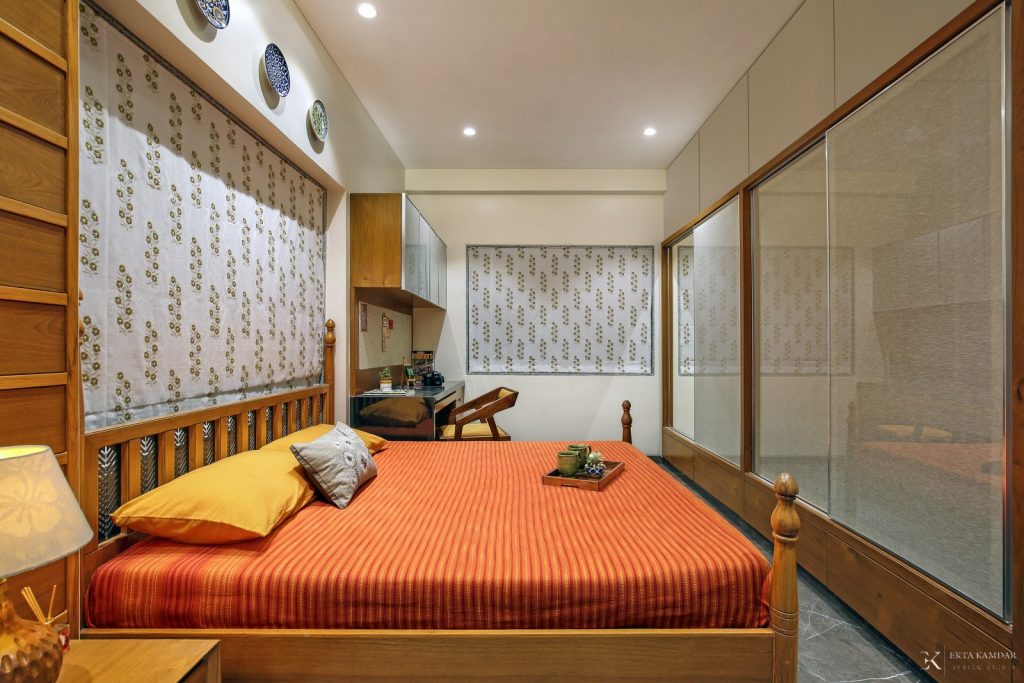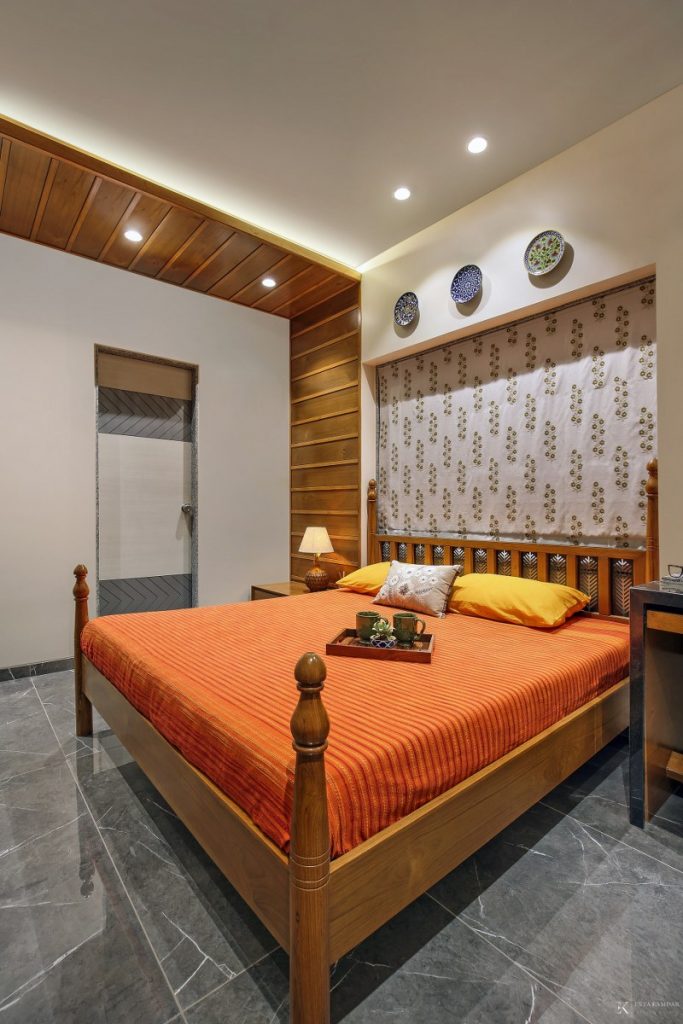 The master bedroom consists of wardrobe shutters of fabric being sandwiched within plain glass , ceiling is again p.o.p. with veneer patta and wooden patti. What adds to this space is the bed back which is a authentic metallic jali.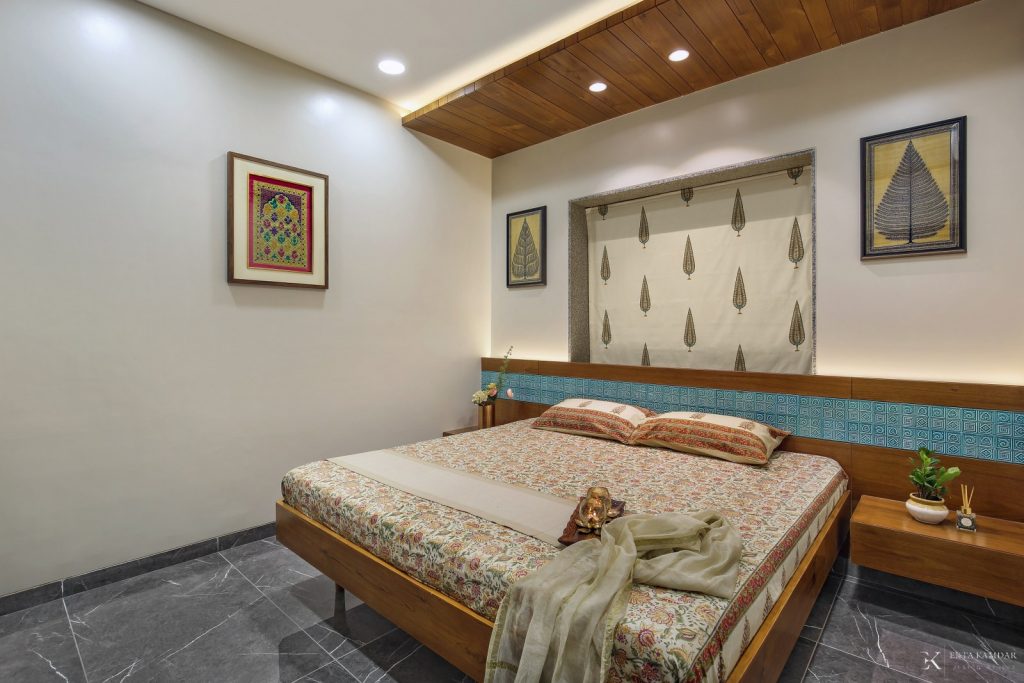 The parent's room feels to be a different space while being nicely ornamented with wood and veneer furniture. Wardrobe shutters are made of veneer and wooden patti. The bed back seems to be the cherry on the cake with veneer and handmade tile.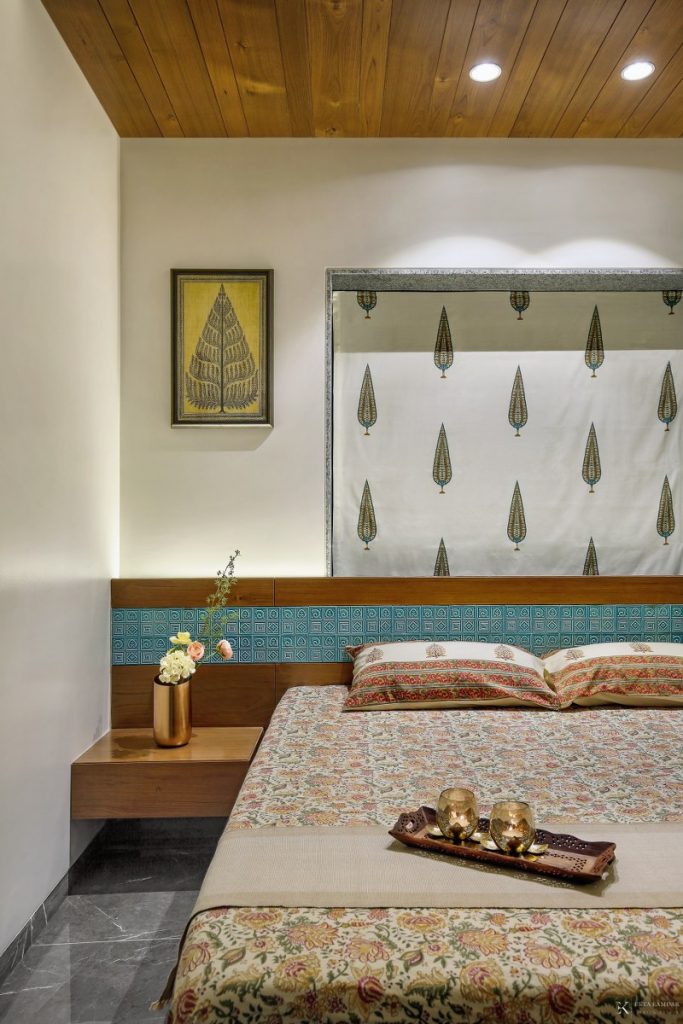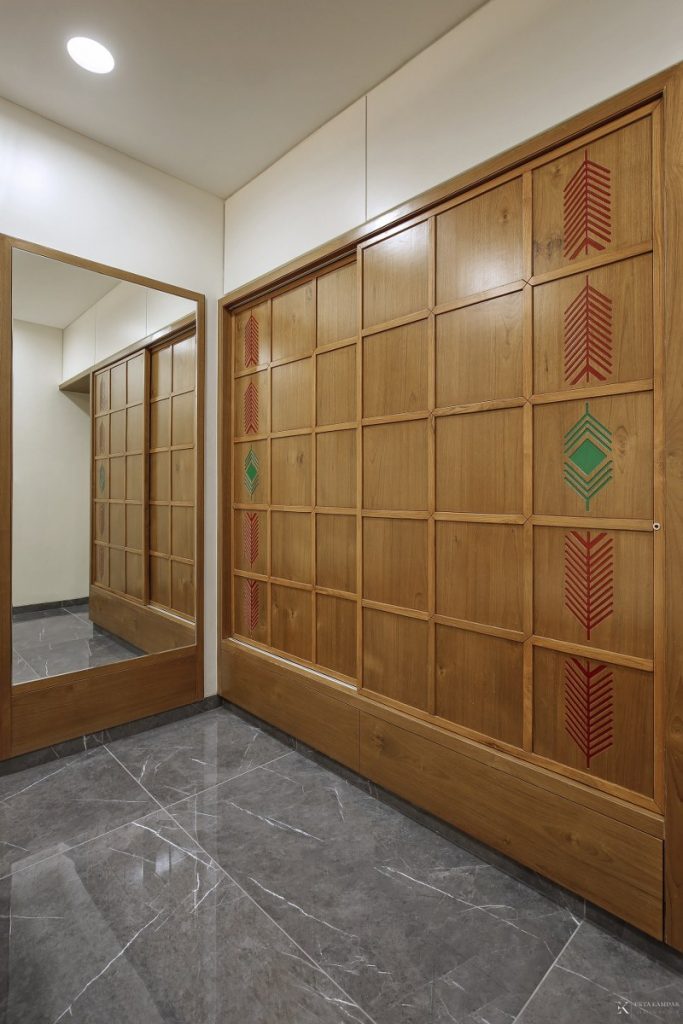 Since, god is in the details. The lamp in the dining area giving away the most awe giving sciography, the petal shaped bowl in the entrance gallery and the sofas in the shade of blue compliment the designer's thought provoking vision.
FACT FILE
Firm Name : Ekta kamdar Design Studio
Area : 1750sqft
Project Location : vadodara
Project Completion : 2019
Project Type: residence interior
Project Designer : Ekta kamdar
Photographs : Tejas shah photography
Text : Aakriti Malhotra