&nbsp
3BHK Apartment With Variety Of Stylistic Directions | Atelier Interior
A dream home. A haven. This was the succinct — and abstract — brief that the client gave for this project. Besides specifying his preference for functionalities, the architect was granted full liberty to decide the aesthetic articulations of the 3BHK apartment, and zero in on the look and feel. The challenge, ironically, lay in this freedom — given the variety of stylistic directions that exist today. After many discussions, a marriage of patterns and colours was selected as the way ahead, and these were carefully integrated in all manner of expanses and surfaces — albeit carefully so as not to cause any discord or disharmony in the overall picture.
Visit: Atelier Interior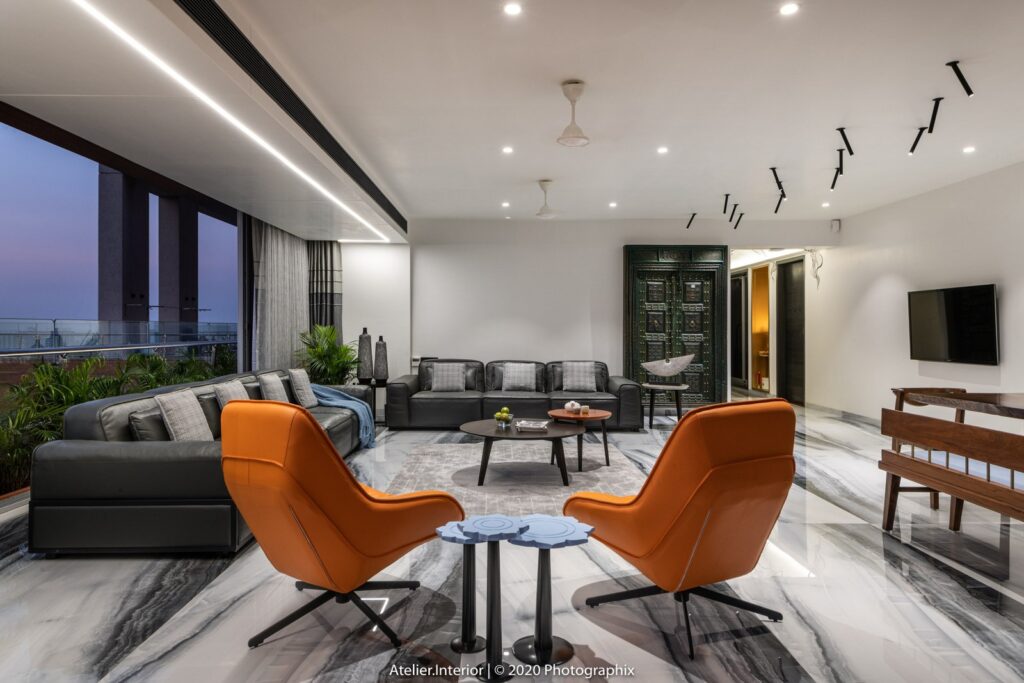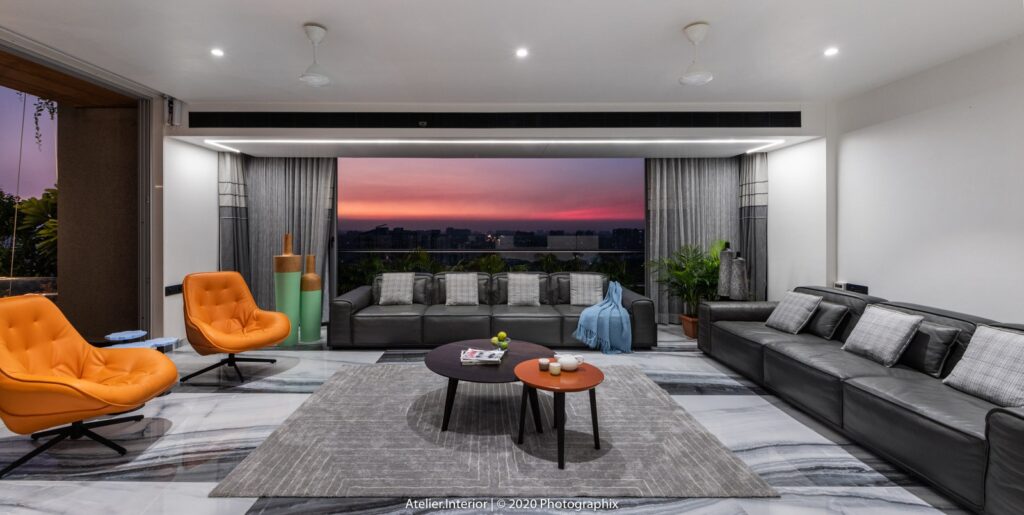 The site was received as a bare shell, which made it easier for the design team to implement this vision of strong forms and vivid colours. The patterns were melded with colour to create distinct compositions — but the hues selected stayed away from the 'normal' picks. Cool colours such as light blue and stronger shades of black were fused with browns and tangerines.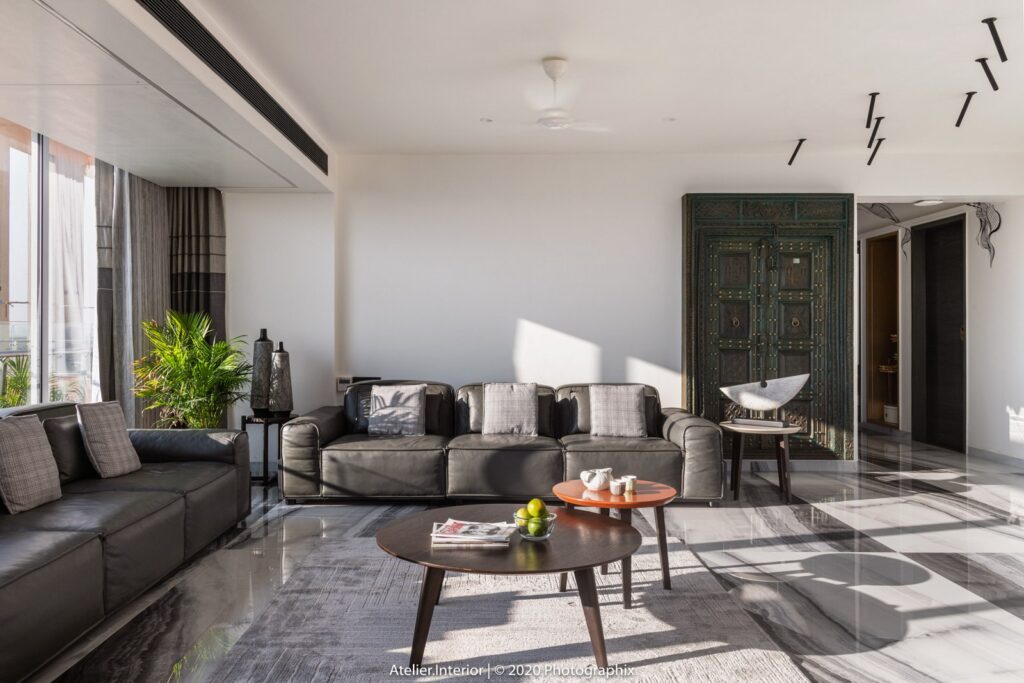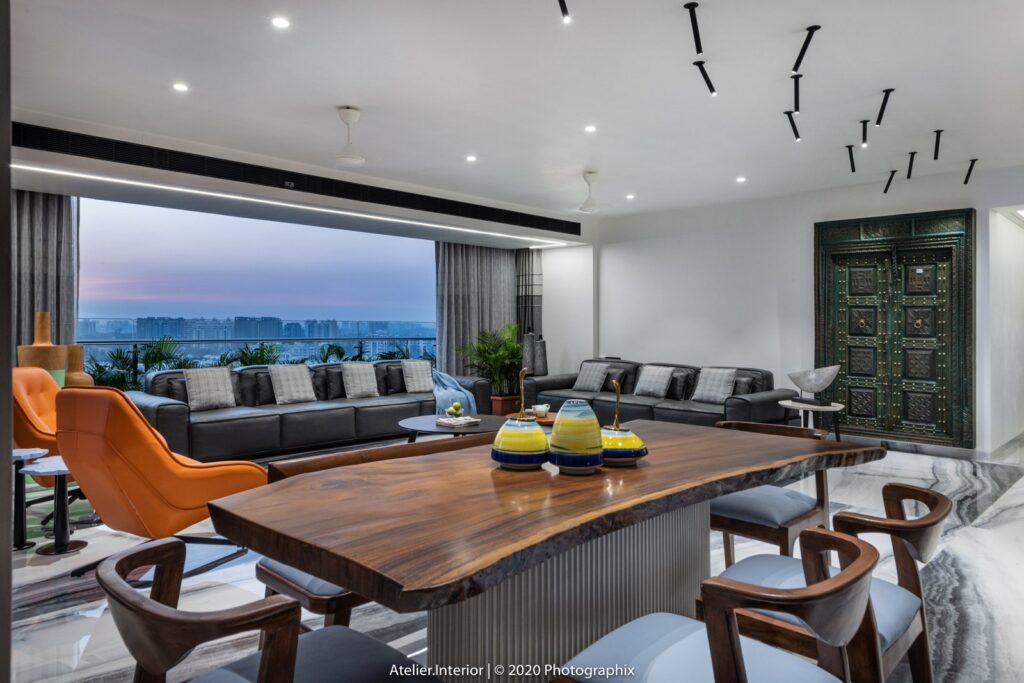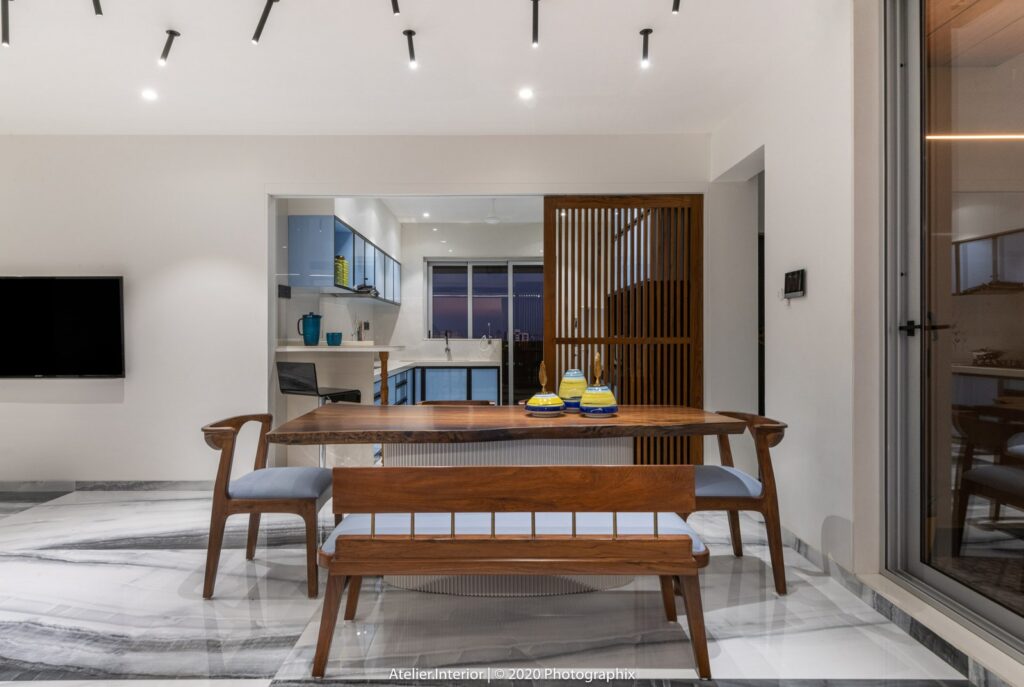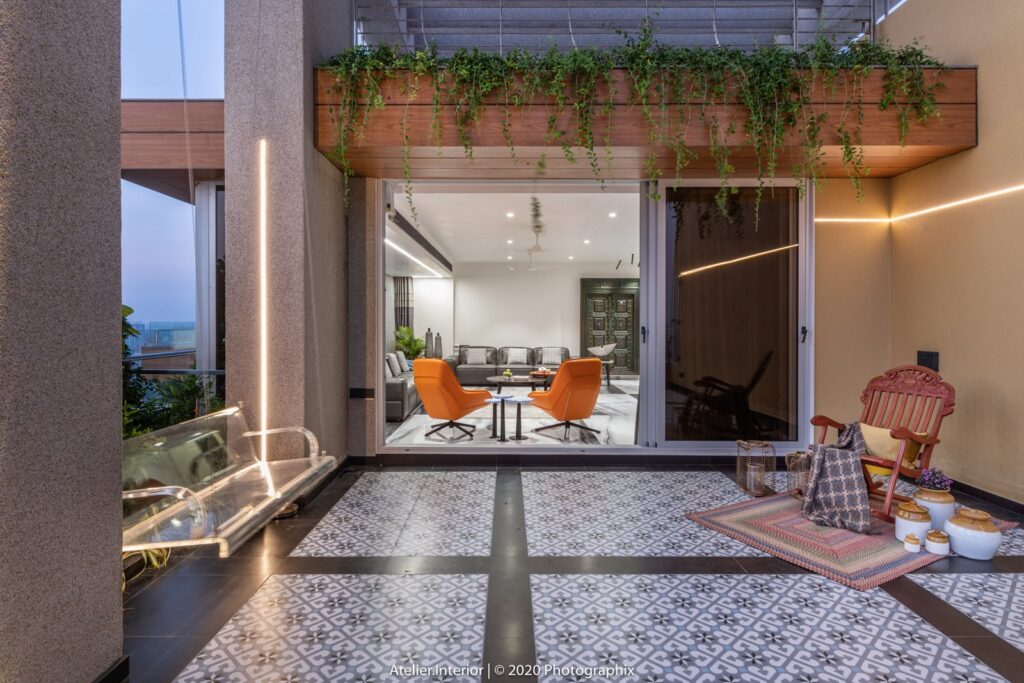 While the public zone comprising a seamless living and dining area relies on the beautiful grains of glass tiles on the floor to set the mood, the master bedroom uses a distinct serration of wooden planks for a classic tone. The latter also features a contemporary four-poster bed, as a slim-framed black version.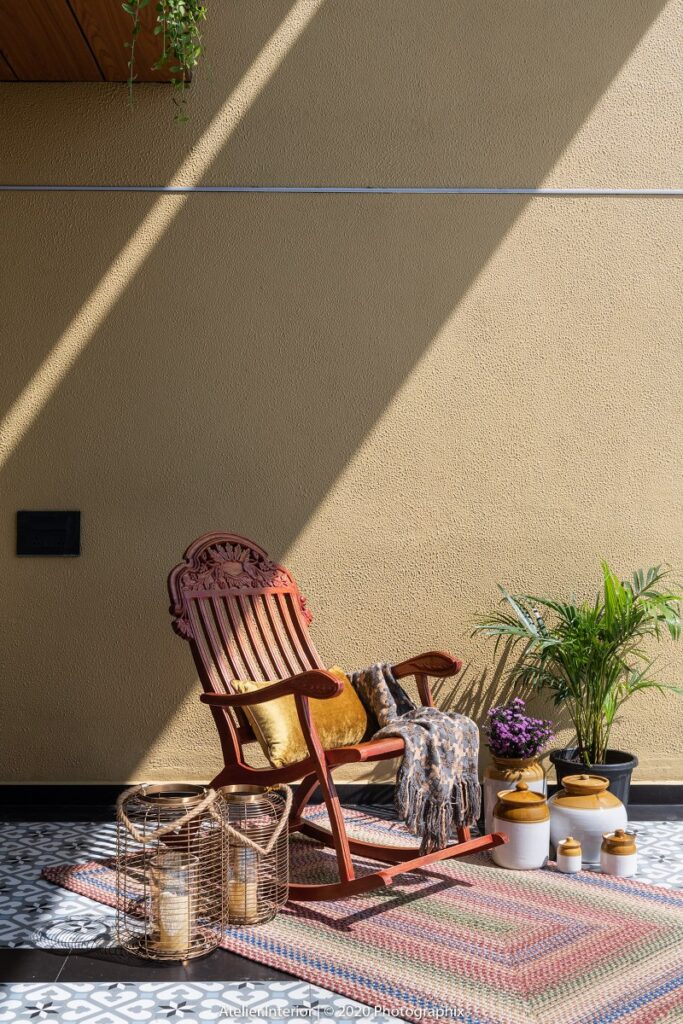 The rooms belonging to the younger family members see a certain youthful vigour in design, as strong geometric forms on their stone floors. While the son's private domain sees confident blue stripes underfoot, that of the daughter is animated with brownish-pink zig-zag lines. The geometric flavour extends to several decorative objects through the house as well — notably the round mirror in the master bedroom and the 'pixellated' artwork mounted behind the son's bed.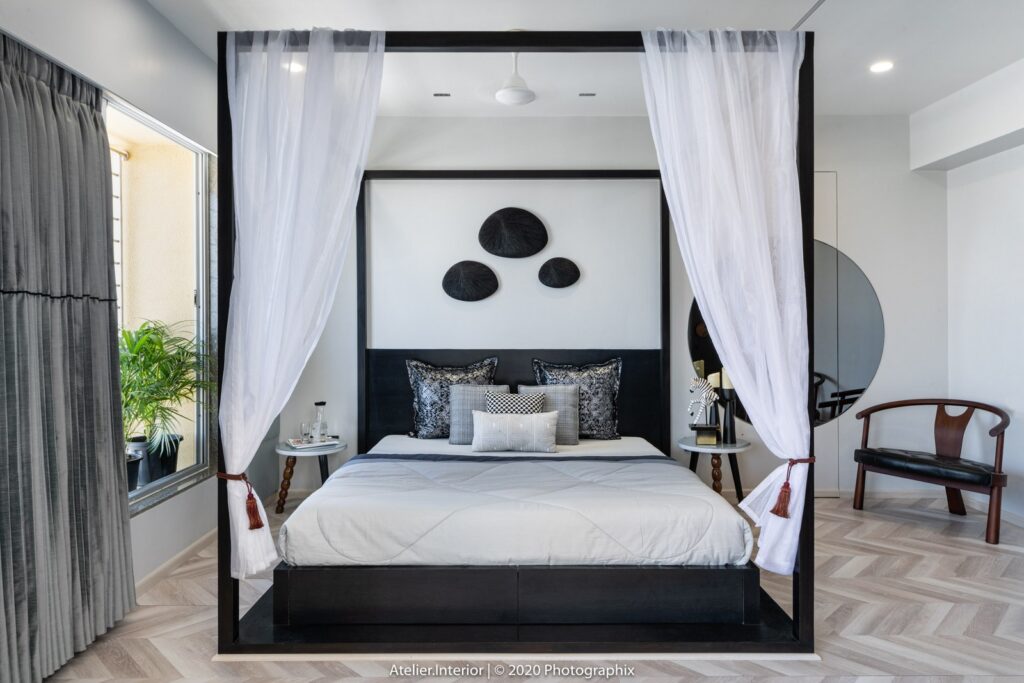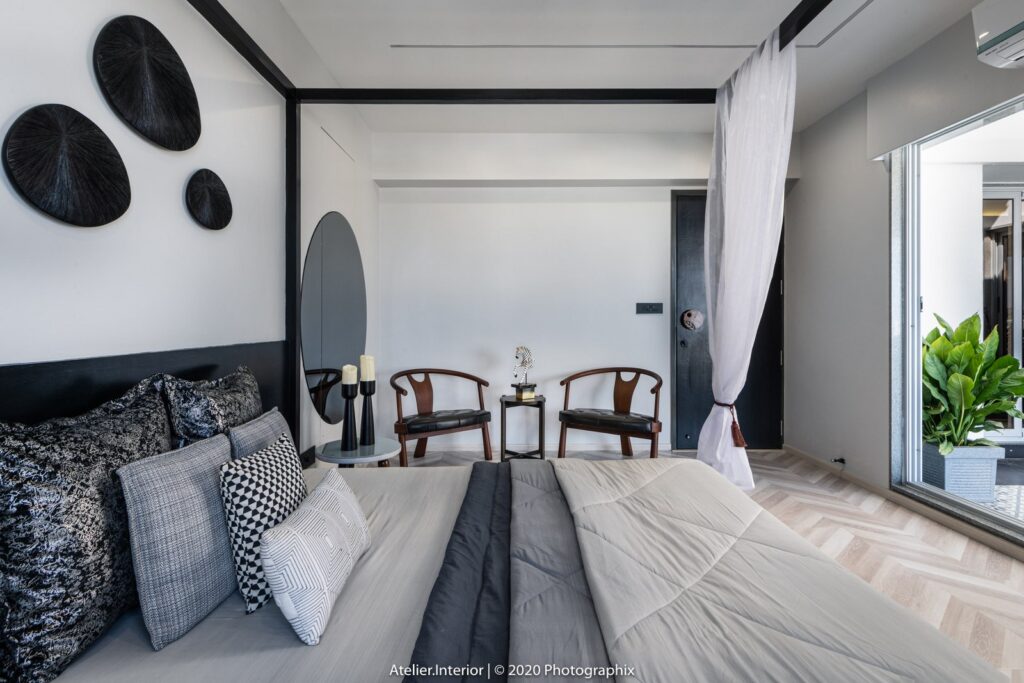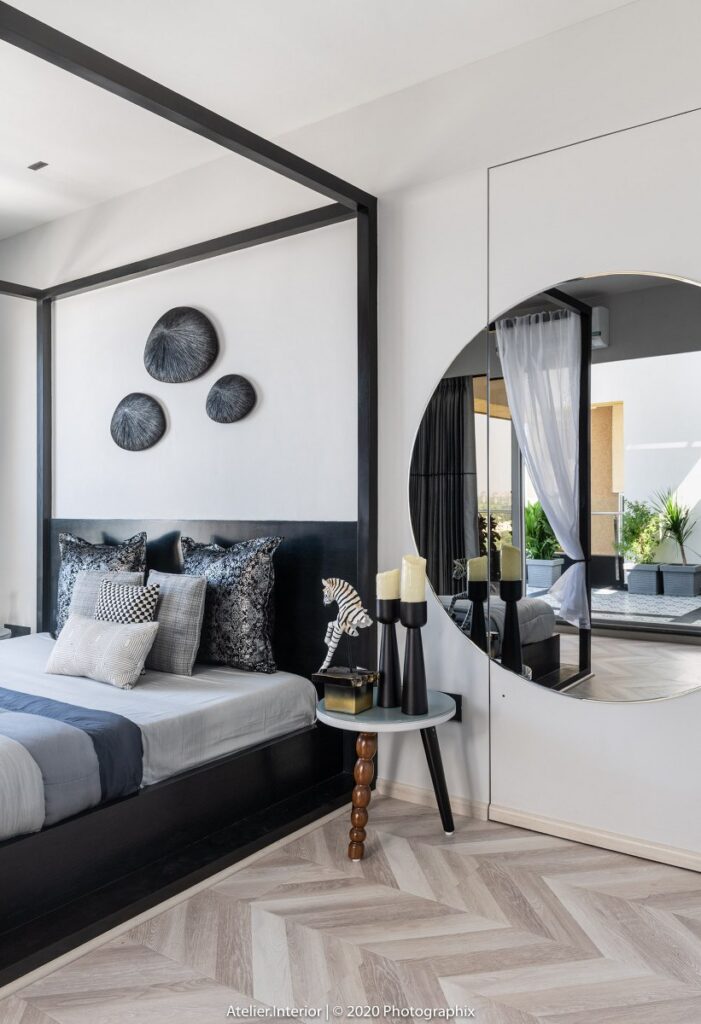 The home is highly bespoke in nature. Most of the furniture — such as the live-edge dining table and the beds — has been custom-made. The walls of the entrance passage and one of the daughter's bedrooms (behind the bed) see beautiful handpainted artwork. Adding to the narrative is a stunning antique door, displayed as an artefact in the living room. Its vintage beauty adds an eclectic dimension to the contemporary space.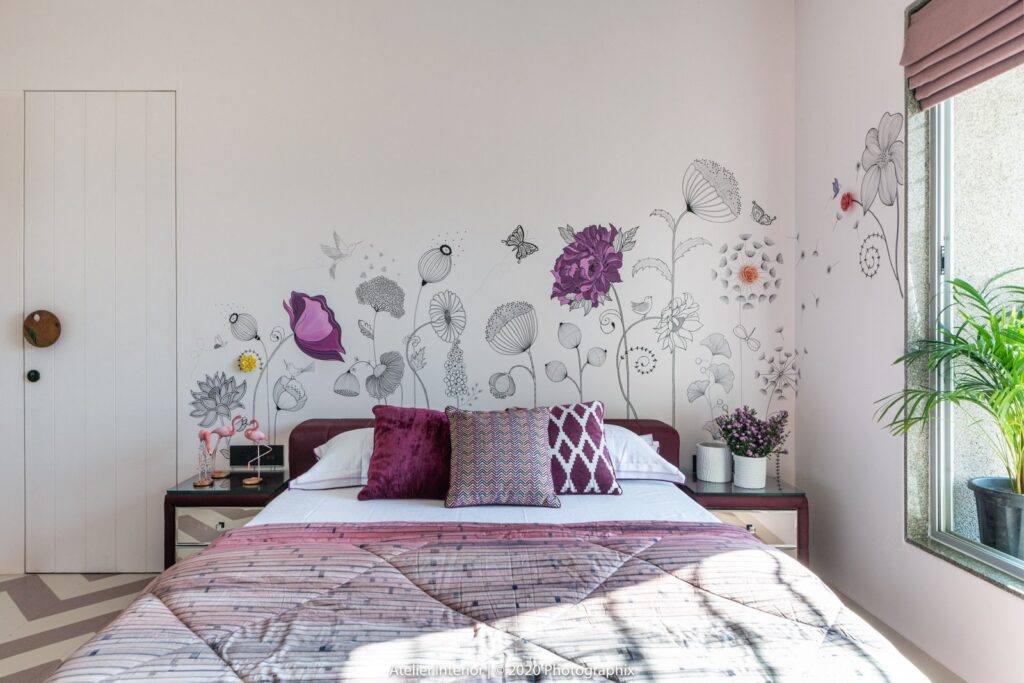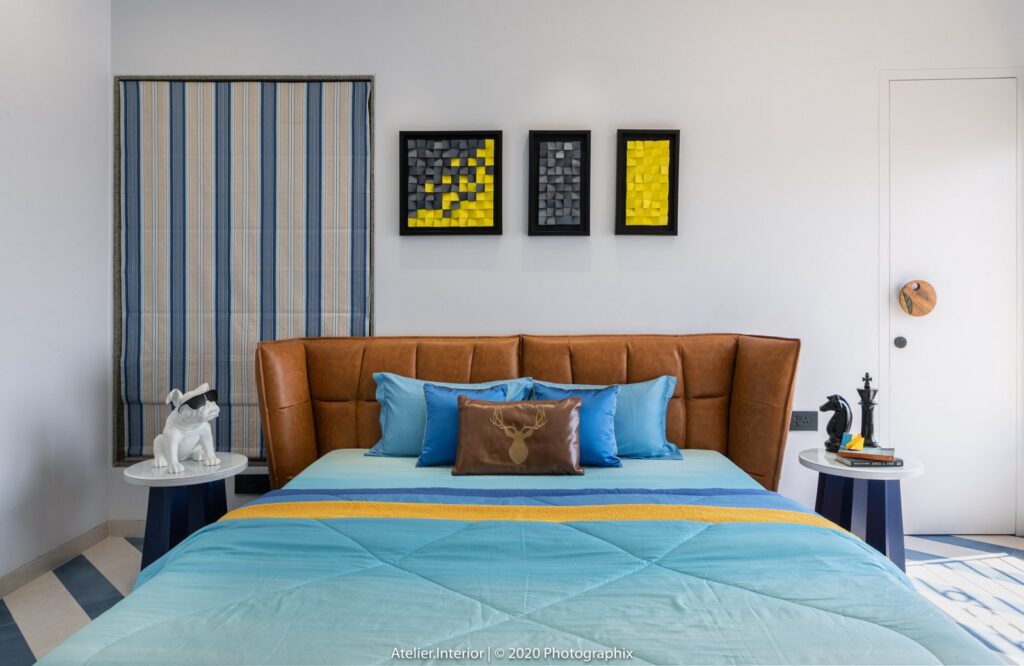 The use of stone in the bedrooms keeps the sleeping areas cool and comfortable in the city's harsh climate. The two terraces — a definite highlight of the home — also shoulders this responsibility with their lush, calming greenery.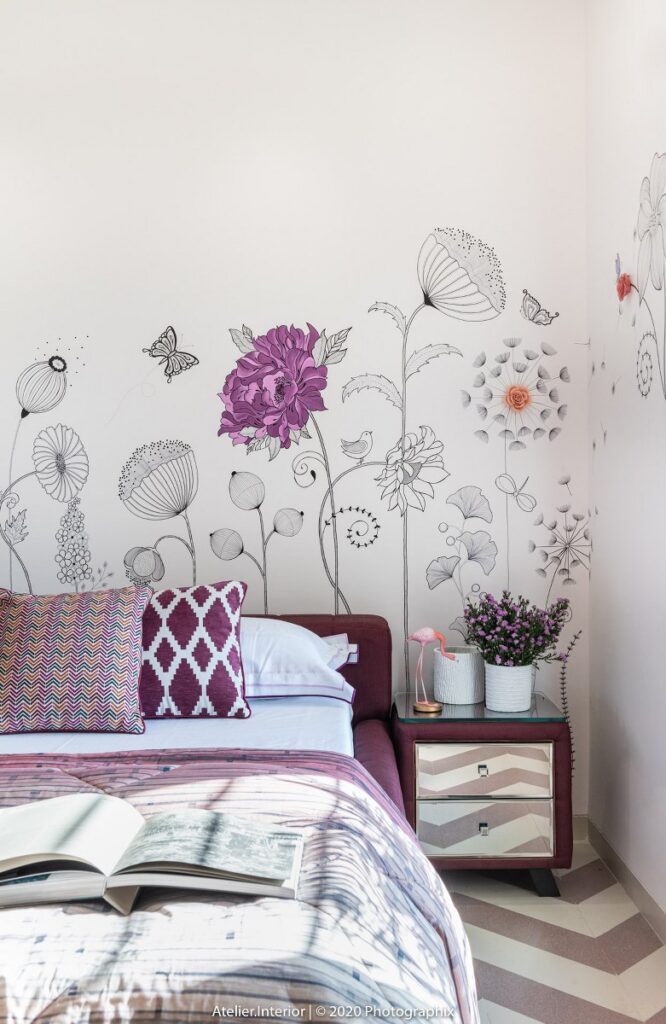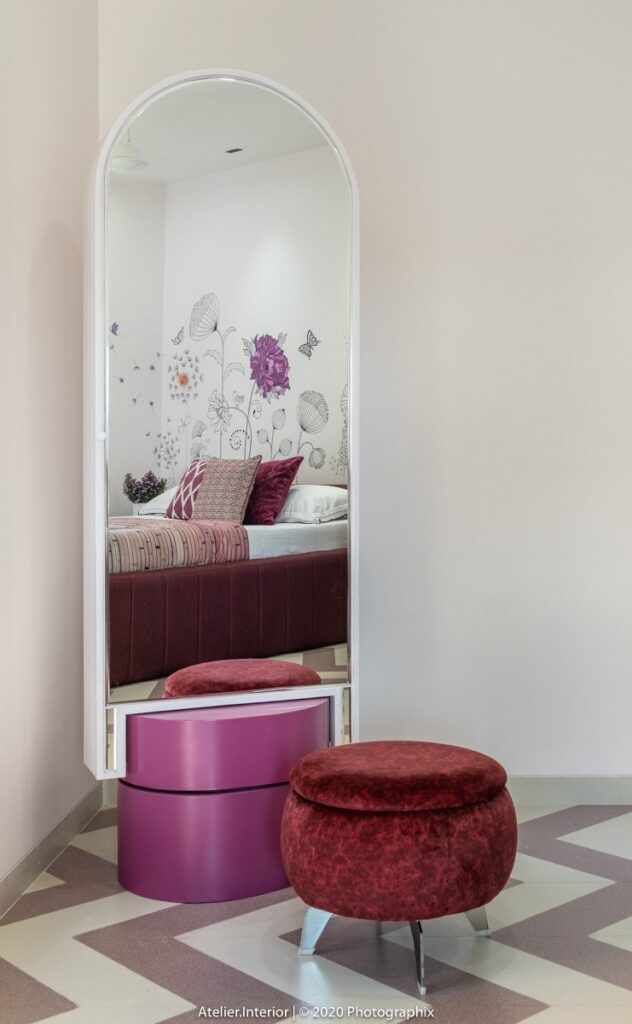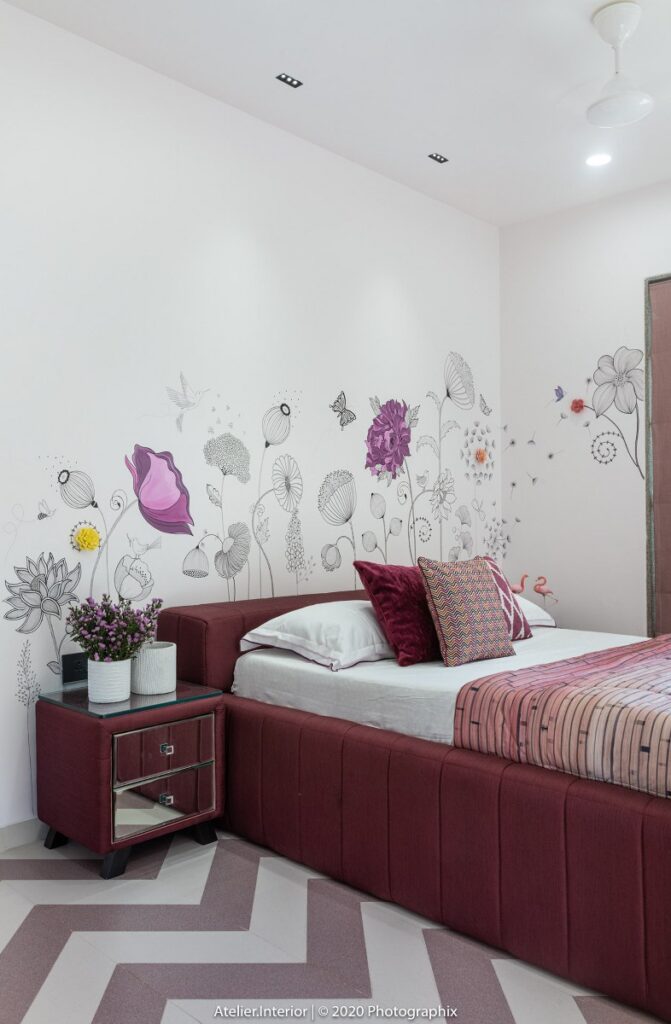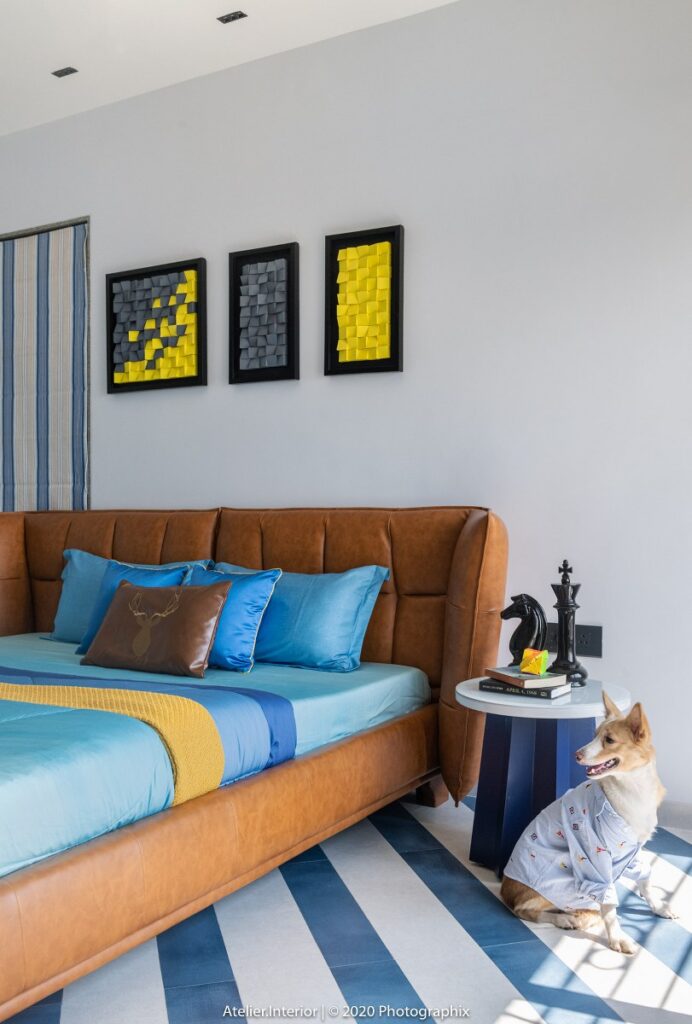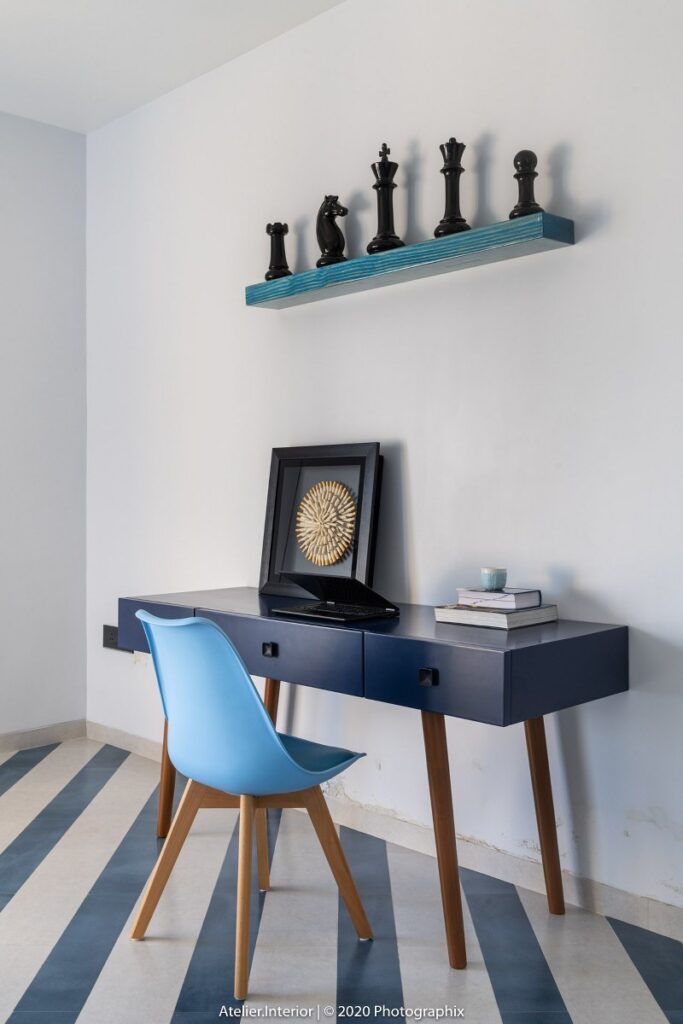 As with all projects, there were points of discussion with the client in this one too. Art and the strong patterns used on the floor were the main subjects of the debates as the family tried to understand the value these elements would bring to the visual narrative. But as they say, all's well that ends well. An apartment replete with distinctive patterns and vivid hues is now what the family is proud to call their home!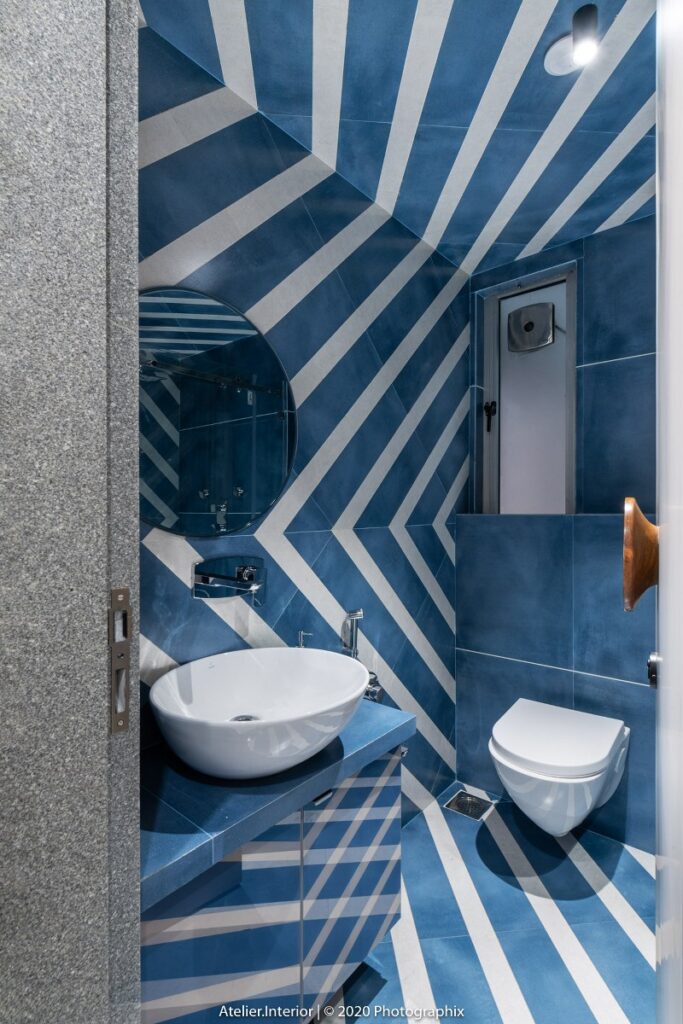 FACT FILE:
Designed by: Atelier Interior
Project Type: Residence
Location: Surat, Gujarat
Year built: 2020
Size: sq feet: 3000 sq.ft
Project Cost appx: 48 lakh
Principal Architect: Kalpesh Tanna
Photograph courtesy: Photographix India, Ira Gosalia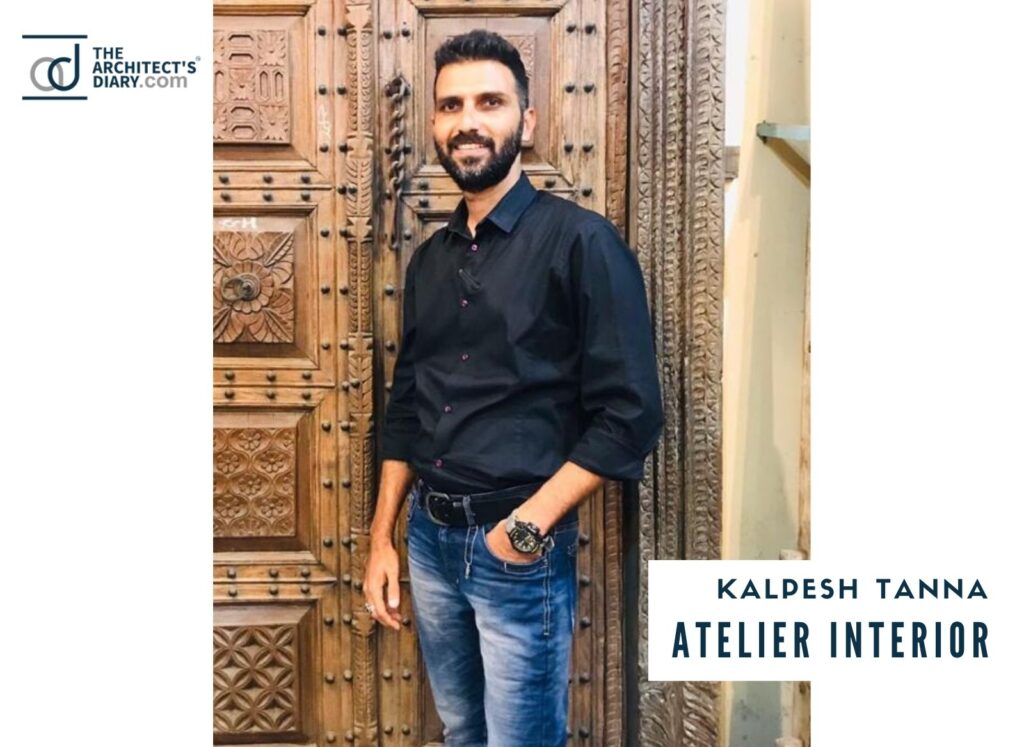 Instagram: https://www.instagram.com/atelier_interior07/