&nbsp
19000 Sq.Ft Avant-Garde Cocktail Bar And Restaurant Interiors | Chromed Design Studio
Inspired from the travels of explorer 'Mariposa Jose', a fictional character, Sutra Gastropub marks its ingress amidst the hustle and bustle of Noida city. Located at a standalone property and built across an area of 19000 sq.ft., this gastropub was designed to create an Avant-garde cocktail bar and restaurant. It became a talking point by serving a fitting semblance to relish the enlivening tone of innovation executed. This magnificent space is a classic yet eclectic mix of various design styles. The atmosphere here is of a moody speakeasy bar where one can sit back, relax and enjoy their drink. The design was driven by an incentive thought of bridging the gap between current millennial and traditional dining styles.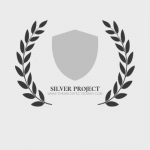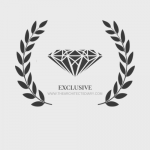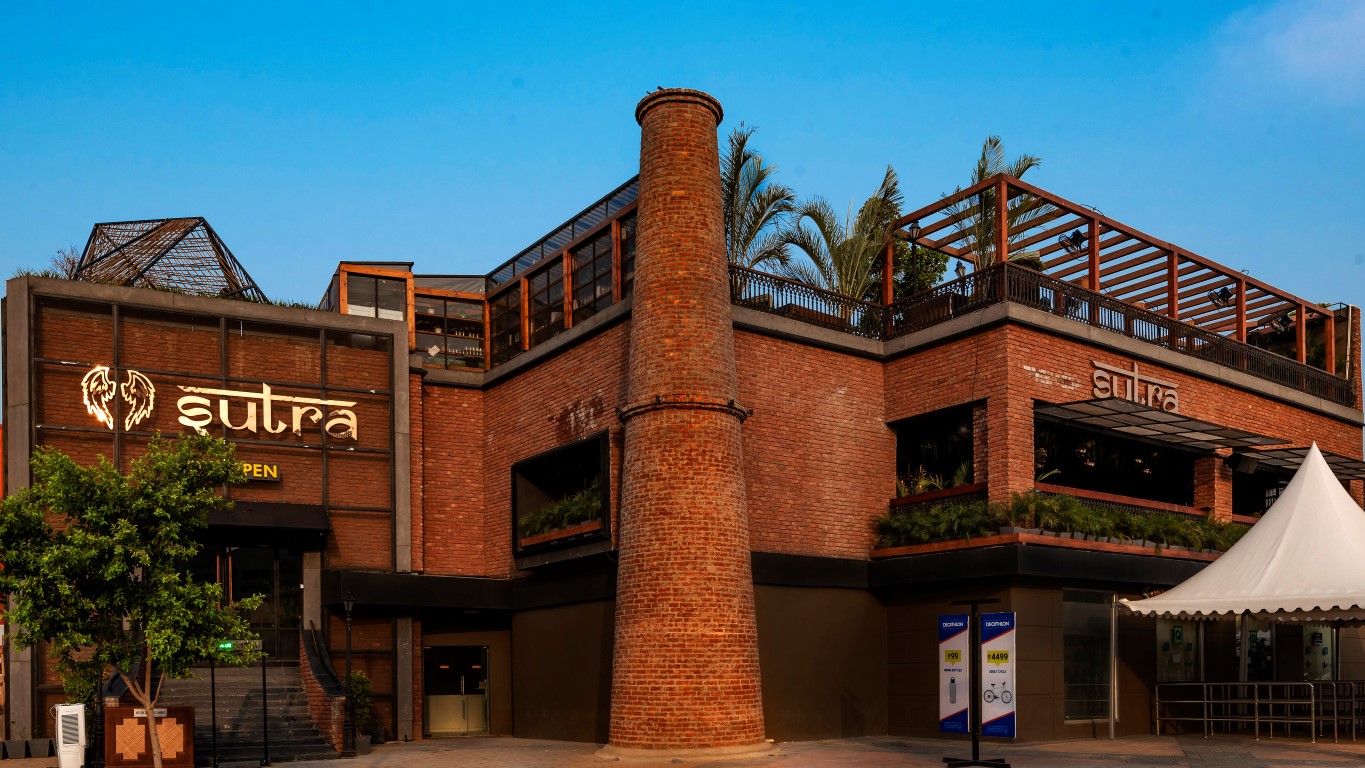 With the notion of making the arrived ones delve into the design scheme, the facade of this sphere is outlined with an agenda of deceiving its patrons while depicting an appearance of a heritage building with an old-world charm. The entire façade is clad with bricks, also exhibiting a brick chimney to further accentuate this deception.
A grand stone staircase guides the diners inside. The staircase lobby bestows a glimpse of the interiors at the inception, incorporating butterflies & masquerade painted on walls, combined with neon signage. A classic chandelier dangling here sets up a milieu of anticipation and delight.
A rustic wooden door marks an entrance to the indoor level. Upon entering the devised interior setup, an individual is welcomed by a pleasant sight of persuasive vibrant interiors. A triple-height central courtyard, with a glass roof and huge antique chandeliers suspended from the ceiling, shower an ambient light atmosphere to this domain.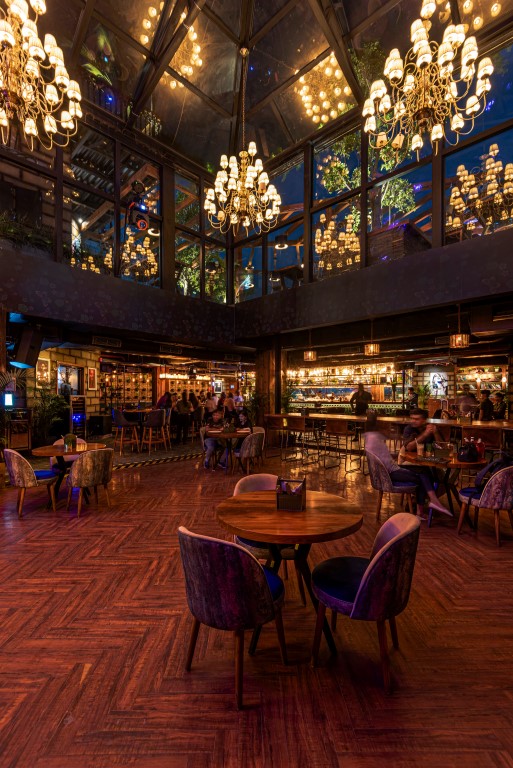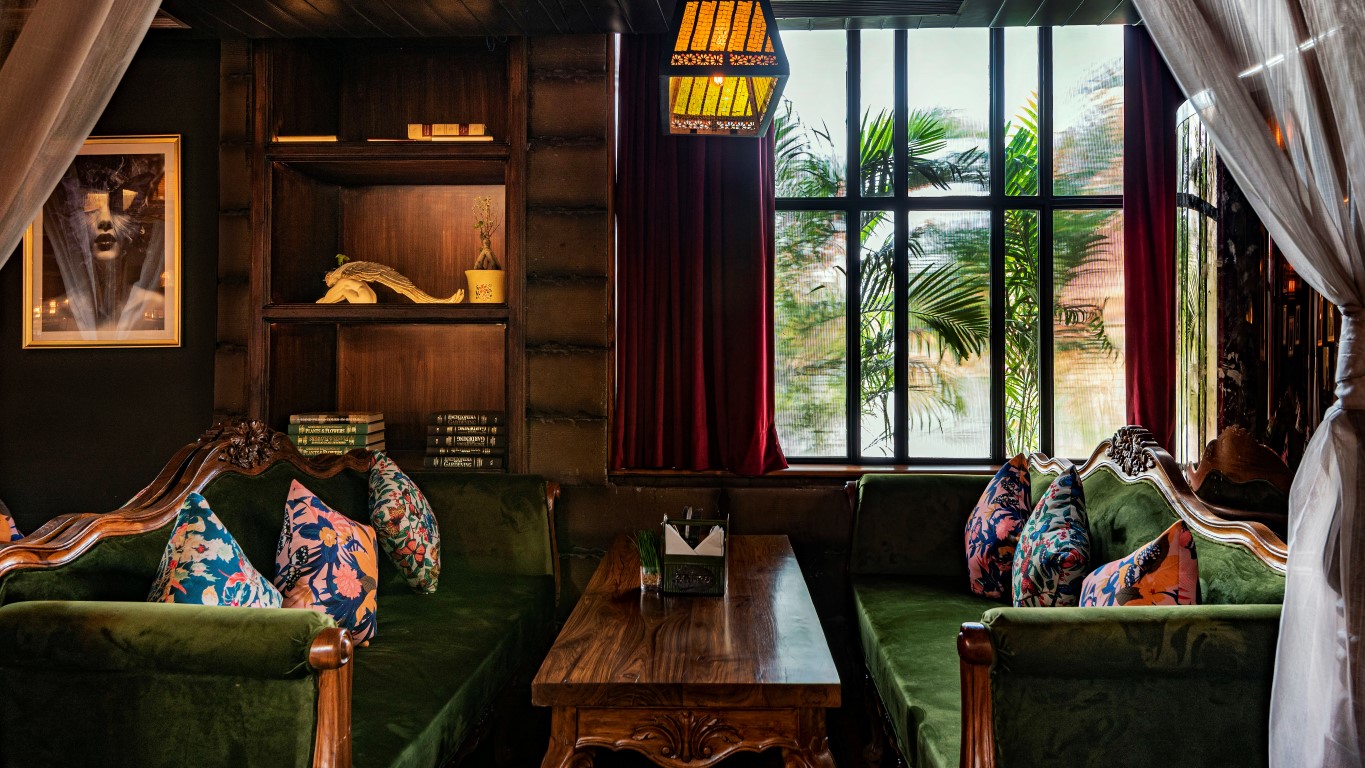 Keeping the furniture setup key, this area constitutes a long community table made of driftwood and a casual seating positioned on the left of the courtyard. A row of classic sofas with plush green velvet upholstery, framed by cast-iron columns enclosed with curtains and railing to separate the levels formulates the schema of this extent.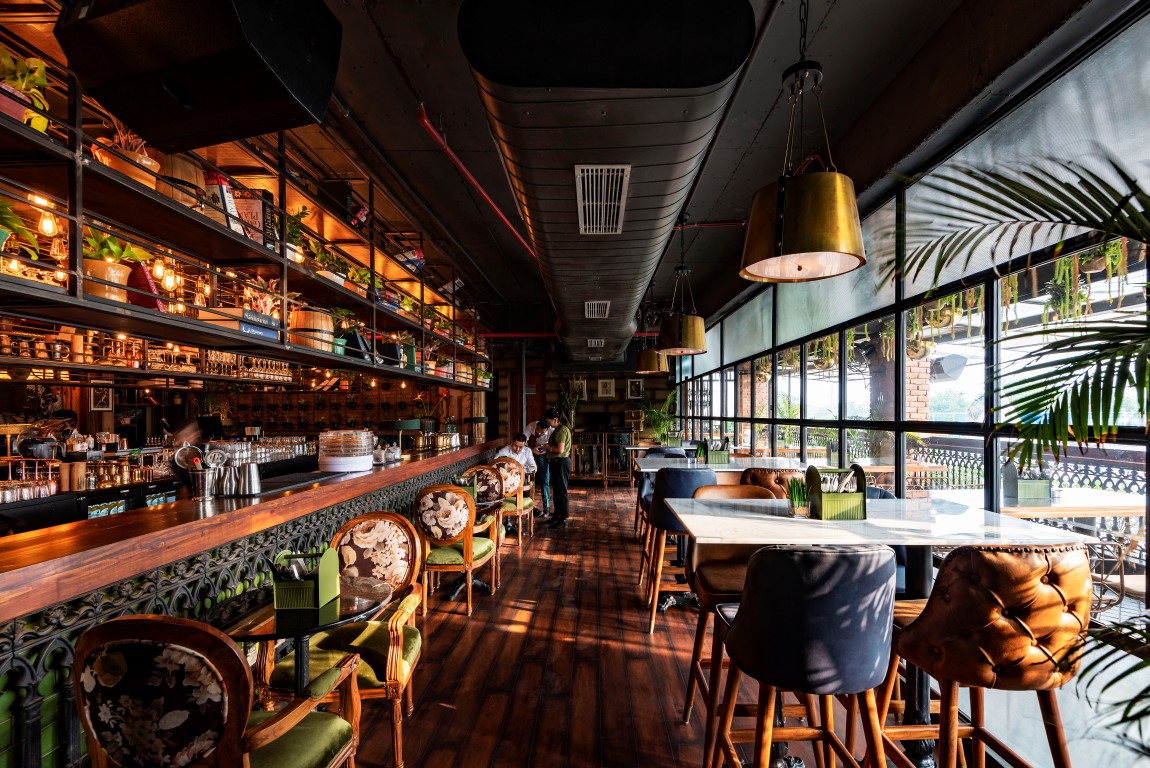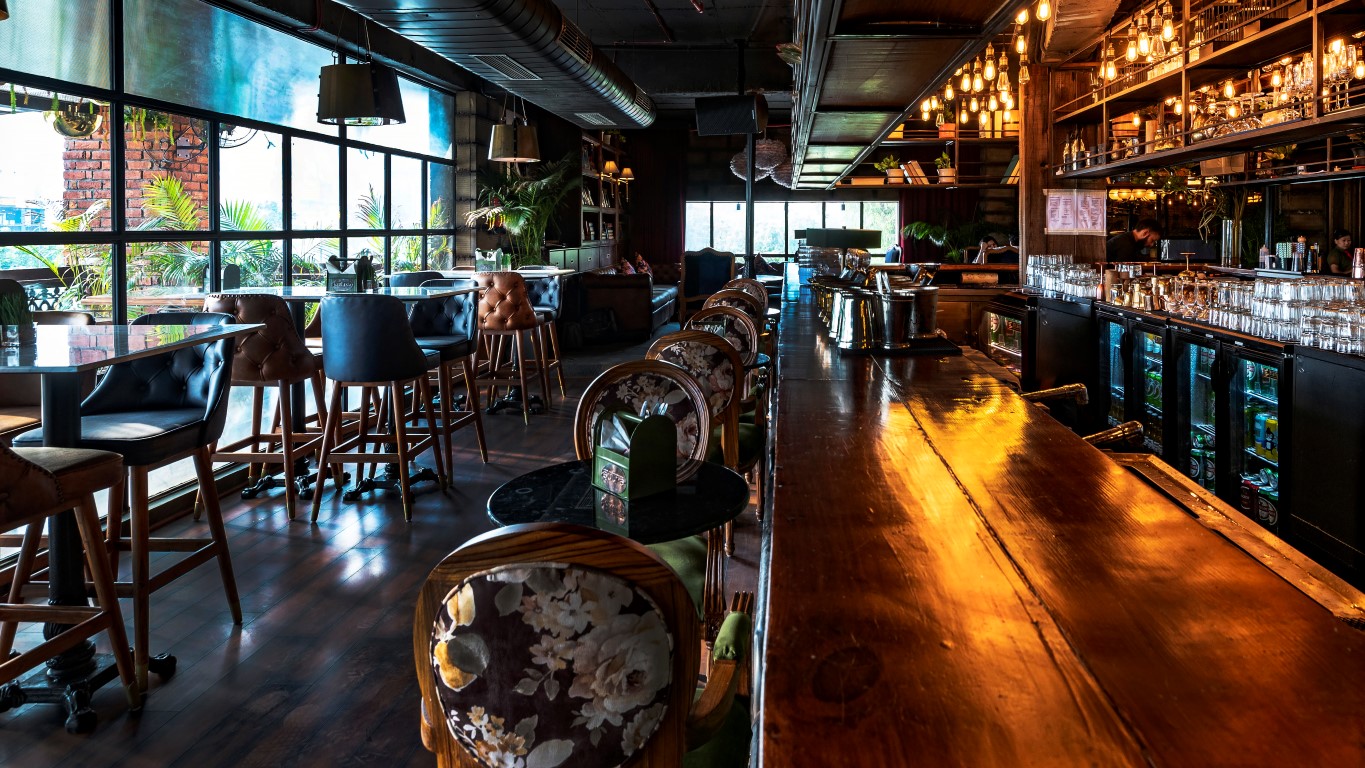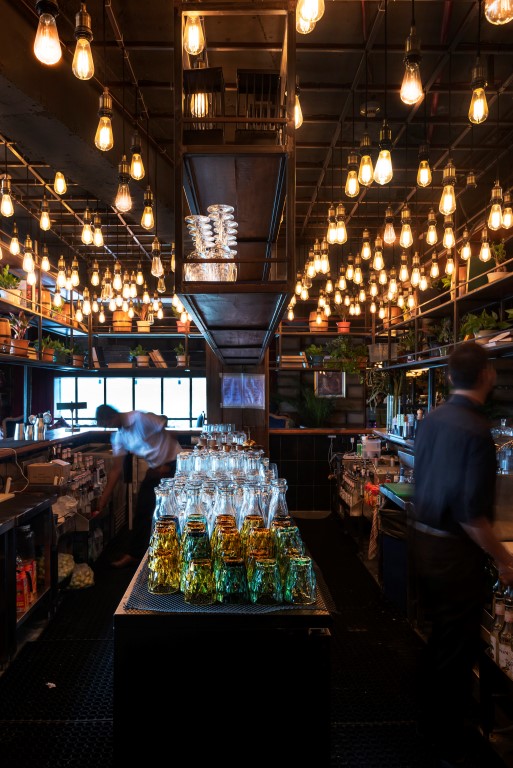 The centrally located bar serving as the focal facet may be deemed as a masterpiece in itself. A cast-iron railing is forged against the tiled bar front, conferring on a vintage mien.  The bar backdrop is enhanced by the use of supplementary installations of foliage and pendant lights screened inside a cast-iron cage. The ceiling as well is framed with a cast-iron jaali flanked by four intricately detailed columns. An assortment of wooden counters and simple yet lavish furniture configurations engrosses the patrons with variance.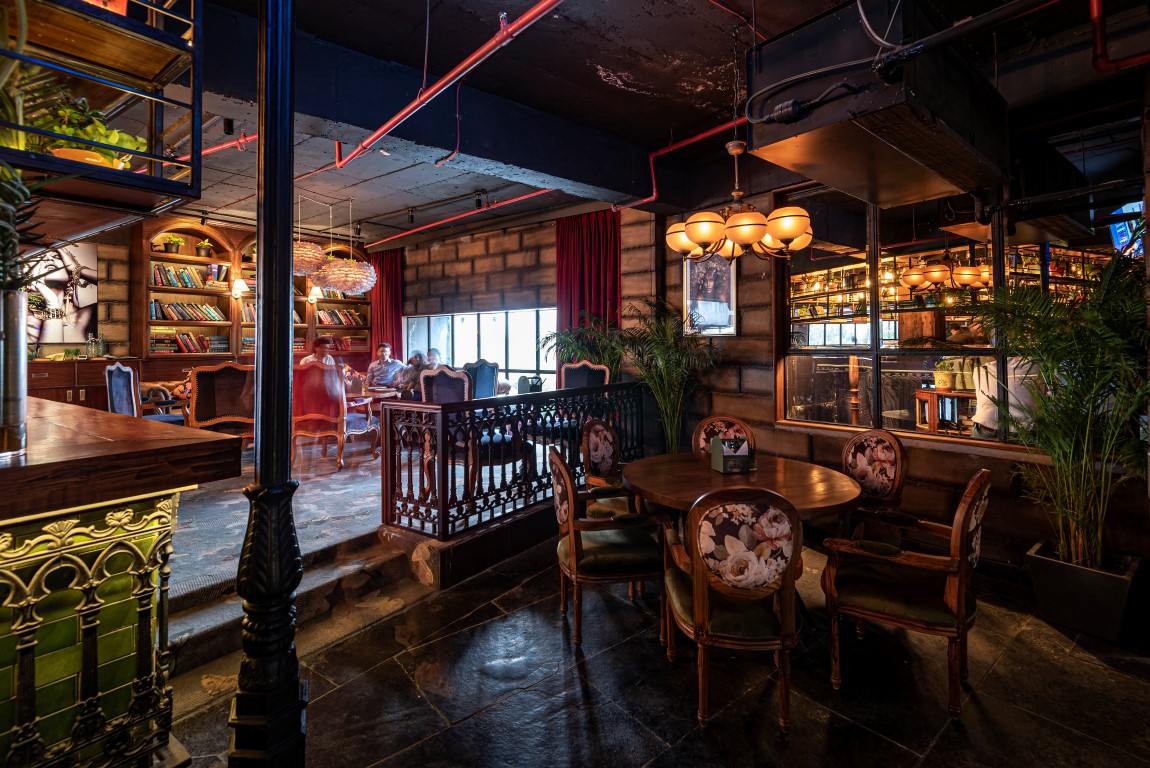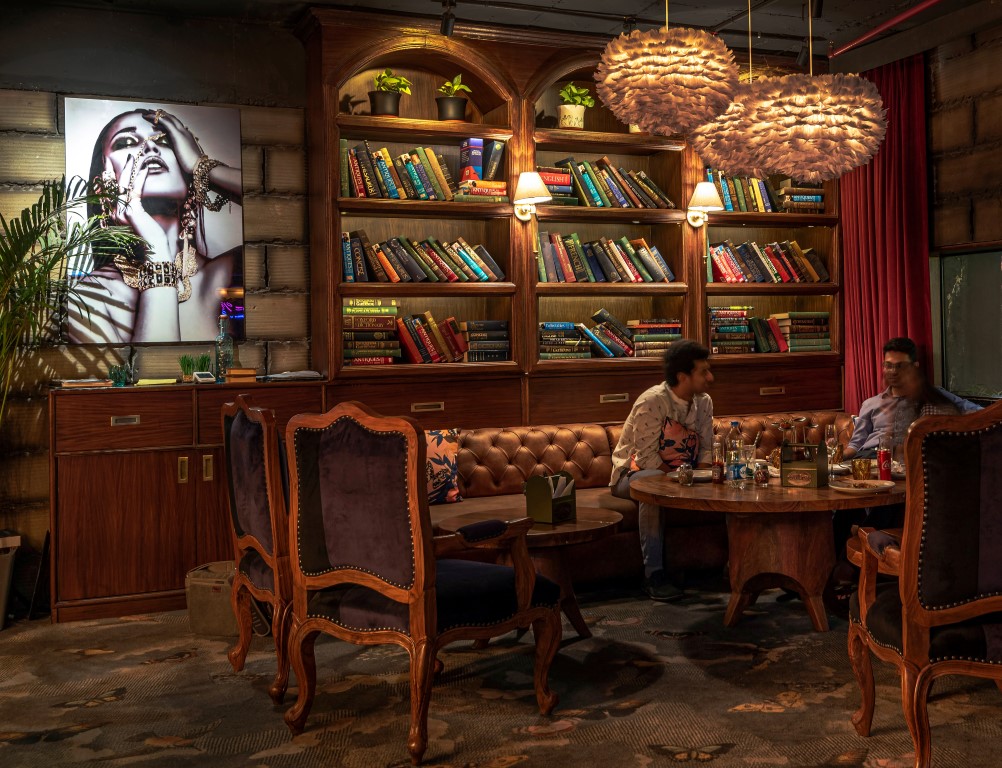 The dining area right next to the bar is marked by a level difference on the floor which gives a sense of seclusion. The lounge-style furniture with patterned carpet on the floor and wooden ornate bookcase at the back illustrate the look of a formal living room. The wall adds to the overall look of this old stone masonry building.
Exploring further, the outer setup is connected through the metal staircase where one discovers a feature wall assimilating brass squares with icon cut-outs. An idiosyncratic chandelier here kindles the overall path leading to the terrace.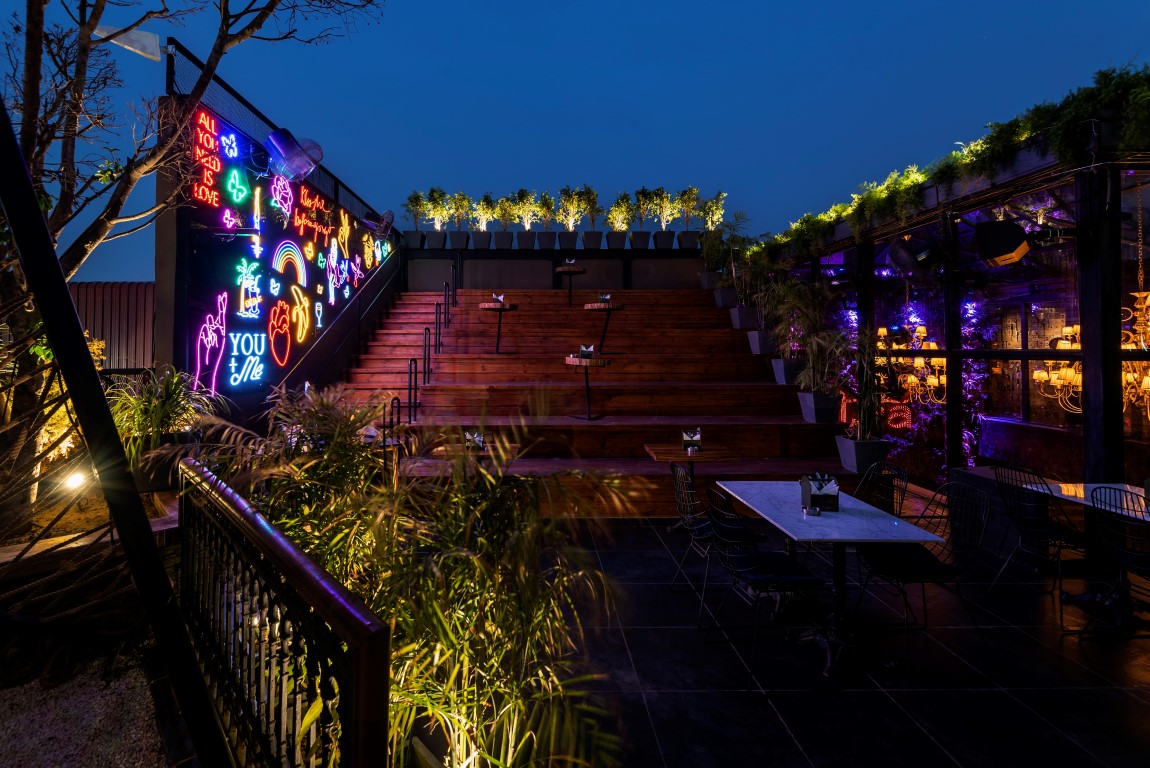 The terrace consists of various levels inviting the patronage to meander through the expanse and discover it. Wooden pergolas envelop a separate bar here, which is in complete compliance with the bar area downstairs. An amphitheater fabricated here includes lush greens with soft lighting, creating a mystic aura all around. The terrace area comprises of a segregated upper terrace with pebbles as flooring and cabana seating, establishing a separate zone with a completely transformed vibe from the rest of the terrace.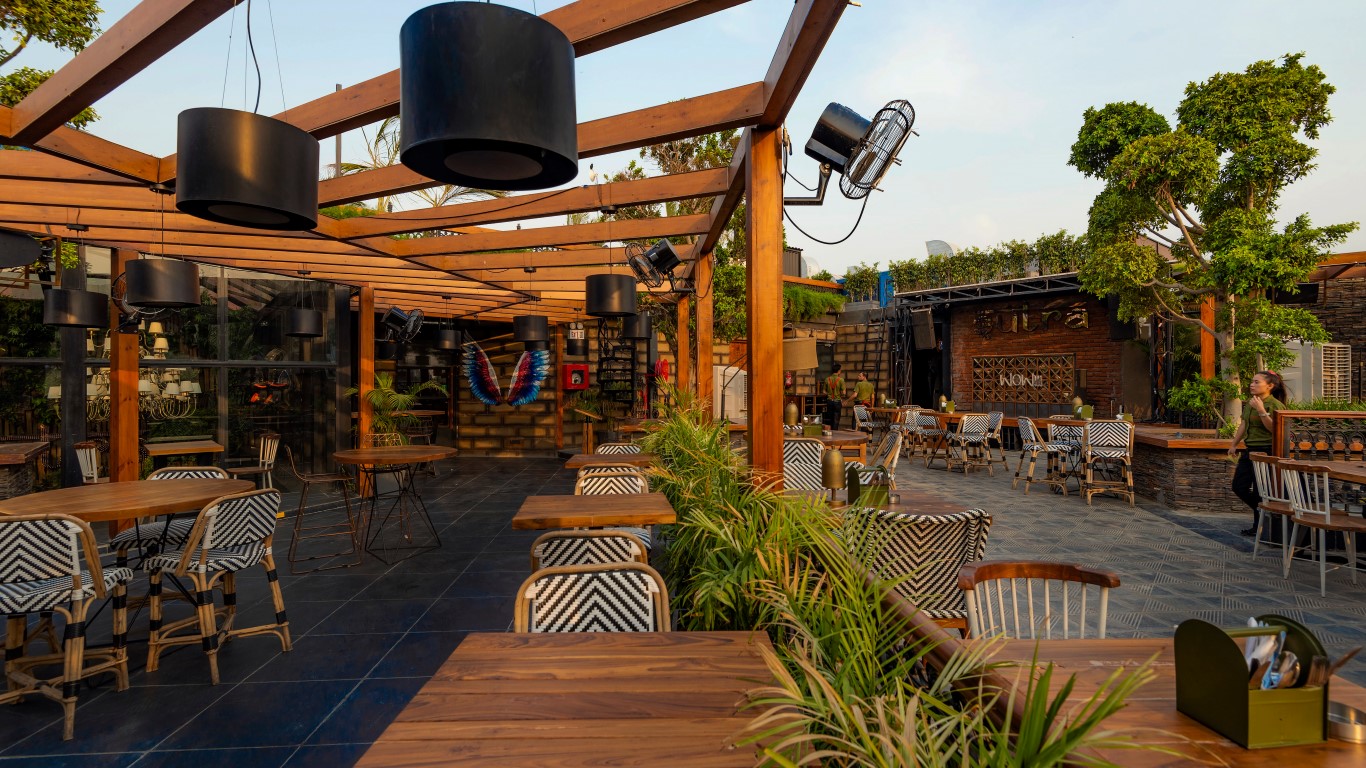 Sutra with its regal reflections in a contemporary mold, not only enthralls an individual by offering a space to simmer down and delve into an eccentric setting but also confers its users with an opportunity to experience a cacophony of essences, executed through this flamboyant design.
Fact File:
Project name:  Sutra Gastropub
Architect's Firm: Chromed Design Studio
Contact e-mail: [email protected]
Design Team:  Piyusha Upadhyay, Shikhar Gaur, Abhigyan Neogi
Project Location: Sector 18, Noida
Completion: May 2019
Gross Built Area:  19000 sq.ft
Photo credits: Arvind Hoon
About Firm:
Featured on the top  list of the best architects & interior designers, Chromed Design Studio has long been in the industry of creating atmospheres than mere designs. Recognized pan India specifically for their eclectic and emblematic interiors, Chromed Design Studio plays in a multiplicity of repertoires, never sticking to purity of style, rather letting the vicinity translate into a vocabulary that is both informal and bold. Their décors are their playground, spaces where spontaneity and magic are de rigueur. Chromed's niche which is hospitality and luxury design excites and provokes but never fails to surprise for its ingenuity, daring and singular quest to uplift the ambience and break free to entertain. Spearheading Chromed Design Studio is Ar. Abhigyan Neogi where, through his individual expertise has contributed towards the firm's robust image in the design industry. He combines his sharp logical ability with joyful nature to create habitats that embody the wow spirit. Apart from creating avant-grade design strategies that redefine the façade of modern community life, Celebrated hospitality projects designed by him have been featured in numerous mainlines. He has been acknowledged with Many  Designer Award, and Platinum Winner for Best Hospitality Interiors at Architecture Ideas 3.0 by Berger and FOAID India 2017; Winner at HP Skyline 2050 Awards; Speaker at Dialogues Hyderabad 2018; Finalist at Cera Design Challenge 2018 & Finalist for Commercial and Hospitality Interiors at Architecture Ideas 4.0 by FOAID 2018.