&nbsp
Tired of having a messy, dirty kitchen? Read this! We have eleven clever kitchen cleaning hacks to boost the mood of your apartment. You're going to love them!
You might think that the toilet is one of the dirtiest areas in your home. While it's certainly a spot that has a lot of germs, your kitchen happens to have even more.
Some kitchen items contain a thousand times more germs than your toilet (we're not joking!).
While everyone wants a clean kitchen, it takes a lot of time. And, unfortunately, you may not be doing enough deep cleaning to really get rid of the dirt and grime that builds up. 
While everyone wants a clean kitchen, it takes a lot of time. And, unfortunately, you may not be doing enough deep cleaning to really get rid of the dirt and grime that builds up. Especially if you don't have the help of connecticut cleaning company
Even though appliances, Furniture, floors, and cabinet doors get dirty, it doesn't have to take all day to clean. Luckily, we know a cleaning hack or two that'll make it easier to get the job done in less time.
You're going to love these clever kitchen cleaning hacks. They'll get rid of the germs and make your entire apartment feel cleaner!
1. Use Sea Salt to Clean Cast Iron Pans
Cast iron pans aren't the easiest to clean. It's normal to feel like you're scrubbing away without doing much.
But, if you use some sea salt and a steel scouring pad, it can get rid of the grease.
You'll be amazed at what sea salt can do to help you cut through that greasy mess. Now the pan will be much easier to scrub!
2. Clean the Garbage Disposal with Citrus Fruits
Your garbage disposal works hard to get rid of the fibrous foods that end up in the sink. Don't you think you should reward it by cleaning it up?
To clean and deodorize it, use lemon or lime. Cut the fruit into four pieces and put them down the drain. Your disposal will smell great and should function better as well!
3. Use Lemon Oil to Clean Your Microwave
There are many ways to clean a microwave, but using essential oils is the best technique.
First, get a microwavable bowl and put half a cup of water in there. Next, add fifteen drops of lemon essential oil to the bowl. Put the bowl in the microwave and run it on high for five minutes.
When the time is up, it'll be easy to clean off the softened food with a sponge. How cool is that?
4. Rub an Onion on Grill Grates
Grill grates are another tough spot to clean. But, we have a solution you can try.
Get a white onion and peel half of it. Next, rub it back and forth on your grill grates.
Doing this will deglaze the grates. And it could make your food extra tasty too. Talk about a win-win!
5. Clean Stainless Steel With Olive Oil
Not only is olive oil healthy for you, but it also makes a great cleaner for stainless steel.
To use this natural cleaner, put some on a cloth. With the cloth in hand, use it to buff out any dirty spots on your appliances. It shouldn't take very long, and you'll love the results.
Your fridge and faucet will look so much better!
6. Use Ammonia to Clean Your Oven
Cleaning an oven is a pain. But with some ammonia, a baking pan, and a pot of hot water, it's a lot easier.
First, preheat the oven to 150 degrees. When it's preheated, turn it off.
Then, put ammonia in a baking pan on the top shelf. Put a pot of hot water on the bottom shelf.
Let them both sit in the oven overnight. Come morning, you'll be able to wipe the oven interior clean. No elbow grease necessary!
7. Zap Your Sponges in the Microwave
Shockingly, sponges are one of the germiest items in your kitchen.
But, there's a smart way to clean them.
All you have to do is put your sponge in the microwave for two minutes. It'll kill the microbes and come out looking new!
Now, you'll still have to replace your sponges from time to time, but this trick will make them last a little longer.
8. Use Baking Soda on Your Stovetop
Baking soda is an excellent way to clean your stovetop.
To take advantage of this cleaning hack, put some baking soda on the surface of the stove. Then, sprinkle some water on the baking soda and let it sit for an hour.
After the hour is up, it'll be easy to wipe up the mess!
9. Clean Window Blinds With Old Socks
If there are window blinds in or near your kitchen, they're probably in need of a good wipe down.
Put vinegar and water on a sock and use it to wipe down the blinds.
It'll get rid of any dirt and dust that is taking over. If you have allergies, it should help with your sneezing and sniffles too!
10. Get Rid of Water Stains with Vinegar
Hard water tends to make shiny items, such as silverware, look dull.
To help these items regain their shine, rub them with vinegar. This technique will make dull surfaces look shiny and new again!
11. Clean Dirty Kitchen Towels With Vinegar and Baking Soda
Of course, it's essential to clean kitchen towels frequently. They get dirty pretty quickly, depending on how often you cook.
Even if you wash them every week, sometimes the stench doesn't go away.
Thankfully, there's an extra step that can solve this problem. Put some vinegar and baking soda on your kitchen towels before you put them in the washing machine.
They should smell a lot better when they come out of the dryer!
In Conclusion
If you made it to the end of this article, great work. You're on your way to becoming a cleaning pro.
Make a list so that you won't forget these clever cleaning tricks.
We bet you're already excited to share your secrets with your friends. And you're definitely excited to have a clean and organized kitchen!
Author Bio: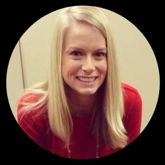 Lindsey is the Community Manager for Siesta Key, a luxury apartment complex in Rockville, MD.