Zuci- A Delightful European Style Restaurant Interior | F+S Designs
Chocoholics and design enthusiasts can now get their fix at the same place. Zuci- Chocolates and Boulangerie is a delightful new restaurant at the upscale, Road 45 Jubilee Hills in Hyderabad. We believe that every project is an invitation to embark on an unexpected and fascinating journey. A chance to tell an adventurous story full of soul; incorporating a mix of materials and influences. A story that portrays what the place has to offer and one that touches every customer.
Visit: F+S Designs

&nbsp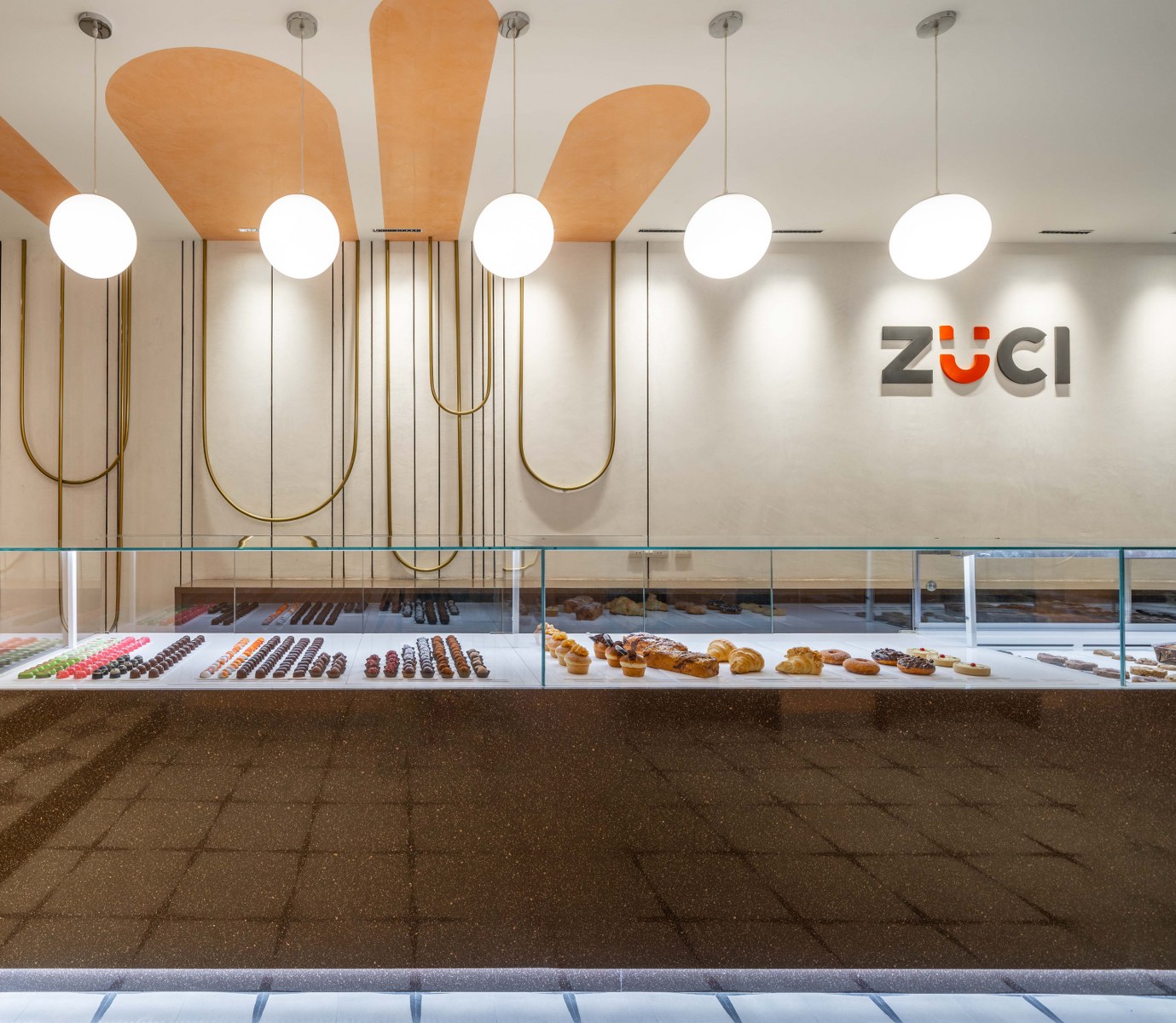 Zuci [pronounced as Shu-Chi], derived from the Sanskrit word, 'Shuchi' meaning 'pure' is the brainchild of a young enthusiastic couple who were trained in chocolate-making and baking in Europe, a few years ago. Their zeal and earnestness to kick-start a new chocolate brand in Hyderabad with premium quality products were infectious. A platform was set to weave a story with charming, luxurious décor, to make the chocolate treats an experience to revel in.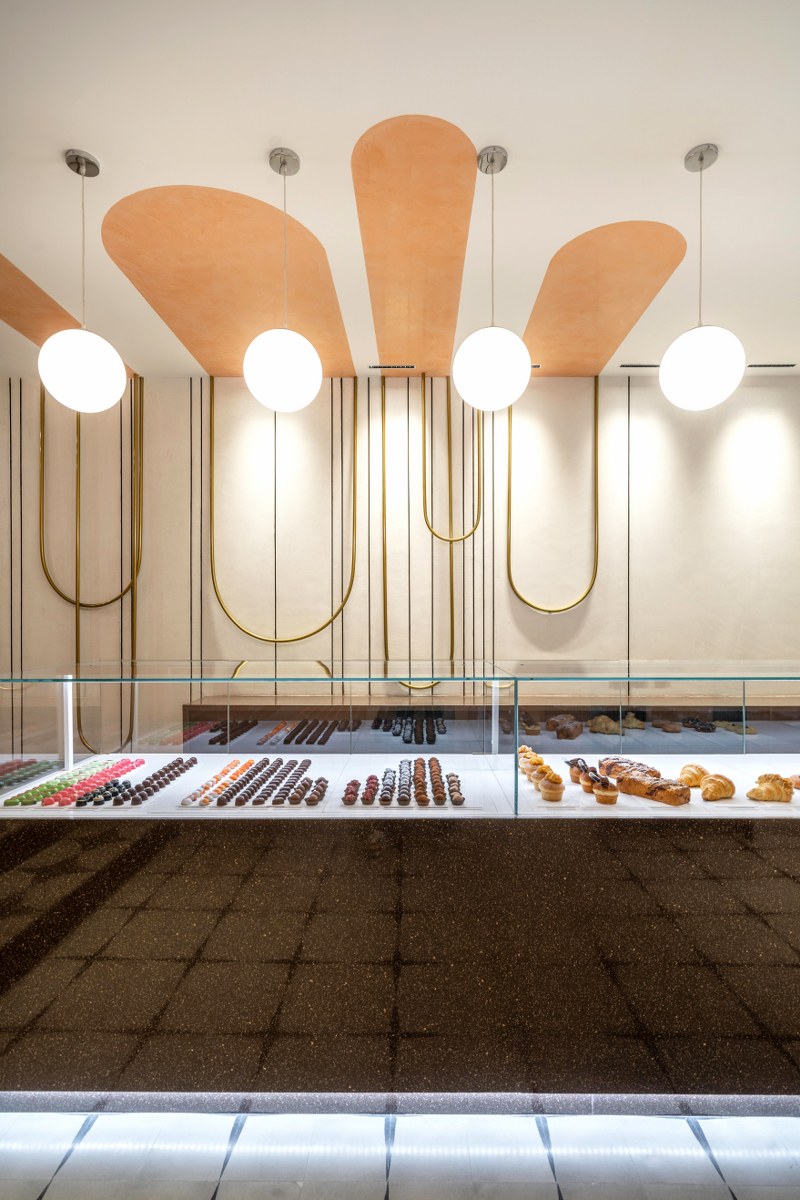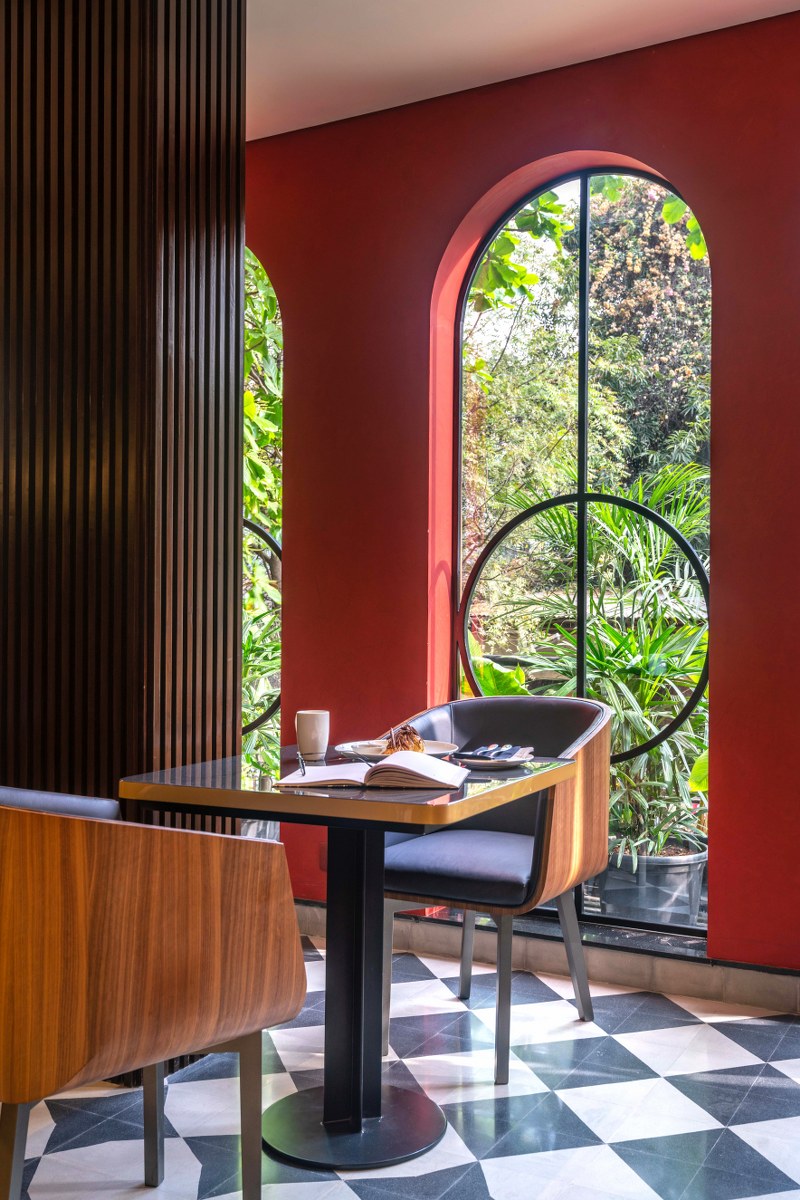 Zuci is a project that draws diverse threads from Old-world European interiors and weaves them into a gorgeous contemporary setting. Those threads include arched facades, Venetian-plastered walls, plush dark-wood paneling, patterned dual-tone flooring, and polished metal-work, creating a kaleidoscopic assemblage of a Mid-Century Modern style setting.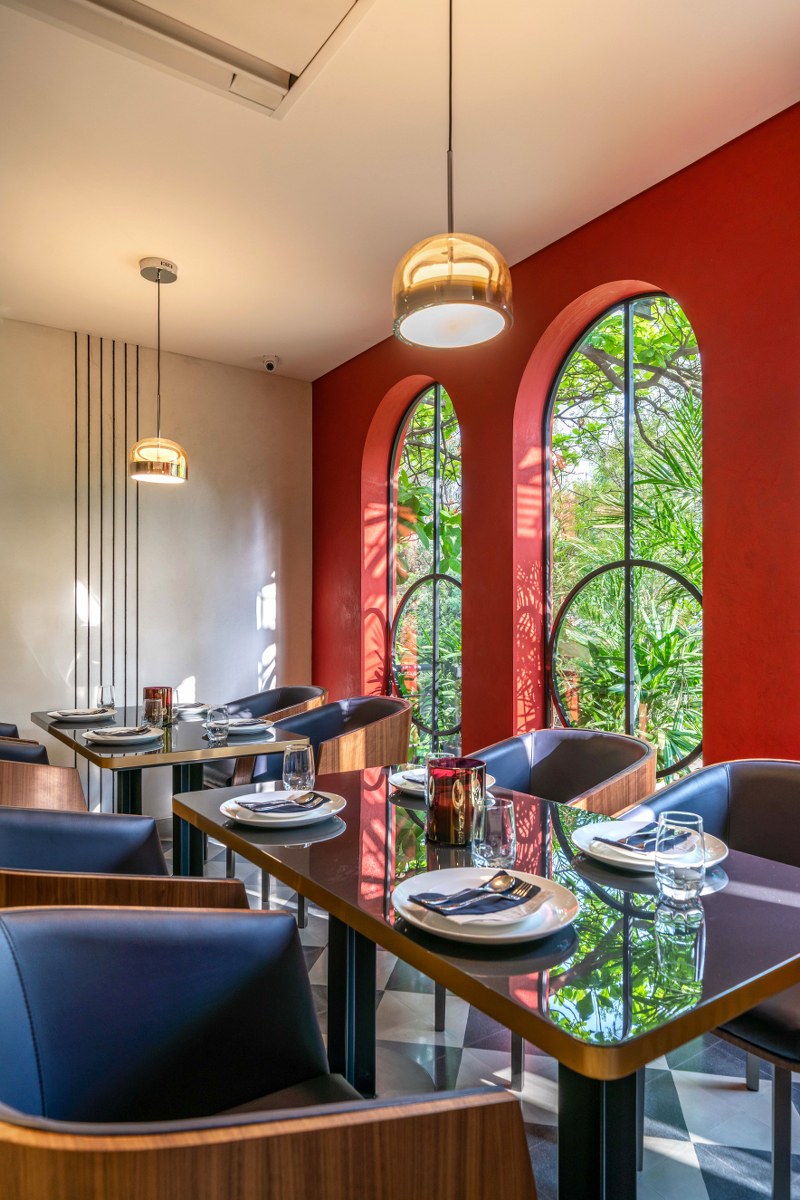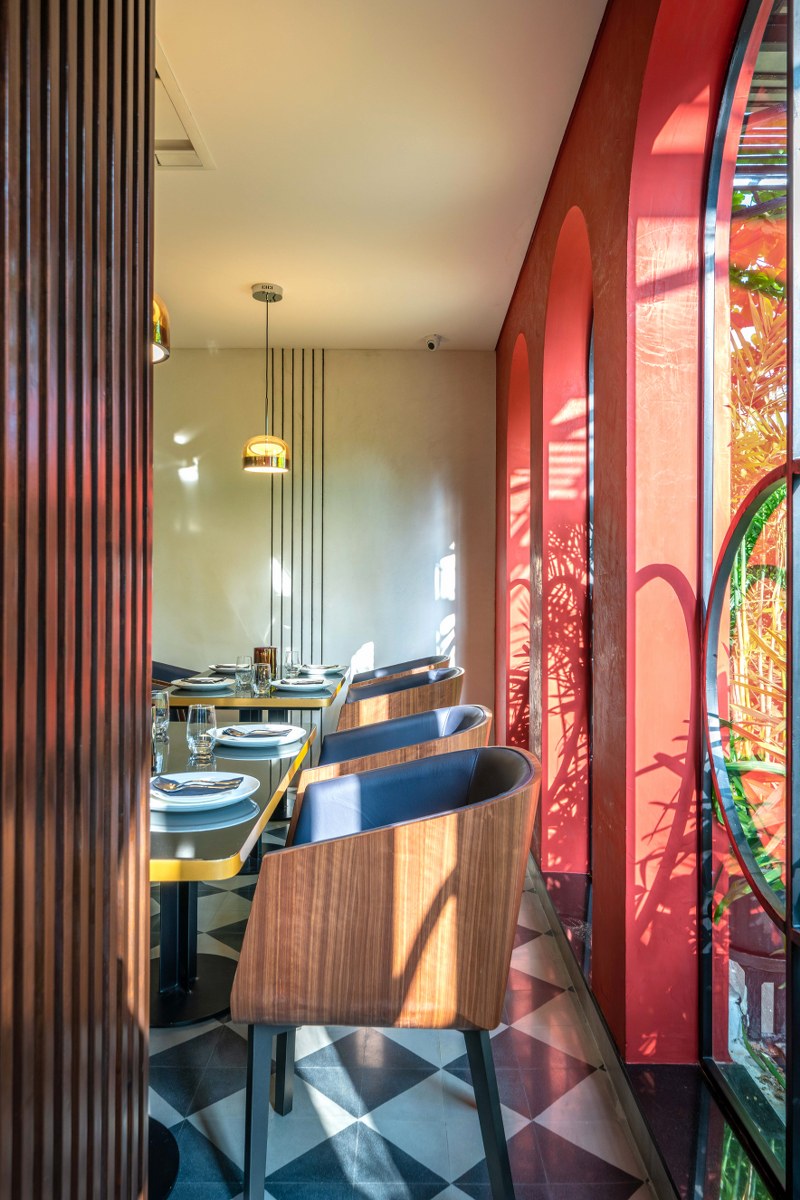 The external façade is an abstract installation of spheres enclosed in a crimson arched- façade wall. A composition that captures the simplicity, depth, and delight of chocolate. The spherical lights placed in this installation throw dramatic shadows on the burnt-sienna wall behind them.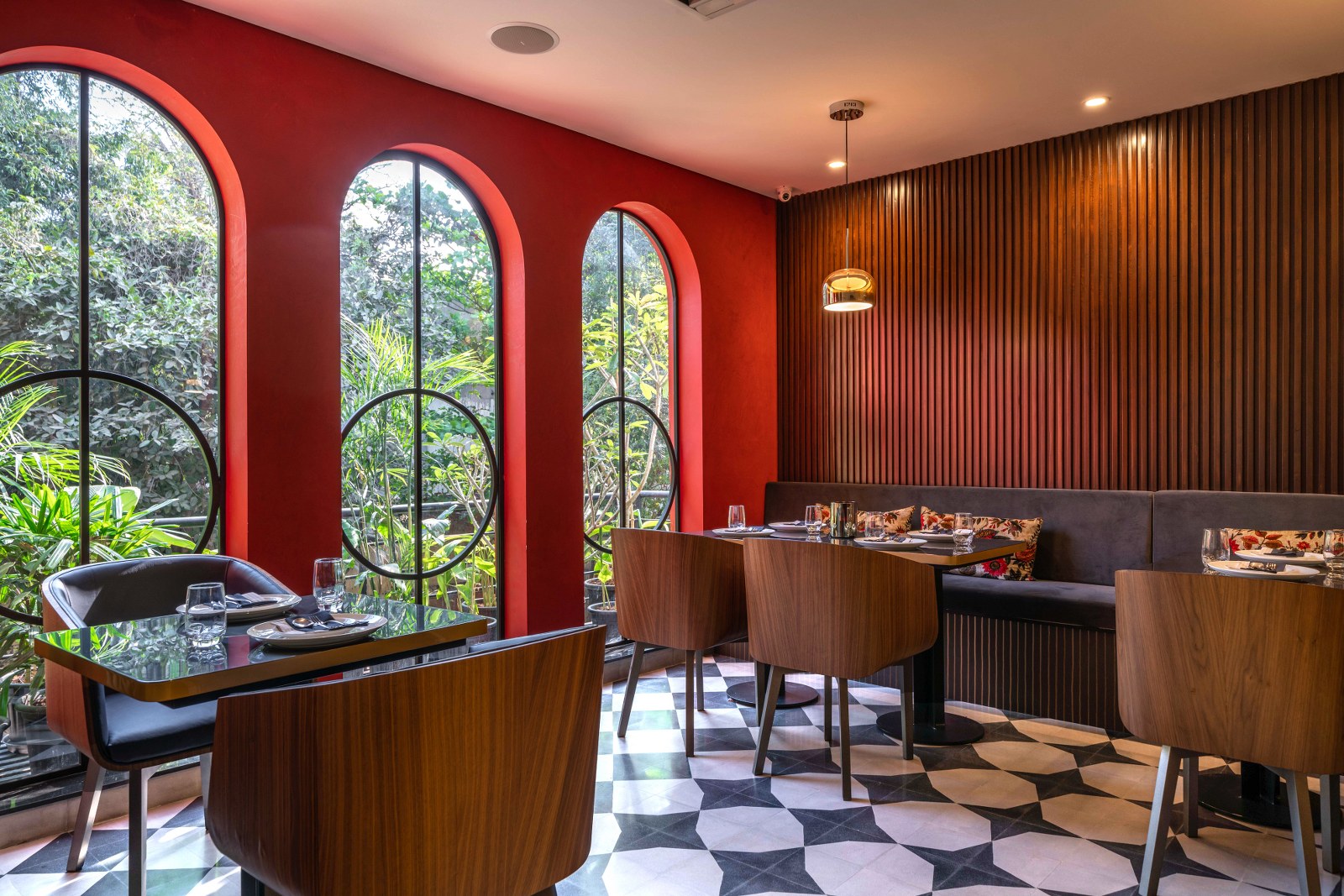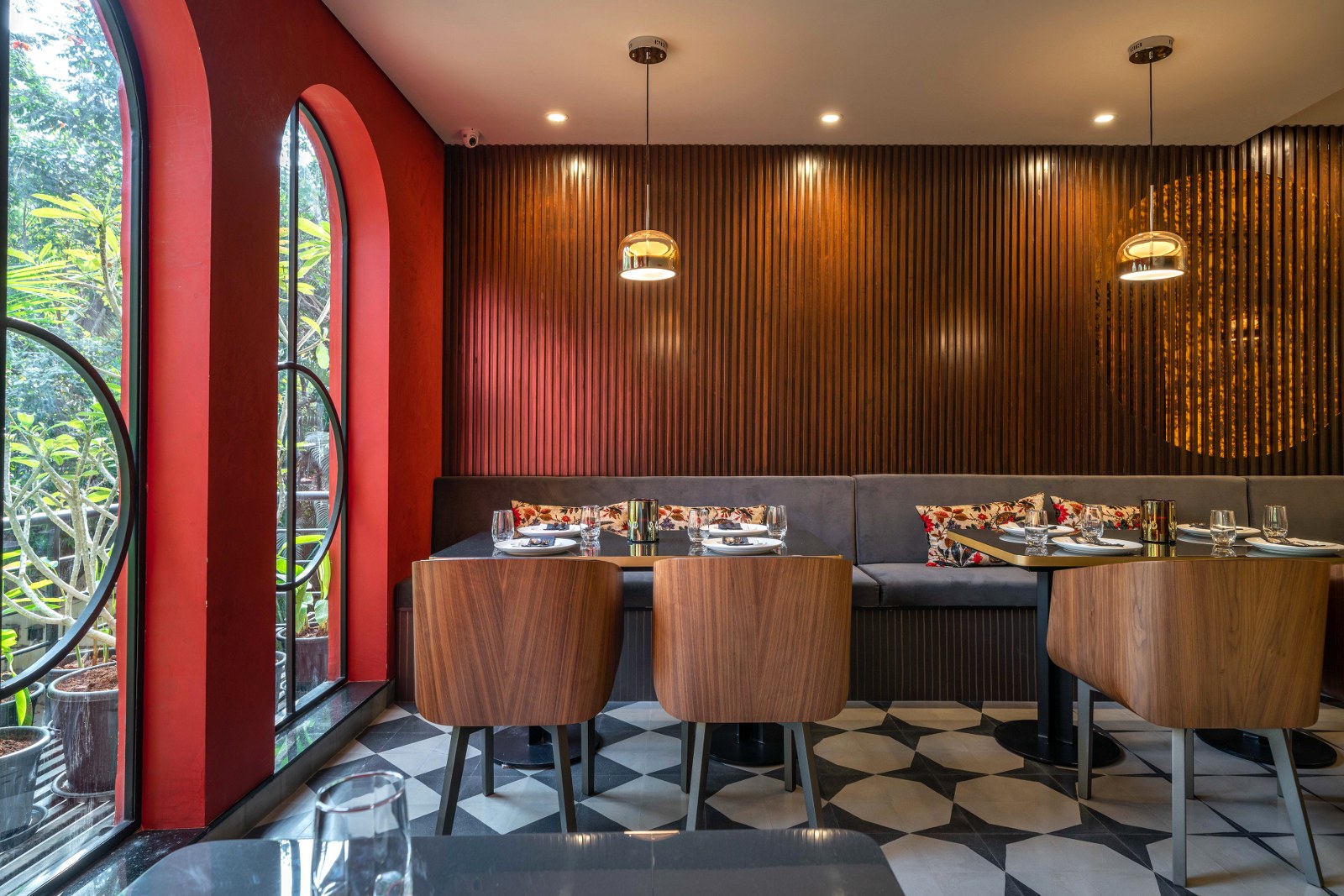 On entering the restaurant, a 28-feet long main display-counter lit with the rhythm of ten large hanging spherical lights, welcome us. The chocolate display counter is a crystal brown stone-finished unit with a clean white stone-finished countertop and a temperature-controlled glass enclosure. The picture is complete with a beautiful back-wall with a composition of inverted brass metal arches and black metal stripes. The dual-tone flooring with a progressing pattern of stars, adds to the drama. A lush peach, Venetian plastered wall enriches the Entrance area. The bespoke designed metal bread racks and linear shelves for chocolate-coated nuts and snacks flank the entrance corridor.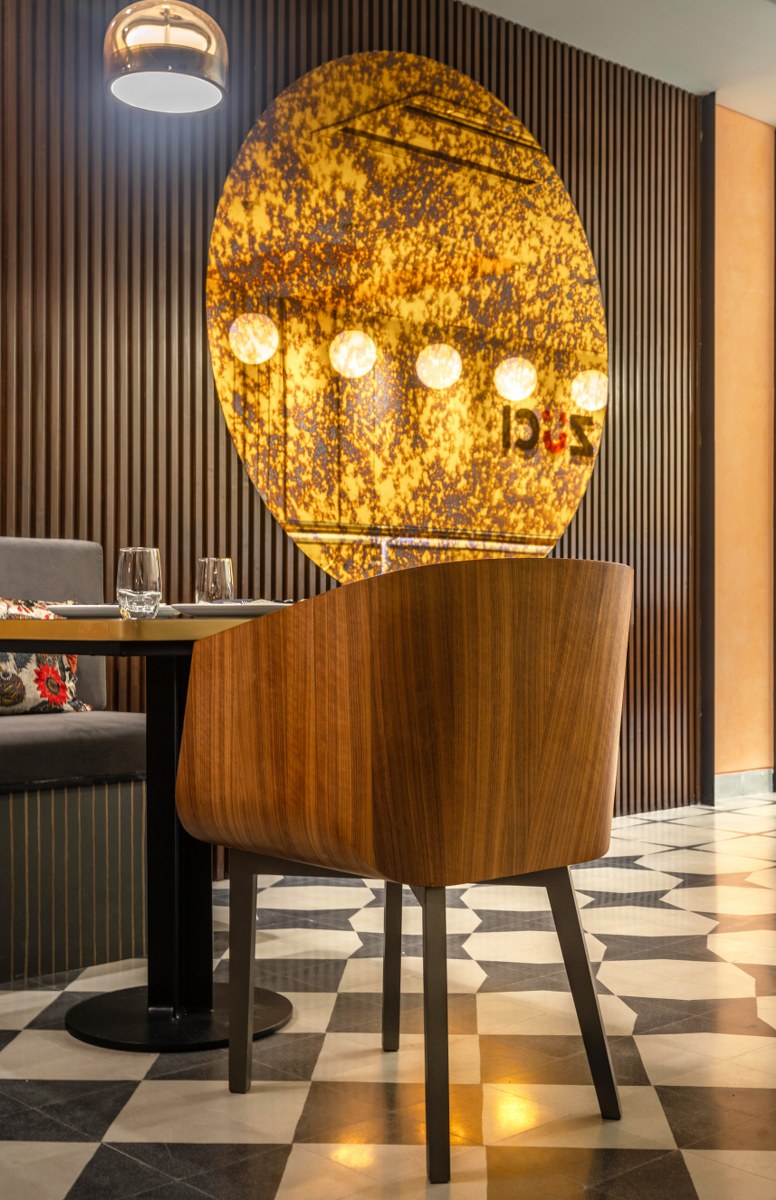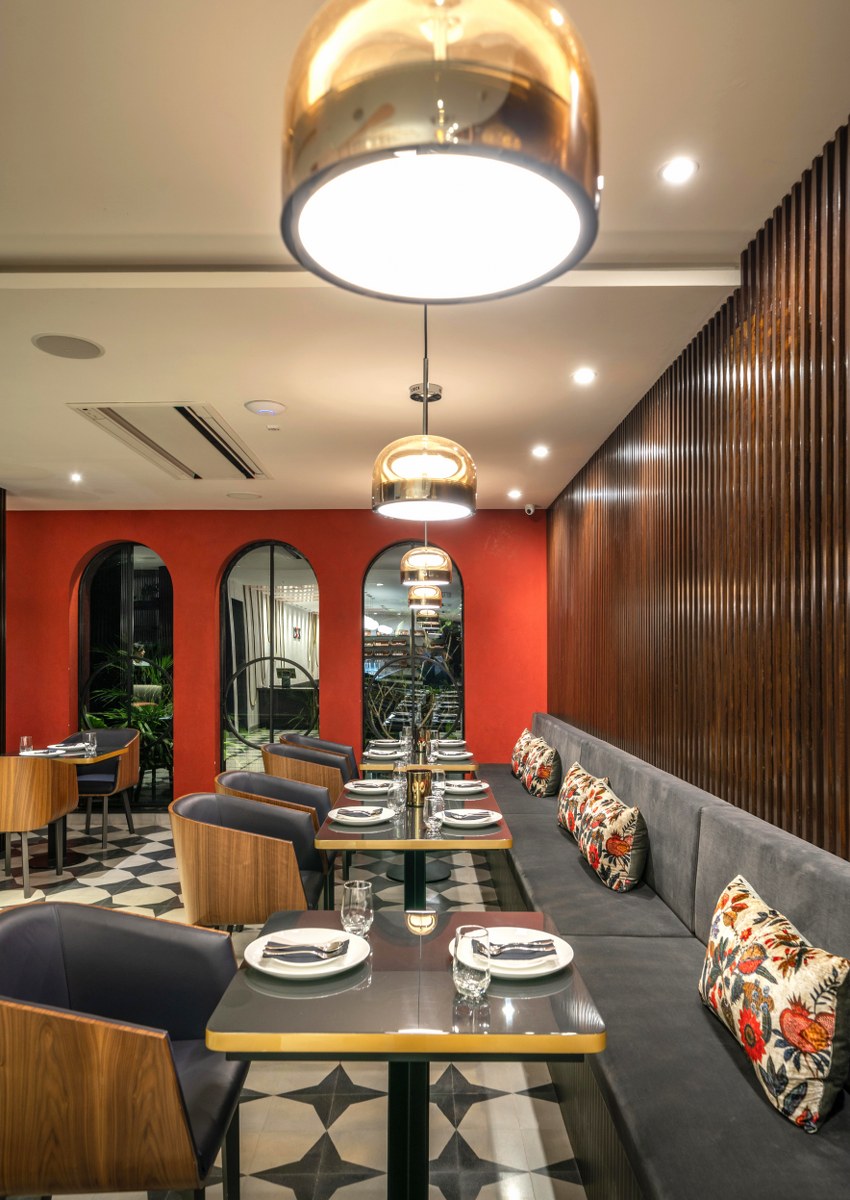 At the farther end of the corridor, is the Dining area accentuated with a scarlet red arched-wall, overlooking lush greenery and sunlight streaming through. The plush velvet-fabric sofa seating is fixed against a ribbed dark-wood paneled wall, with two large circular, stained mirror highlights. The tables are bespoke designed glossy graphite-grey top, framed with a rounded brass-metal rim. The legs of the tables have a circular metal base with structured, black metal legs. The comfortable, bucket-style chairs are cushioned with Prussian-blue leather seats that add color to the rich palette of the space. Each of the 4-seater tables is illuminated with a hanging bell-jar light, in a subtle gold finish.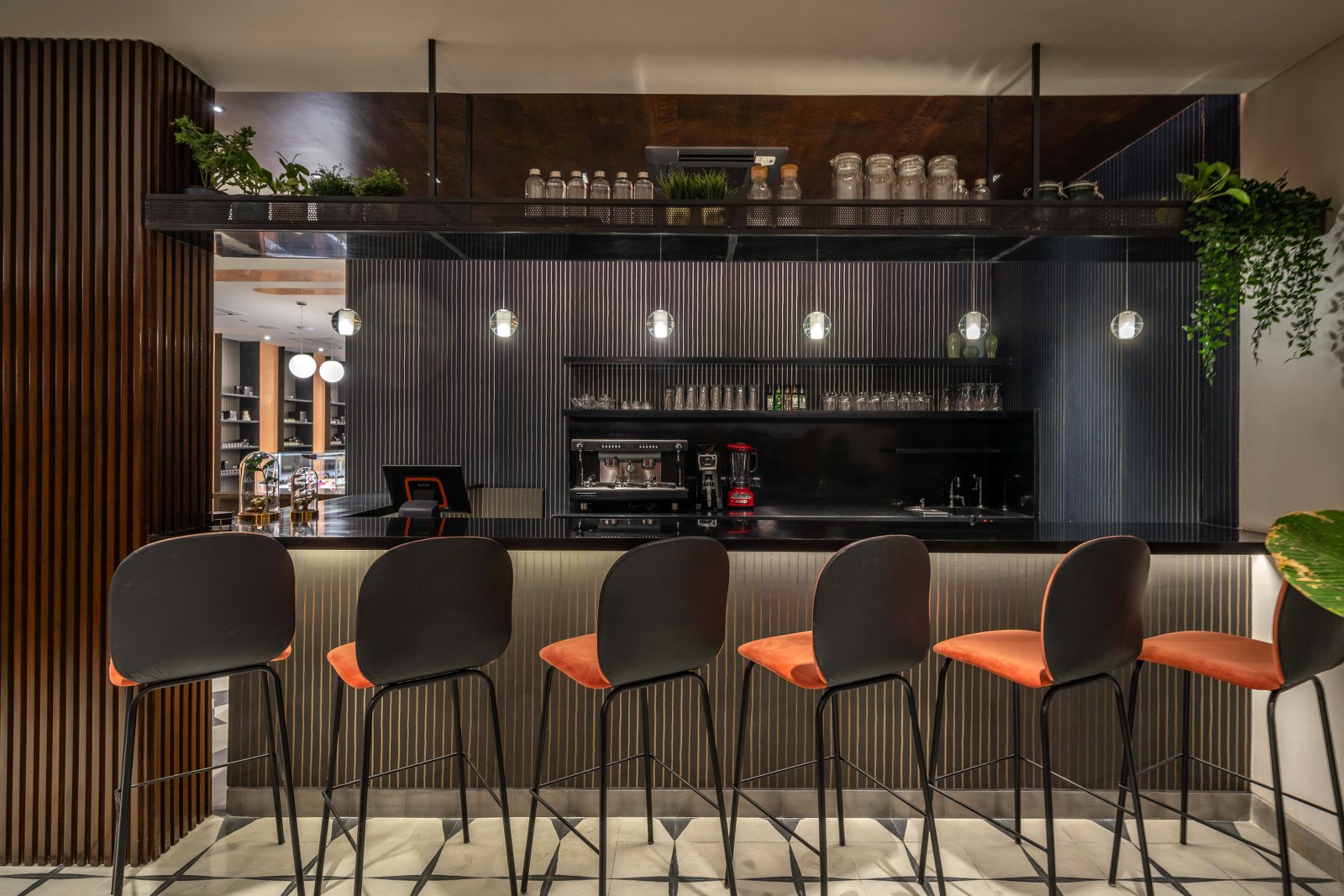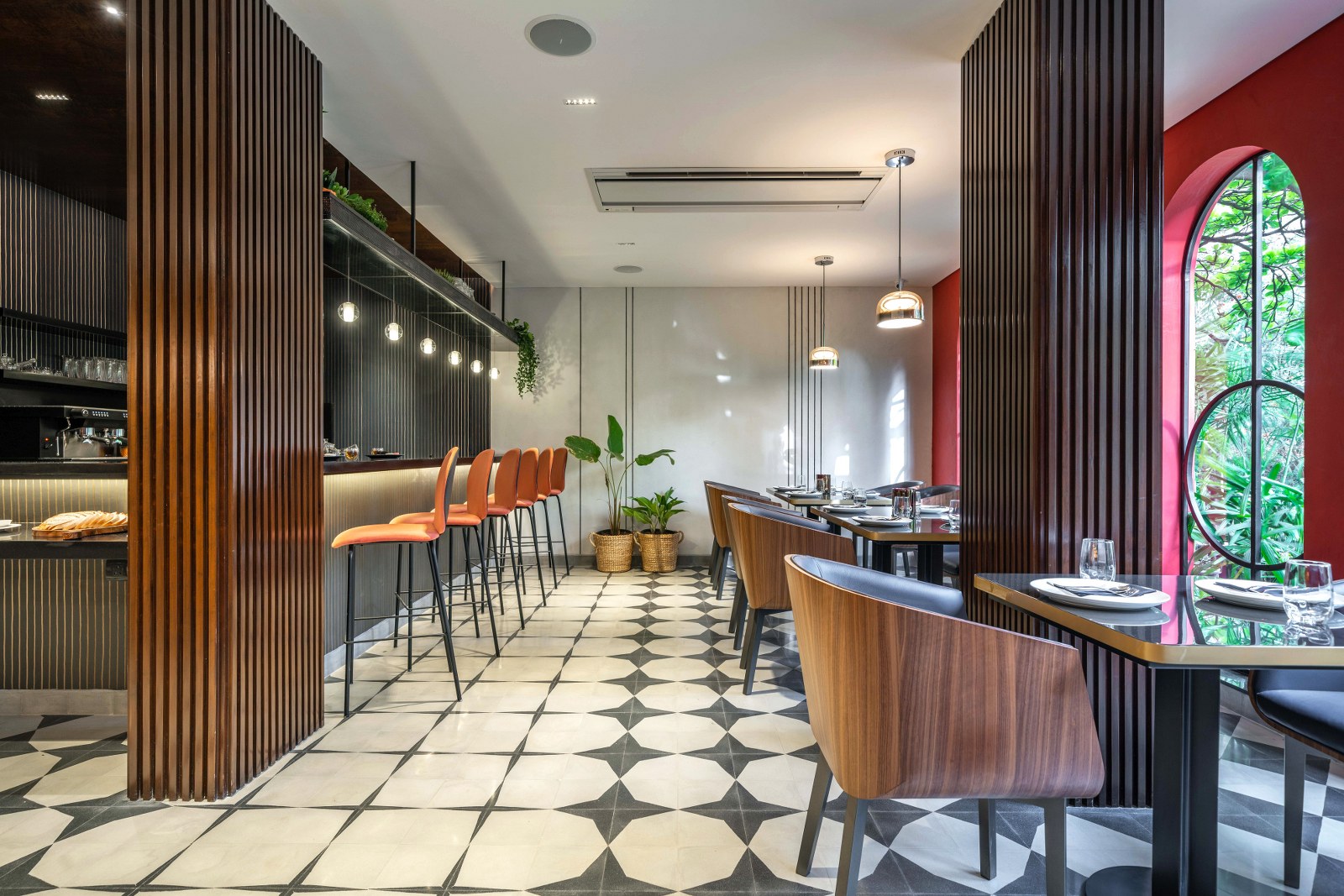 The Dining area continues into a Chocolate & Coffee Bar, which is a play of brass-striped walls and black granite counters, with a rich wooden ceiling to set it apart. Small glass globes light up the bar seating subtly, drawing attention to the gorgeous coral, velvet-cushioned bar chairs.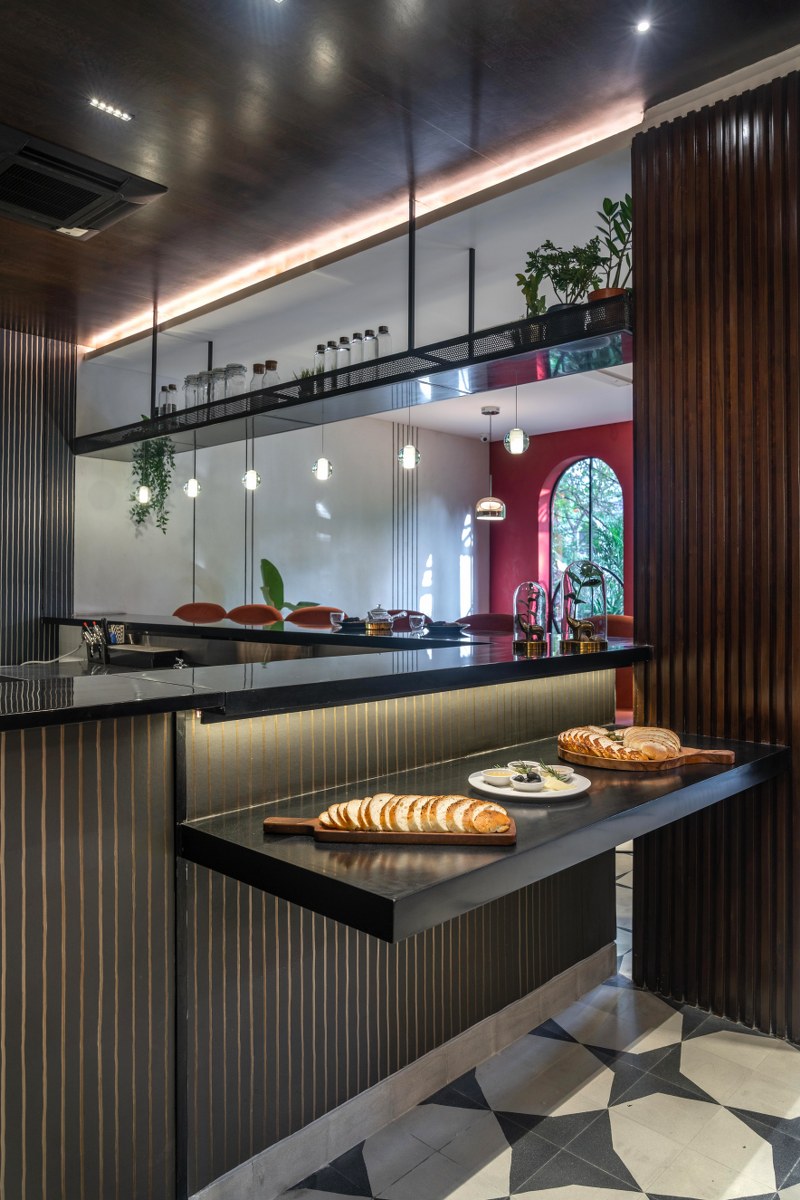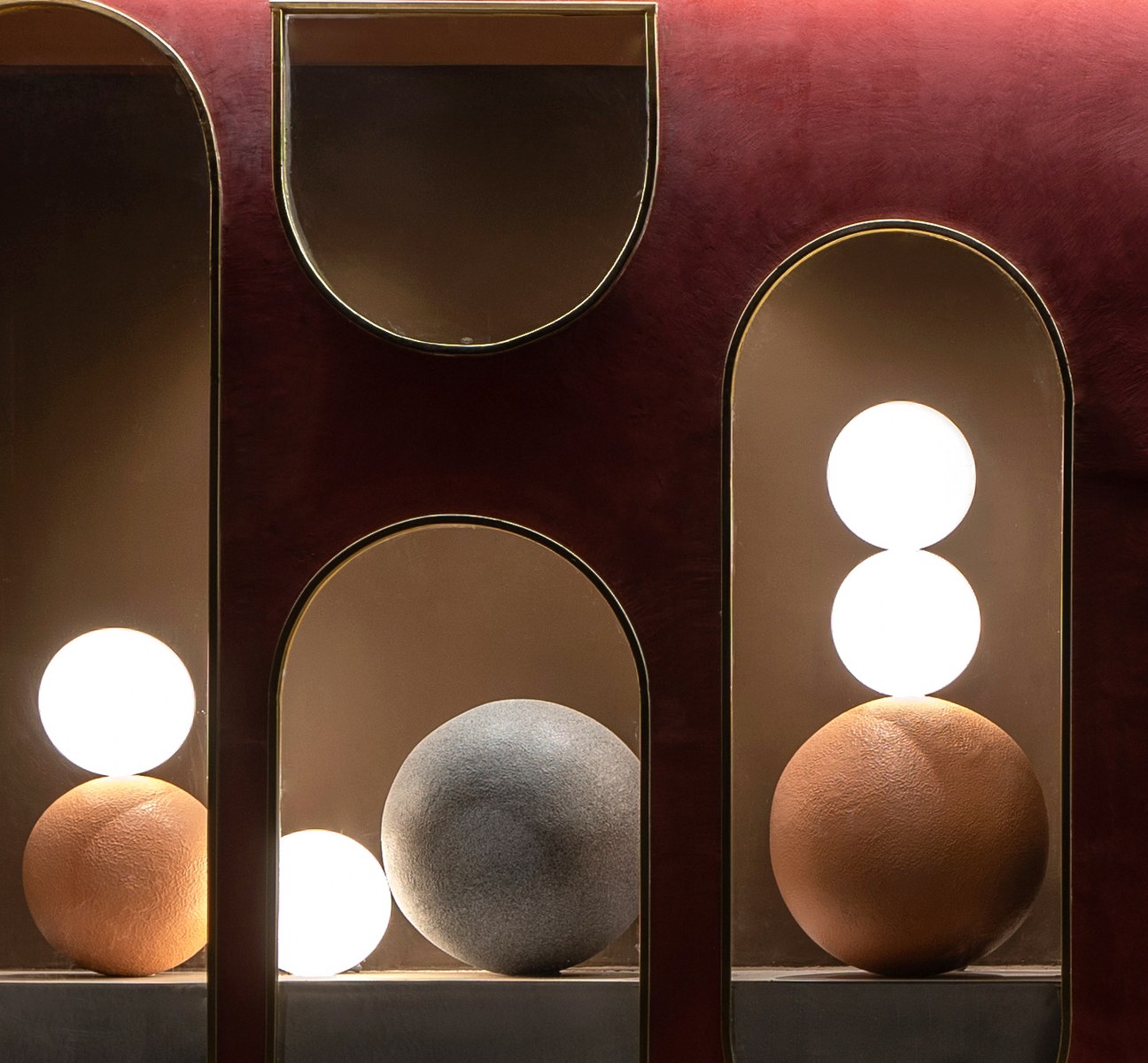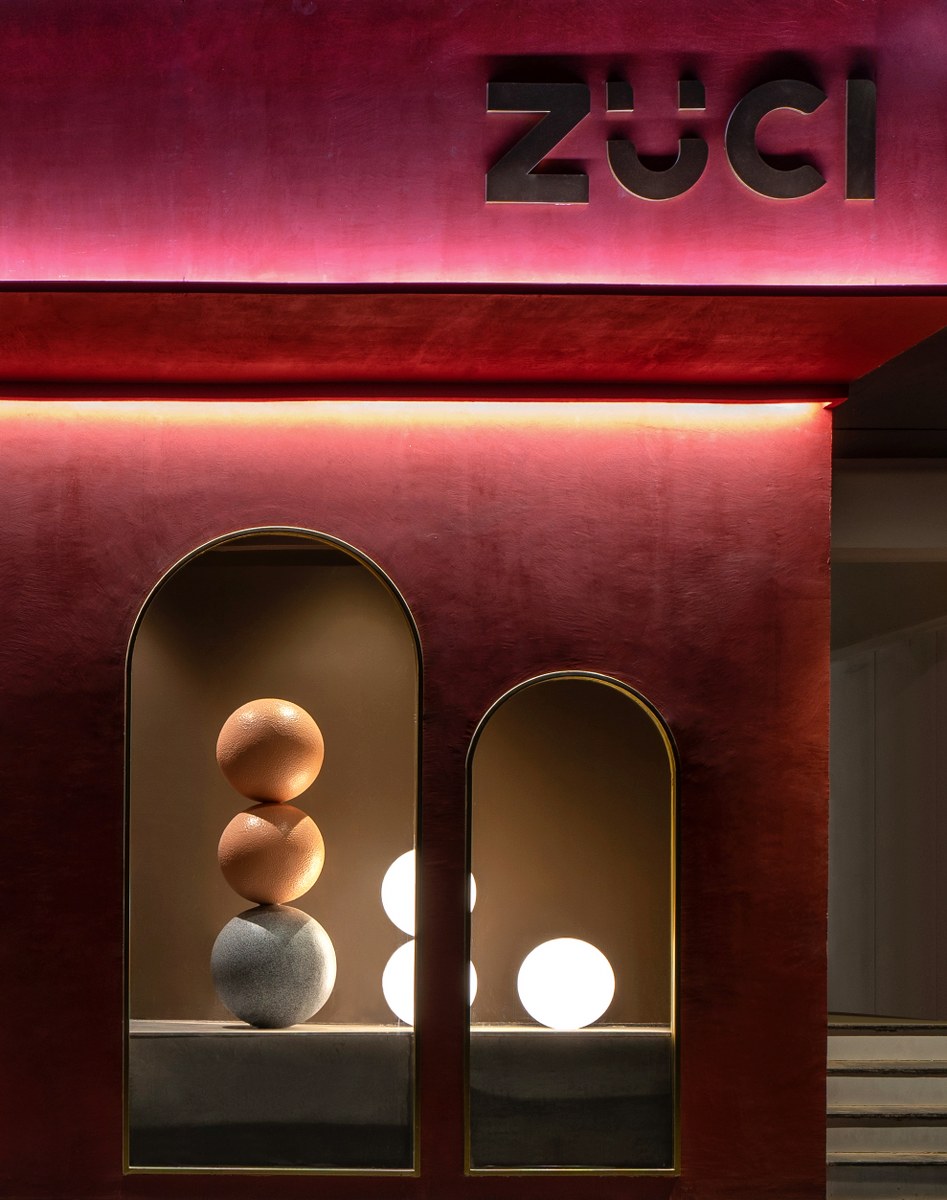 The use of simple geometric patterns, arches, spheres and stripes used in different ways through the space, brings cohesion and adds a sense of luxury. The restaurant is equipped with a robust 900 SFT kitchen area, with separate freezing units, prep, baking and service sections. For those who want to make the pilgrimage, to experience the tantalizing delights of fresh confectionery and the luxurious chocolates and décor, Zuci is in short, blissful and 'pure'.
FACT FILE: 
Design Firm: F+S Designs
Project Name: Zuci- Chocolates
Project Location: Hyderabad
Design Team: Shamila Meeran, Faisal Vohra, Abdul Jaleel, Huzefa Malik
Stylists: Keerthana, Anjali
Photographer: Ricken Desai
Facebook: www.facebook.com/fpluss.in/
Instagram: www.instagram.com/fpluss.in/
ABOUT FIRM:
F+S Designs is an award-winning multi-disciplinary design firm founded by Faisal Vohra & Shamila Meeran and based out of Hyderabad & Bangalore, India. The firm has a contemporary and minimalist approach to their design, and their diverse Architectural and Interior design portfolio of work currently ranges across Luxury Residential, Hospitality, Retail & Corporate spaces across various cities in India.
At the core of what they strive to do, is a belief that great design is a catalyst in enhancing the interactive experience of people with their surroundings. This drives them to constantly look for newer means and materials to provide the very best in design with a keen understanding of the cultures and communities they serve.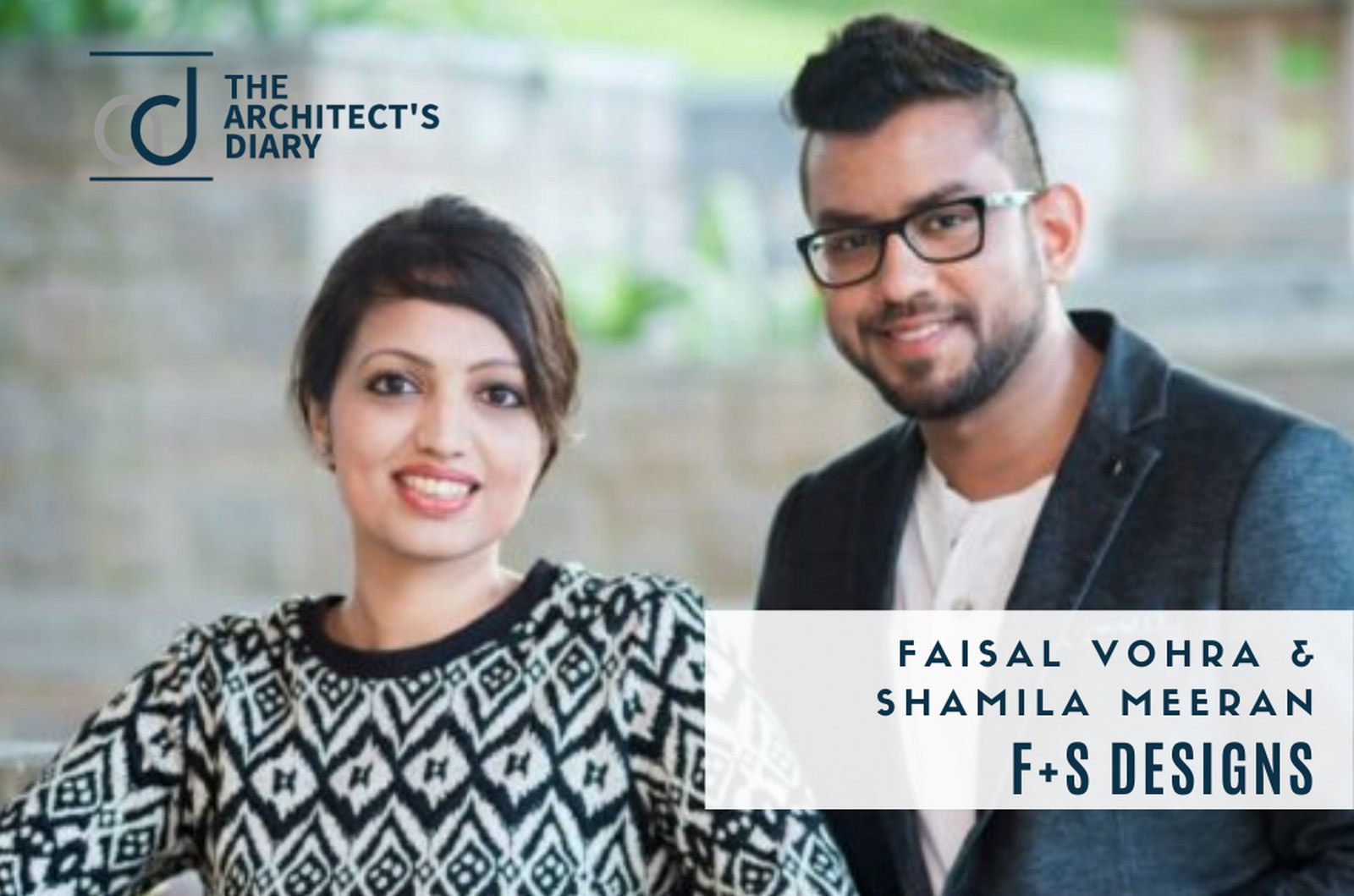 &nbsp