&nbsp
Leaving the safety net of a joint family to establish a unit of one's own always gives rise to mixed feelings. On one hand is the loss of the security and back-ups that living in a large family affords, on the other, the excitement of creating one's little slice of heaven. For this Lively Family, that slice of heaven — in the form of a 8000-square-foot, 6 BHk villa, reposed in one of Nagpur's dense urbanscape. The owner was absolutely against anything synthetic. And as the Design team stated" While the core design idea revolved around words such as "vibrant, classy, high-end and modern," But from our end as designers, "there was a conscious attempt to lace these traits with warmth and ease. Once that was established, other things fell smoothly into place."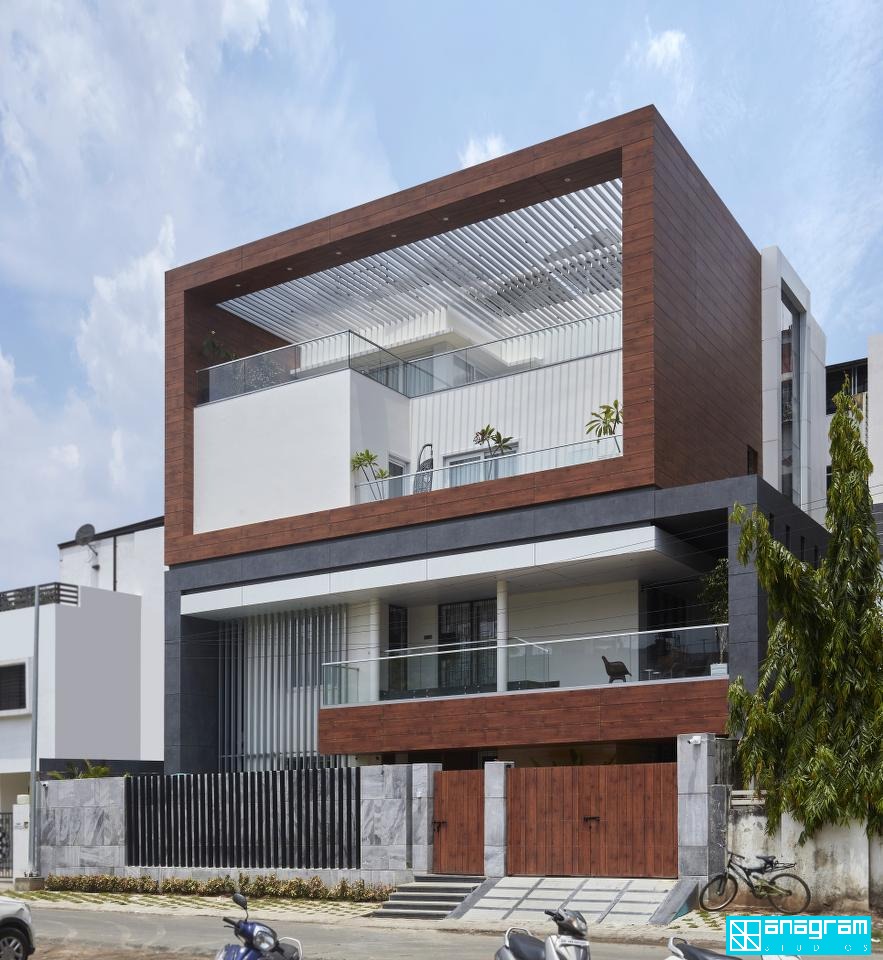 Vibrant, Classy, and Modern Villa, Laced with Warmth and Ease | Anagram Studios
Visit : Anagram Studios
The hero of the space was undoubtedly the topmost terrace which not only gave utmost privacy to the user but a sense of "Open-to-sky feel. "This meant that we had to consciously work towards meshing the inside and the outside to leverage the vantage point." But while the views from this villa in the sky were stunning, the internal program needed a lot of alteration. The rooms were afflicted with that bane of A typical old traditional house. — Small dimensions. So the design team gutted down all the internal partitions that essentially was the challenge in this project. To create a space, to deal with the compact dimensions and somehow make the home look larger.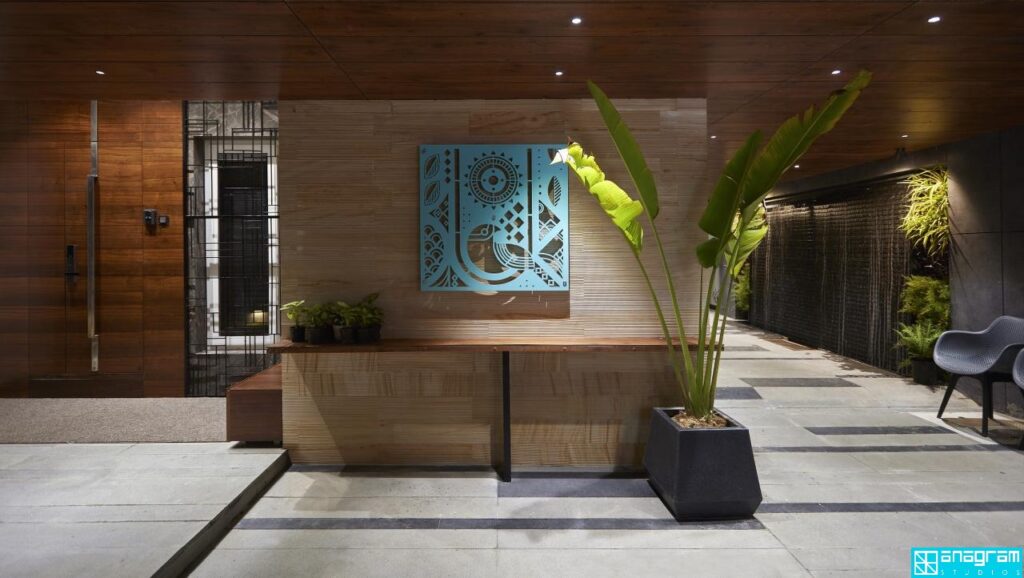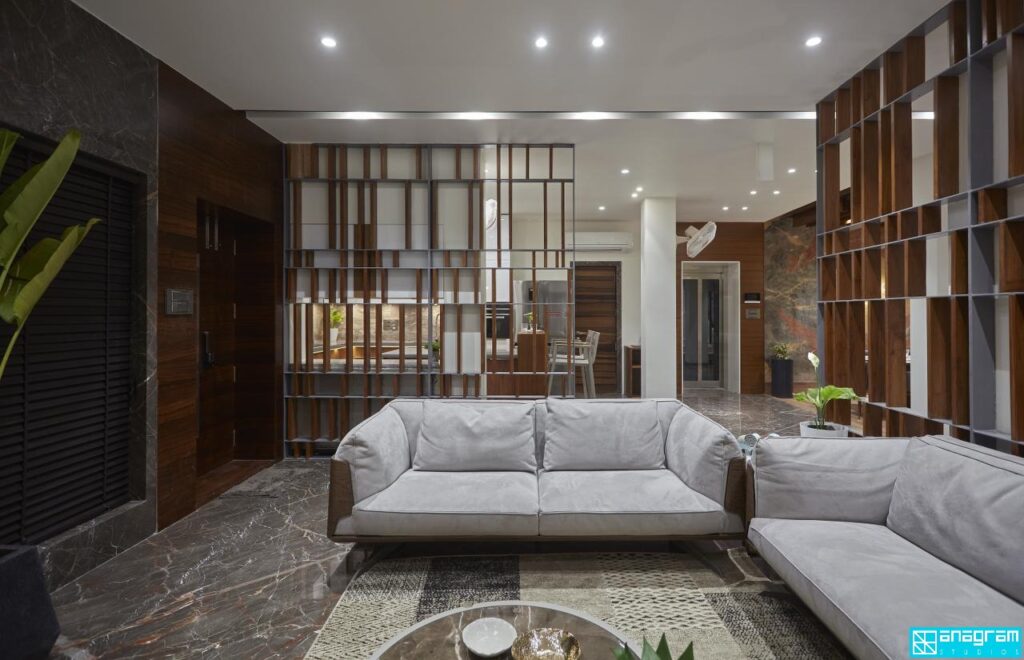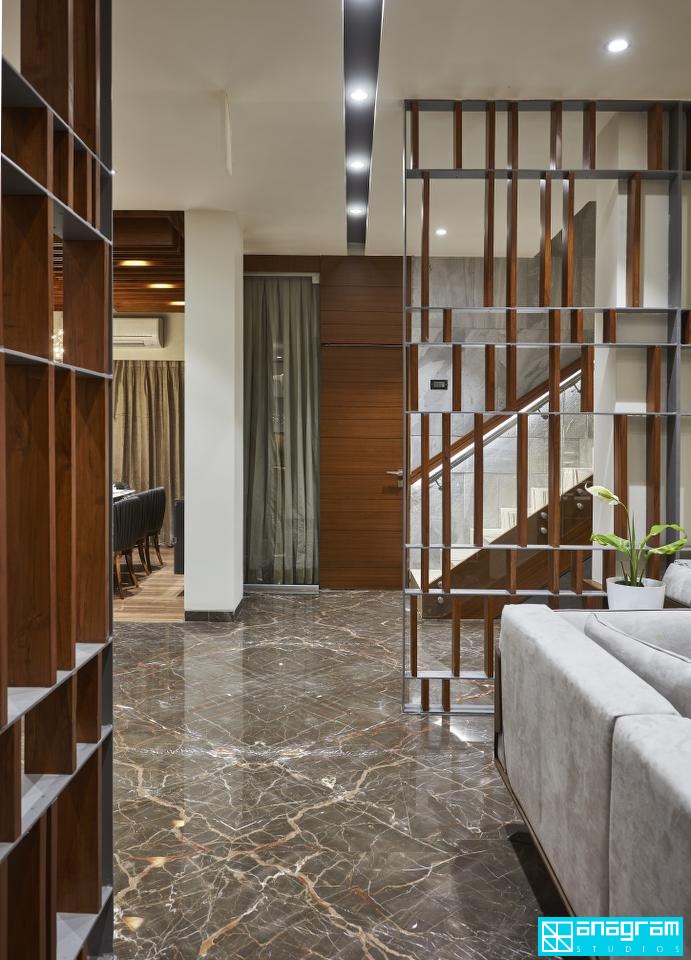 In the task of making the home appear larger, the first 'zone of reclamation' was the Ground floor setup which we completely opened up removing all the old walls/structures/floors and everything. Physical Partitions were then added to separate the spaces visually maintaining the large sense of the space.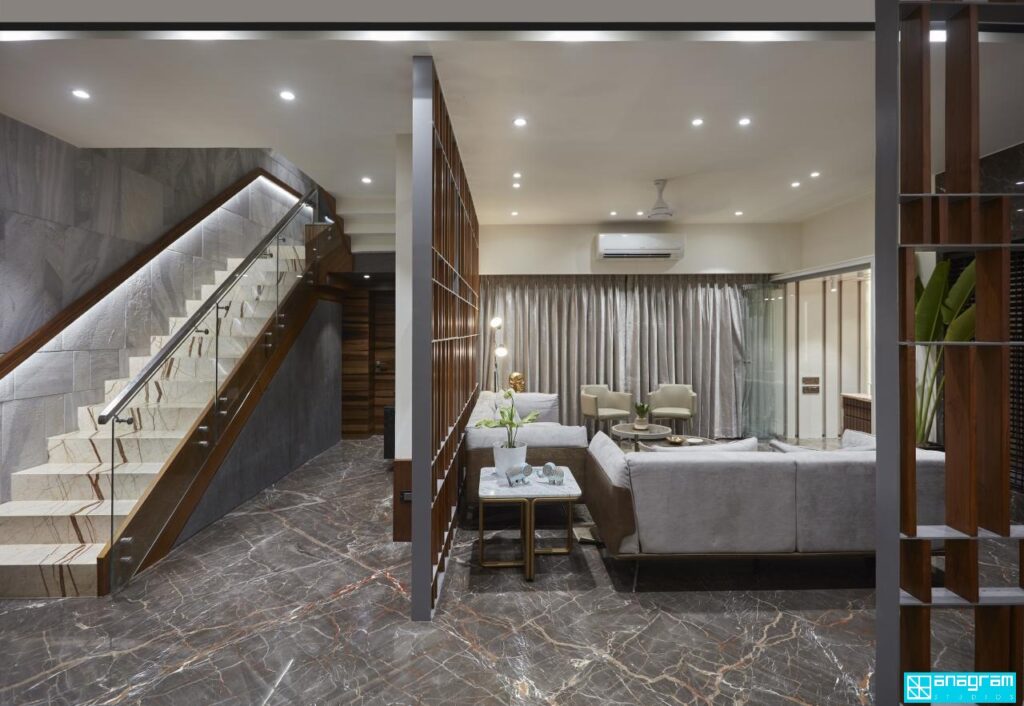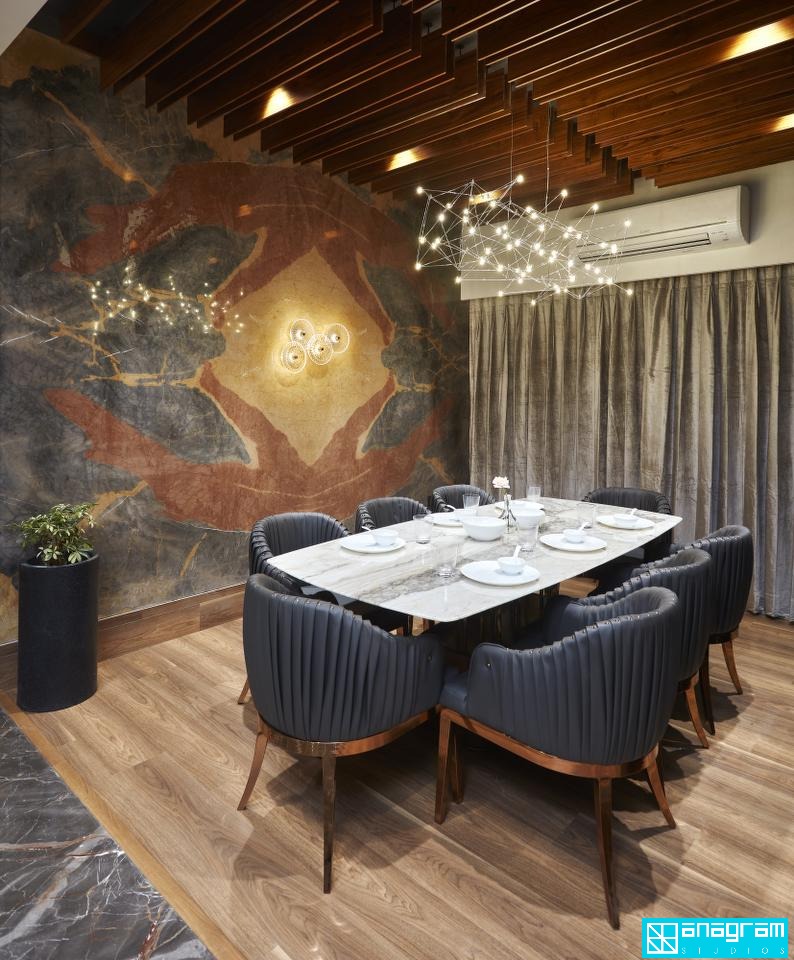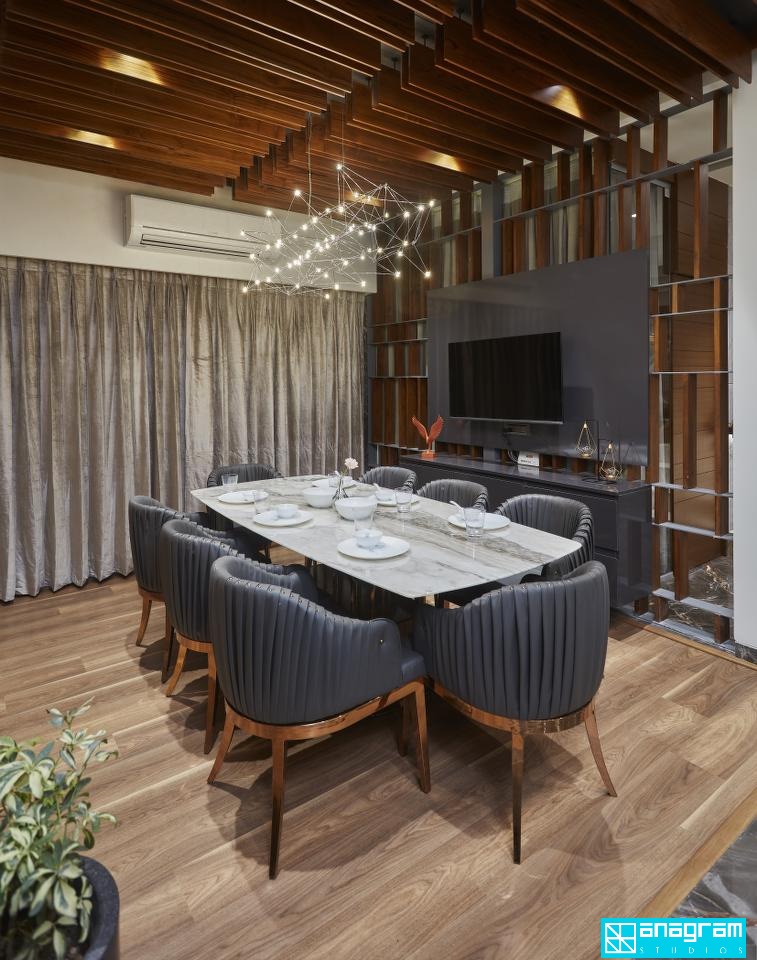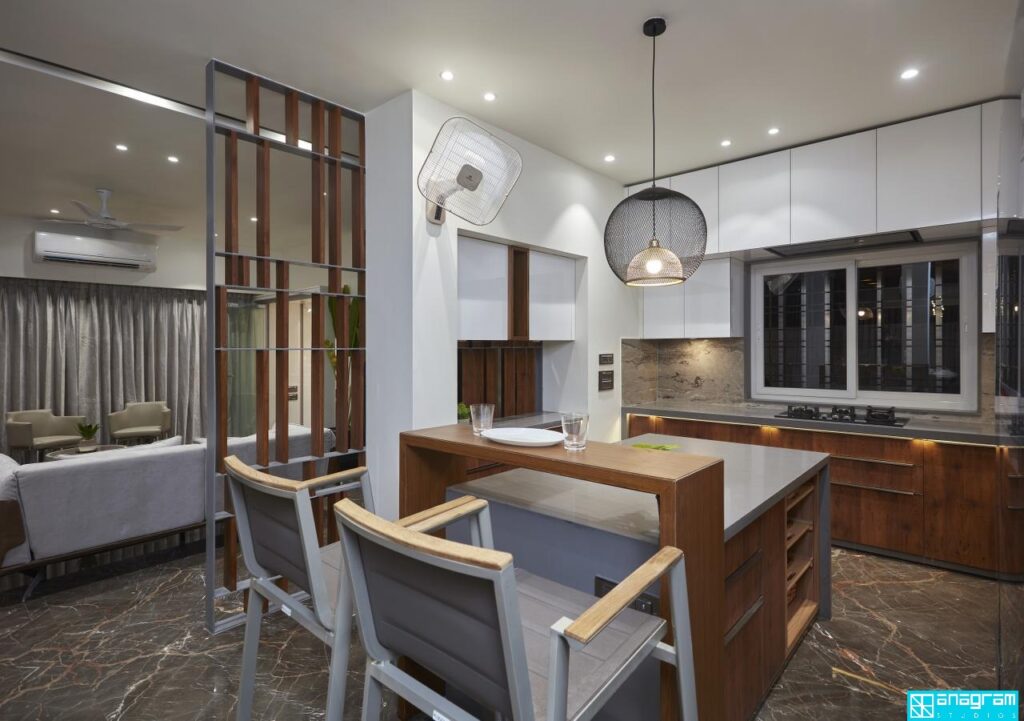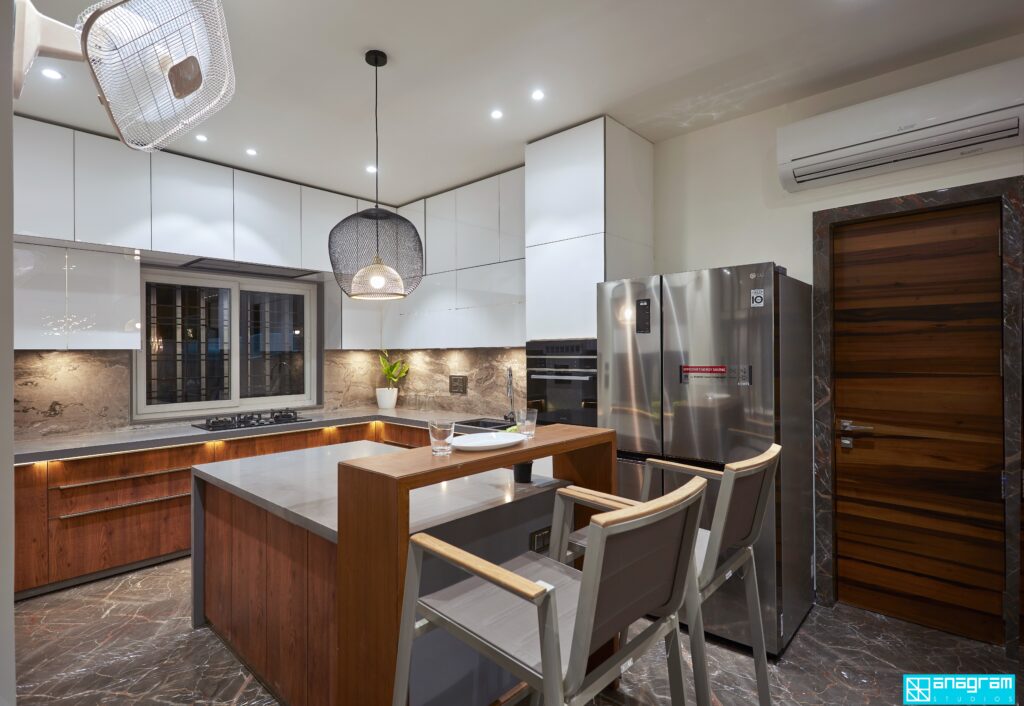 Materiality performed a great role in setting the natural-meets-contemporary aesthetic direction. Italian marble was largely selected for the base floors along with,Timber, Steel, concrete-finish paint etc. The outdoors area lined by Chiseled Basalt teamed with polished stone and the periphery fences were cladded with hammered quartz from Rajasthan. PP furniture was sourced from China/Turkey. While the material selection was responsible for establishing the essence of the space, its application impacted how it would be perceived. "The intent was to create a space that was stark yet, paradoxically, possessed certain richness.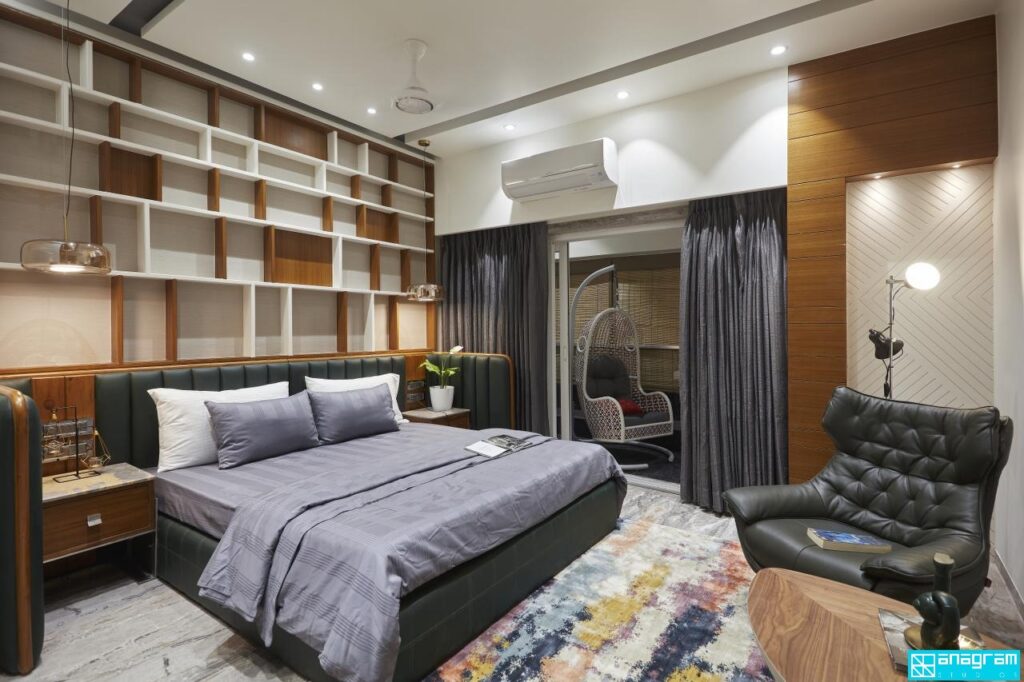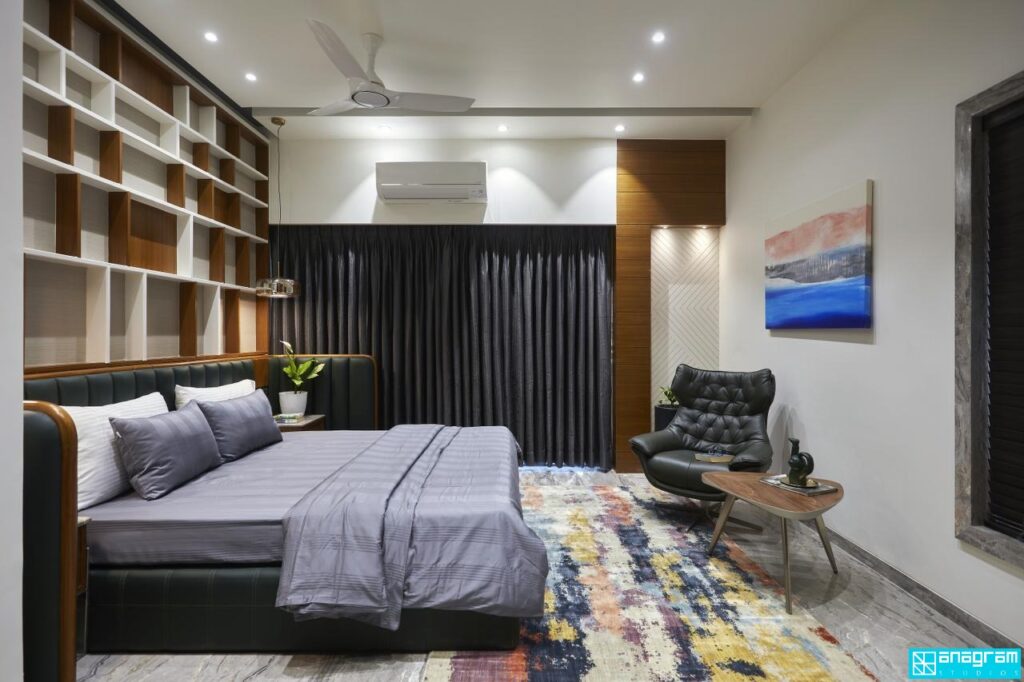 The gravitas of the Steel-timber combination was lightened with quirky, unexpected elements, best seen in the living room — a Mesh-like partition unit, decor elements sourced from Hyderabad, A big water cascade seen straight from the living room, the sound of which please the entire ground floor space, the presence of a contemporary temple space inside the living room, the inside-out dining area with a "Sunset" Italian backdrop adds upon the design terminologies.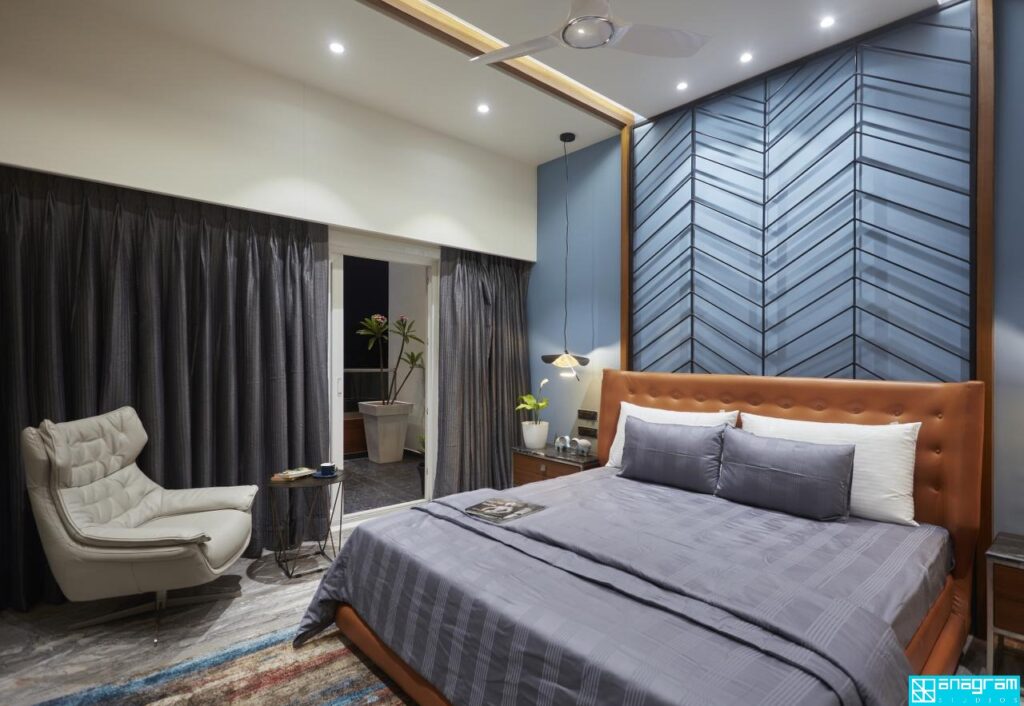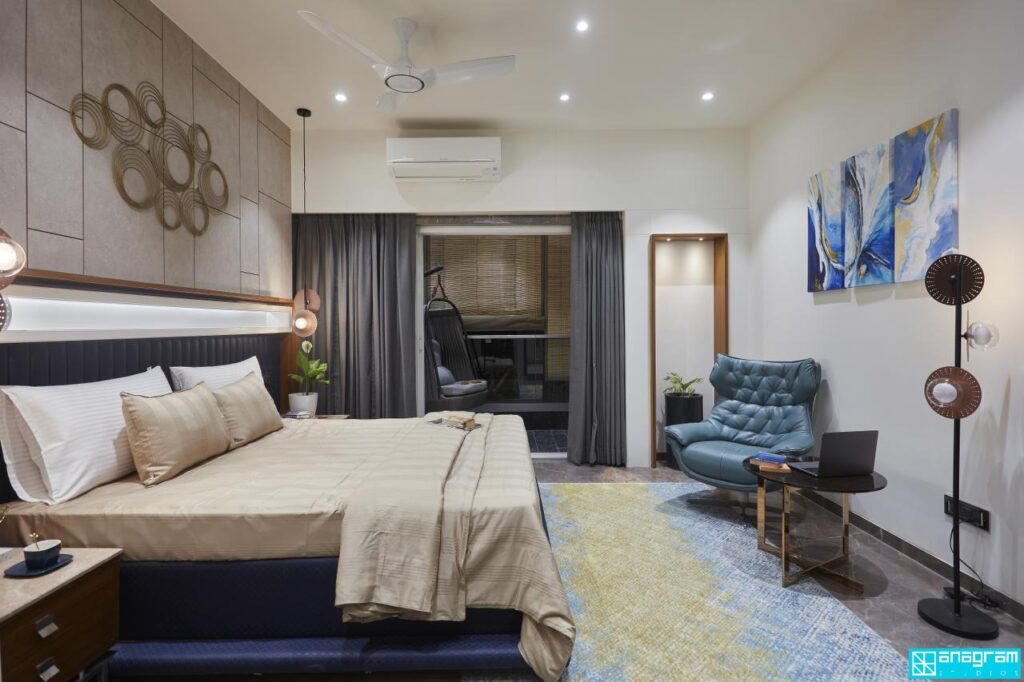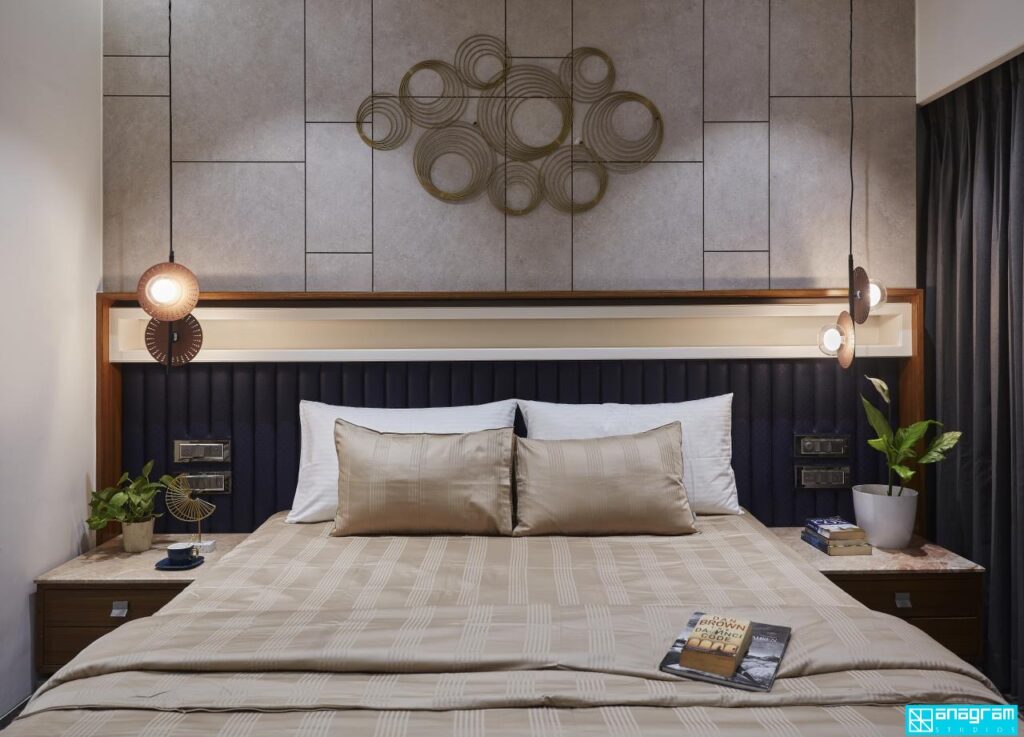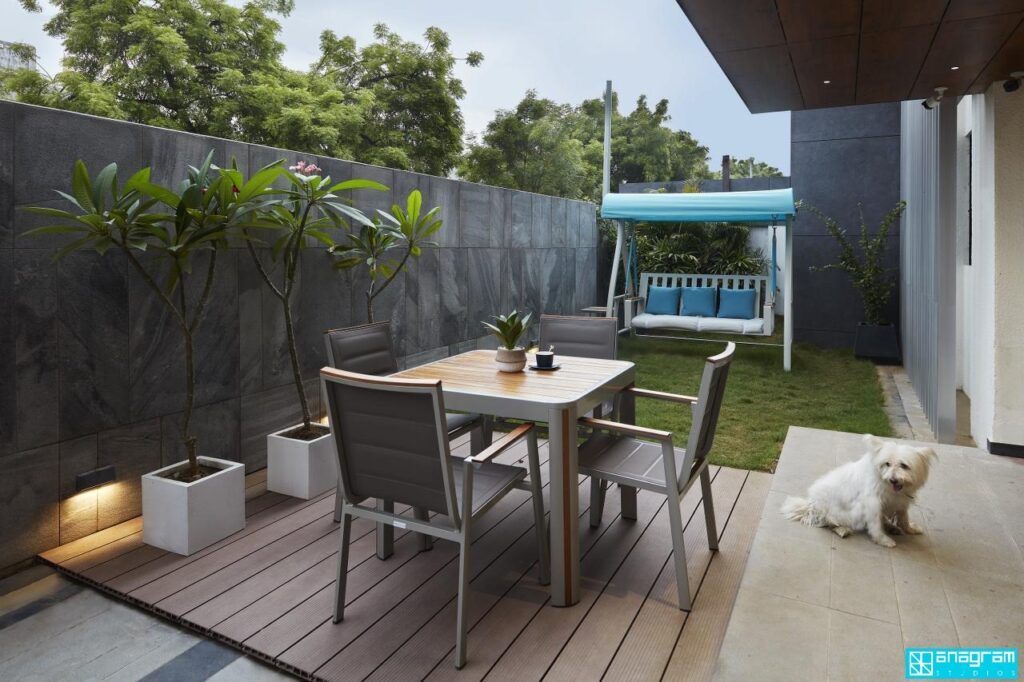 FACT FILE
Designed by : Anagram Studios
Project Type : Residential
Project Name : 263 "AATREYAA"
Location : Nandanvan,Nagpur,Maharashtra
Year Built : 2021
Duration of project : 18 Months
Built up Area : 8000.00 sq.ft
Project Cost Appx : 2.00 Cr.
Principal Architect : Ar. Aditya Indurkar
Photograph Courtesy : Ashish Bhonde
Products and Materials : Wallcovering / Cladding : Akash Marble, Mumbai/Sylvassa ,Quartz, Basalt from StoneAge Nagpur. | Construction Materials : RCC, Steel | Lighting : Phillips, Ledos | Doors and Partitions : Jindal,  Hadwyn | Sanitaryware : Jaquar, Artize | Facade Systems : Century HPL | Windows : Kommerling | Furniture : Kuka Home, GOLD | Flooring : Ego | Kitchen : Hrishikesh Engg. | Paint :  Asian Paints | Artefacts : LaMuse | Wallpaper : Excel | Hardware : Hettich | Drapery/wallpaper and Furniture : "The Lifestyle Furnishings" By Rohit Agrawal, Raipur 
Consultants for the Project : Civil : Mr.Mangesh Milmile | MEP & HVAC Consultants : Mr. Gaurav Rahate | Structure Engineers : Mr. Sudesh Malode | Contractors : M/s. Mandar Constructions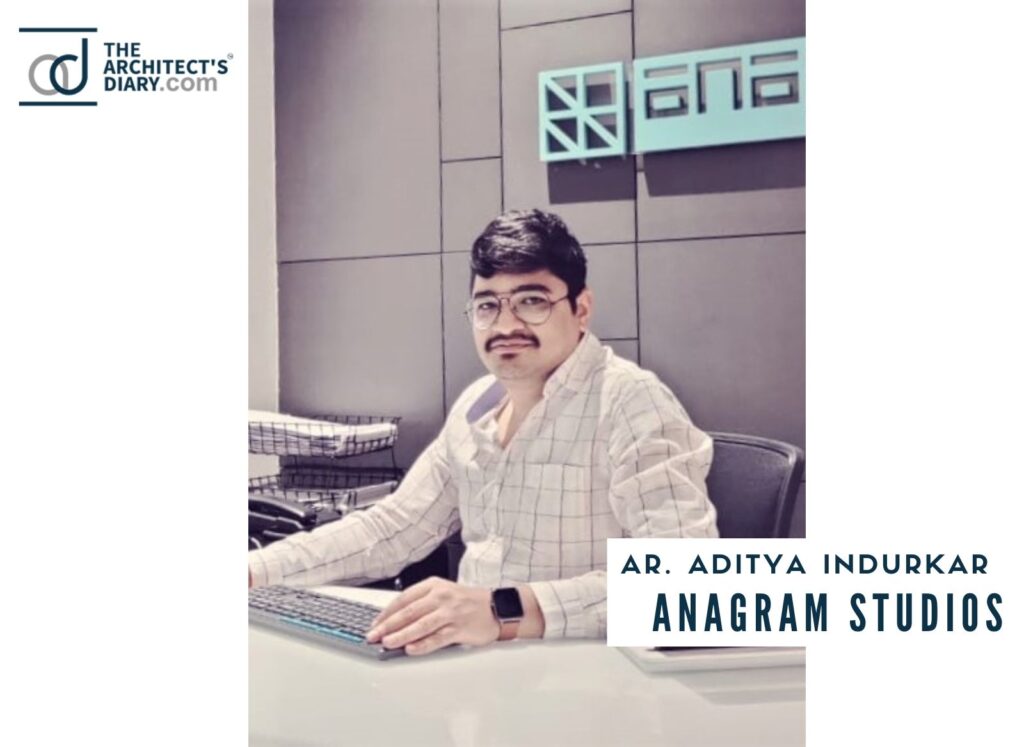 Firm's Website Link : Anagram Studios
Firm's Instagram Link : Anagram Studios
Firm's Facebook Link : Anagram Studios
Email Id (For any inquiry) : [email protected]