It's rare these days that people involve religious values in their interiors. Tints of a luxury tussle with traces of utility in this Mumbai home!! This family of 4 has an immense belief in god and wanted to take over the same values while designing their house and giving a traditional yet modern look in their indian home. They were very specific to have bold colors and play with the shapes and patterns while designing their house.  Adorned with an opulent assortment of tints and textiles, the transformed 3 BHK home fits felicitously in the lines of modern luxury.
Traditional Indian Home reminiscing Ethnic Motifs and Design Elements | Kreon Projects
Visit: Kreon Projects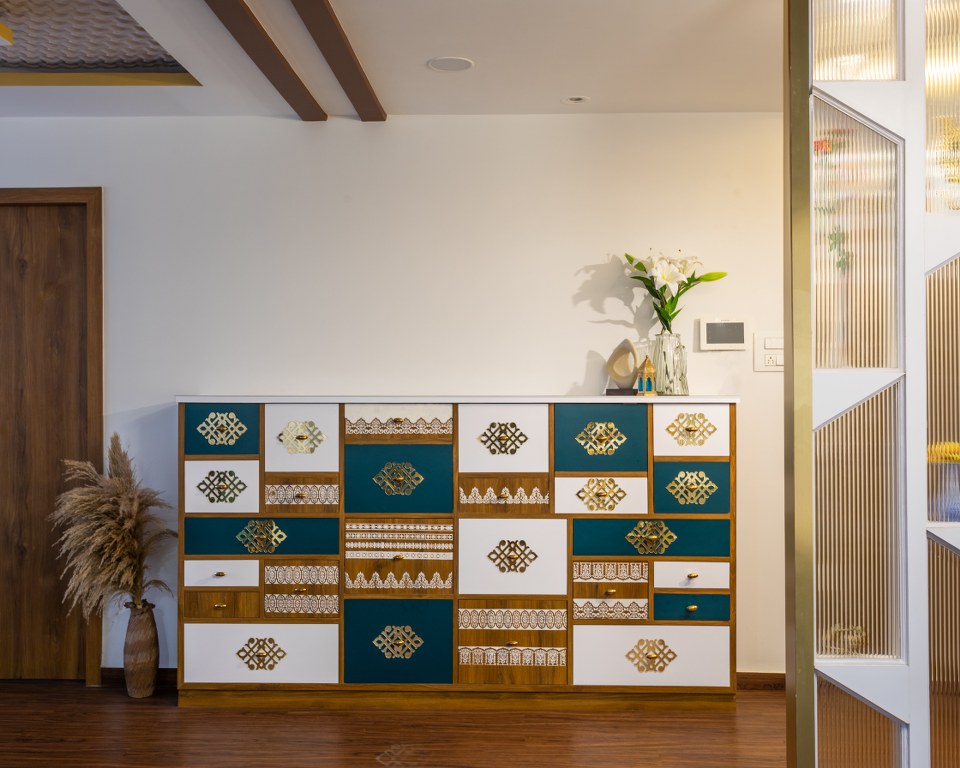 In this indian home the main entry has this traditional yet modern look laser cut grill which barely show you that its a safety door and the shoe rack. A quick seating space next to the door with artificial grass on the wall is adding color to the sober look. 

&nbsp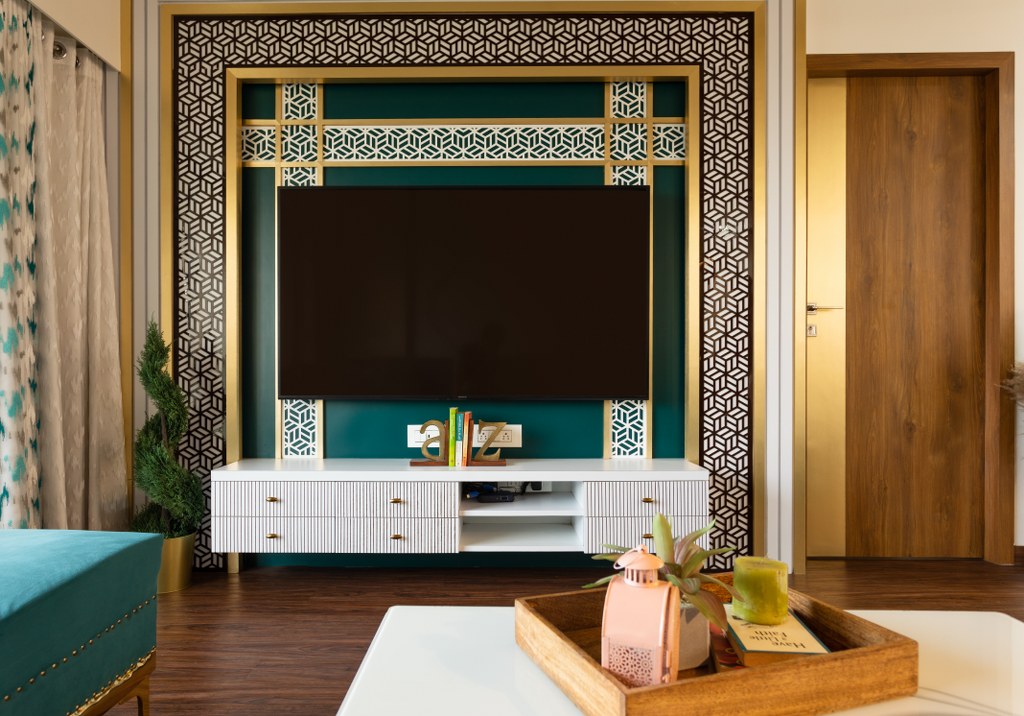 As we enter the partition in front of the entrance is beautifully designed to place the artifacts and has a screen between entrance and dining area with the frosted glass.
The living area is traditionally designed with the patterns on tv unit as well as reflecting the same on ceiling as well with the scoops. Bold colors are adding its own play with the authentic designs. Fine detailing underpins the design with the right proportion of furniture, lighting, texture and color to establish the desired harmony.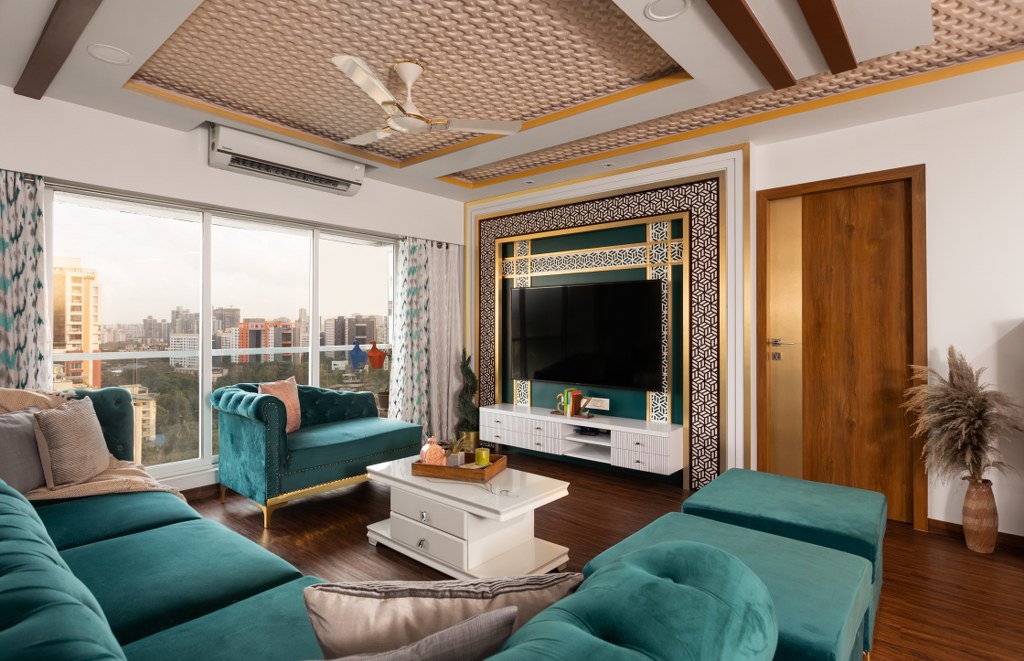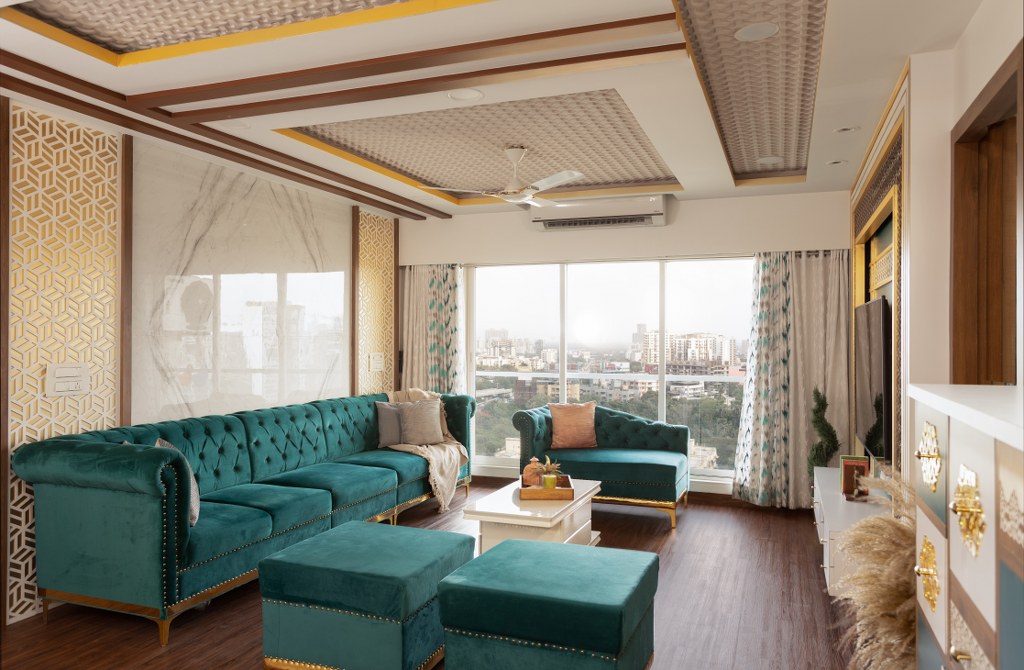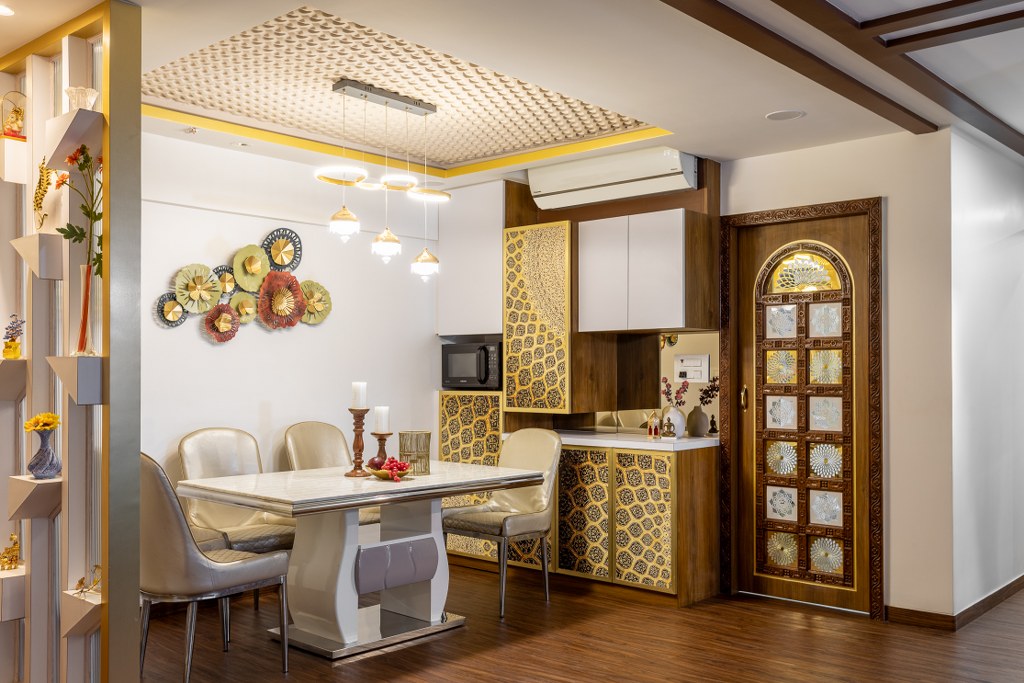 Mandir with the true devotional design. Crafted a serene space in this luxury home, a space filled with the divine, positivity and peace. A space that is close to our heart. Blinds next to the mandir is a fusion of modernity and devotional values. The left wall crafted with cows all over gives a feel of having come in a different zone altogether. This space expresses our design in an aesthetic work of art.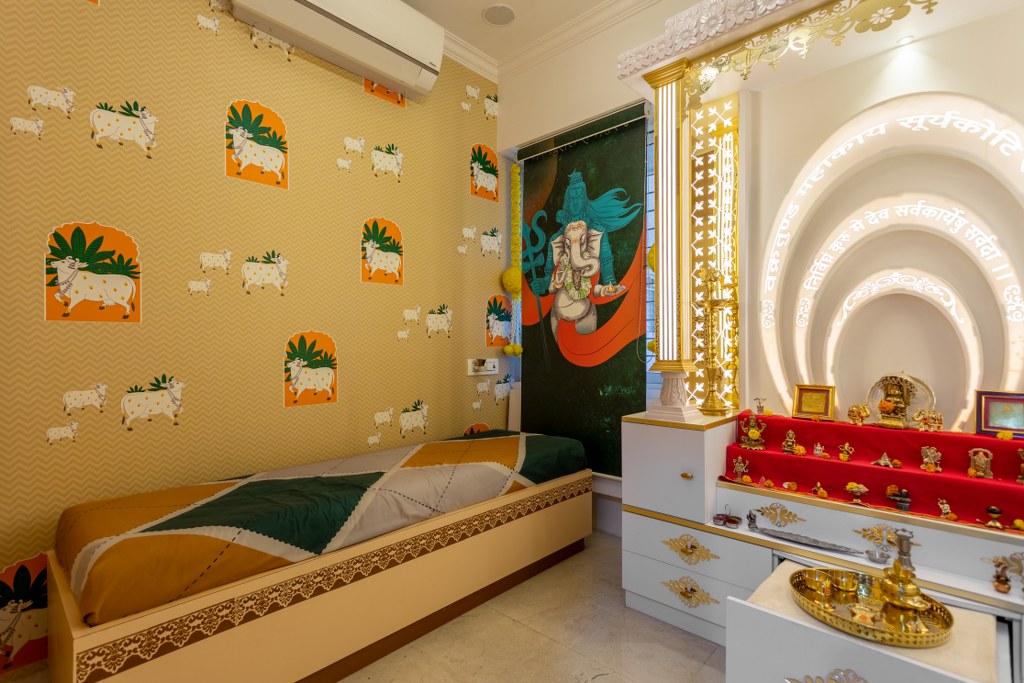 Master bedroom with blues and a ting of orange is eye catching. Shapes and patterns on wardrobe enlightens the look of the room along with the ceiling having the charm of shapes instead of keeping it plain. Design ideas in this master bedroom take shape with strong geometry-driven planning.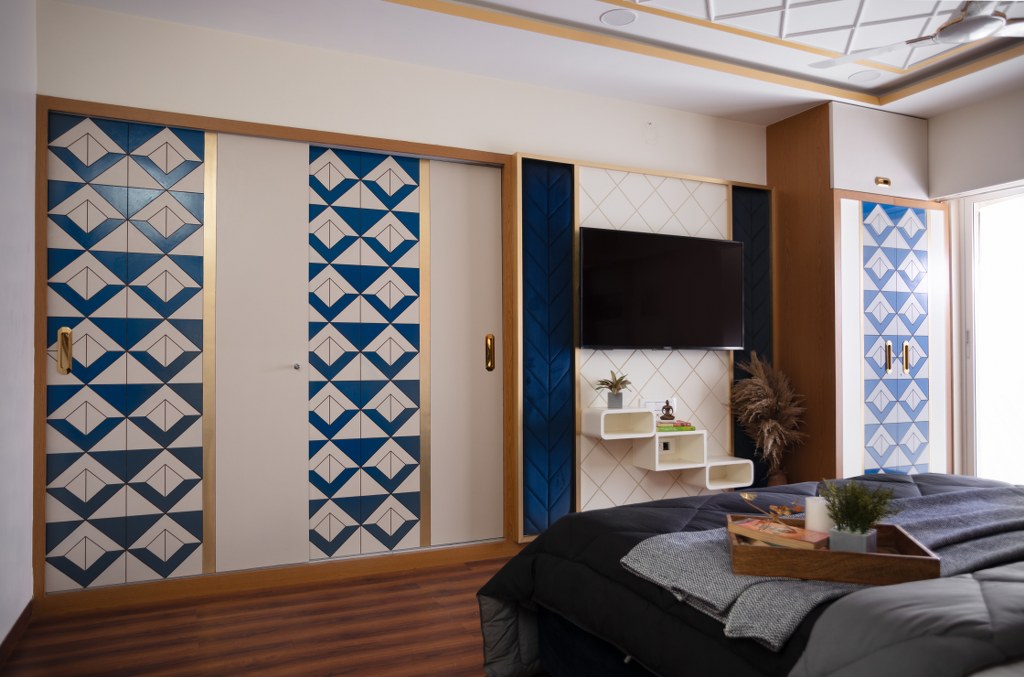 A modern luxury-fueled narrative plays out in an imaginative collaboration of wood, veneer and beautiful detailing that renders the space with an elegant charm.
Son's bedroom with modern lines and luxury inviting with bold colors has its own story. There's something quite inviting about this bedroom in a luxurious apartment. While designing this space, we wanted to create a personal sanctuary for the family residing in this house. Creating an uncanny depth are a blend of harmonious color tones, materials and textures in use. This bedroom is truly spelling the language of leisure and laughter.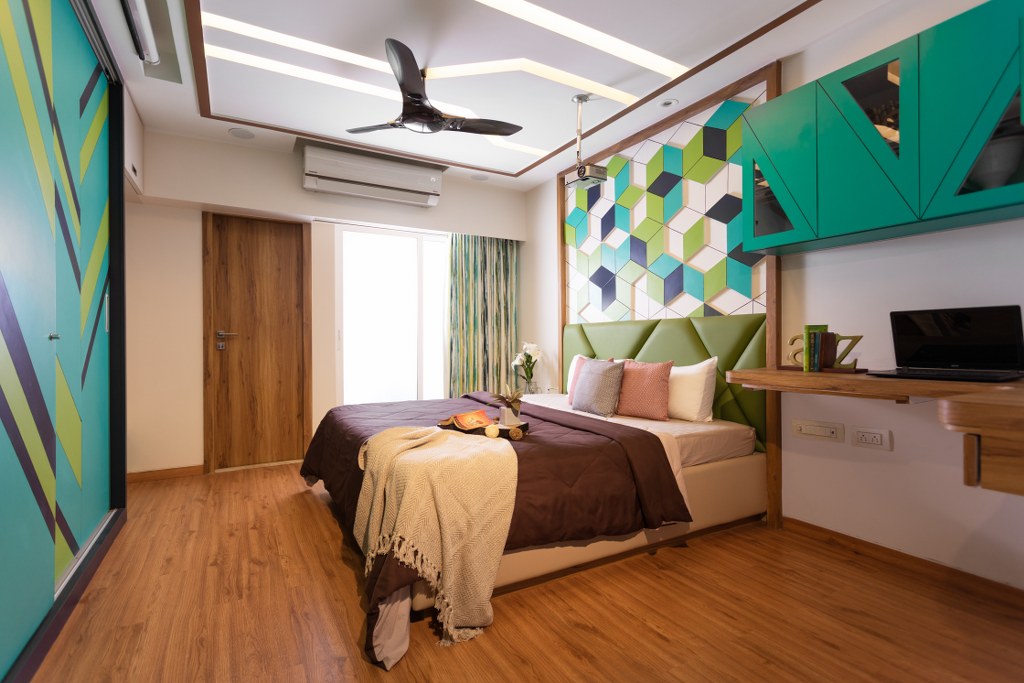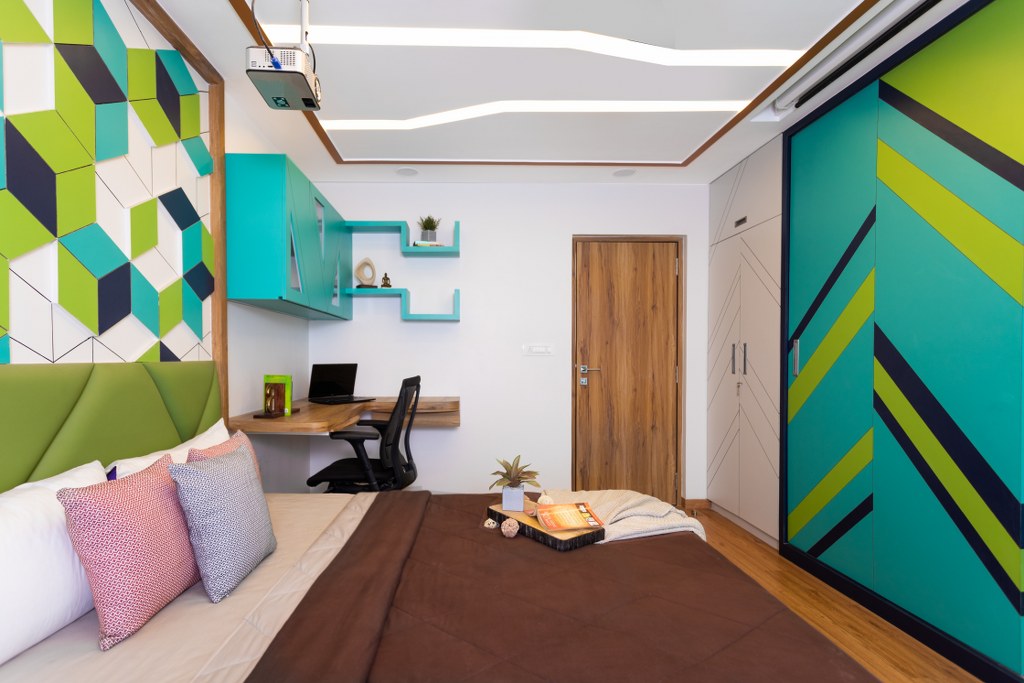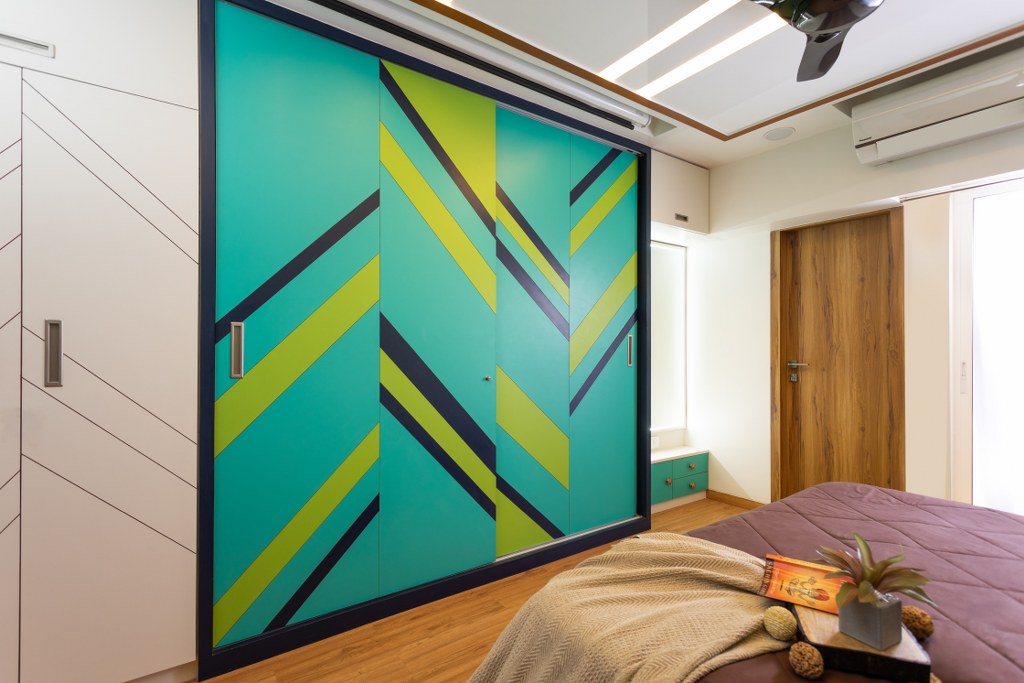 Another son's bedroom is a masterpiece in its own space with fresh color tones where geometry is playing its own role to enhance the beauty of this room. This room is perfectly tailored to suit the clients requirement.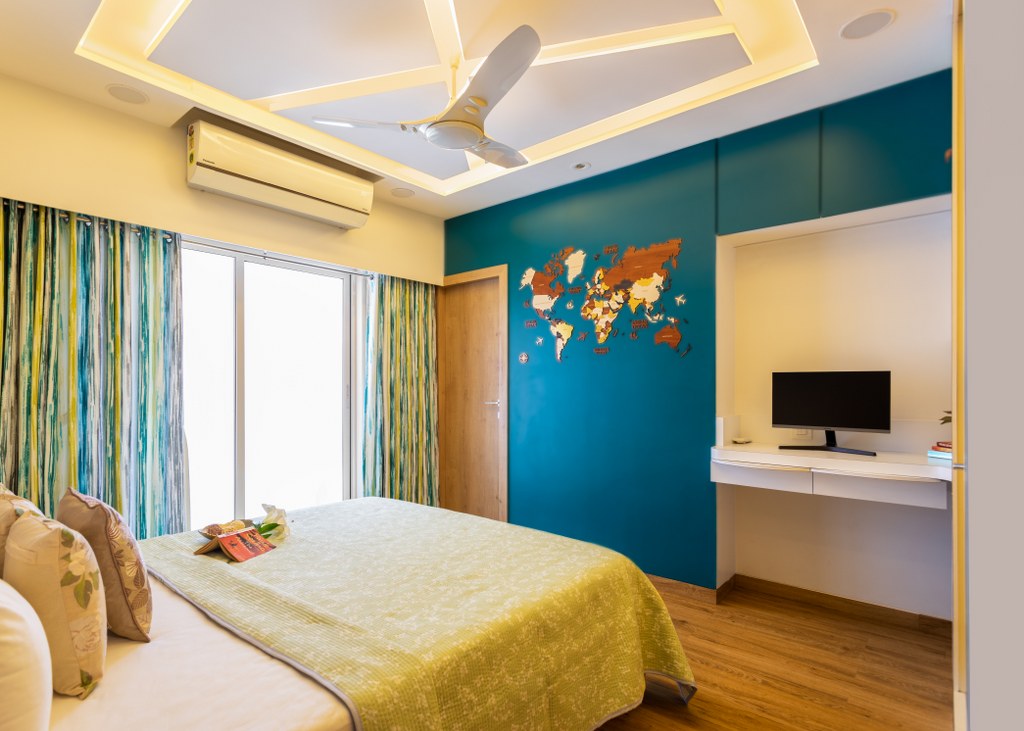 Fact File
Designed by: Kreon Projects
Project Type: Residence Interior Design
Project Name: Auralis
Location: Mumbai, Maharashtra
Year Built: 2022
Duration of project: 4 Months
Project Size: 1280 Sq.ft
Project Cost Appx: 28 Lac
Principal Architect: Parag Supe
Team Design Credits: Nilofer Momin & Tushar Sawant
Photograph Courtesy: Lakshay Arora
Products & Materials: Lighting: Philips | Paint: Asian Paints | Hardware: Enox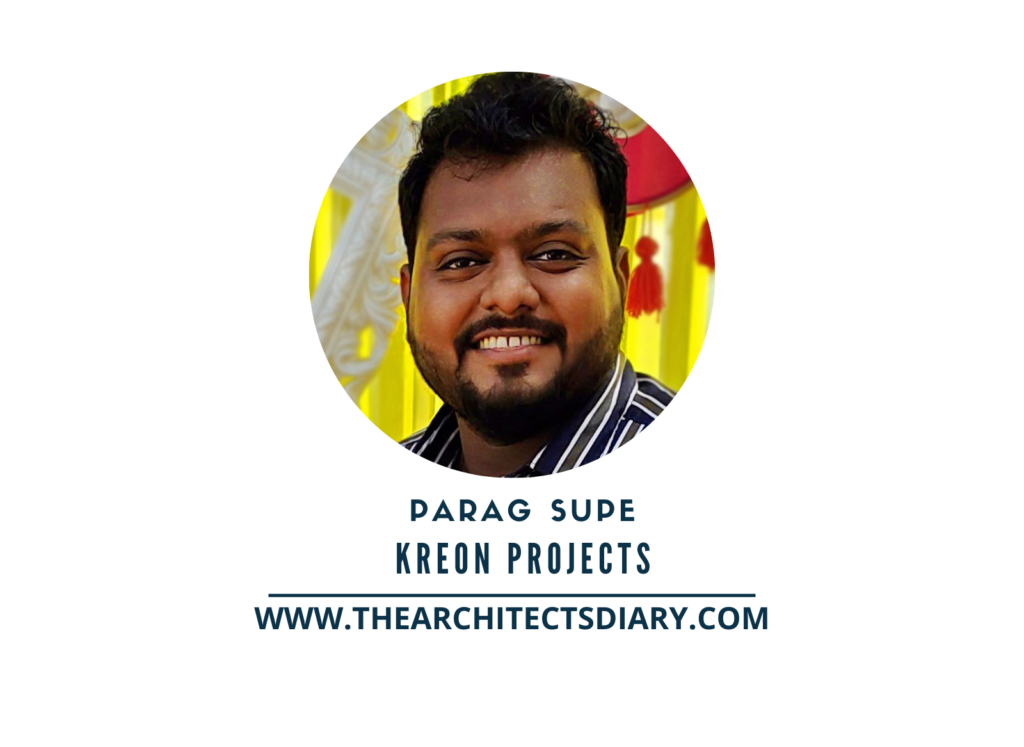 Firm's Instagram Link: Kreon Projects
Firm's Facebook Link: Kreon Projects
For Similar Project>>>Fostering Emotional Comfort & Wellbeing with this Indo-Scandinavian Interiors