&nbsp
We still remember walking into a cafeteria like place in Minerva Hotel, Kompally, Hyderabad, when the client asked us he wants the same to be converted into one of its kinds Bar and Lounge. This being our first project in Bar Category, we made sure nothing goes wrong and did extra research on Bar designing and functionality. After several rounds of meetings and revisions, we finally came up with a theme of monotone blacks and greys..making the entire walls, floor, ceiling monotone and breaking the same in some solid colours like red, blue and green.
Theme of Monotone for this Bar and Lounge in Kompally, Hyderabad : ZULA | The Canvas
Visit : The Canvas
Acoustics was one of the major challenges we faced as we cant afford any sound to travel out and disturb other guests in the hotel. We tried to incorporate sound proof eco boards and acoustic panels as much as possible and created a playful patterns just with the acoustic sheets. We used the "Johnnie Walker", "lady with headphone" and "angel" backlit panels with dancing lights effect to add to the glam of the place. The stage area is again plain black colour highlighting just the neon arc created by the profile lights and the screen. We have provided some interesting corners like the "selfie mirror wall" where guests can click selfies looking into the mirror.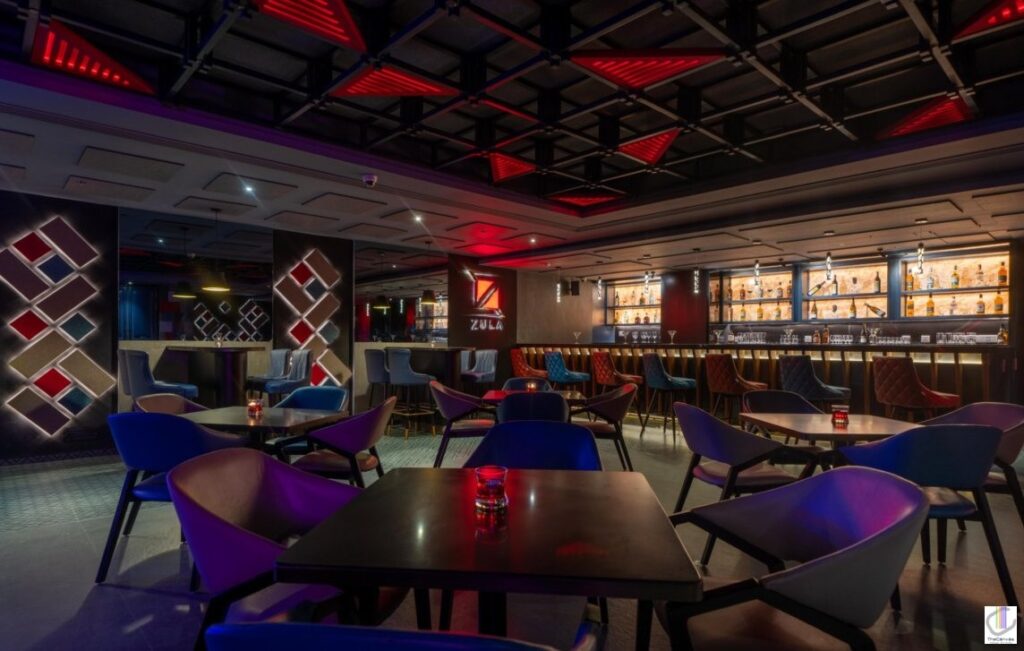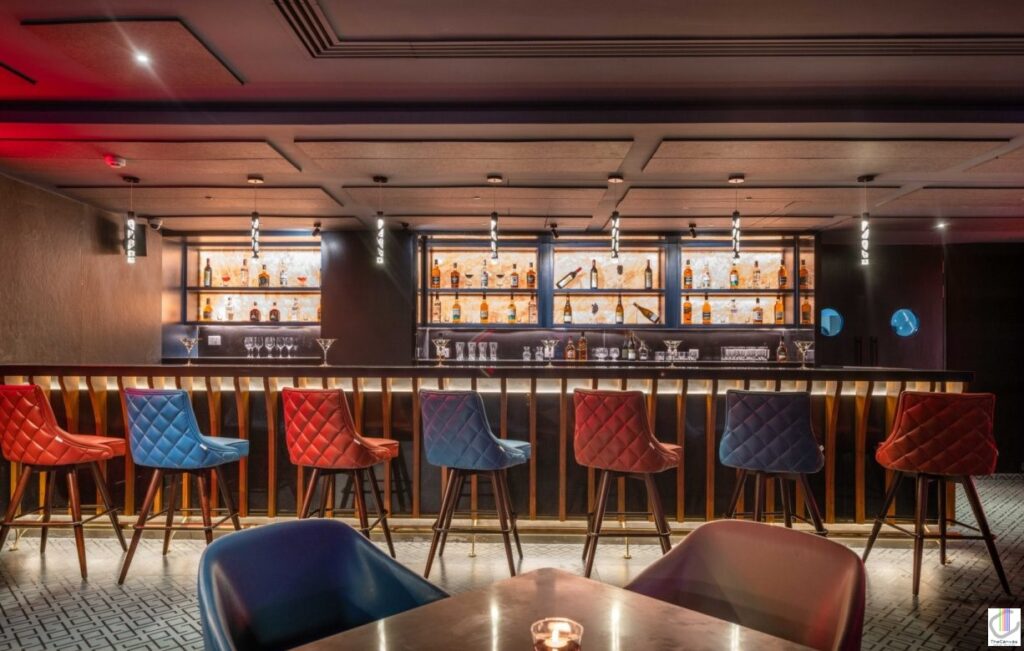 The main entrance is also created into a colourful pattern of acoustic panels. The Bar has been created keeping in mind the overall theme of the place. The entire back counter has been kept backlit with alabaster sheets. The front counter has a beautiful design of teak beadings to add a touch of warmth and luxury.
The entire seating has been divided into 3 parts : 1.Loungers- plush burgundy leather sofas for relaxed seating. 2.Regaular table chairs- for comfort of having dinner 3.High tables- for those who just want to enjoy their cocktails with a few snacks.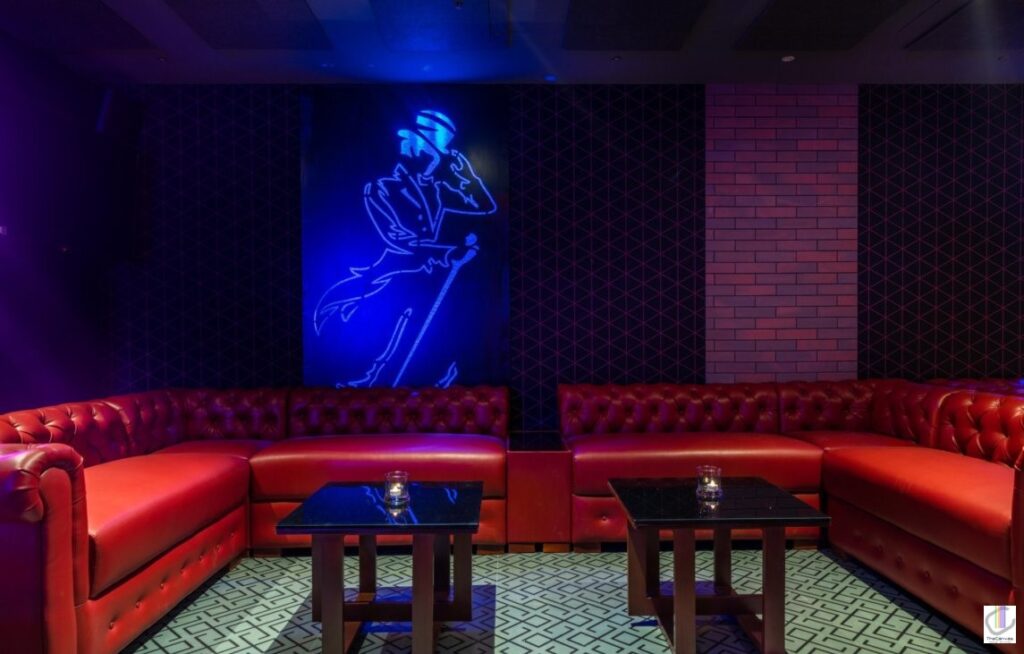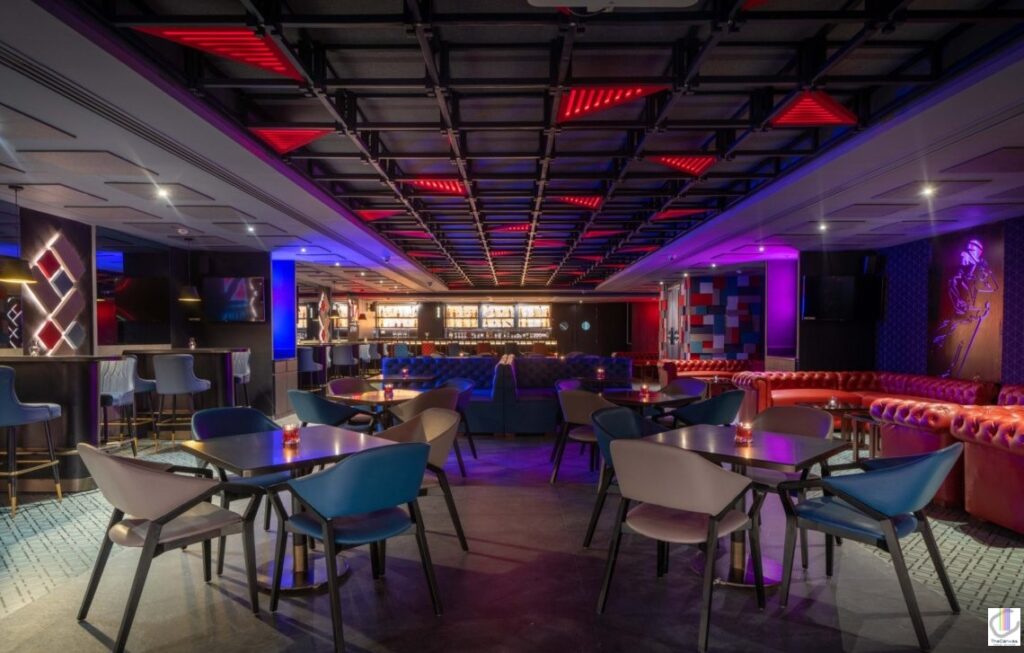 The main entrance has also been created keeping in mind the interiors of the lobby where quirky elements wont match. Going with the ceiling height restriction, we tried expanding the entrance horizontally and adding a glam factor by putting backlit zula logo and bright red 3D hexagons. Overall, the project has come out how we had imagined..:)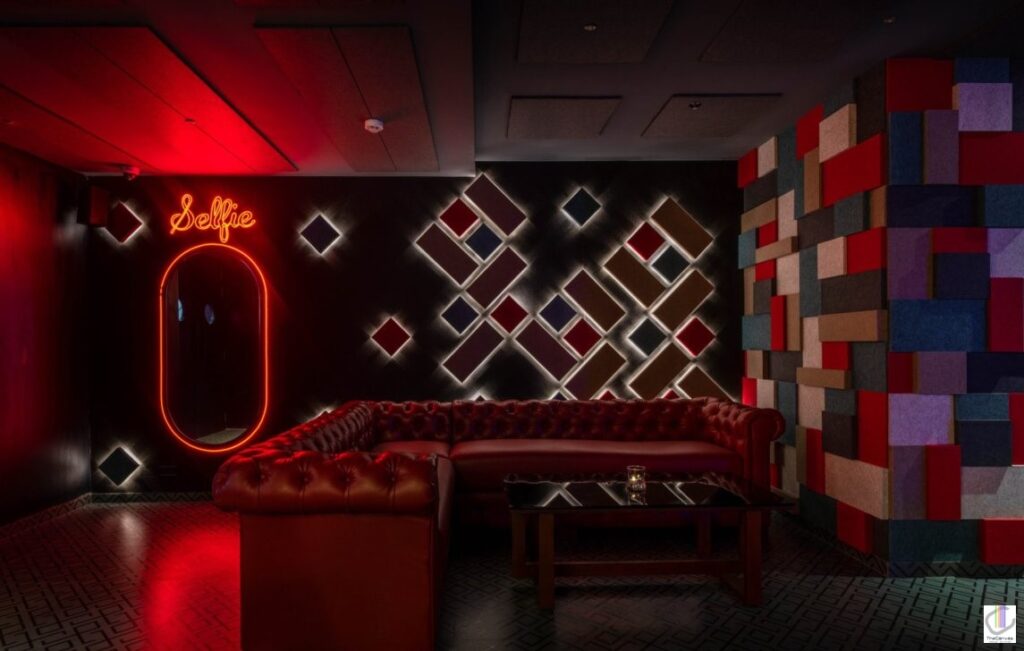 FACT FILE
Designed by : The Canvas
Project Type : Bar and Lounge
Project Name : ZULA – Bar and Lounge
Location : Kompally, Hyderabad
Year Built : 2021
Duration of project : 4 months
Project Size : 2700 sq.ft
Project Cost Appx : 50 lac
Principal Architect : Anjali Sahni and Komal Agarwall
Photograph Courtesy : Ricken Desai
Products and Materials : We have used multiple vendors from across the country. Some of  them include Rangoli in Banjara hills for acoustic panels, Hanuman Enterprises in Srinagar  colony for tiles, Aple Lights for Ambient Lighting, Customised Movable Furnitur : Overseas Gallery etc.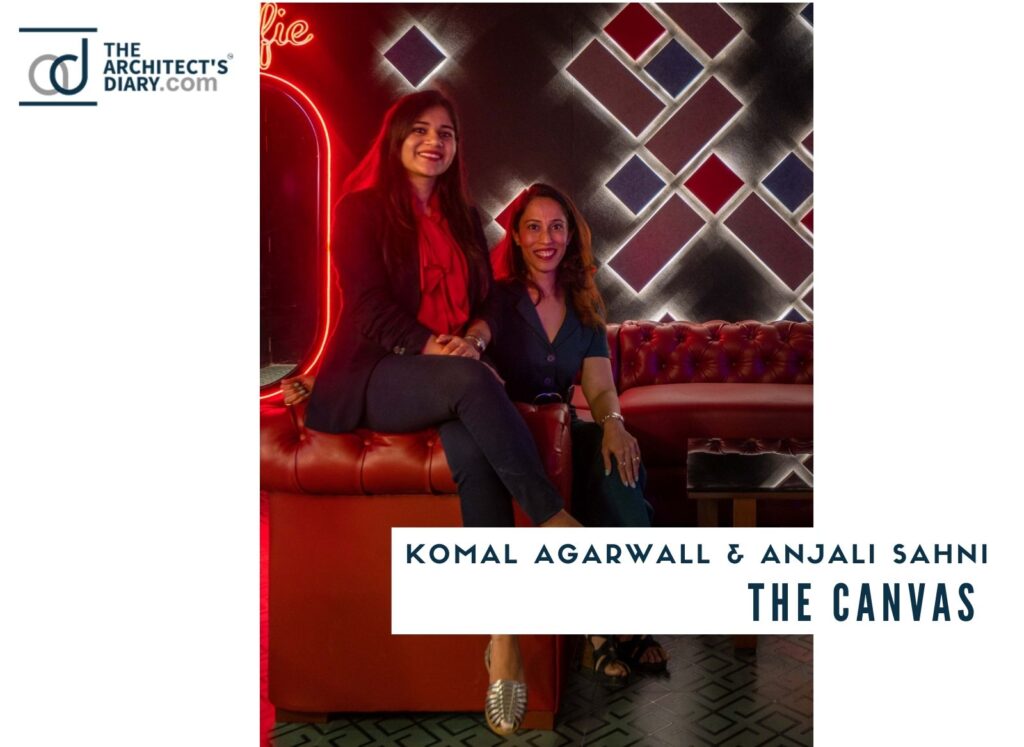 Firm's Website Link : The Canvas
Firm's Instagram Link : The Canvas
Firm's Facebook Link : The Canvas
Email Id (For any inquiry) : [email protected]
Disclaimer: No TAD editor is involved in the curation of this content.