&nbsp
The Sailor House -Mid-Century and Contemporary House | One Plus 1 Studio
THE SAILOR HOUSE, a 5800 sqft. Of flat in Surat, is a gem in itself. It is conceptualized by fusing the Mid-Century and contemporary style. The warmth brought on by the light and neutral color palette, and use of natural materials like Wood and stone along with metal and glass reflects a cozy and comfortable atmosphere. Designers, Ar. Nikit Agarwal and Ar. Bhumi Shah, came to a design solution that satisfying the clients' requirements after contemplating the overall feel of the house within a short span of 9 weeks, And further took up the challenge of completing the project within just 28 weeks and succeeded. They have celebrated simplicity and turned the house into a beautiful and elegant home.
The Main Entrance door is an artwork in itself, having a balanced composition of lines in the veneers and vertical green walls at the adjoining walls adds a pop of color and freshness to the entire space.
The door opens up and leads you to the passageway connecting all the formal and informal spaces. The passageway has a Wavy wooden ceiling infused with lights has a tree of life done in metal as its focal point which starts to set one in the relaxing mood after a long day of work.
The living area is done in basic tones of beige complementing the tones of wooden paneling with metal strips inculcated within on the opposite walls. The spiral triangular center table sits gracefully amongst the opulent ballet slipper colored sofa set.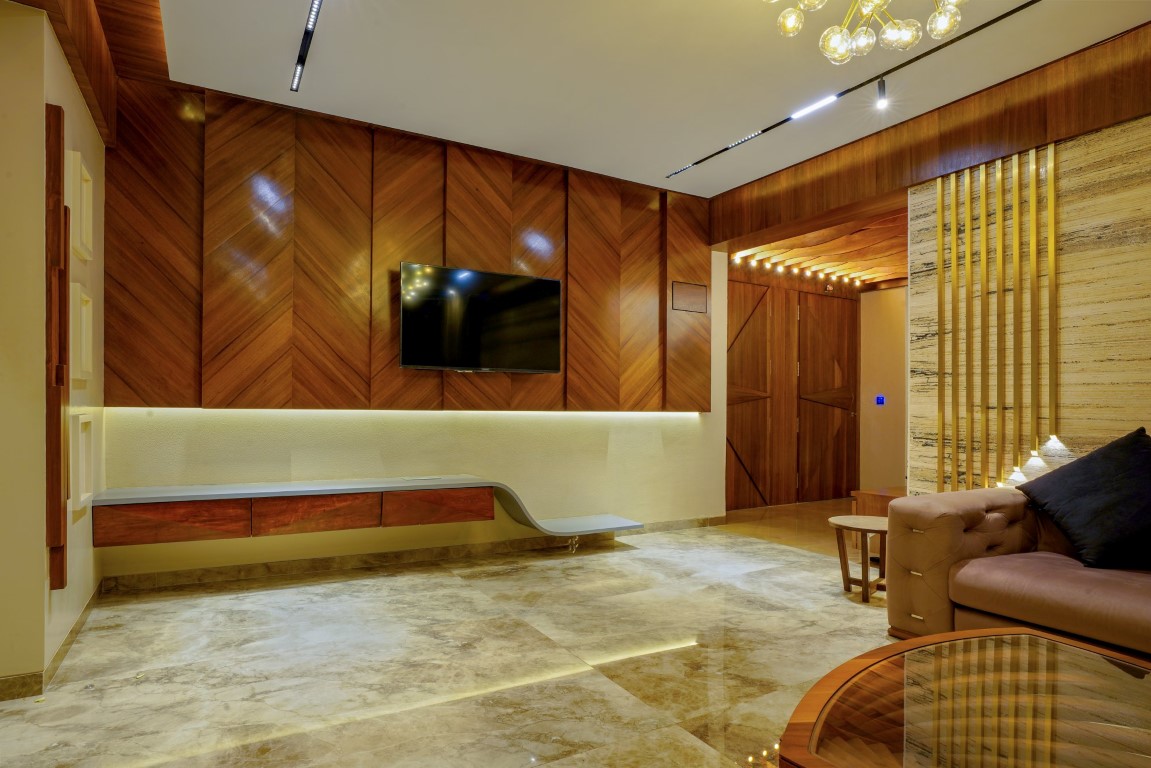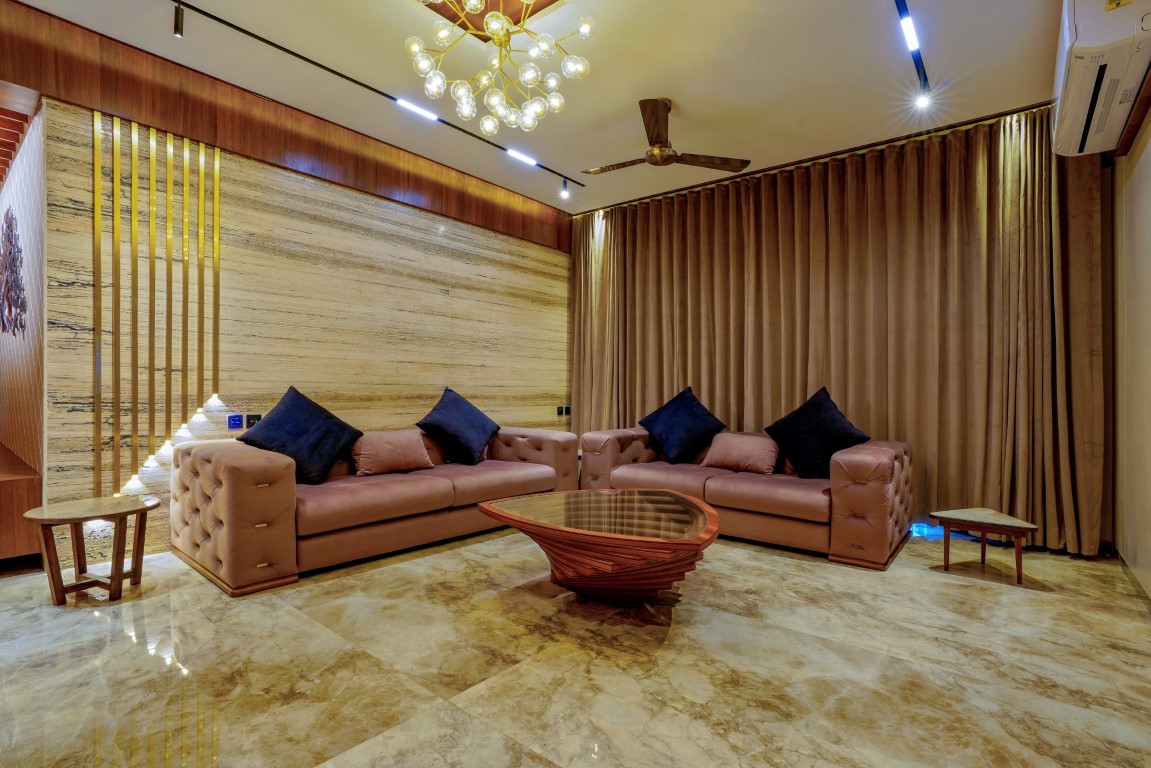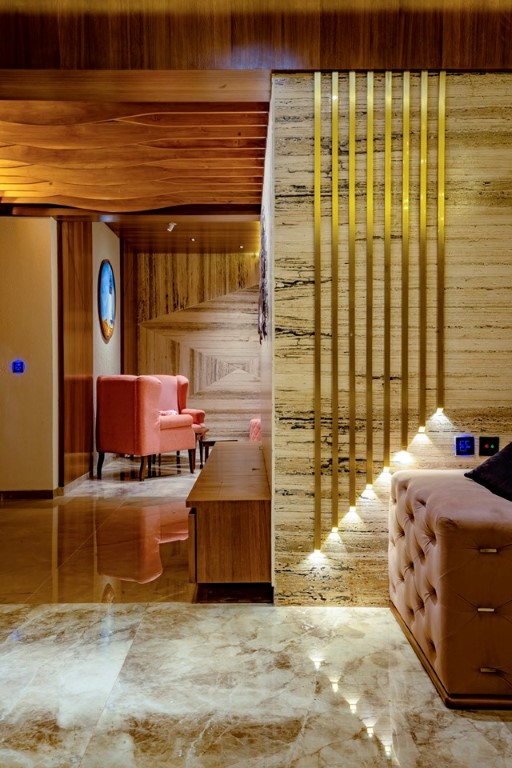 The Formal living area to reflects similar warm tones, adorned with regal Pigeon blue velvet sofa set.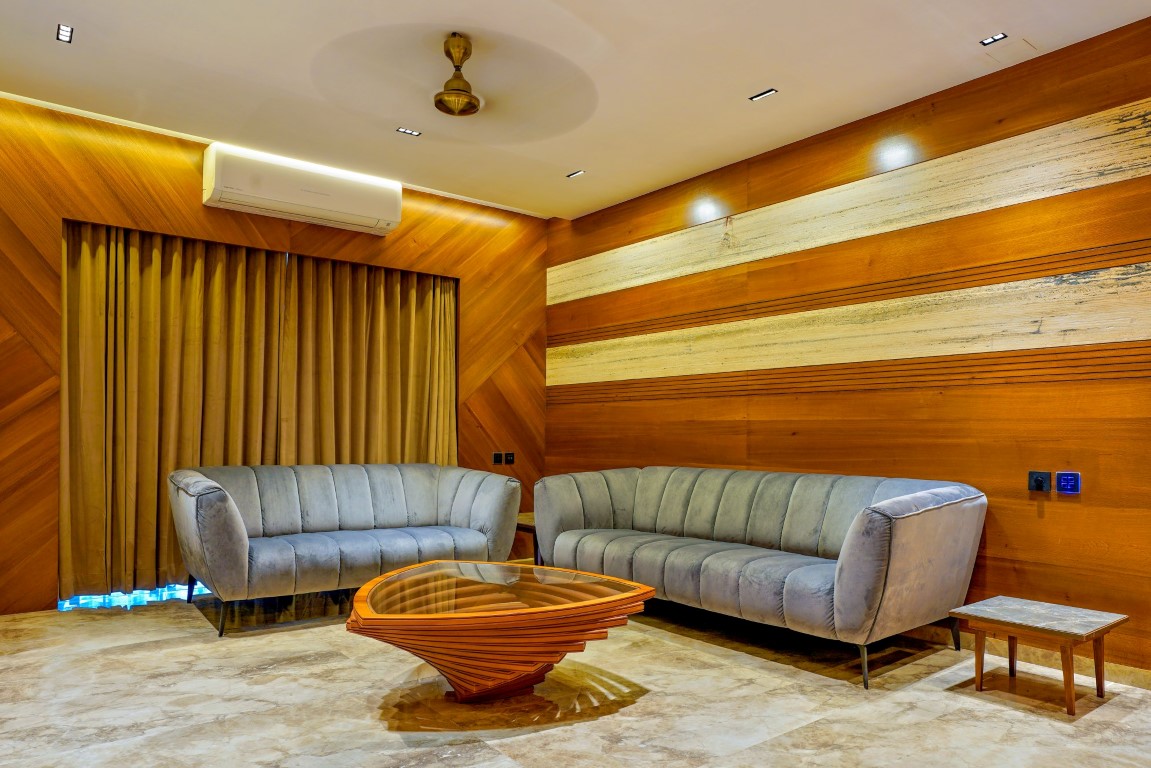 The Entrance passageway further takes you to the cozy little nook created where one can pick a book and read or have a nice chat over some hot tea. The Stone textured plaster wall in between the wooden paneling gives a light, airy tone to space.
A rich and elaborately designed wash area is sure to leave a lasting impression on the guests with its 3d tiles and backlit geometric mirror complementing the striped wooden cabinets.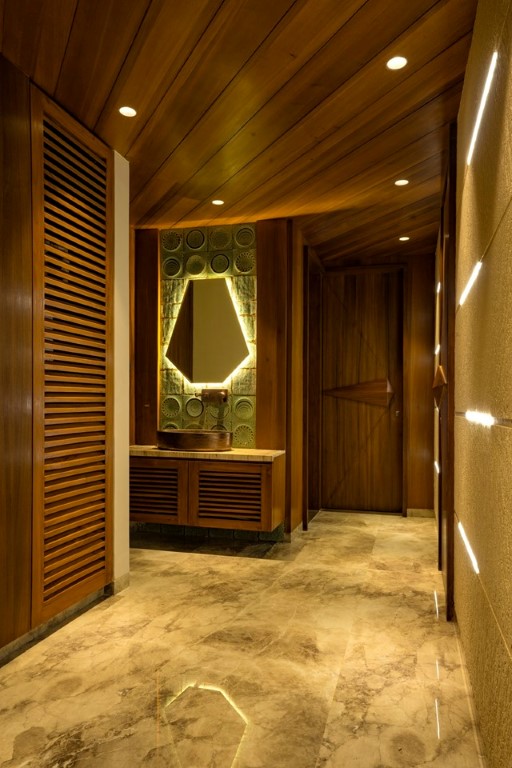 The Bedrooms too are done in a simplistic manner with neutral tones, with an added individualistic element to each room. Where one room has inlay of metal while the other has patterned upholstery with a graphic wall behind the bed, each one follows the same language but are different keeping in mind the residents of the house.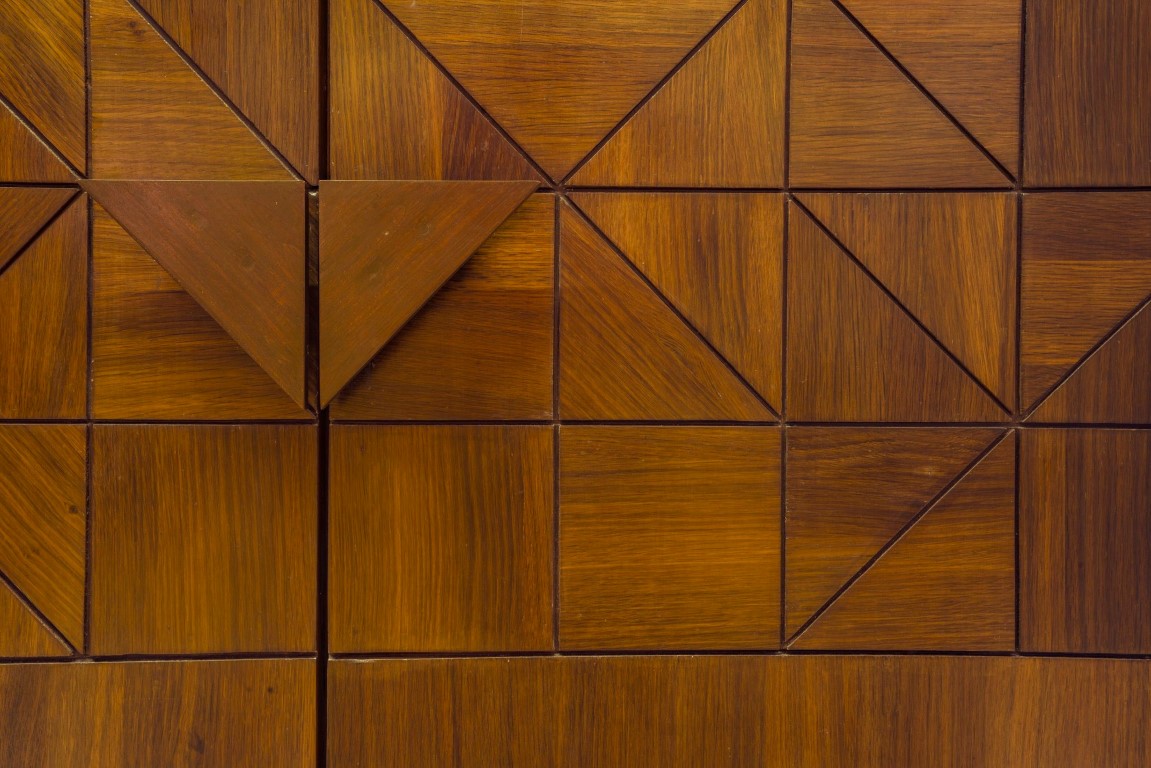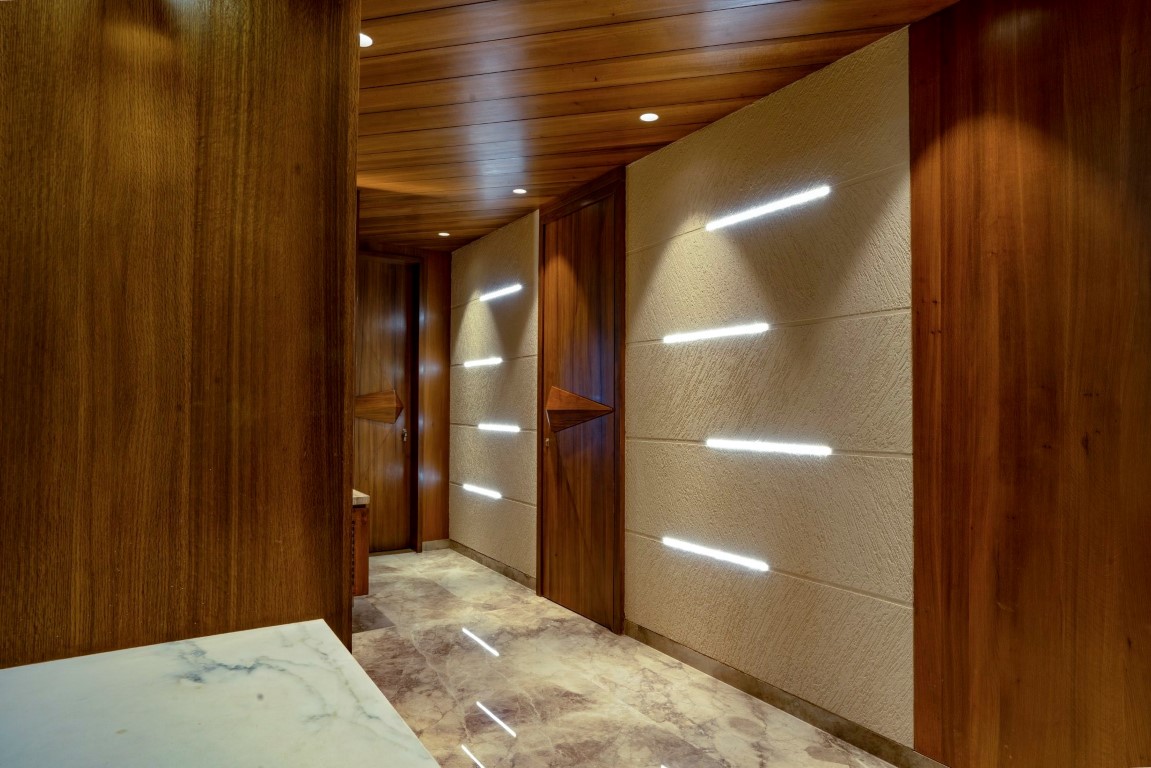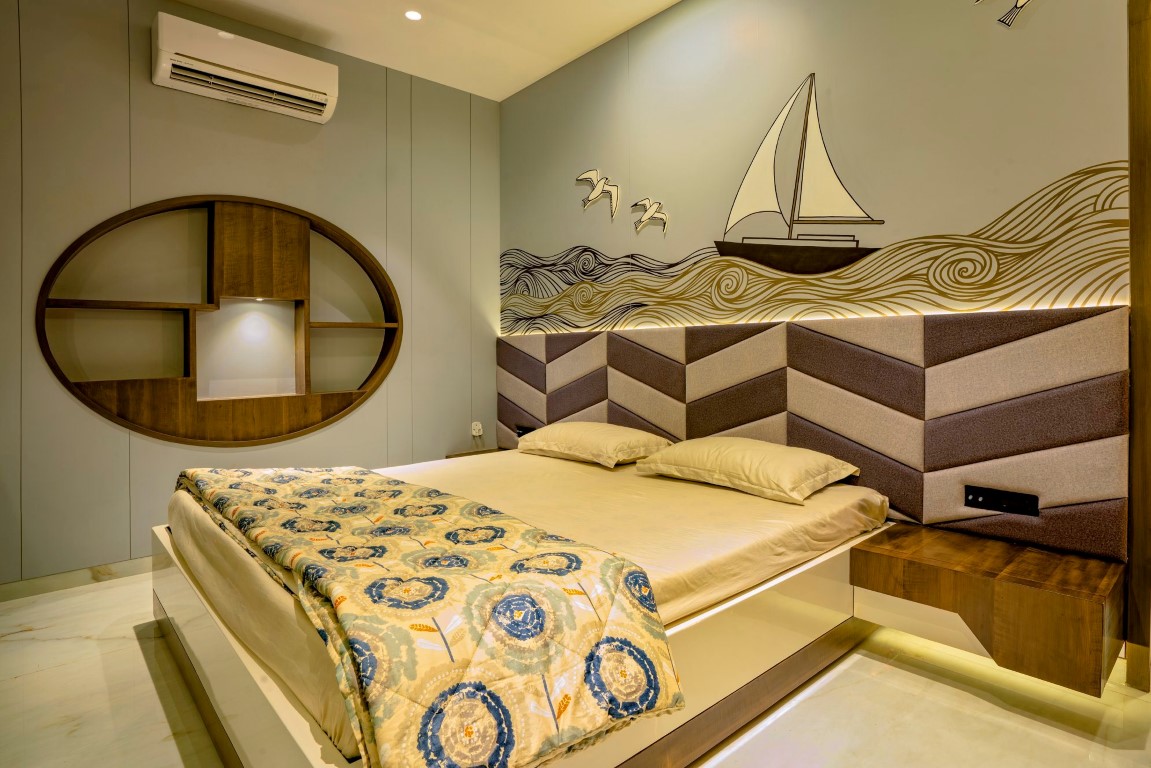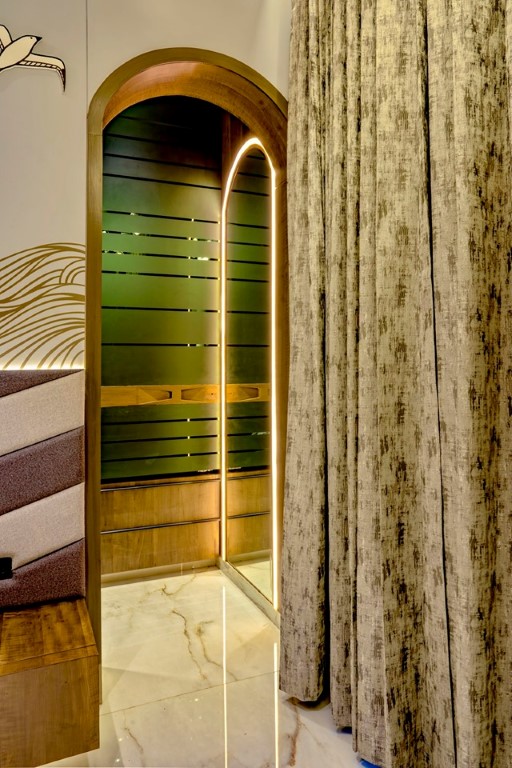 FACT FILE:
Project: "THE SAILOR HOUSE"
Architect: "ONEPLUS1STUDIO – The Design Studio"
Location: Althan,Surat,
Design Team: Ar. nikit agarwal , Ar. bhumi shah
Execution team : In.Garima  Kabra , Manish Chauhan 
Area: 5800 sqft
Project Category: Residential Interior
Year Built: 2019
Photo Courtesy: studio 9