This 1250 Sq.ft contemporary apartment located in suburbs of Mumbai belongs to a family who are well travelled, shuttling life between Australia and India .The clients have extremely active lives and desired to have a soothing décor that is contemporary, timeless and restful not stimulating to the eye. The design needs to be clear and simple but not boring. In conjunction with this brief we as designers opted for functionality and practicality that blends with no superfluous embellishments. Clean lines, reductive, uncluttered, monochromatic, simplicity "less is more" are some of the terms and concepts that immediately came to our mind.
The Contemporary Calmness – Upscale Residence with Elegance of Modern Design | Raise Atelier 
Visit: Raise Atelier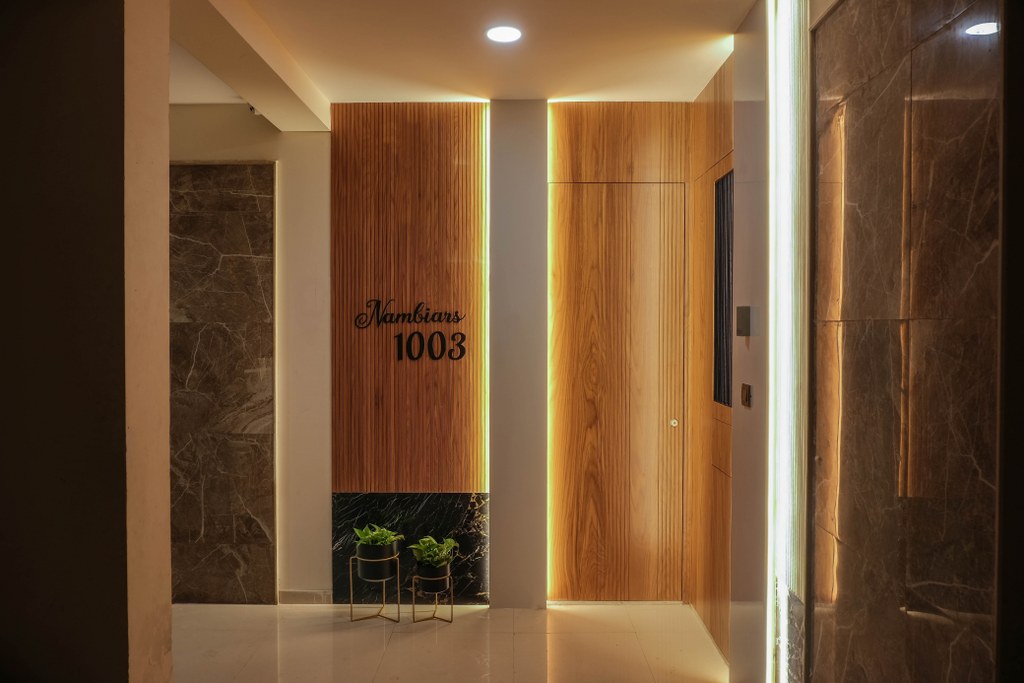 It's impossible to deny the serenity and simple beauty when confronted with a resolved minimalist interior, but achieving this look is more deliberate and frankly, difficult, than just choosing a few pieces of furniture for a white backdrop, which can leave a space feeling cold and sparse. The pure sensibility of our work evolves not from a predetermined architectural style, but rather from the intent to design, clean, intelligent and functional space that operates as a background to what function is contained within them.
Upon entering this contemporary living room, the eyes are immediately drawn towards the large full length window and the view beyond, the team didn't want to distract from that. We wanted the people coming in to have that experience first. So the kitchen wall was broken down and we had a minimalistic design space incorporating an open floor plan to allow lots of light to create a soothing and inviting space that has a timeless aesthetic. A key tool for maintaining a minimalist living space while meeting realistic functionality concerns for the every family. The youngest member of the family with high energy needed space to move around and play freely without anything restricting or blocking. So, the living area is meticulously organized by providing ample closed storage so that the architecture and interiors can be uncluttered. Storage solutions are key, especially in a space like this.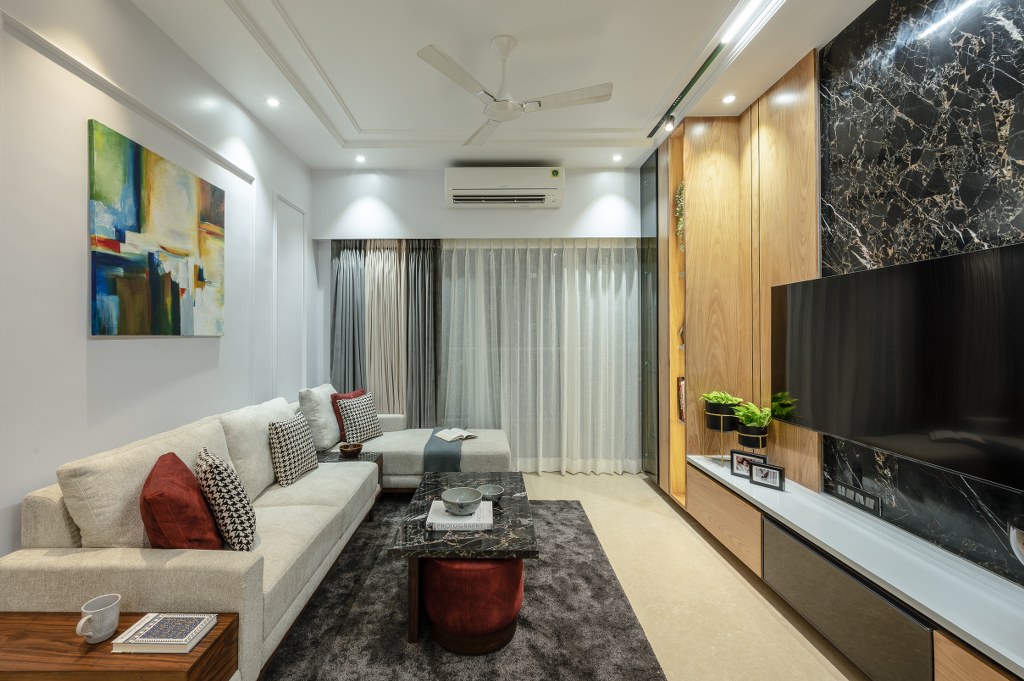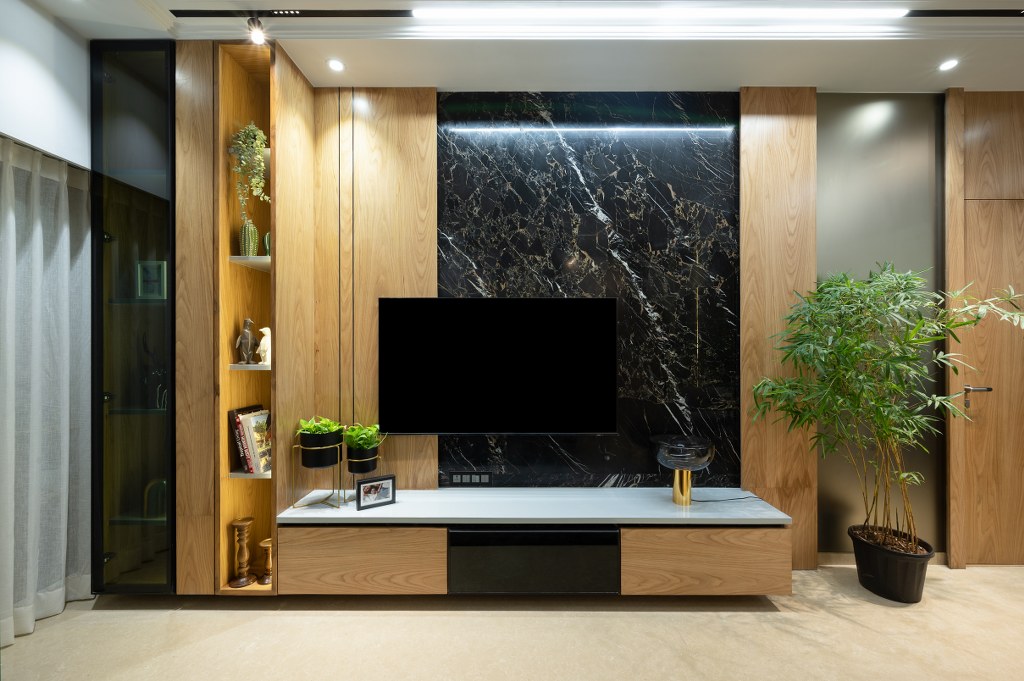 The Tv wall of semi-open storage shelves is a brilliant way to hide clutter in style and display a few decorative pieces, which is essential in a minimalist environment. Elegant, simple, and right smack dab in the middle of modern and traditional, this living room designed by Raise Atelier is as timeless as it gets. The classic layout promotes conversation and comfort, and those big windows let plenty of natural light pour, which never hurts.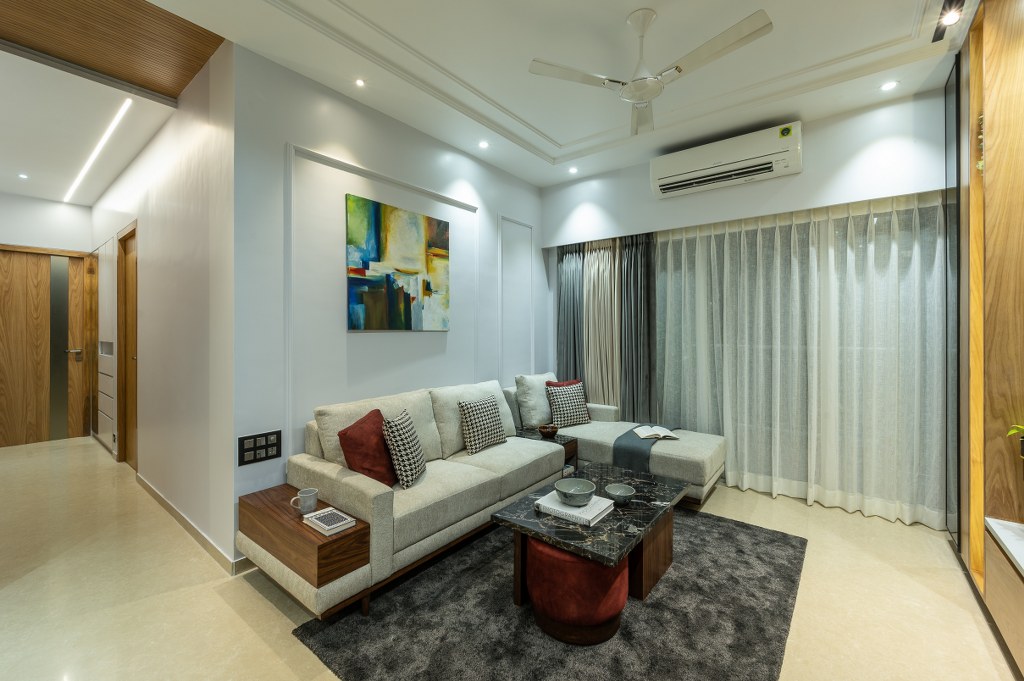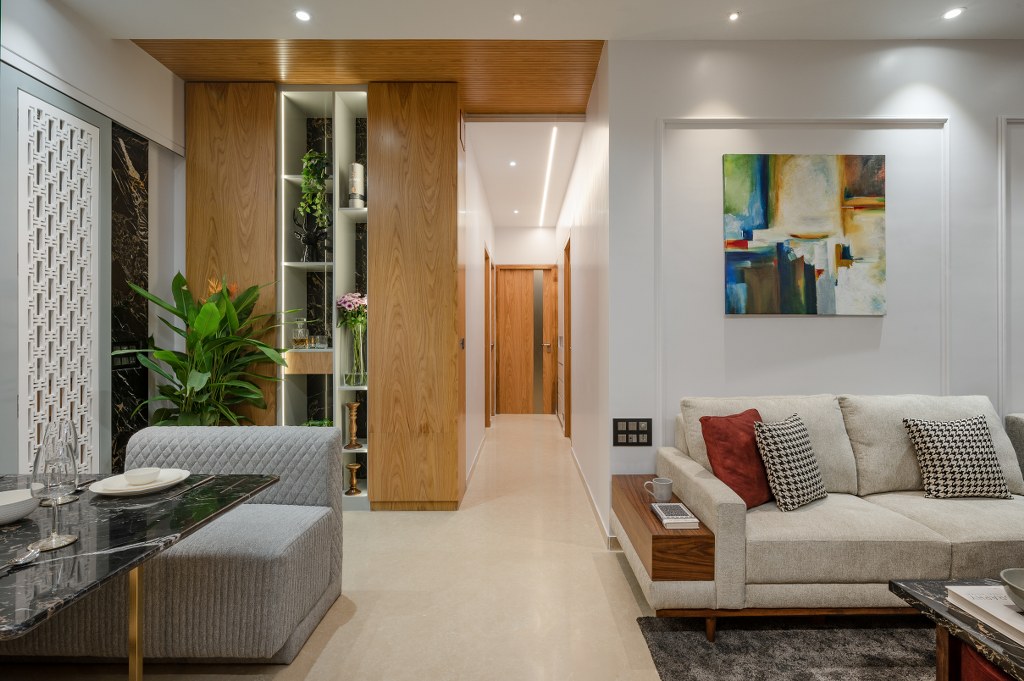 Embrace a darker mood. The moodier the color story, the more sophisticated the room. Well, at least that's true for golden portro italian Marble used on the tv wall and dining space high-impact wall art is a beautiful, chic way to add personality to a minimalist living room. The clients in collaboration with Unnicorn creative helped us to achieve the right balance for the entryway and living room wall though it doesn't take up any surface space, the right piece is truly transformative. In this contemporary dining area and foyer, Ar. John & Ar. Boddhayan went with a palette of mostly grey, with touches of white. "Note that only a single crystal vase with chrysanths adorns the dining table top.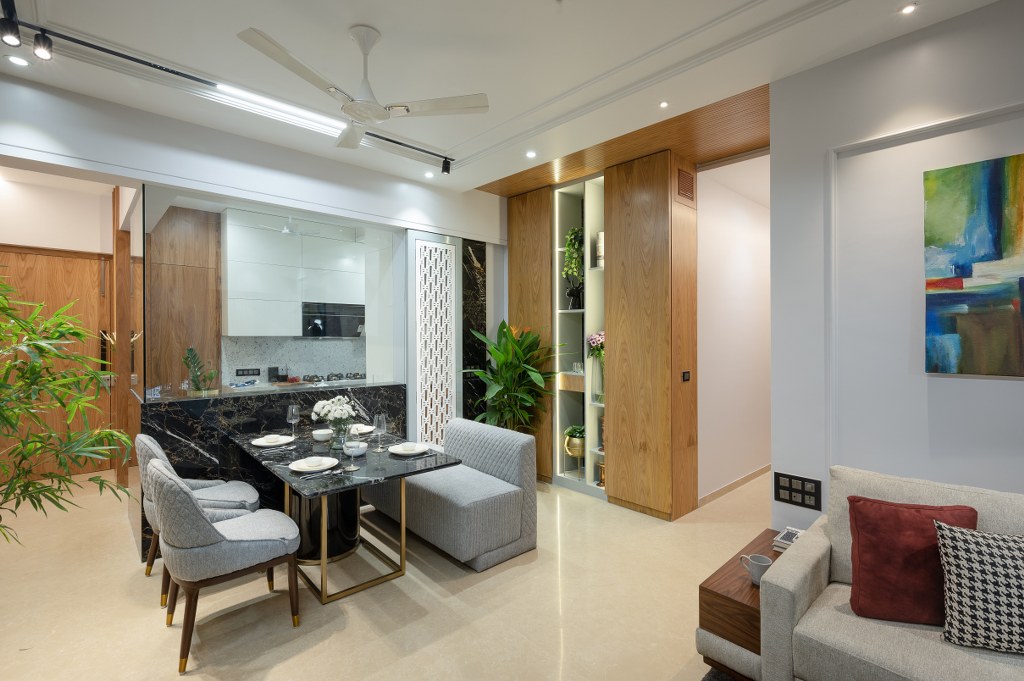 The only real touch of color is in the oak veneer crockery storage with niches which adds warmth and a welcoming feel. The greens in the living room are soft pastels—as seen on the couch and the artwork. The rug, ties in the tones of the living room, and underlines a set of curved coffee tables, also custom-made with Poufs in case we need some extra seating. A soft color palette, ample of hidden storage space, eye catching abstract art and comfortable functional furniture, that's all you need in a minimalist living room.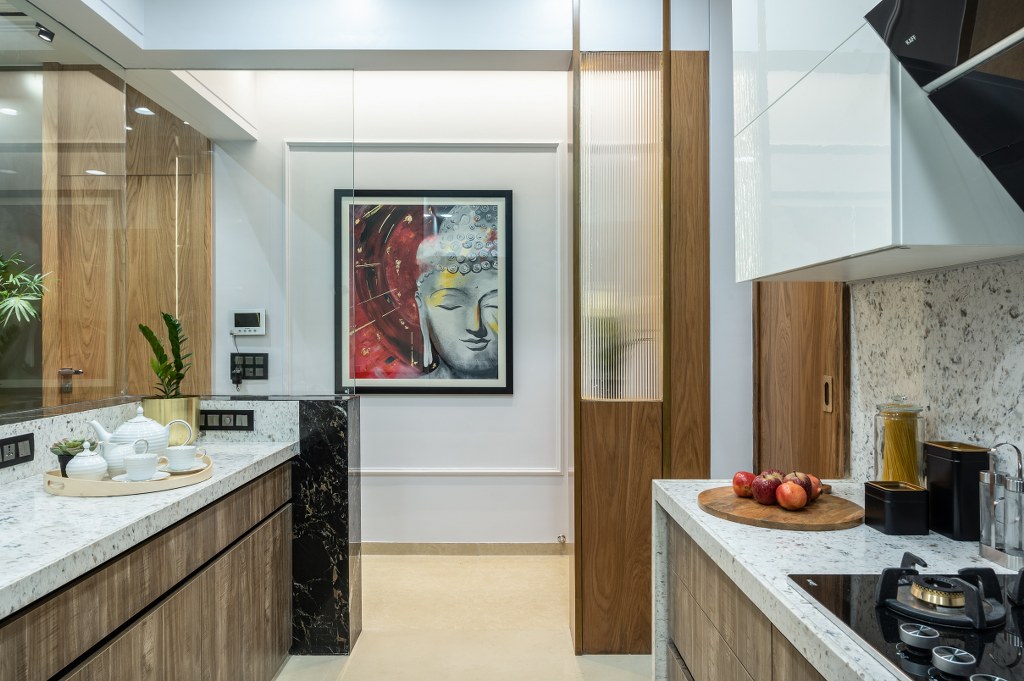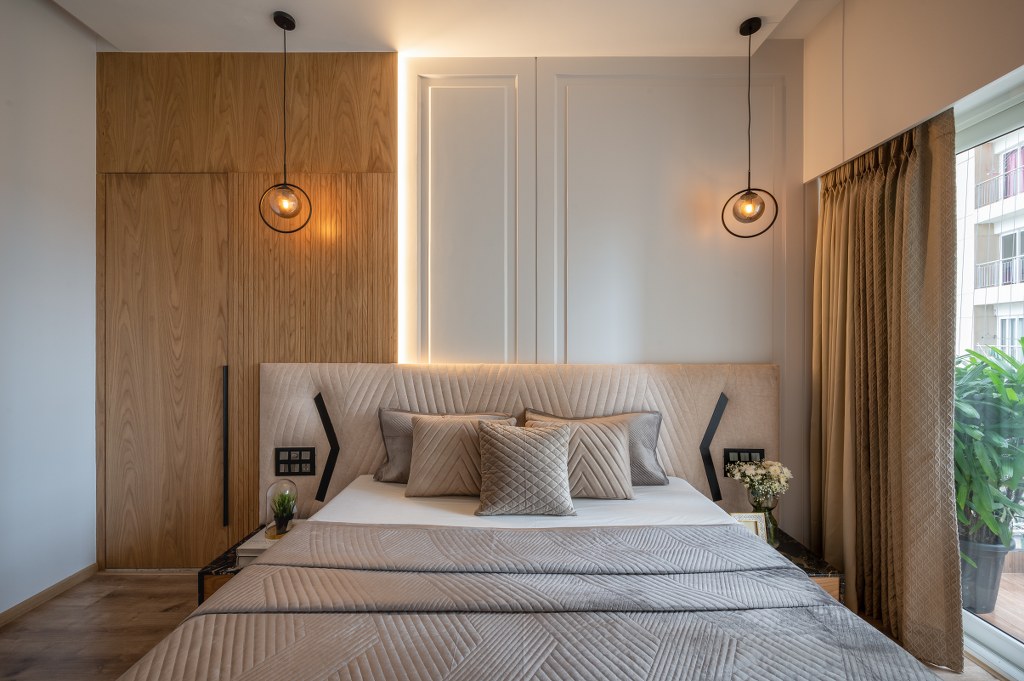 Our clients wanted the apartment to be a serene refuge from the busy street, especially the bedrooms the master bedroom created with a monochromatic palette of light beige, Oak veneer and shades of texture—the bed is upholstered in a soft cotton fabric, the walls are covered in oak veneer and neutral share and a distressed wool rug warms the floor. The different textures complement each other and create a soothing atmosphere. The sheer drapery filters the light through the large windows and a pop of color comes from the greenery of Raphis palms.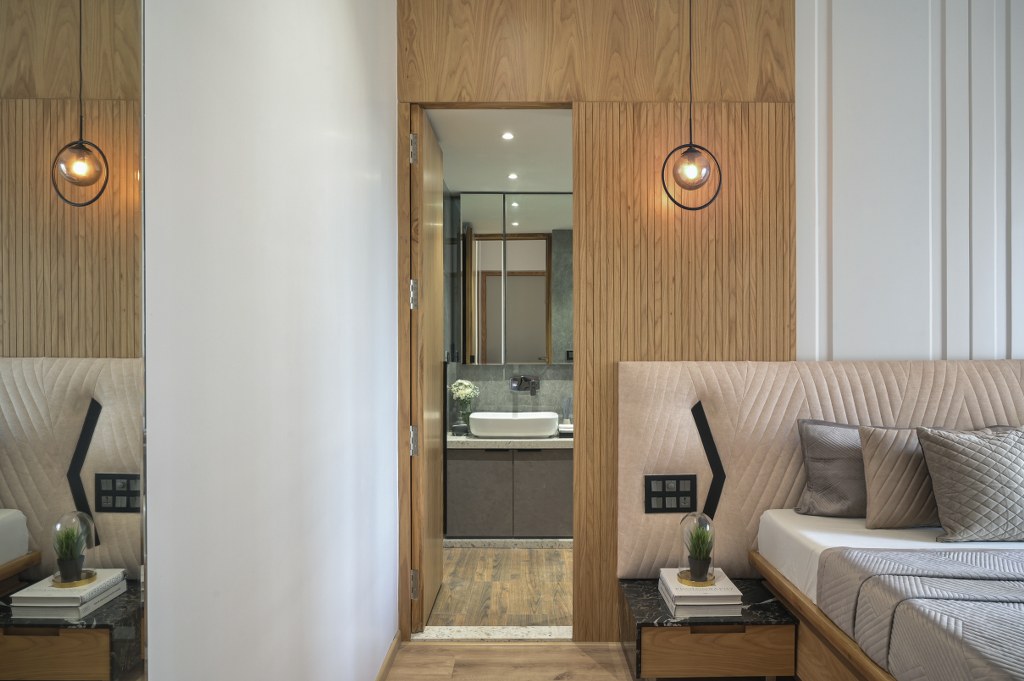 The materials and finishes used are pared back to a monochrome palettes, allowing the heritage detailing and foundations to stand beautifully as they are. Head board wall is cladded with wooden paneling to make the room feel both spacious and cozy at the same time it also has a hidden toilet door. The bedside table were designed as a monolith to avoid too many elements.
This room is fresh and cheerful adorned with pastel colors. Hues of blush pink and beautiful laser cut corner molding   designs, gives a very tranquil, quaint, and refreshing feel. The client wanted a Parisian feel that blends with simple modern decor with Neoclassical roots .The window corner of the room is given a comfy, snuggly, and down-home styled sitting space where one can huddle up on rainy days to read a book while enjoying the view outside. The bathroom of the room is also modern and innovative with all the amenities incorporated artistically for a comfortable and congenital stay and experience for the user with keeping the theme of modern and neoclassical roots as the room décor.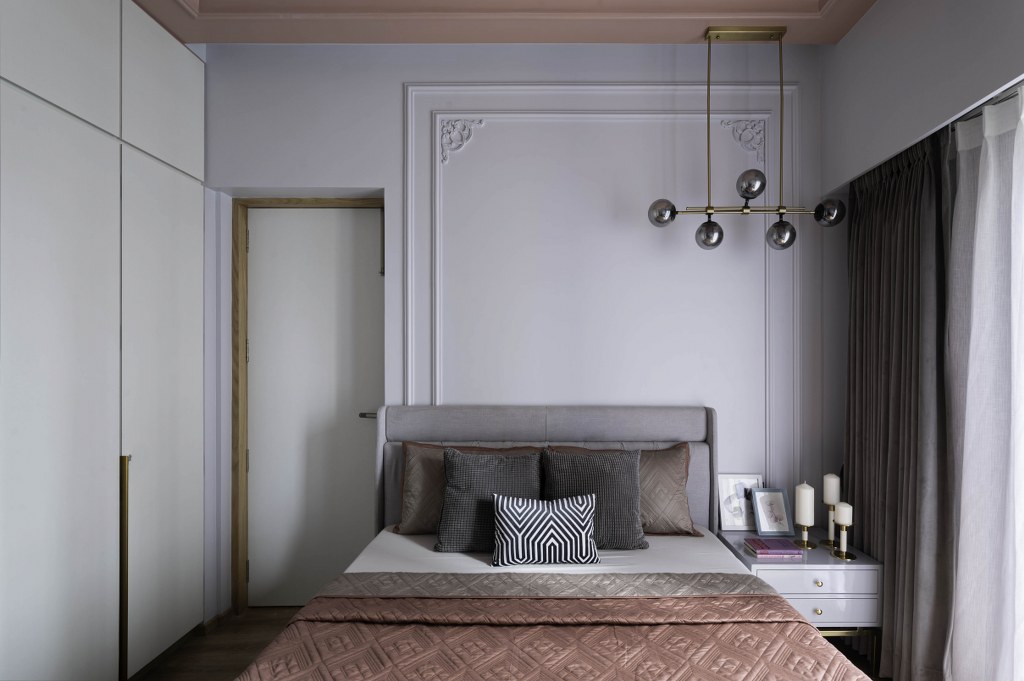 Who says minimalists are afraid of color? The trick is to stay within one tone, like this modern bedroom. The master bedroom is impeccably designed – clean, clutter-free and tidy with a pristine and relaxing vibe and feel.  It is designed in a manner to allow natural light to invade in abundance making the room bright, lively, spacious and airy. A play of warm and muted tones in the colors used along with poised and elegant upholstery bestows this room a sophisticated and cosmopolitan ambiance and appearance. The highlight of this room constitutes a remarkable sage green colored paneled back wall supporting the bed also acting as a hidden door to the washroom. Providing flexibility and functionality, the study table in this room with floating shelves makes use of all the vertical space, allowing for knick-knacks to stay tucked away stylish bins and décor to shine without being in the way on the floor. Every detail on the headboard, Back panel, and curtains adds a touché of elegance and simplicity.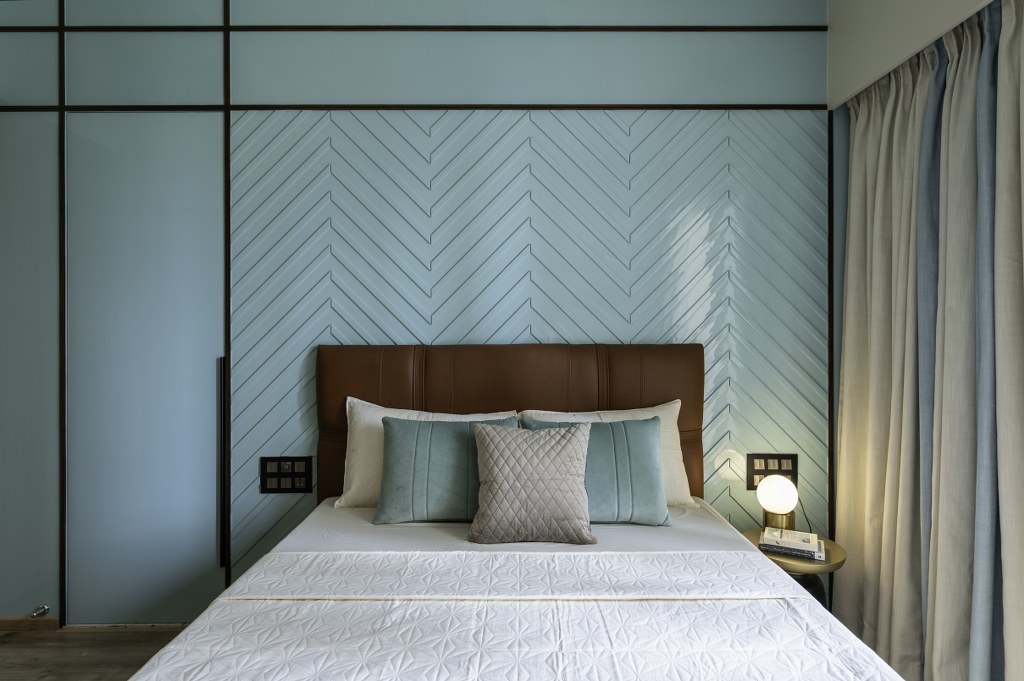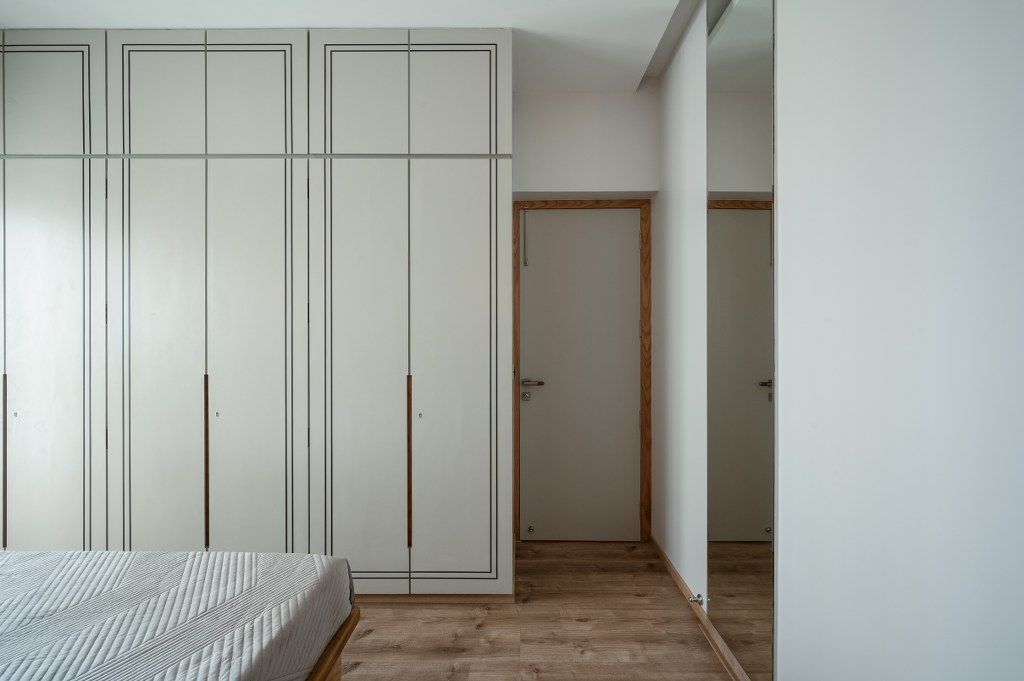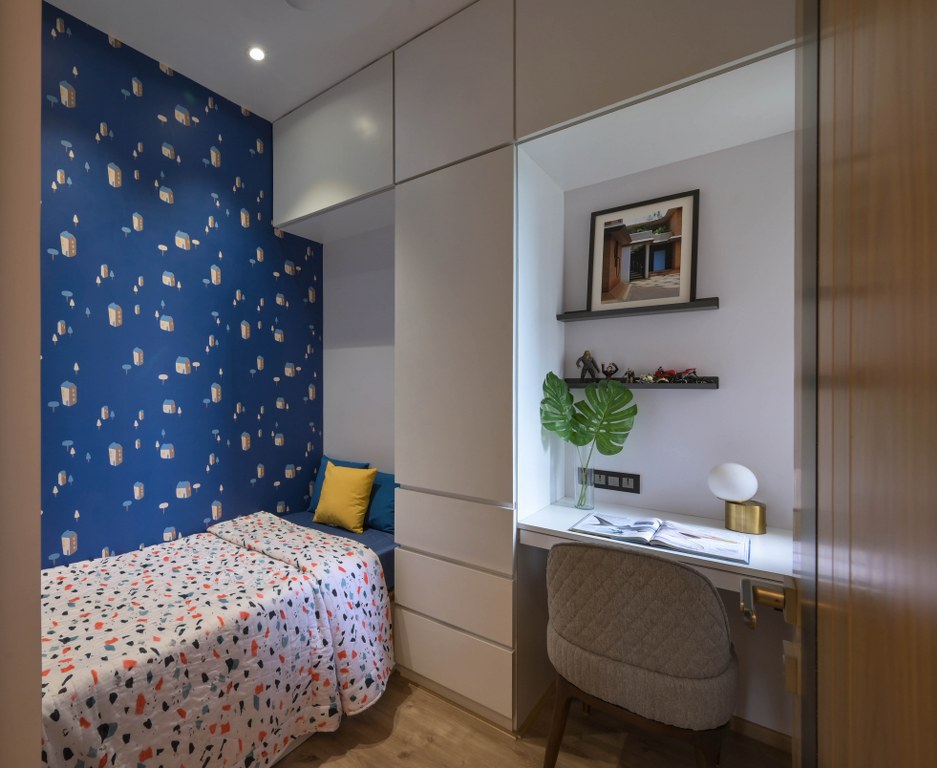 All in all, this home is an epitome of graceful interiors, with individual spaces having a distinct identity and yet seamlessly blending with one another. The biggest challenge is knowing when to stop designing or adding to the space. "If the space functions well, is simple in its composition without being overly stimulating, you know that you have done the job well
Fact File
Designed by: Raise Atelier
Project Name: Nambiars Residence
Project Type: Residence Interior Design
Project Location: Mumbai, Maharashtra
Project Size: 1250 Sq.ft
Principal Designer: Bodhayan Chakraborty & John Solomon
Team Design Credits: Suresh, Jagdish, Shiva, Subhash
Photograph Courtesy: kshan Creative, Naitik & Pratik
Consultants of the project
Curatins & Upholstery: HDX ,Hanisha
Artwork: Unnicorn creative, Divya & Shomika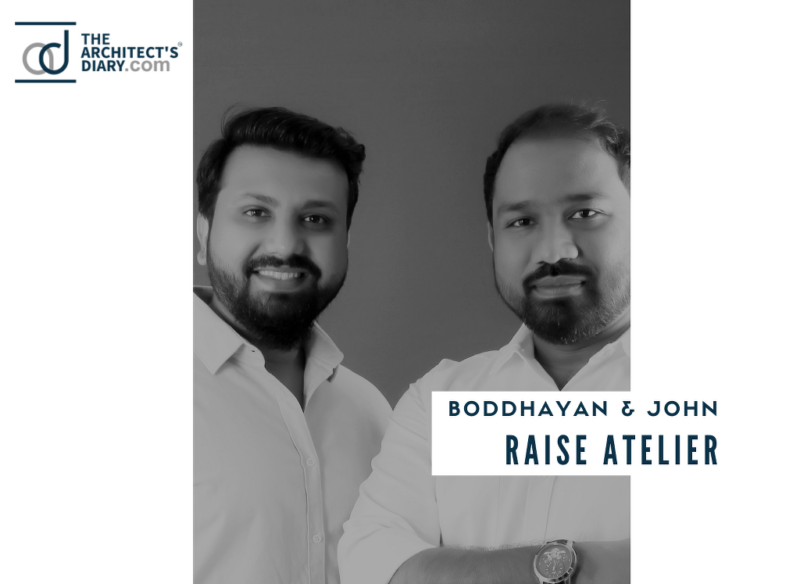 Firm's Instagram Link: Raise Atelier 
For Similar Projects >> Minimal Design with Neutral Palette in Contemporary Setting