Skewed House | Studio Lagom
From Architects: An interesting book, an engaging thought, a flight of fantasy or nothingness… A private sanctuary that is the garden at Skewed House. Solitude in the midst of golden-hearted Champa blossoms; unwinding to the tune of the wind chime.
Material shifts and elevational modulation establishes the programmatic changes within the Skewed House. A nine-foot exposed concrete cantilever marks the master bedroom, a strategic communication about family hierarchy. Similarly, an L-shaped glass inset reveals the internal free standing Pooja tower, reiterating the significance of spirituality.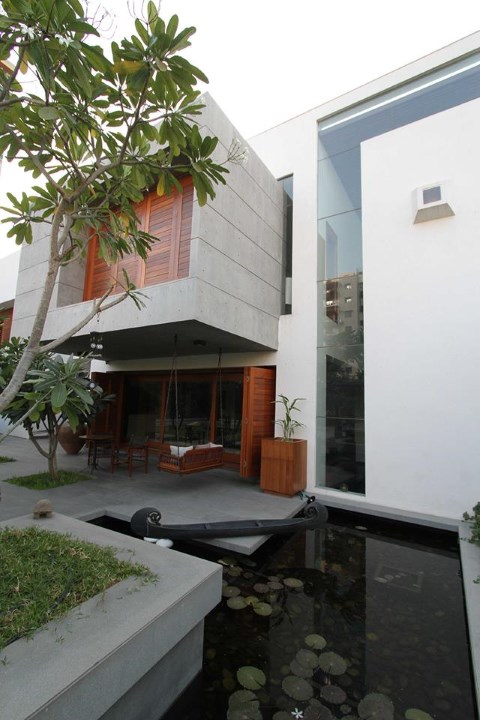 A small sunken, pebbled courtyard cum seating adds one more layer of interest to the large split-level living-dining expanse of the Skewed House. The greenery here establishes connections with its counterpart outside, minimizing the distinction between the inside and the outside. The light that cascades from the skylight directly above the courtyard-stairwell block animates the space, its play adding a dynamic dimension to the living area.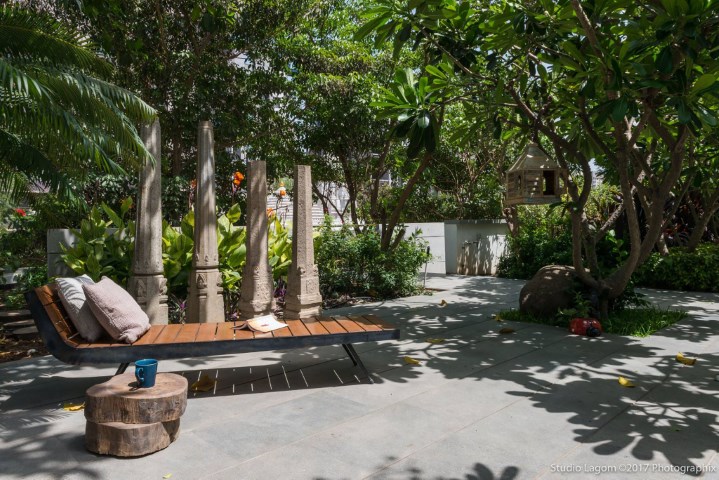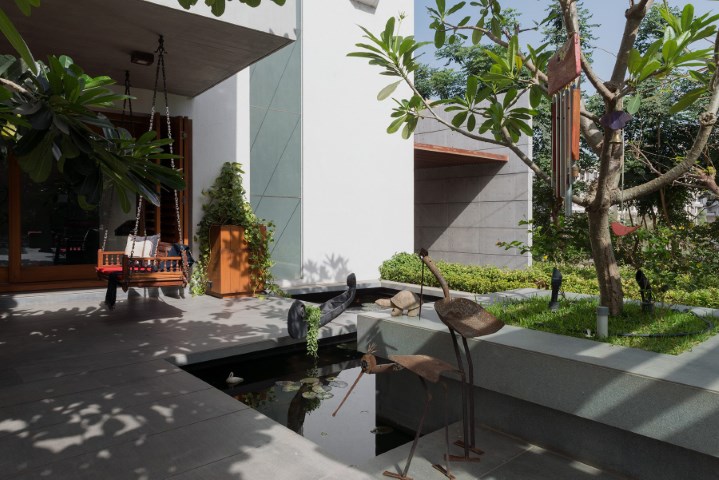 A clever hierarchy of plantation creates a screening effect that shields the Skewed House from the surrounding concrete chaos. A grove of 20 Champa trees plays a starring role, as does the lotus pond, a symbolic accompaniment to the pooja ghar within the house. The shallow steps and the turfed heart of the green scape create an amphitheatre of sorts. A pergola and a swing sofa are other options for relaxation. The hardscaping features granite in leather-finish and polished versions.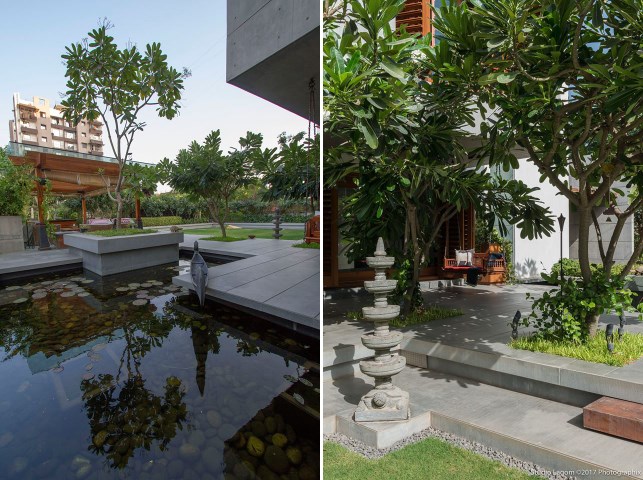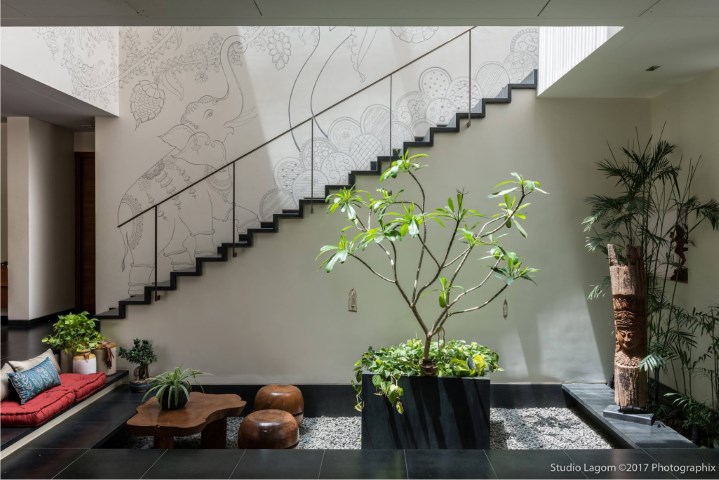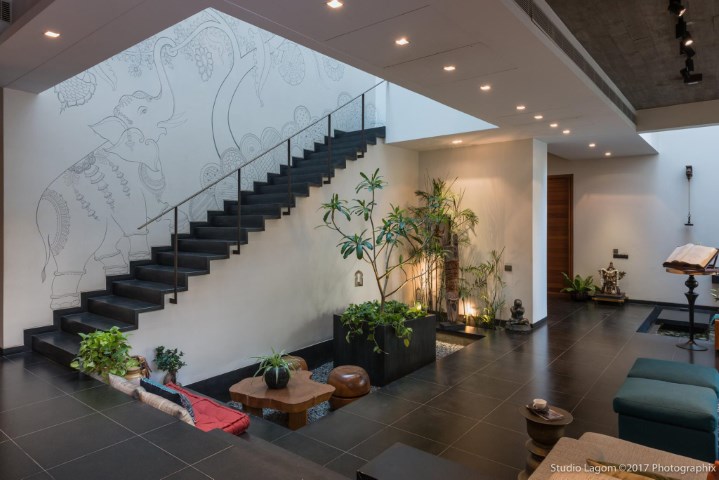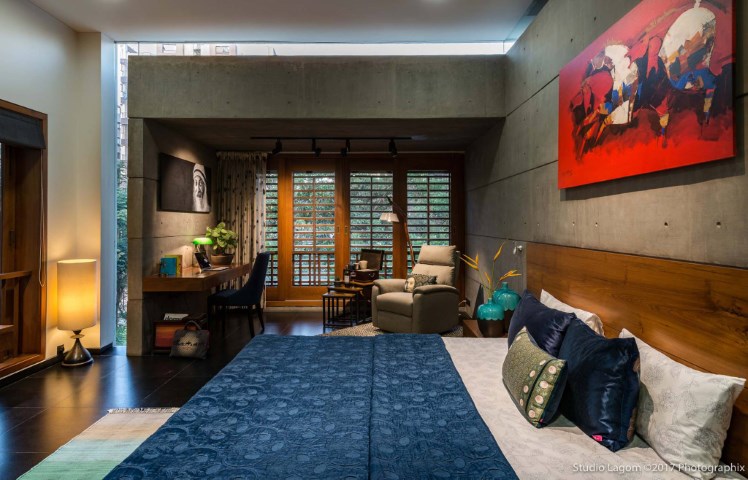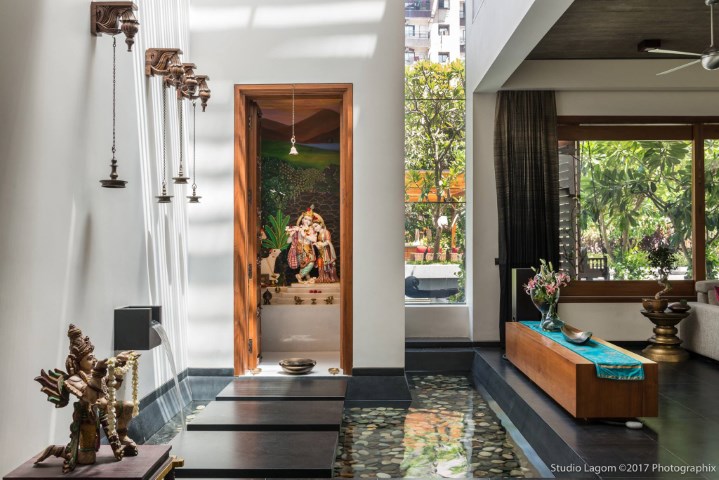 Photo credits: 2017 Photographix india | Sebastian Zachariah + Ira
About Studio Lagom: 
We create spaces for lifestyle and culture. Spaces that are geared for modern demands, yet acknowledge our cultural roots.
We make space for nature: light, air, greenery are important parts of our material palette.
We worship simplicity and worry about the perfect detailing.
We dedicate quality time to create stimulating spaces.
We, at Studio Lagom, believe in architecture that strikes the right balance between less and more.