Int-Hab, an Architectural and Design Studio works in office of its own design at Bangalore. This ground-up 4-story building contains the Architect's office and apartments.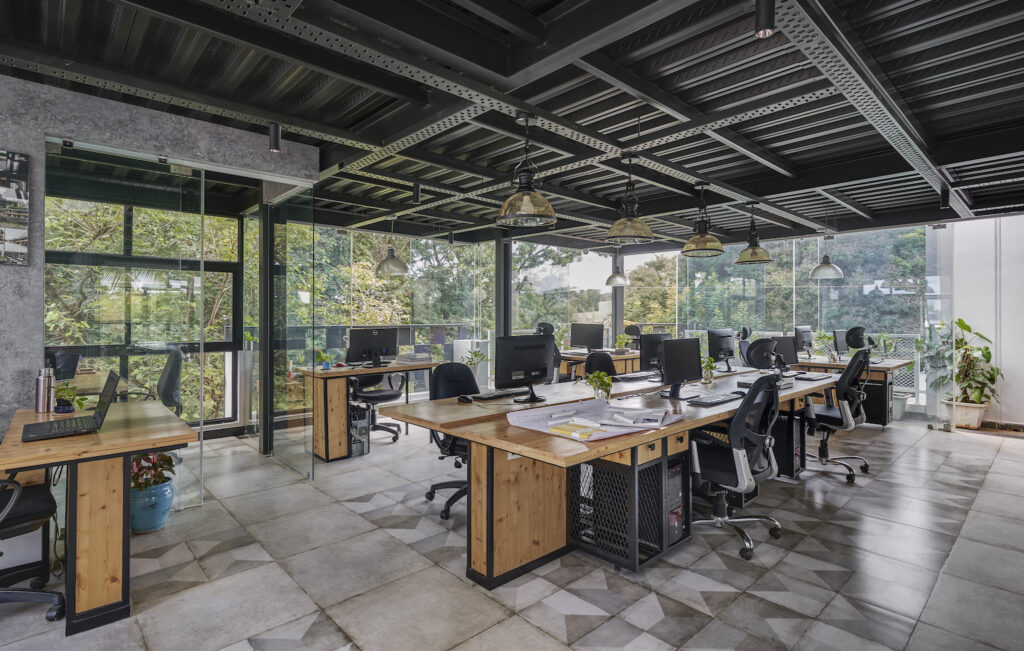 Office Interior Design Having Seamless Connectivity Between the Interior and Exterior Green Space |Int-Hab architecture+design Studio
Visit :Int-Hab architecture+design Studio
The interior design is clean and simple to ensure clutter-free workspace. It also helps in seamless connectivity between the interior and exterior green space. The Park facing, agile and collaborative workspace has large openings that allow natural light to pour in, green elements around the office, the bright white walls and exposed ceiling creates an informal and stress-free work environment that encourages easy communication, organic interaction, and engagement among employees.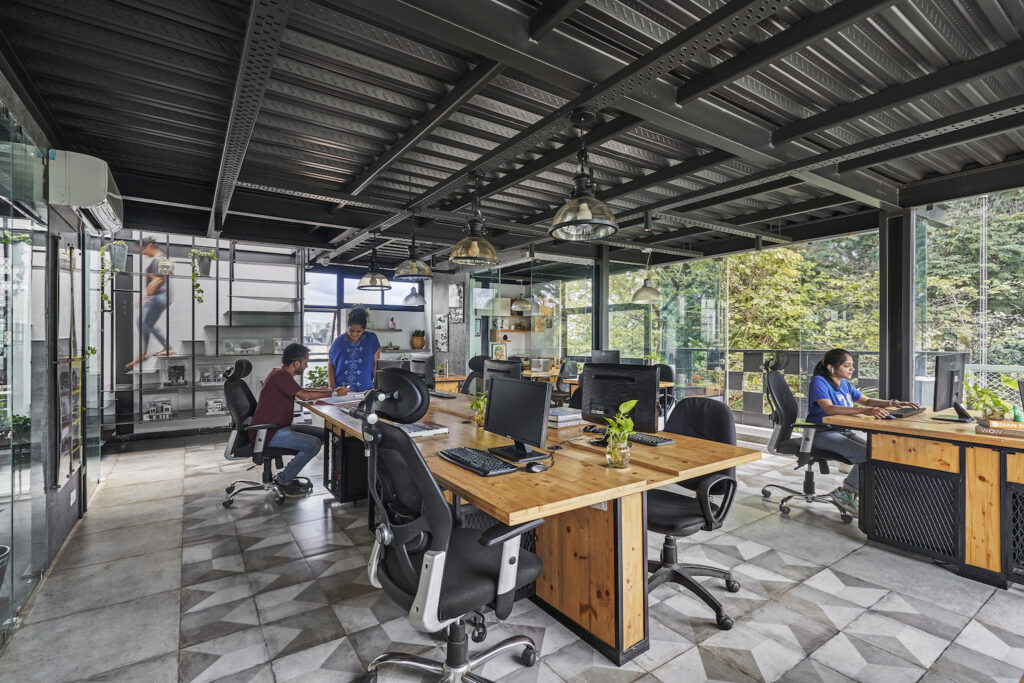 The work space is simple and spacious, furnished by customized workstations made of metal and pinewood. The terrace has a cafeteria and a break out zone for employees who need a change of scenery, whether it is to socialize over lunch or for team huddles. 
One of the highlights is the suspended stairway between the office space and terrace area. Besides being an architectural feature, it also doubles up as a display space, thus making the space neat and airy.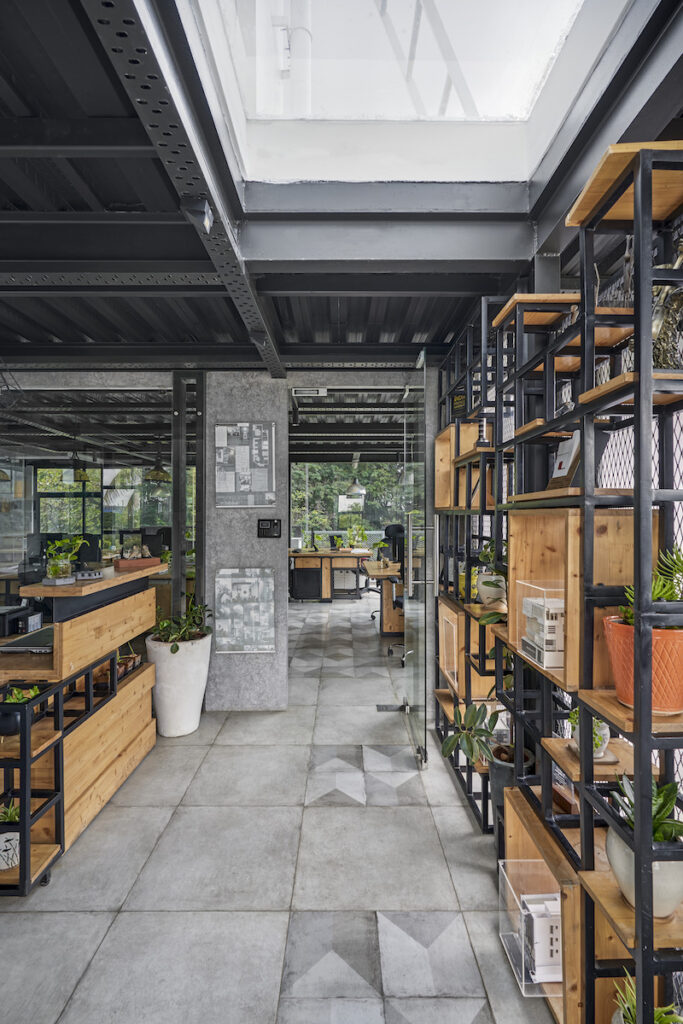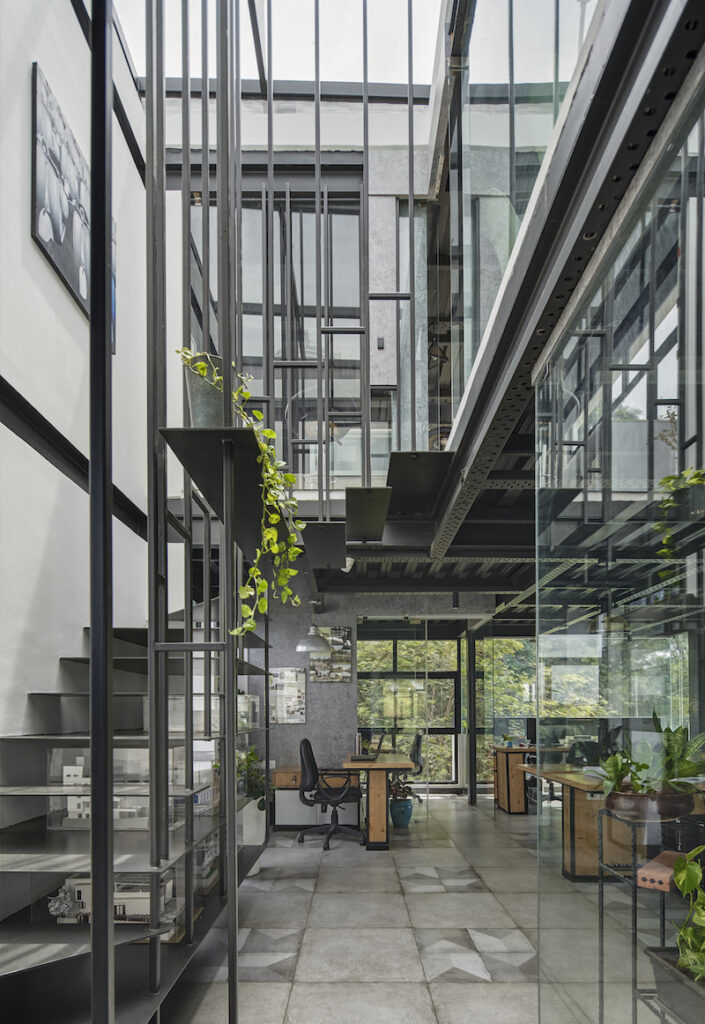 Design Approach and Materials used :
Spread over two floors, the studio has an open plan based on the firm's design philosophy "less is more". To inculcate a sense of space, all the primary walls were envisioned with glass partitions that lend fluidity and sophistication to the interiors along with greater visual connectivity. These partitions were designed to encourage visual openness while maintaining privacy.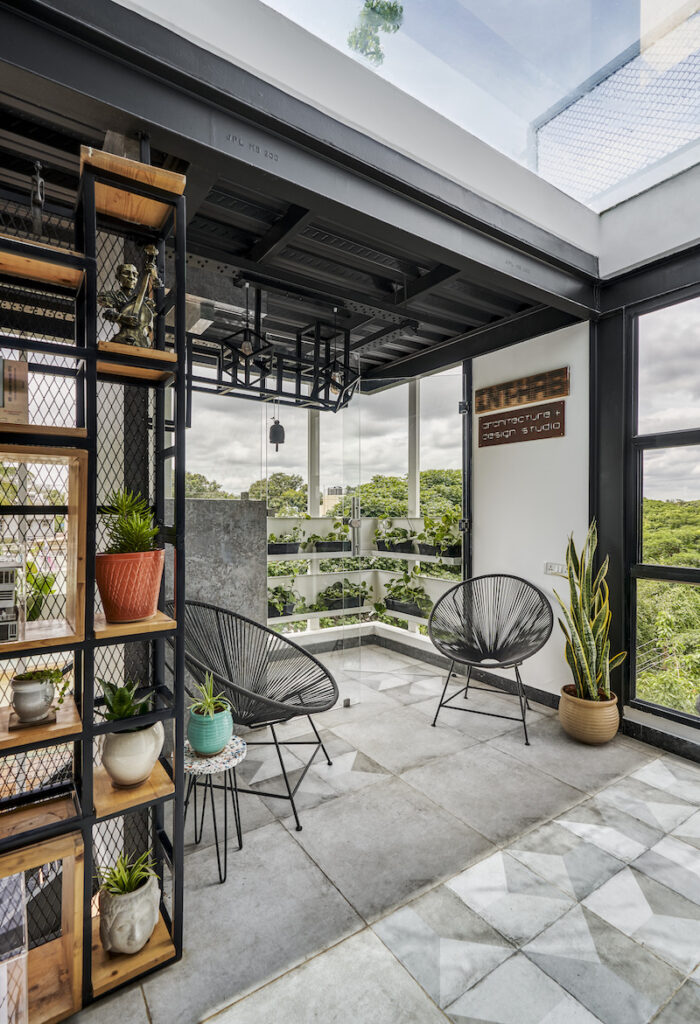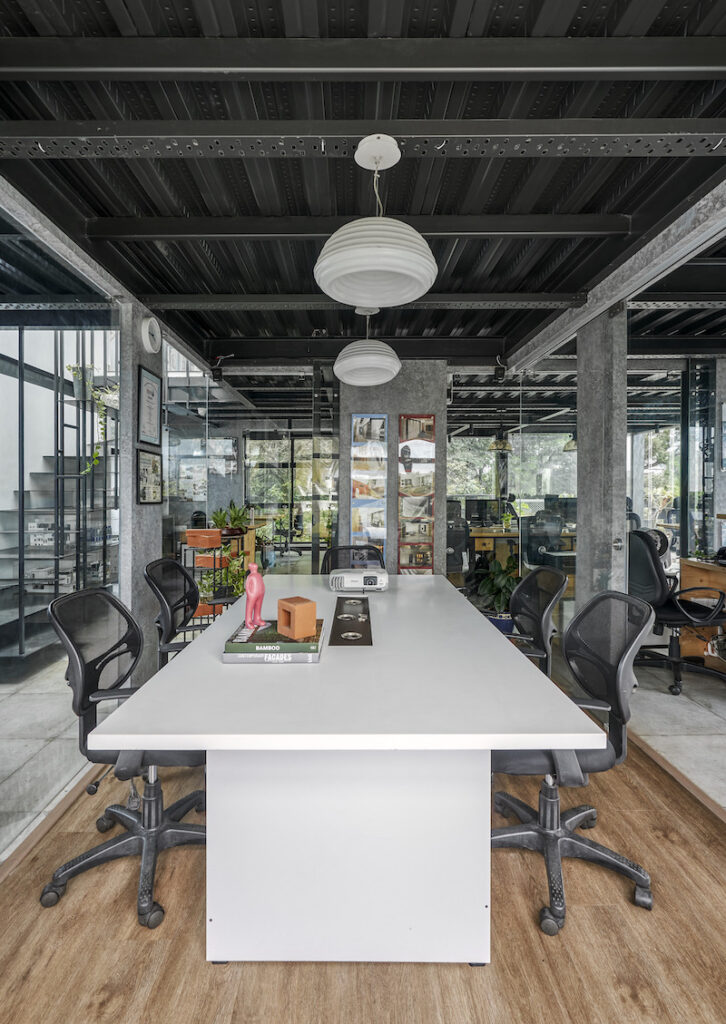 The space is clearly defined into three zones based on functionality: – The first zone has the reception and conference area; the second zone is the studio workspace and the third is the cafeteria.
The reception area display unit made of metal and pinewood, is a combination of solids and voids that infuses a fresh and energetic feel to the space.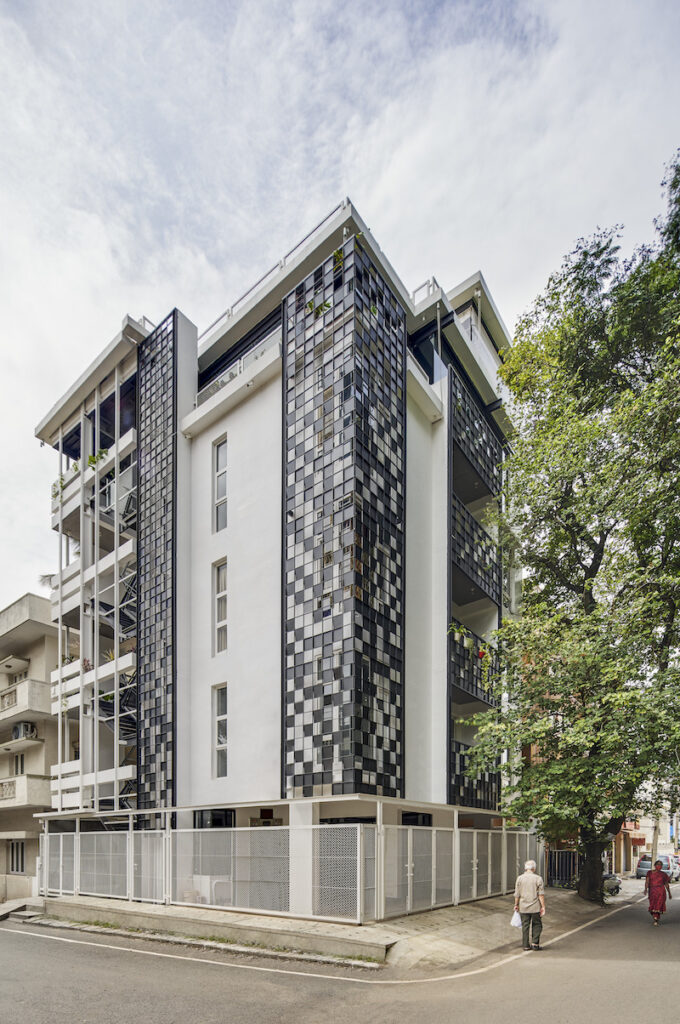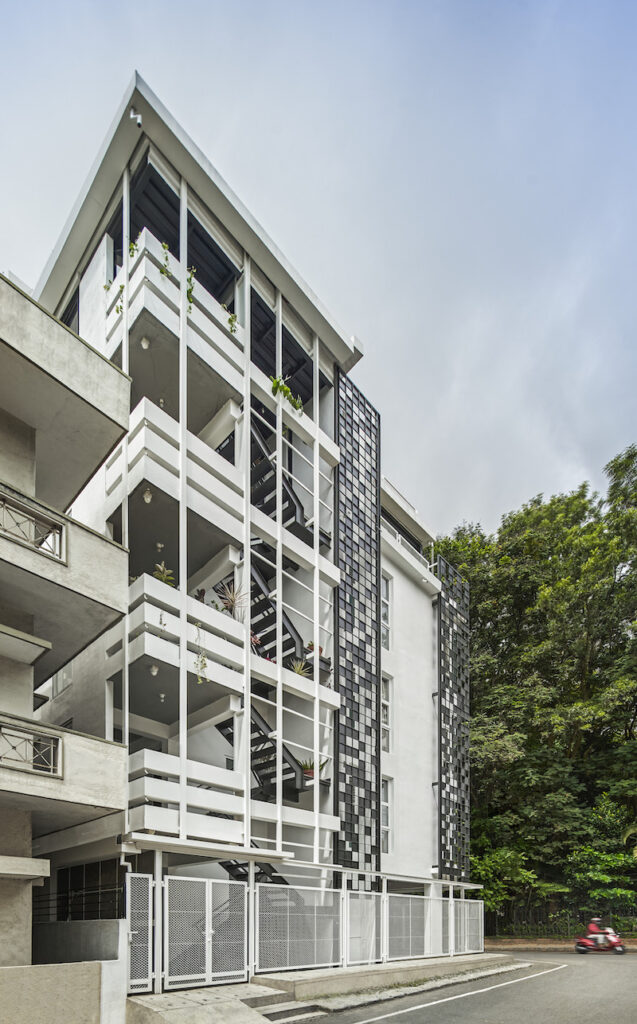 The simple plan optimizes circulation and accessibility. The color palette is deliberately restricted to whites and grey to create an informal look. The customized workstations made of metal and pinewood along with the green elements help break the monotony.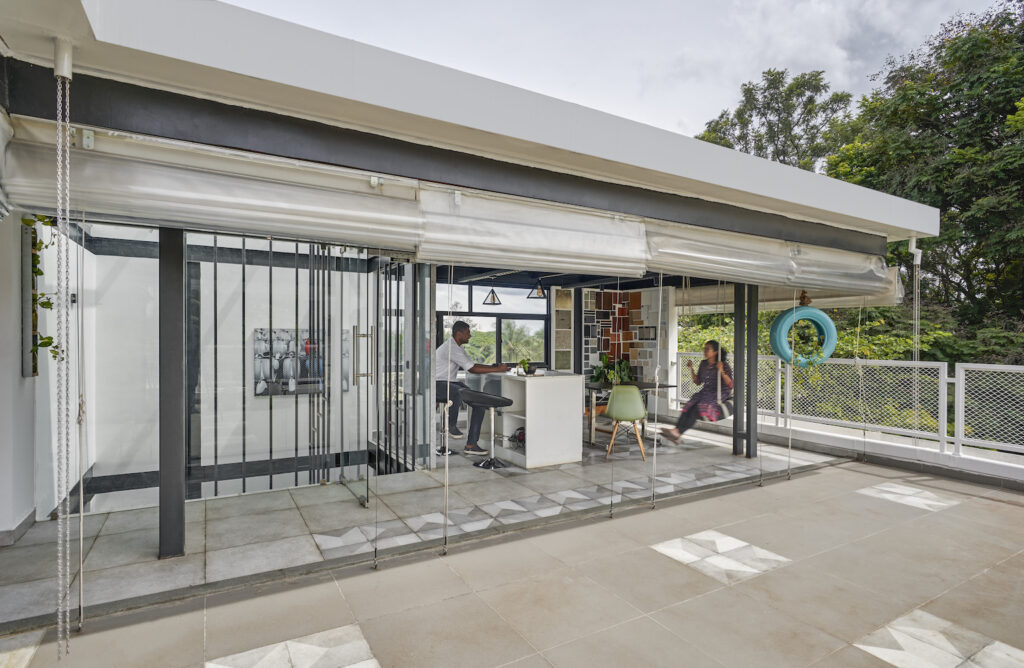 The unorthodox open office plan provided with a no wall spatial configuration achieves greater freedom of movement and maximal use of space. This design where leadership occupies the same space as everyone, encourages open communication and trust amongst employees.
FACT FILE :
Designed by : Int-Hab architecture+design Studio
Project Type : Office Interiors
Project Name : Intuitive Workspace
Location : JP Nagar, Bangalore, Karnataka
Year Built : 2019
Duration of project : 12 months
Built up : 2000 Sq Ft
Project Cost Appx : 1.5 Cr
Principal Architect: Ar Sachin Shetty
Team Design Credits : Ar Sachin Shetty, Ar Madhura C and Team
Photography Courtesy : Shamanth Patil Photography
Products and Materials : Glass : Saint Gobain | Plumbing Fittings : Kohler , Jaquar , Grohe | Laminates : Greenlam | Light Fixtures : Pasolite | Furniture : Gulmohar Lane | Office Furniture : Fab India , Feartherlite | Interior décor items : Curiocasa | Wooden Flooring : Welspun | Glass hardware and fittings : Ozone | UPVC Windows and Doors : Aparna Venester | Switches : Legrand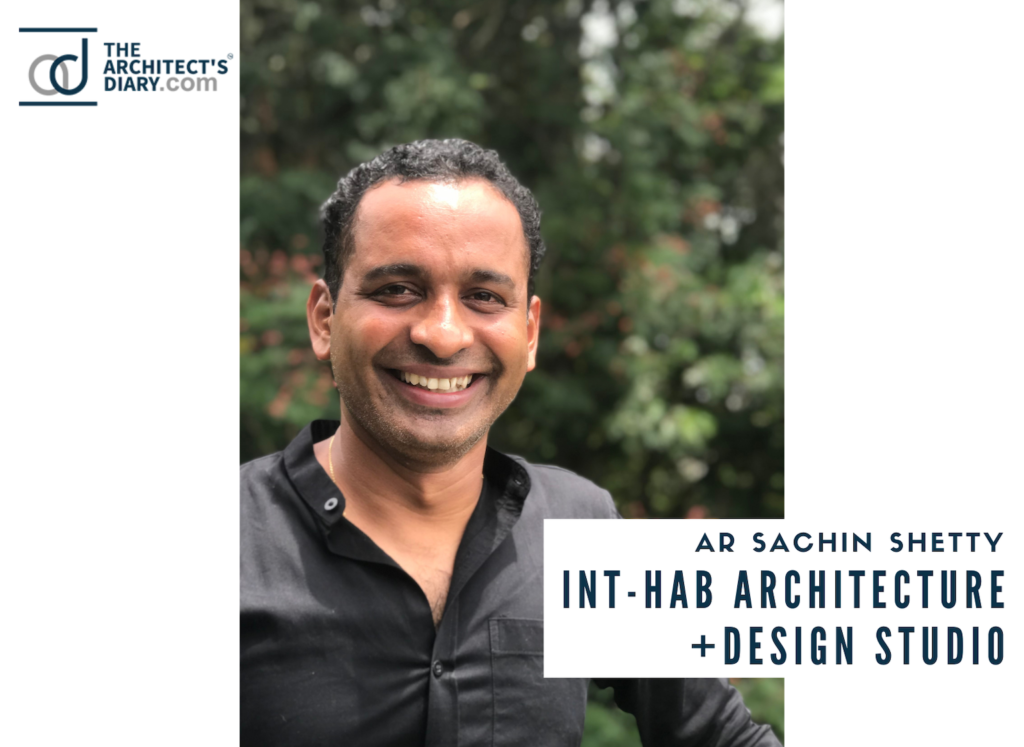 Firm's Website Link : Inthab
Firm's Instagram Link : @intuitive_habitat
Firm's Facebook Link : Inthab Architecture