Office Interiors Covered In A Warm Palette With Sumptuous Feel | The Brick Tales
We were commissioned to design an office space for a textile merchant in Surat. The basic requirement included various functional zones such as accounts cabin, sales cabin, cashier cabin, directors' cabins, and other supporting services like pantry, washrooms, etc. Here the challenge was to design such that these spaces could function independently but at the same time to make sure the overall space does not look closed and compact or compartmentalized. The entire office had to be coherent and follow a similar theme while allowing each zone to function with the desired privacy.
Visit: The Brick Tales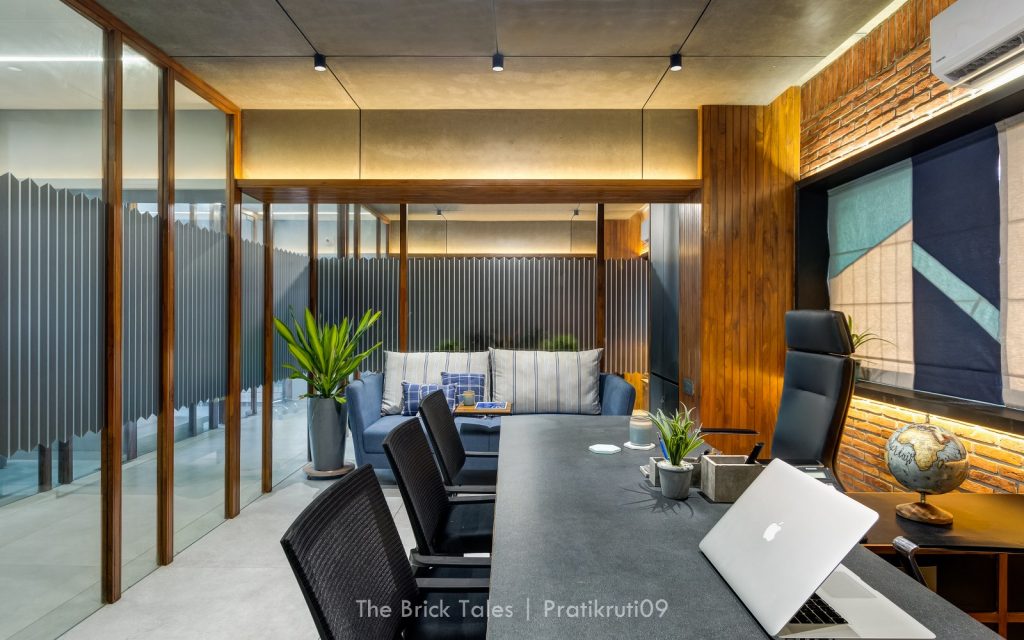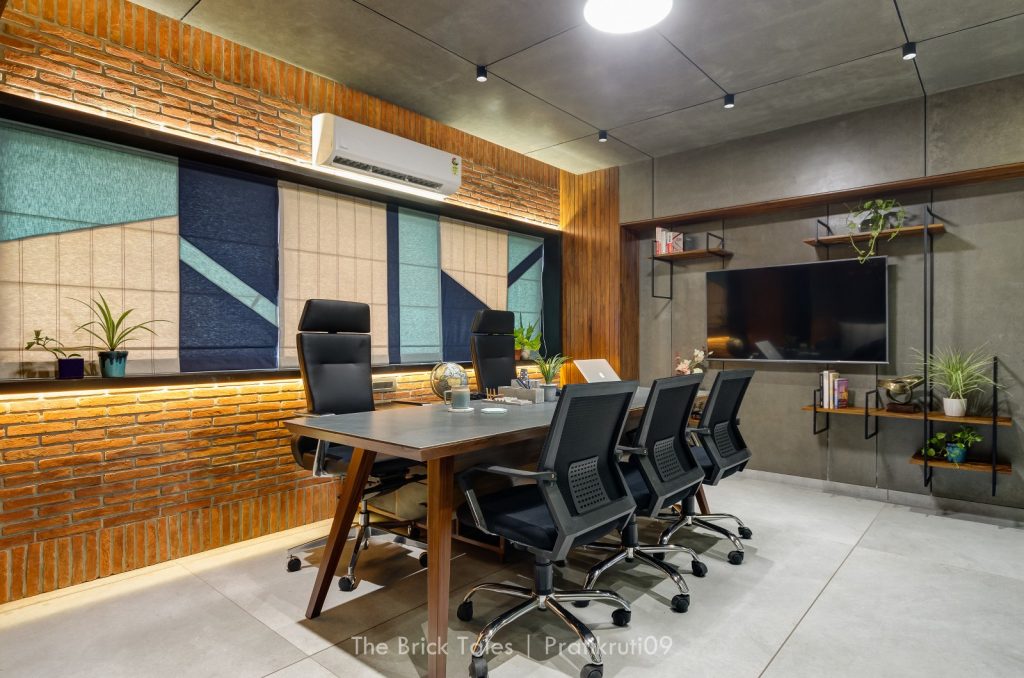 The client's brief demanded a space that was minimal, contemporary, and timeless. Hence to achieve this a very natural and bold material palette of teak wood, exposed bricks, glass, concrete, and metal was used. This overall use of a warm material palette imparted a very timeless and sumptuous feel to the entire space.

&nbsp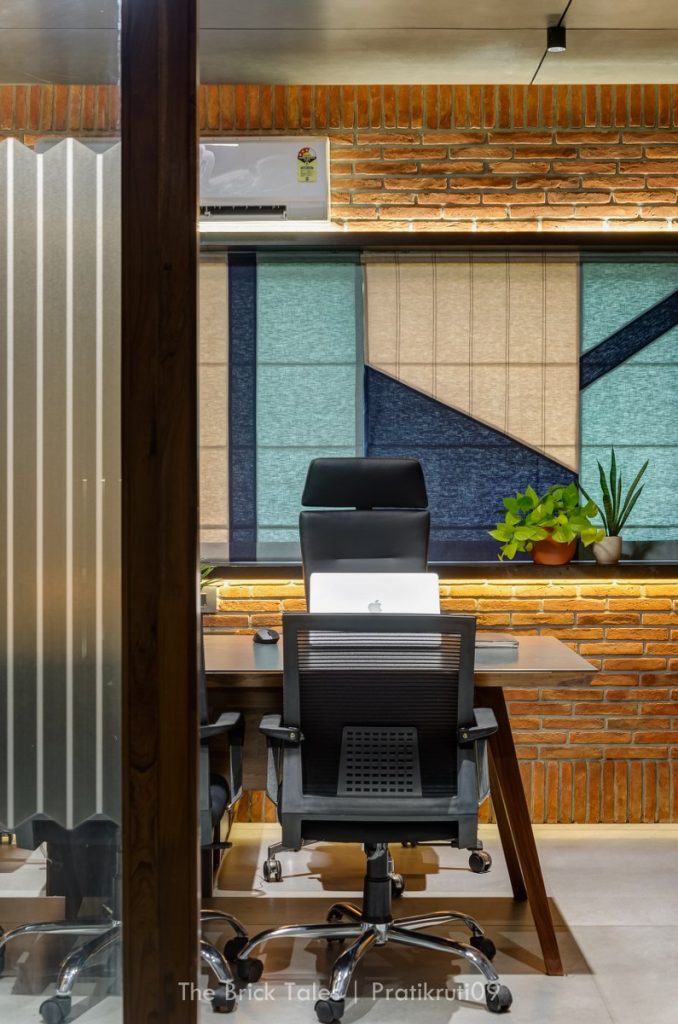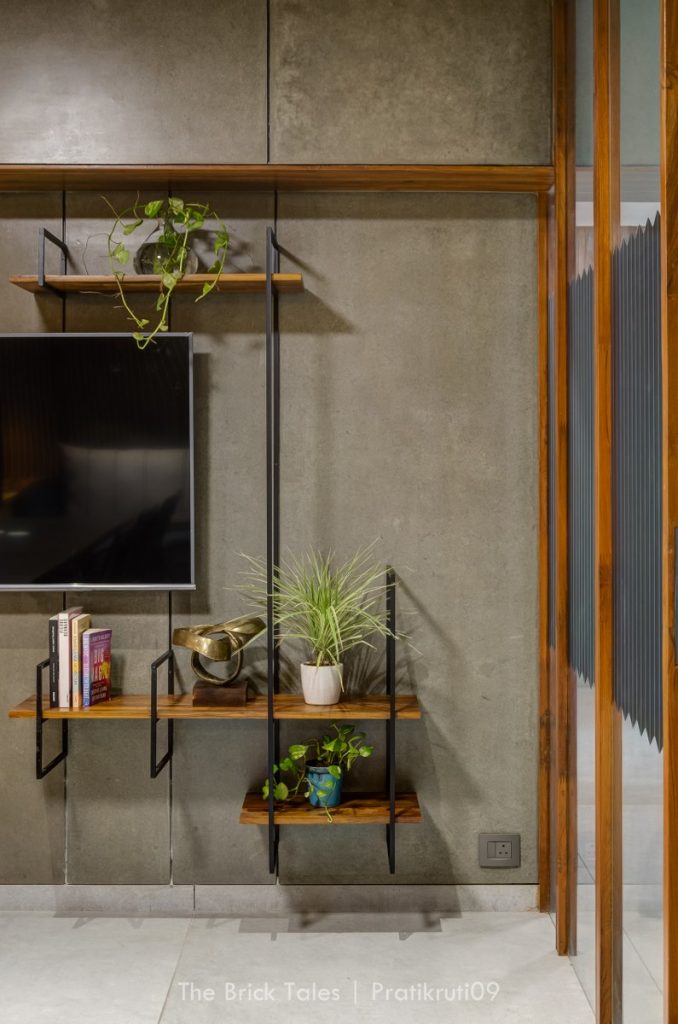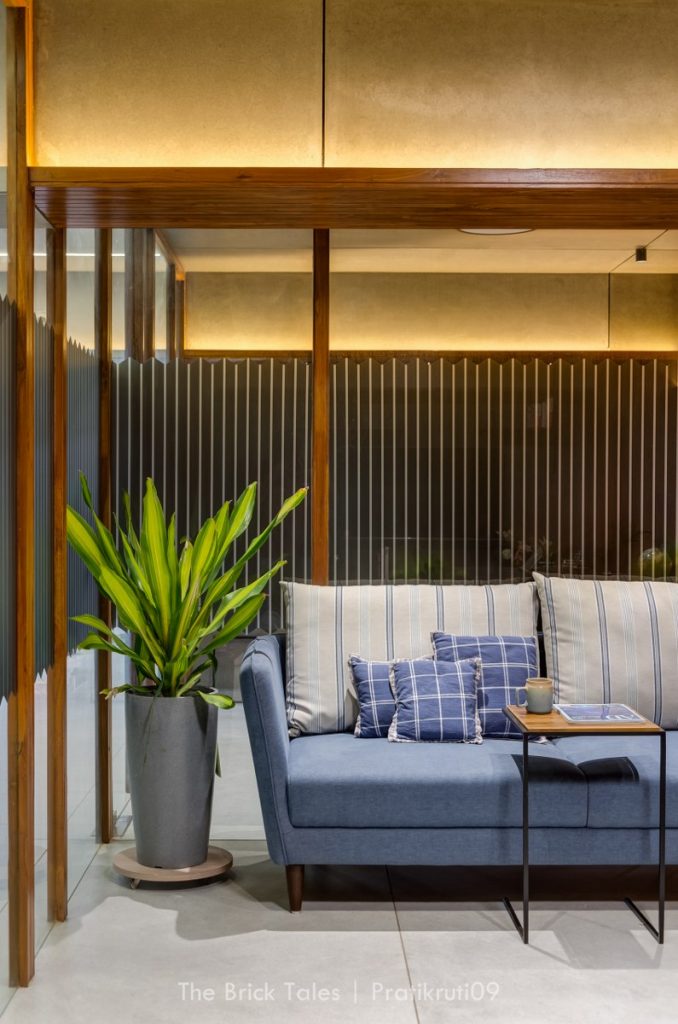 The entire office space was divided into different zones by full-height glass partitions with a central spine passage connecting them. Glass partitions with vertical teak members were used to divide the spaces functionally yet maintain visual connectivity of the whole space. This partition forms the main character along with the use of bricks, concrete, metal, fabric differentiating each space.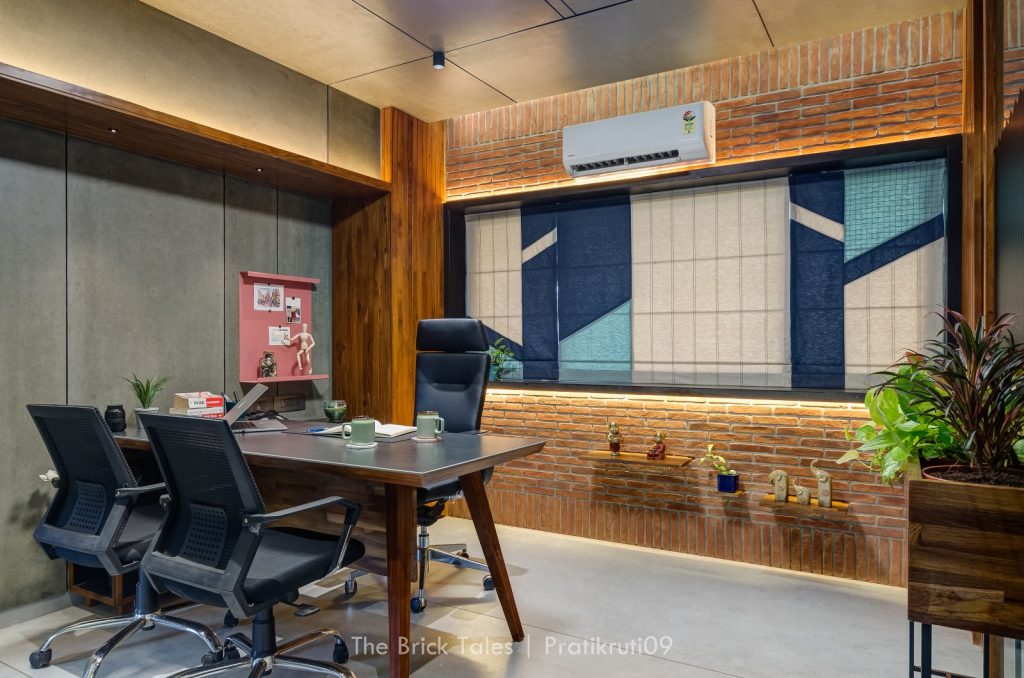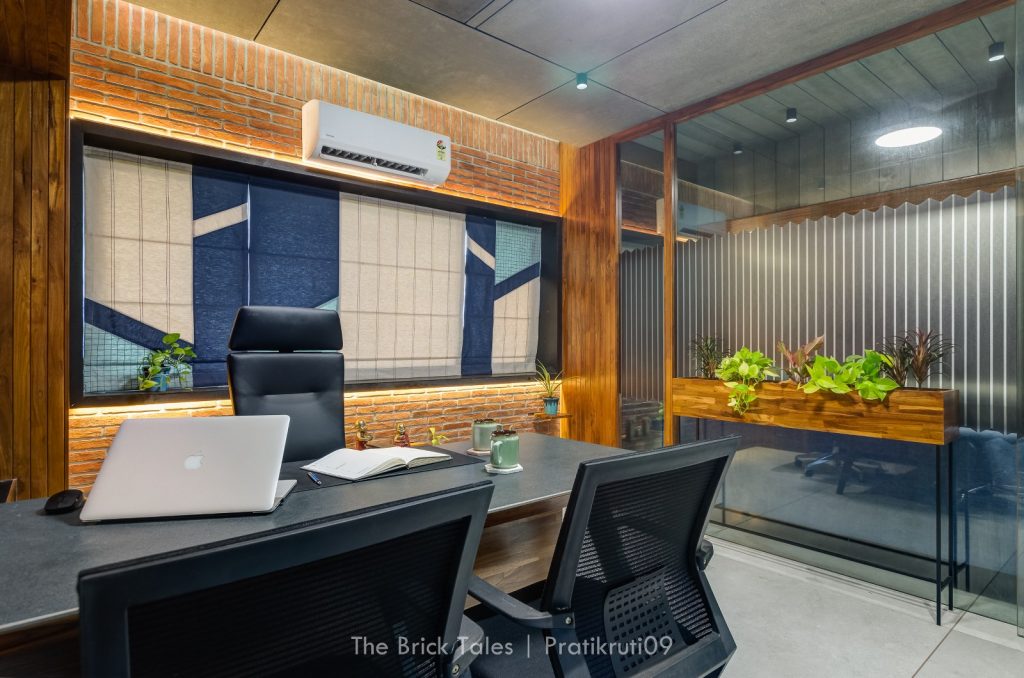 The vertical full height teak members with glass in-fills at uneven distances play a very vital role in defining the zones without really revealing the asymmetric door openings. It also gives direction to the entire space.  The door handles are also detailed in teak vertical members, which adds to the harmony of the passage area.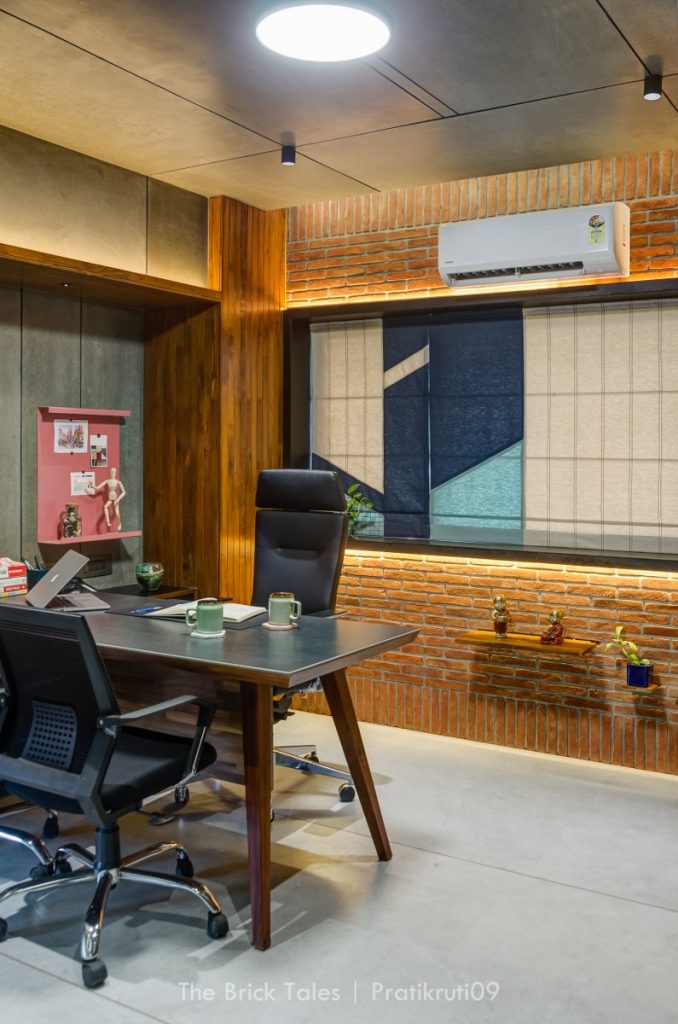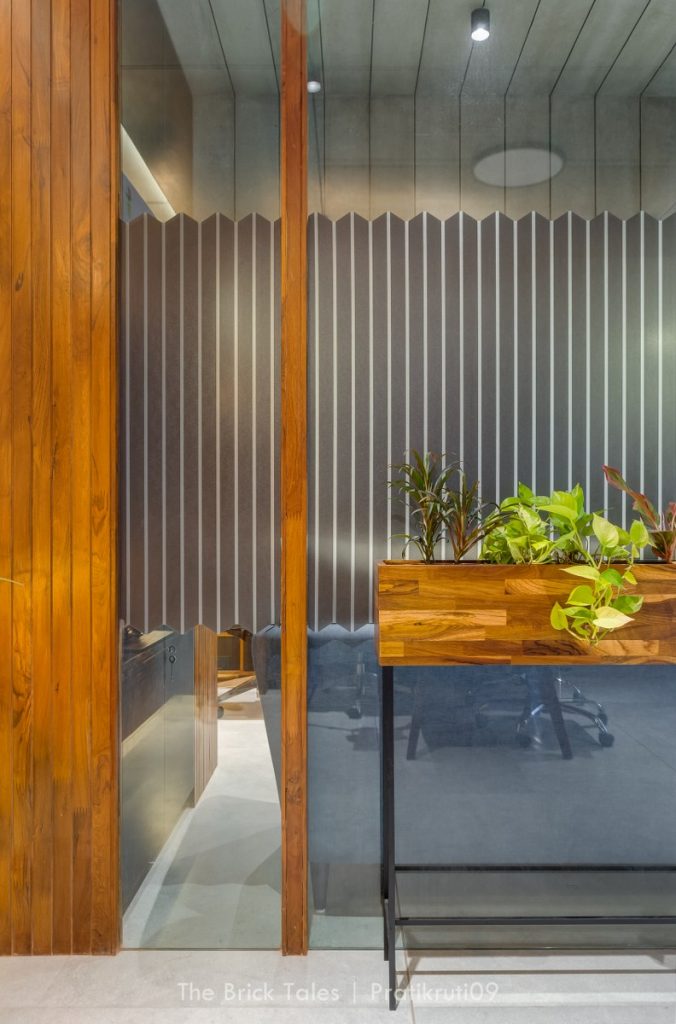 Each space is accentuated by placing plants at strategic corners to render a natural freshness. The curtains were also custom made forming an artistic backdrop in the directors' cabins. Different fabrics were hand-stitched and hand-embroidered together to form interesting patterns adding to the aesthetics of the space. The use of the colors in the furnishings also renders a fresh and vibrant feel to the muted earthy tones of the office space.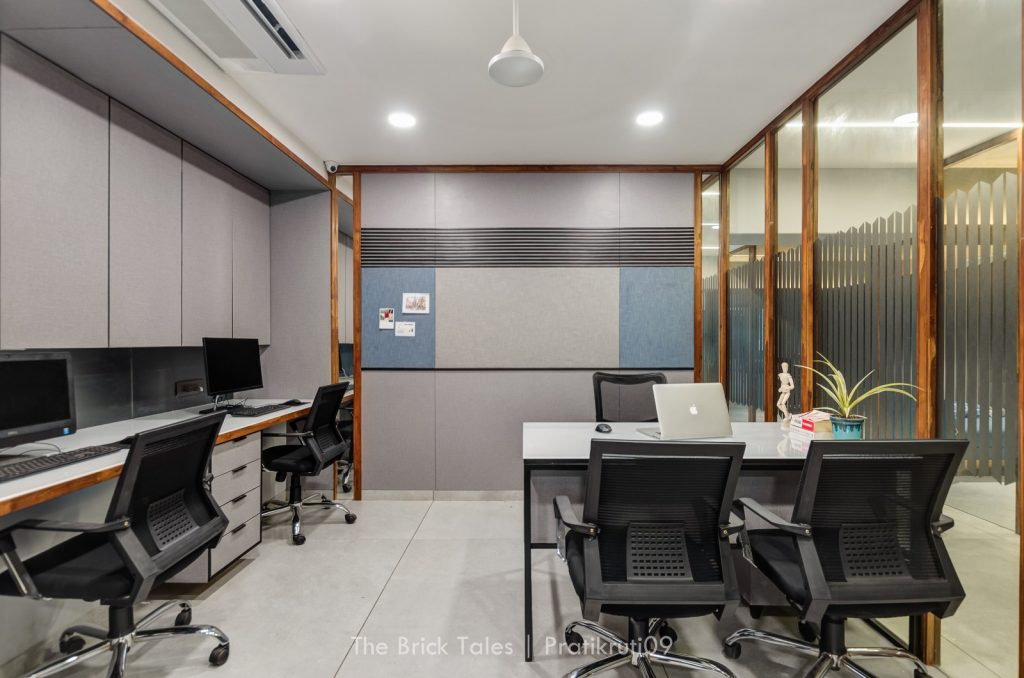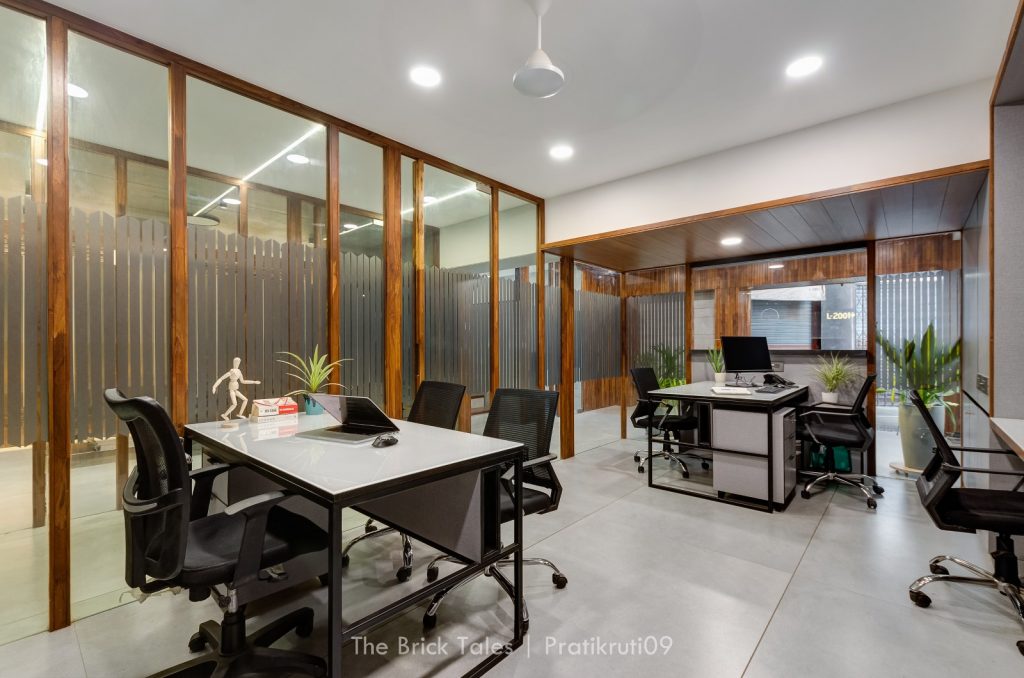 The use of metal is also done in a very interesting way. The sales cabin houses a display area for sarees and fabrics. Very thin metal plates in white are used instead of heavy-looking display racks which are typical in the neighborhood shops. This draws attention to the displayed items and the thin floating metal plates almost become invisible.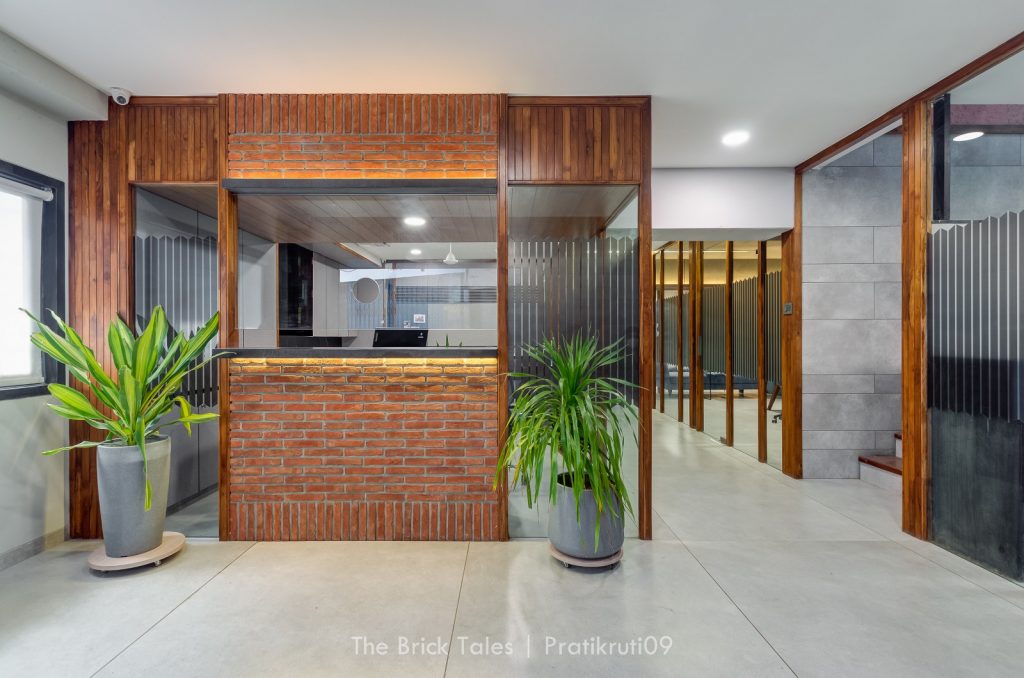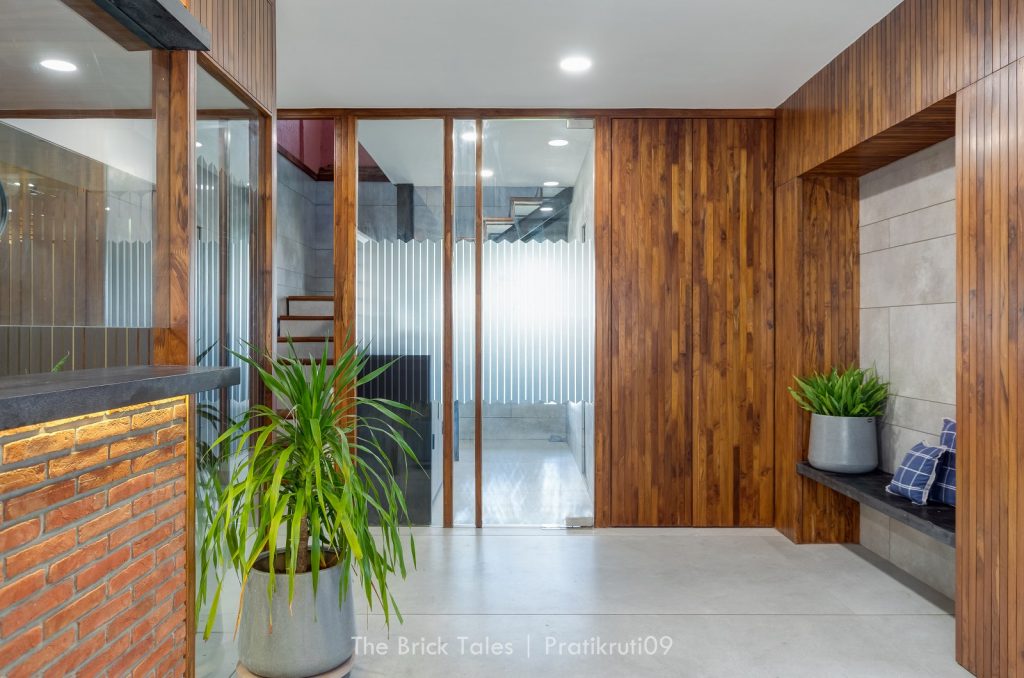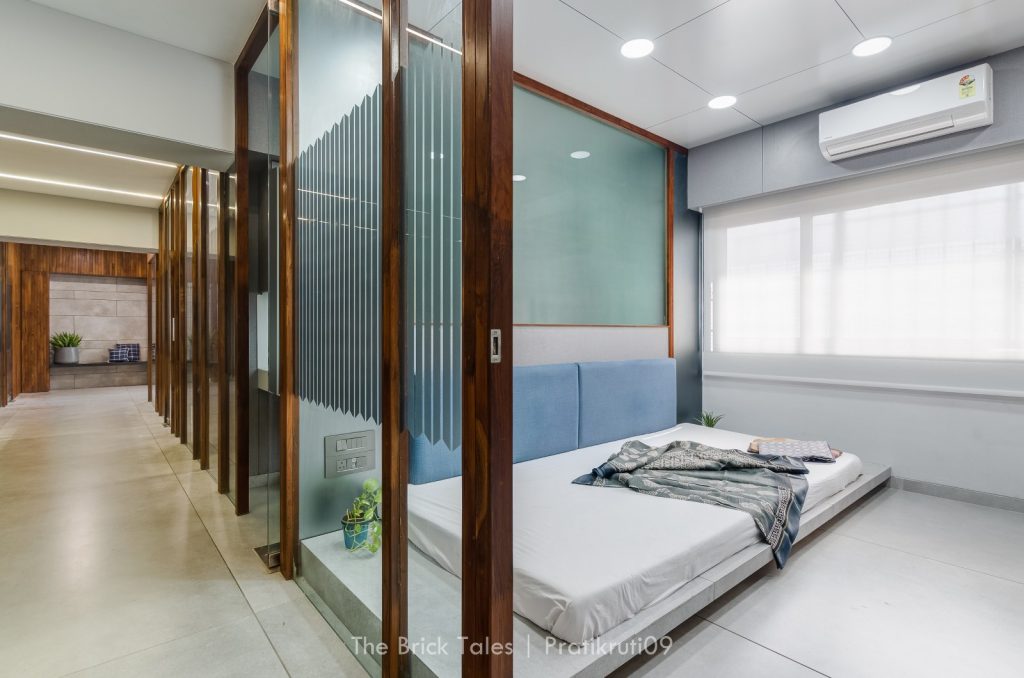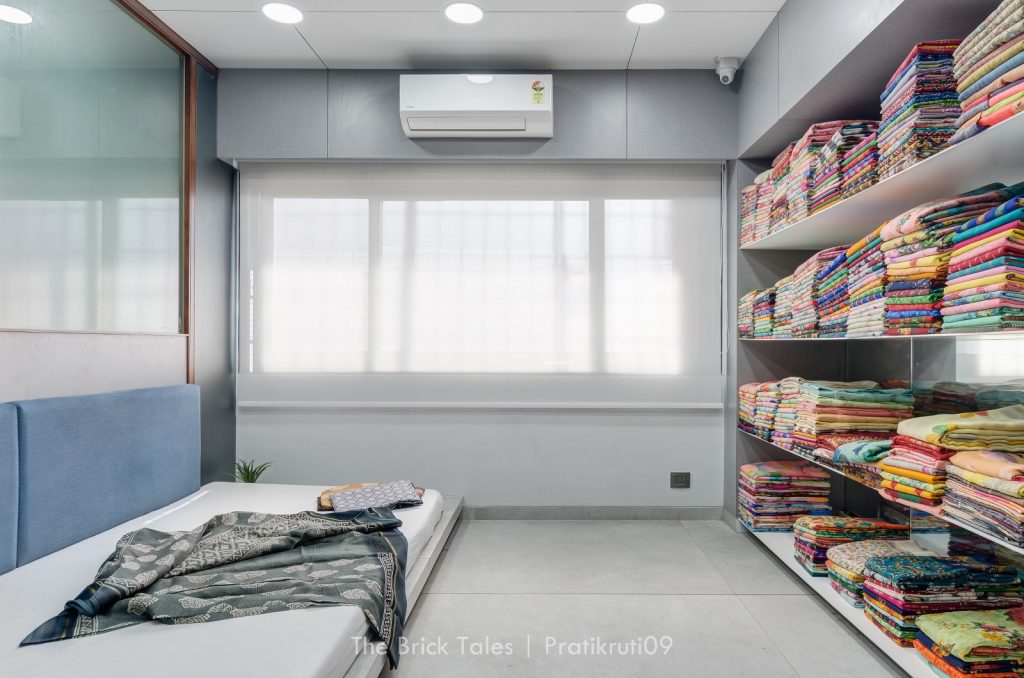 This minimal display furniture was detailed in slender metal members to add lightness to the overall space and highlight the fabrics at the display. The metal folded plate in the director's cabin was custom made and detailed such that it forms a shelf to put stationery items and also functions as a magnetic board. Each utility was well thought and detailed with the most simplistic and minimal approach.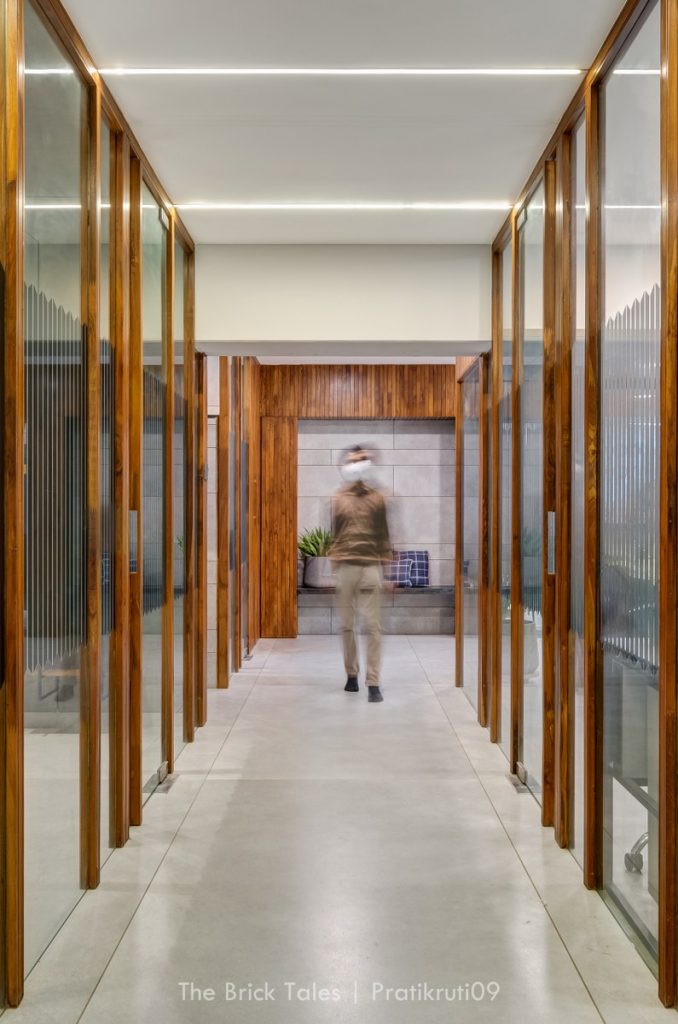 The entire office space is united by the use of glass partition detail with wood and yet uniquely differentiated in its own character. Each cabin functions separately still being part of the same whole.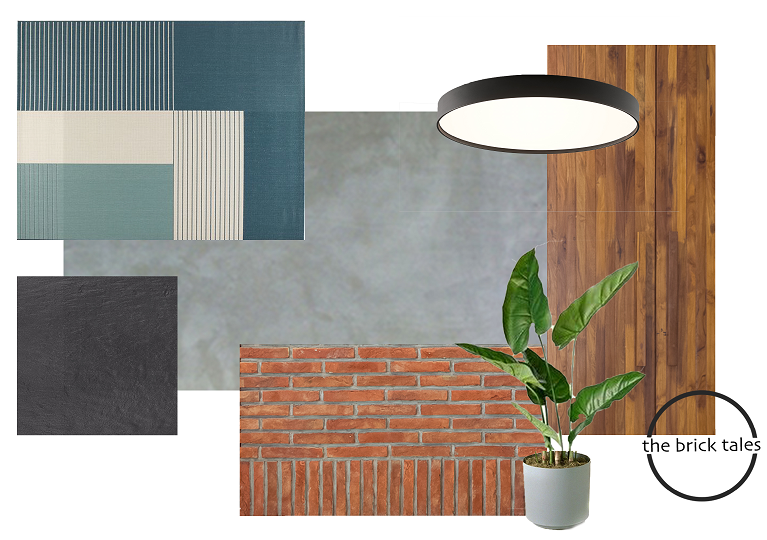 FACT FILE:
Designed By: The Brick Tales
Project Name: Veer Fashions
Carpet Area: 1300 Sq. Ft.
Location: New T.T. Market, Surat
Curtains designed by: Fabscapesofficial
Photography: Pratikruti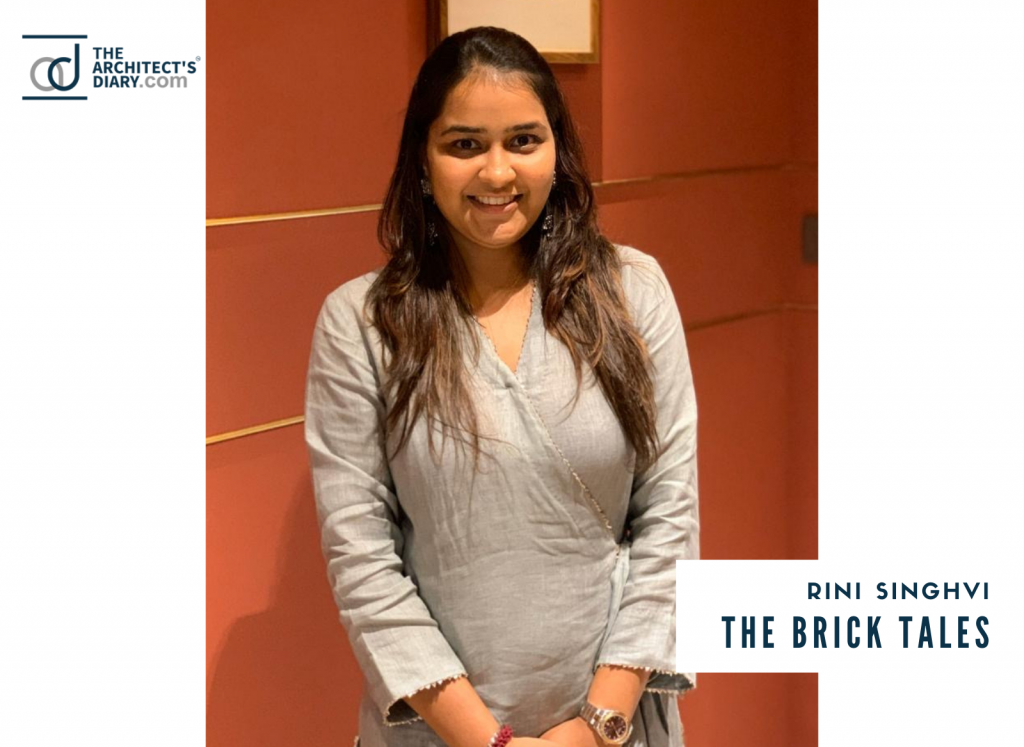 ABOUT FIRM:
The Brick tales is a young, intensely design-oriented architectural firm headed by principal architect Rini Singhvi, founded in 2017. We believe that form not only follows function but also fiction. It elevates architecture from mere construction to meaningful encounters. We trust that design is capable of telling stories; stories of people that live in it, stories of people that built it, or maybe ideas or prototypes of how one space presents itself to its users. We at The Brick tales, pursue designing experiences for its users paying attention to the minutest details as tools to narrate these stories. We engage in building extremely user-oriented spaces that build a direct relationship of the users to the spaces. We strive for simple, unpretentious, and bold designs that speak to its users and do not age with time. Coherence and balance in design is the fundamental key we adhere to.
Facebook: https://www.facebook.com/thebricktales/
Instagram: https://www.instagram.com/thebricktales/

&nbsp