Modern Yet Earthen Feel Office Interiors | Studio Untitled
Studio Untitled needed a work space so they took the available parking garage of 800 sq.ft and transformed it into a graceful and charming design Studio. The designers, Nikhilesh Garud and Utkarsha Mahajan deduced the basic requirements for the space and the challenges that the available space presented and developed the design along the way while finding solutions.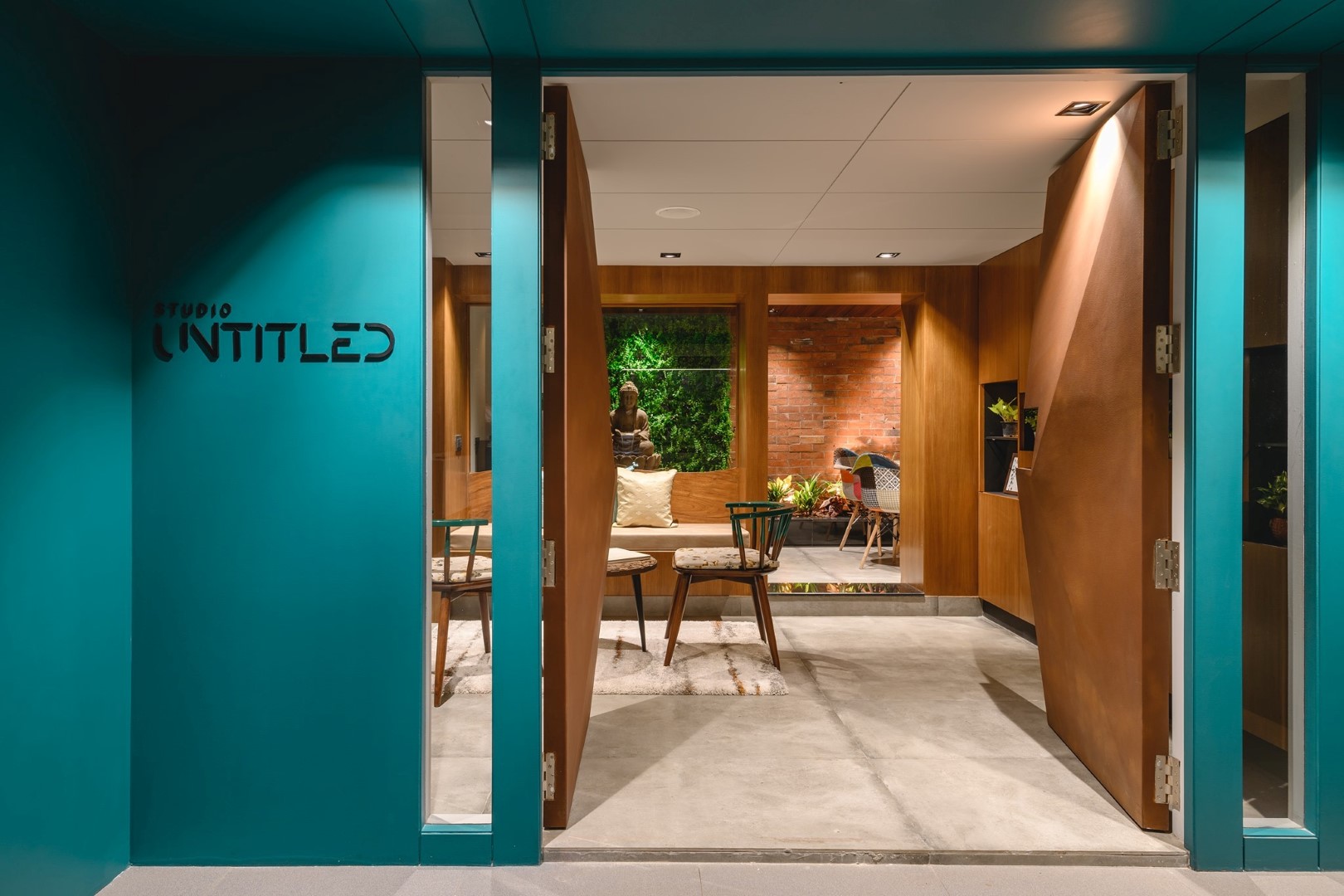 The Studio was designed to retain a very modern yet earthen feel to the whole space with the use of basic materials used in every day construction site namely wood, concrete, and metal and bricks. Natural plantations add a splash of colour to the entire space giving it a fresh feel. The overall colour palette has been kept neutral; the frame of teal around the rust entrance door has become the main highlight of the entire space.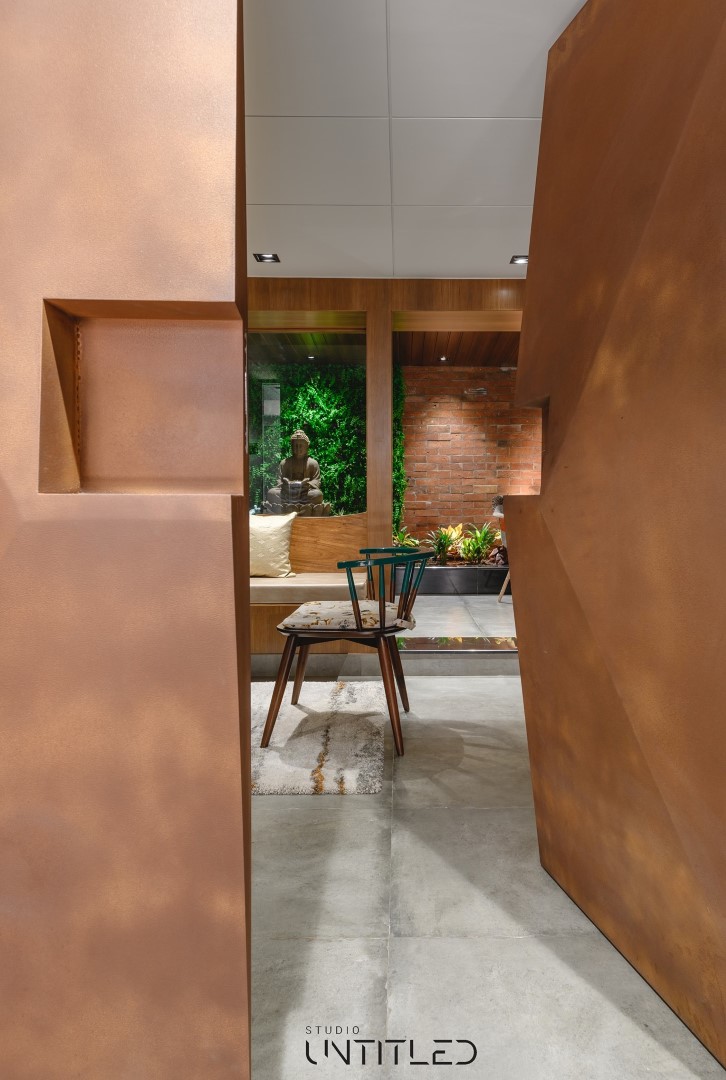 "Studio is located in the ground floor of a bungalow in an area which was initially dedicated for car parking. The main issue was to bring the natural light into the space wherein no provision was initially given. We studied the sun path and tracked the sun movements for a few days and devised proper openings for the light to come in during the day", shared the designers. The east wall in the breakout area has been kept open so as to soak in the morning sun which also flows into the waiting area of the office. Since there was no scope for a window in the staff area, a linear skylight near the north wall is provided to take in the soft daylight. Also in the main cabin the north wall has maximum openings to take in the daylight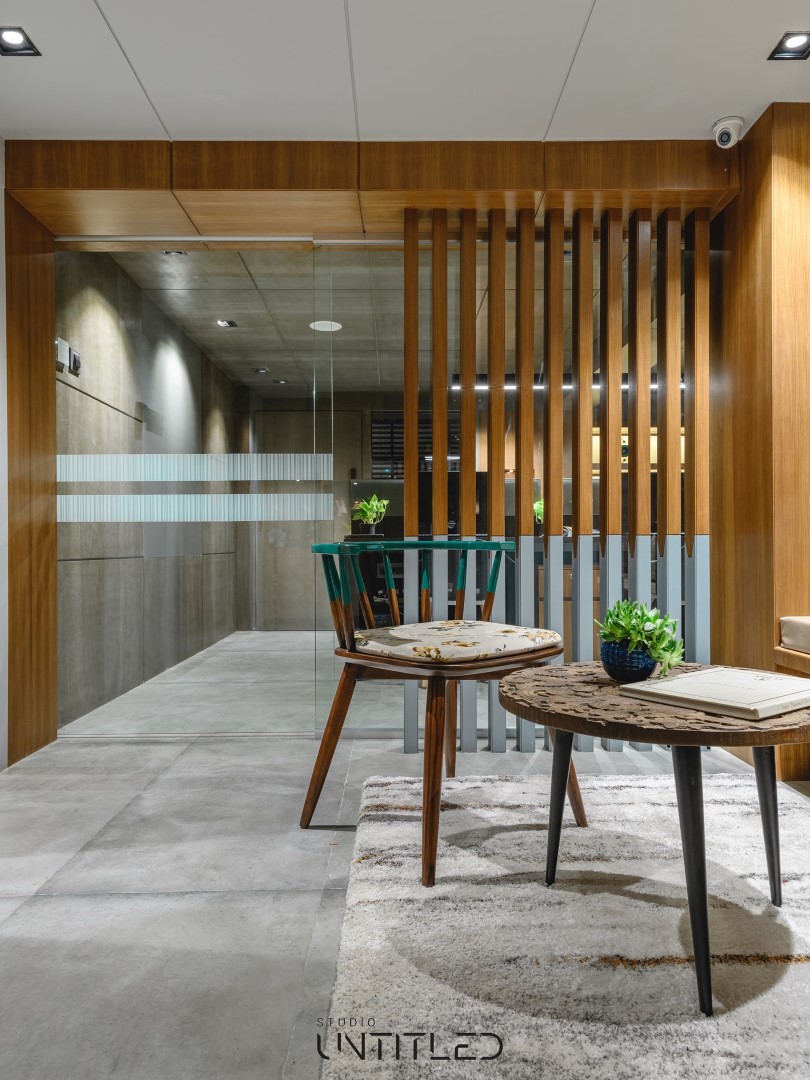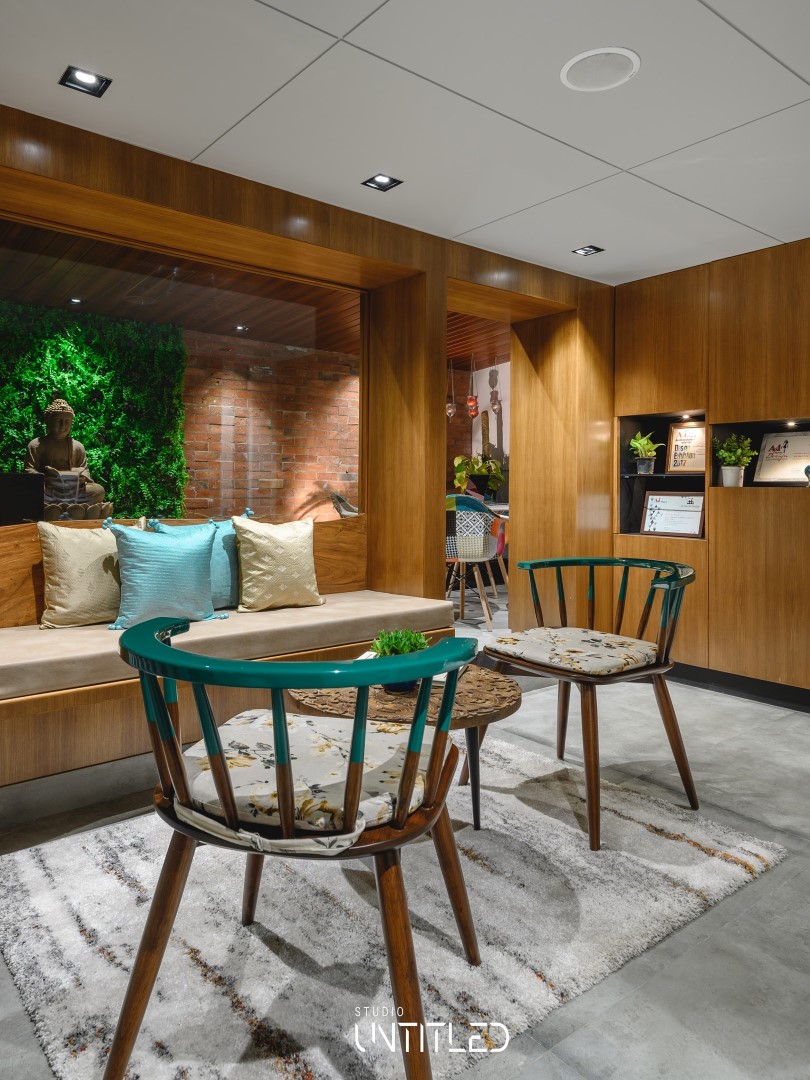 The entrance door opens up into the waiting area for the clients and the visitors. The waiting area overlooks the break out space from the glass partition having a very soothing and fresh ambience with the use of basic materials. The break out space was designed specifically to hold informal meetings with the clients and vendors alike.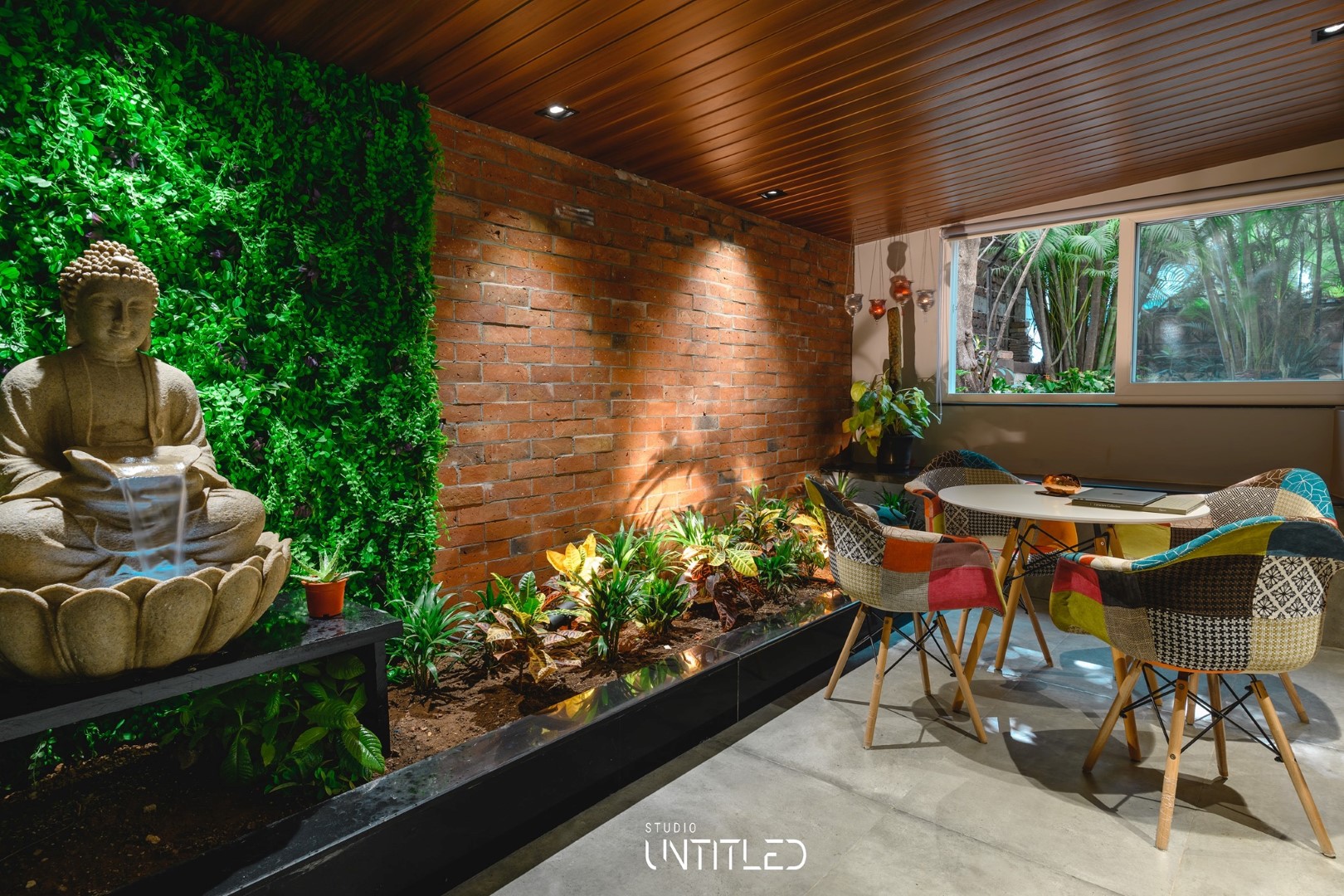 Adjoining the waiting area is the work studio with a linear workstation designed for the staff along with a printing station alongside one wall and storage area on the other wall. A continuous passage connects the work studio to the main cabin. The cabin has been divided into two sections namely the desk section and the presentation section. There is also a small working corner overlooking an adjoining garden space designed for the designer to peacefully work on his concepts and develop the designs while looking over to the garden space.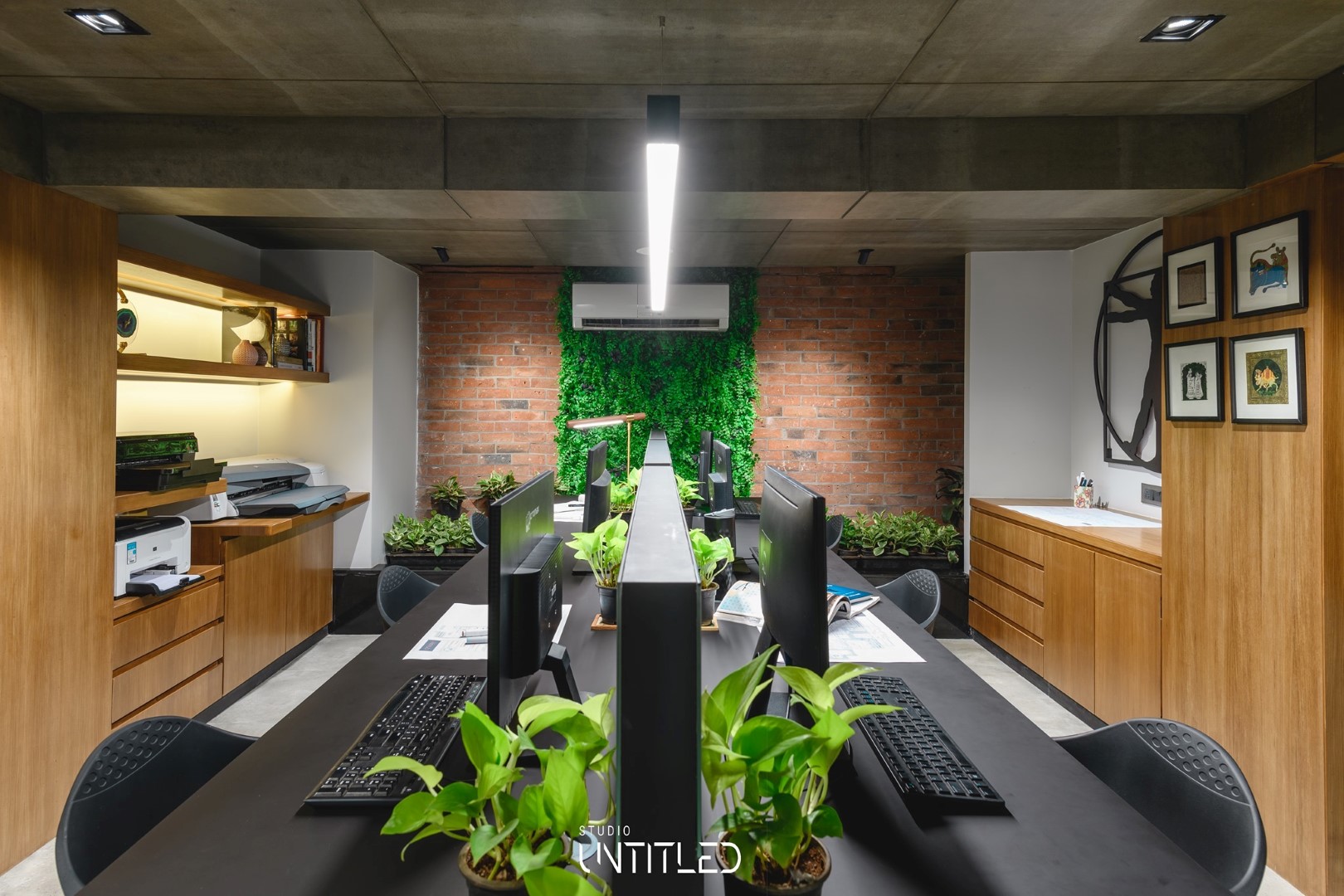 FACT FILE:
Project name : Studio Untitled
Project type : Interior design Studio
Project category: Interior Design
Design Team : Utkarsha Mahajan, Nikhilesh Garud
Location : Pune, India
Photography : Ishita Sitwala ( The Fishy Project )
Area : 800 sqft