&nbsp
This house is designed to meet and desires and needs of each family member in mind. We believe a home must be a reflection of one's persona. Here the idea was to create this house in the modest, 5215 sq.ft. east facing plot, overlooking to the beautiful trees in the front. Understanding the family needs was more important, but keeping aesthetic in the focus. We designed the whole house on theme keeping it sophisticated yet luxurious. Each space is a reflection of their aspirations for a modern and luxurious lifestyle. With Italian furniture, we successfully created a luxurious environment. Materials and design are perfectly balanced by using different textures and chic hues keeping in mind a theme of classical design.
Modern Take on Classical Design Elements Graces this Residence in Gujarat | Tvashta Architects
Visit: Tvashta Architects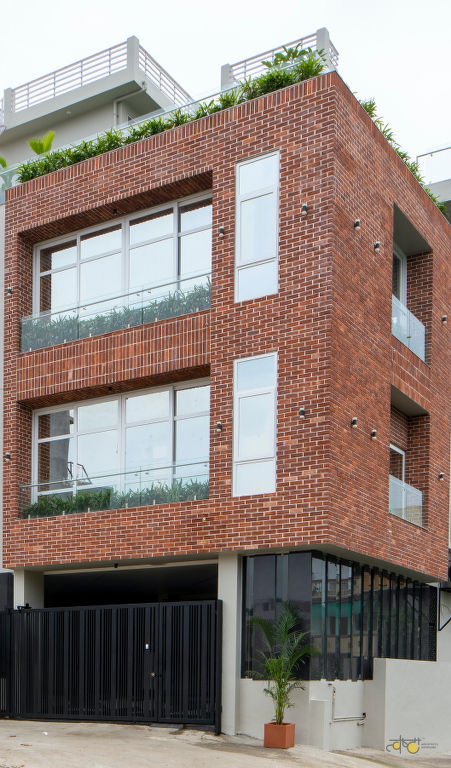 The parking design has contemplating amiable experience with the homogeneous pattern, connecting the floor and the ceiling with the touch of grass ,and it has alluring idol of buddha facing the entrance conveying classical design. A overwhelming feature wall in the walkway acts as an eye catchy focal point. The furniture positions of the living room were carefully planned to accommodate a large number of guests. In this space, we started with grey, brown and golden finish tones and added the blue hues in the armchairs and sofa to break the monotony of the space and make it look inviting.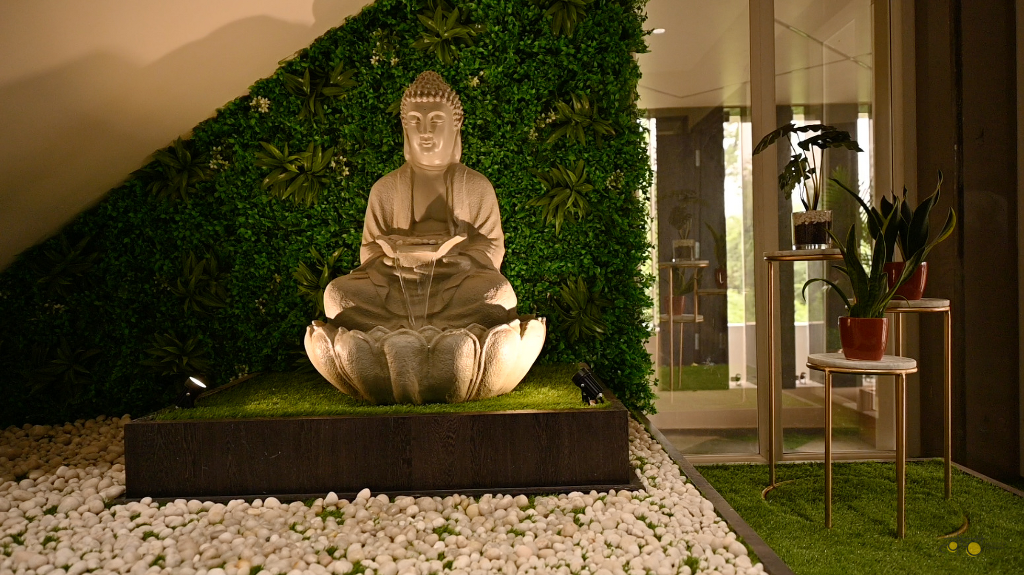 An interesting see through partition between living vestibule and dining helps in maintaining the spacious characteristics of the area. The gorgeous dining table and chairs with it and the sideboard look luxurious. Like other spaces, kitchen has its own material, color selection which has been defined by balancing a bold color with the neutrals ,where green ,brown and brass tones is added to the edge, to create a different look of breakfast table and the side units.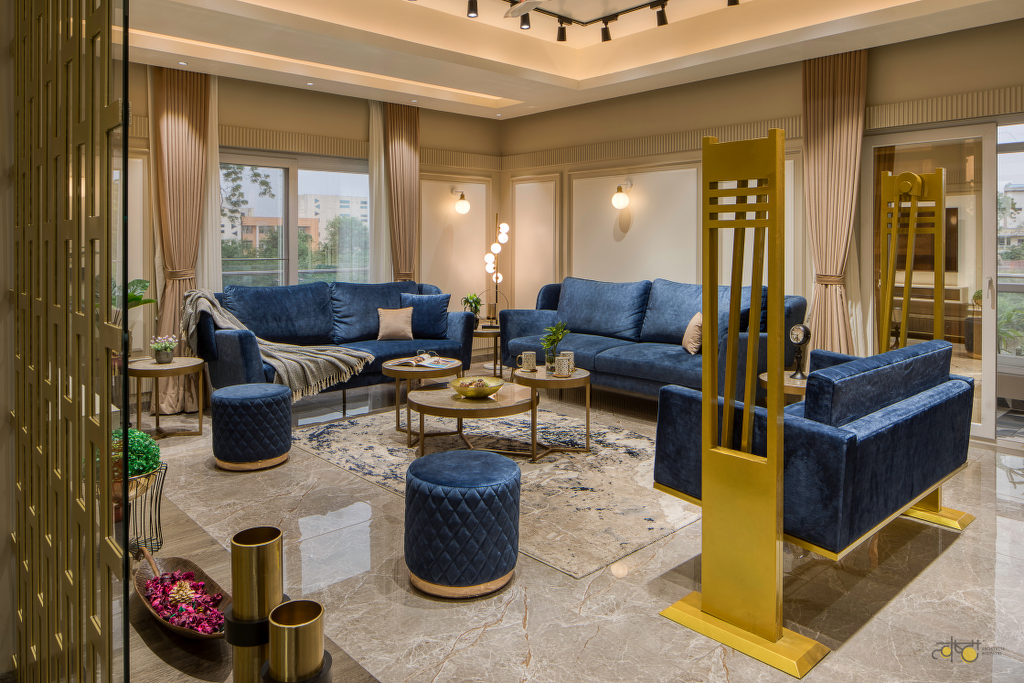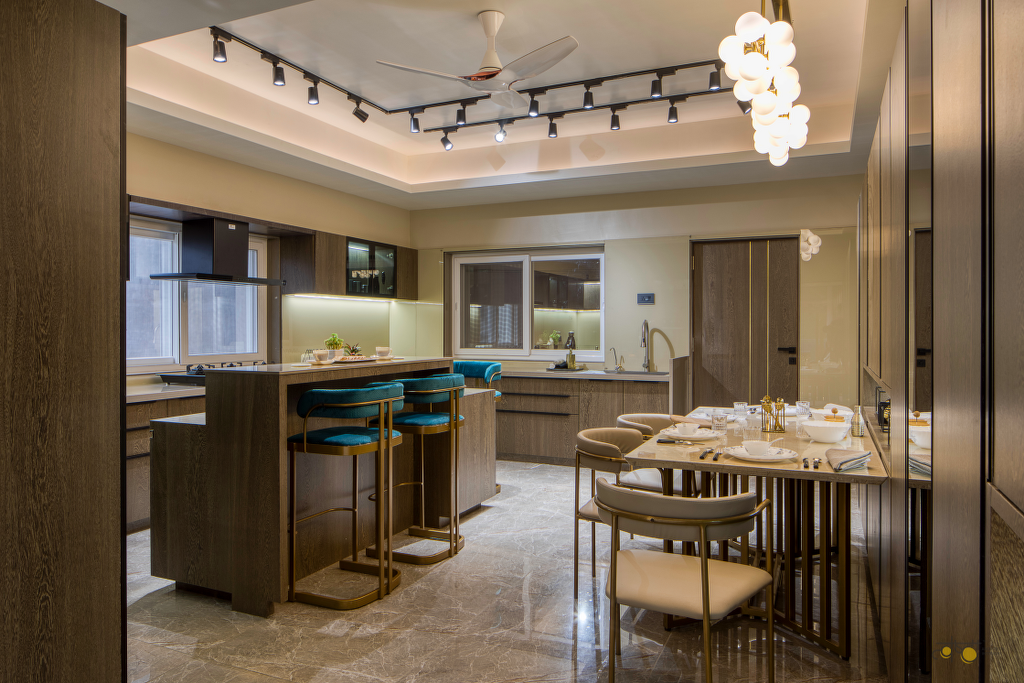 The master bedroom is designed in much soothing and intimate taste with perfectly monotonous paneling which gives the touch of modern classic theme contradicting it with vibrant textile colors, terracotta has added luxury to the space. Guest bedroom is designed with an edge bed, embodied with brass molding in paneling which defines simplicity with vibrant textile furniture.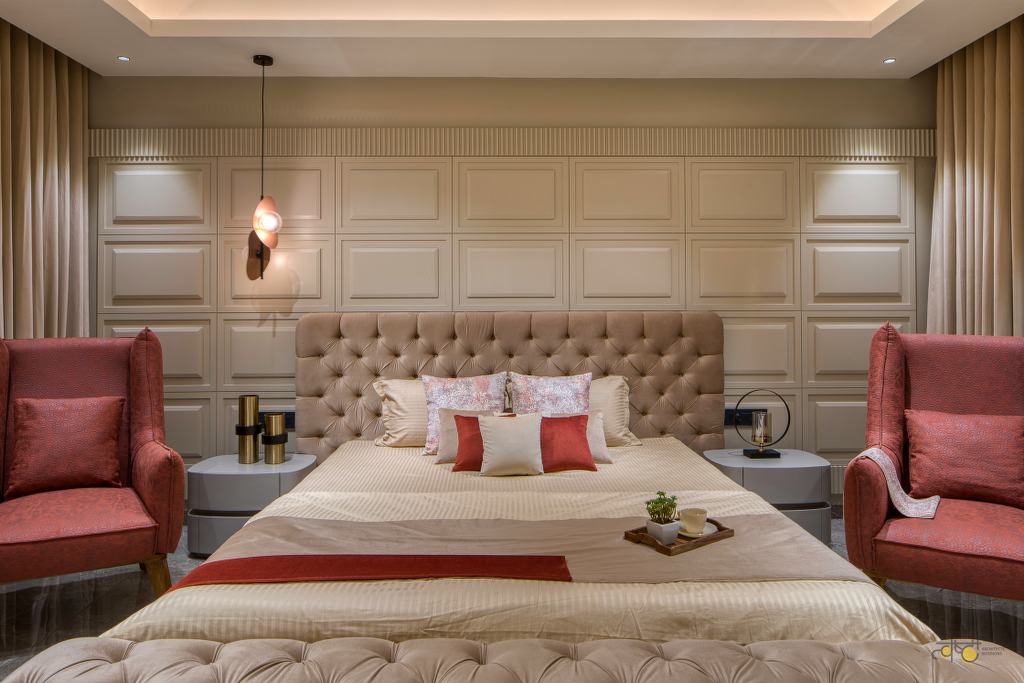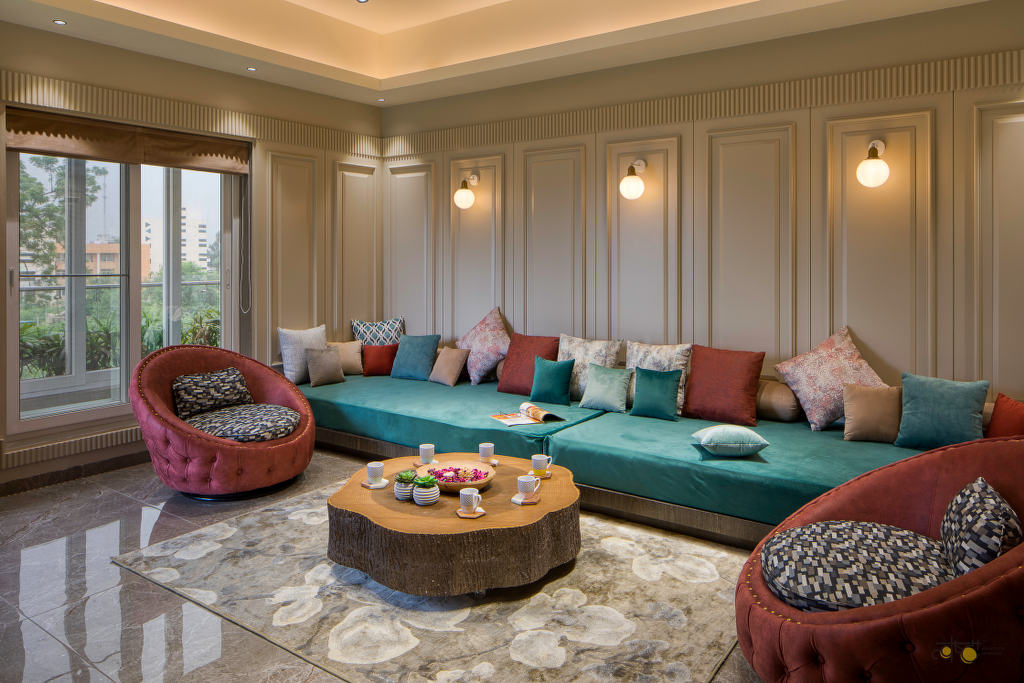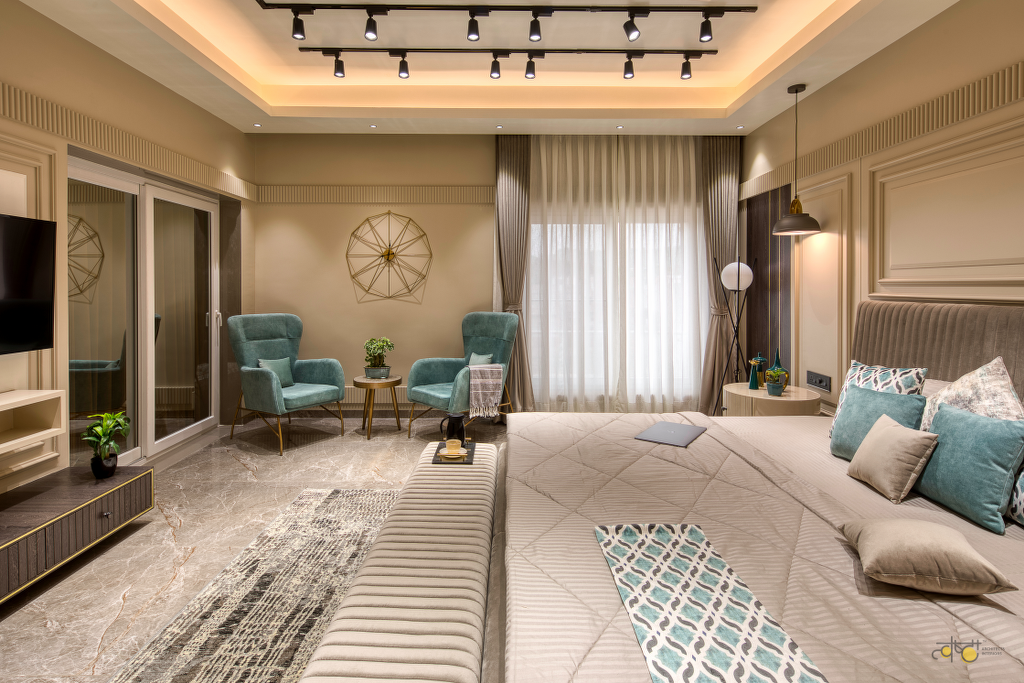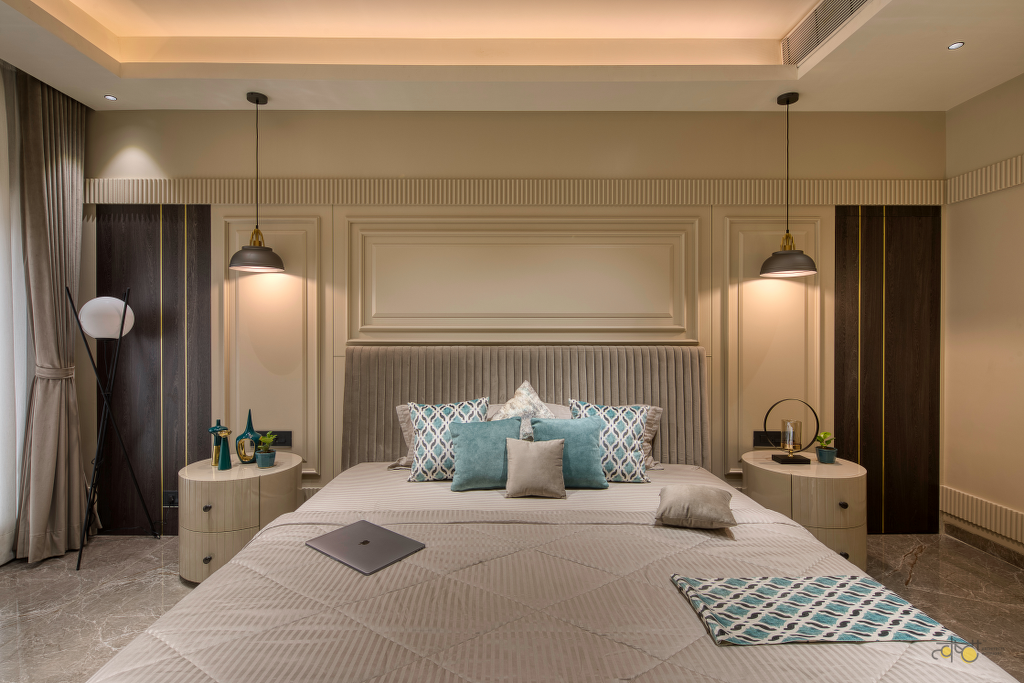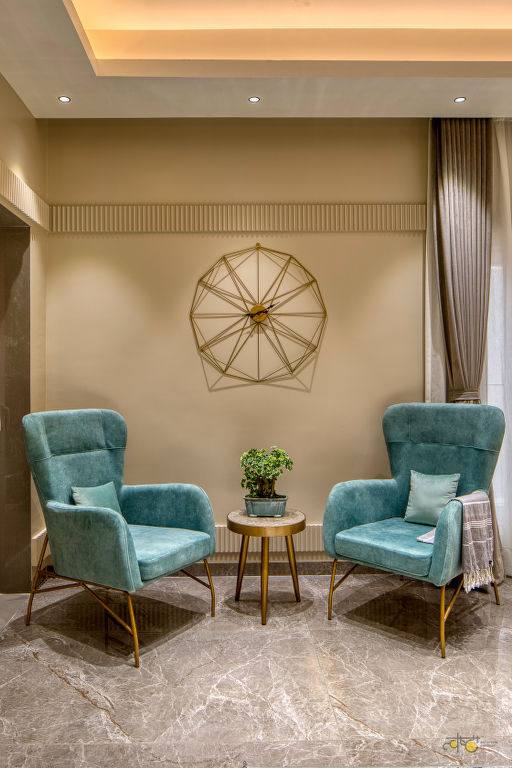 The open plan home is designed to create interactive, semiprivate and private spaces with an over view to a green scape. Constantly running molding frames are the eye-catching design details lies in the molding of the wall paneling with a glimpse of light with a alluring double height balcony. The double height balcony brings natural light and glimpse of nature to a space.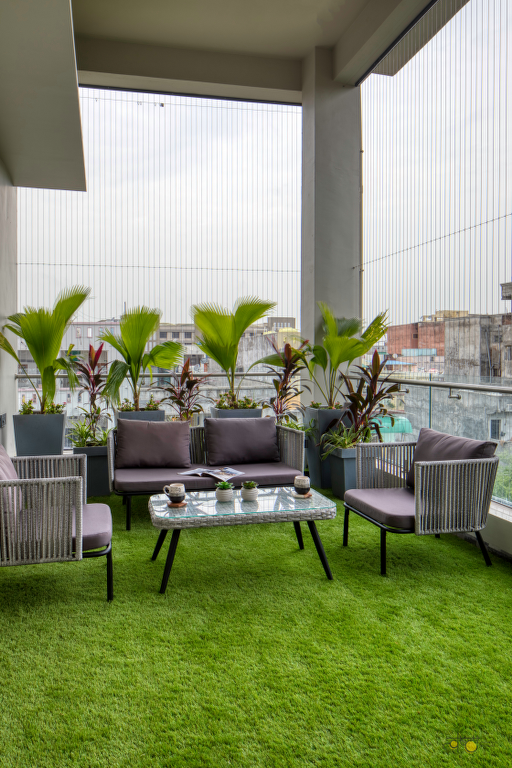 Daughter's bedroom has a warmth to it. It is conceptualized on the neutral tones with- warm Tiffany furniture and -sandy shades on walls to add splash of element, there is a flush door placed with the molding frames and grooved with brass finished pattern . Raw wood and lots of green has been used to create organic warmth with sparkling colors in this semiprivate balcony space.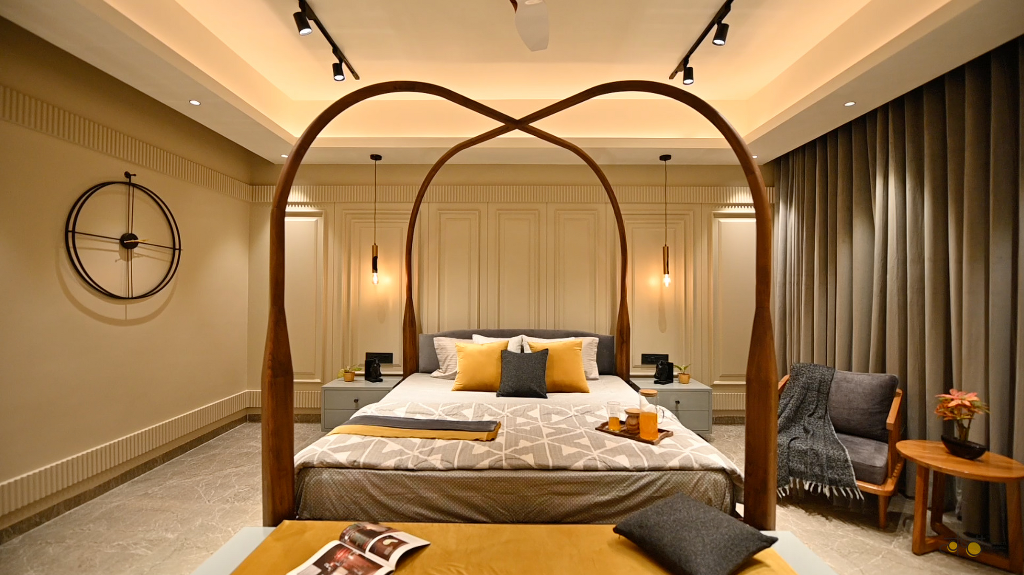 Unlike the other rooms it has special feature of 4 post stunning bed .which bring the perfect design melody to the bedroom , with naturally used fabric and beveled veneer finish furniture makes this experience more splendid. It also has seamlessly integrated terrace gardens, which works as a private outdoor space which has different planters and dedicated sitting spaces that gives terrace an informal look.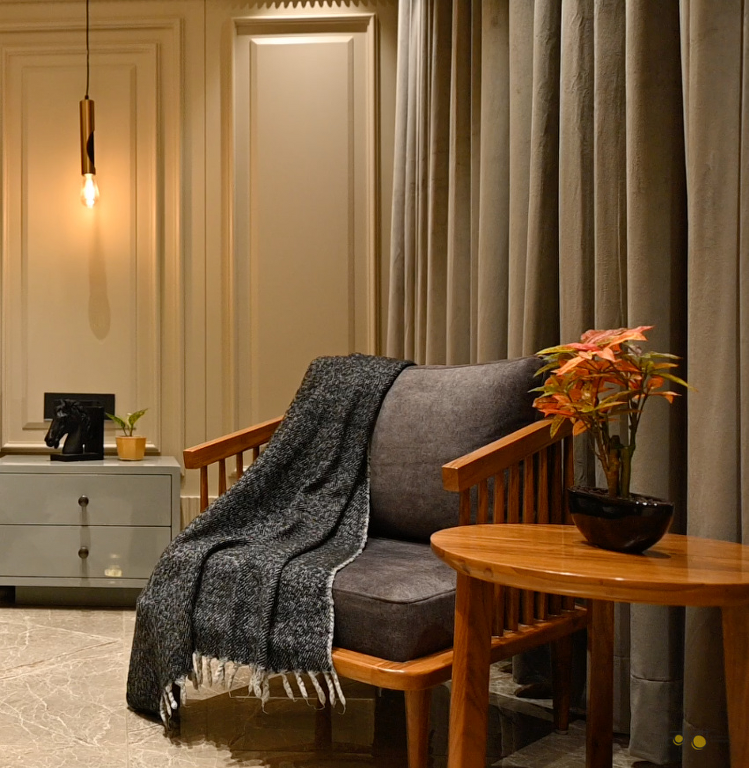 Today's time demands customization in each and every corner like vanity units also. So we took 'mix and match' approach. Each space is a reflection of their aspirations for a modern and luxurious lifestyle. The elementary requirement of privacy and togetherness drove the concept and development of this villa design which was based on "eclectic and modern classic theme with Italian touch".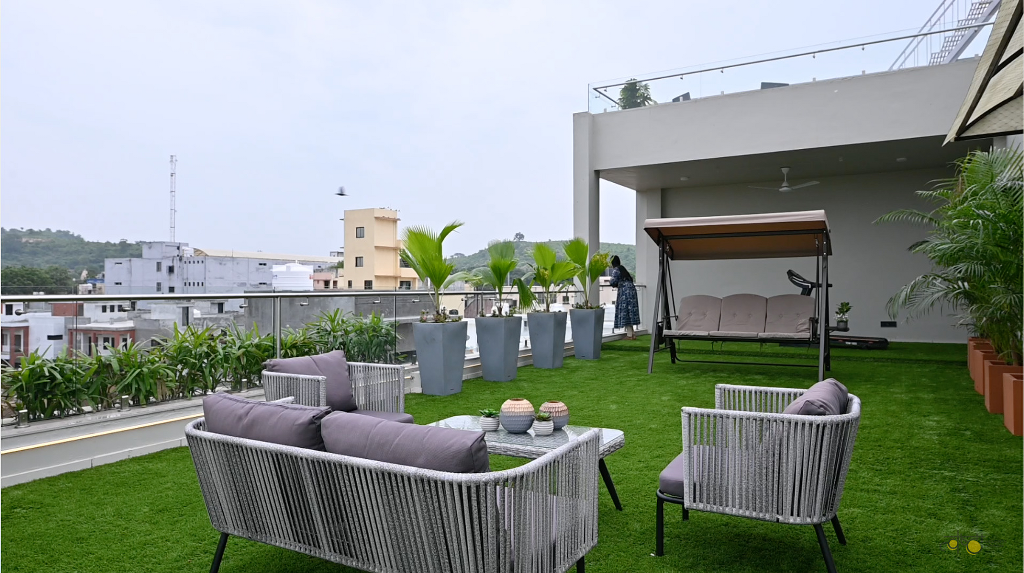 Fact File
Designed By: Tvashta Architects
Project Type: Residence Architecture and Design
Project Name: Ashwivilas Villa
Location: Lunawada, Gujarat
Size: 5215 sq.ft.
Year of Completion: 2021
Duration: 1.5 years
Project Cost Appx: 3 Crore
Principal Architect: Kandarp Shah
Principal Interior Designer: Niteesha Vyas
Design Team: Juee Chandora, Riya Fadadu
Photography Credits: Umang Shah
Products and Materials: Veneer: Artzone | Paneling and cladding: Century Ply | Raw Materials: Ambuja Cement | Lighting: Lightrics Studio | Sanitaryware: Jaquar | Furniture: Reflection Furniture, Pocho Living | Flooring: Ibis Tiles | Kitchen: Hettich | Paint: Asian Paints | Artefacts: Art Home Luxury Decor | Hardware: Darshan Hardware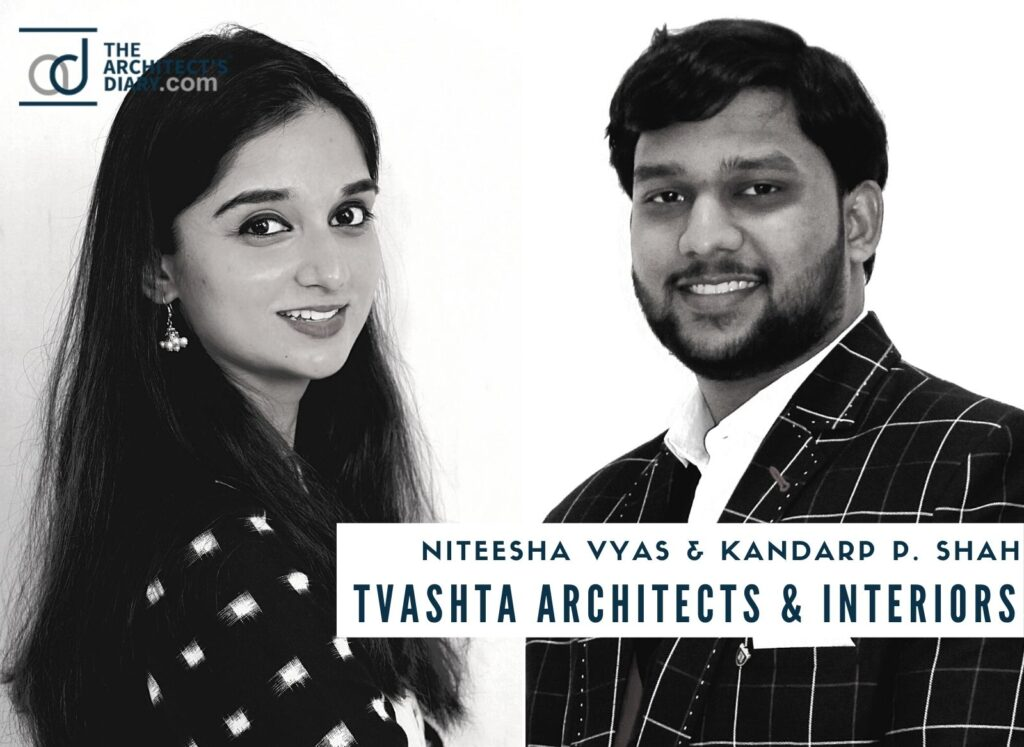 Firm's Facebook Link: Tvashta Architects
Firm's Instagram Link: Tvashta Architects
For Similar Designs >> Subtle Sophistication with Artisanal Minimalism marks the Feature at this Residence in Mumbai