&nbsp
A daily mundane activity of crumpling paper waste and disposing, became the seed for inspiration in this individualistic façade design. The corten steel ornamental façade is an integration of organically formed creases and a meticulous rice paper cutting method. An engaging take on this façade is its forms, analogous to unwrapping a crumpled piece of paper which narrates uncertainty and exclusivity, of how no 2 wrinkles could be the same, stirring playful sciography inside the home. This visual grammar of the façade also continues in the interiors and makes for a quaint, minimal living. ~Yamini Vaswani
Minimal Living and Sustainable Dwelling | Dipen Gada & Associates
Visit: Dipen Gada & Associates
Exterior
The front is facing to East in all the 6 houses and we do not want to miss out on the opportunity to play with sunlight. We wanted to create bold statement and so we have decided to play with expose concrete block holding perforated screen which enables to give good privacy to the front bedroom at the same time play of light and ventilation and a sense of minimal living.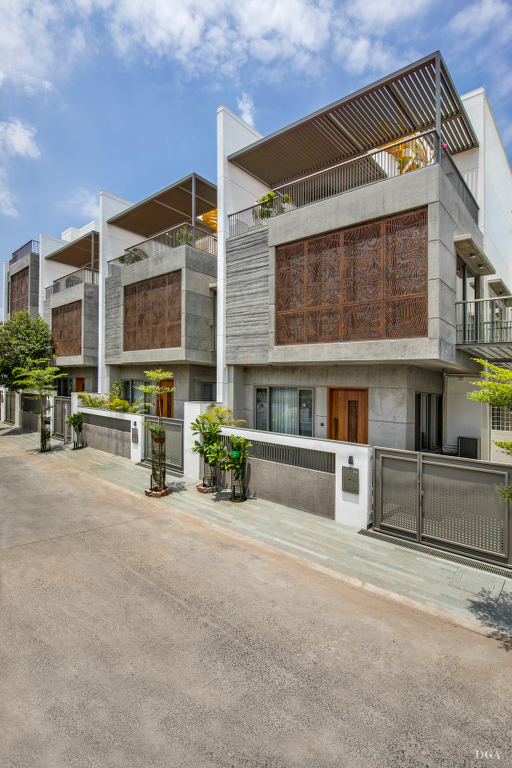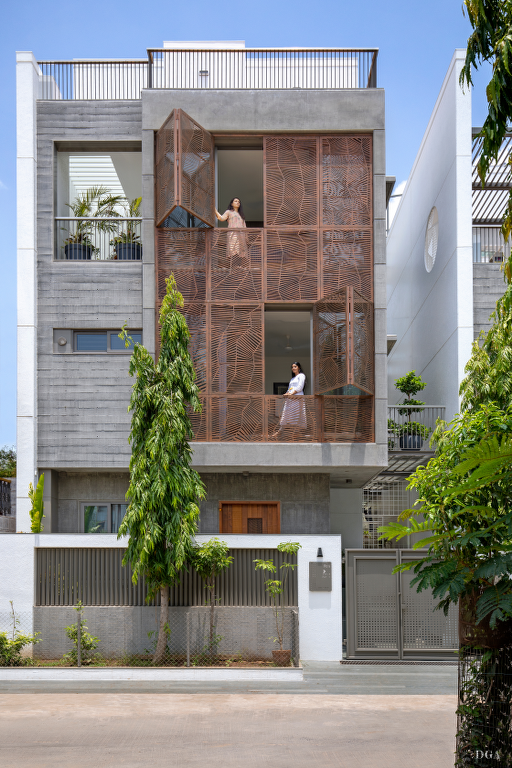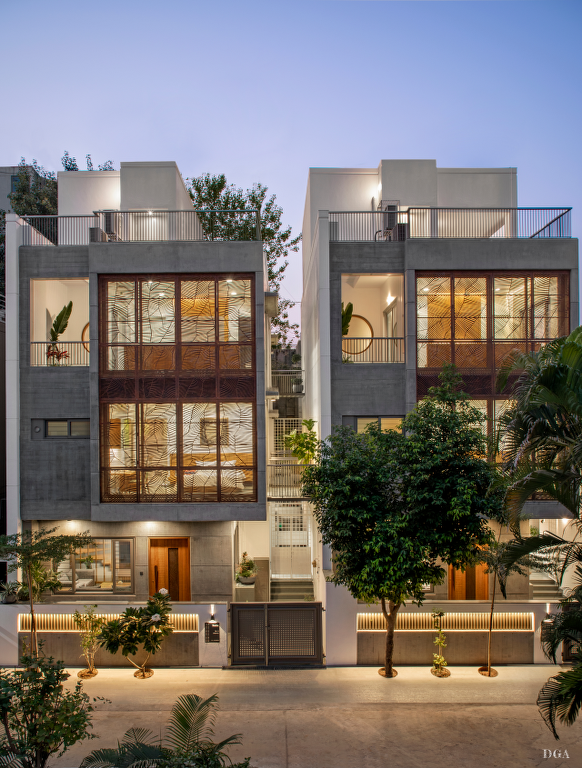 Screen is specially designed to give a crumbles paper feel i.e. every time a paper is crumbled different types of designed are formed and thus through that; design in every house is different. It creates a sciography in the front are and its openable on sliding folding system. The material used is corten steel look a like ACP panel on the metal framing.
Foyer / Entrance
Since the houses are very small, foyer is part of living room leading to dining area having shoe unit which serves the purpose as casual sitting also.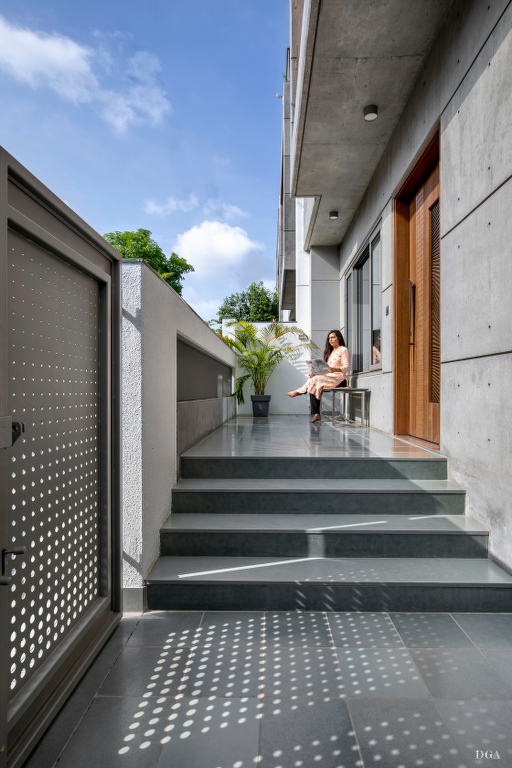 Living Room
It is cute and comfortable on the East side with the needful sitting and holds nice Indian art in each house. We have kept expose ceiling with precisely designed lights right from beginning.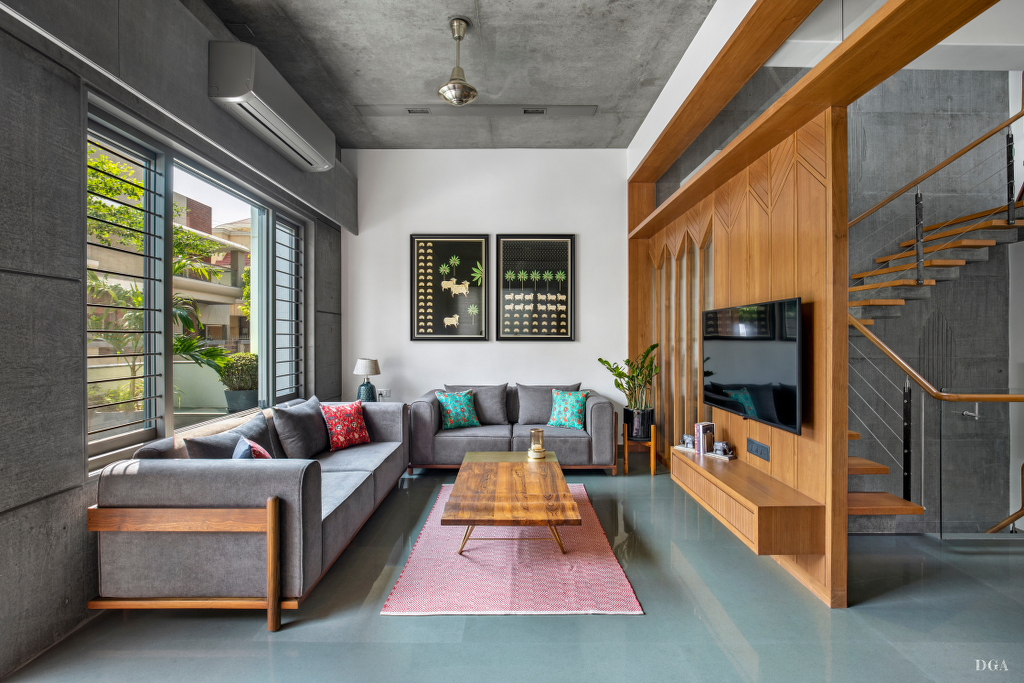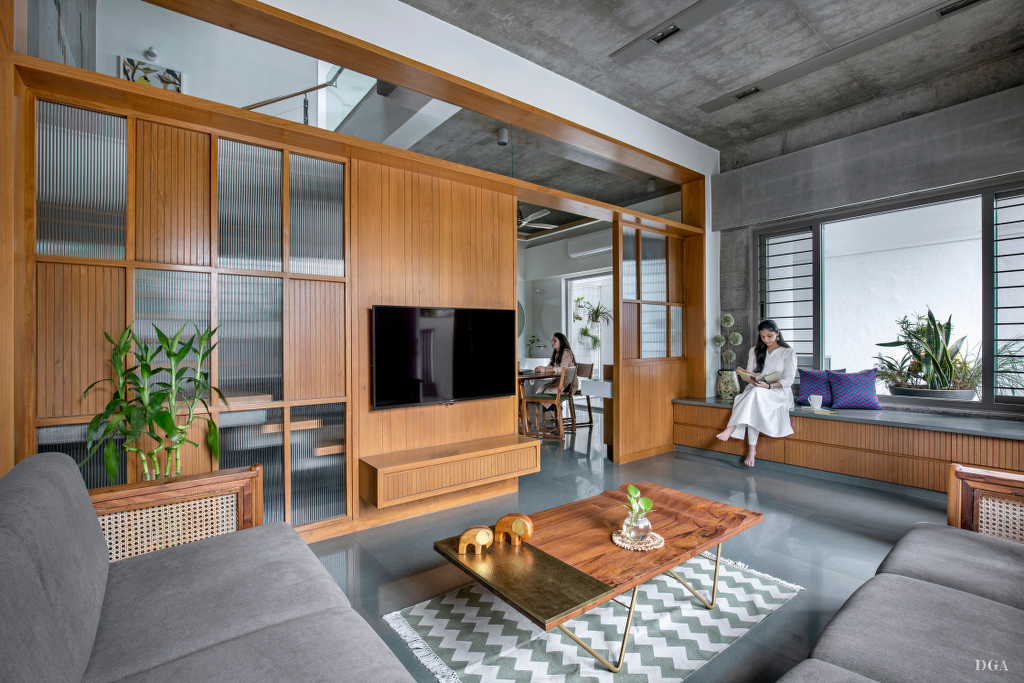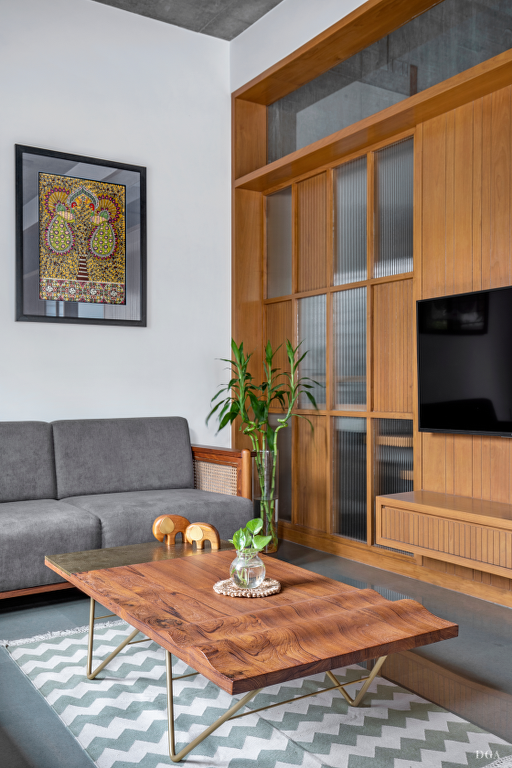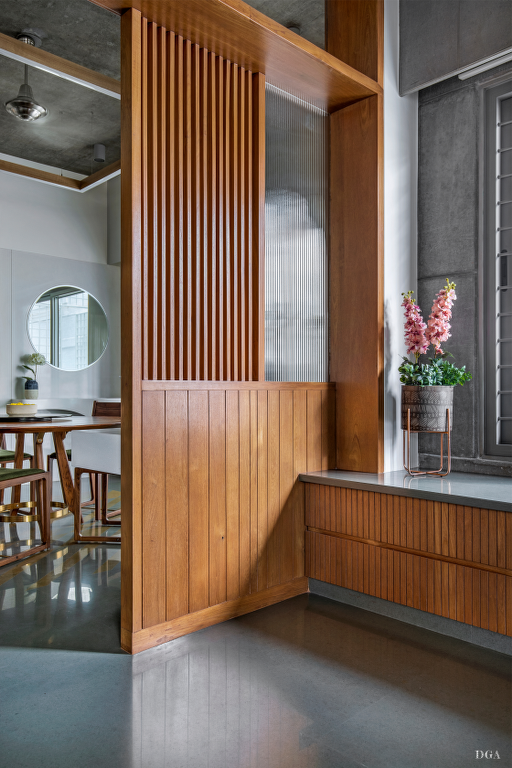 Dining and Staircase
Next to living room is the area holding staircase on S wall with open to sky cut out and unique exposed concrete wall in each house which creates magical impact with its play of sunlight on the wall. In North East corner of dining area we have accommodated nice puja area along with accessories table for dining room.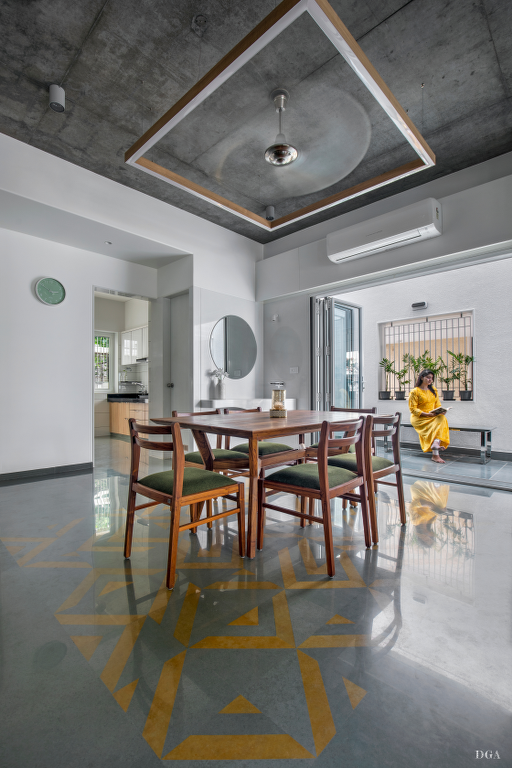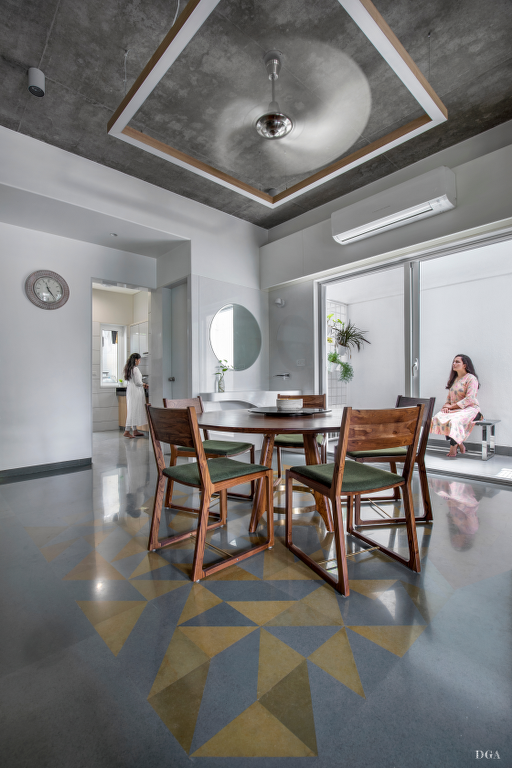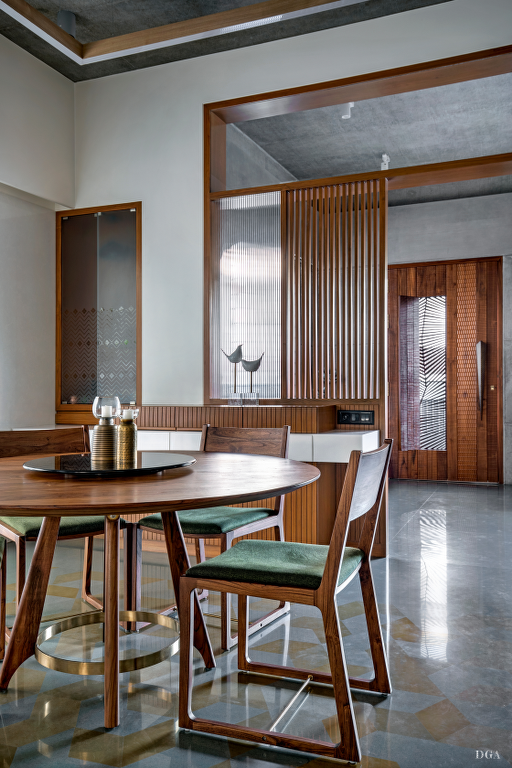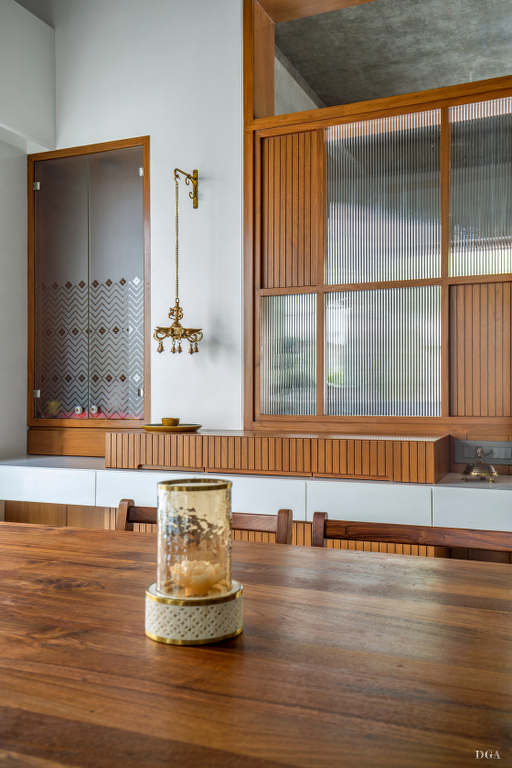 We have casted RCC staircase which floats between landing to landing having jodhpur stone as a trade. Dining is in the middle of this area open towards the N wall which gives feeling of extension of dining area. Each dining floor we have tried different yellow kota inlay which looks like "Galicha" underneath each table. All 6 houses have different pattern of "Galicha".
First Floor
First floor we have crafted with 2 bedrooms, 1 in front and 1 in back. In between double heighted lounge space in 3 houses which have 4 bedrooms each and single heighted lounge space in another 3 houses which have 5 bedrooms each.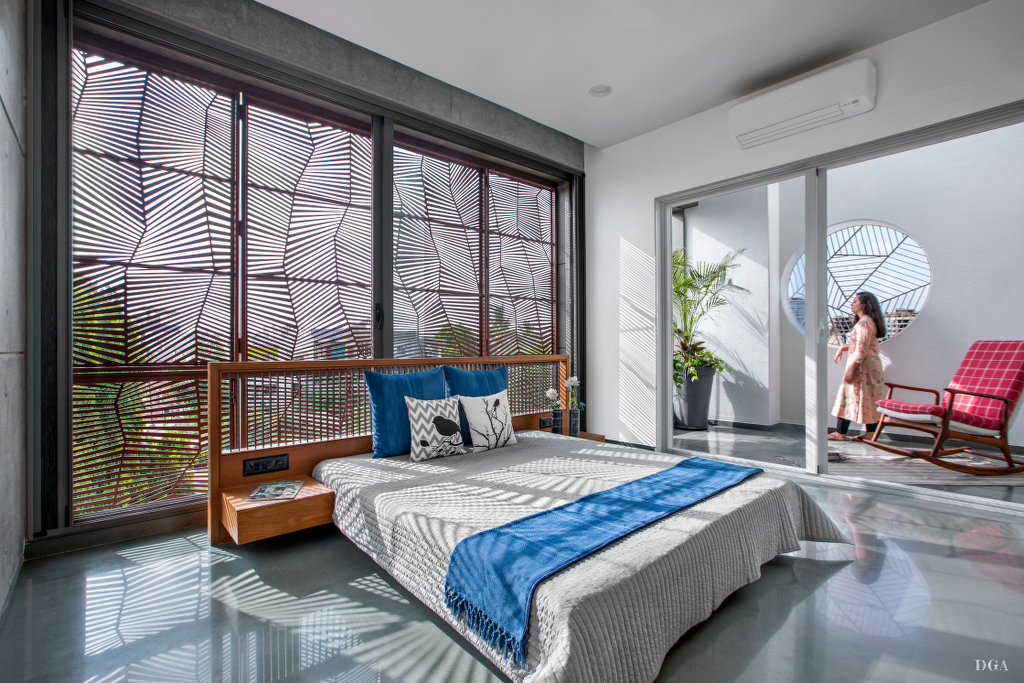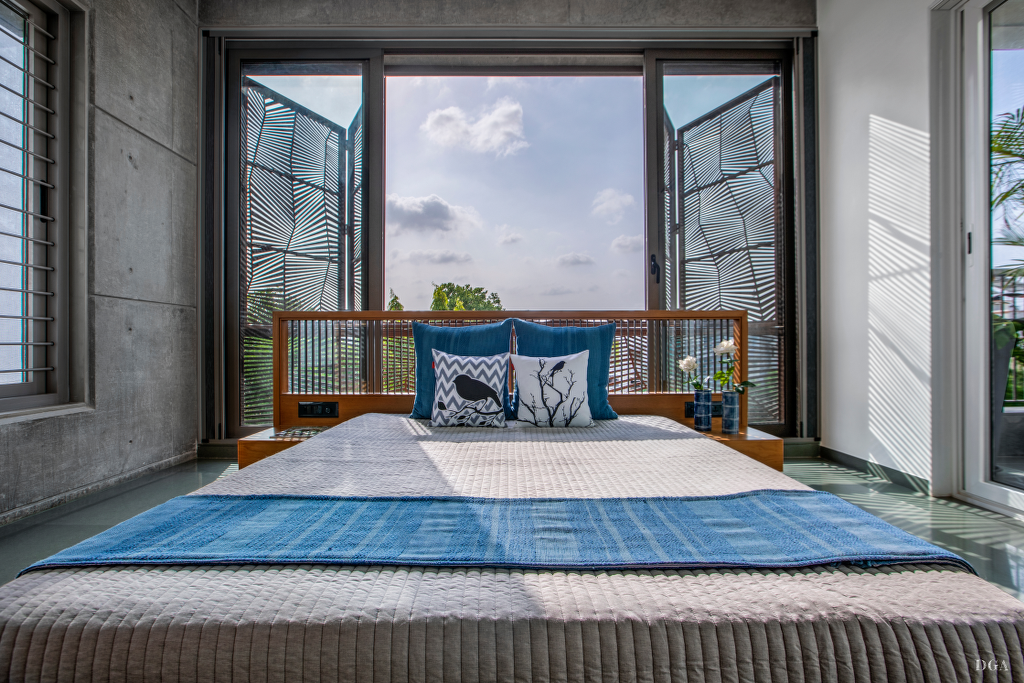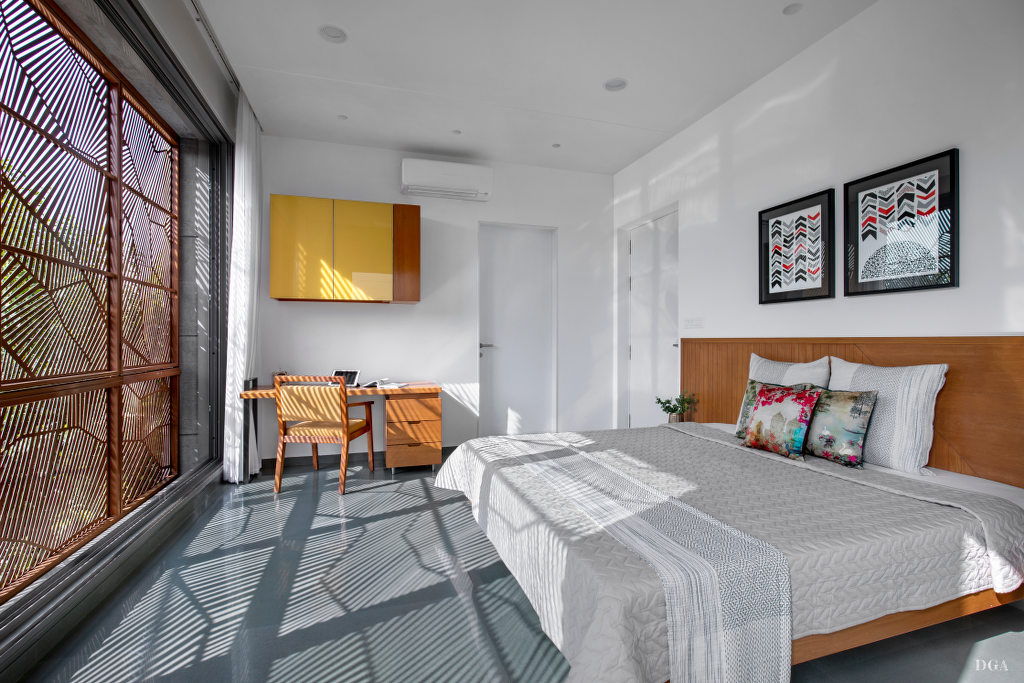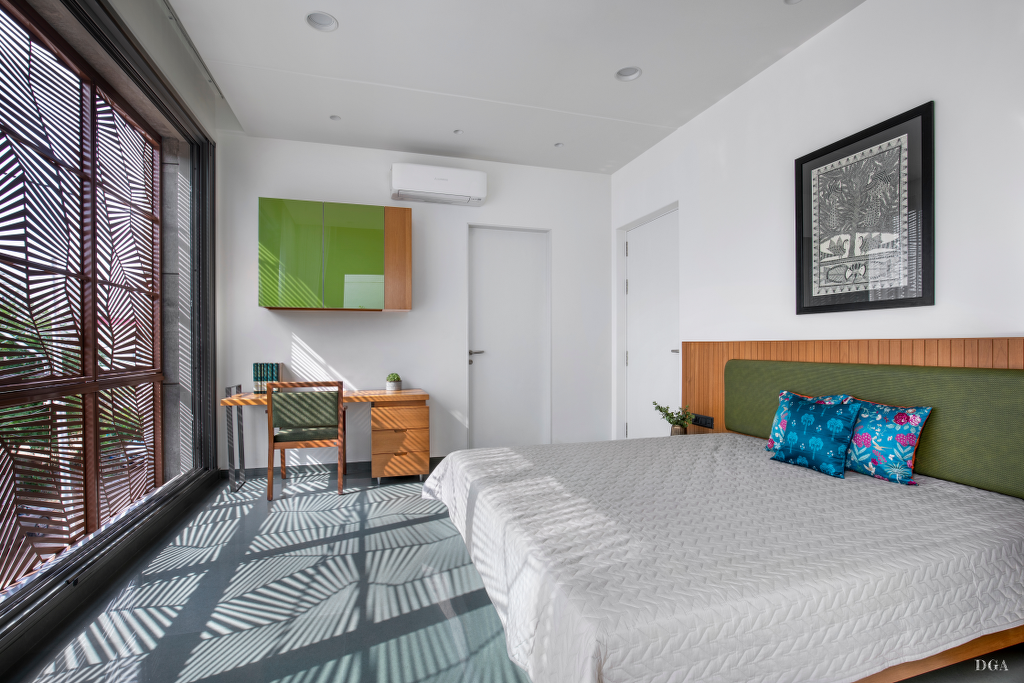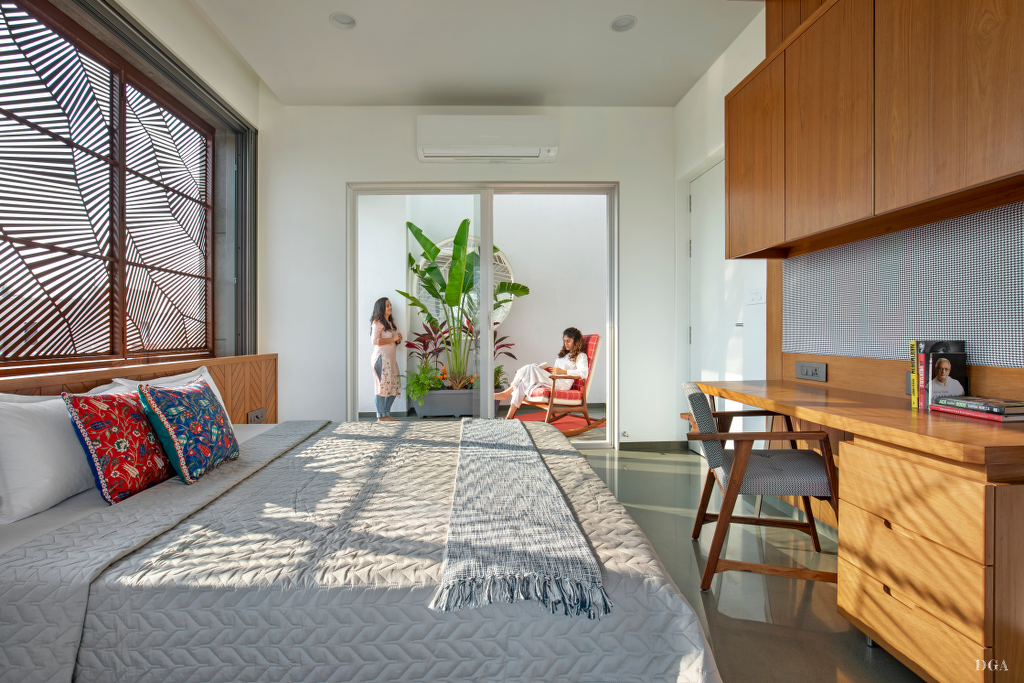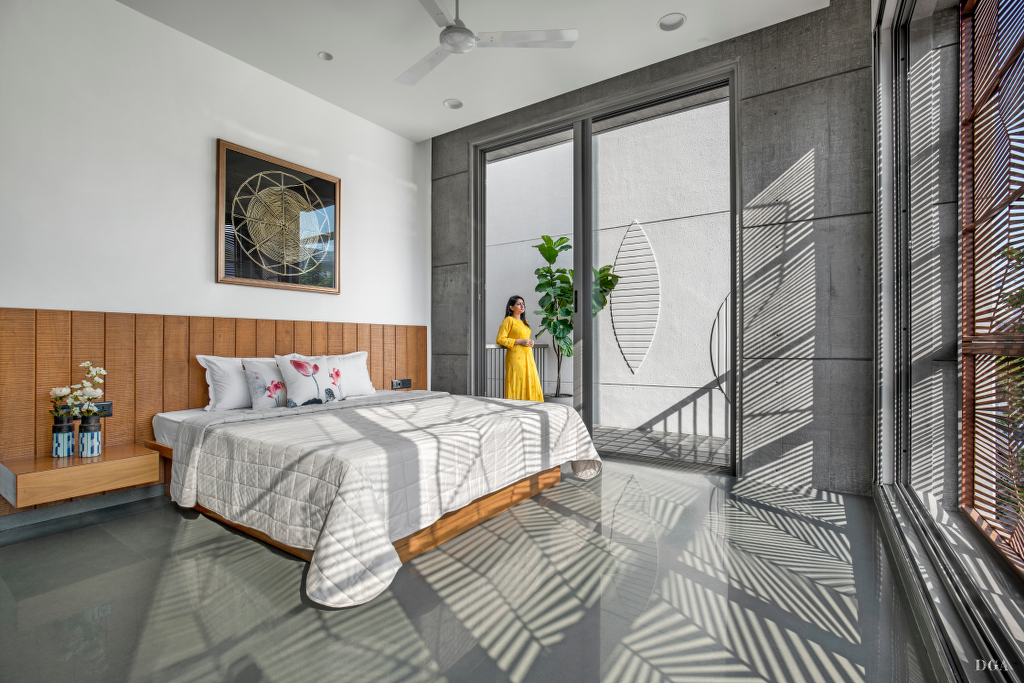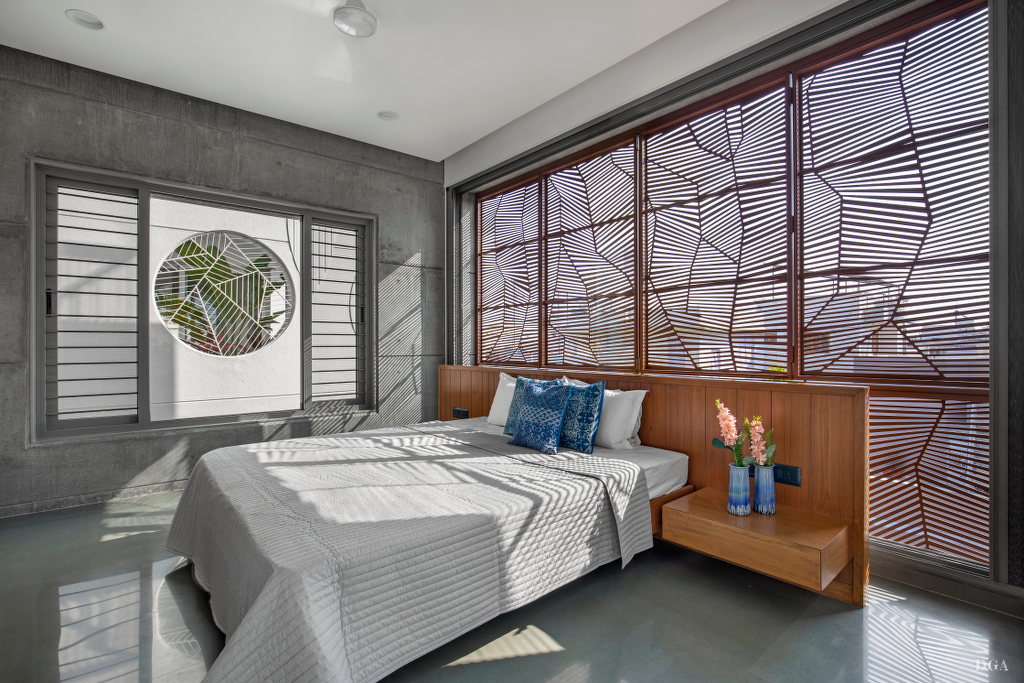 Second Floor
Second floor is having 1 bedroom at the back side and terrace in the front in 3 houses having 4 bedrooms each and 2 bedrooms in each side in another 3 houses having 5 bedrooms each.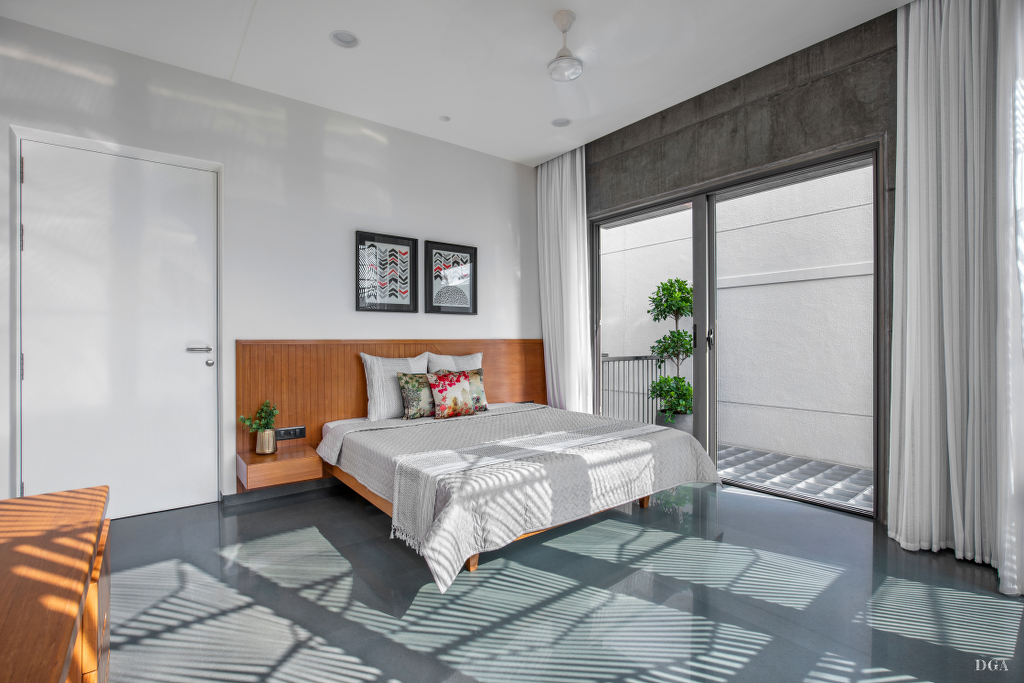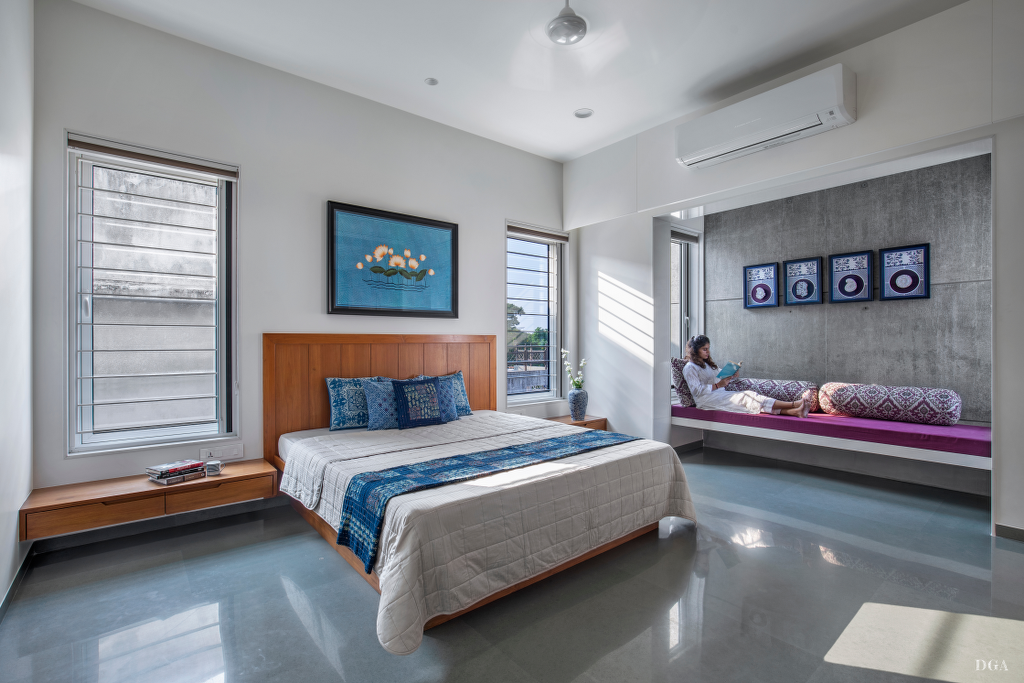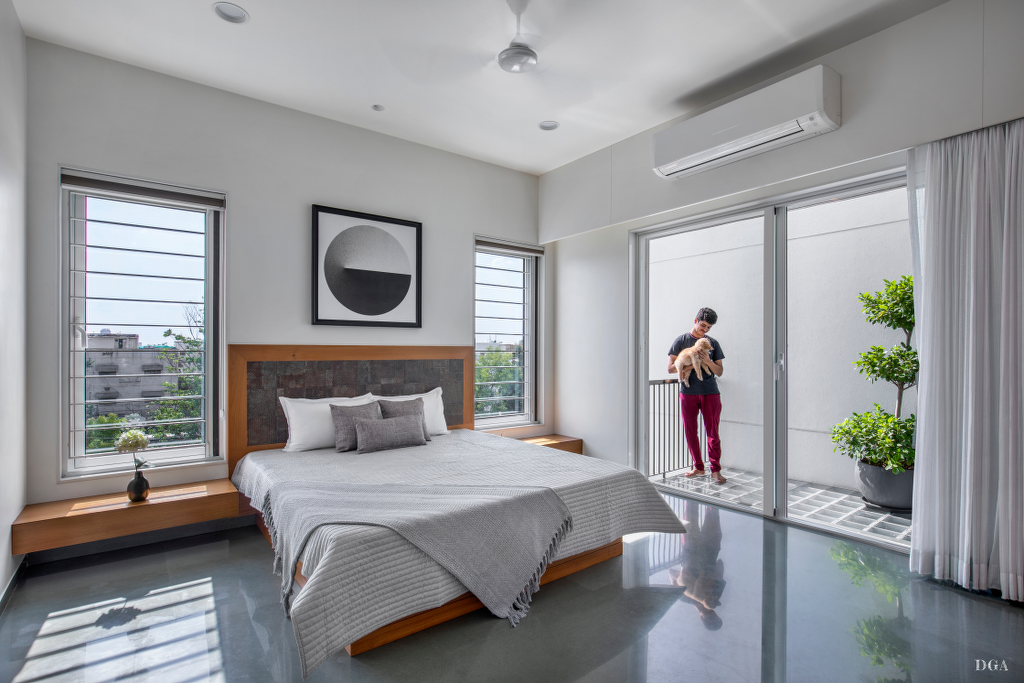 Basement
Basement is having home theatre on 1 side and junk room storage on other side with lounge in the middle. Each house having different art embedded in the casting concrete which gives a different character to each house. We have planned home theatre in basement with the partial stone cladding and partial fabric. We have played with bold colors to give a nice vibrant feel and elements of minimal living.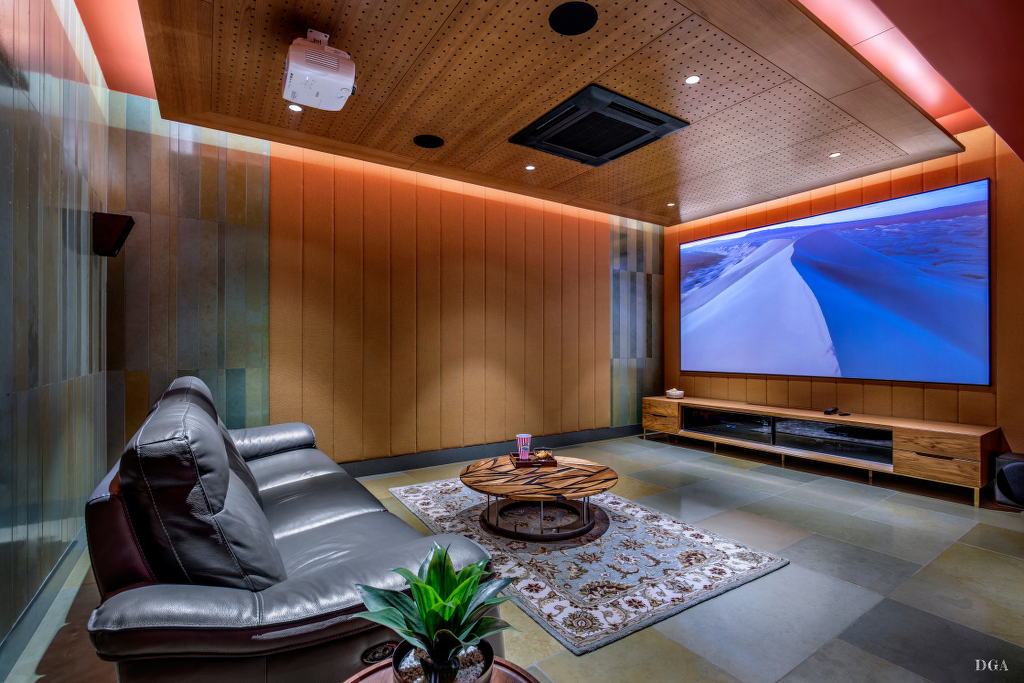 Bedrooms
All the other 3 or 4 bedrooms are designed in front and back, facing to E side in the front and W side in the back. All are compact but with sufficient storage, dressing and toilet space.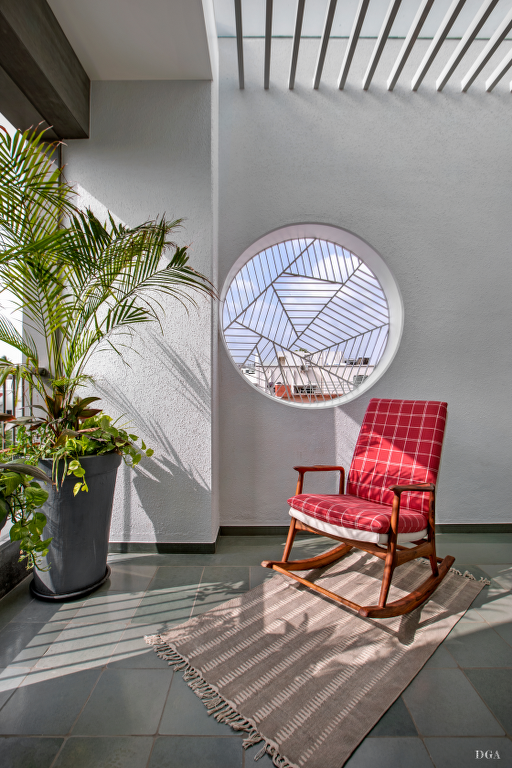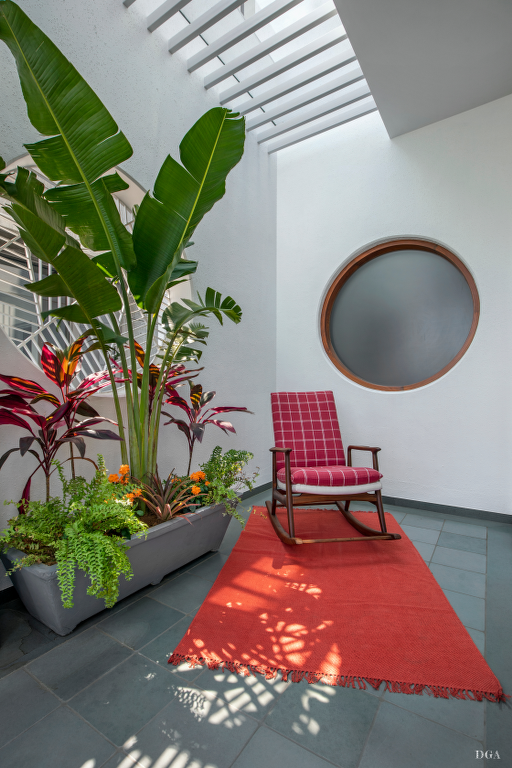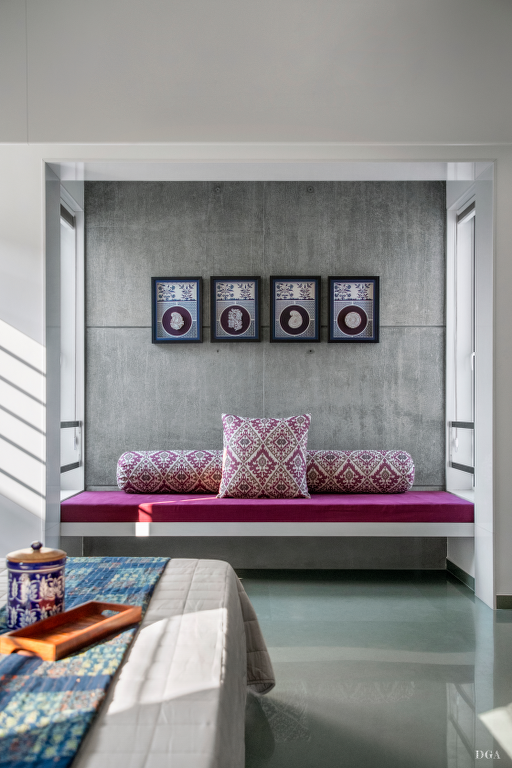 Each bedroom is having a glass balcony on the N wall side which allows them to move out under the sky without compromising on privacy.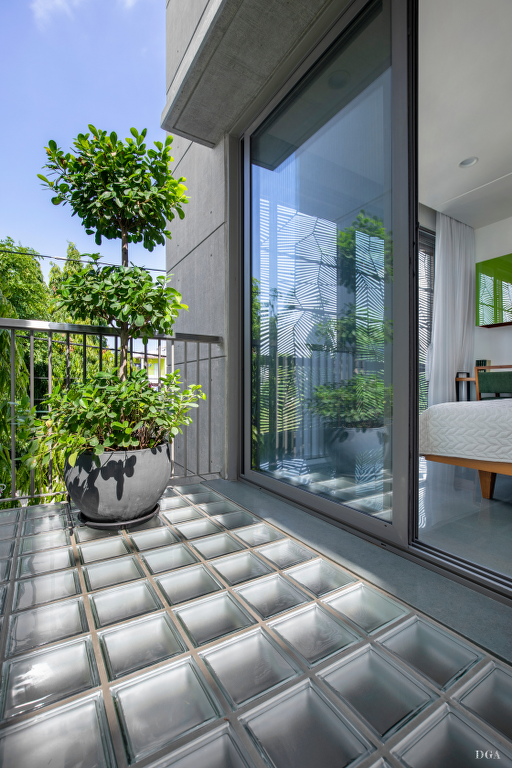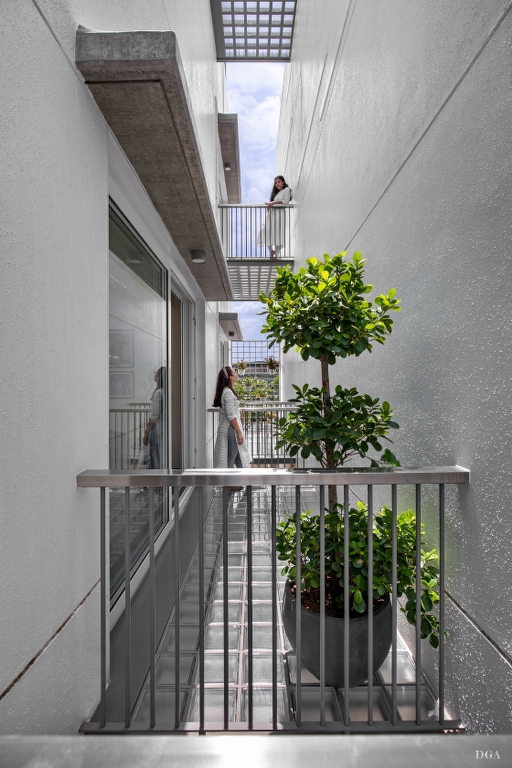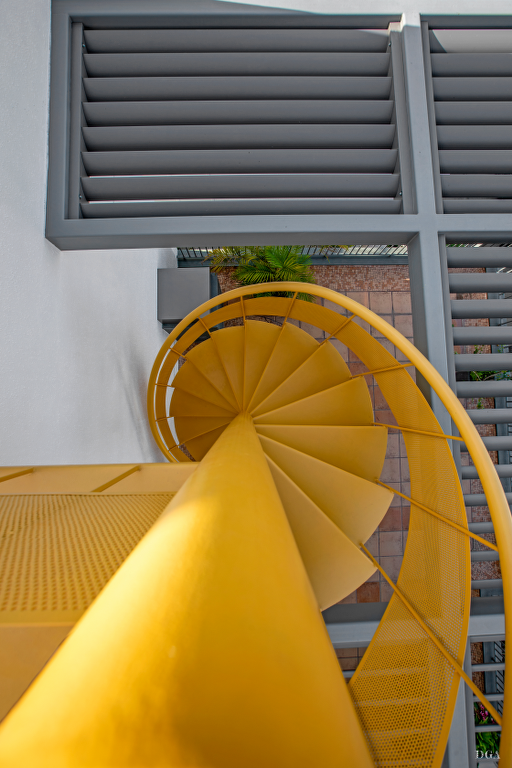 The bedrooms which are facing to E have one more unique character as an openable screen which allows them to have partial vision towards the road side at the same time giving them good privacy from the road vision. Thus, they can open up the screen as and when required to enhance the light and view. The sciography which comes out of the screen gives goose bumps when it falls from different angles.
The screen is designed with a lot of trial and error to achieve a look of crumbled paper which changes in each of the house to create a feature in the elevation. This gives a beautiful sciography in the morning hours which keeps changing with sun travelling from East to West. This gives an energy with a twist in each of front room. Also gives a good reflection in mirror finished kota stone adopted in entire house.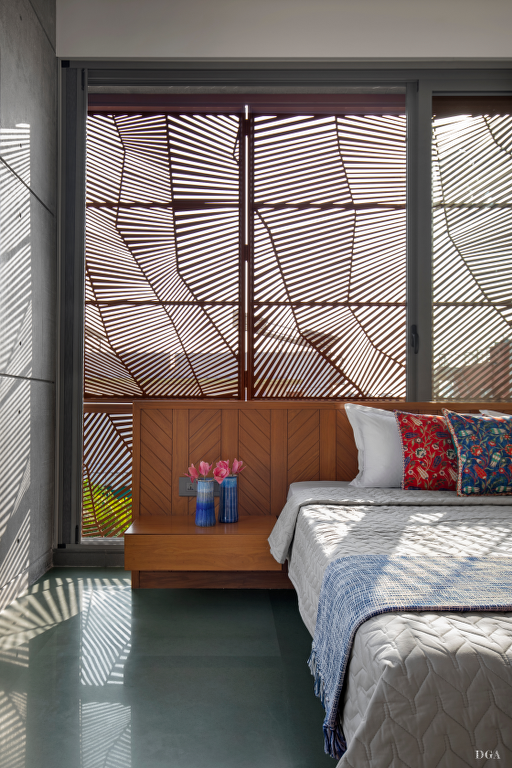 Conclusion
We have tried to give justice to all the houses and environment which gives a warmth of a soulful living by using all the materials as much subtle as possible. Planning is also so simple which gives ease to day to day living and maintenance.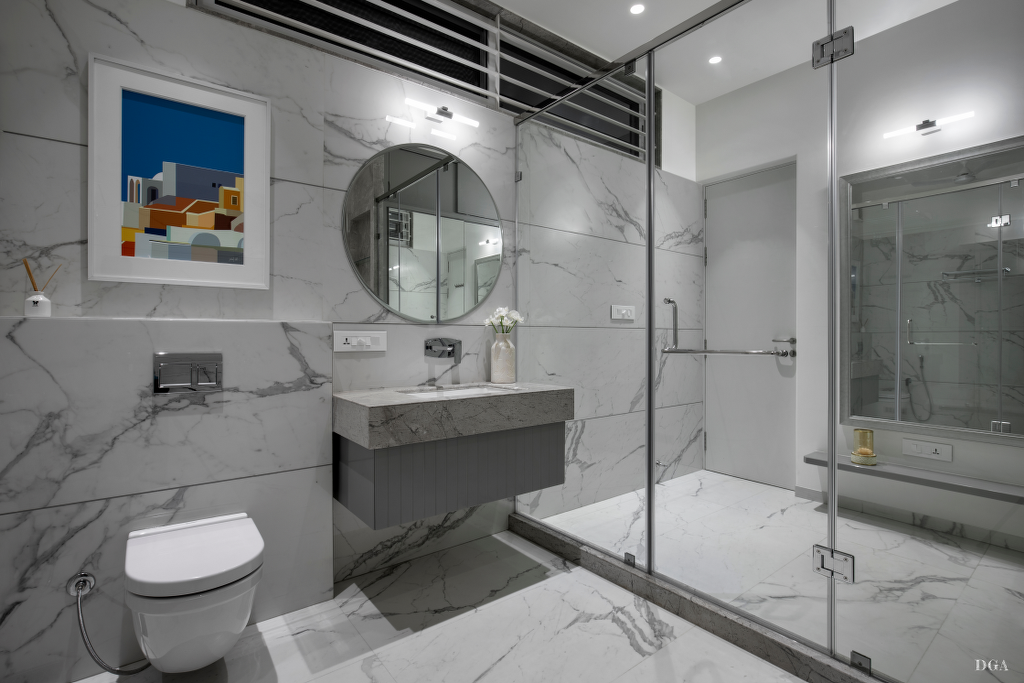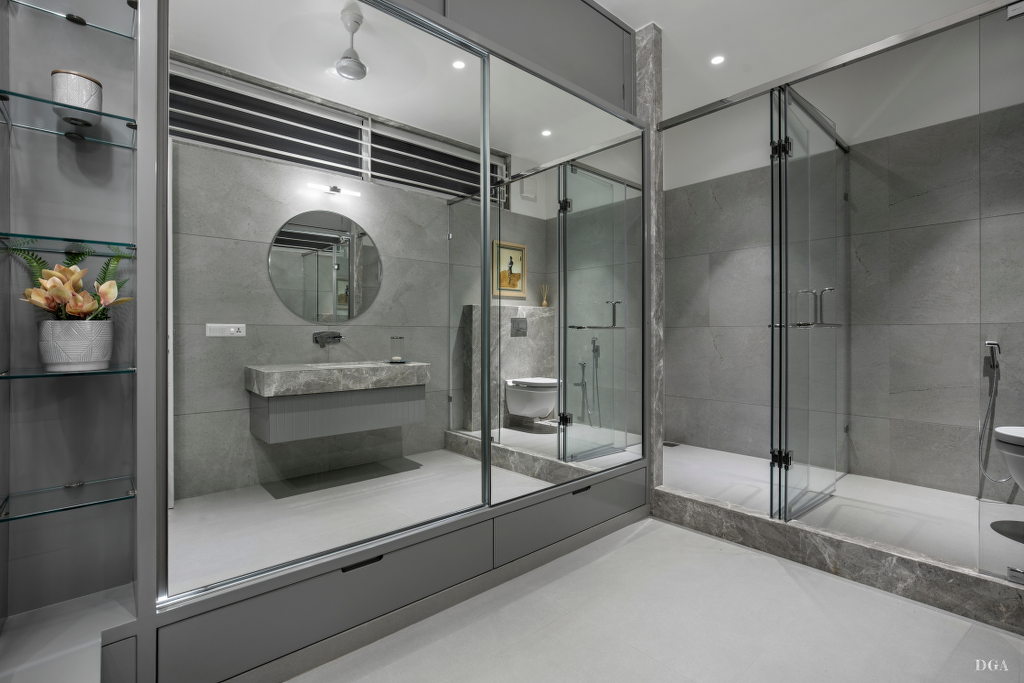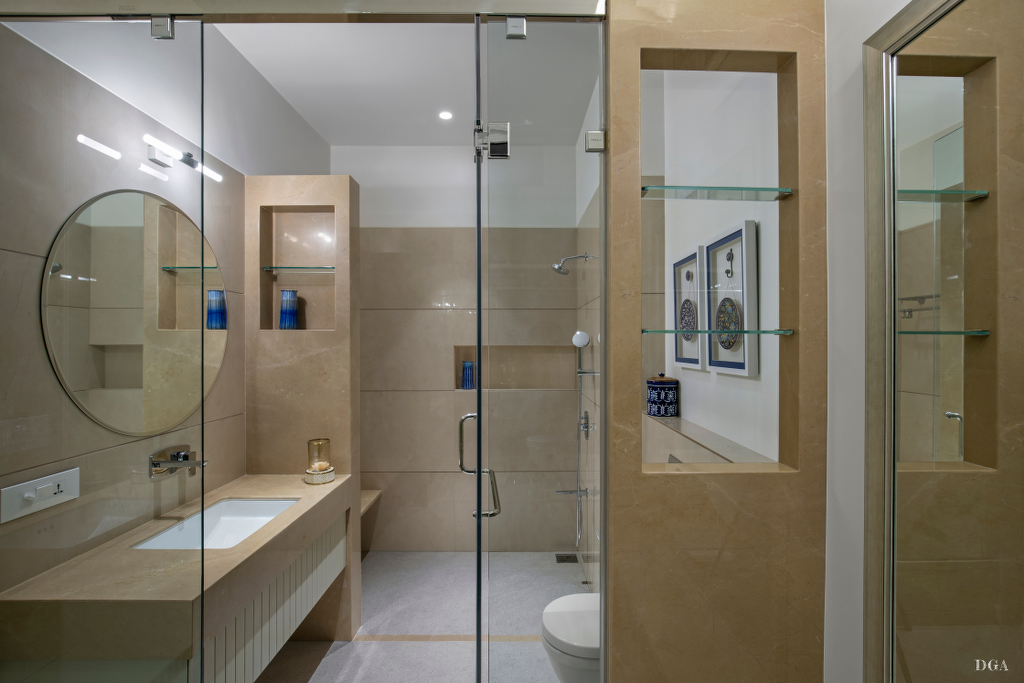 Ultimately it gives a very cozy feeling which is worth experiencing.
Fact File
Designed By: Dipen Gada & Associates
Typology: Residence Architecture and Design
Project Name: Sangam Bungalows
Location: Vadodara, Gujarat
Year Built: 2021
Duration: 4 Years
Plot Size: 1400 sq.ft.
Principal Architect: Dipen Gada
Design Team: Nidhi Patel, Shraddha Patel and Prakash Prajapati
Photography Credits: Tejas Shah Photography
Consultants for the Project
Civil: Bharat Mistry
Landscape Architects: Incredible Gardens
MEP and HVAC: Akshay, Anil Mistry
Products and Materials: Lighting: Hybec Pro | Sanitary ware: Jaquar | Windows: High Tec Aluminum | Furniture: Tectona Grandis, A Wooden Story, Urban Living | Flooring: Green Kota, multiple color kota | Kitchen: Dinesh Parmar | Paint: Asian Paints | Artifacts: Fab India, Studio Yamini, Westside
Firm's Website Link: Dipen Gada & Associates
Firm's Facebook Link: Dipen Gada & Associates
Firm's Instagram Link: Dipen Gada & Associates
For Similar Projects >> Weekend House Situated Within Dense 50 Year Old Chiku Plantation