The most intriguing 3D sandbox video game, Minecraft was launched back in 2011. It introduces us to the virtual world of blocks. Here, players can build and design spaces, assemble resources, craft items, traverse caves, and do many exciting activities. Everyone looks forward to the part of building and designing the interiors. Whether it's our real-life personal home interior or a dreamy Minecraft interior.
Minecraft interior design ideas can now be excelled with its recent update of decorative pieces. They include interior plants, painting frames, pots, books, and various home decors.
Here are a few exciting ideas to get inspired from. Of course, you have to use your own imagination to set up a Minecraft residence, but we are just here to inspire you. Today we bring you Minecraft interior design ideas as inspiration.
5 Different Minecraft interior ideas for you:
The First room/ Living room ideas :
Minecraft interior design living rooms can be designed trendy and eye-pleasing. One can play the aesthetics, simplicity, or a modern touch depending on the gamer's choice.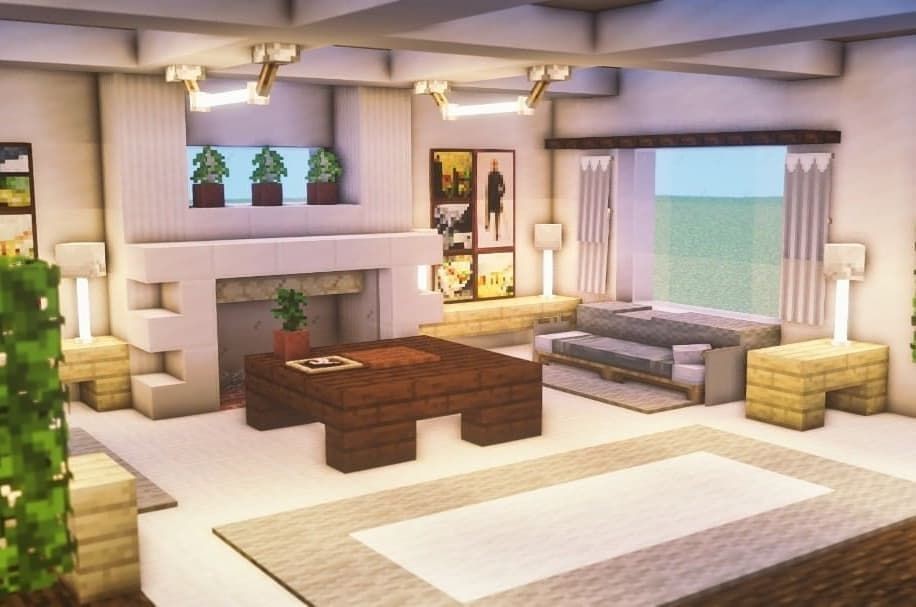 Image sourced from – Pinterest
For adding a personal vibe to the living environment, the gamer can build huge cozy couches with a central teapoy. Walls can be decorated with creative paintings, frames. The windows can be designed big by putting up long curtains. For a fresh look, one can add house plants as room décor. If you are planning to with some modern vibe, you can build wooden stairs or fences leading to the rooms upstairs. Adding a chandelier or ceiling/corner lights for a brighter feel in Minecraft interior design living room.
The Second room/ Bedroom ideas:
A casual Master bedroom:
The Bedroom is a safe haven for everyone. Along with a bed, you can decorate it with some carpet (contrast or monotones). Try matching it with the furniture or wall colors to make it look more cohesive. Perhaps, including small/huge bookshelves might be good for the overall aesthetic. You can even have a whole wall covered with bookshelves from top to bottom.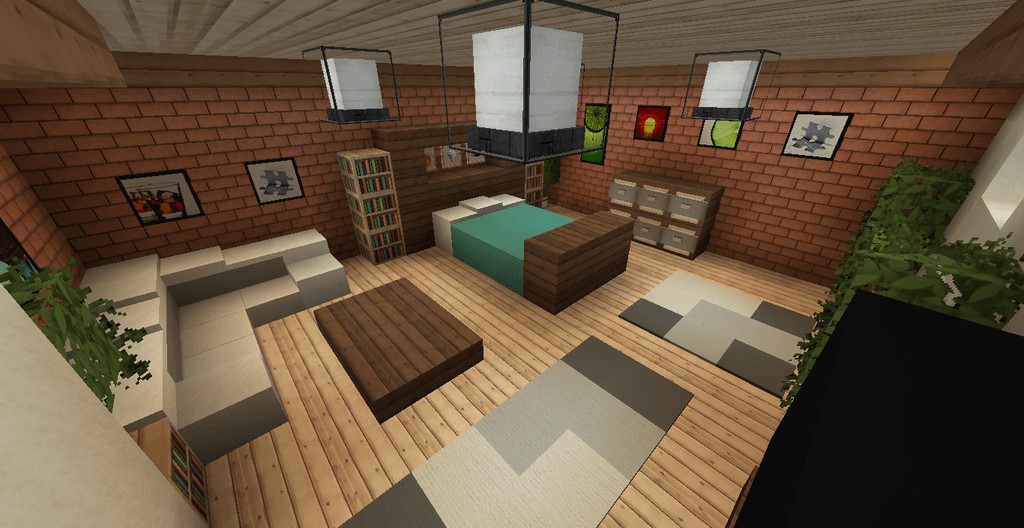 Image sourced from – Interior Craze
For a more cozy look, incorporate different potted plants and a small painting frame. A study table or a small couch with a lamp or light above it will add up to the aesthetics.
Kids bedroom: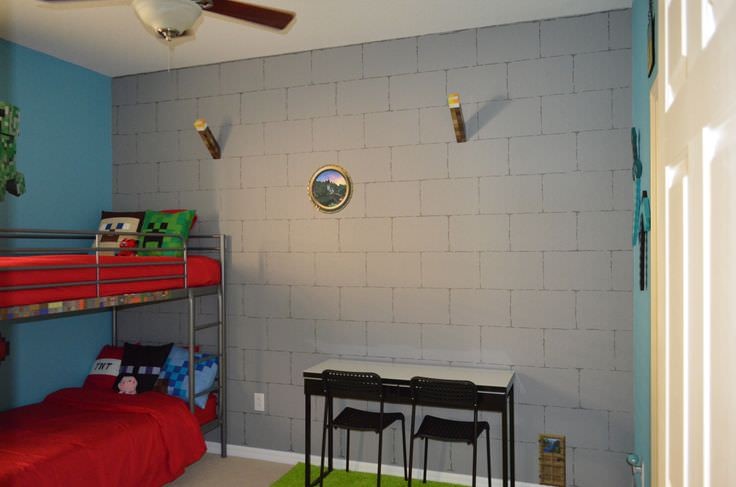 image sourced from – Kids Furniture
You can create a room for kids and design it by adding beds, bunk beds, and contrasting carpets. Create a fresh space by adding a window and house plants around. A study area along with a bookshelf around it will complete the floor plan.
3. The Prime Kitchen room ideas: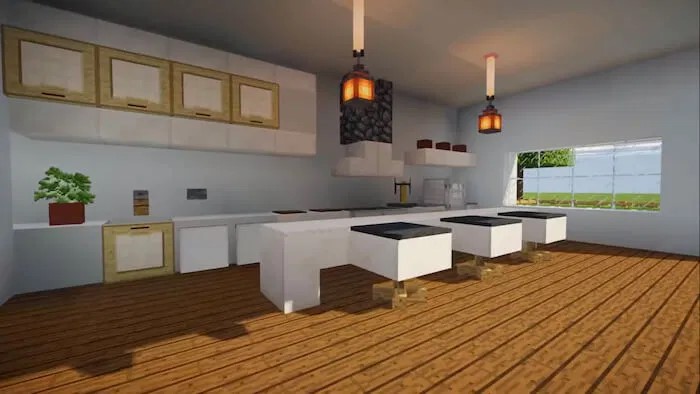 image sourced from – Startup Opinions
Minecraft kitchen interior can be designed to be trendy and spacious depending on the gamer's choice. Select a considerable space and start playing with fancy color combinations or monotones. You can design the kitchen platform and cabinets giving it a modular look. Add up the stove, serving platform, shelves, fridge to complete the traditional kitchen look.
4. Dining room interior ideas:
image sourced from – Pinterest
Attached to the kitchen you can have an attractive interior design Minecraft dining room. Select and add the size of the round table, cabinets, and drawers to the table. You can add a medium-sized chandelier as a source of extended light which will also make the place look brighter and pleasing.
Guest room: The guest room can be made using these interior design Minecraft elements –
A bed
A wardrobe,
Table with a chair,
A small couch in the corner beside the window, etc.
5. Bath-Space ideas: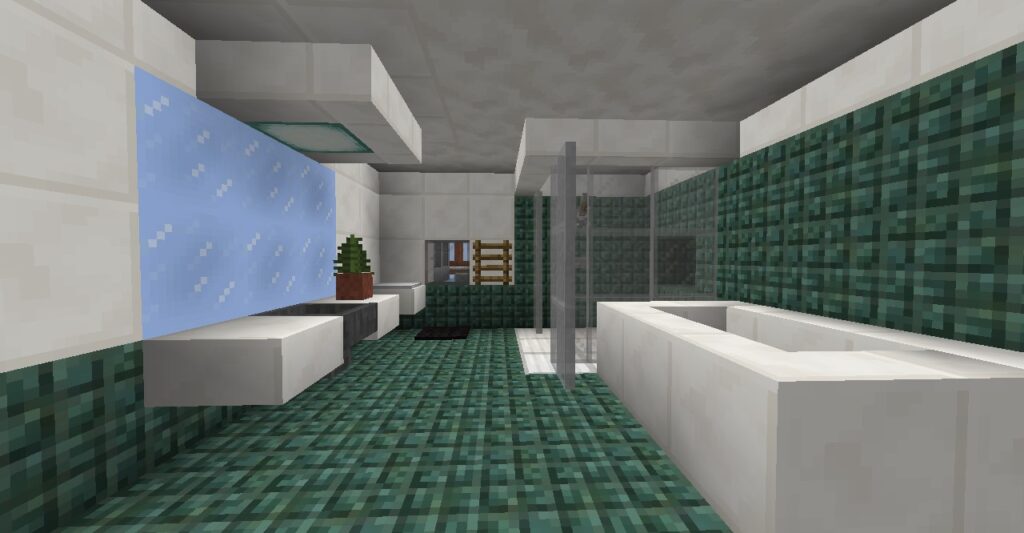 Image sourced from – Reddit
The bathroom is the most basic space needed to complete the residence. A soothing light play creates an illusion of spaciousness. Set up a shower area or maybe you can add a bathtub. Adding up a dressing room in the corner will make it look fancy.
A pro tip: Adding glass panels instead of glass blocks will help in giving the house more realistic depth and make it look less plain.
Final Note:
We hope these quick Minecraft interior design ideas might have helped the creative juices of yours to overflow by now. In this super fun process of interior designing, let the block place resemble you by adding your personal touch to the entire setup. Keep collecting points and using amazing resources, experimenting with new designs, and exploring new hacks. Check out ideas various interior design ideas like this at The Arch Digest