Apartment 304 is a 4bhk apartment that is more than a shelter articulating design as contemporary living with mid-century designed elements. It is a home to five family members, creating an elegant space that values the mindset of three different generations.
Mid-Century Designed Apartment that Infuses Warmth and Tranquility | Designer's Circle
Visit: Designer's Circle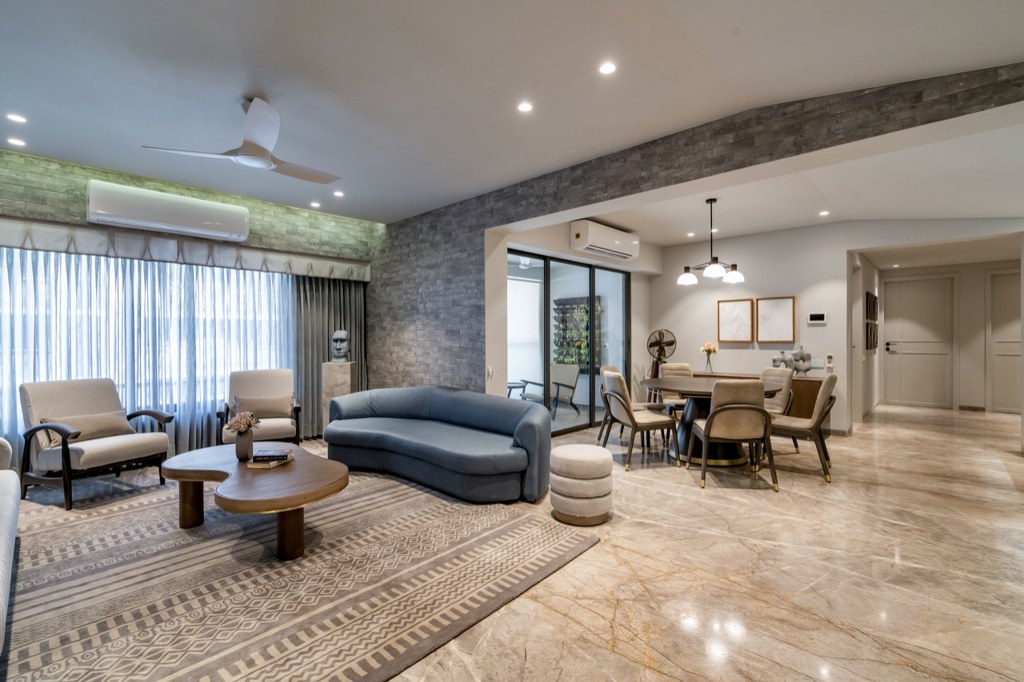 The floor layout is well planned to exuberate spaces that establish a great sense of interactivity while balancing out to provide members with privacy. Passage from entrance to rooms connects all open areas such as the living, dinning and kitchen areas, organized to flow into each other.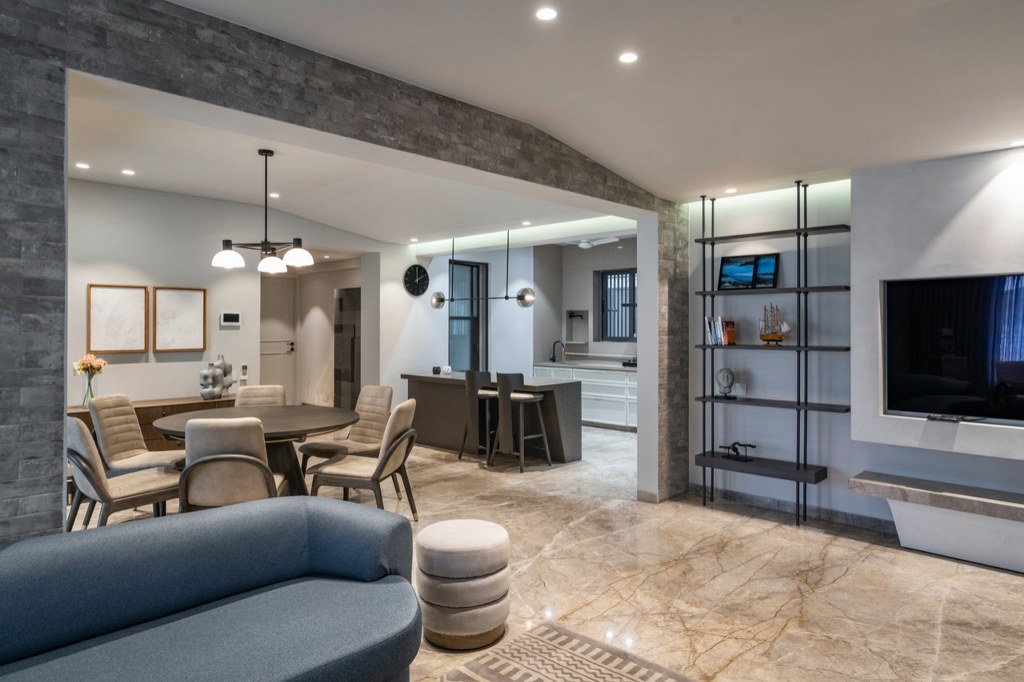 Dining, a semi private central space of the house connects kitchen and balcony to other end from where wide windows let abundant light and invigorating fresh air in, while overlooking the city skyline. The bedrooms are kept minimal to its function as per the client's needs. The artworks hung on the wall enrich the overall space along with furniture pieces of the bedroom are designed with subtle detail.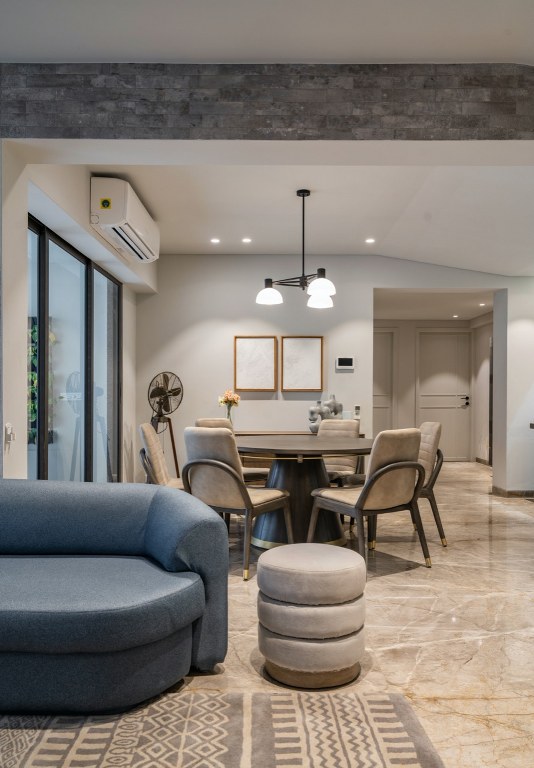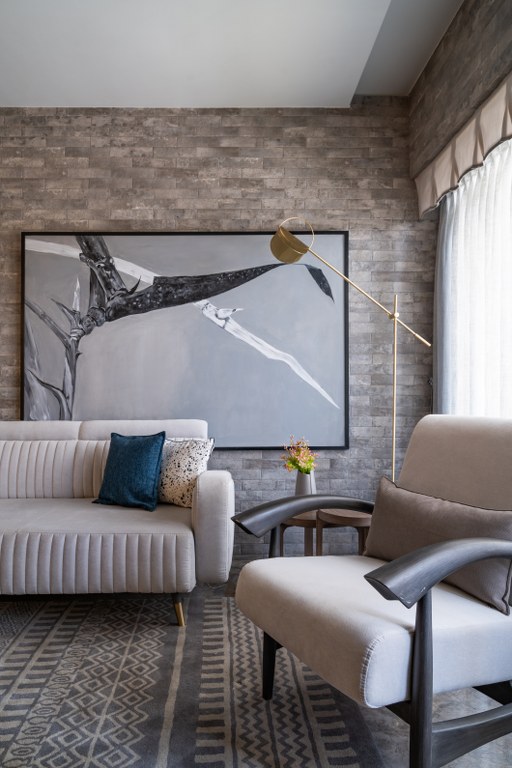 The visual narrative keeps the flooring and ceiling of the same material throughout the apartment while revamping other design elements. The interior largely reflects use of wooden polish, neutral palette and an amalgamation of sepia tones, granting earthy sense to this apartment. Furthermore, setting an aesthetic tone that provides an atmosphere of comfort. The natural stone cladded wall in the living room displays a sense of textured walls that differentiates it as this
gathering space from the rest of the home.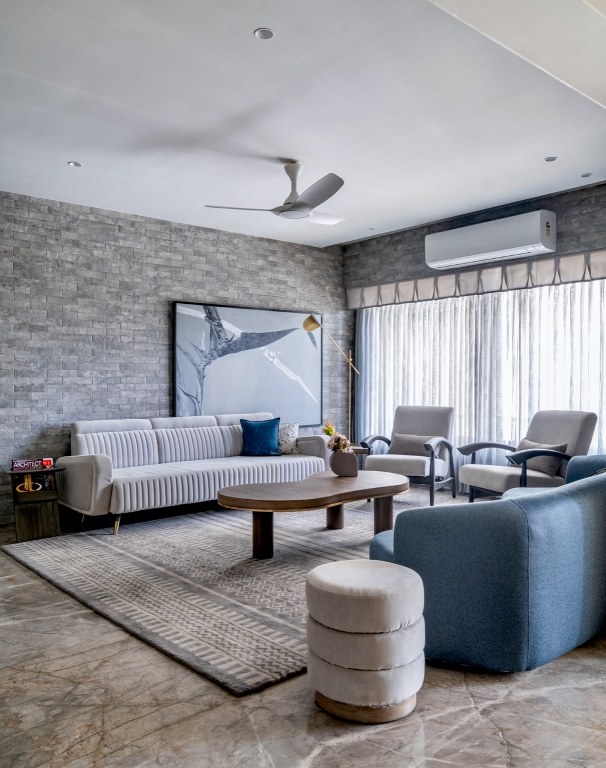 This mid-century contemporary home has a color palette with dominating colors of beige and brown. To break the monotonous look, complementing and contrasting colors are added to other elements such as the upholstery and the artwork.
Decorative lights are statement pieces of décor by themselves, warm white lights are chosen to compliments sepia tones of the home. They are marvels of drop dead showiness featured in black and bronze finish.
This home is designed keeping in mind the clients' sensibilities to create a space that radiates warmth. The use of earthy and warm tones throughout, ground the space and a play with contrasting materials like marble and brick brings it to life. The addition of artwork and customized lights creates the perfect mood for each space in the home.
Fact File
Designed by: Designer's Circle
Project Type: Residence Interior Design
Project Name: Apartment 304
Location: Ahmedabad, Gujarat
Project Architect: Rajesh Sheth
Project Size: 1,900 sq. ft
Year Built: 2021
Photography Courtesy: Inclined Studio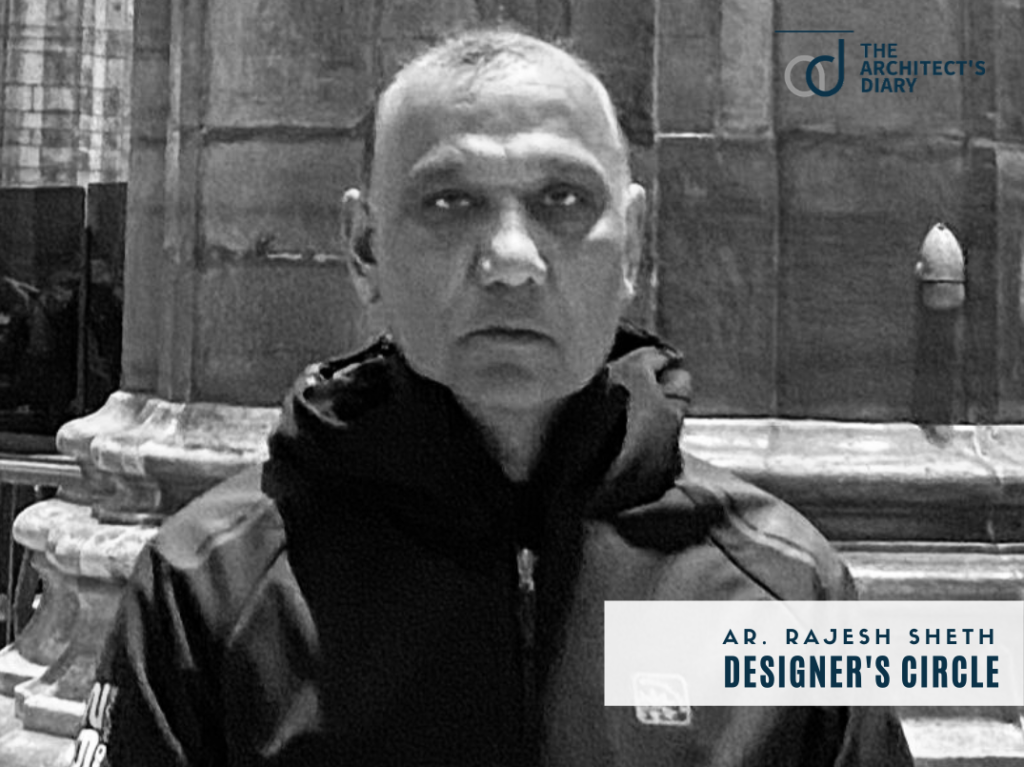 Firm's Website Link: Designer's Circle
Firm's Instagram Link: Designer's Circle
Firm's Facebook Link: Designer's Circle