Form Design Studio designed a architectural bungalow in Indore which marries traditional family values of togetherness with its architectural shell.
Mashrabiya – Marrying Traditional family values of Togetherness with Architectural Framework | FORM Design Studio
Visit: FORM Design Studio
Houses that are homes, filled with a sense of freedom, of movement and light, a sense of belonging and comfort, those than bring joy to its residents; one such home is designed by Form Design Studio for a family of five, located in a dense urban context, this 5BHK home makes for a spacious, sunbathed habitat despite its modest 1500 SQFT plot area. The family's vision was to have a spacious and intimate home where connections between people could be nurtured.
An open tiple height volume located in the central core forms a courtyard dining space that flows intuitively into adjoining living and kitchen spaces. Large windows and skylight in the central courtyard fill the space with ample daylight, making it a pleasant experience across all floors.
The home looks across a large society garden and is planned well to bring in the outdoor views. The terracotta jaili gives the home its identity, paired well with generous balconies and planter pockets on its façade. This continues inside as well, across three floors and five bedrooms.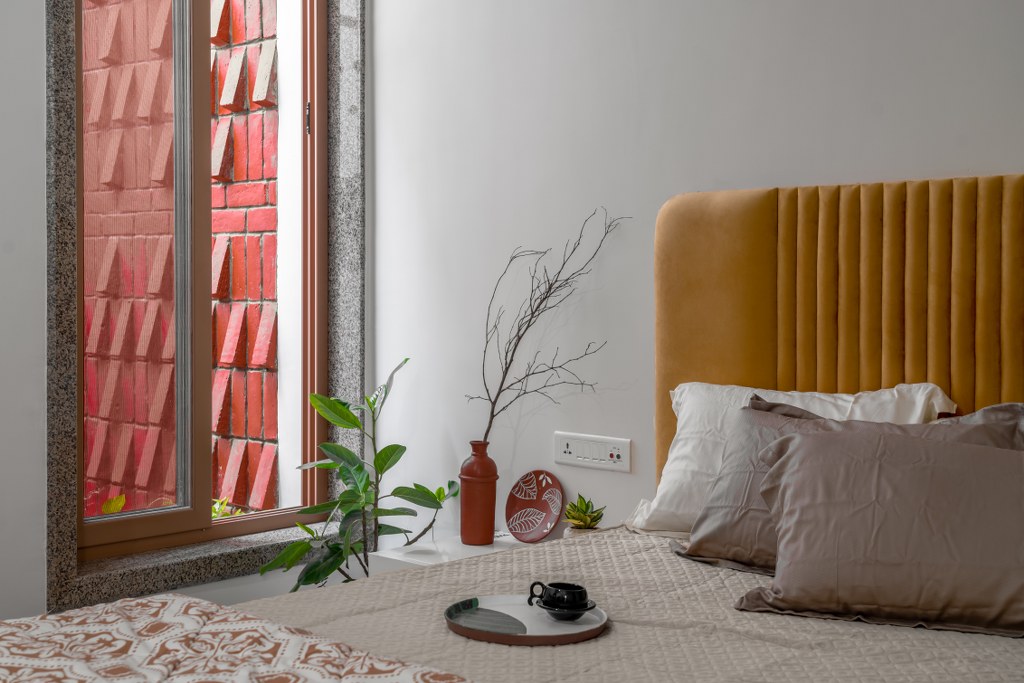 The bedrooms carry a simplistic theme in the same white shell and a warm toned flooring dotted with traditional motifs. Carefully planned openings bring in views from terrace balconies and triple height courtyard to establish visual connection between spaces. In the main bedroom, the façade jaili forms beautiful intricate shadow patterns while also blocking glare and allowing a beautiful view of the garden across the lane.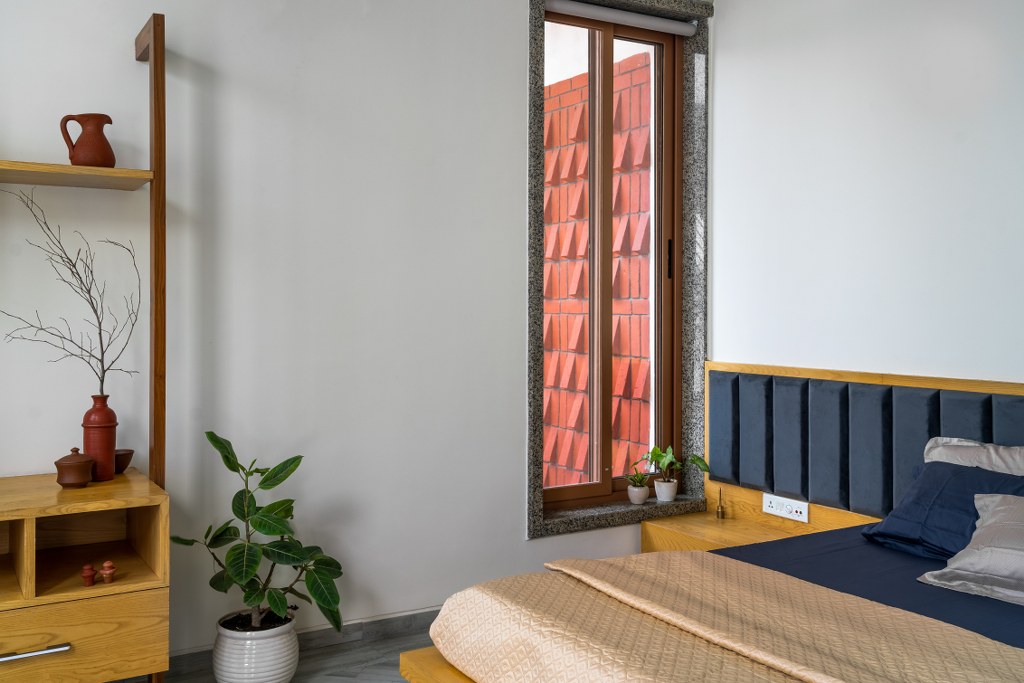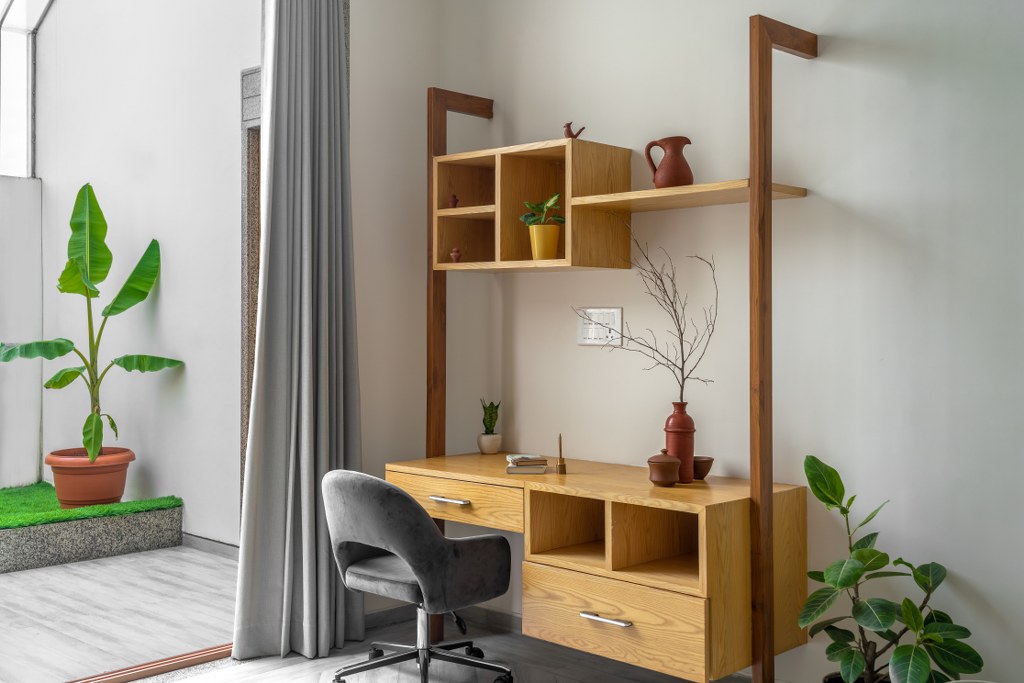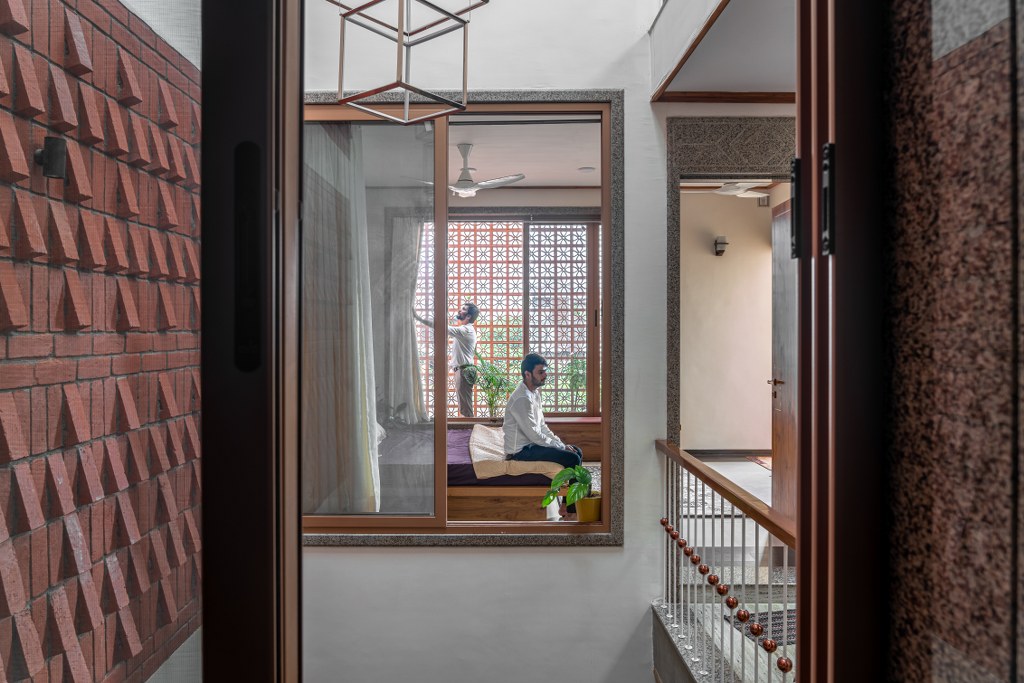 The angled brick clad walls create dramatic shadow play on either sides which is especially pleasing when viewed from a mid-landing of the very nonchalant floating metal staircase. The white painted underside of the staircase almost merges it with rest of the shell while accentuating the volume of the core.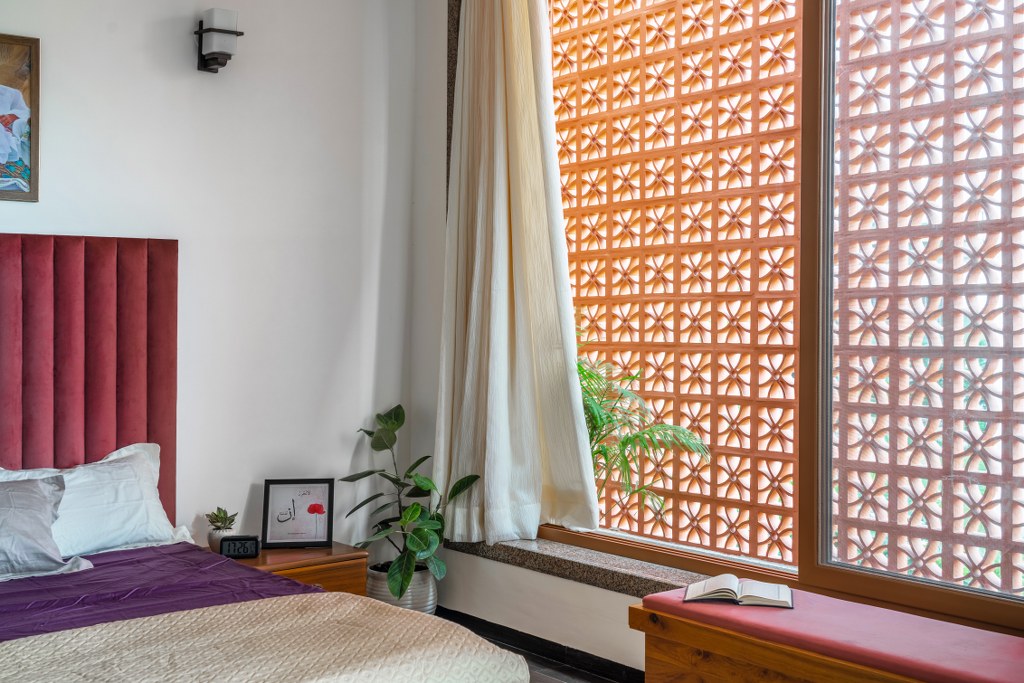 The walls in common spaces are adorned with custom made terracotta lamps and artworks to further denote the authenticity in use of materials in the spaces.
Fact File
Designed by: FORM Design Studio
Project Size: 1500 Sq.ft
Location: Indore, Madhya Pradesh
Year Built: 2022
Team Design Credits: Nikhil Marmat, Mustafa Topiwala, Murtaza Topiwala
Photograph Courtesy: Avesh Gaur
Firm's Instagram Link: FORM Design Studio
For Similar Project>>A Purist Take on the Arched Colonnades Formed the Architectural Framework for this Law Firm Office