Kalgi, a salon where the feeling of luxury is elevated on its own but the space is yet approachable. This 1000 sq.ft. space was to be divided between Reception, waiting area, salon area (for minimum 5 people), hair wash area, pedicure-manicure area, bridal area, facial/spa area, pantry & bathroom and still all sections blend in one without contesting the space. Biggest challenge was to create a flexible space for academy classes which are held for at least quarter of the year.
Kalgi, A Salon Where The Feeling Of Luxury Is Elevated | AMOGH DESIGNS
visit : AMOGH DESIGNS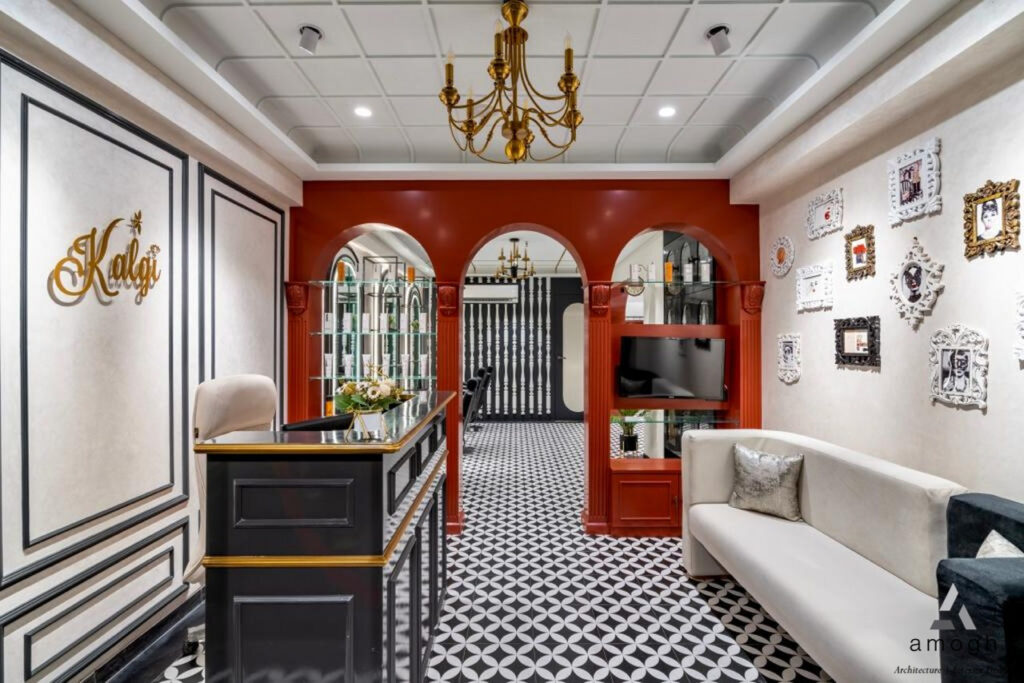 Client was moving to this space after running this business from an apartment for more than two decades so it was time to make their dream come true and create a striking brand which is unique in this industry.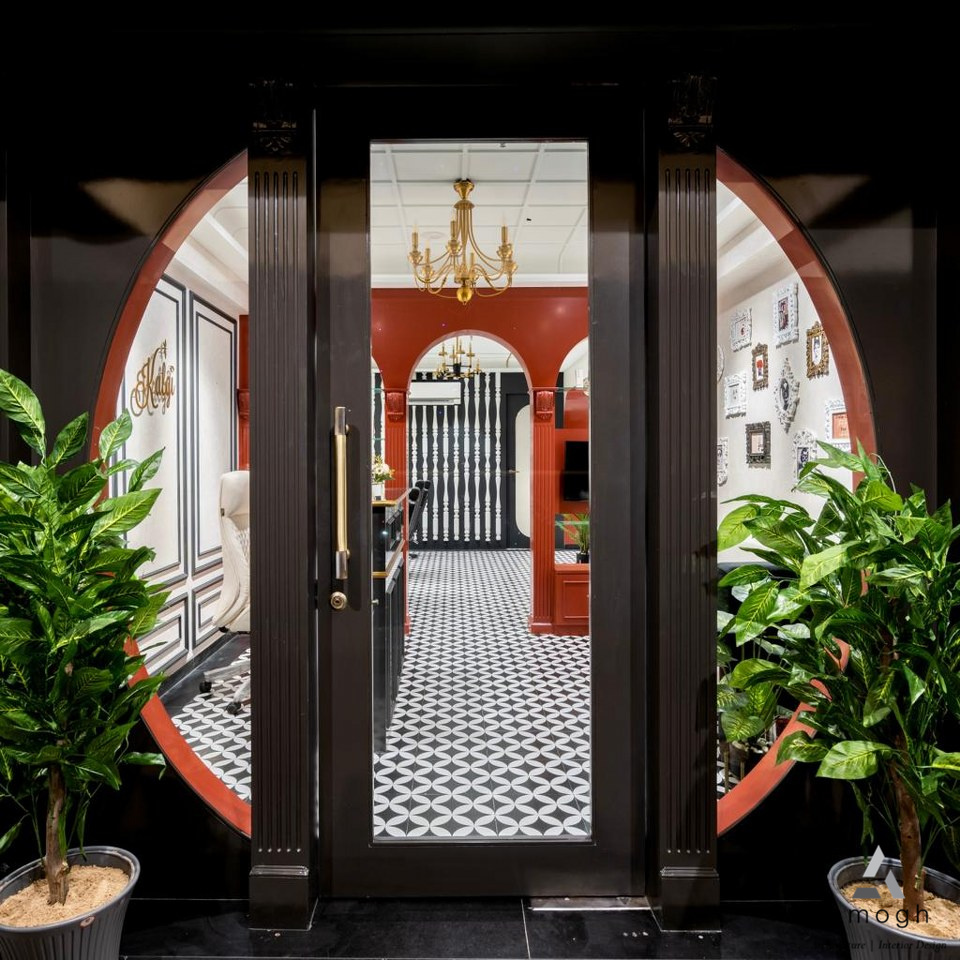 At Amogh we love doing modern interiors with a touch of fusion and thus a modern Victorian theme emerged where carvings balanced by sleek defined furniture. The striking contrast of monochrome floor against bold red ceiling cannot be missed.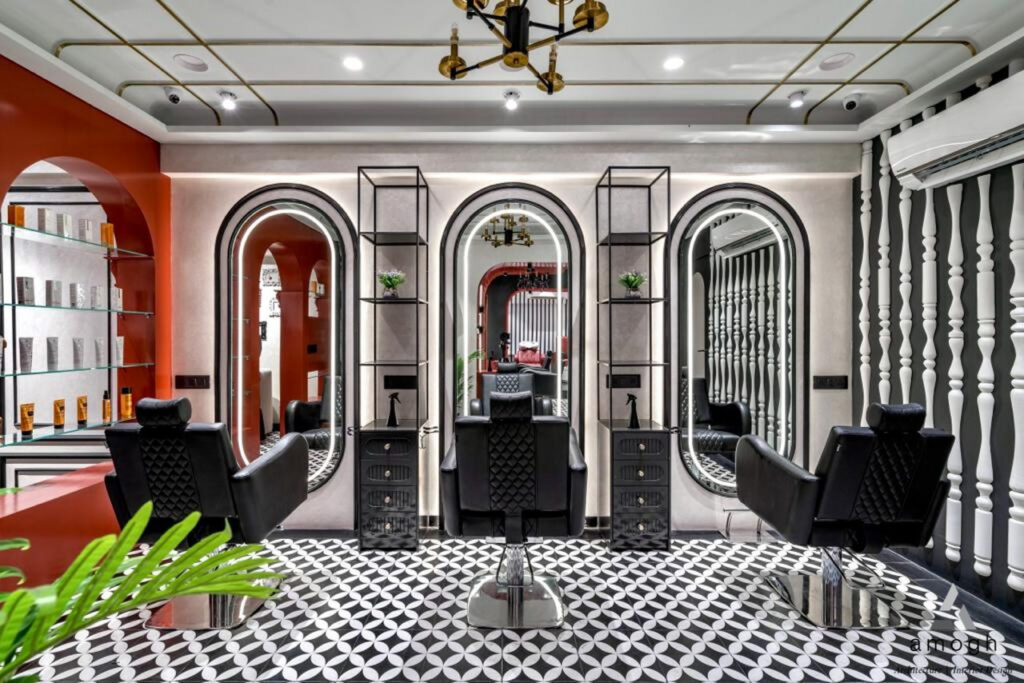 Evident red is balanced by natural white and gold tints are added to beautify the monochromic scheme. Space is grand and formal but edgy and comfortable. Arches and columns are added throughout adding volume and dignity to the space centre. The central VIP salon space is surprisingly bold and speaks for itself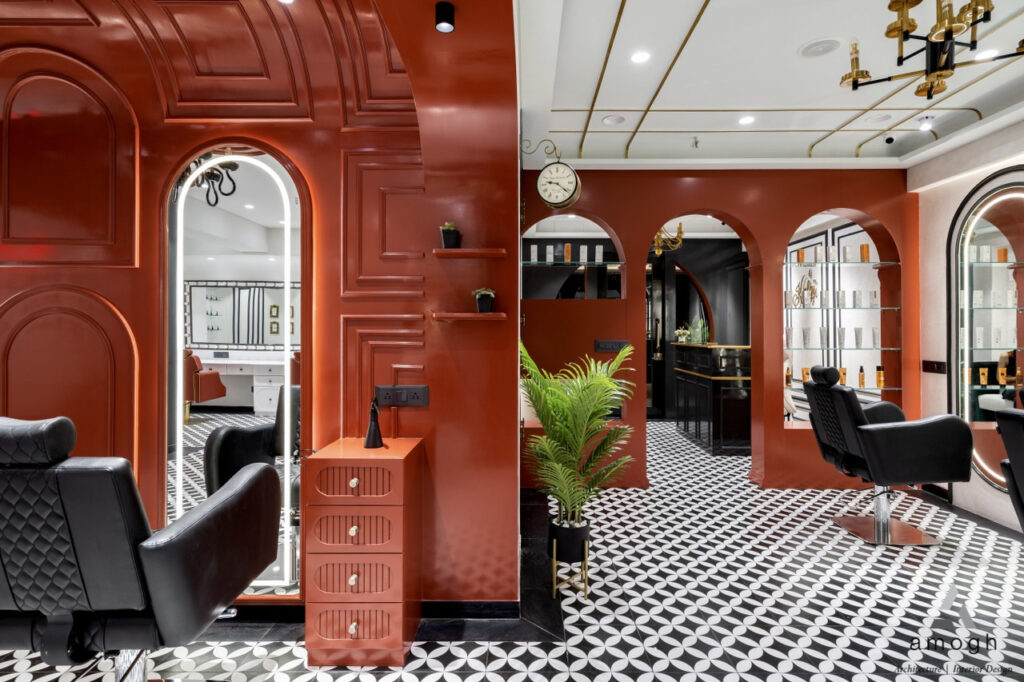 One of the biggest difficulties was to balance the colour pallet and not letting one colour overwhelm other while of course convincing the client to take a risk with this colour scheme and help them visualize the outcome.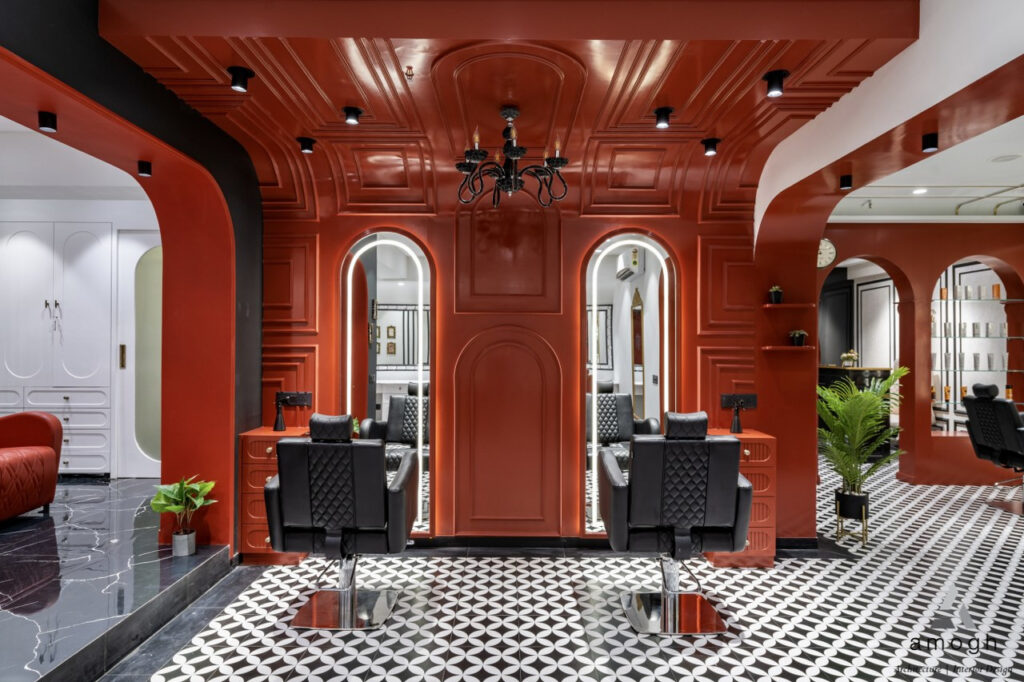 The interior of the salon was themed Modern – Victorian with bold colour palette RED – BLACK – WHITE. The salon spread was compact considering its requirements. It was, thus, a task to fit in client's requirements while still conferring it a luxurious look rather than any compact typical salon.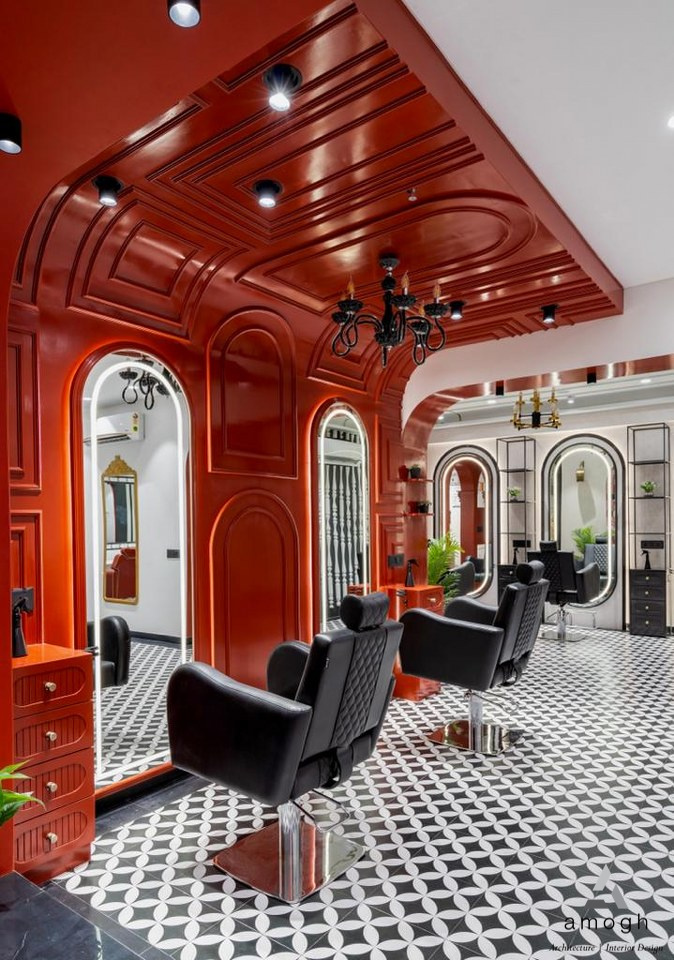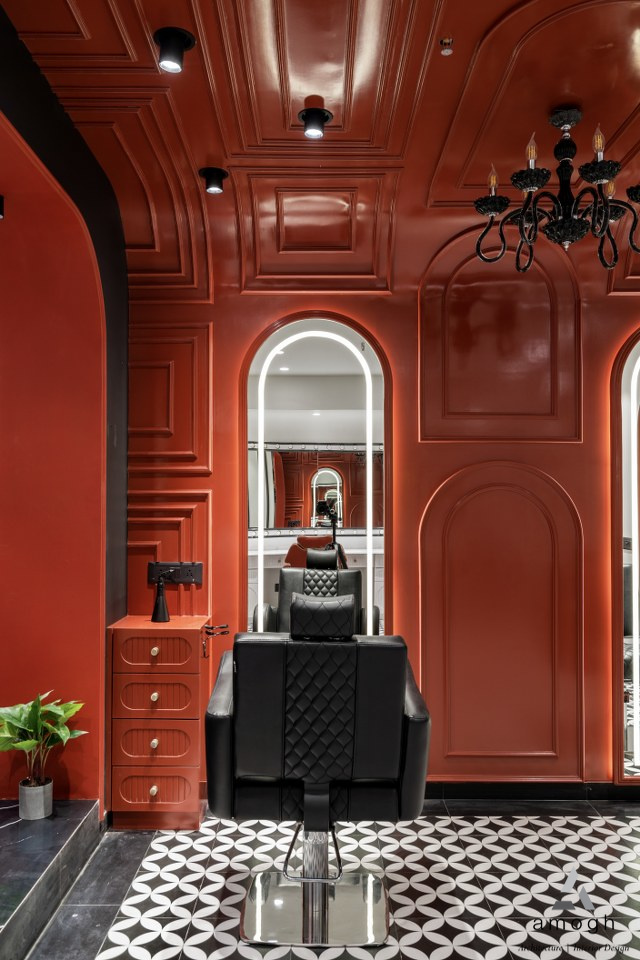 But at the end client's satisfaction is achieved and they are we are grateful to them to allow us to make their dream come true. As said all that works well ends well stands true in this case. The salon holds its legacy for more than two decades, which demanded a sublime transformation as per today's generation.
We wanted to create an ambience which upholds their values and gives a new language to the salon which speaks for itself.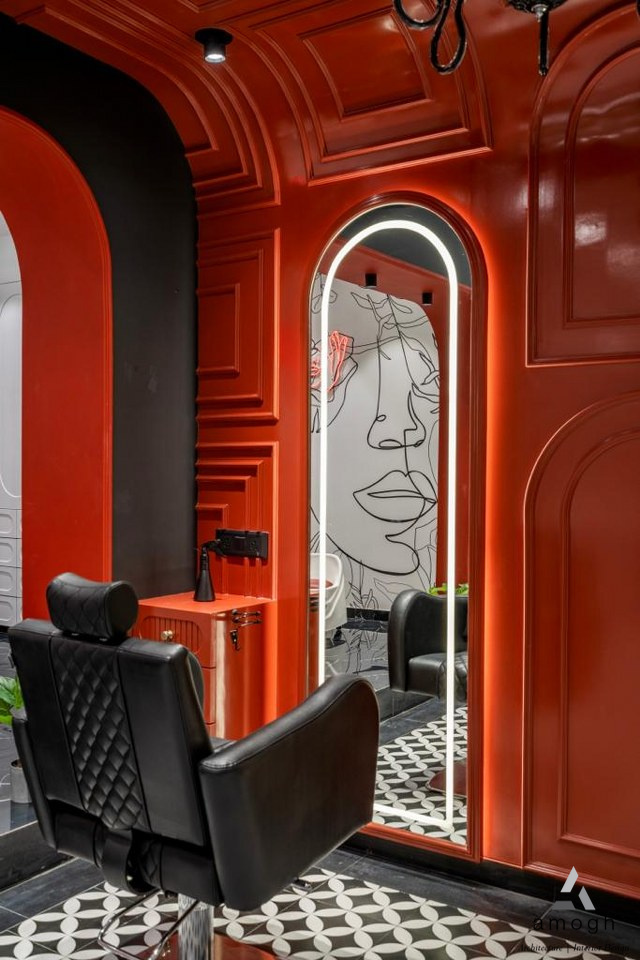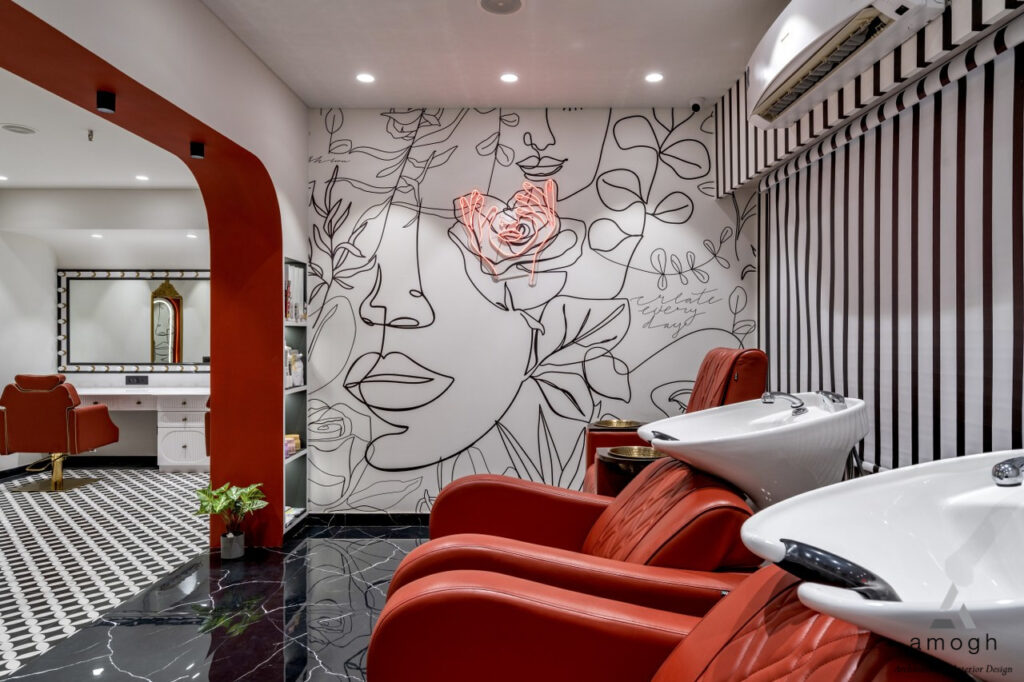 The planning of the salon was an open plan layout to make it look more spacious and flexible as the client conducted annual academic sessions with umpteen students joining in. But, creating elements in an open plan that did not dominate the modern Victorian theme and the colour palette was difficult because each space was to hold its own design language while balancing with the others.
It was a roller-coaster working on this project, but, at the end, the outcome of the project was worth every bit and was appreciated by everyone.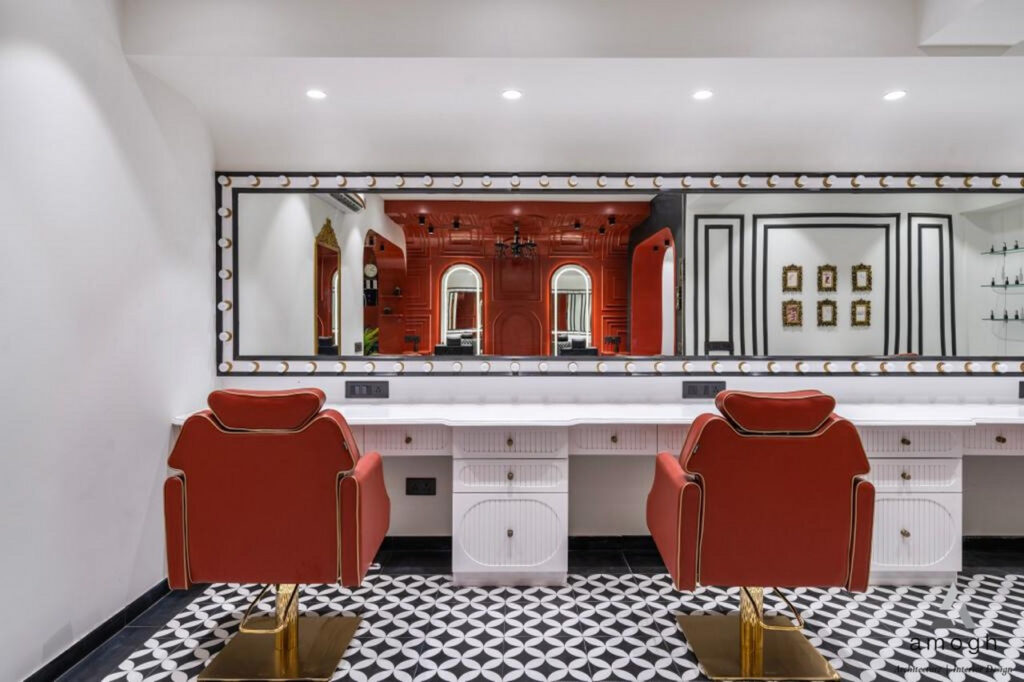 FACT FILE
Designed by : AMOGH DESIGNS
Project Type : Salon Design
Project Name : Kalgi Salon & Academy
Location : Shahibaug, Ahmedabad
Year Built : 2022
Duration of project : 5months
Project Size : 1000 sq.ft
Project Cost : 30,00,000
Principal Architects : ID Shalvi shah & Ar.Pankti Shah
Photograph Courtesy : Inclined Studio
Products / Materials / Vendors : Finishes – Ducco / PU Color finishes / Lighting – omheet / Wallpaper – Anytouch Coverings.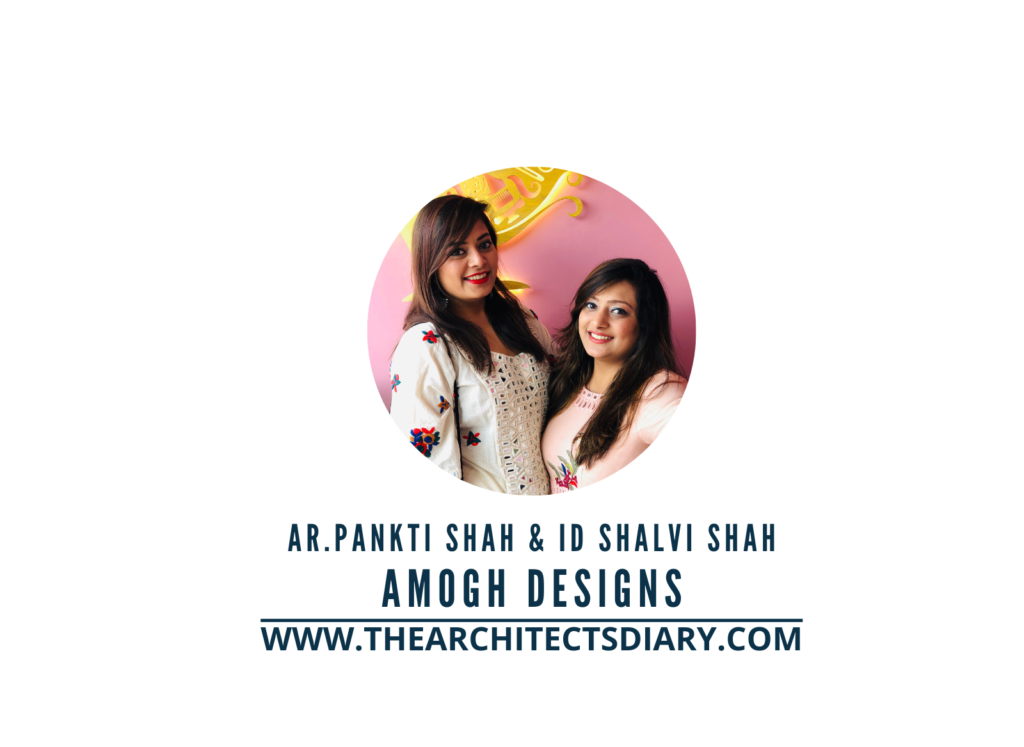 Firm's Instagram Link : AMOGH DESIGNS
Firm's Facebook Link : AMOGH DESIGNS
For Similar Project>> HAIR SALON INTERIOR DESIGN