&nbsp
Houses do need painting, both inside and out, every few years. The exterior of your Winnipeg home will take a battering from all the local weather, so it's no surprise a new paint job is sometimes required. As with all household improvements it is tempting to go down the DIY route. After all, all you need is a roller and some paint, and you're good to go, yes?
That's fine for, as an example, painting a couple of interior doors. But what about the entire house, a room or even the exterior woodwork? Are you really going to get up a ladder and paint your guttering? In this article we will look at why it might be best to get the professionals in, and the reasons it is sensible not to try DIY painting beyond the simplest of jobs. Let's begin by looking at what a professional house painter in Winnipeg can do for you.
What Services do House Painters Offer?
For an example of professional House Painters Winnipeg – Perry Wellington Painting is typical such company with a strong reputation for excellent customer service and professional level results. They can offer painting services in all the following areas:
Exterior doors and windows.
All exterior woodwork.
Interior entire rooms.
Painting interior fittings.
Professional painting services for anywhere in and outside the house.
They will also have a look at your home and its paintwork and recommend any improvement in terms of technique, material and fittings that may give you a longer life from your next paint refresh. Being professionals, you can also expect the best finish, and you really will be able to tell the difference between a professional paint job and even the best DIY effort. Let's now look at some reasons why it is not often wise to try the DIY route.
Why Not DIY?

Put simply, if you want a professional finish you need to enlist the services of someone with experience and knowledge, as well as the requisite skills. Then there's the safety element. A painter who is attending to your upper paintwork outdoors will have the relevant safety training and equipment. Even a fall from a short ladder can cause injury, and full-length examples may result in serious such injuries. It's not worth taking the risk.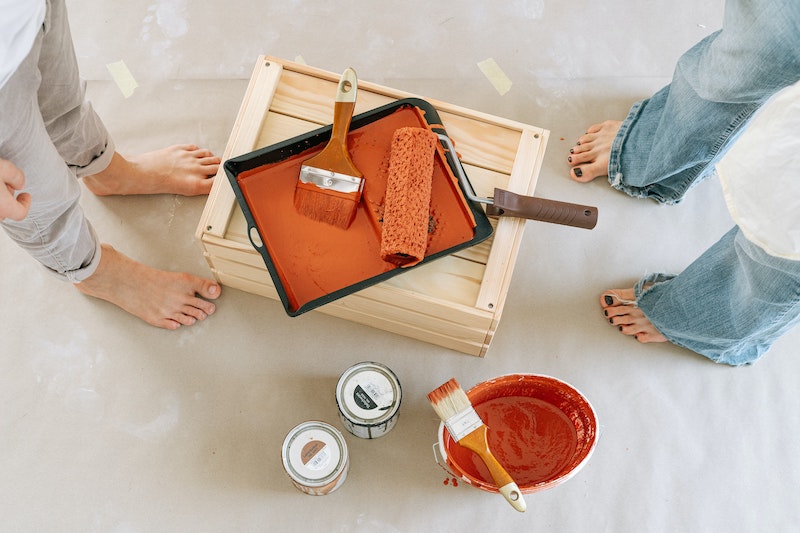 Also, there are many tales of homeowners having to call in the professional to repaint their DIY handiwork that did not involve correct or sufficient preparation and has become shabby very quickly indeed. Avoid that expense and talk to the local Winnipeg painters and decorators and get the job done to a high standard once and for all.
Professional Methods and Materials
Your Winnipeg local painters will not only know the right way to prepare the surface for painting but will also use the latest techniques and the best quality and most appropriate paint and materials for the finish and protection required. You'll find they do the job quickly yet without any loss of quality as that is how they have been trained. So, are you convinced that a professional paint job is the way to go? Let's sum up.
Conclusion
If you get the experts in you will enjoy a beautiful paint job that will last the longest time. You may also find that professional local painters are not as costly as you imagine. If your Winnipeg home needs fresh paint, we suggest you get in touch with a few service provides now and ask them for a free, no obligation quote, and pick the company you feel most comfortable with.