&nbsp
The competition was based on the philosophy that the 21st century facade needs to be adaptive and responsive to human needs, and climatic conditions along with minimizing energy consumption during operation phase especially in the workplace. With researchers probing beyond workplace aesthetics to examine holistic factors, we are learning that air and water quality, thermal control, and especially visual access to outdoor environments can directly improve Occupant's well-being. Considering Covid-19 in mind to minimize the use of touch and maximize the use of a shield.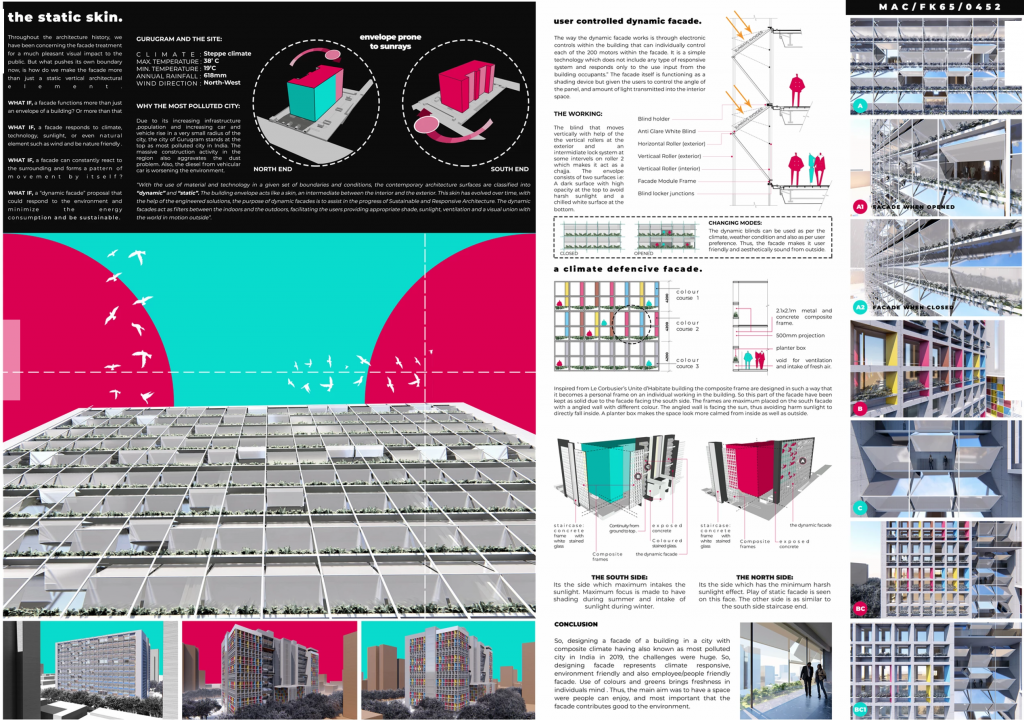 The above first prize-winning entry was proposed by the students of D.Y.Patil College, Kolhapur, Maharashtra, India
Team: Siddharth S. Waze, Abhishek Naik, Saqib Mulla.

The Static Skin – "With the use of material and technology in a given set of boundaries and conditions, the contemporary architecture surfaces are classified into "dynamic" and "static". The building envelope acts like a skin, an intermediate between the interior and the exterior. This skin has evolved over time, with the help of the engineered solutions, the purpose of dynamic facades is to assist in the progress of Sustainable and Responsive Architecture. The dynamic facades act as filters between the indoors and the outdoors, facilitating the users providing appropriate shade, sunlight, ventilation and a visual union with the world in motion outside."
Second Prize Submission:
The above Second prize-winning entry was proposed by the students of School of Planning and Architecture, Vijayawada, Andhra Pradesh, India.
Team: Jatin Kumar and Mayuri Palkar.
SCREEN- "A Screen is an active habitable facade. Broad functions are adaptive, protective and responsive with respect to the environment. The facade design is interlinked with various factors like colours which provides liveliness, greenery which allows the building to breathe, terracotta for sustainable approach. It's a combination of contrasting materials- modern tinted glass and old aesthetic terracotta material. The modular facade creates a visual play of colours. So, the screen is a mere form of aesthetic that is habitable and engages the community. With this facade, the building  easily blends into the environment as well as stands out from the crowd. Creating such a connection between the surrounding and the building helps for a new approach."
Third Prize Submission:
Stretch Met Facade – "Building facade is essential component as it assures aesthetic well-being as well as plays a crucial role in linking interior space with exterior environment. Thoughtful analysis and use of a skin can make the space utilize its optimum potential for occupants and environment.
1 Basic need to pull a skin to a space.
2 Responsive towards climatic conditions and sustainability.
3 To an aesthetic value and design sense.
Gurugram being the most polluted city, stretch met facade sums up all the aspects and works beyond being aesthetic or a solely an envelope. Creates an impact of visual elements like proportion and lines, auditory, tactility, olfactory, thermal comfort. The building skin has a potential to redirect and filter daylight, provide natural ventilation and manage heat transfer. This aspect when achieved can affect occupants comfort, productivity and energy."