Landscaping and outdoor design can be just as important as interior design. To make the most of your garden and outdoor living areas, it's important to create spaces you can enjoy and spend more time in, and this involves many of the same design principles.
One easy way to conceptualize a gorgeous pool area is to model it after a luxury hotel. This gives you plenty of good ideas for DIY, and you can also shift the focus to include more aspects you'd expect from a home as opposed to a vacation space.

&nbsp
Luxurious resort terraces and pool areas have a few things that immediately draw you in and make you begin to feel relaxed, and most of them are easy to do on your own.
Luxe Flooring
The spaces you see in magazines and luxury hotels almost always have great flooring. From decking to slate tile, give yourself a good base for your design, and do invest in higher quality when possible. Explore your options – some of the latest composite decking is made from recycled material, extremely durable and easy to install.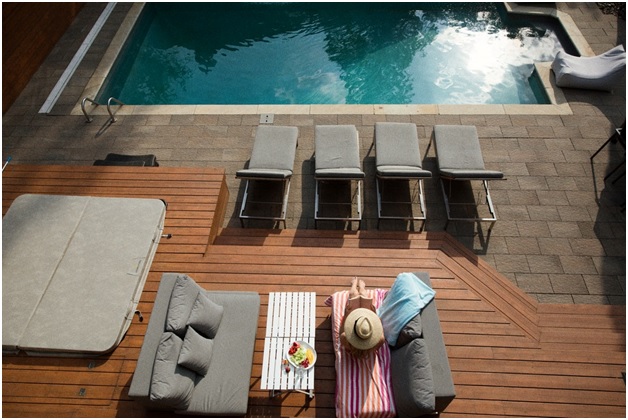 Outdoor living area
Sofas, end tables and side tables will give you a place to sit and read, pour drinks and socialize. This is your living room, just outside, with the bonus of a beautiful pool view. Add comfort with large umbrellas for shade, and ambiance with a fountain.
Keep in mind that it doesn't have to be conventional. You can even build in your own outdoor furniture. Play with color and go bohemian or keep it classic and luxurious.
Add a cinema
There are few things more luxurious than being able to enjoy your favorite film under the stars, or have a barbecue and pool party to watch the latest match. Once reserved for only the most opulent gardens and pool areas, outdoor cinemas are now much easier to create. Just keep a few important specs in mind:
The television you purchase for this purpose must be specifically for outdoor spaces. Yes, there is the option of using a standard television in a weatherproof enclosure but due to brightness, temperature control and warranty considerations, it is not recommended.
Outdoor TVs should be at least IP65 – IP ratings were developed by the European Committee for Electrotechnical Standardization to measure the level of protection of the enclosure. IP65 guarantees that the enclosure completely protects against dust and water at low pressures.
Installation involves mounting the bracket to the wall using the supplied screws, aligning the television and attaching it to the hooks with screws, and connecting the wires. With two sets of hands and carefully following the manual instructions, it can easily be done in an afternoon.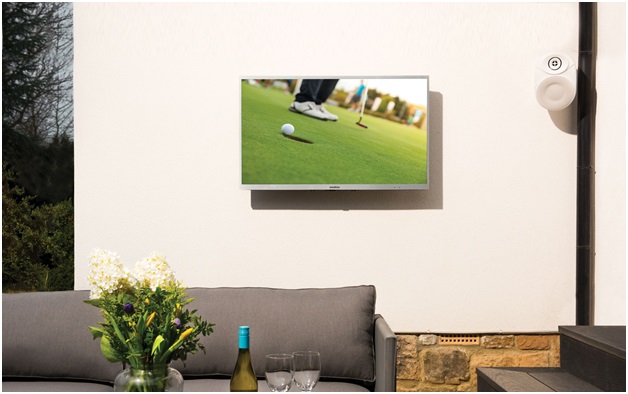 Large planters
Luxurious pool and garden areas are all about scale, and adding large (very large) potted plants and trees really adds to the overall feel. The amount of potting soil needed for large planters can be a bit daunting, but keep in mind that you can fill the bottoms with larger stones and add soil and plants on top. This works especially well with plants with shallow roots but can work with small trees as well.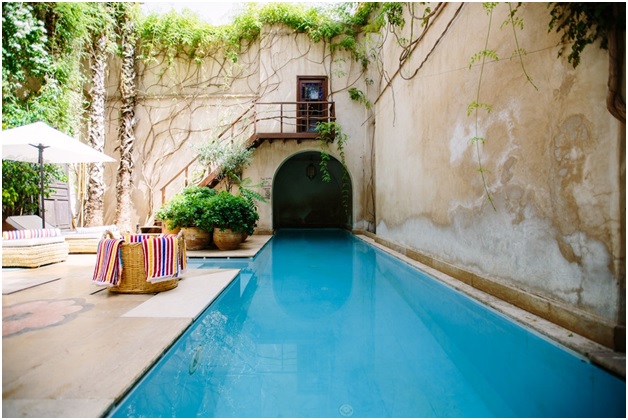 Keep things natural
Though some pools look best with a streamlined, minimalist style, you can add rustic, natural charm by using flat stones in your pool entry, or create a flat-stone spillway. You may not even need a fountain with the gentle sound of flowing water. Use nature for inspiration.
Poolside Lounging
Whether large or small, the pool is for relaxation and lounging, so a few plush lounge chairs are an absolute must. Add a small table in between for setting down drinks and books while you take a dip. Look for the highest quality weather-proof fabric for sun loungers, and check to see if the cushions can be removed and stored when not in use.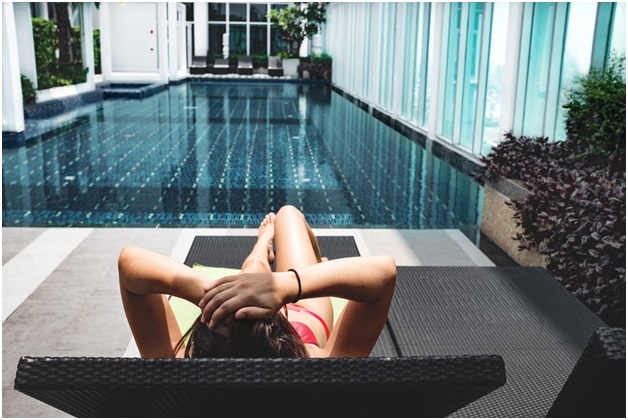 LED Lighting
Mood lighting creates a luxe ambiance for your pool area and makes the evenings magical. LED is great because of its energy efficiency and long life span, both of which make it perfect for outdoor lighting. The latest options are a DIY-er's dream, meaning you can have that inset floor or ceiling lighting without having to worry about constantly changing the bulbs.
Try adding accent lighting around your large planters and in any greenery you have around the edges of the pool. You can also consider solar options if your space gets plenty of sun.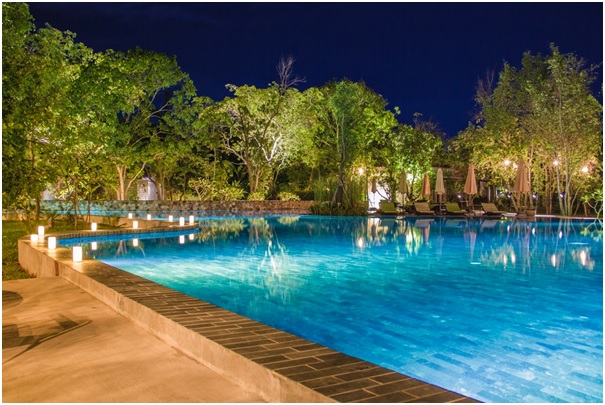 Gazebo or Pergola
If space allows, building a beautiful gazebo is well worth the effort, and there are many online tutorials for getting the carpentry right. This could be the perfect shelter for your outdoor living area, and could contain a special wall for your outdoor television.
Gazebos and pergolas can also help cover an outdoor barbecue area and sink, keeping them safe from the elements.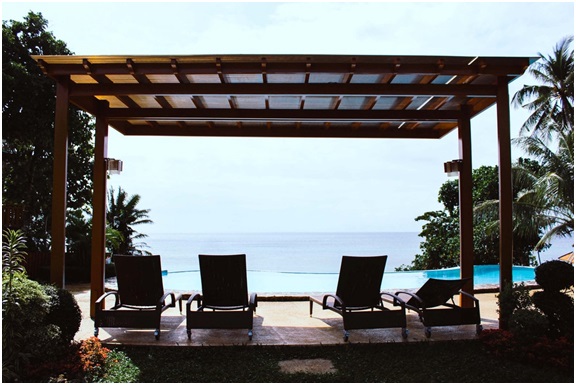 When designing your pool area, it's always a good idea to draw out your floor plan and plan the larger projects first – flooring, stonework, carpentry for a gazebo, etc. You can then add in the design elements that will make the space ultra-luxurious.