&nbsp
House Interiors In A Transitional Design Style | Navien Niesaar Design
This house is designed in a Transitional Design Style having a mix of traditional & contemporary pieces of furniture with a neutral color palette.
Project Brief:
"There's no place like home "truly resonates in clients' minds who's a sailor by profession, staying with the nuclear family in his 3BHK apartment in one of the sprawling townships in Mumbai. This house is designed in a Transitional Design Style having a mix of traditional & contemporary pieces of furniture with a neutral color palette.
Visit: Navien Niesaar Design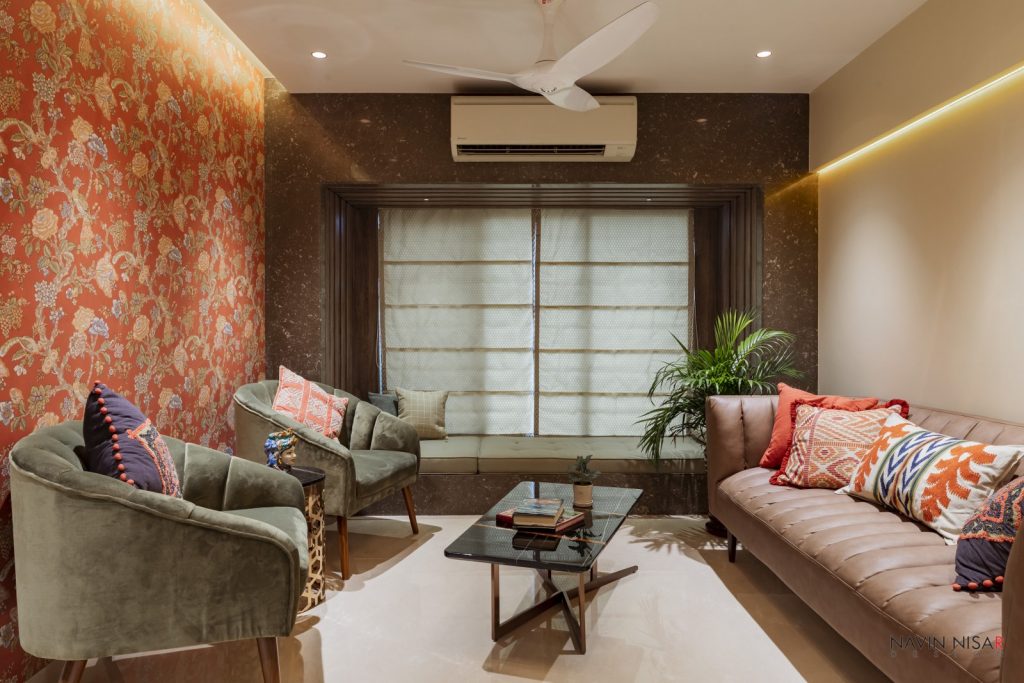 Living room:
This L shaped Living room boasts highly of tactile materials used on the floor & walls, leather tufted sofa & dining chairs, Wooden lacquered TV unit, floral printed wallpaper & glass top dining table. The flooring is adorned by cream velvet finished Italian marble complemented by breccia aurora Italian marble on the wall.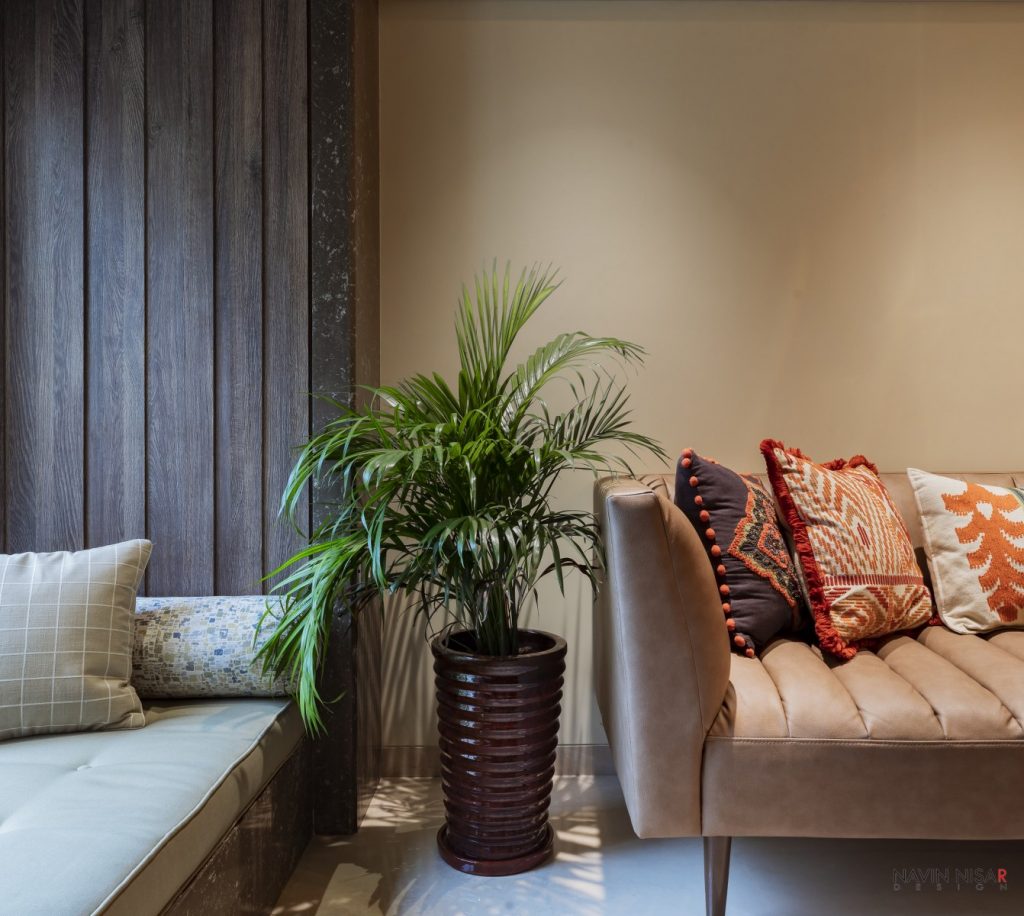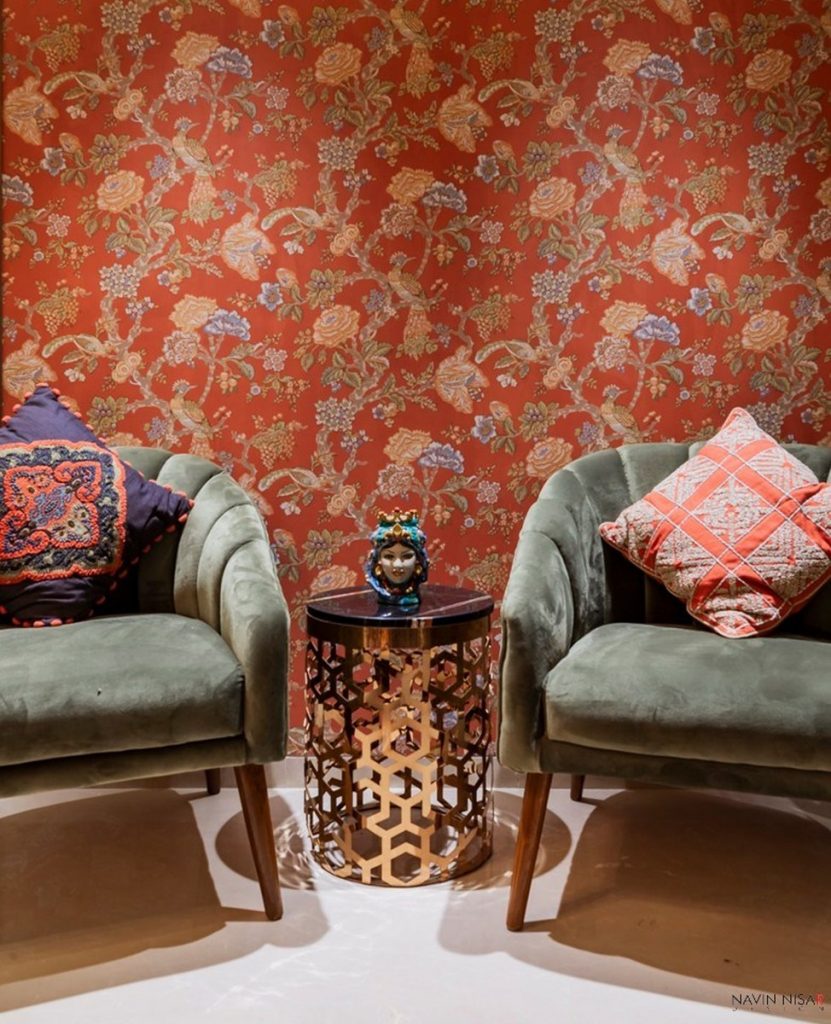 Bay window in the living room is cladded with dark brown quartz stone & vertical wooden pattern design used on either side & ceiling to camouflage storage space inside & the same space is accentuated by adding low bed & touch of green on fabrics & cushions. Couple sofa chairs are dressed in velvet fabric in shades of green having contrast floral backdrop in rust.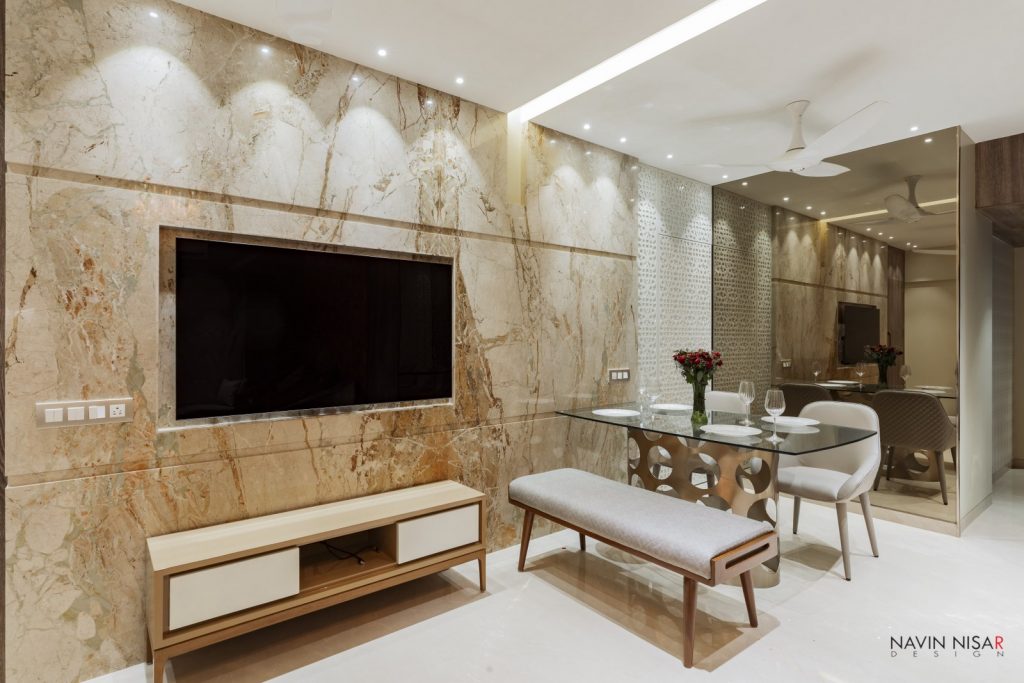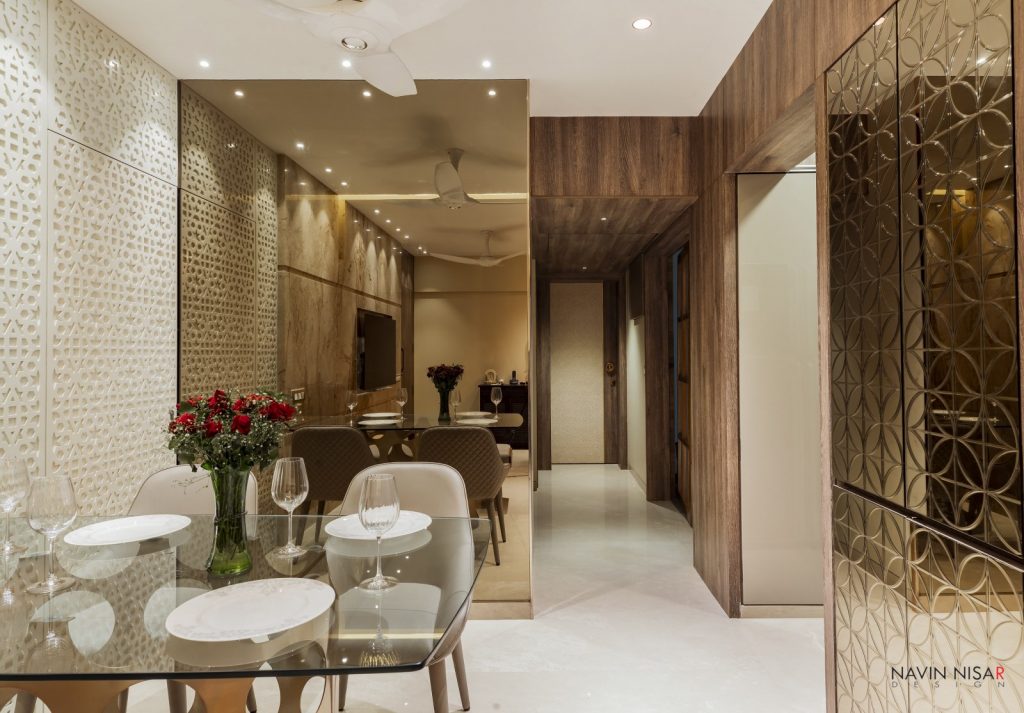 Dining :
The bronze-tinted mirror adds as a backdrop for dining & also amplifying space. Bevelled glass dining top with metal base & low bench in wood with leather upholstery has been designed & created on-site with the help of artists. Mirror engraved shutters on right add to bling for the cosseted bar.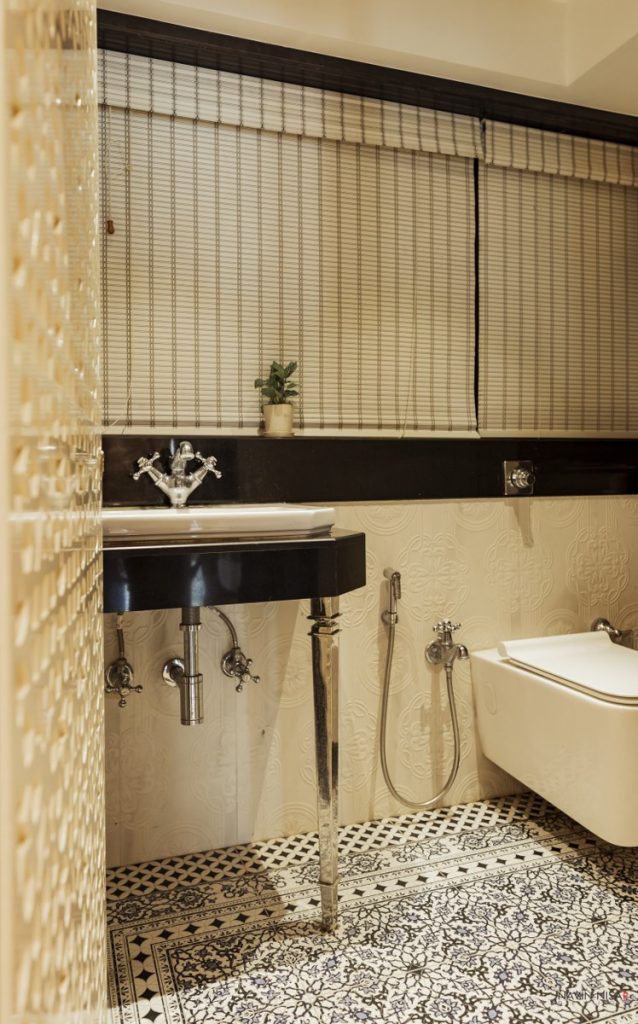 Powder Bathroom :
The Powder Bathroom is designed having an arabesque pattern on the door & on floor & walls as well. Chic blinds in greys are used to cover windows behind.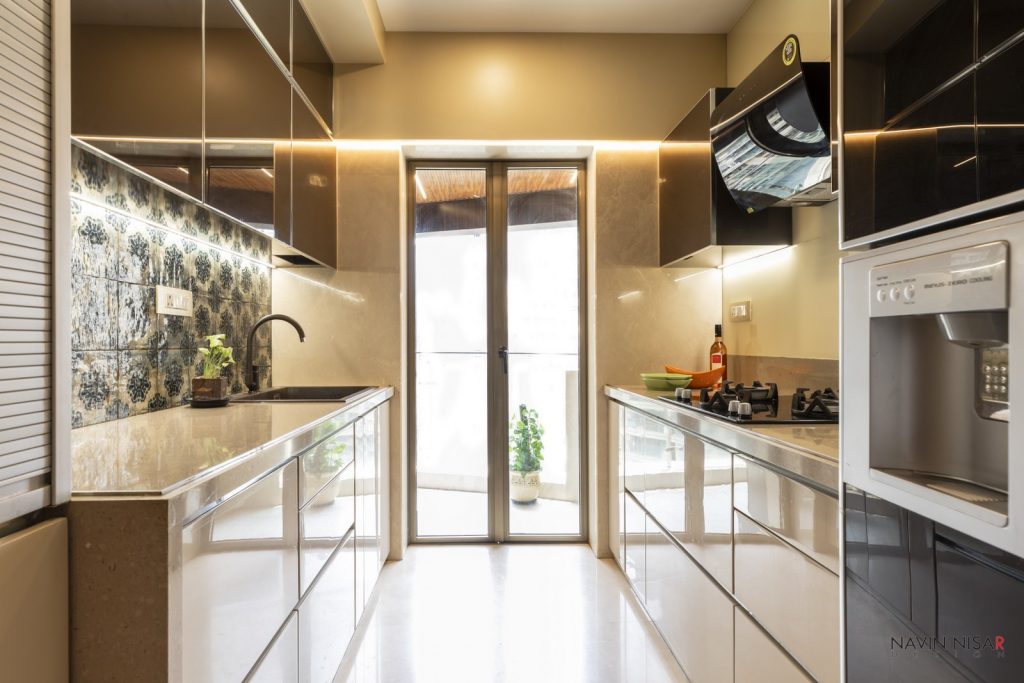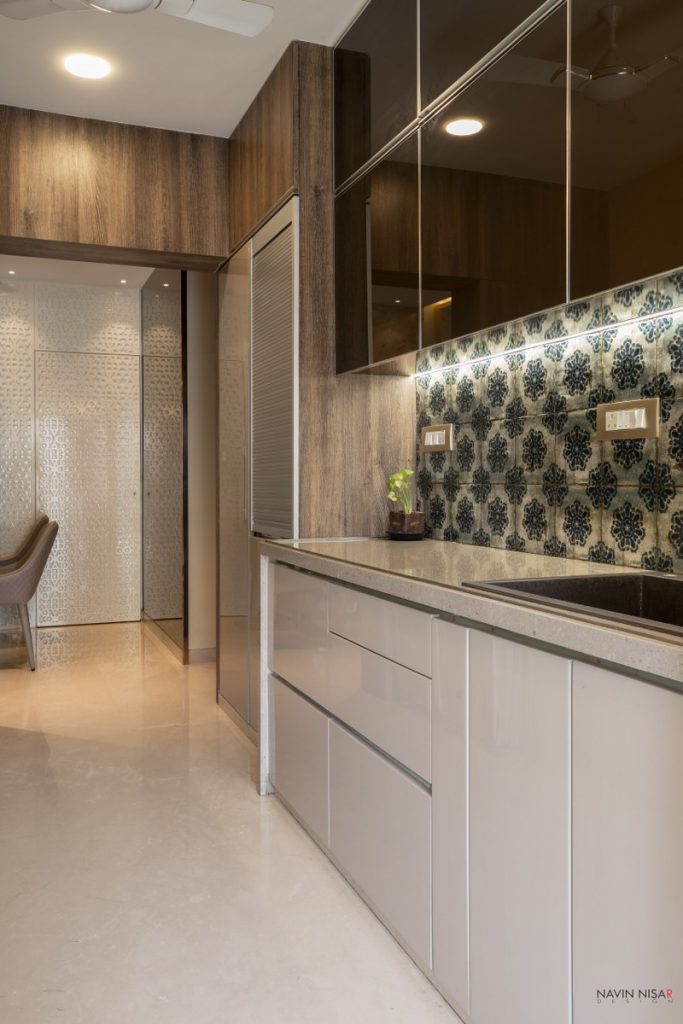 Kitchen :
Clean & bacteria-free Kitchen designed using Hafele tandem box pullout & hardware & hi-gloss polyester finish in neutrals with ample storage space for utilities. Parallel platforms are cladded in stone & are designed for task specifics & ample space between for its end-user & comfort. The whole process of keeping it minimal & accommodating all requirements with clean & easy to maintain was a hallmark of Kitchen design achieved.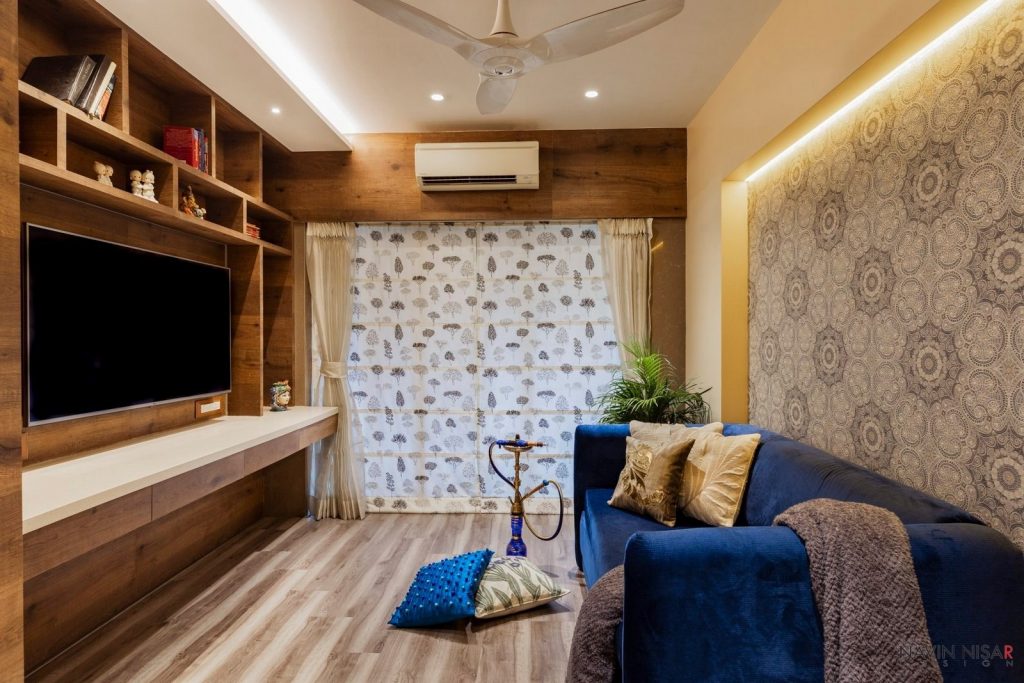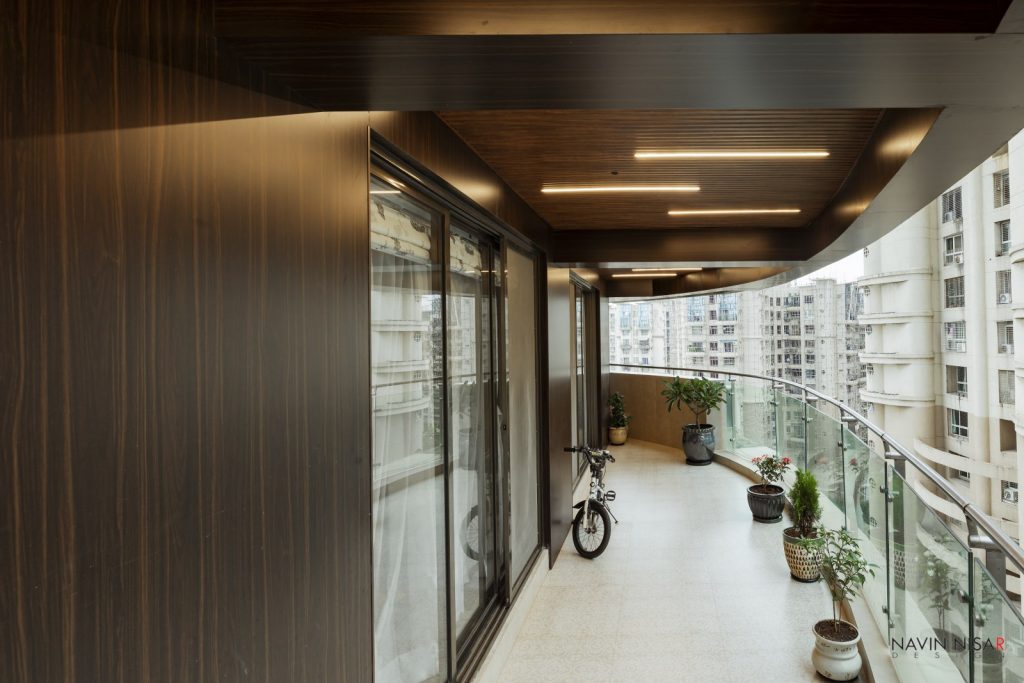 Den Room :
This multipurpose room connecting to an outdoor balcony was meant to be designed to have a feeling of intimidating & at the same time not being ostentatious. The material palette of blue velvet on sofa cum bed, tonal blue paisley backdrop & neutral organic prints on curtains with warm textured wooden floor, Corian countertops with leather cladding on wardrobe all add to create an impeccable experience inside the room.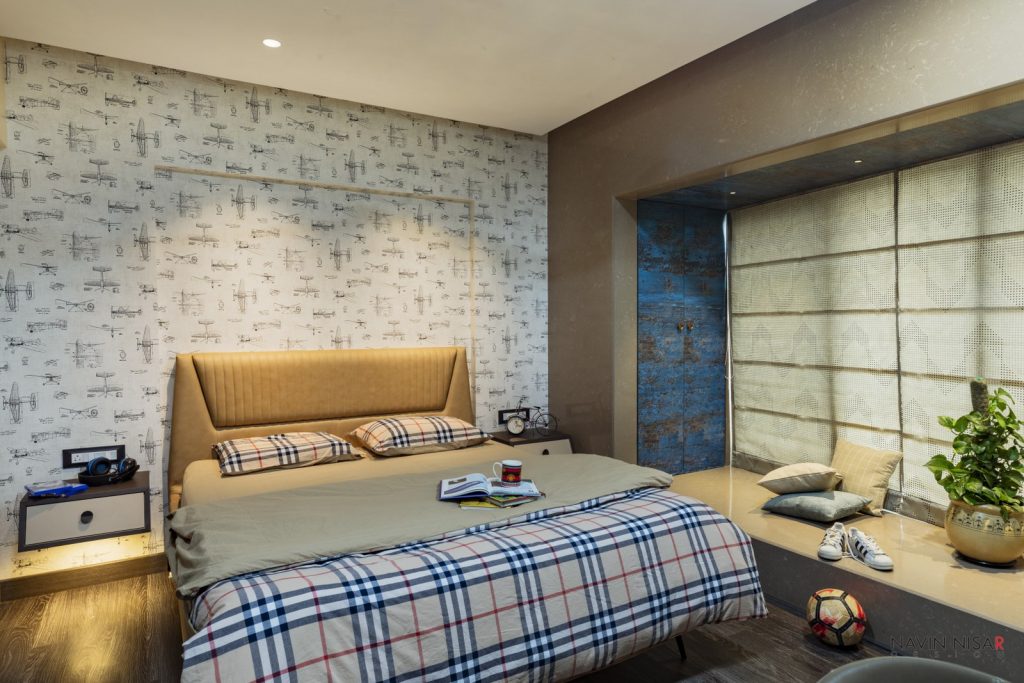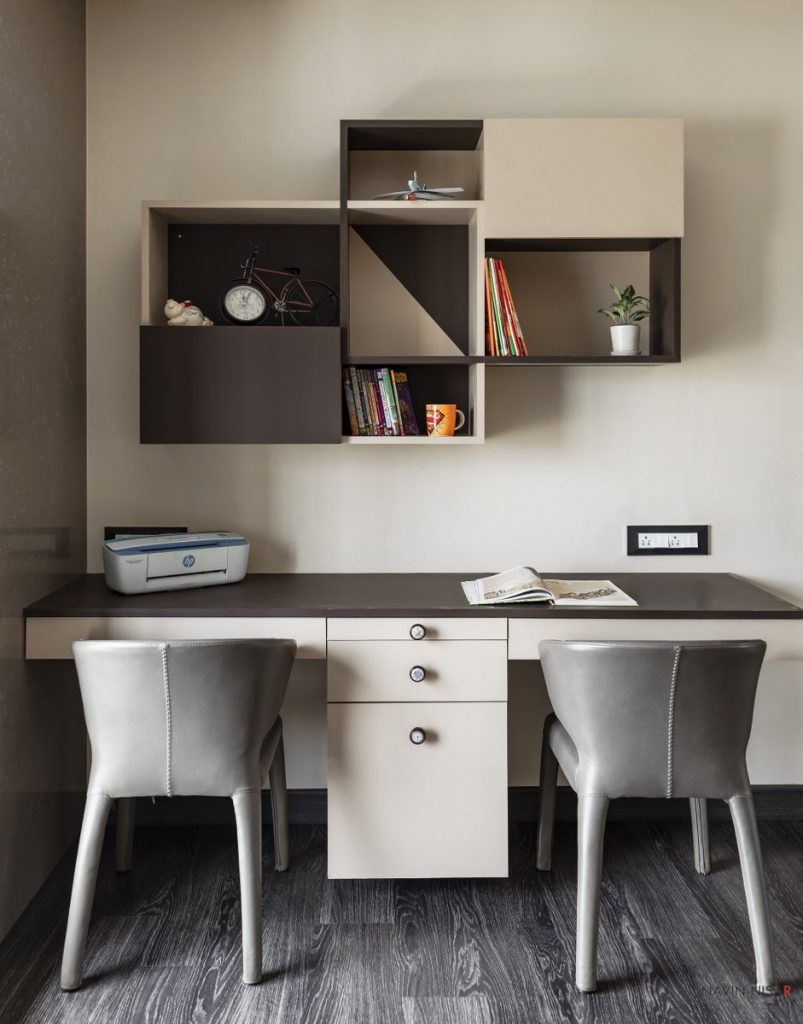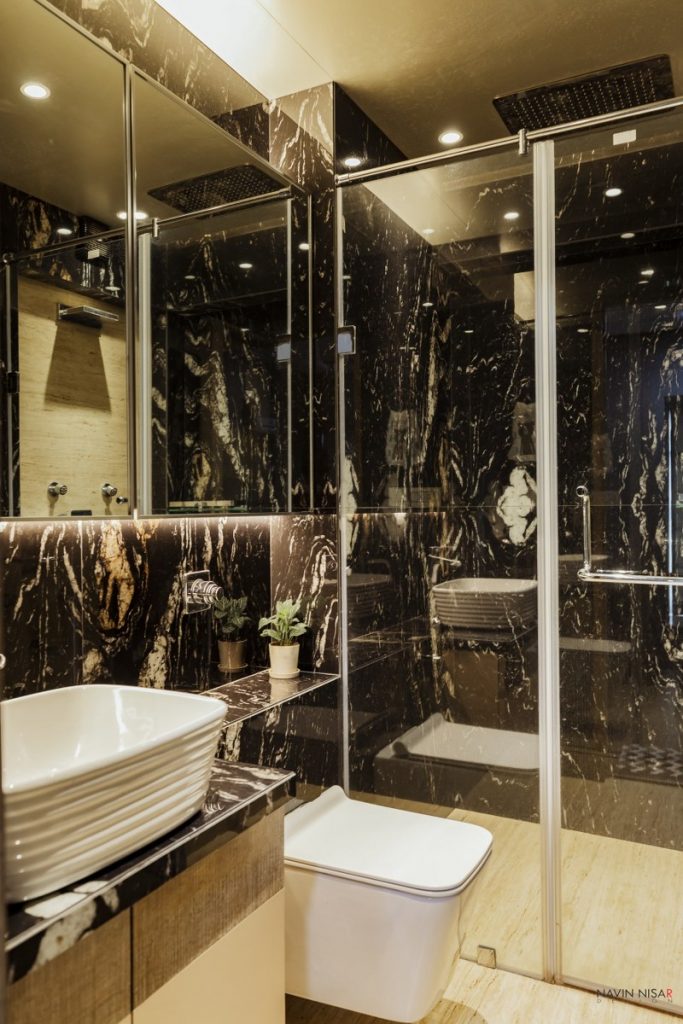 Sons Bedroom :
Aeronautical graphic wallpaper adorns backdrop of beige leather-clad King size bed having Burberry bedspread. Blue is an accent color used in the overall neutral color palette for designing the bedroom.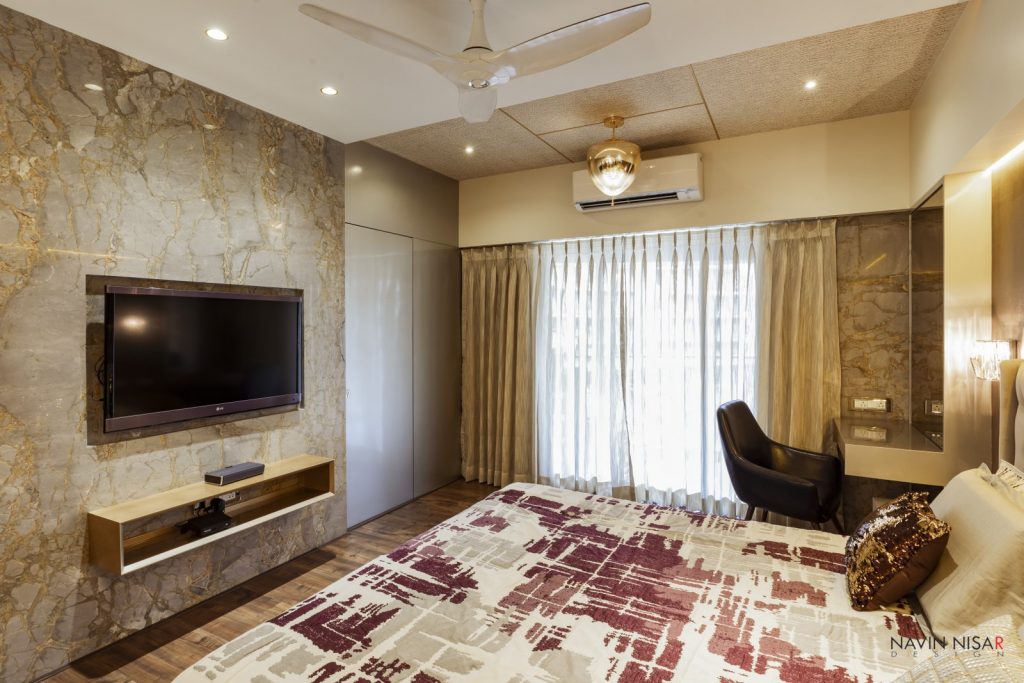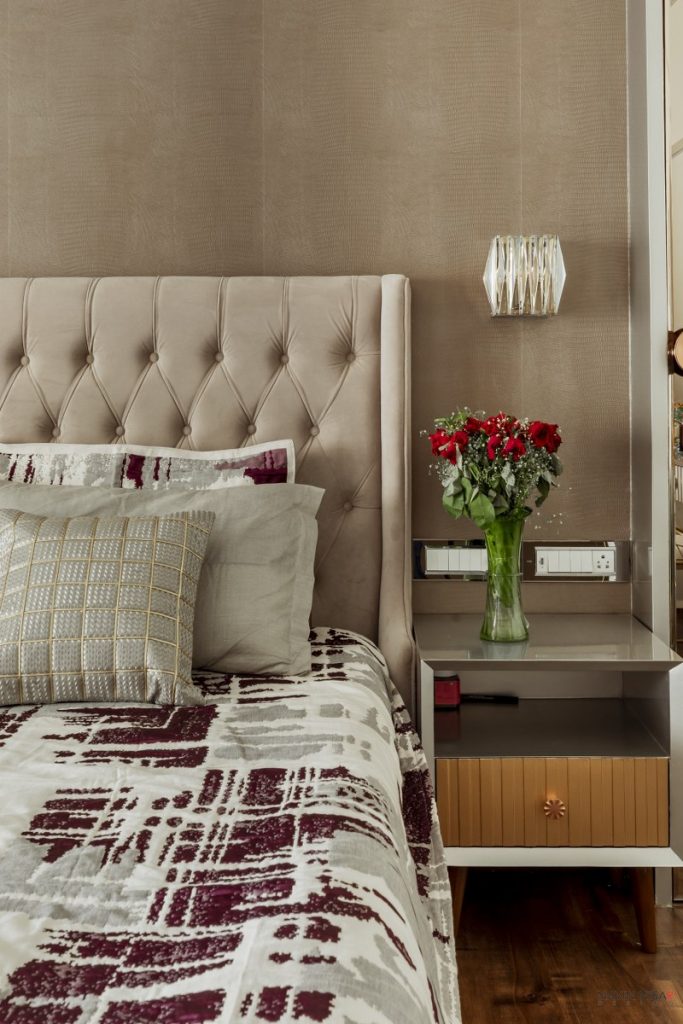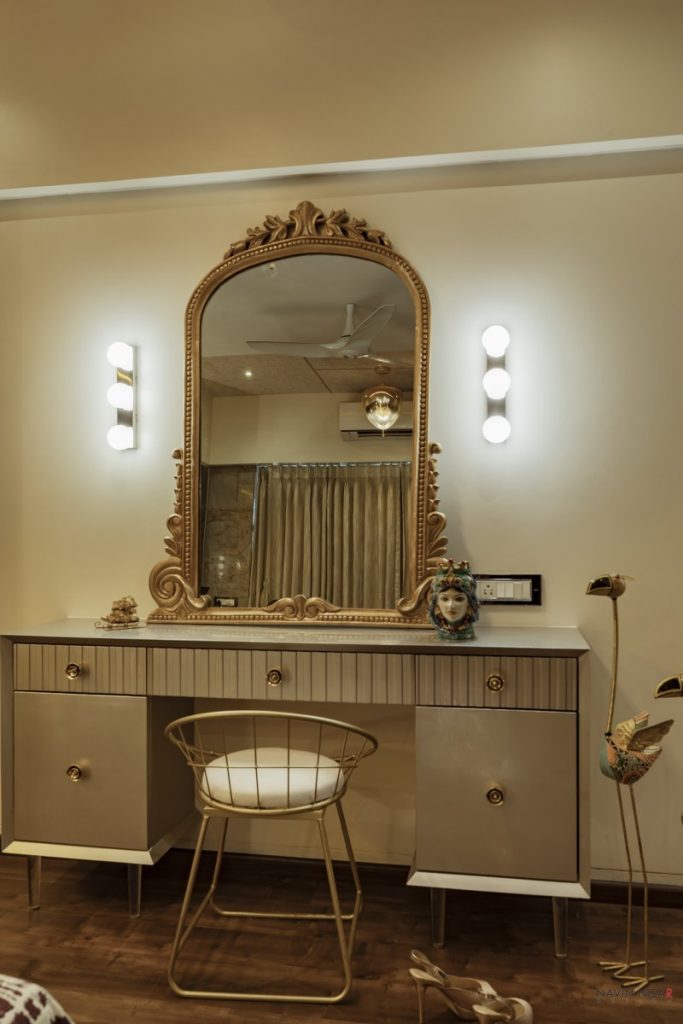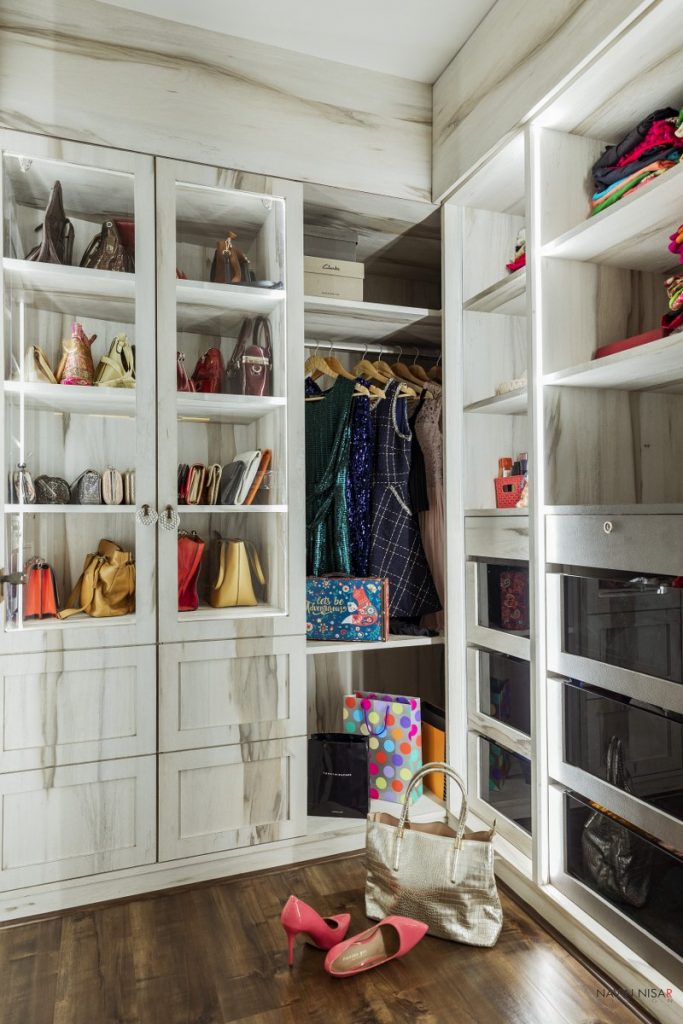 Master Bedroom :
The master suite is a combination of walk-in + master bath & bedroom with an outdoor space attached to the room. The bed is designed using textured fabric on its sides & leather headboard with leather finished wall backdrop. The golden Versace Italian marble cladding on walls & silver metallic finishes on wooden surfaces with a ubiquitous wooden floor & softly lit hanging lamps adds to the warmth in the entire space.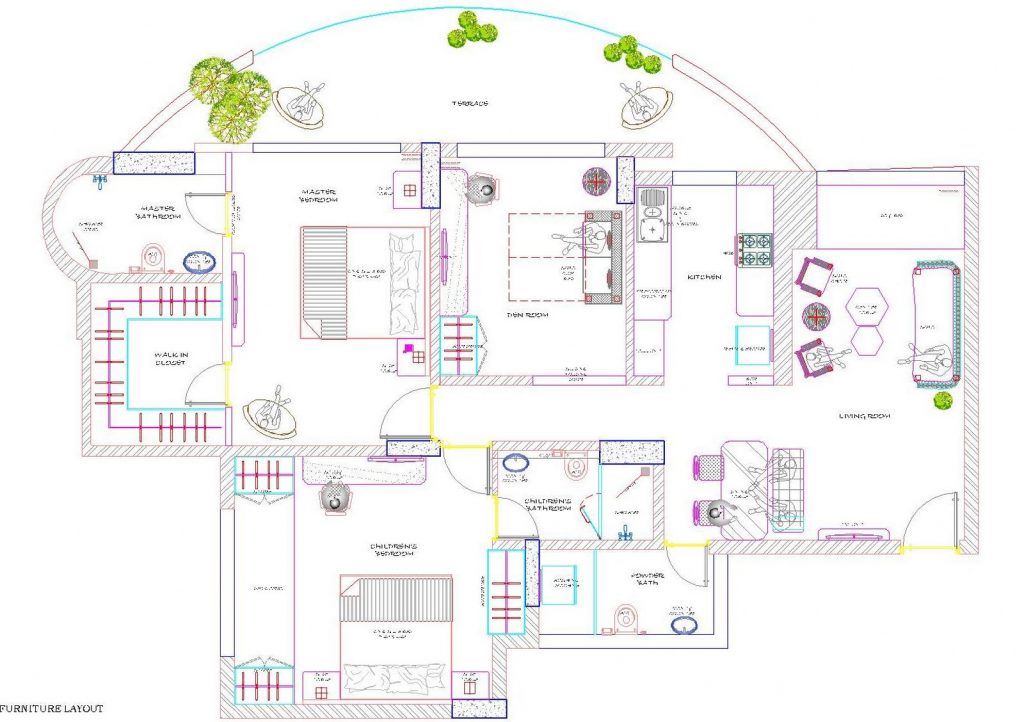 FACT FILE:
Firm: Navien Niesaar Design
Project name: Mimosa Project
Project Type: Apartment Interior
Location: Mumbai
Principal Designer: Navien Niesaar
Photo credits: Darshan savla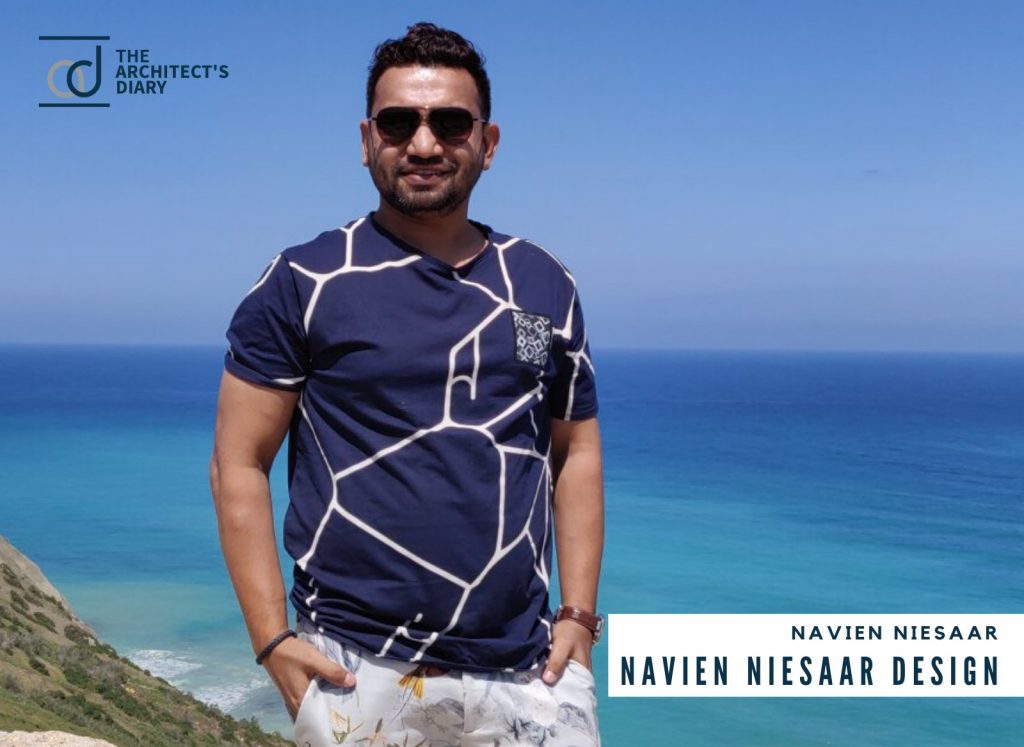 Website: http://www.navinnisar.com/
Instagram: https://www.instagram.com/navienniesaar/
Facebook: https://www.facebook.com/navin.nisar.3