An abode of bright colors creating cheerful niches for every user yet a unifying familiar palette for a modern design house. Intending for a creative space that radiates energy and vibrancy with a combination of metal accents, mid century upholstery, neutral seating and a stone backdrop. Minimally ornate false ceiling adds a hint of classic design making the space a whole. ~Yamini Vaswani(Editorial Team)
George's Residence : Modern Design House with Playful Interiors | Raise Atelier
Visit: Raise Atelier
The most striking feature of this 2400 sq.ft. apartment was the sheer scale of the living room filled with natural light which is any designers dream. The idea was to design a house that ensures grandeur with a dash of sophistication. Our approach was to channel contrasting moods for all the different spaces that would be a unique expression to its homeowners who are Young Couple in their 30's with an adorable 4yr old daughter. The idea was to create a contemporary luxury that enriches the exquisite look with contrasting Color palette, patterns and textures. Classic ornate forms has been used with an alliance to modern design house and style throughout the apartment.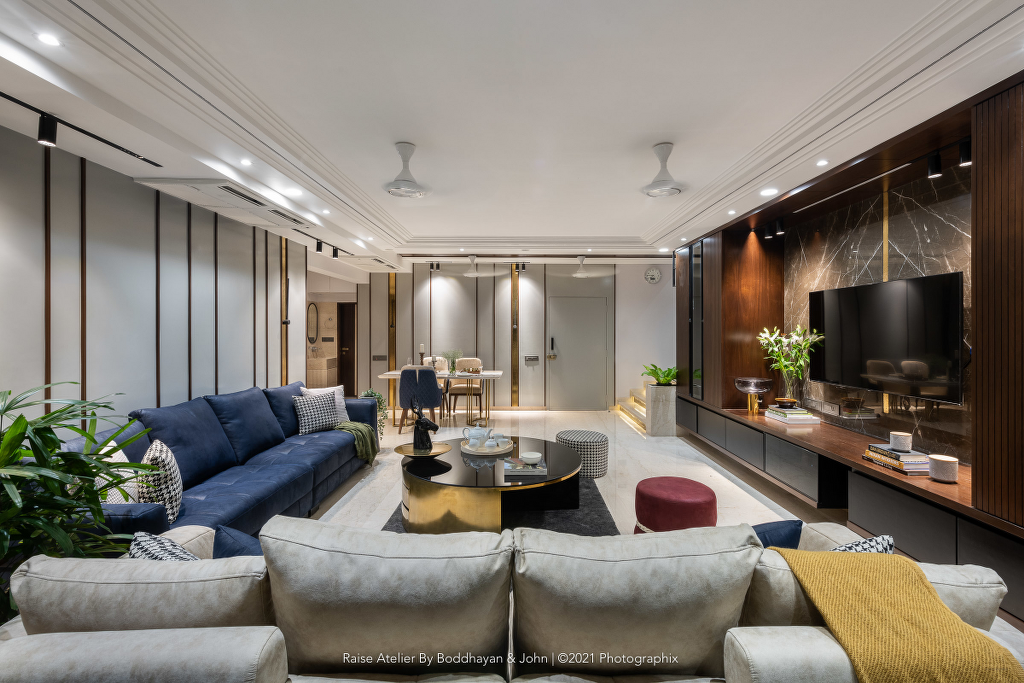 Living room
The Living room & Dining area of 600 sqft .The home owners' briefs was to create warm, somewhat eclectic & extravagant space yet it should be subtle. The home today is a delightful, modern meets classic that speaks about the contrasting personalities of the homeowners taste. The flooring and ceiling was kept neutral to make way to use pop of colors to achieve the desired effect. Most of the vibrant Color emerge from the fabric of bespoke furniture customized to suit the scale of the space, to mute these warm colors, subtle shade of classic marbles has been used in living dining and guest washrooms to create a balanced color composition for a modern design house. The wall paneling were kept in neutral grey shade accented with intricate wooden detailing with hammered Brass inserts putting it mindfully to create that dash of luxury to the space. The TV units is a beautiful marble with brass inlay work and lots of storage spaces for utility purpose. In all, this exquisite abode has a plethora of luxurious materials, rich textures and vibrant hues which evokes bliss as one remains fixated constantly.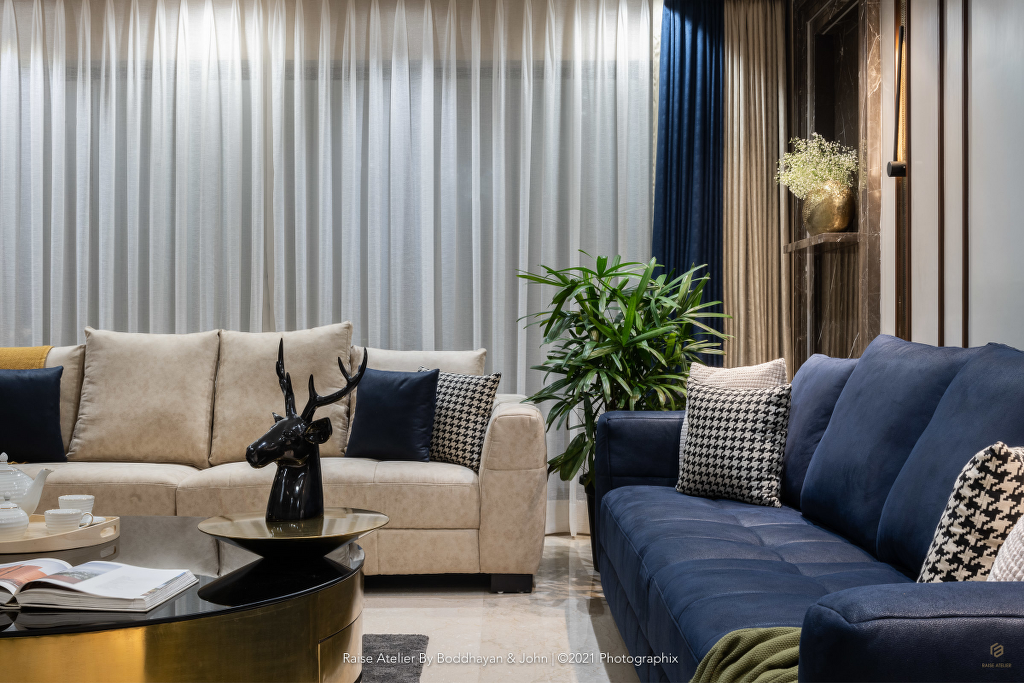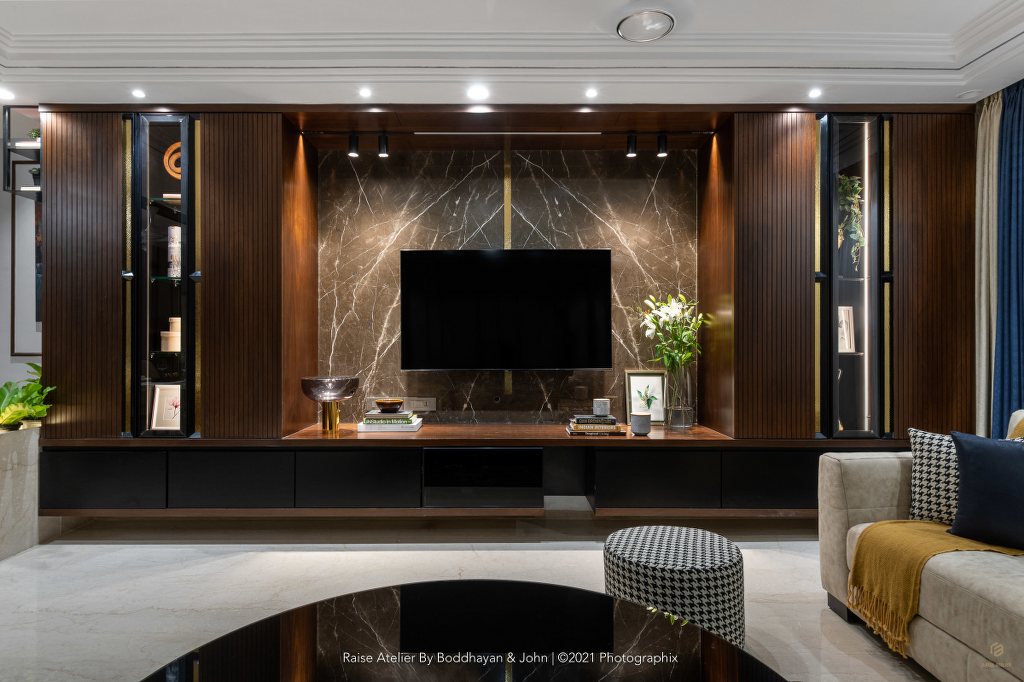 The dining area has been designed to make sure its baby proof with Marble top and hint of gold is seen through the legs. The chairs are designed in dual tone keeping the functionality in mind with subtle hint of gold and patterned back rest to add a touch of elegance.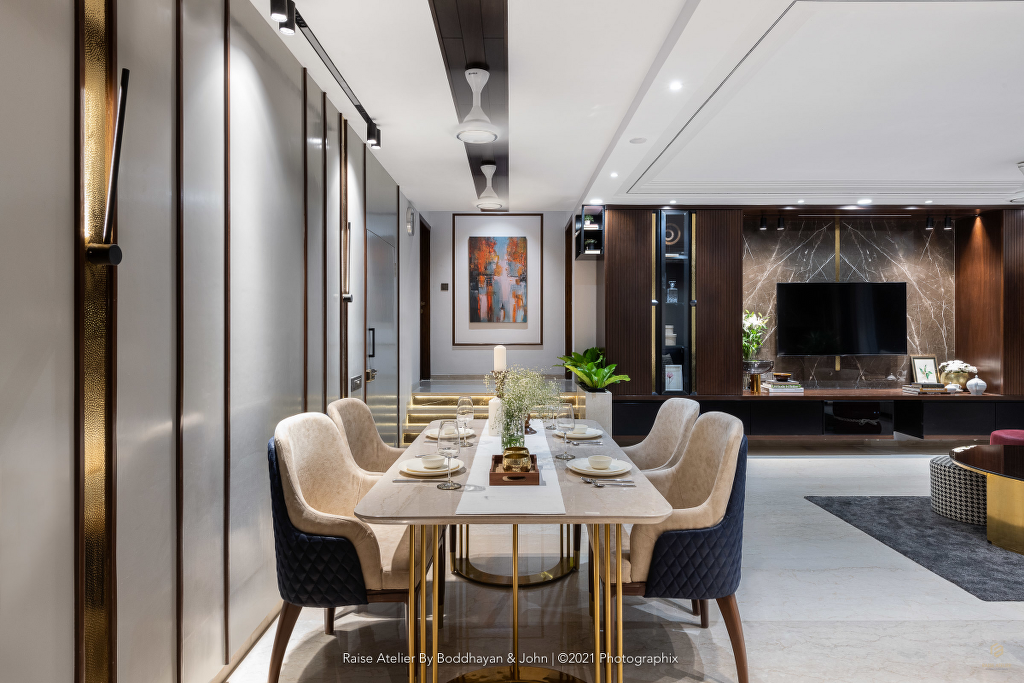 KITCHEN
The kitchen sliding Door has been designed in intricate design of wood and fluted glass to introduce light in the passage area connecting the Guest-rooms when parked it creates a back drop paneling of the dining area giving a luxury feel to the passage way. The walls , countertop and dado has been cladded with same material to mute and give a minimal look ,the Color has helped us to continue our concept through the kitchen space to make it look like a part of the living room .
MASTERBEDROOM
The primary Bedroom has been done up in Royal Blue, White and walnut Color scheme embellished with on-site metallic gold finish. The blend of palates- a bold blue fabric headboard, a soothing wash of white on the walls and wardrobe, an intimate warmth of teak wood paneling with classical ornate form on the bed wall and subtle hint on the wardrobe and tv panel make the rooms look cozy & spacious at the same time. We ornamented the wall above the bed, side mirrors & the Headboard of the king size bed with classical molding and Brass gold on the headboard to bring a touch of luxury. The vanity dresser is shimmering mat gold finish table which breaks the storage space into his her section and adds a touché of classic to the space. The soft furnishing and artwork was created in collaboration with uniicorn creatives. And HDX designers to blend the complete look and give a touché of luxury.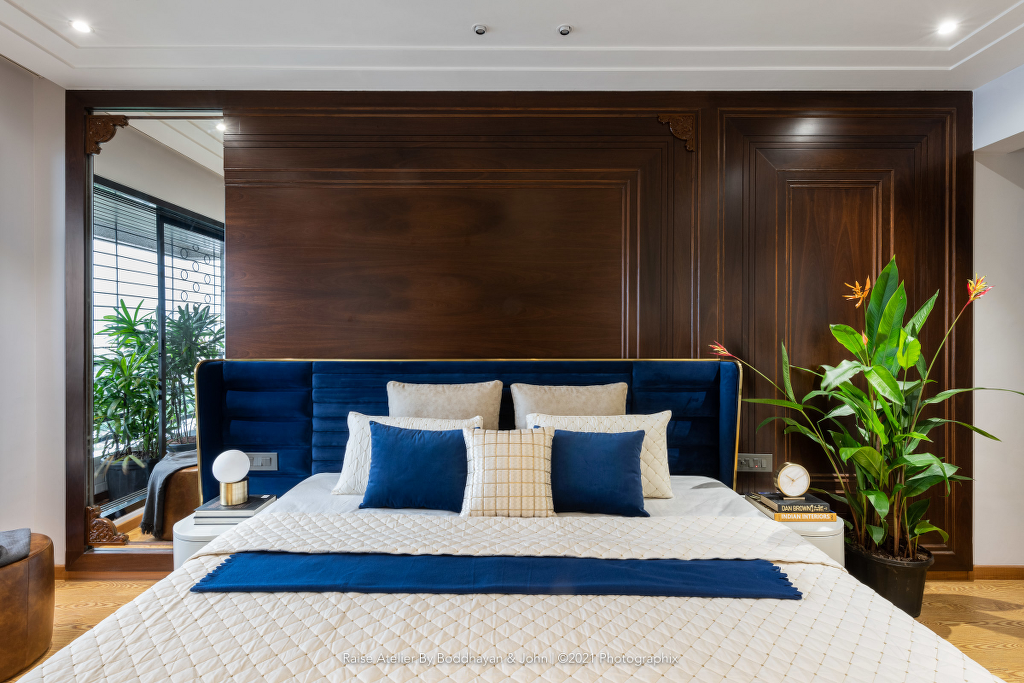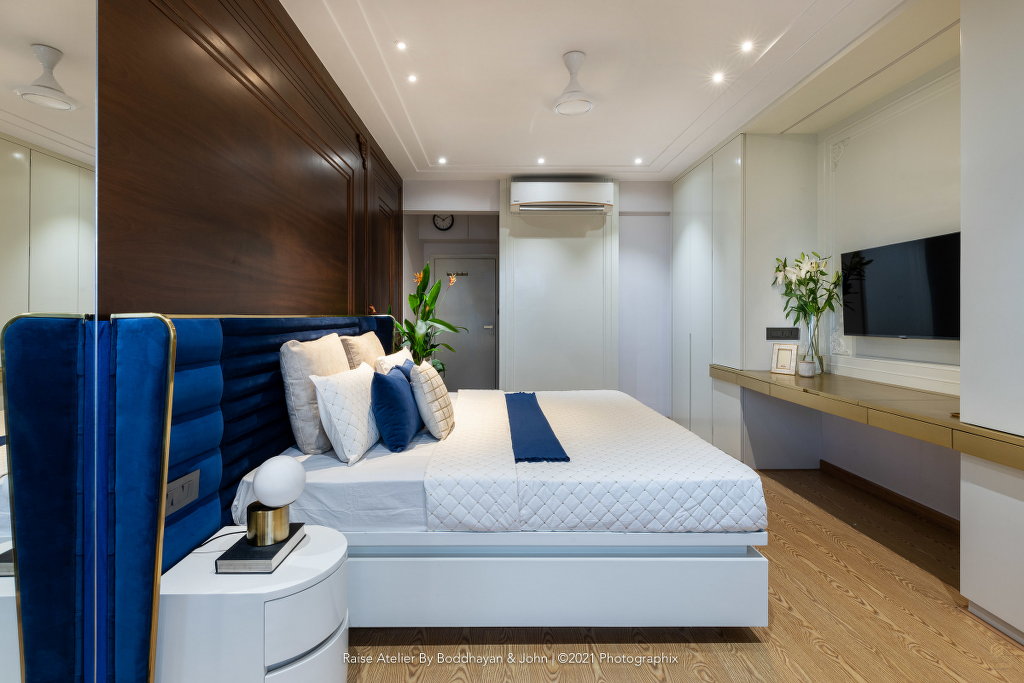 KIDS BEDROOM
As a New Father & Designer, It was a pleasure to design a room for the Clients Daughter. The style of the Daughters bedroom complements the overall design, but it leaves room for a little playfulness which is her true personality. The Daughters room has a magical dreamy aesthetic achieved with a light and airy palette of whites and Blush. The Playfulness of classical arches on the wall panels -wardrobes & Washroom, customs made headboard, dream catcher and patterned wallpaper adds a unique touch to the bedroom creating a dreamy oasis infused with springtime blush colors.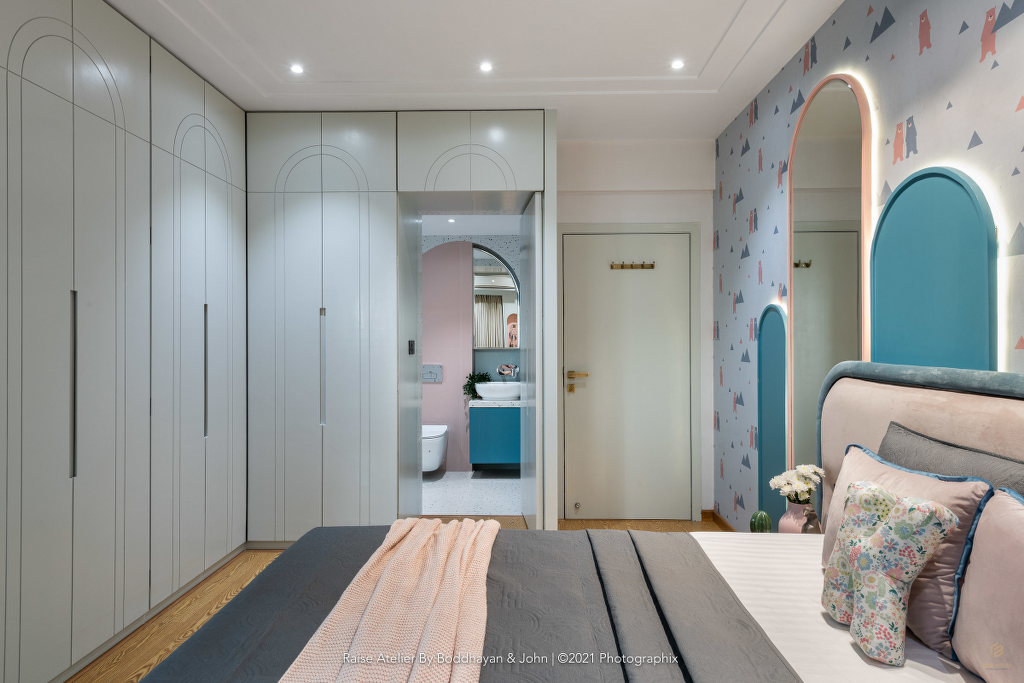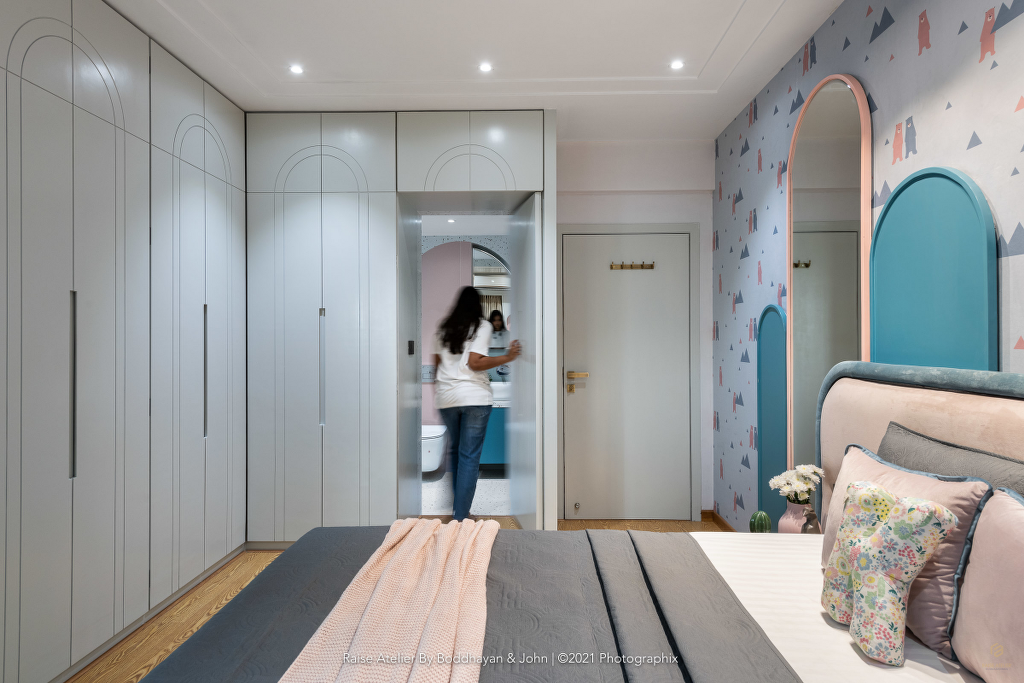 GUEST BEDROOM
This bedroom encapsulate a minimal, modern yet regal approach. It's a balanced blend of lux and whole lot of classy. The guest bedroom makes a bold statement with its chinoiserie pattern wall paper with very subtle white,pinks,yellows and brown and vintage leather headboard with full length mirrors all creating a focal point of this room.
WORK ROOM
This room is full of surprises as you feel it just a room with work desk and library and full length mirror but wait for it, it has hidden Murphy bed which works perfectly well for bedroom office when you have stay overs. The full length mirrors are actually door to a hidden walking wardrobe and our naughty daughter uses it to dodge and run around her parents which was a delight to watch.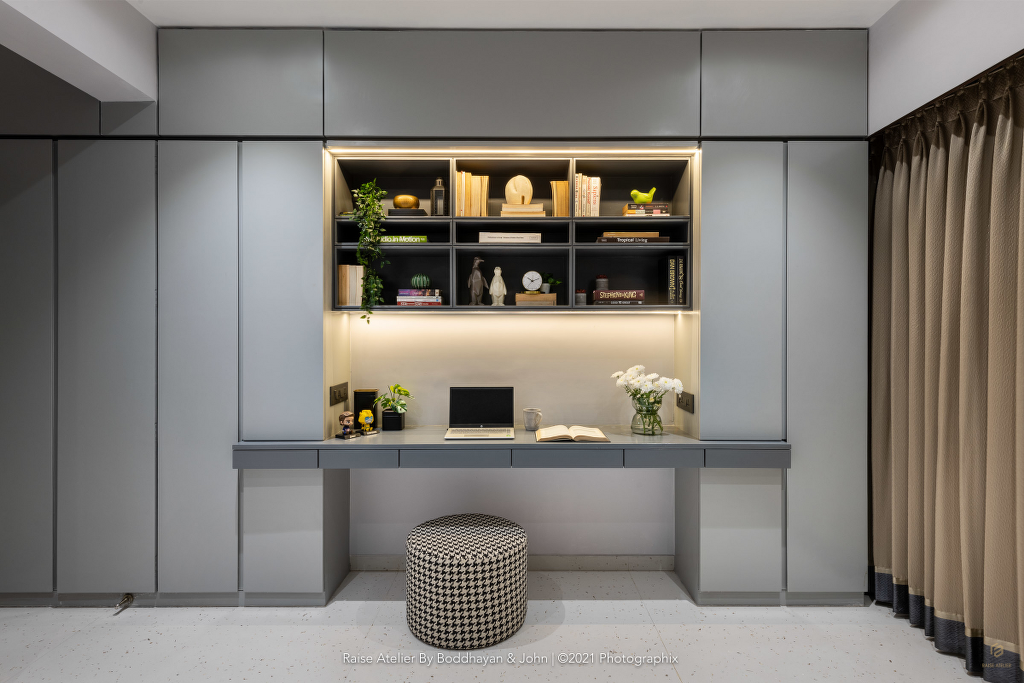 While we had great fun in designing this home, we are more thrilled with how it has shaped up in an organic manner to become this elegant, vibrant home inspiring us to transform life through Good Design.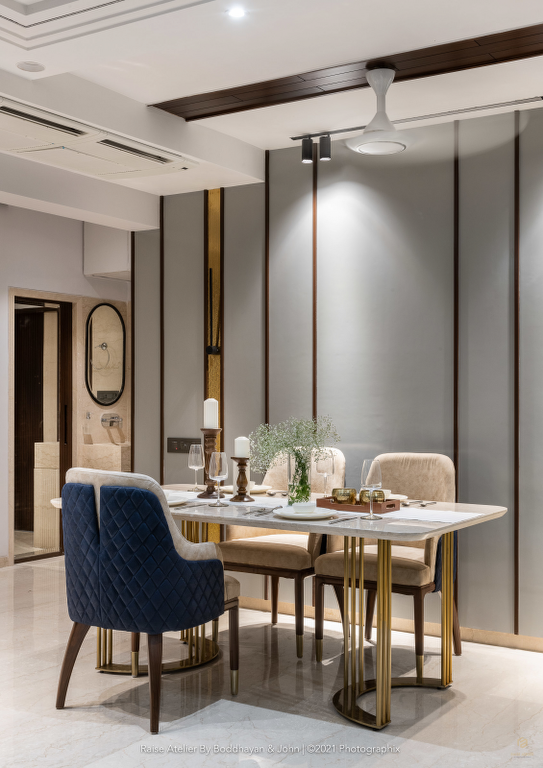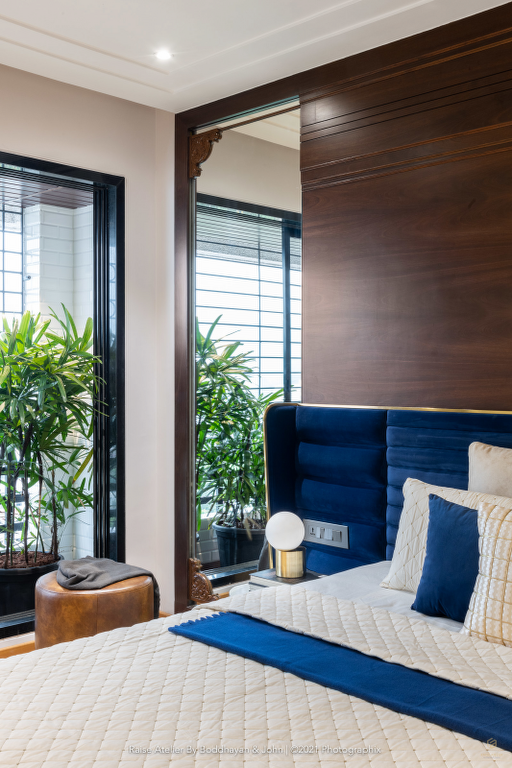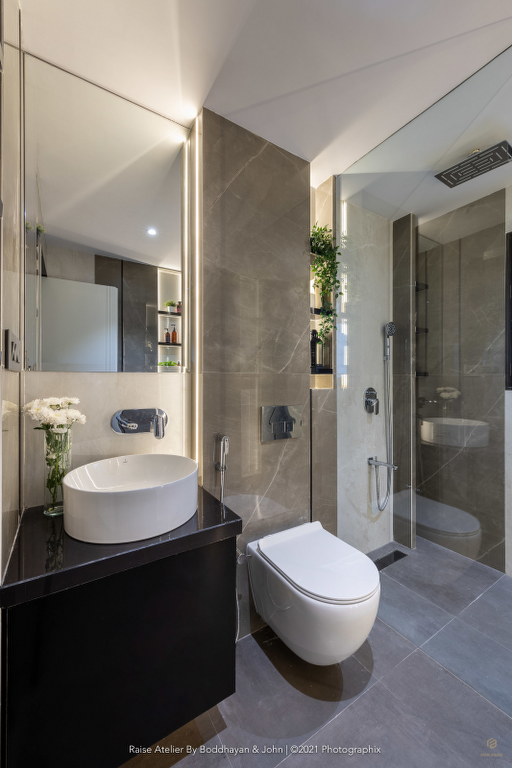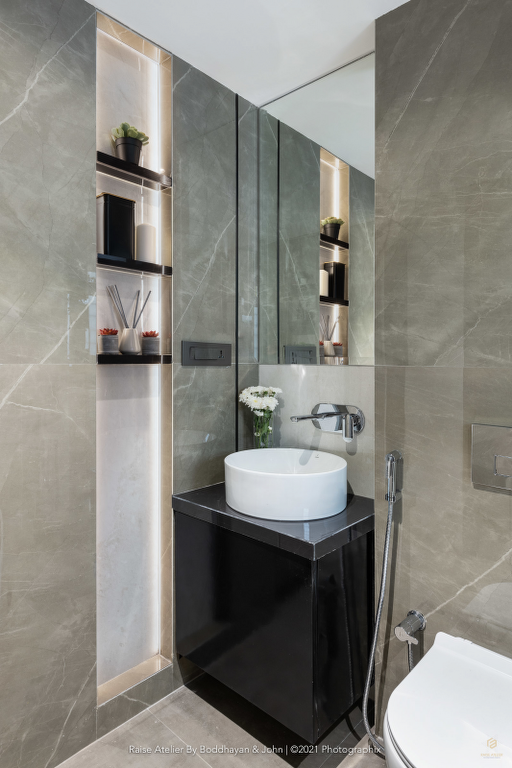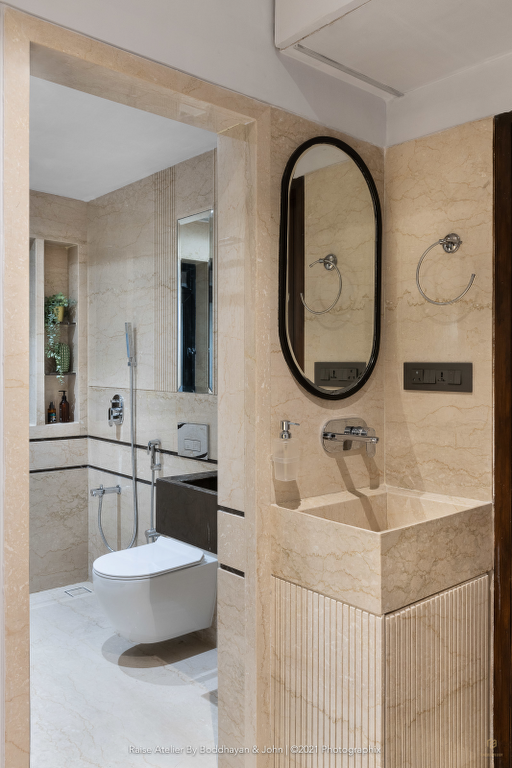 Fact File
Designed By: Raise Atelier
Typology: Residence Interior Design
Project Name: George's Residence
Location: Navi Mumbai, Maharashtra
Size: 2400 sq.ft.
Year Built: 2021
Duration: 8 Months
Project Cost Appx: 2 Crore
Principal Architect: Boddhayan Chakraborty & John Solomon
Design Team: Rajinder Dhillon, Aqsa Gufran
Photography Credits: PHX India
Products and Materials: Sanitary ware: Artize Jaquar | Furniture: R Comfort | Flooring: La Italia Marble | Kitchen: Kitchen Studio | Artefacts: Unicorn Creatives | Hardware: Hafele | Curtains and Beddings: HDX Design
Consultants for the Project
Contractor: Salim Choudhary
Styling: Style Fix India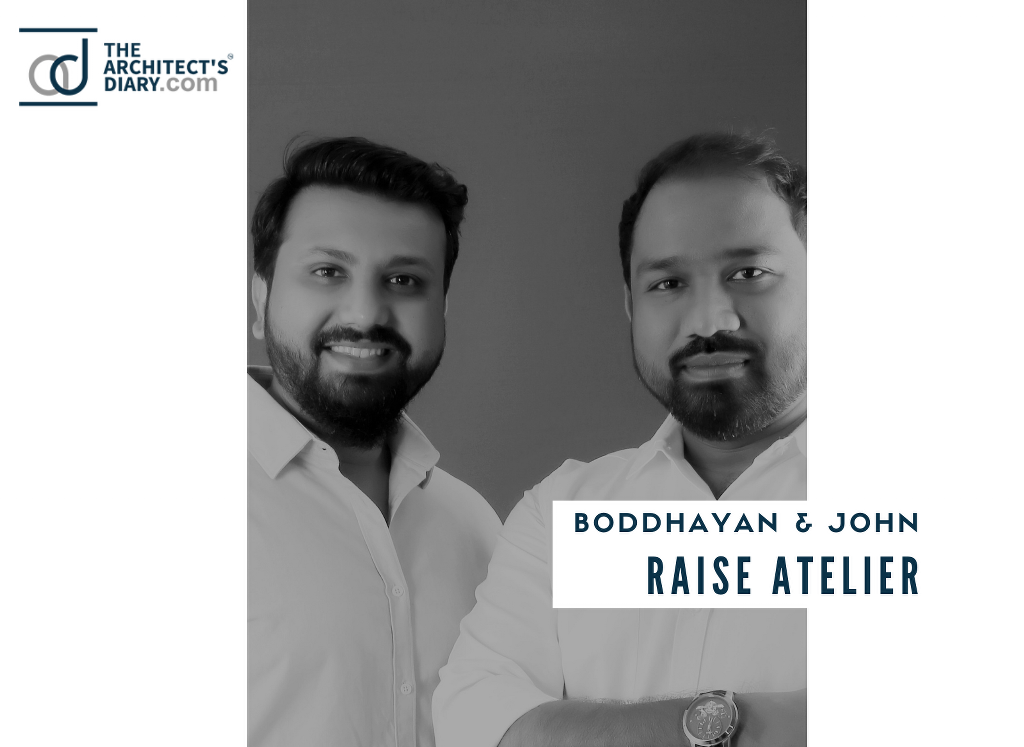 Firm's Instagram Link: Raise Atelier
For Similar Projects >> Minimal Design with Neutral Palette in Contemporary Setting