For timeless bathroom design, a must-have is a roll-top, freestanding bath. Bringing about a beautiful Victorian aesthetic, these baths come in a range of materials from cast-iron to contemporary acrylic, there is a suitable type for every type of bathroom. We've put together a range of bathroom designs and strong flushing toilets for you to help bring about inspiration.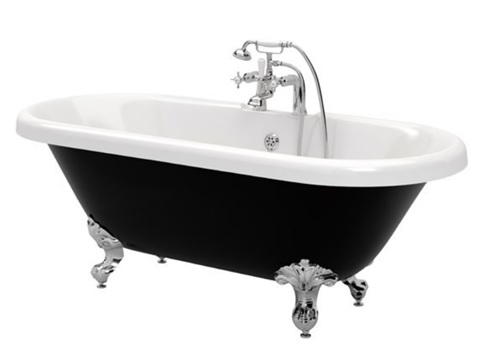 Timeless Victorian Design
For a timeless period look, many people choose to go for a victorian roll-top bath that serves as the central feature of their bathroom. These freestanding baths come in a range of designs but all have the same elegant characteristics, four feet which raise the tub from the floor and soft curved edges for a more comfortable bathtub. Available in a range of materials, the most common being steel and acrylic.
Consider going for a pastel blue or classic white Victorian roll top bath and accentuating its elegance with black and while tiles for flooring and walls. More ideas on

&nbsp
Where possible, the bath should be centrally placed and act as the main feature of the room. Though this may not be possible for freestanding baths with overhead showers which are better suited to being close to a wall.
To really highlight the victorian look, incorporate furniture such as a classic vanity unit with a stunning mirror above it.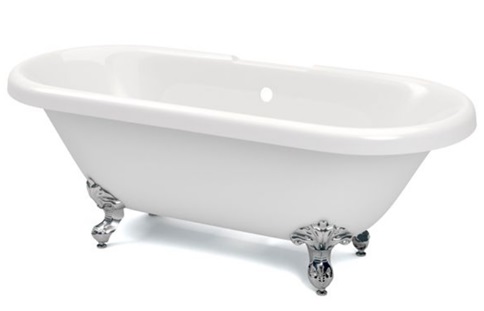 Monochrome And Contemporary Roll Top Bath
Roll top baths can complement a contemporary bathroom space too. Fashionable right now is the monochrome look which ties in clean lines and basic colours. If you're hoping to achieve a modern finish but still would like the added luxury of a roll-top bath, go for a freestanding black bath or stick to basic white.
Made using iron or acrylic, the more modern designed bath comes with a matt or gloss finish and is perfect for larger bathrooms that can make use of space. Paired with a sleek shower unit and monochrome accessories, this aesthetic is both timeless and up-to-date in one.
Double-ended Luxury Free-Standing Bath
There are lots of designer bathroom ideas out there and one of the most fashionable at the moment is the double-ended, rustic bathroom look. Tying in both elegance and a natural finish, think wooden flooring and a stunning double-ended freestanding bath to finish the design. Pair clean white against warm wood and you have easily achieved a stunning luxurious aesthetic.
To nail this style, don't go overboard with accessories and furnishings. Instead, try to keep things minimal with the use of spotlights, clean white towels on display and a simple rounded mirror.
Countryside Retreat
Luxury roll-top baths look great when positioned in a window. Offering an idyllic spot for a view, why not consider creating your own countryside retreat? Where possible, place a roll-top bath in a window to create a stunning point of interest and work the rest of the furniture/style around this.
For a countryside retreat, add soft textures such as woven rugs and even curtains to a window for extra warmth. Bathtubs with claws make excellent choices for this type of style and come in a range of colours. A stone free-standing bath can look great in this type of setting given its natural material which works with the landscape around the home.
Add some countryside-inspired accessories such as dried flowers, ceramic ware and a wooden vanity unit and you'll have your very own retreat to relax in.
You'll find plenty of inspiration out there when it comes to creating a luxurious bathroom with a roll-top bath of your own. Take a look at the stunning range of free-standing baths online for further inspiration and make your dream bathroom become a reality…