&nbsp
Maintenance and installation should always come into your mind before taking any step. Ensure cabling is done in continuous ducts because it is not easy to remove bulbs from step lighting.
Kinetic and dynamic lighting is amazing but not good for those with impaired visions. They always mistake dark shadows to be obstacles or a step. Below are some of the things you need to consider while installing staircase lightings:
Types Of Lights
Is it a surface-mounted surface or recessed lighting you want? The most common one is the recessed lighting because it is not easy for one to trip. Decide where you want the lights to be placed. Is it on the wall, on the ceiling, on the handrails or just on the steps? The outcome of your staircases also majorly depends on the person installing them. The best thing is to hire a professional or a company dealing in offering the services for an amazing finish.
Colored Or White Lighting
Homeowners and modern LED technology have taken staircase lighting to another level. Originally, Led Tread Lights available was installed with white and warm lightings. Play along with rainbow hues to achieve that ambient finish on you stairway if your choice is colored lighting.
On The Staircase Steps
Whether the treads are placed vertically or horizontally, recessed lights can be installed on the steps for a subtle finish. Lights on the steps are illuminating, but they cannot interfere with the general lighting of your home. The region at the center of the staircase needs the vertical lighting for better illumination.
On the other hand, horizontal lightings will give the steps a runway like appeal. Portions on the steps have to be cut during installation of the lights. All in all, seek professional electrician advice before going ahead with the setup.
Battery Operated Or Hardwired Lightings
If you want higher quality light, then hardwired lights are the way to go. They not only emit brighter light but are also stylish and have got a sleek look. They can be controlled by a switch usually are installed permanently.
On the other hand, installing battery operated lights are so easy though not good looking like the hardwired ones. They are best when set on the outdoor and not pretty indoor.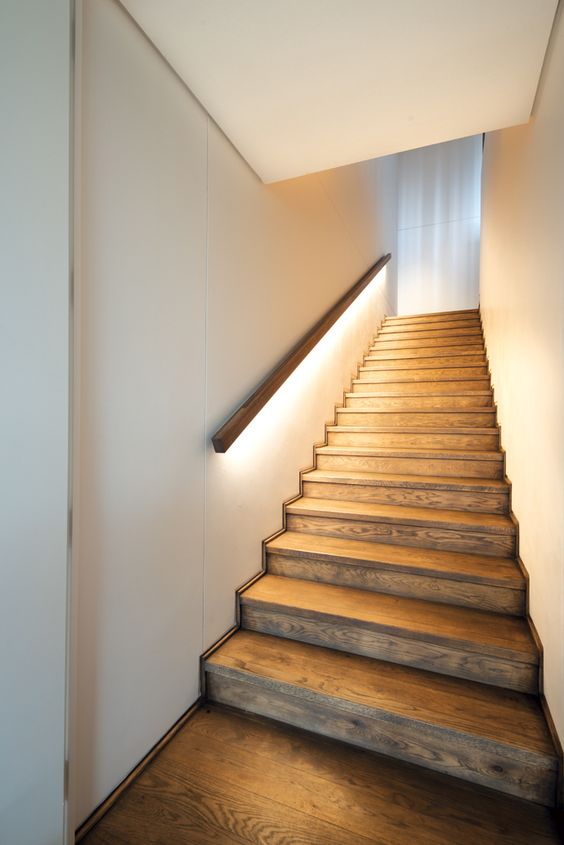 Beyond Or Under The Step
Add handrails and banisters for you door space by setting up the steps into striking focal points. Underneath the steps run a line of lights which is perfect for a safe night.  The fixtures can be customized to your liking, and with that, they cannot be messy. Under each step, use step lights if there is no vertical tread between each stair but have a floating or open staircase.
When planning your décor, remember stair lighting should not be left out during the planning process. Before lighting a staircase ensure you are aware of the size and shape of the staircase for a perfect ambient look.