An Exposed Brick Front Elevation Gives the Villa an Evergreen Look | Establish Designs Architects
An exposed brick masonry and terrazzo plaster give the villa an evergreen look.The brick wall with a height of over 30 feet adds to the grandeur of the house.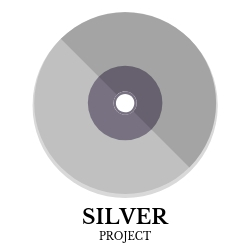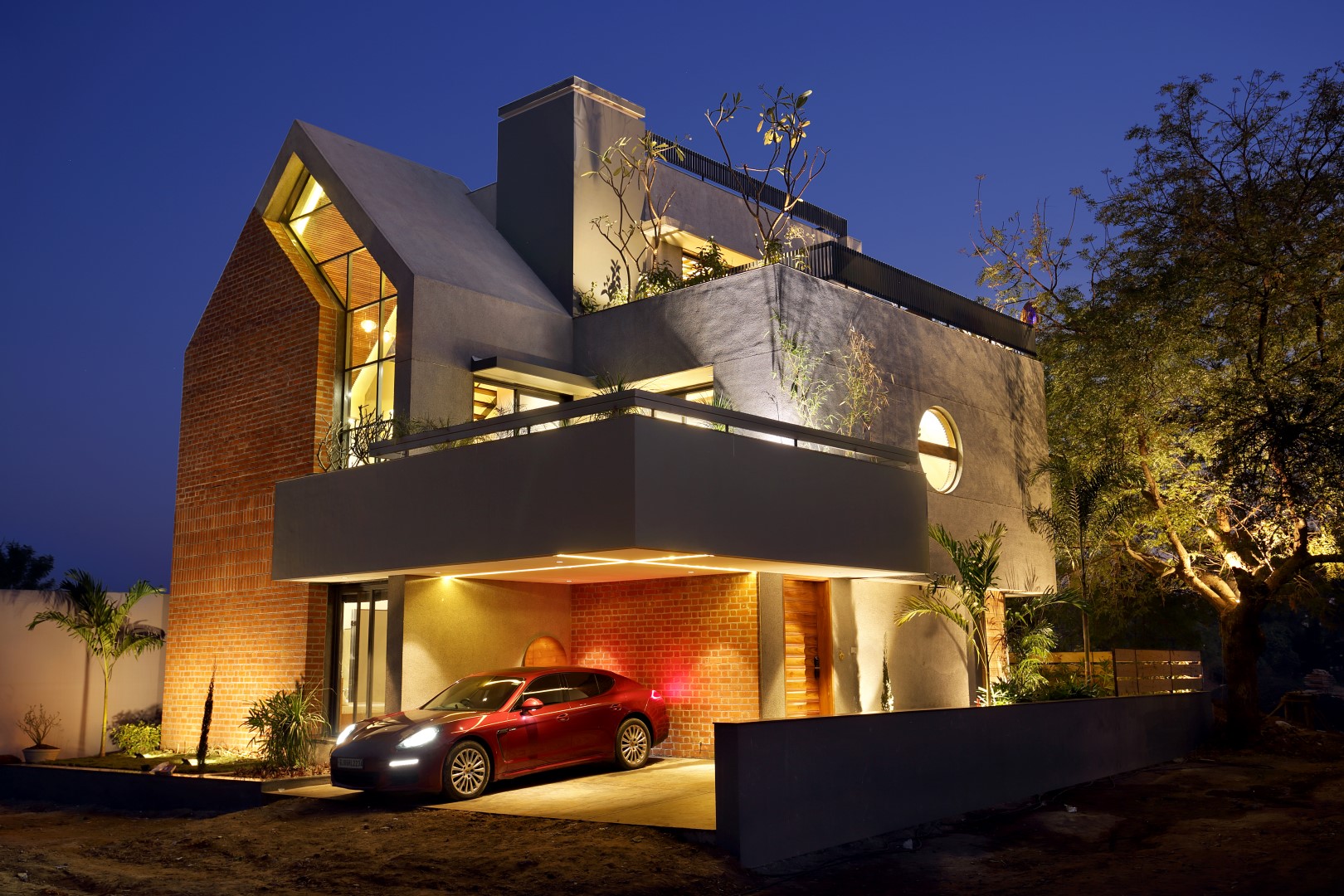 The Parking area is cantilevered, thus offering a rare spacious entry welcoming you to your abode. You feel a sense of spaciousness which gets extended all along your home.
As you walk into your home you feel a sense of minute detailing in each and every nook and corner.And overall sense of spaciousness un-clutters your mind while the use of state of the art, technology and superior material specification attracts your undivided attention to a good life.
The large Living-Dining area opens up to the garden letting you be one with nature, yet allowing you the desired privacy. The column-free living-dining area opens up to the garden. The concept of garden been seen from the inside of a house remains same on each level so one can adore garden view being in any room.  Cross ventilation and natural light are also well-thought-out as an essential factor.
Sliding doors add versitality to space and also compliments the language of architecture by connecting indoor space with outdoors. Programmatically there was a delibarate delineation between the public and private spaces. Spaces such as kitchen, dining, living, common toilet and guest room are located on the ground floor where as the upper floors has 2 private rooms a family living room and a recreational room.
On the first floor, the living room has a lofty high ceiling that breaks the massing and has a sloping roof with adequate natural light. Artificial Light act as work of art apart from the light source.
As you walk up the stairs from the living room, the double-height family room with its abundant natural light and a massive ceiling height transport you to a different world. It shall witness lively discussions which shall extend to the attached garden.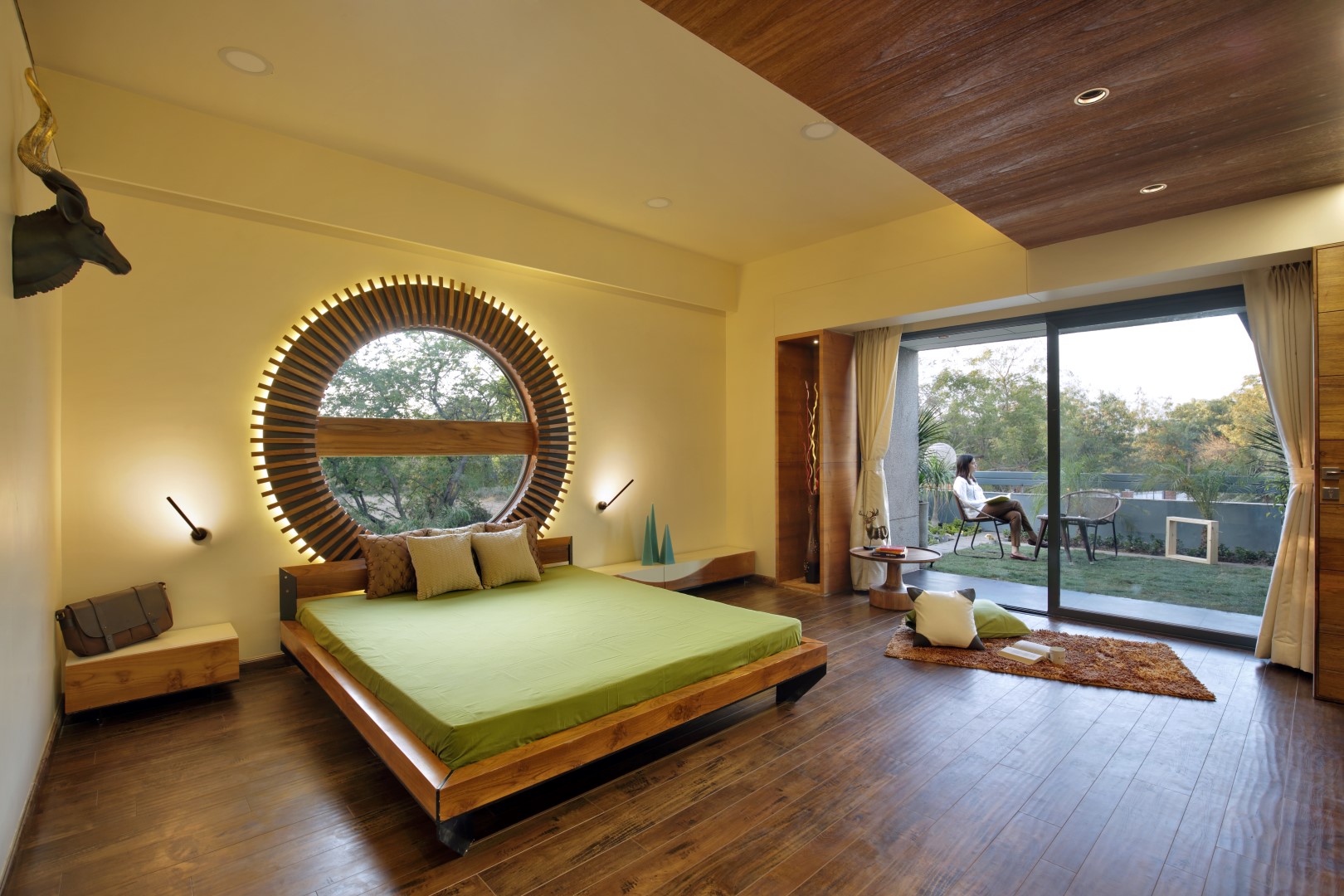 This house builds a level of privacy for the users where they can interact with each other along with the nature.
The bedroom is designed considering the instinctive usage of space with ingrained furniture to go beyond the normative idea of formal living spaces. Also the garden space acts as a buffer space and maintains the privacy of the house.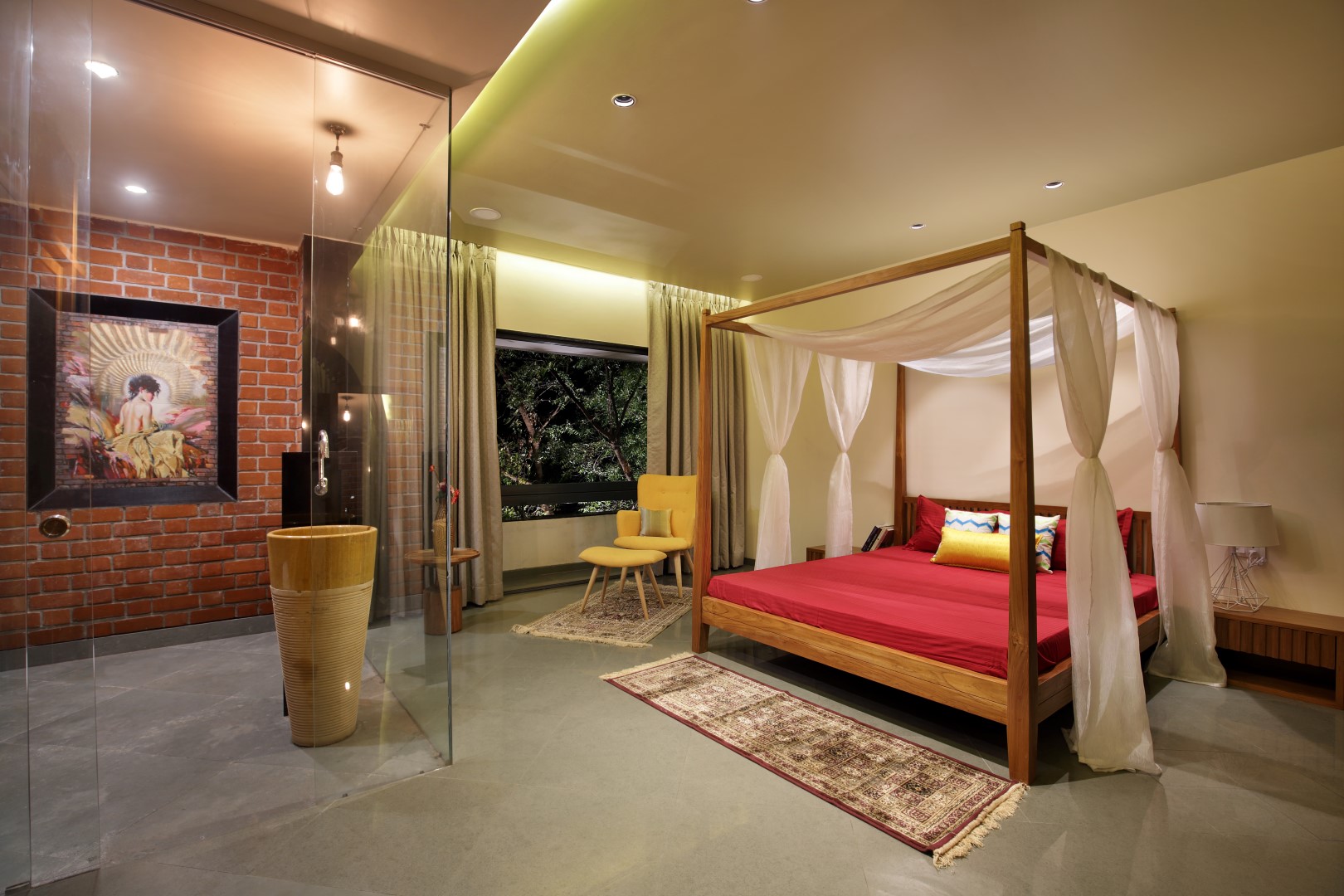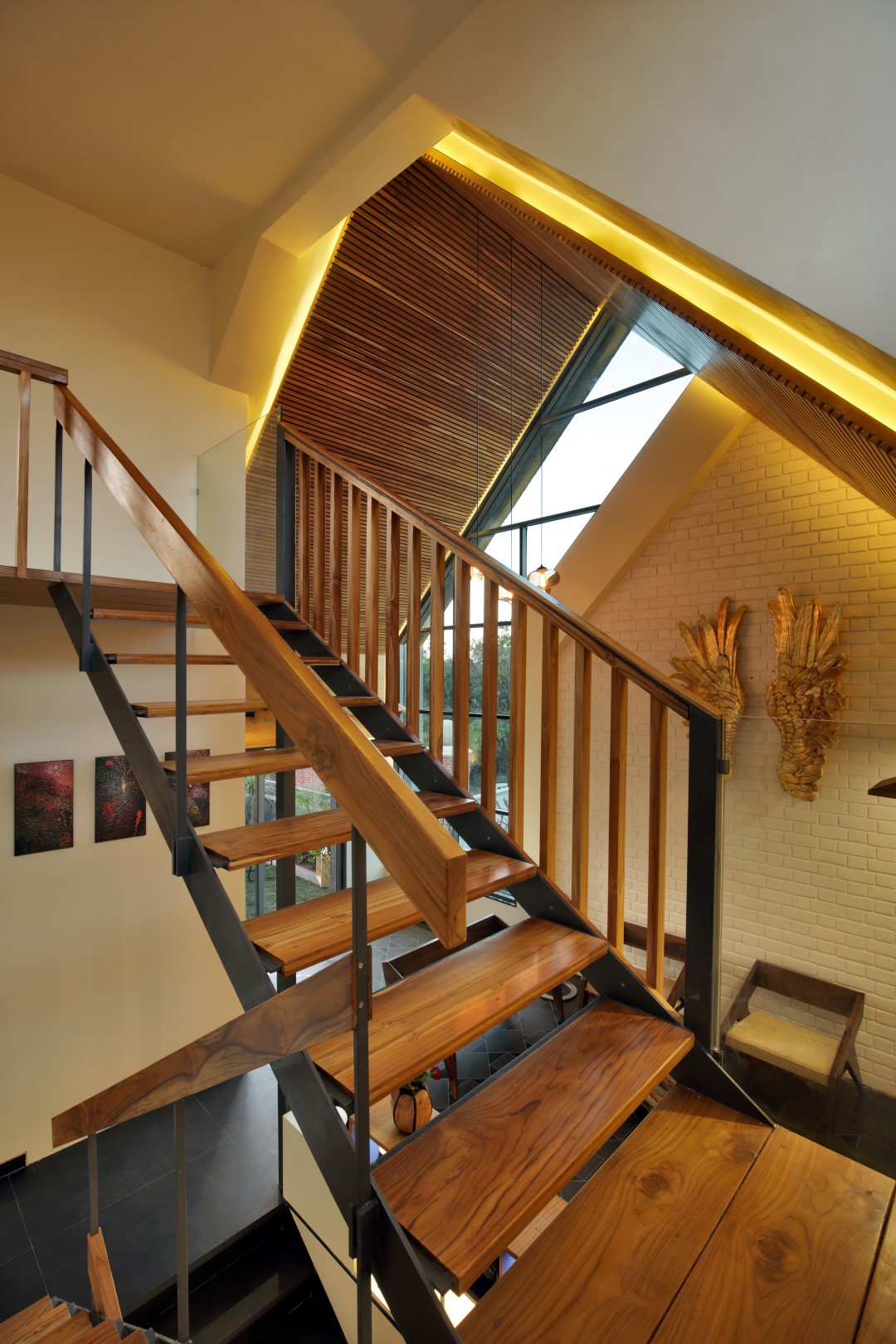 Here, the interior is designed with a modern concept and open planning system. Also, it must merge with the concept of the architecture of the building. Garden and landscaped terraces provide a spectacular view being the core focus of the house.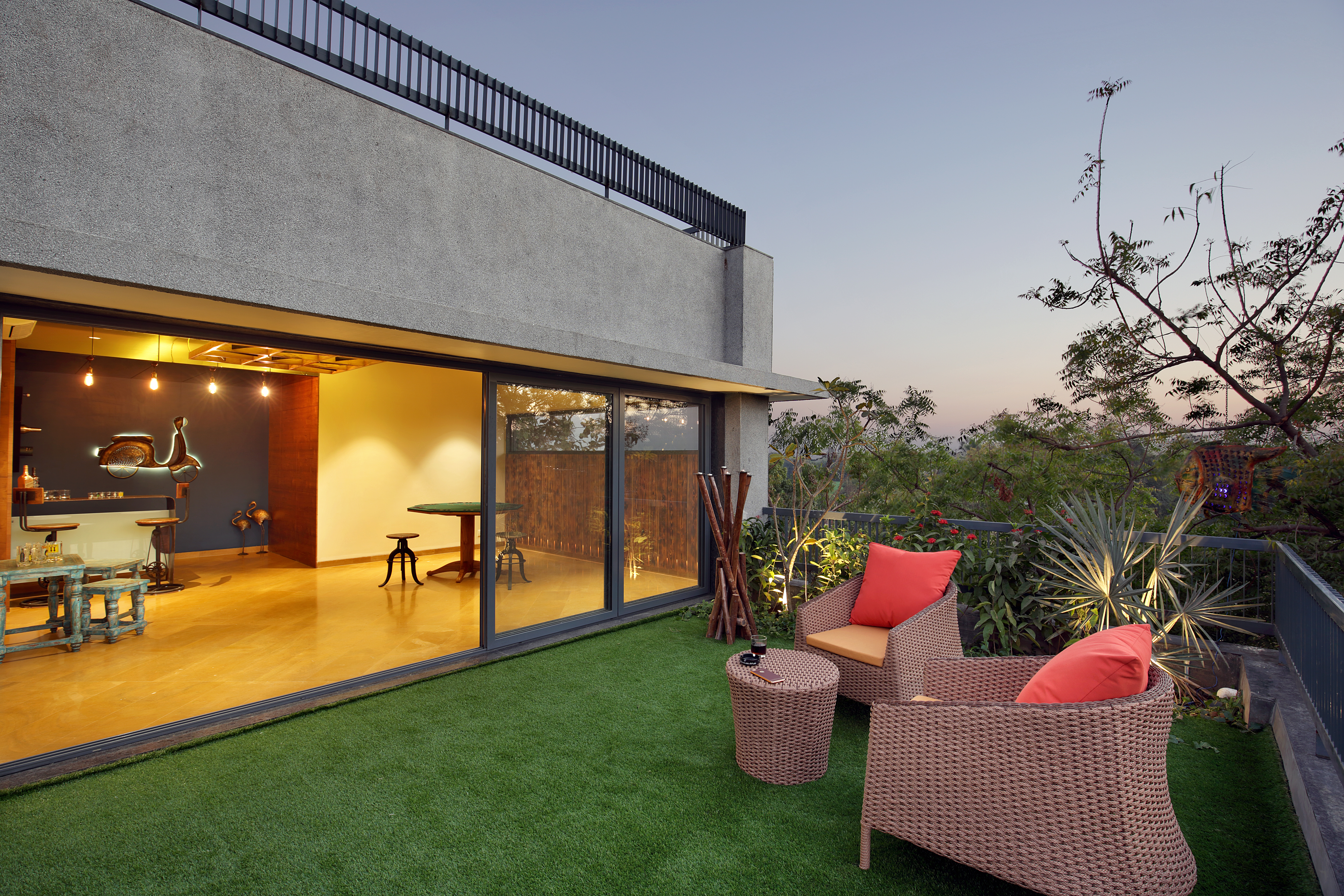 Presidential Villa
Architectural Firm: Establishdesigns
Photographs by: Tejas Shah
Client :         AIM Infra, Vadodara
Built Up:   4000 Sq. Ft.
Location:    Vadodara, Gujarat.
Text credits: Arjavi Patel