Ethnic Wedding Boutique | Rust The Design Studio
The 2250 sq. Ft. Space of a City designed as a wedding boutique; this boutique was designed as an Ethnic space which has lots of racial essence with modish touch.
The boutique was established in 2014 with the motto of serving designer wears. Gradually they stepped into connoisseur's bid mainly dealing in sarees and lehengas with handwork combined with mechanical embroidery work. At present the team of 400 people working at workshop at different level to bring craftsmanship into reality. Now they are dealing with all leading bridal stores across India. They proudly fulfilled the clothing requirements of 20,000 brides in a year. Their goal is colour story of garments. As they focuses on the Indian bridal wear retail and wholesale outlet of the brand.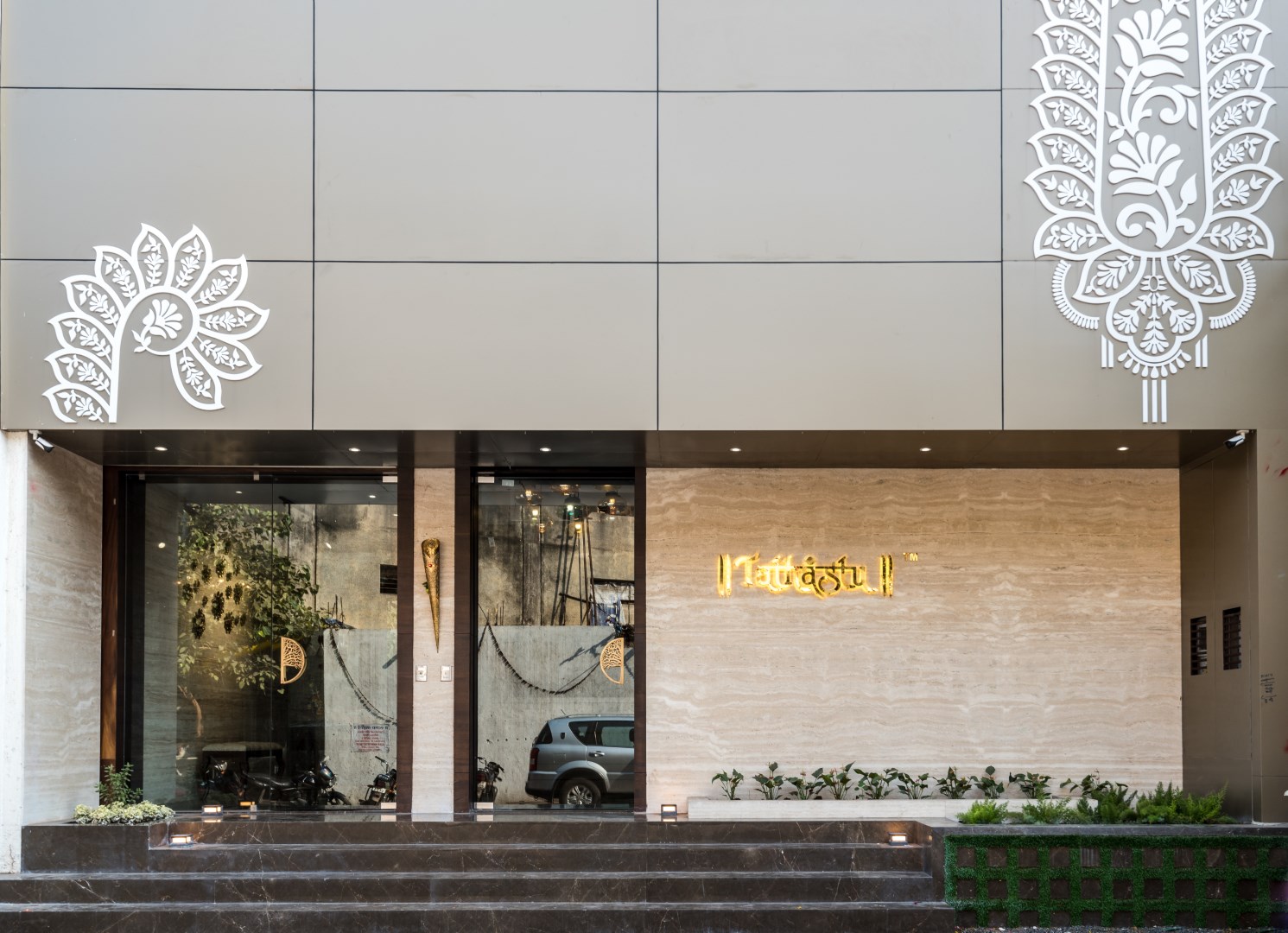 &nbsp
Considering the wholesale market of ethnic wear we have to be design a unique space on the way of inspirations from racial Indian culture, we developed spaces with using some former elements as a memorial impression of lineal designs of India.
The boutique is the main outlet of bridal wears and they connected to fashion updating day by day. So we designed space to stand for long with trends of interior works. The basic underlying theme of the design is a preference of Indian Contemporary in a way that to create something unique to state character of its own. This we achieved by using very contemporary Things. The pallet adopted is earth colours fused with bright colours to enliven the space, and also to depict client's main goal, Customized artwork in wood and metal with the use of fabric made in-house by client adds singularity to the overall space.
At adjoining road face have the earthy stone step up toward the entrance foyer of the boutique where we used natural stone cladding on wall which is the eye catching element to branding. Inbuilt planters in entrance with steps from the outlook we can define that the space is presenting the boutique easily by application of ornamental of Paisley vectors which are the blinking design signature. The entrance itself speaks of the oomph factor of the boutique with the parsley murals on the high walls.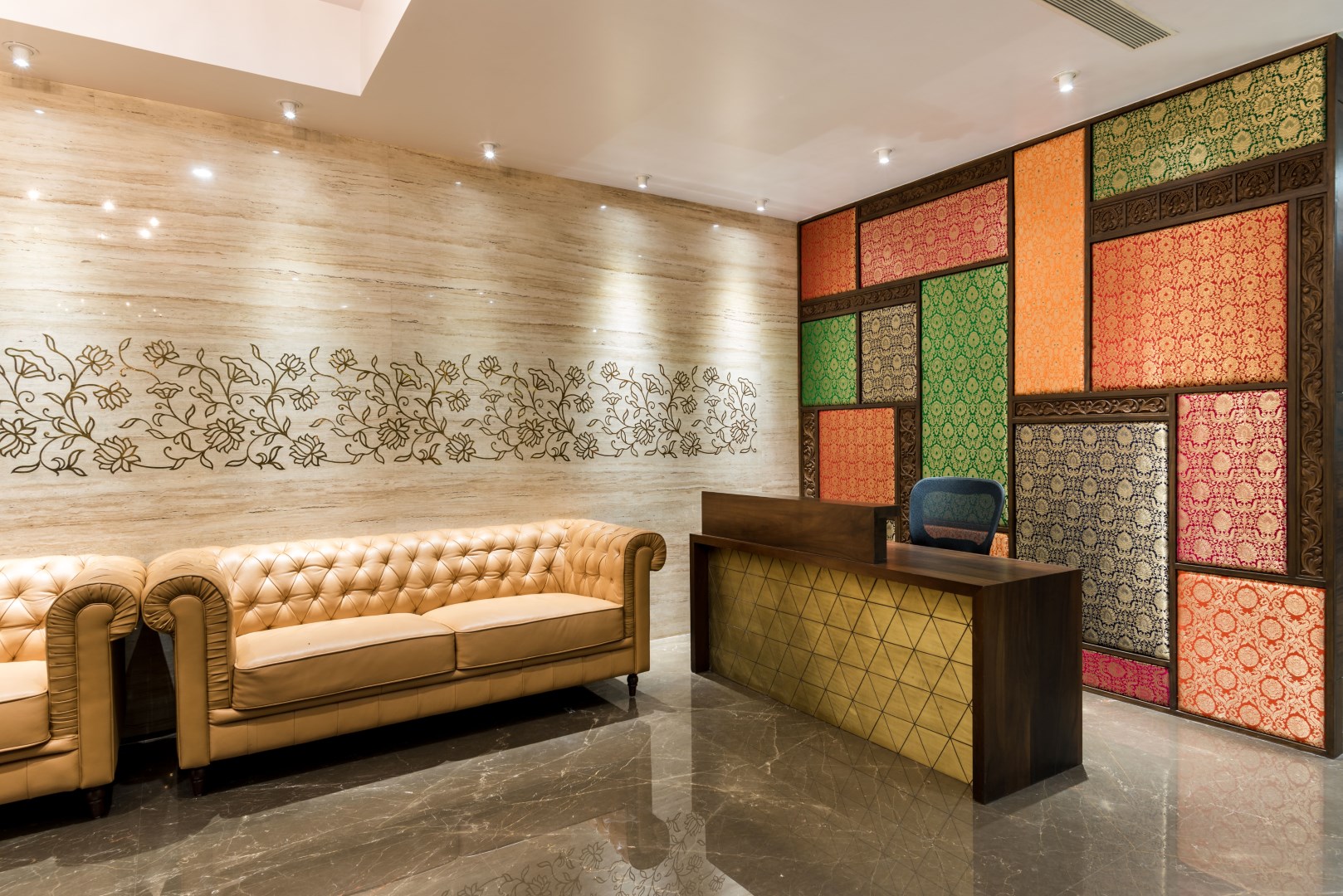 Now, let's step inside
The basic layout of the boutique is essentially open plan to make the store to easy access and look spacious and uncluttered.
The Glass Double Doors offers Gentle invitation and welcomes by using traditional "Kamad" (real panelled door) in entrance foyer panel which is the memorial piece of wooden era (kastha yuga) the door created from sesame wood members panelled with solid wood planks have a hand carved panels and brass rivet works are very worth full, the style of carving art in wood with using metal work was Birth in royal Indian civilization, the foyer is lighted from ceiling by verity of different coloured hanging lights made by glass to a meaningful place as welcoming things.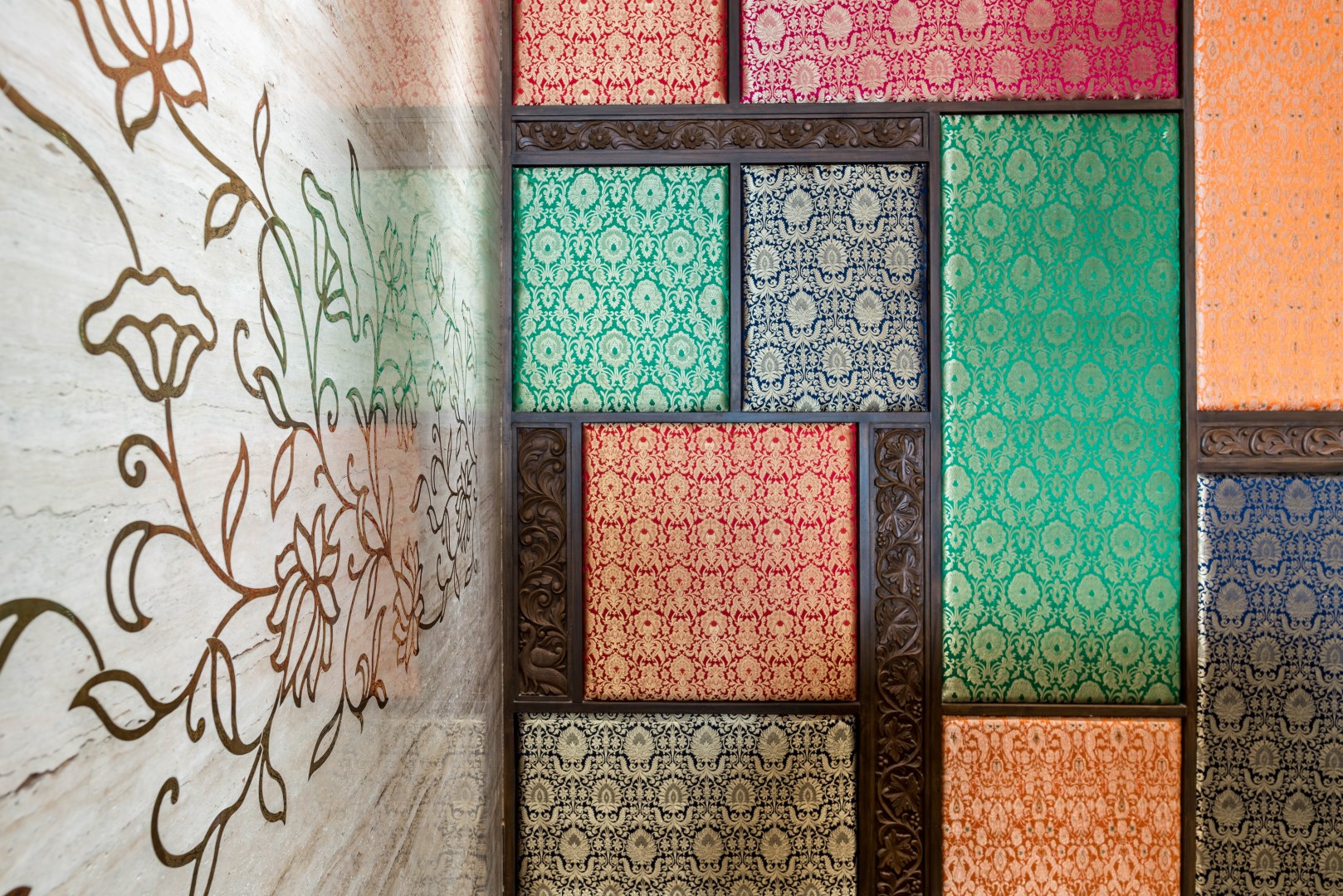 The reception and waiting area which offers to take a seat to get a look of the art work in fabric and to feel the charm of an ambience. Seating elements placed in front of the stony wall which having inlay work of lotus and leaves, it reflects the fusion of various Arts like we laid the designs of fabric work in stone to make them familiar with the theme of boutique. The reception table is composed by a wooden frame holding a unique panel in front, which is composed by geometric pieces of brass with antique finish.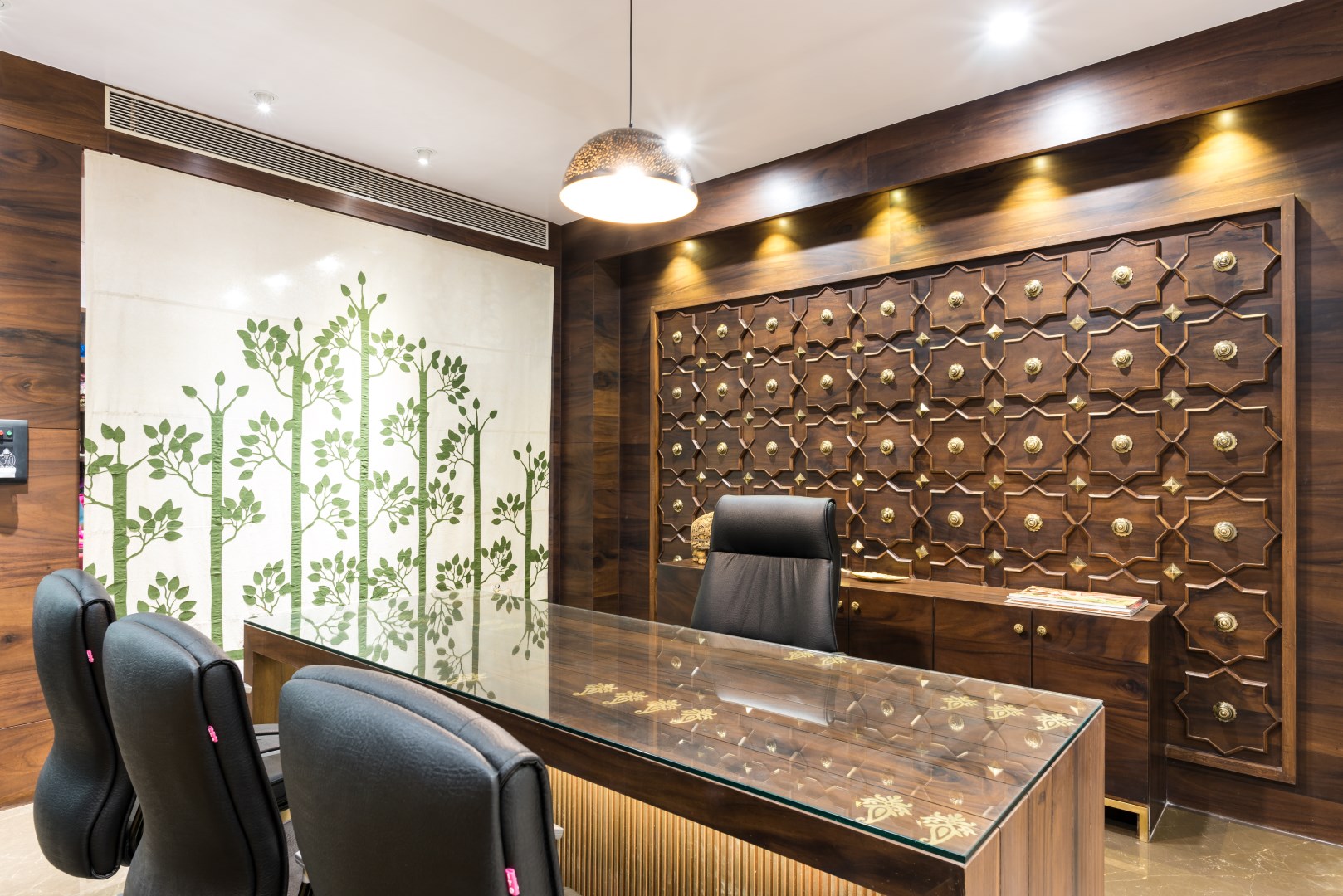 The visual barrier customized by random arrangement of carved wooden planks and different fabric panels is an aesthetic display of the base of the boutique. It also play role of set back of the reception table. The reception area reflects the rays of lighting spots on the stony wall and the hanging candle stand makes ambiance warmth and welcoming.
Our focus was to let the customer explore the store thus in front from the waiting area we placed a display area for selection, we separated it by using semi opaque geometrically screened metal plates with antique finish to get a look through an activity in it.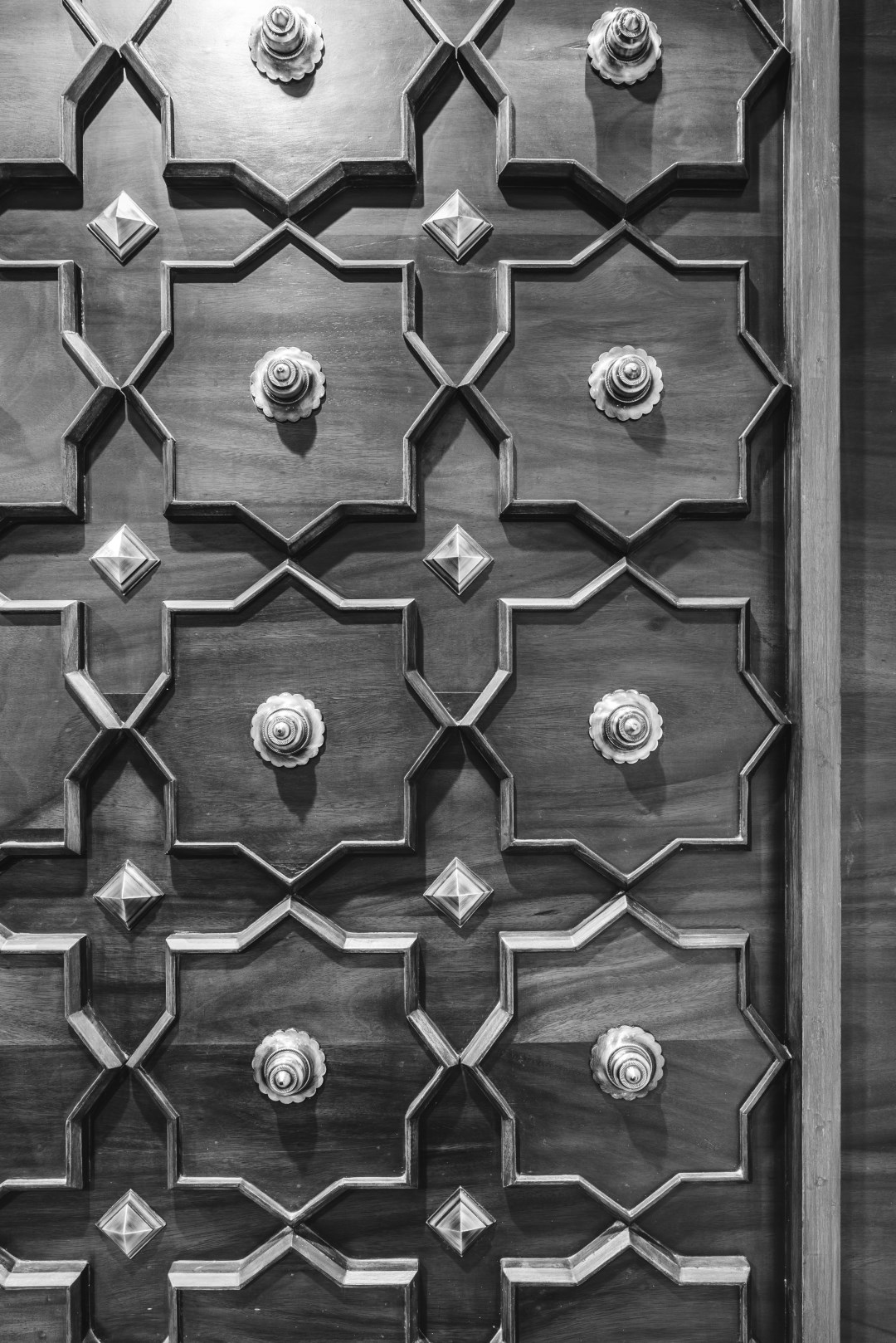 The sales area accessed from passage where we presenting designer wears for brides in contemporary straight lined display units randomly divided by onyx belts with backlit and Shelves has inverted lights which publish products. This is main browsing area; here we detailed the display back by using wooden and brass jalis in dark finish. The ceiling is designed as using Paisley patterned silk freeze in deep with lighting from wooden boundaries. The paisley patterns are an ethnic ornamental shaped motif with a curved upper end, which are very popular in 18th and 19th centuries in the design from India. Ceiling makes the space weighty for the sales area where the products to be display with showing details by unfolding it full for comfortable selection.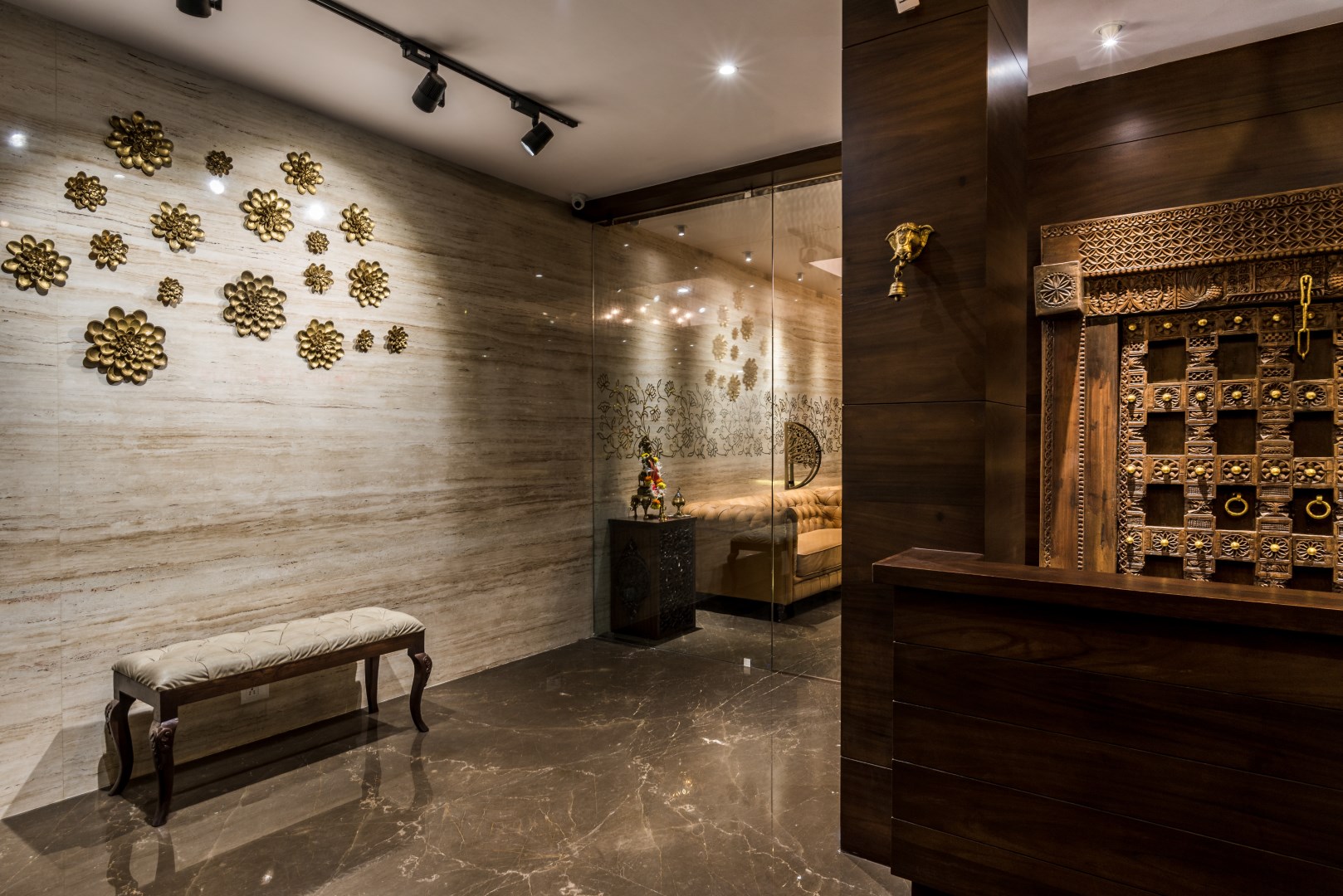 One Meeting chamber is placed near sales area to interconnect with each other, entering in meeting chamber we detailed a wooden table with brass motifs inserted in wood holds eyes for a while, the back facade was panelled by using wooden geometric vectors by brass rivets. The geometric shapes of wood and brass brooches publish by light sprays. Side of meeting space have clear vision through glass partition, we applied fabric curtain having mural art of tree to support green things by patterns of green plants. These elements incorporated believing that humans are always drawn to nature in search of calm and peace, these elements helped bring in a certain sense of calm and tranquillity. The overhanging light composed from copper bowl sprays warm rays from dot cuts lit up the table to make the space significant.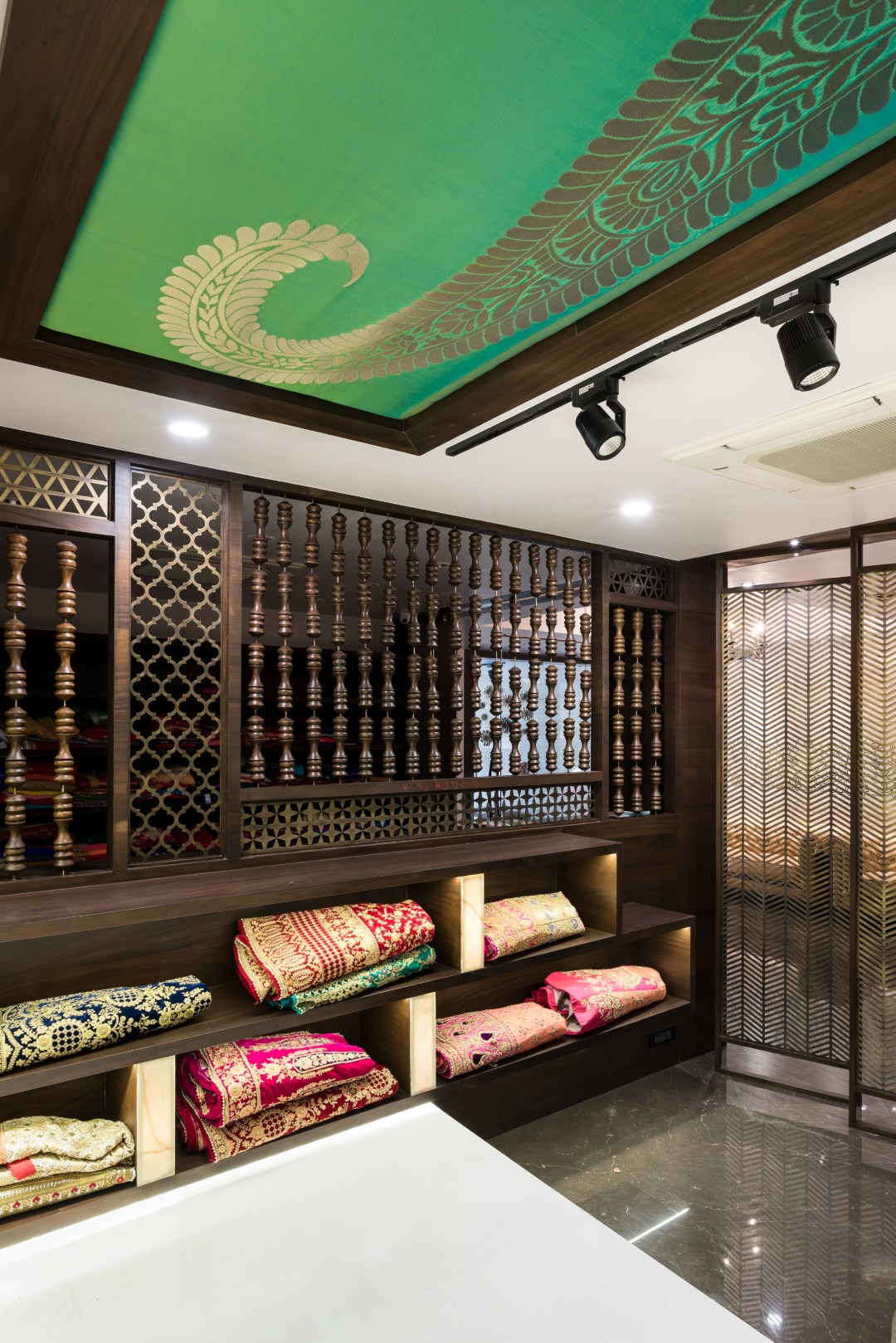 Second chamber is located at up floor in the boutique, this chamber is equally important as first thus we used colour throwing fabric panels with wooden boundaries we placed random colours and sizes to make it live for long, we attached wooden blocks used in block printing process, this blocks are memorial elements of the history of fabric printing arts.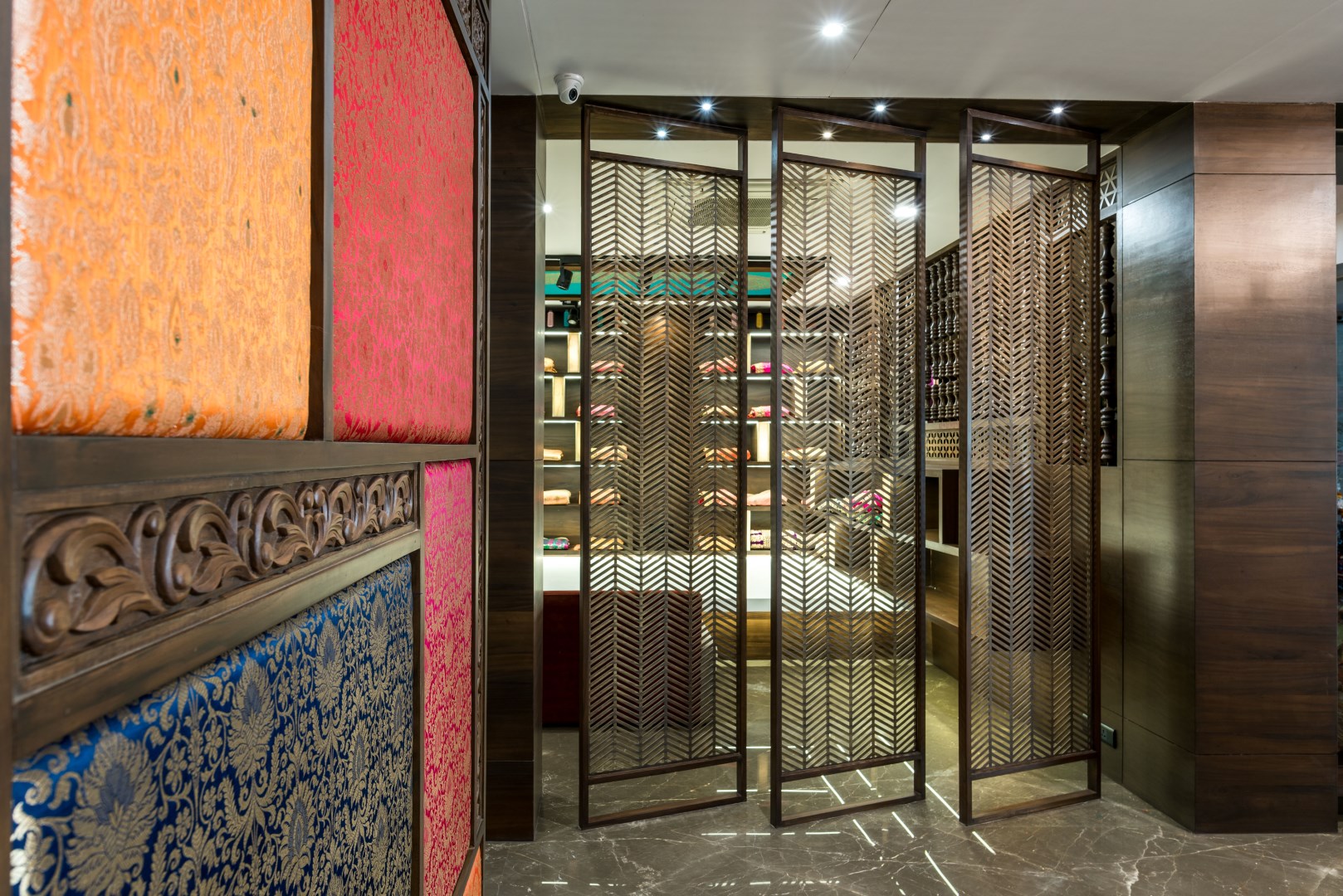 Here we used all elements derived by various Indian civilizations in modern way to make past designs memorable and to include richness of ethnic designs in interior trends. Use of local crafts promotes spatial art. Practice with using green materials like wood, natural stones, Fabrics and metals stands for long life and can be reuse/recycled easily, Here We tried to conserve the culture of designs that we passed on.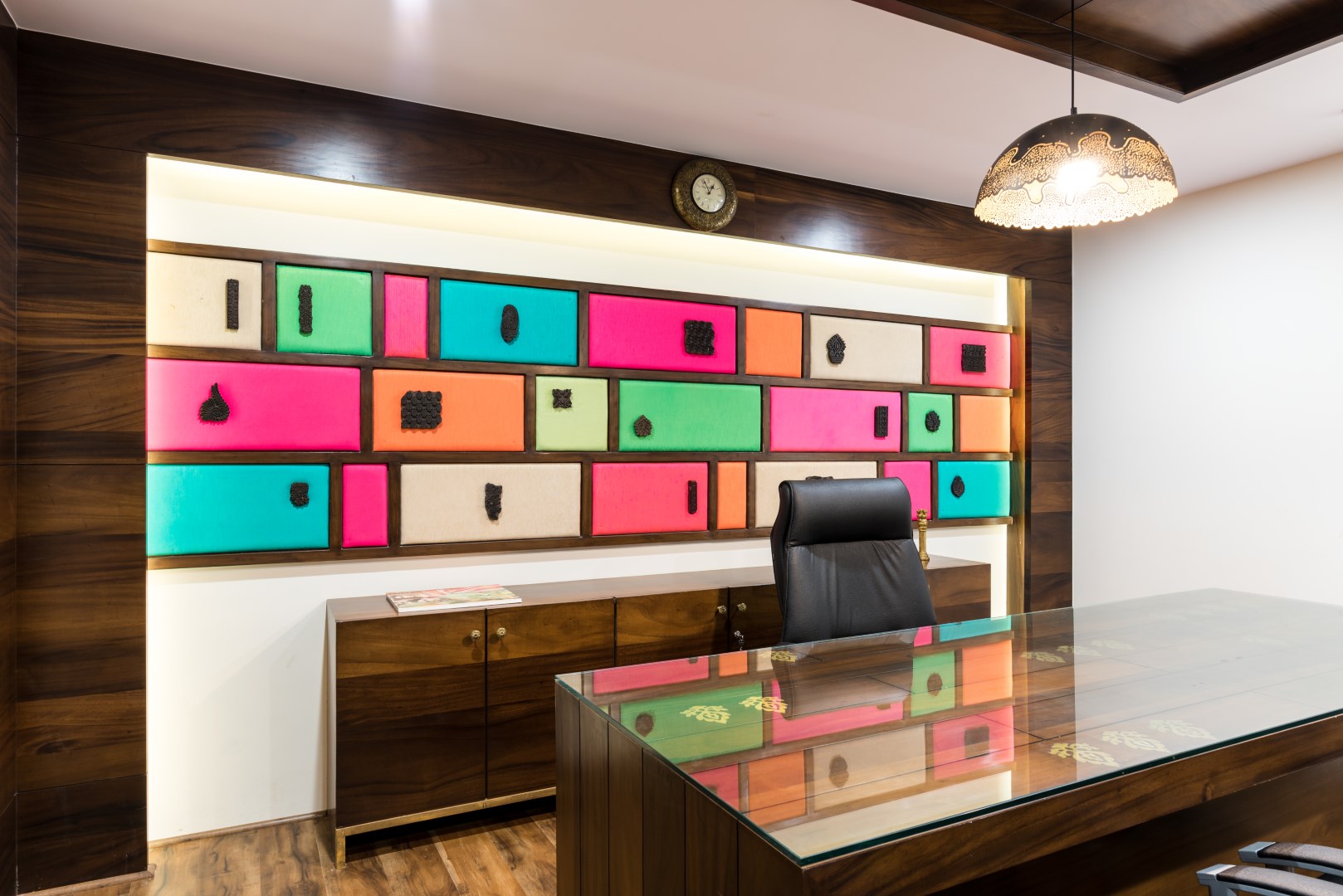 The store interiors are in tune with the Indian designs to offer the bridal Indian collections. This refers to the design of an environment via visual communication, lighting and innovative use of materials to stimulate customer's perceptual and emotional responses, this ultimately affect their purchase behaviour and gives great significance in the way the store has been designed.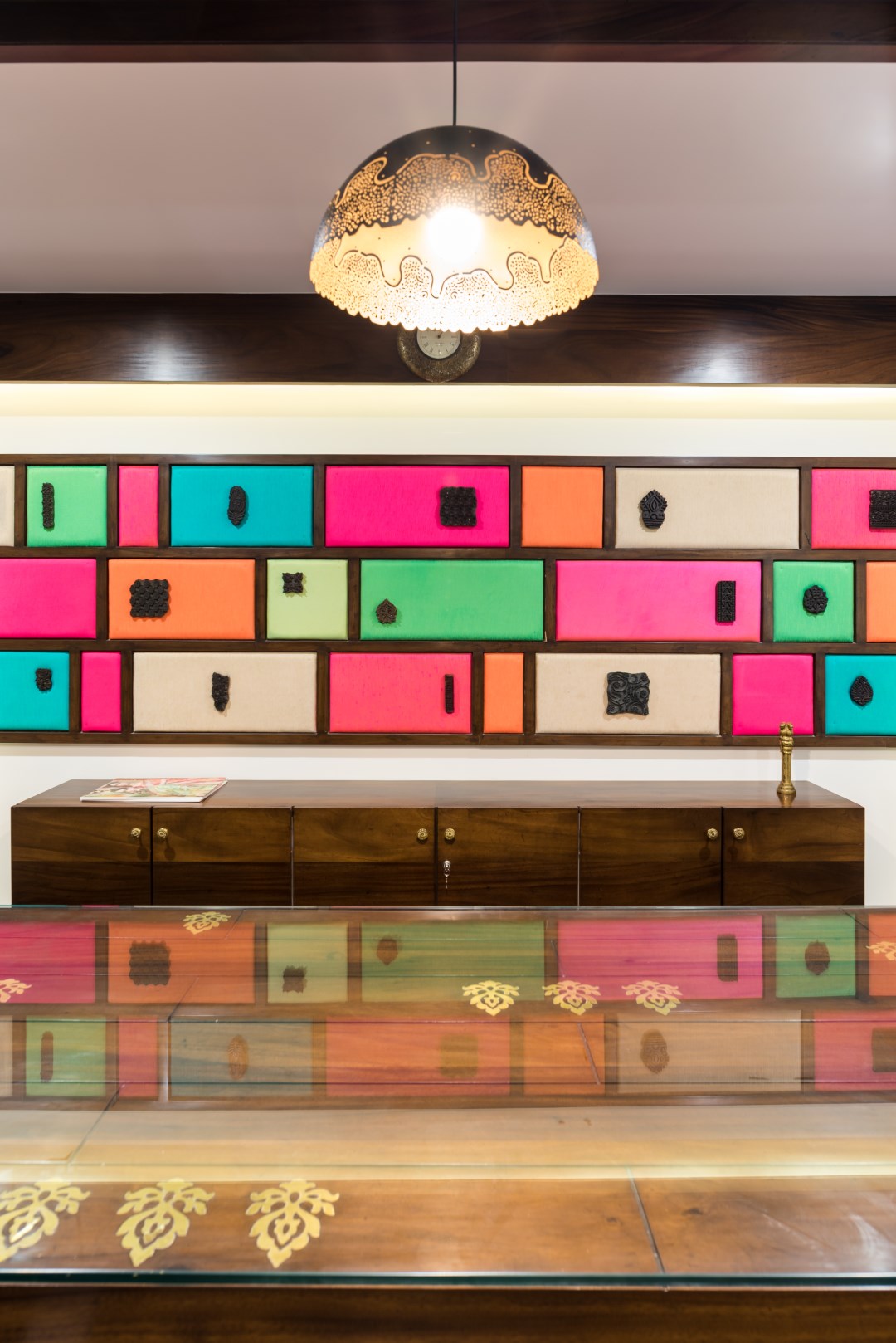 FACT FILE:
Project- "Tathastu" ( Wedding Boutique)
Area- 2550 sq.ft.
Location- Surat, Gujarat.
Client- Mr Gopal Patel
Name of Firm: RUST the design studio
Designer- Mitesh Antala
Text- Janki Hakani
Photography- The Fishy Project

&nbsp