&nbsp
If you live in a smaller flat or home, you might find yourself sharing your bedroom with your home office. This can prove to be quite the challenge, especially if you have trouble sleeping through the night.
Most experts will recommend your bedroom remains a place that is dedicated to rest. Since your body creates associations between everything, it isn't great to have a bed right next to a place where you're supposed to have your mind at it's most alert.
When you're pressed for choice and space is something you have to negotiate with, there are a few simple ways you can make sure you're doing the best you can to optimize your bedroom. From finding the best mattress size for you to dividing up your space,  these tips and tricks, you can expect to go from work to sleep easier than ever before: 
Tip #1: Optimize Your Bed For Better Sleep
When you're doing multiple different activities in one room, it's important that your bed remains a place dedicated completely to sleep. If you are having trouble sleeping at night, it might be time to replace your mattress. Memory foam mattresses have a great amount of success for restless sleepers and might be worth a try if you're in the market for something new.
This is because memory foam mattresses are versatile enough to support a wide range of sleep positions, while still having the comfort you'd want from a good night's rest. When it comes to finding the right memory foam mattress for you, the most important factor to consider for a multi-purpose bedroom is mattress size.
Mattress size also plays a huge role in the way space feels in your room. You'll want to invest in a mattress size that is compact enough to create the illusion of more space, so a Twin or Twin XL might be the way to go. This is especially true if you're looking for the best mattress size that works for a single sleeper.
If you share your bedroom with a partner, a Full mattress size can allow adequate space for both of you while still remaining a more compact option for your bedroom.
Tip #2: Create A Physical Barrier Between Your Bed And Workspace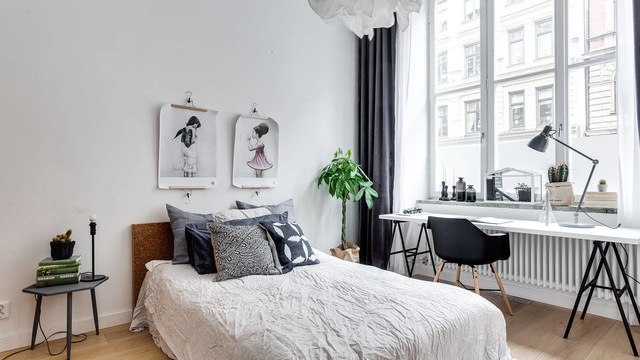 If you have the space for a physical divider between your bed and workspace, it's absolutely worth the investment. Arranging your bedroom furniture strategically so that there's a work 'zone' and rest 'zone' within your bedroom itself. Understanding that your mattress size is going to influence the way you arrange the rest of your bedroom furniture is a good reason to begin with your bed.
You can also use other pieces of bedroom furniture such as a bookshelf, or curtains, to put away your work things in a much more literal sense once you've clocked out for the day. Not only does the popular phrase 'out of sight, out of mind' apply here, but you're also just a lot more likely to have a healthier work-life balance if you're keeping your work things at a physical distance from you.
Another way to create a physical boundary between your workspace and bed is to actually remove all work-related tech and objects from your bedroom once you're done with them. You can do this in different ways – dedicate a shelf in your living room to stack your work laptop and any other documents you might need so you don't have to keep being reminded of them as you try to go to sleep or find a shelf in your closet you can tuck these things away in.
Tip #3: Practice Proper Sleep Hygiene Before Bedtime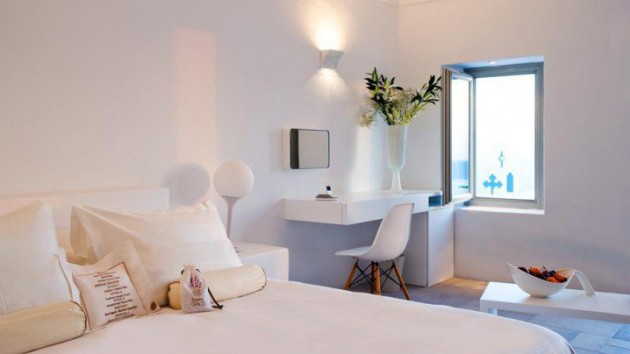 Sleep hygiene refers to the practices and habits you develop in the lead up to going to bed at night that allows you to experience deep, high-quality rest. While sleep hygiene is important for almost everyone, understanding its relevance in the type of sleep you experience is especially significant if you're using your bedroom for a variety of different tasks.
There are a few tried and tested ways to ensure you're maintaining healthy sleep hygiene. Avoid caffeine and other stimulants such as alcohol as you're nearing bedtime to ensure you're falling asleep as quickly and deeply as possible. Other practices include blocking out all sources of natural light, having a regular exercise routine that helps you feel more tired come nighttime, and steering clear of junk foods that can result in irregular spikes of energy.
Finally, establishing a relaxing sleep routine can also get your mind in the right state for rest. Light a few candles, sip on some hot herbal tea, indulge in a warm bath and try to cozy up on your bed right after.
Regardless of your mattress size or efficiently handled workload, it's always going to be a little bit of a challenge finding your groove when it comes to good sleep in a multi-purpose bedroom. Ensuring you're keeping your work life and personal life as separate as possible, arranging your bedroom furniture in such a way that you don't feel too stifled, and practicing strong sleep hygiene will all go a long way in keeping your trouble sleeping at bay.