&nbsp
It's a organic products shop. Major set back we had was the 160 Sq.ft site area which is much lesser to work in the busy street of the city. We proposed the shop interior design and renovation work. My clients wanted to display their products with giving an earthy tones emphasis to the shop from the buzzing streetscape.
Earthy Tones and Raw Aesthetics of this Retail Store in Coimbatore | Masonry of Architects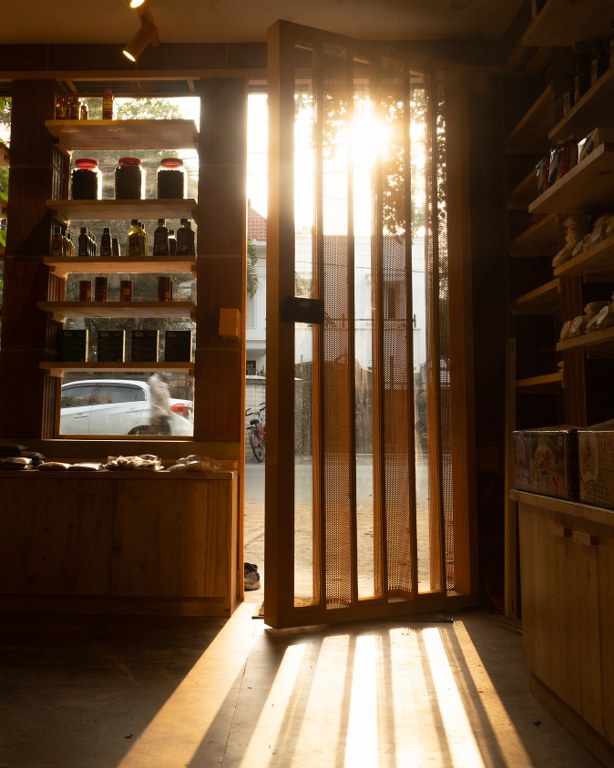 Since the products were based out of natural herbs they wanted the outlet also to have an image of the earthy tone. The shop was west facing outlet so the major setback we had was the heat and the sunlight. We had used the porotherm blocks to reduce the indoor temperature inside the volume.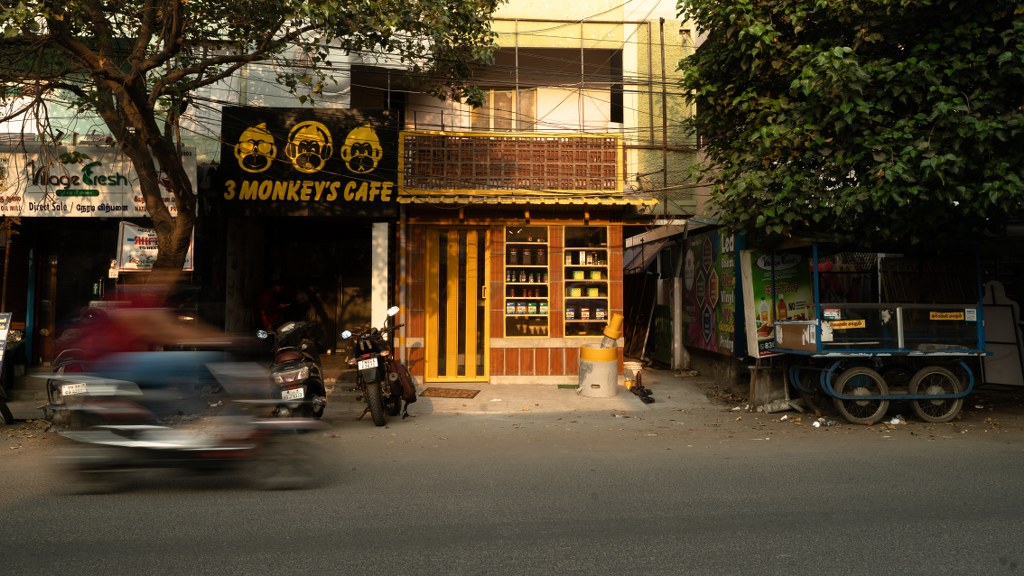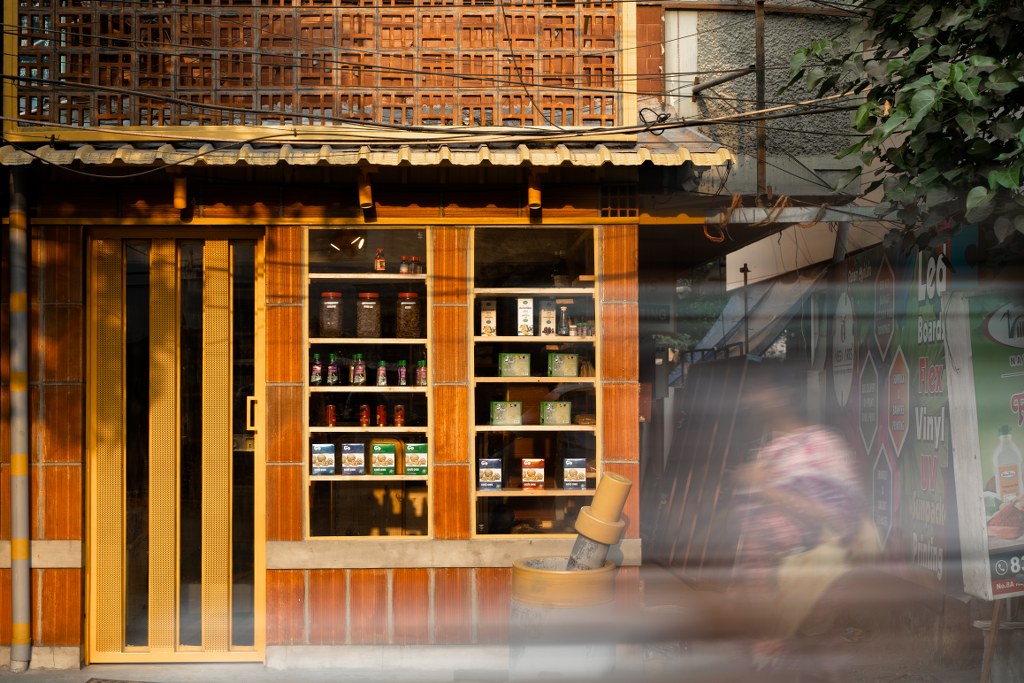 The appearance of the shop was made in such a way that there is a clear line of  balance between built and unbuilt space. The brief included with work unit , store area and display area. We planned to retain the good existing features. The design focus on the display areas should be more than the store and work units.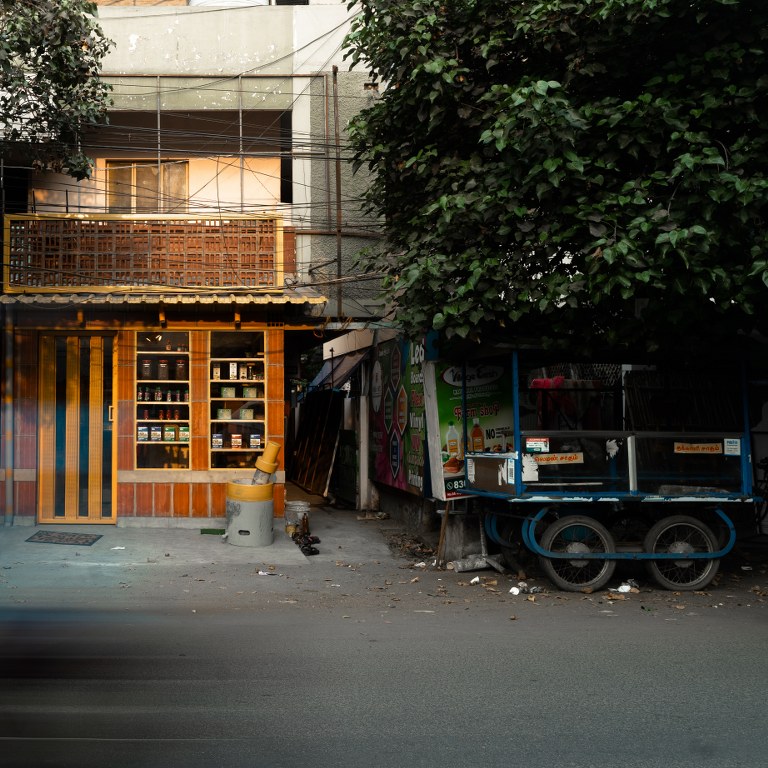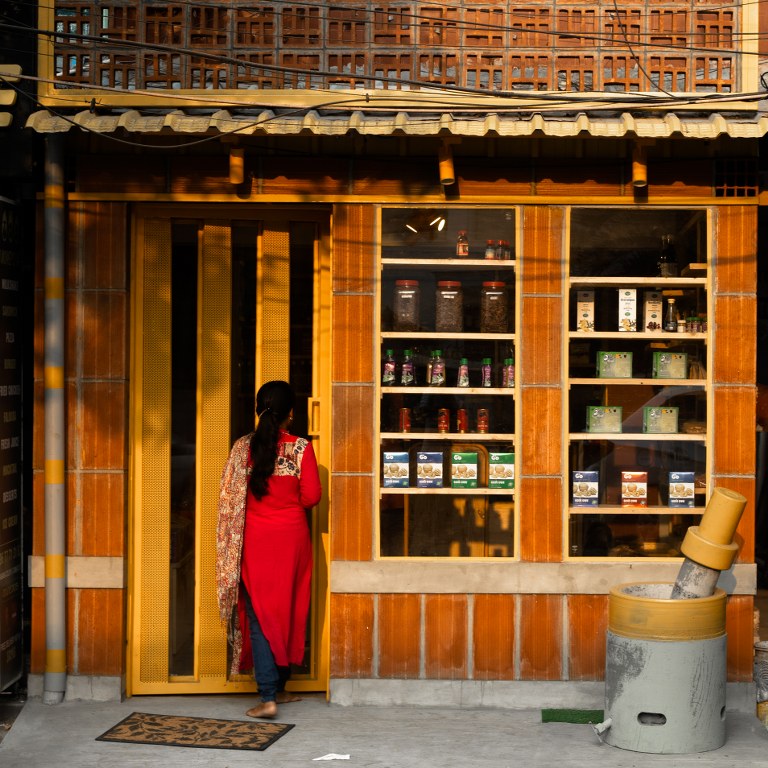 We planned under cupboards for storing and above the store area we utilize it to show their products. The average eye level was maintained to create the contrast between high prioritised products and the lesser ones' We went on scavenging progress for quite some time to gather all the volume required to make the interiors.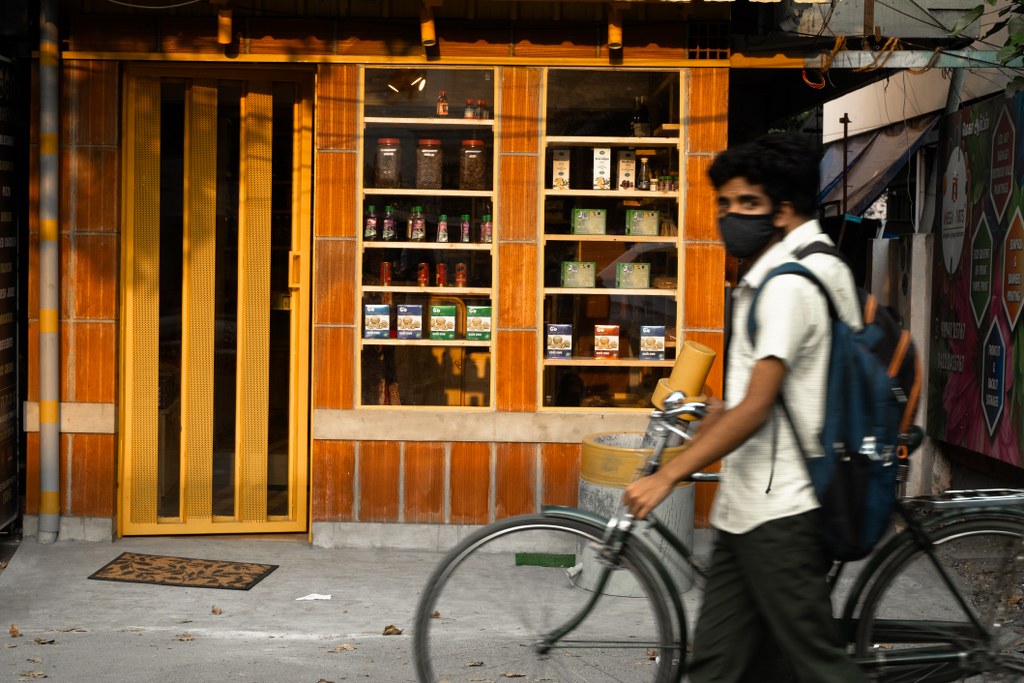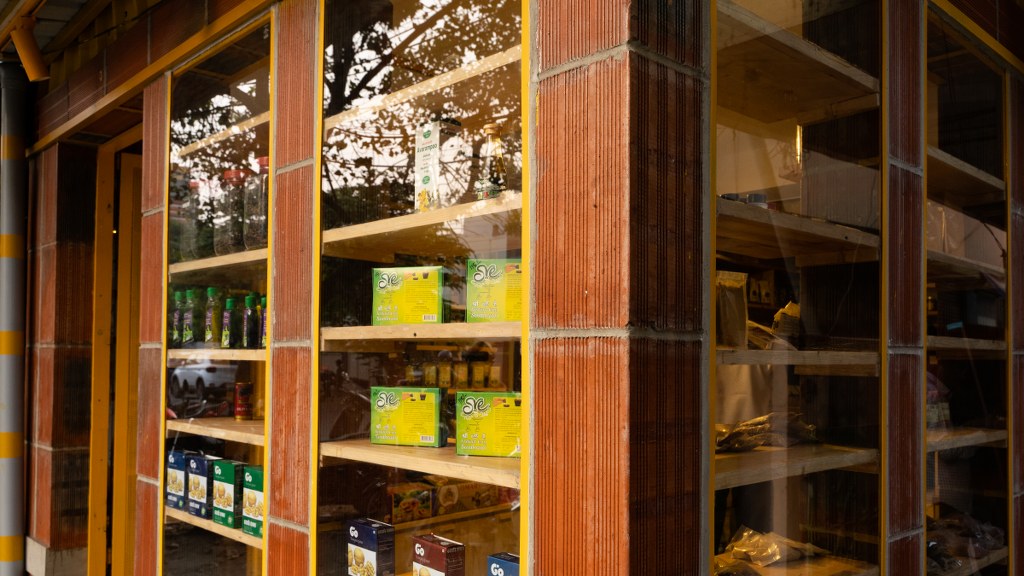 We used the scrapped pine wood that was a excerpt of cargo packaging. We sorted the wood and made them to match our context by integrating the planks as the sheets to make the table out of it. We had a restriction on using rolling shutters in terms of security we weren't allowed to use rolling shutters there.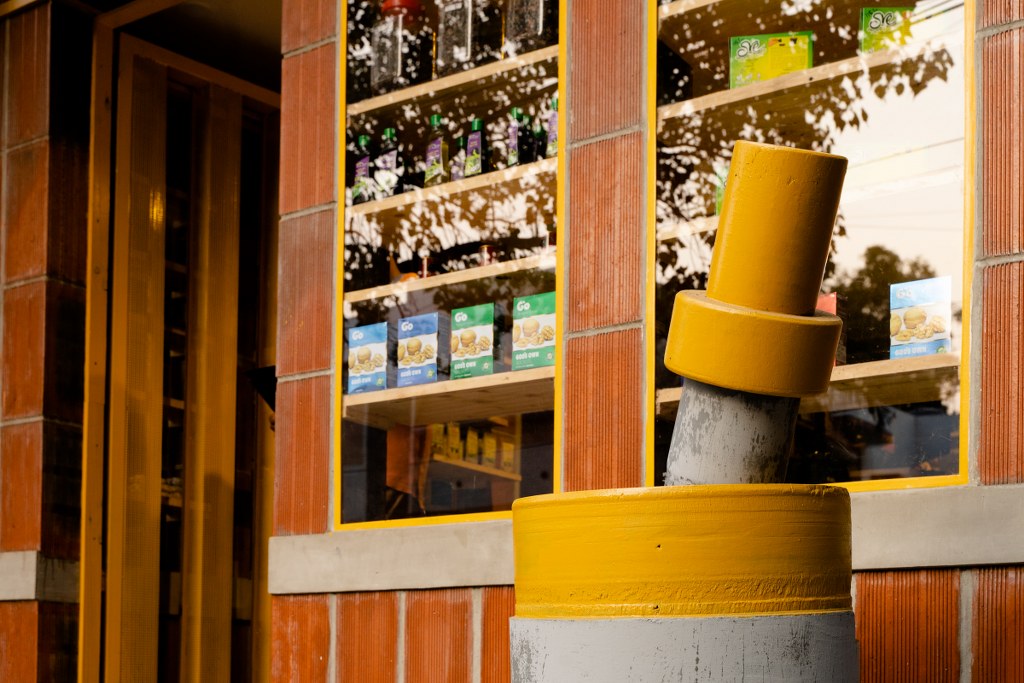 Instead We thought of fabricating a heavy MS door with pores for ventilation and dust filtering and combined it with toughened glass to make it look bold and light. The colour palette was based on the theme of emphasis to the structure and all the lighting details were based out of the same color palette.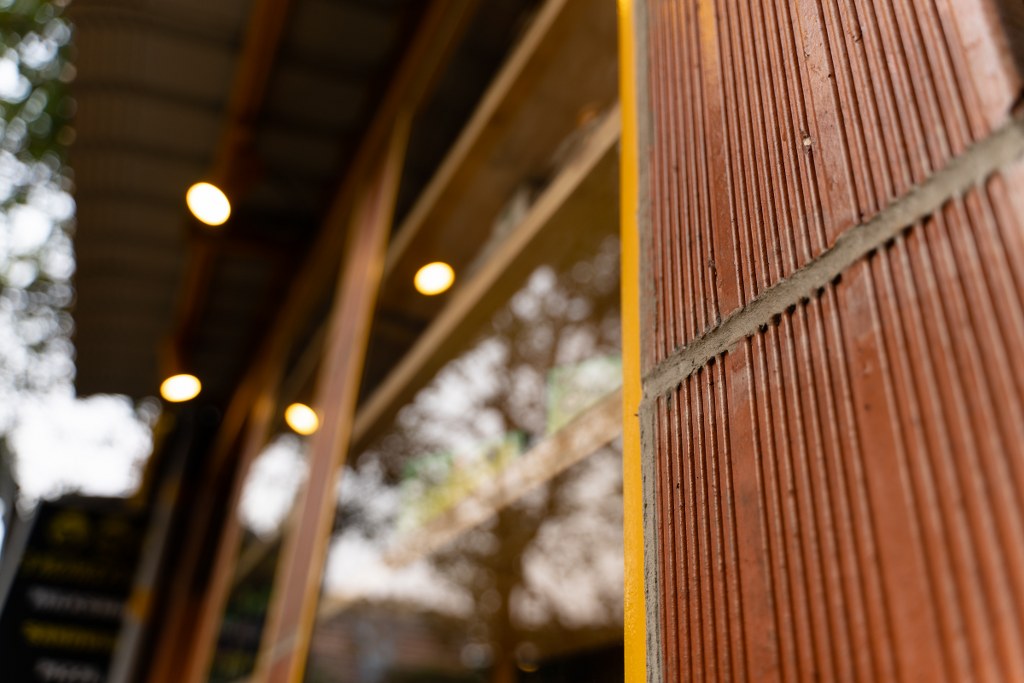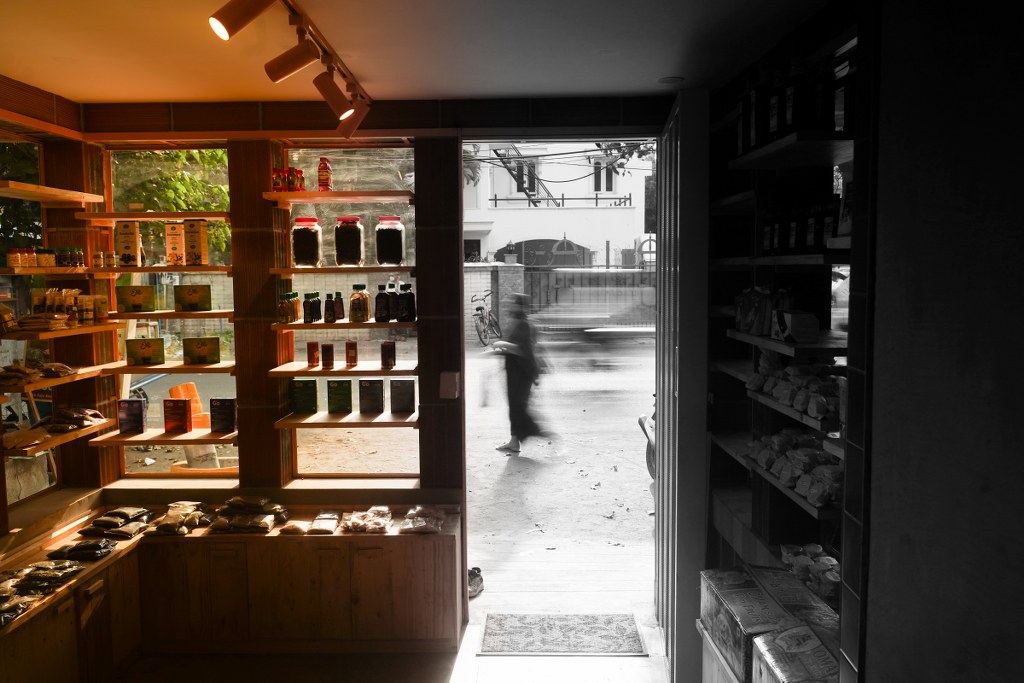 We wanted authenticity in what we do so we made sure that by doing less we can make it look more. The celling was muted and the focus lamps were used to create the contrast .The volume wanted to have that rustic look in order to create a space that doesn't look so finished or polished. We wanted that subtleness to shift the focus on the products.
Fact File
Designed by: Masonry of Architects
Project Type: Retail Architecture & Design
Project Name: Ak's Village Fresh
Location: Coimbatore, Tamilnadu
Year Built: 2022
Duration of project: 2 Months
Project Size: 160 Sq.ft
Project Cost Appx: 5 Lac
Principal Architects: Sabarish, Tamilselvan
Team Design Credits: Gokul, Ijaz Harris, Siva Engineering
Consultants for the Project
Civil: FGS Construction
Interior Designers: Asaicarp
Photograph Courtesy: Sugan Sarvesh Rajendran & Shibu
Products & Materials: Weiner Berger Blocks, Roff Hiclear Finishes: Hiclear | Lighting: Tilio
Firm's Instagram Link: Masonry of Architects