Once you have taken the plunge and decided to work from home you are going to need to consider your working environment. Too many people think that working from home means that they can effectively handle phone calls from the kitchen table, or work well into the night cuddled up in front of the television. And while you may be able to get away with this type of working style once in awhile, you will need to design a home office space that is effective and efficient.
A well-designed home office will allow you to be more organized, more productive and definitely more professional. There are a few things that you will need to consider when you are designing your space. Do you entertain clients in your office? If so, you will want a separate entrance to your home office. It is not very professional to have clients walk through your kitchen with dirty dishes in the sink in order to get to your office.
Have you also wanted to borrow that study desk that your grandfather used to work on, with multiple drawers that would contain little secrets when you were young and opened and closed it one by one and just to get you off his back offer a chocolate just to leave him alone?
After Art Deco found its way into UK, it found its niche in upscale housings. Mostly in London, Desks have always been a popular furniture pieces. Many shapes were experimented with be it half moon, triangular and floating surfaces. The desks were decorated embellished from all angles with similar chair completing the look.

&nbsp
Art Deco desks had Decorative fins, monochromatic schemes, inlay, brass and chrome plinths were added, extracting the industrial elements of the age. Not just the Aesthetics but functionality too was always kept in mind while designing it. Ample storage and ease of use were paramount. Pull out armrests; pen wells and kneehole configuration were popular designs of the time.
For all the art Deco Enthusiasts, a restored antique Desk made from rich ebonized wood is a perfect piece of furniture for the study area or it can be kept as an artwork along the walls.  Desks of this style of tend to have slightly curved edges with fine craftsmanship showing wooden Joinery at its best. Some of them also have hidden drawers if one wishes to hide some state secrets or maps to the treasure.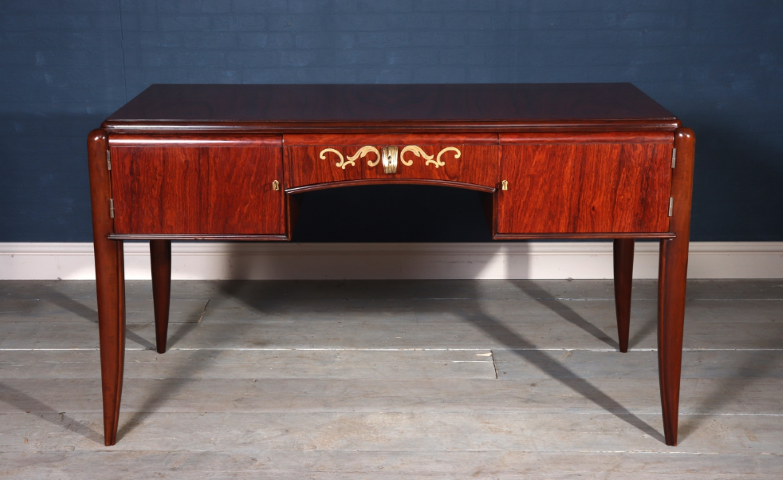 Even if you do not host clients in your office, you should strongly consider the benefits of having a separate space for your office. You will feel more professional if you have a designated room or space for your office rather than a corner of the living room. This will also allow you to tune out distractions such as the children, or the television. When you are working, close the door and focus on work.
Some things that you will need to consider are furniture, organization, lighting and ventilation. You will need to equip your office to suit your needs and for most people this means that you will need the standard desk. Your desk does not need to be fancy; in fact as long as it suits your needs, you can get away with a very simple table. Storage is also very important for a home office. Do not underestimate the power of a quality file cabinet and a good organizing system. If you have a lot of books a shelving system will go along way.
High quality lighting is also essential in your home office. You may need to install a better overhead light as most residential lights will not put out quality light that is needed for an office. Adequate lighting is essential for a comfortable and ergonomically sound working environment. Ventilation is also important, as you will need to work in a comfortable environment. If your space gets hot in the summer months, invest in air conditioning or a fan.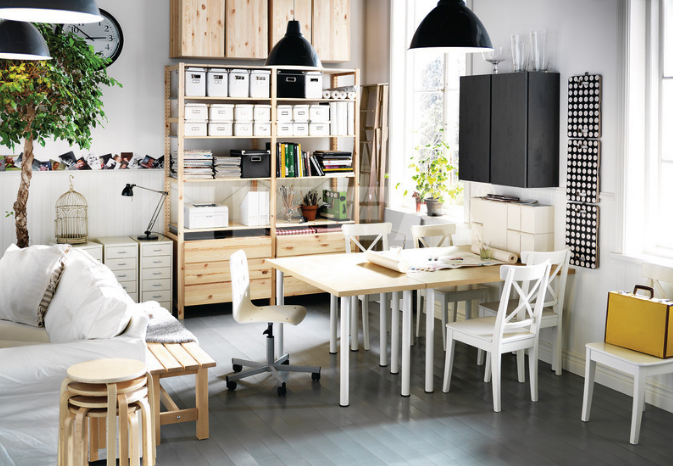 Last but not least, do not forget to make your home office inviting for you to come to work. Put up a few pieces of artwork or some prints, bring in some house plants or fresh flowers and create an environment that is not only functional, but enjoyable to be in as well. After all you're going to be spending 8 – 10 hours per day in there.
image credits : http://angelinaaskeri.com

&nbsp