Design Following A Functional & Minimalist Approach In This Marketing Office And Sample Flat For Godrej Properties Pvt Ltd | Modez Consultants LLP
Marketing Office :
Design follows a functional & minimalist approach. Importance is given to the customer zones with naturally lit spaces & good play of volumes. Being a compact footprint, the marketing office is planned on two levels with ground floor housing the major customer areas & a show apartment. Upper level has the second show apartment, office & staff area.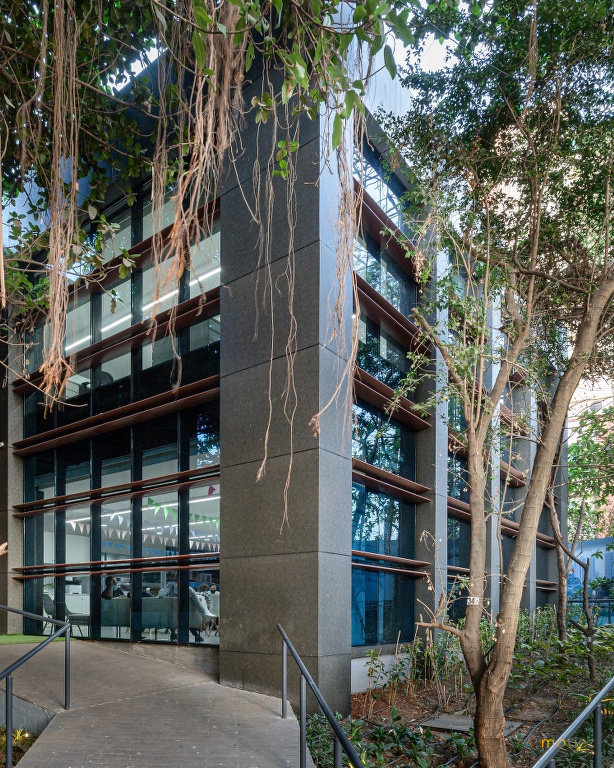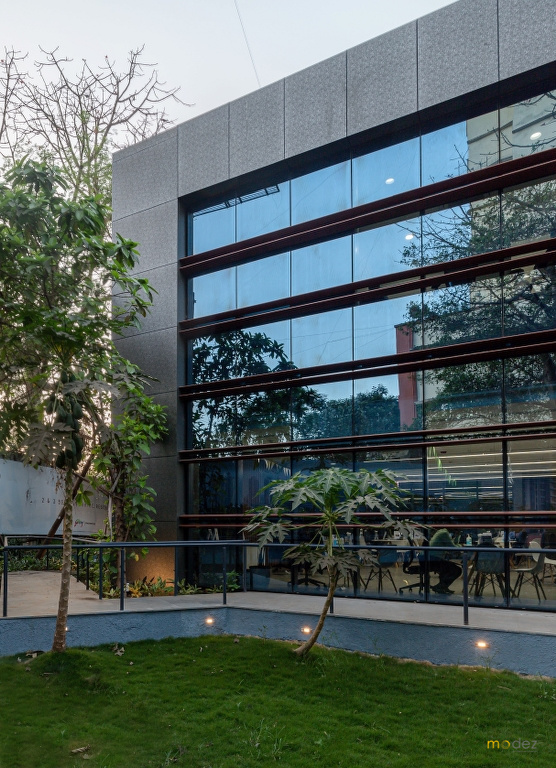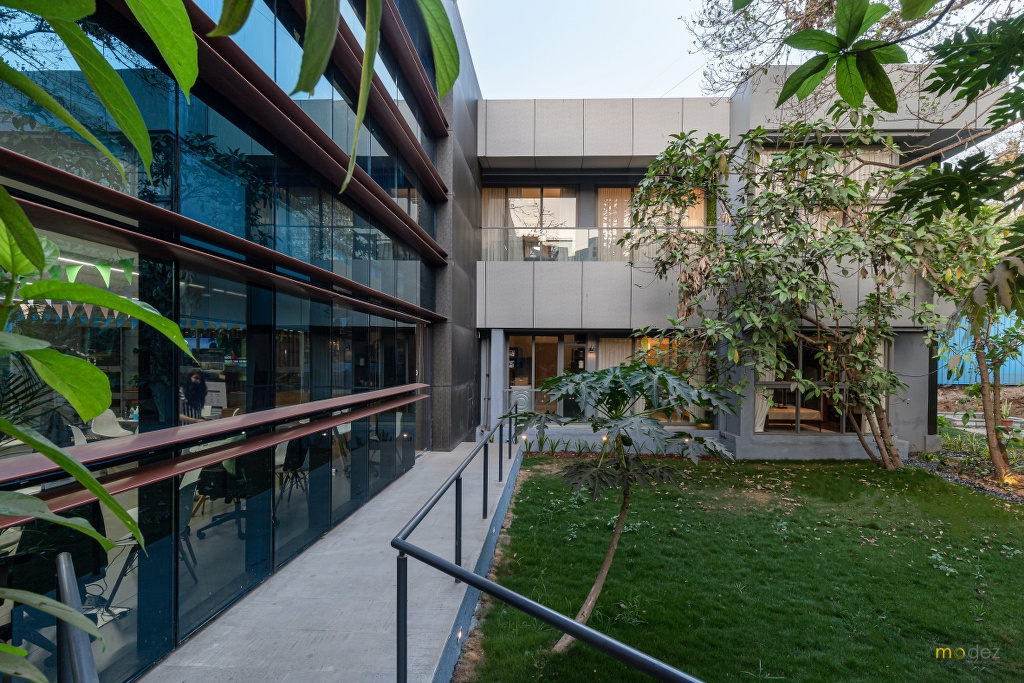 The building is designed as a composite structure with the primary and secondary framing in Structural Steel. External skin is done with cladding in aluminum composite panel & structural glazing.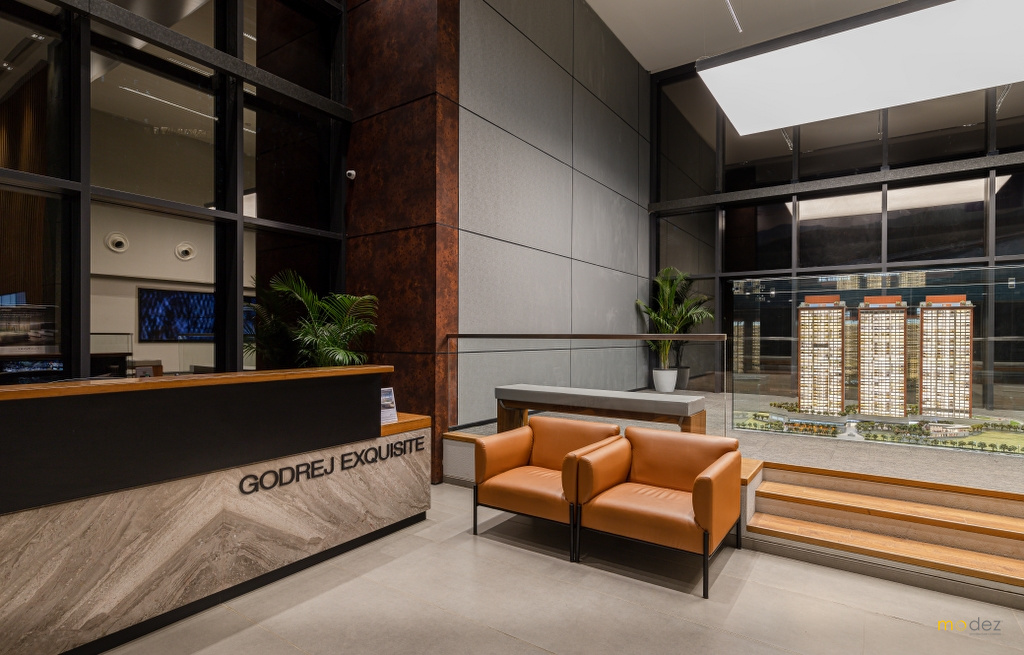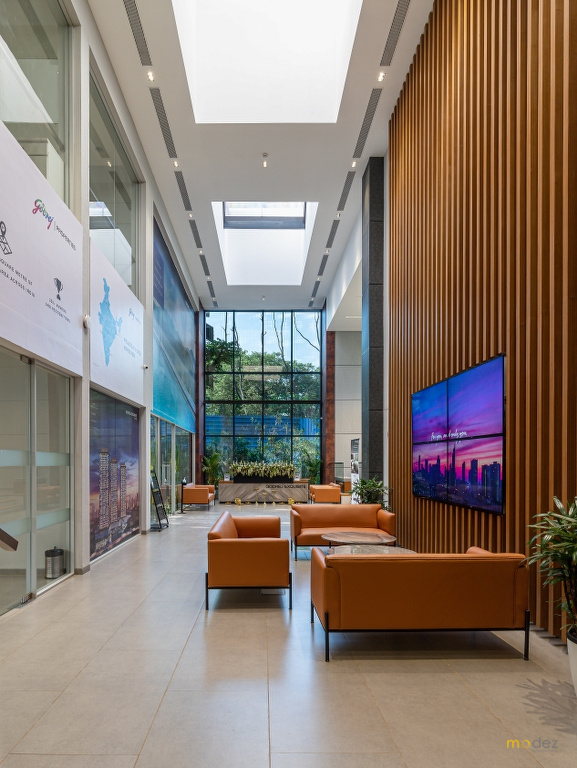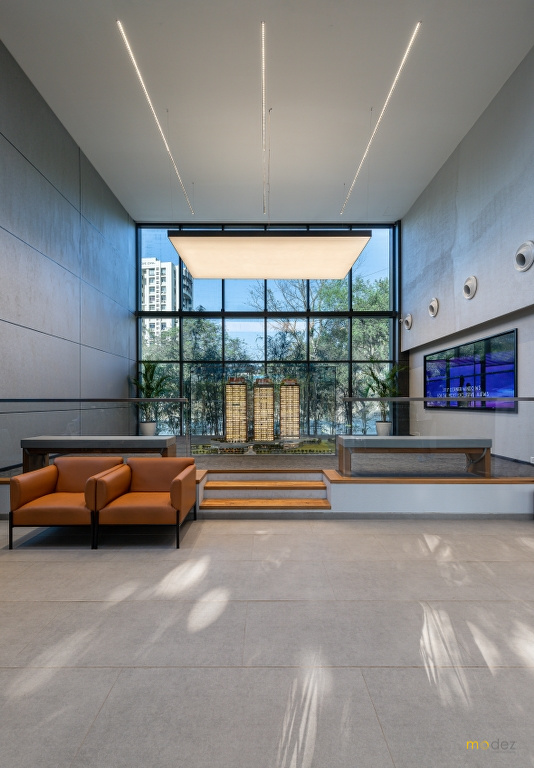 The material palette is kept neutral & minimalist. Wood used in panelling & staircase adds warmth to the palette. Use of natural light in all areas of the marketing office & sample apartments makes the space lively.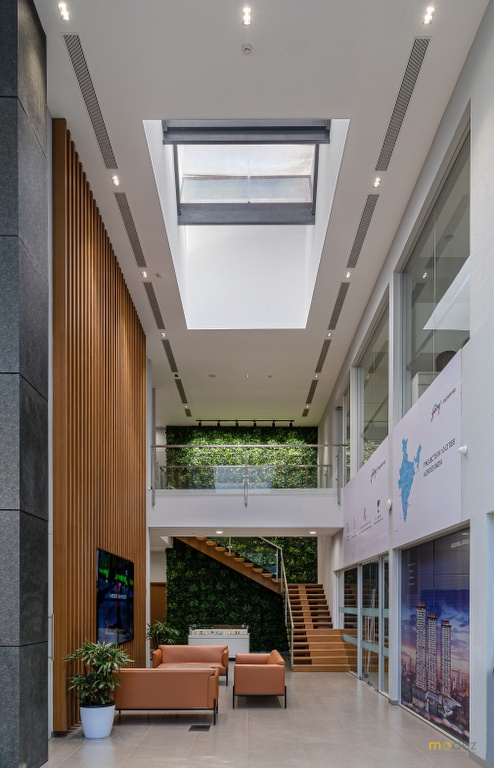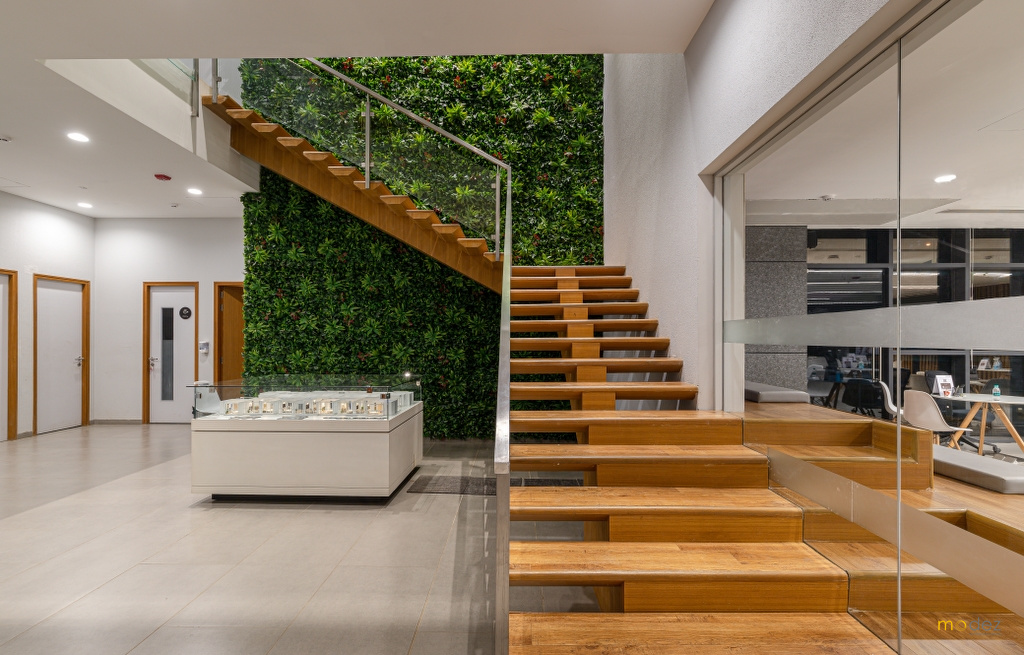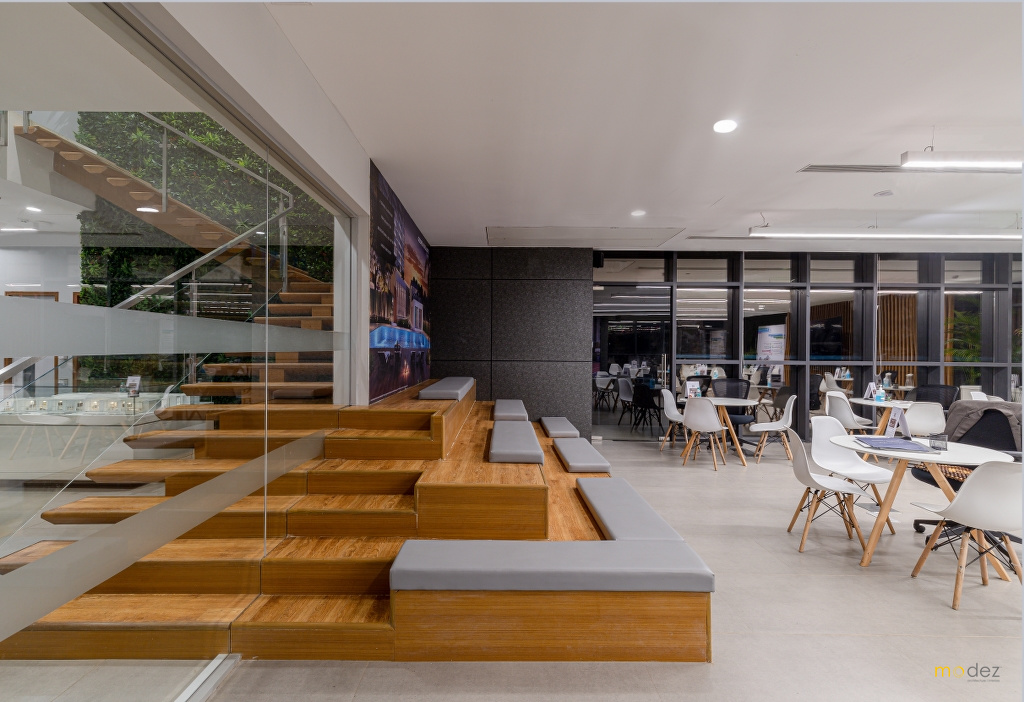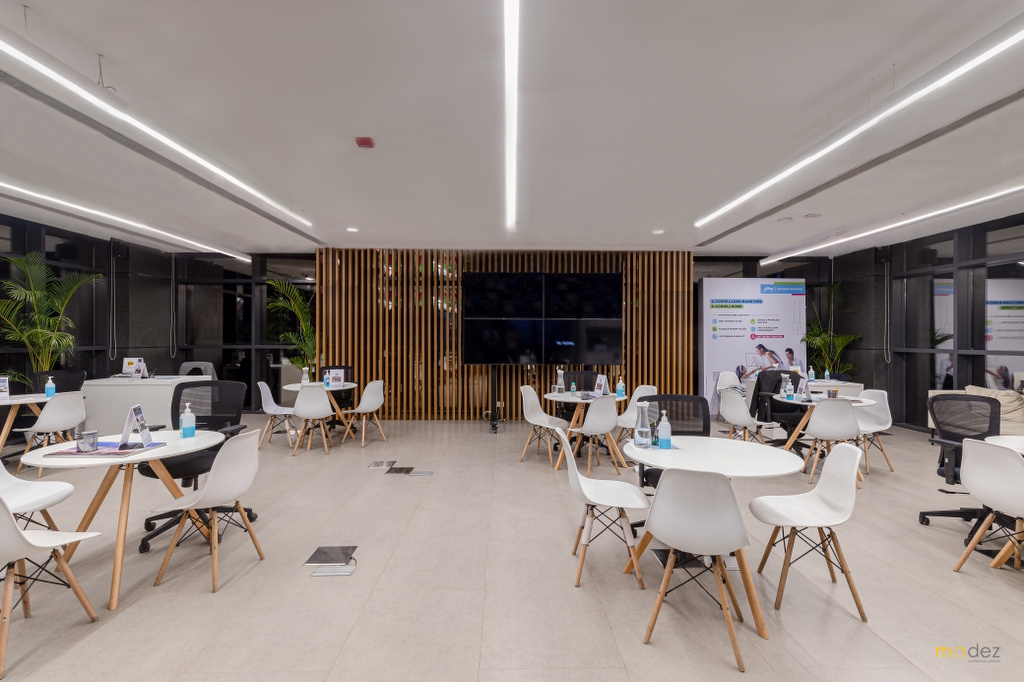 Sample Apartment :
Show apartments are designed keeping in mind the need and taste of the young society. The design follows a modern approach that retains the basic envelope of the apartment. Appealing designs, colour schemes and materials add to the aesthetics of the space, leaving scope for a personalized touch. Choice of sleek and clean-lined furniture makes the space lighter and roomy.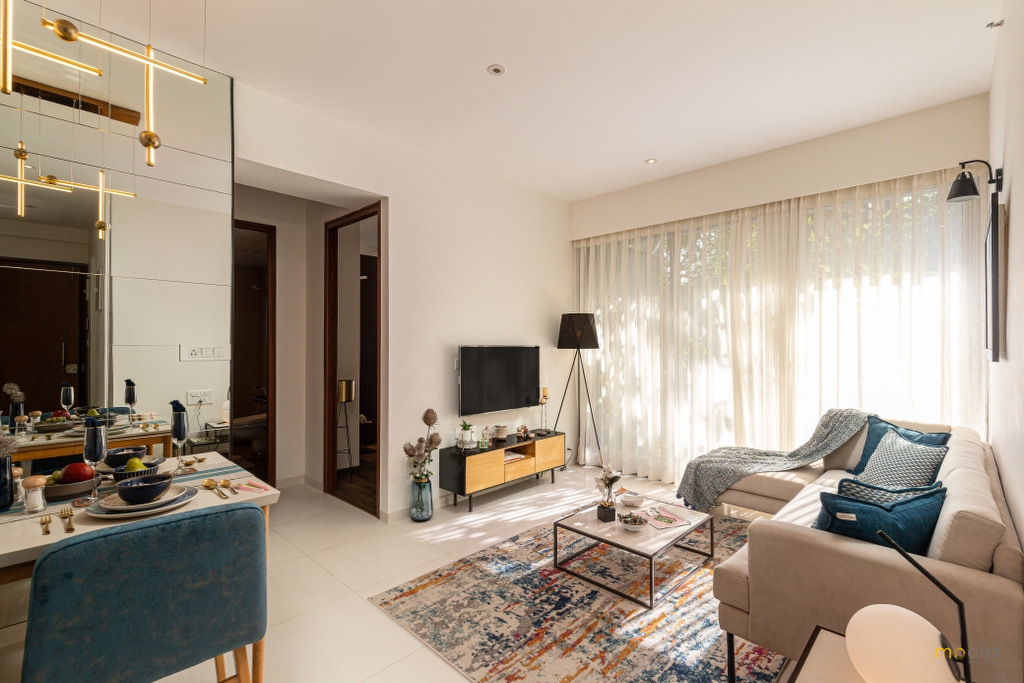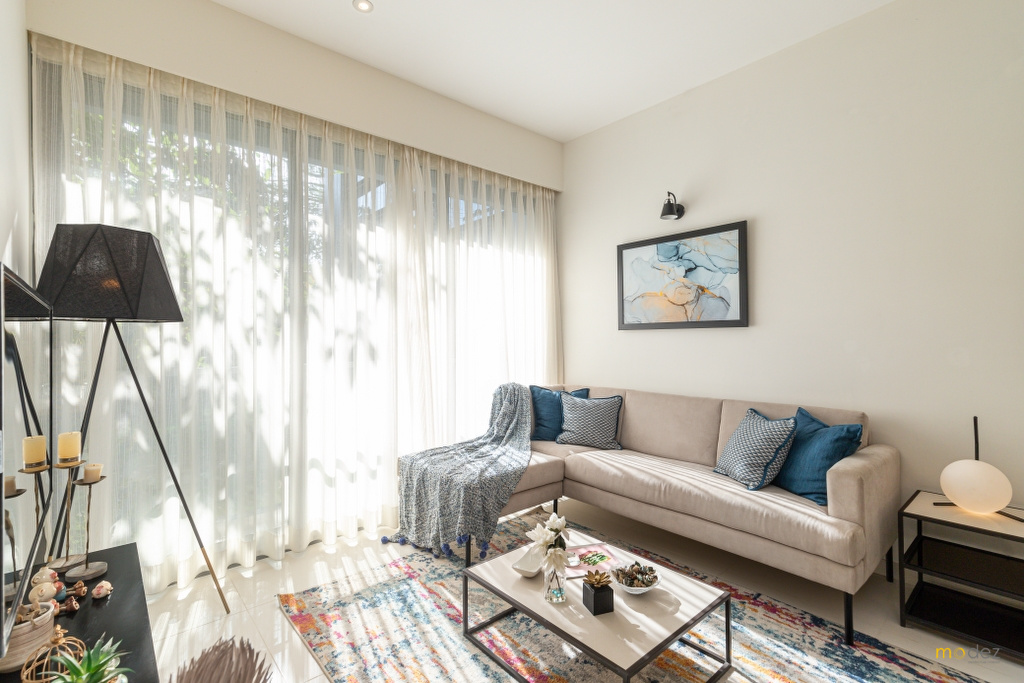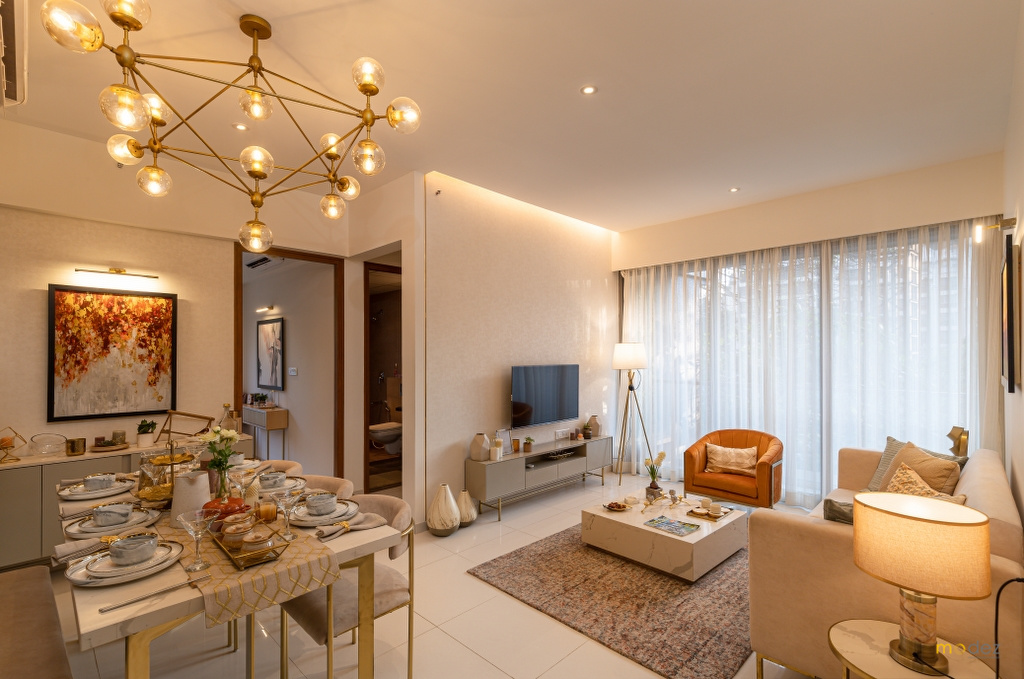 The palette is kept neutral with a hint of warmth infused through wood inserts. Fabrics in pastel shades add a pop of colour, accentuating the neutral scheme; as well as texture and layers to the palette, exuding a plush appearance. Use of brass frames & inserts add a trendy touch and understated charm to the furniture.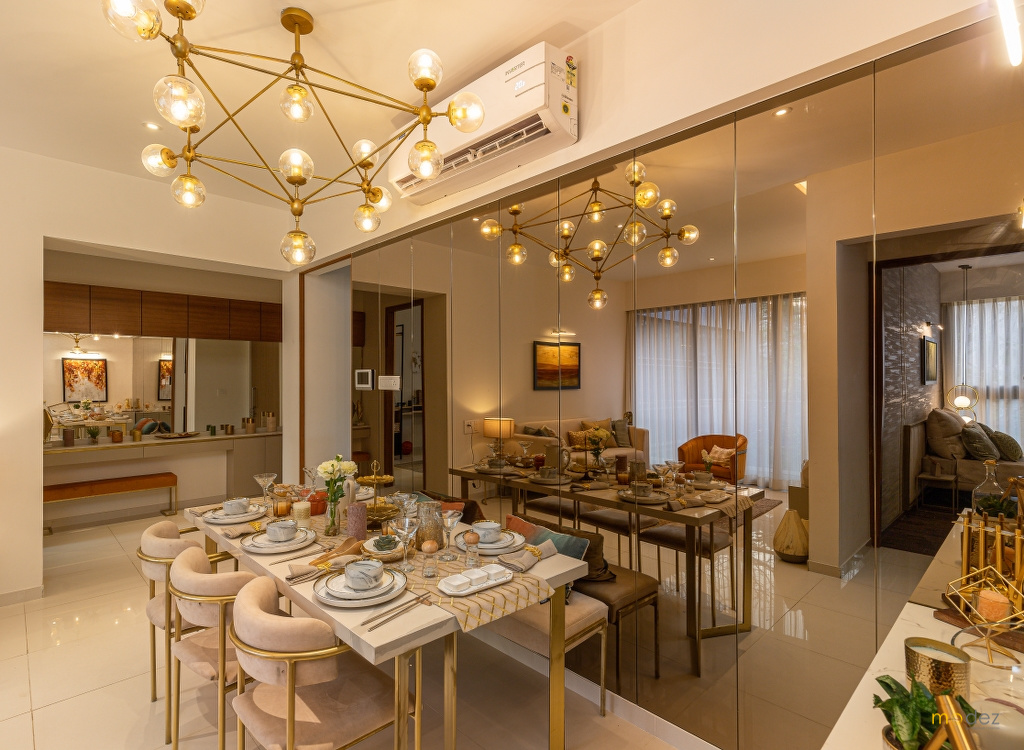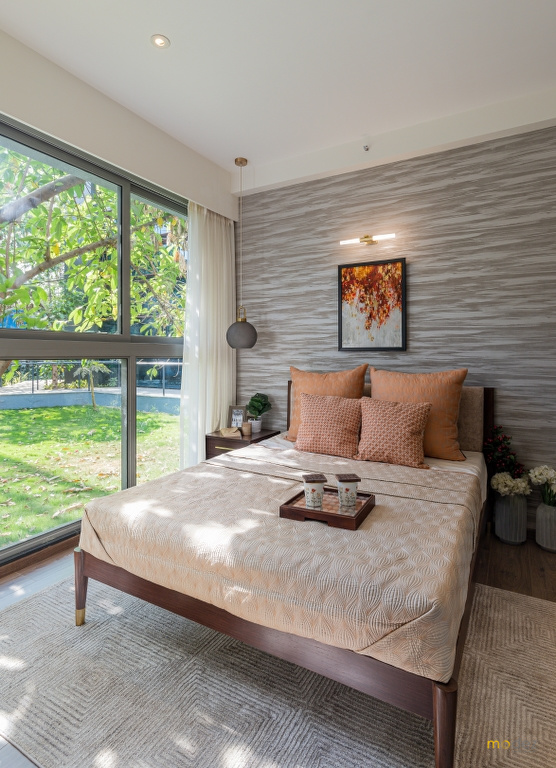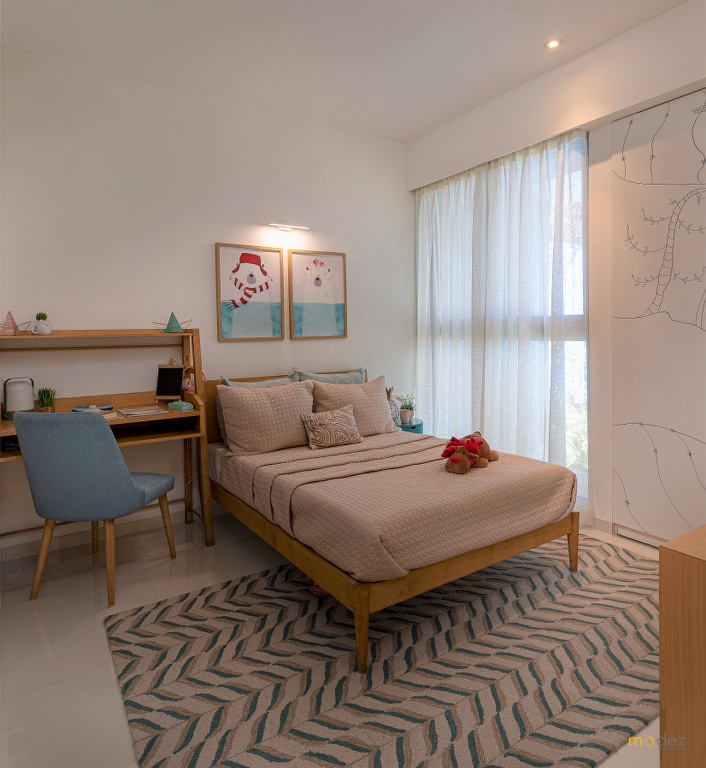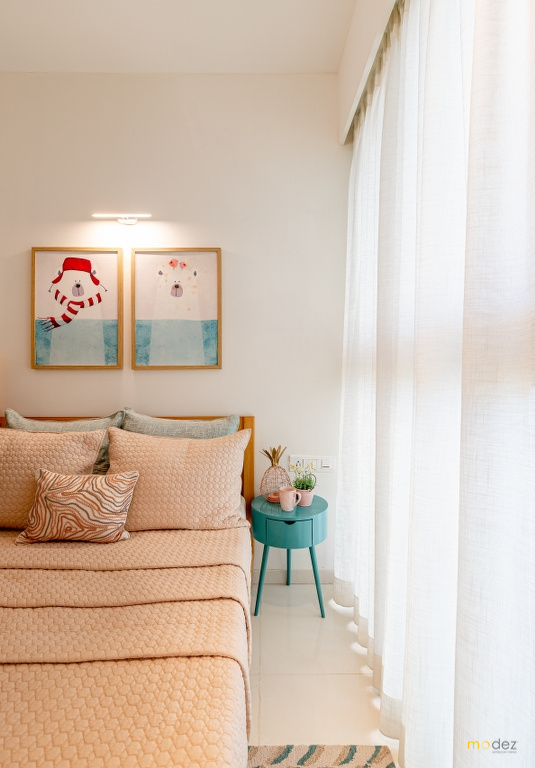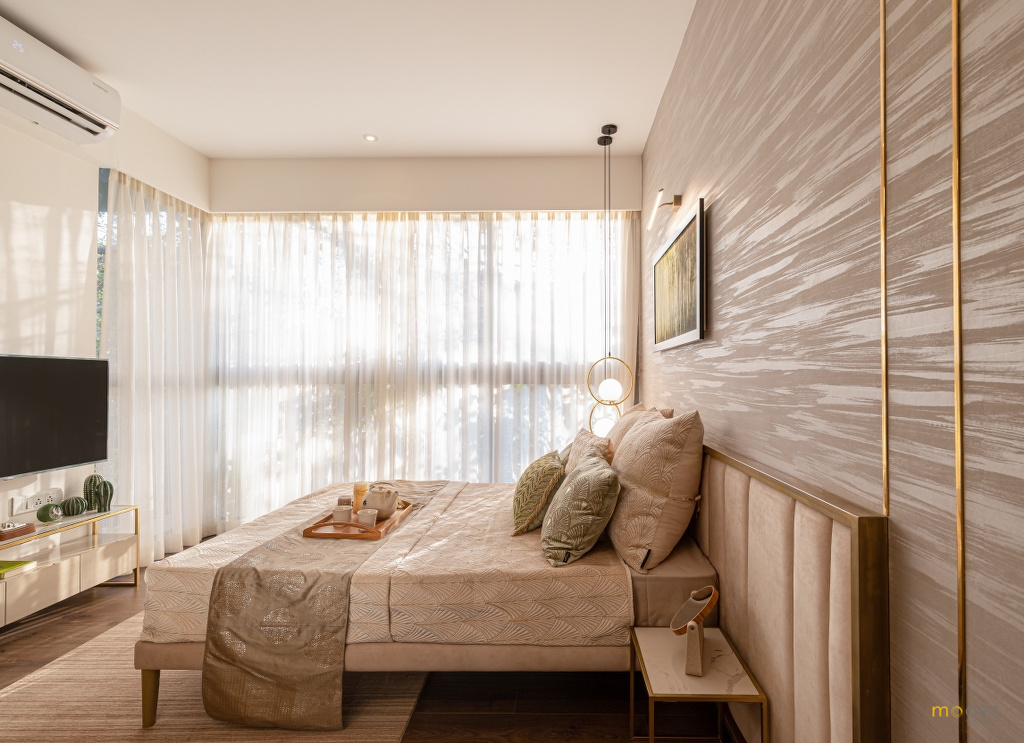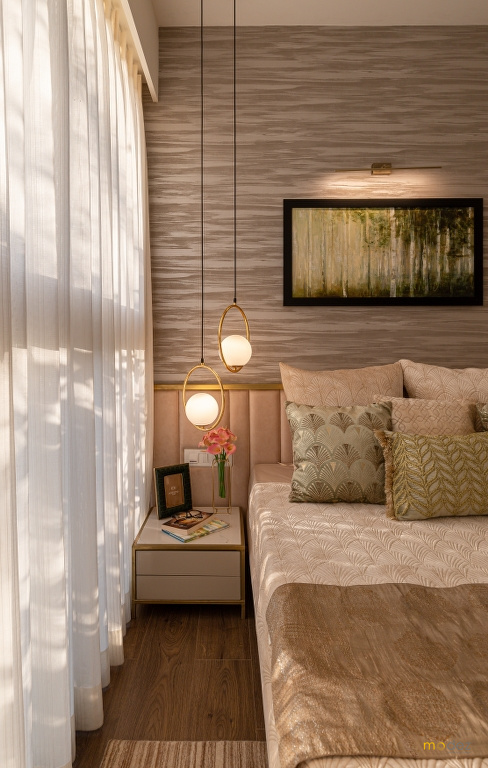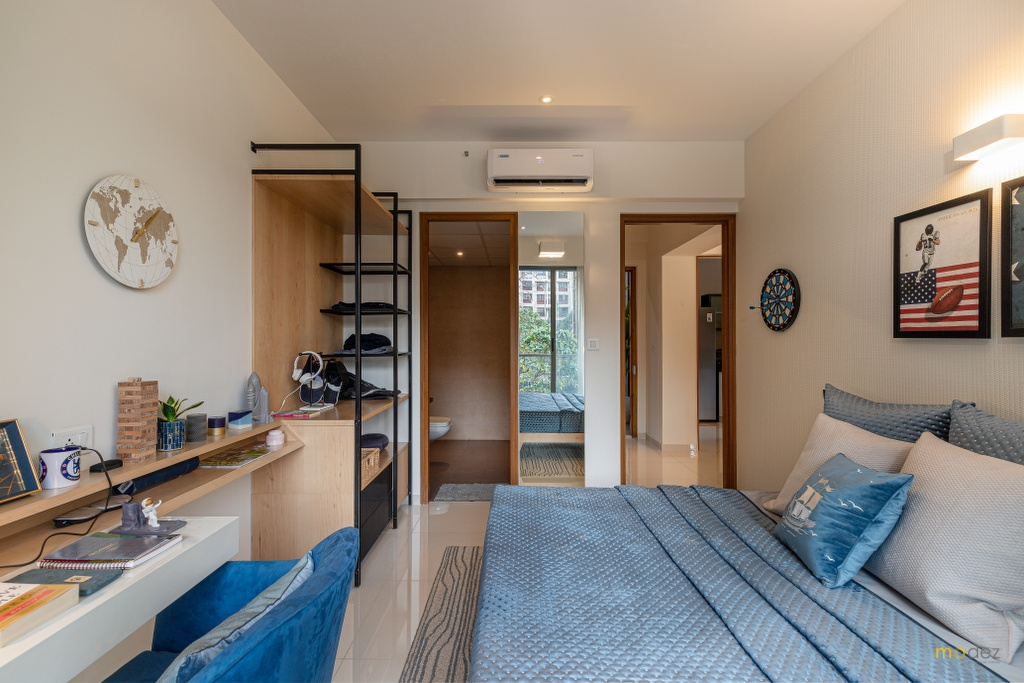 Decorative lights lend a contemporary look and make for an elegant design. The selection of landscape elements, art and accessories add life, creating a personalised space.
FACT FILE :
Designed by : Modez Consultants LLP
Project Type : Commercial
Project Name : Marketing Office & Sample Apartments for Godrej Properties Ltd
Location : Godrej Exquisite, Kavesar, Thane
Year Built : 2021
Duration of project : 11 months
Plot Area : approx. 12000 sft
Built up : approx. 8500 sft
Project Cost Appx : 6.00 Cr.
Principal Architect : Amogh Sule & Pritish Ghamandi
Team Design Credits : Preshita Chaudhari, Siddhesh Ghag, Vrushabh Patel, Irsha Dhurandhar
Godrej Design Team : Jaimin Desai, Shilpa Shinde, Manali Gokhale, Nikhil Herekar, Sameer Kamble
Photograph Courtesy : Rohan Nagwekar Photography
Products and Materials : Civil Interior Works & Façade : Décor Home India Pvt Ltd | Furniture : Décor Home India Pvt Ltd | Lighting : Esmaa Lights | Audio Visual : Avenue Sound

Consultants for the Project : Architecture & Interior Design: Modez Consultants LLP | Structural Design: Infinity Consultants | MEP: Arsh Consulting Services | Landscape: Shivram Associates | Civil works : Tricon Infra Buildtech Pvt Ltd
Basic Insights of your firm and the project :
1. Please share with us challenges faced by you during the process of design ideation till execution of the project. We are sure there might be many and you would have overcome it successfully.
The site allotted for the marketing office was compact and covered with dense vegetation. Entire structure was planned in a way where we could make the most of available site condition without disturbing the existing trees.
Secondly, lack of a proper foreground and steep contours from the access road made vehicular access into the site quite challenging. To resolve this, internal pathways and ramps were incorporated in landscape design which not only ensured good connectivity but also facilitated an access for specially abled.
2. What is that one design element in the entire space which has your heart.
Skylights in the double height area of customer zone added a new dimension to the space.
The natural light coming in through these skylights, further accentuate the different volumes in the customer areas.
3. Design Style which is followed by the project
Modern & Minimalist.
4. Inspiration for this project
Being a compact footprint, the spaces were accentuated with different volumes & massing. The sky light allows abundant natural light into the space making a dramatic impact.
5. If the project is influenced highly by the context of the site, please share with us the insight for that.
The building plan was developed around the existing landscape. All existing trees were retained and spaces were created supporting the customer circulation. 
Firm's Website Link : Modez Consultants LLP
Firm's Instagram Link : modezarch
Firm's Facebook Link : @modezarch
Email Id : [email protected]