Daler – Restaurant Interior Bringing Festivity vibes | Design Ethics Architecture Studio
Our young clients, with whom we have associated previously for other assignments, approached us with a lot of excitement to design a new restaurant that could take forward the legacy of their more than 50 years old name in the FnB industry.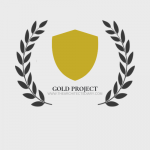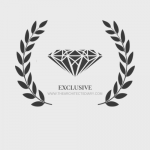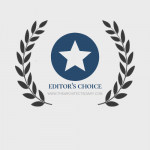 Visit: Design Ethics Architecture Studio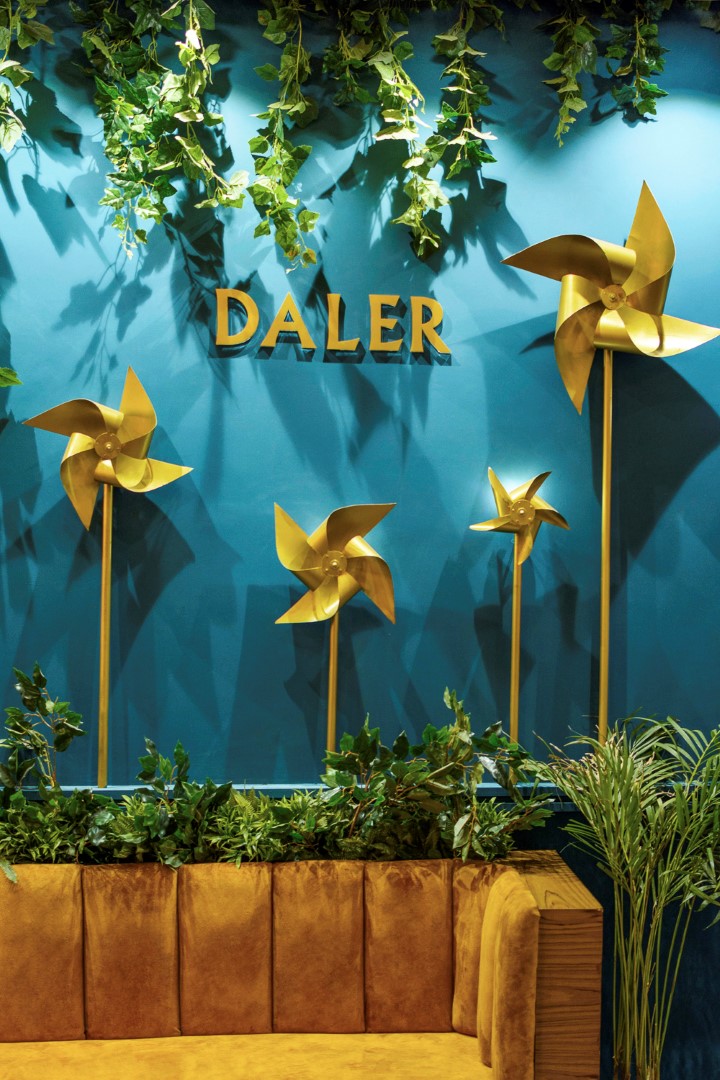 The brief was simply laid out before us. They wanted a fine-dining space that would not come out looking rather overwhelmingly expensive. It should be inviting, glamorous yet sensible. Another very important criteria we had to keep in our minds while designing was to comprehensively make the restaurant look distinctive in a way such that its character was not lost in the pool of many other restaurants in its surrounding.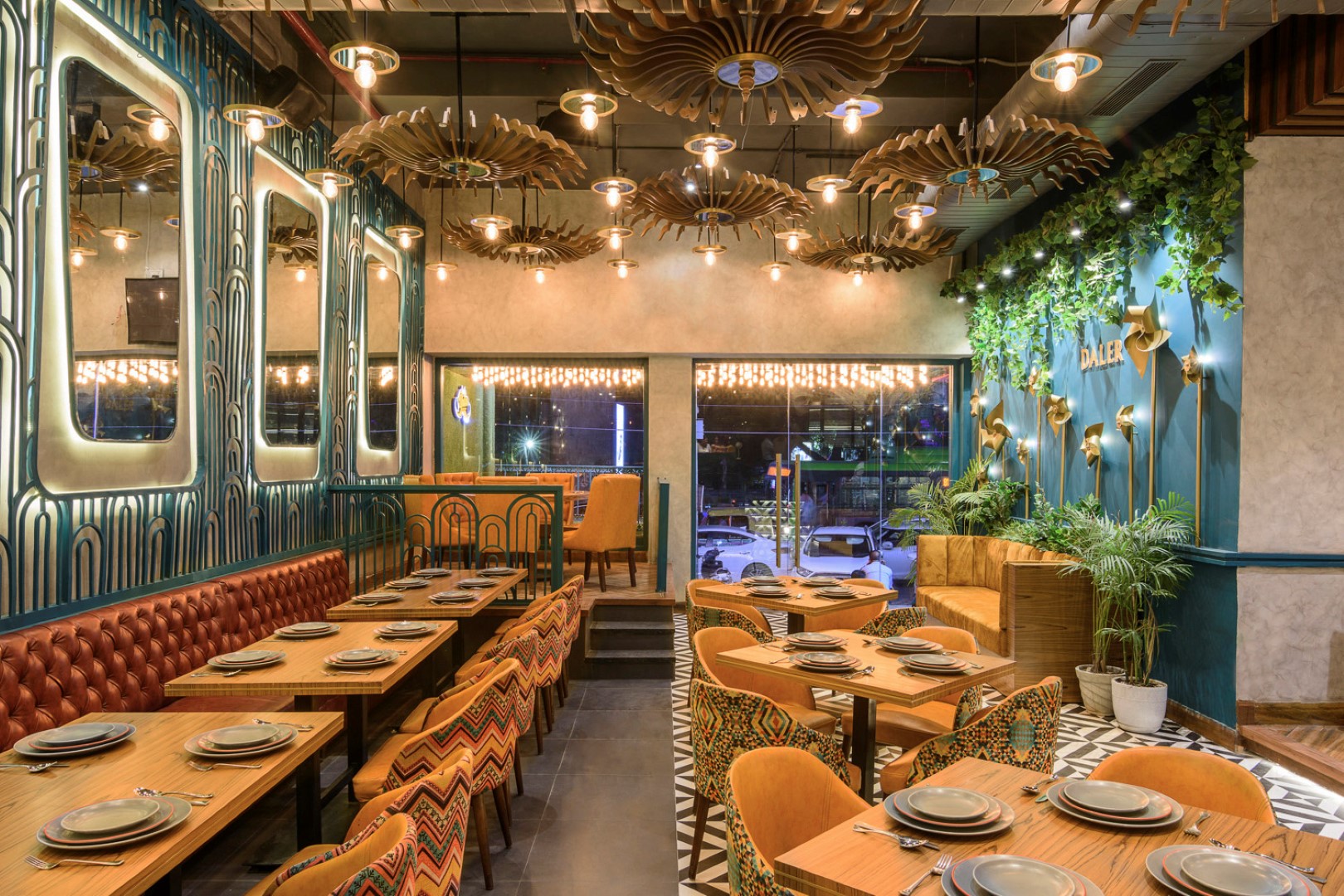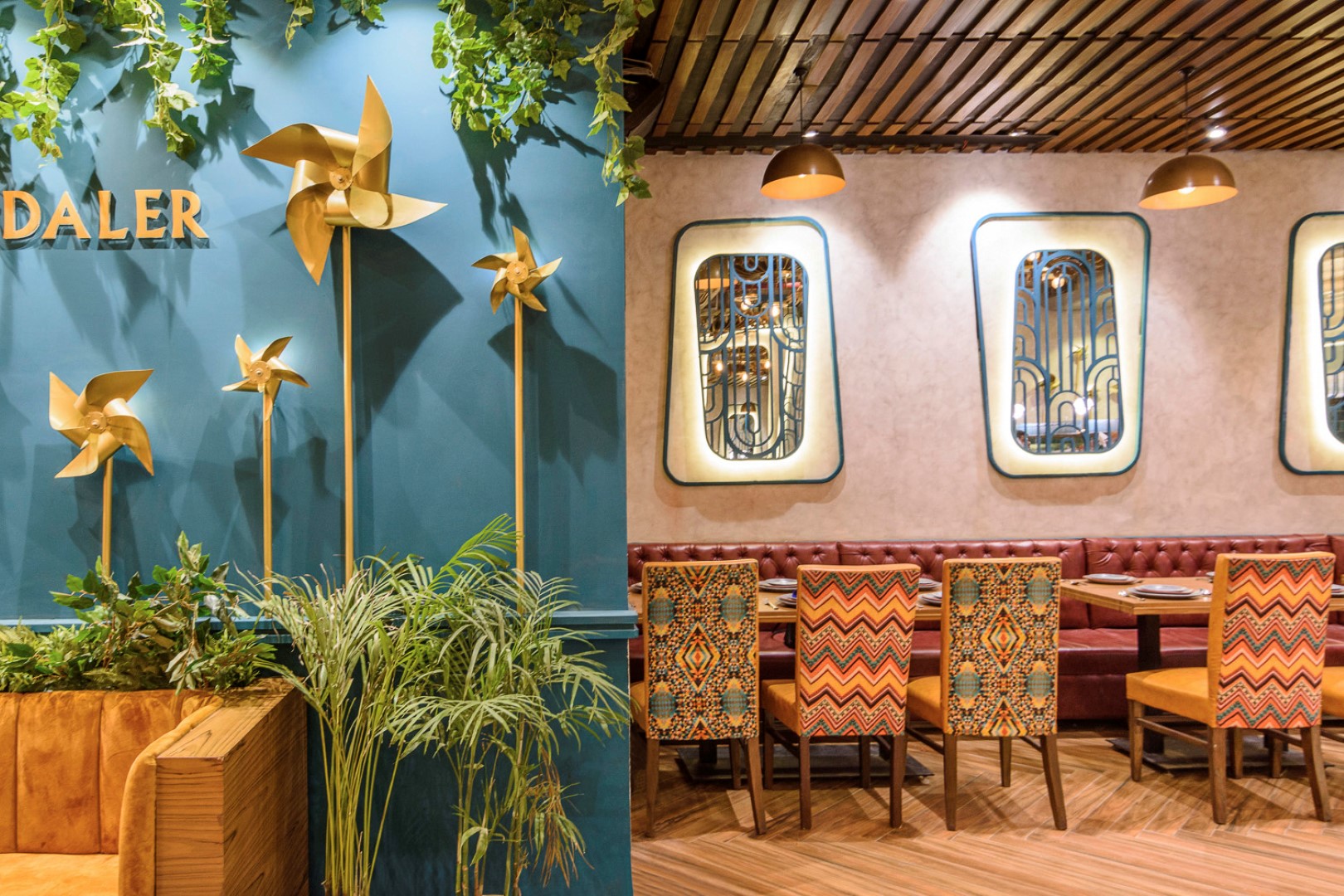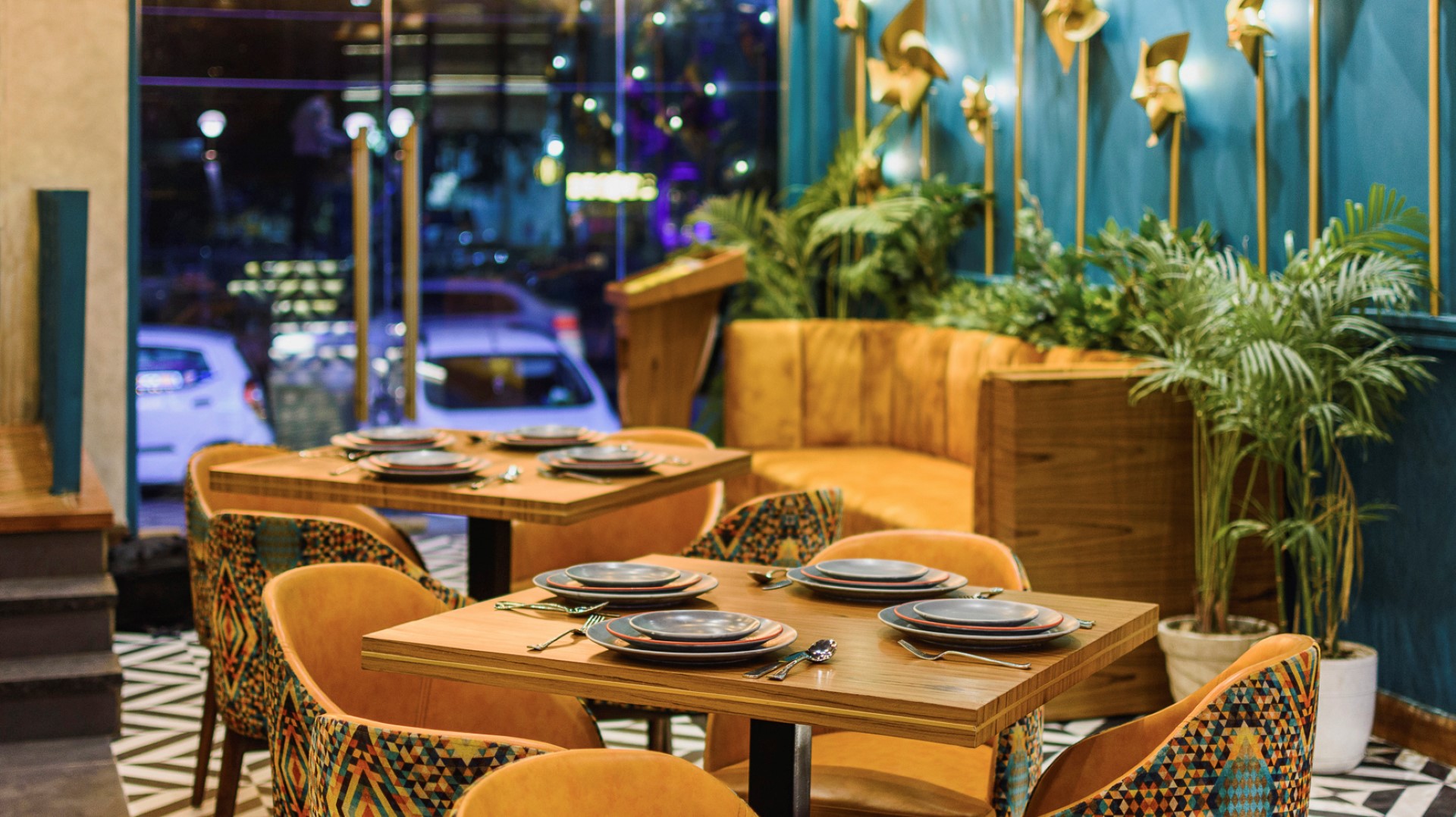 Spread across an area of tight 2100 sq. ft. of space, Daler is designed with the reminiscence and nostalgia of the past memories of celebratory fetes in the Northern part of India. The idea was to bring in elements that bring a flashback of memories one might have of the fetes visited during the many festivals in India. Space was envisioned around a layered structure with fierce colors over a few relatable features which bring about cheerful vibes to celebrate life every day.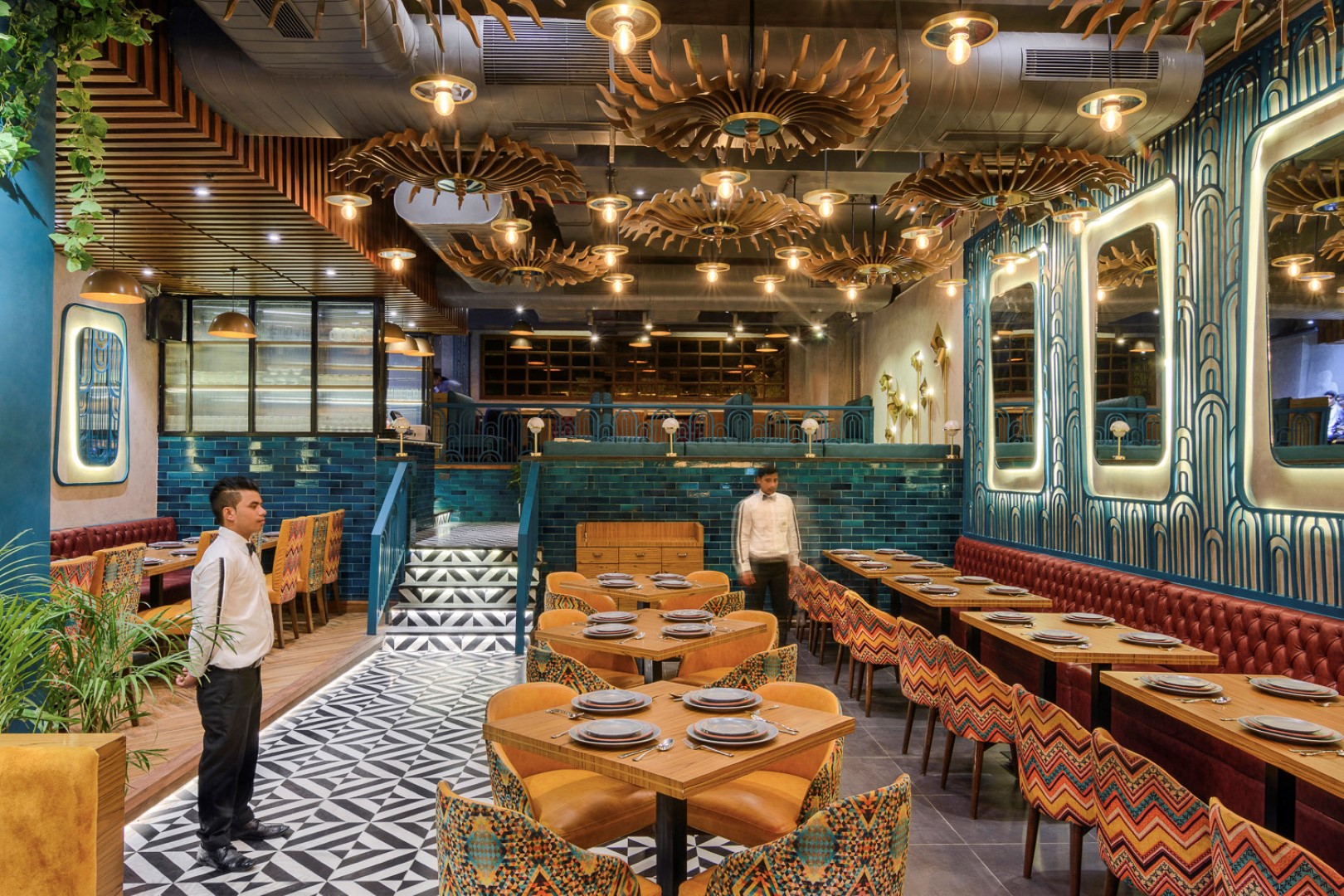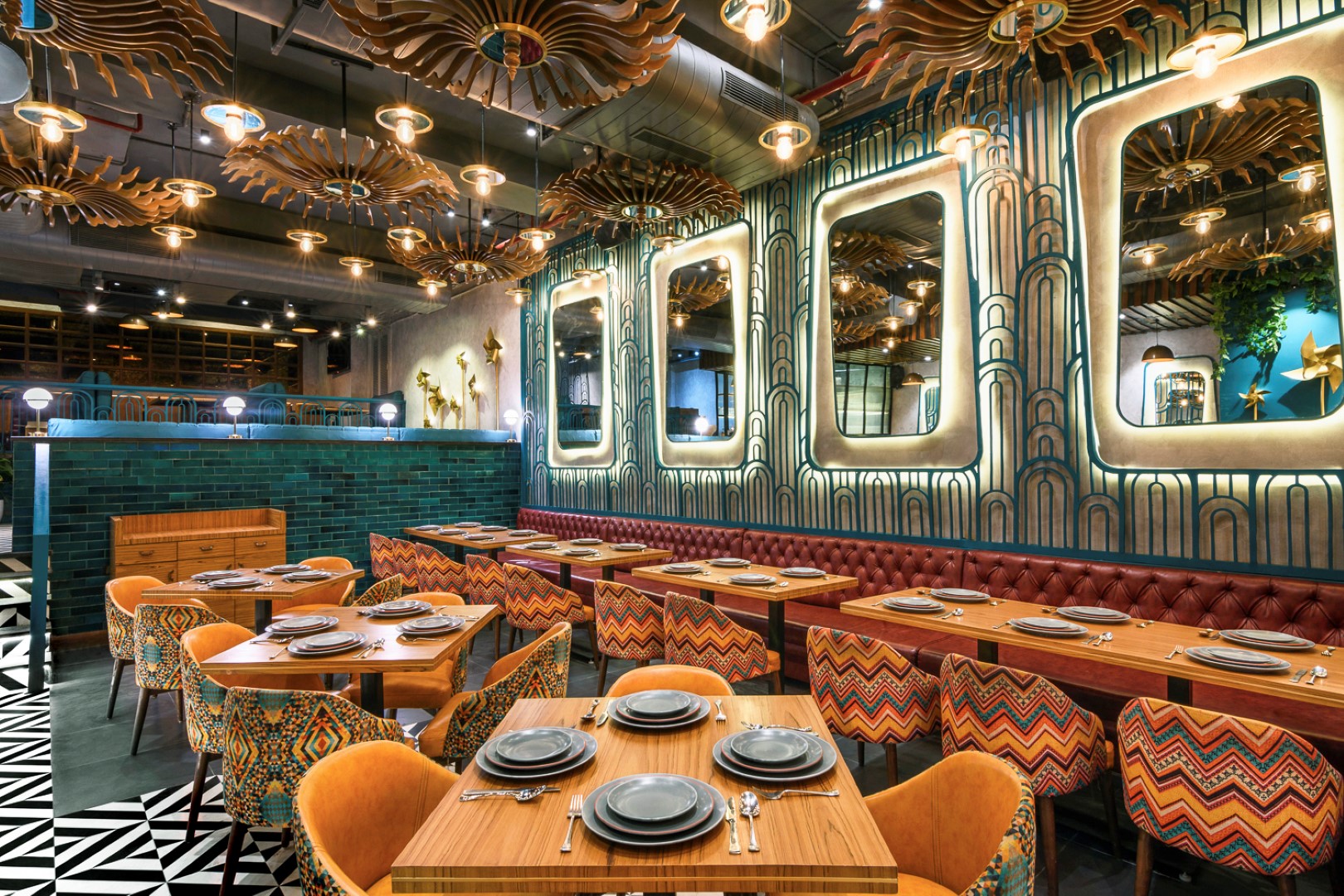 The floor plan of the restaurant is segregated in 3 different levels, with each level having its own unique usage. The majority of a-la-carte dining seating is laid out at the first level with a dedicated waiting area. Upon entering, one is welcomed with a kinetic installation of varied sized pinwheels, finished in metallic gold, which forms the backdrop for the indoor branding of the restaurant. The bar and the buffet are allocated at the second level which becomes centric to the a-la-carte area and the private dining space at the third level.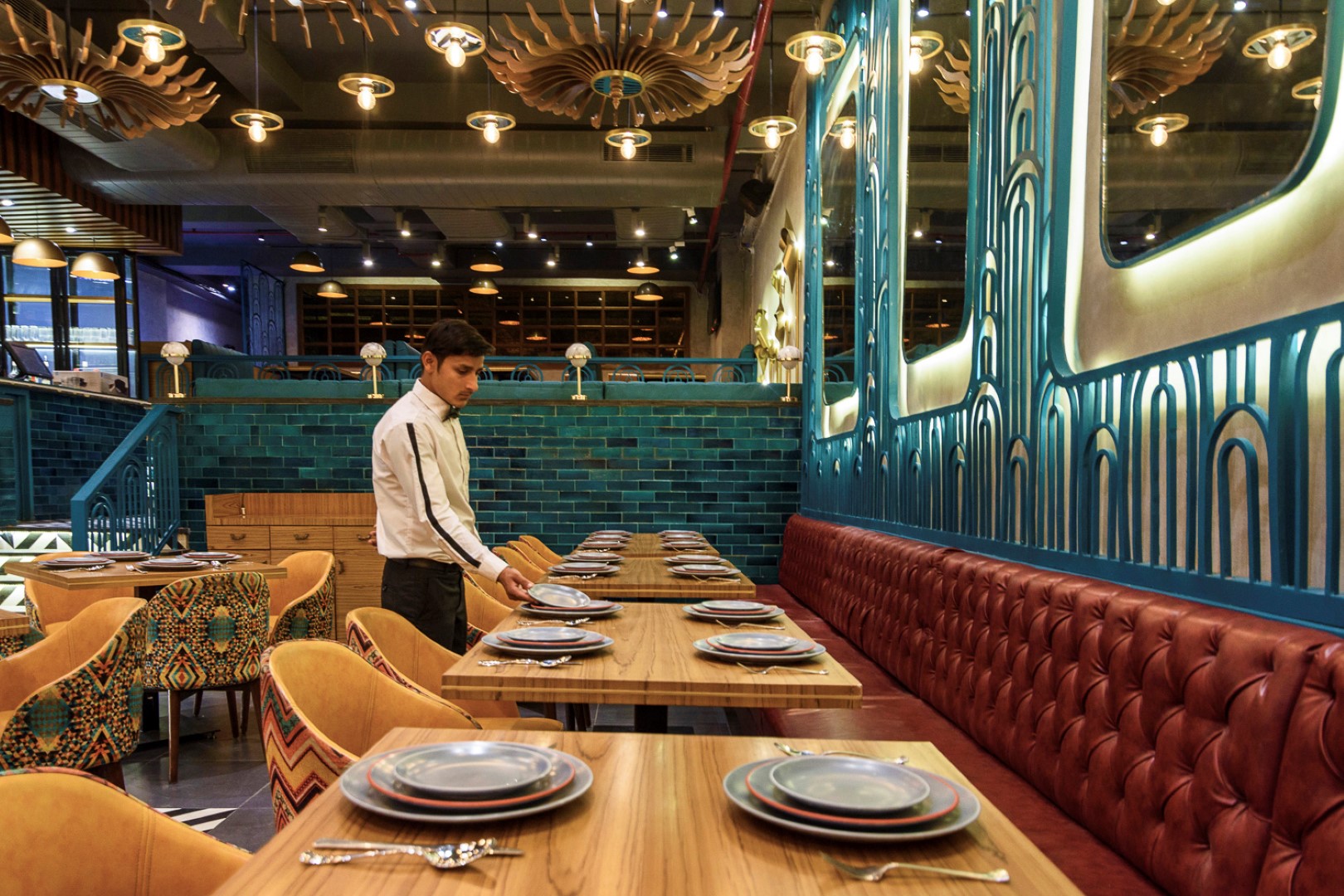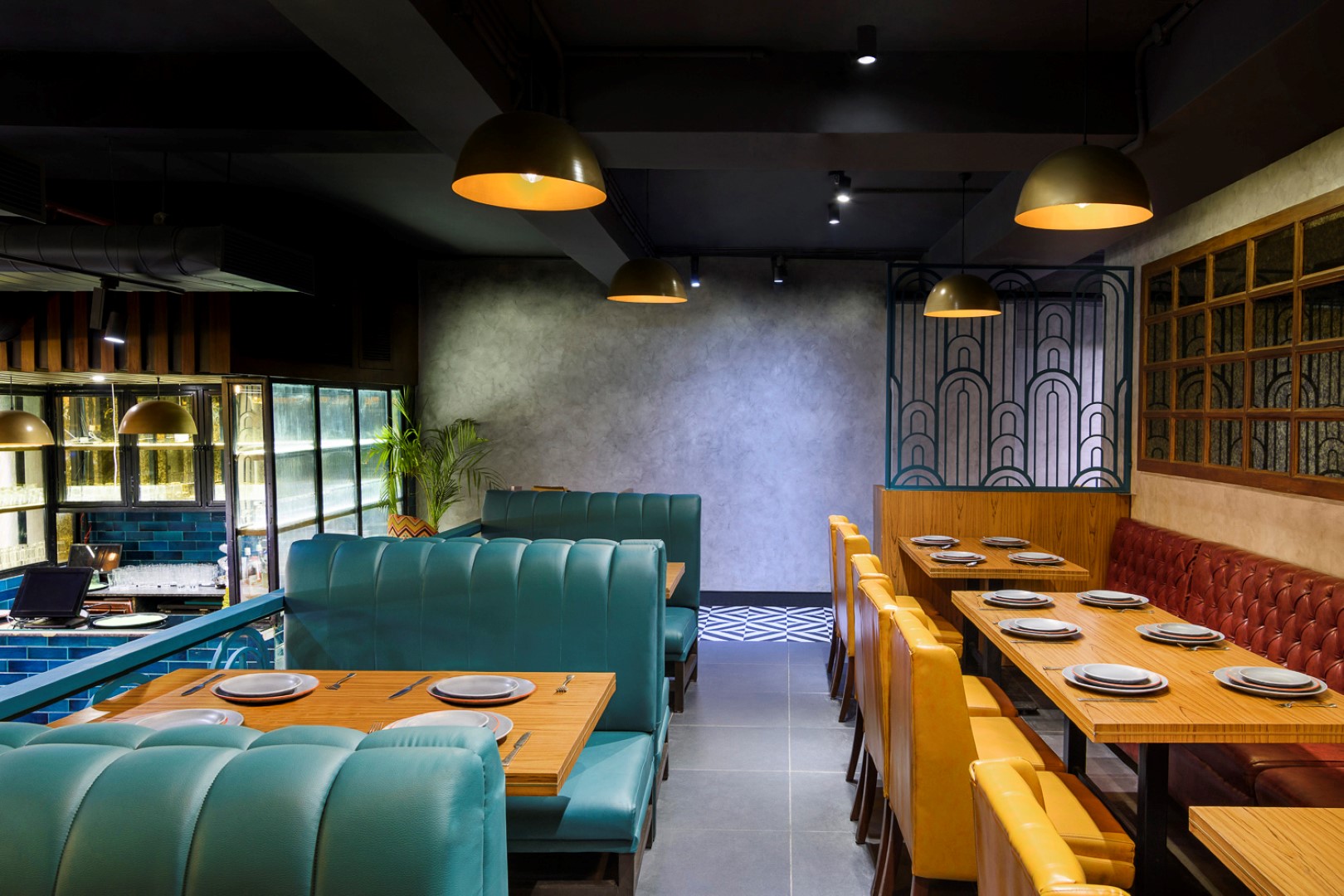 The design scheme is aimed at binding all these different activities at different levels within the same space and presenting people with a non-intimidating environment that portrays an inclusive ambiance. A material palette was meticulously curated primarily including greys and golds with an obvious introduction of carefully hand-picked tasteful colors to bring about festivity vibes.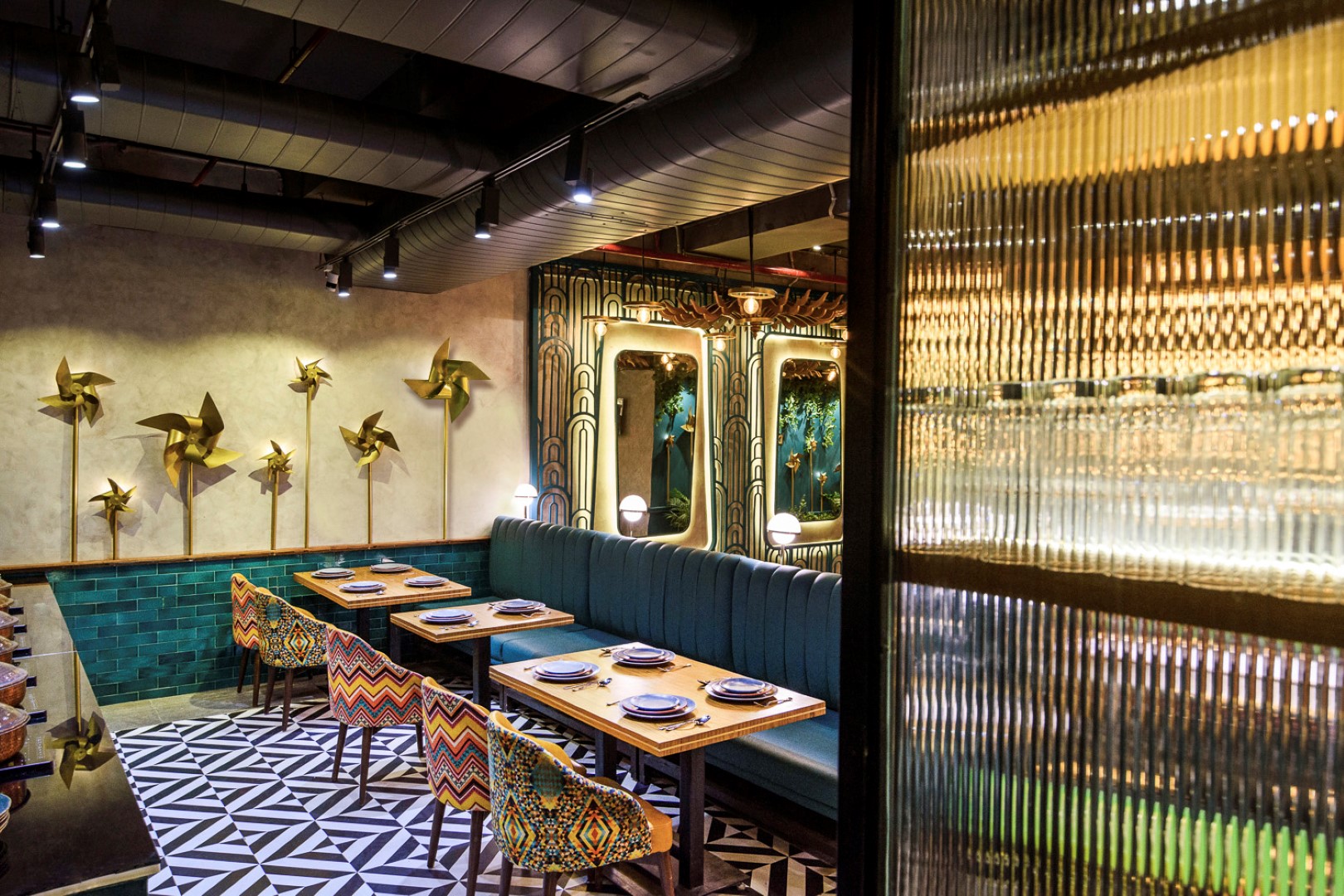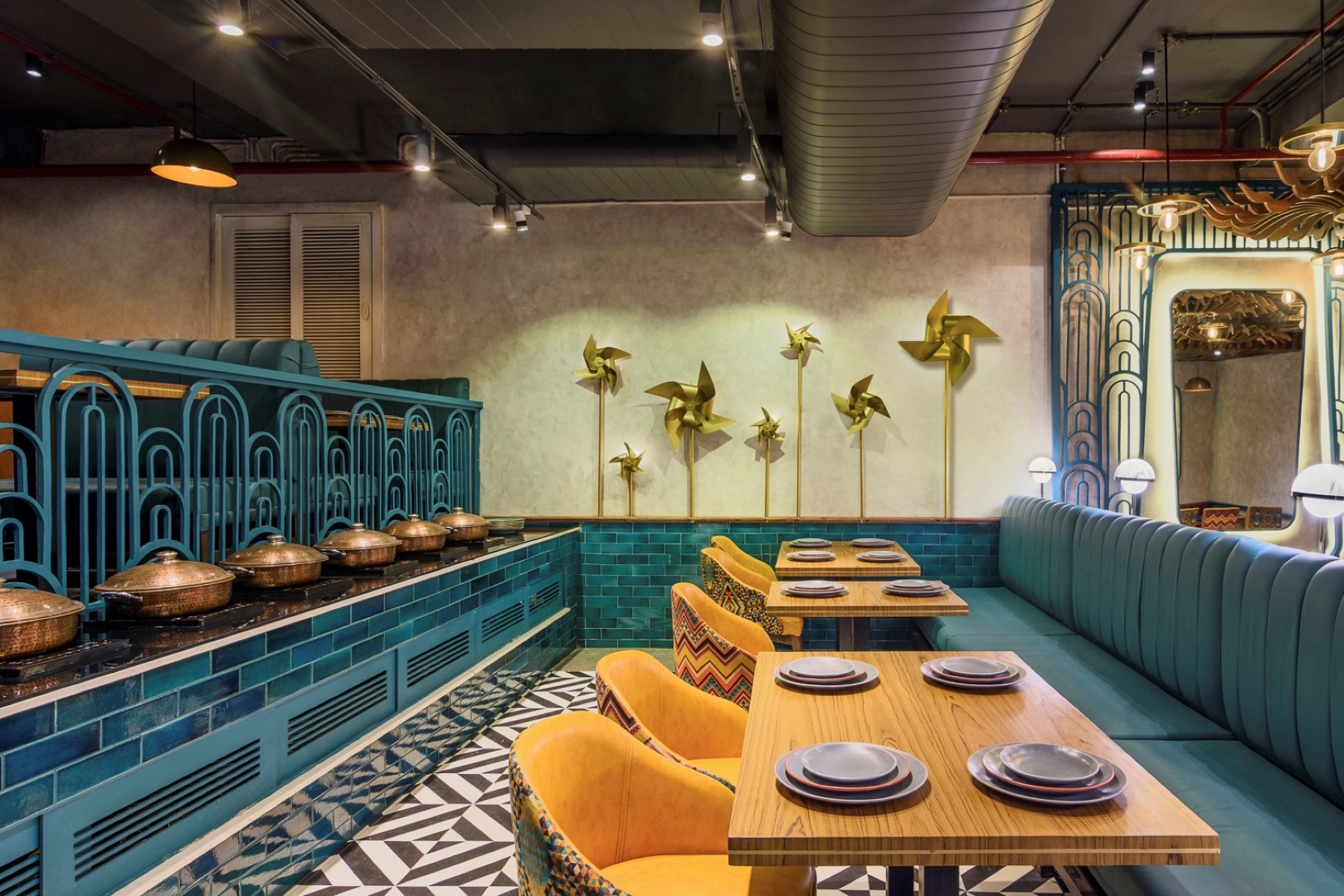 The purposeful use of grey concrete finish on the walls with teal as the main accent color gives a perfect balance to the restaurant which forms the base for our over the top eclectic shaped mirrors. The floor in black and white makes the interior look dramatic which adds to the overall look and feel. The patterns, colors, forms, and shapes are used to imbibe a feeling of nostalgia which makes an instant connection between the space and the user.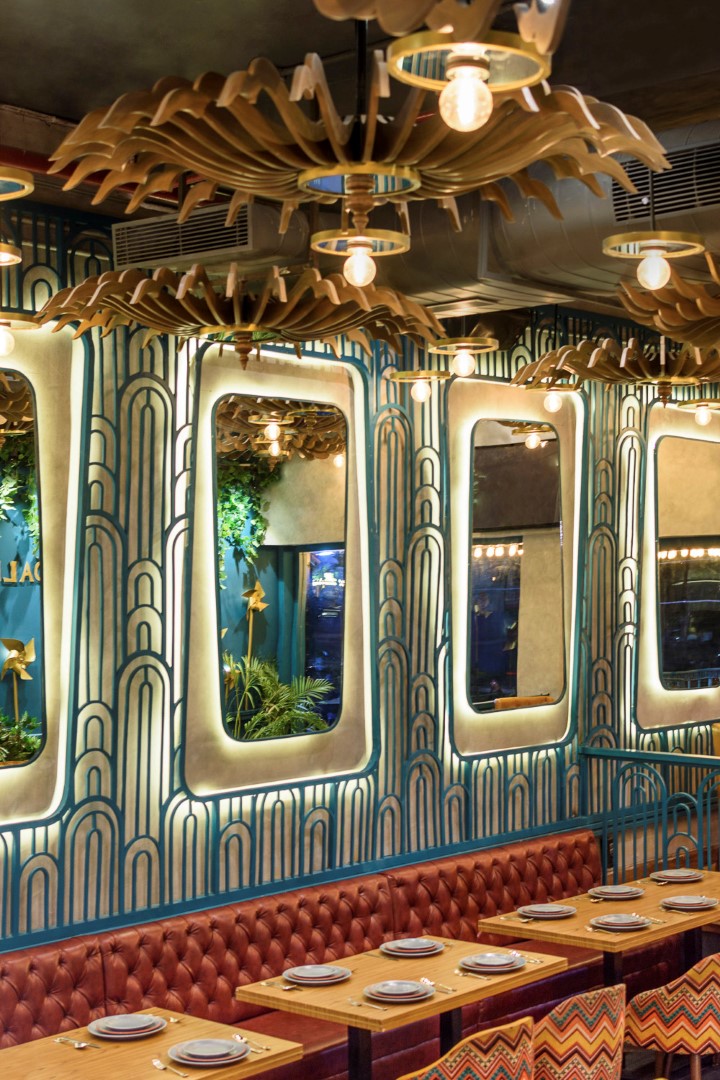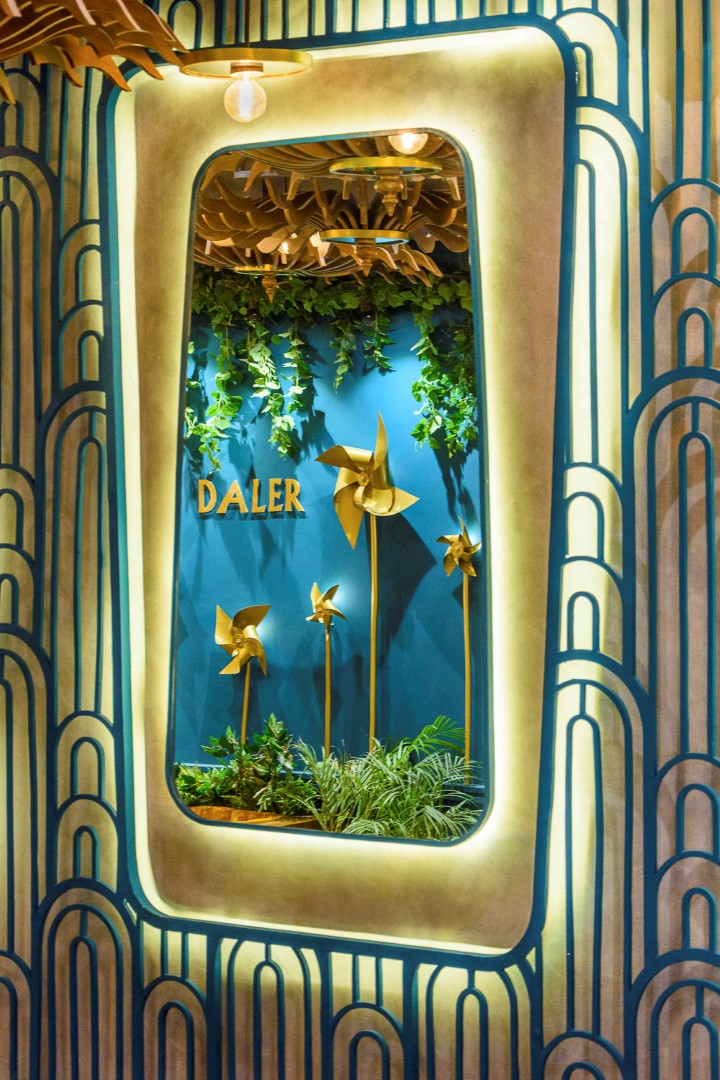 A lot of mirrors have been used in the interiors, be it on the ceiling or on the walls, which, because of the reflections, in a way depicts happy chaos around and gives a sense of a comprehensive environment.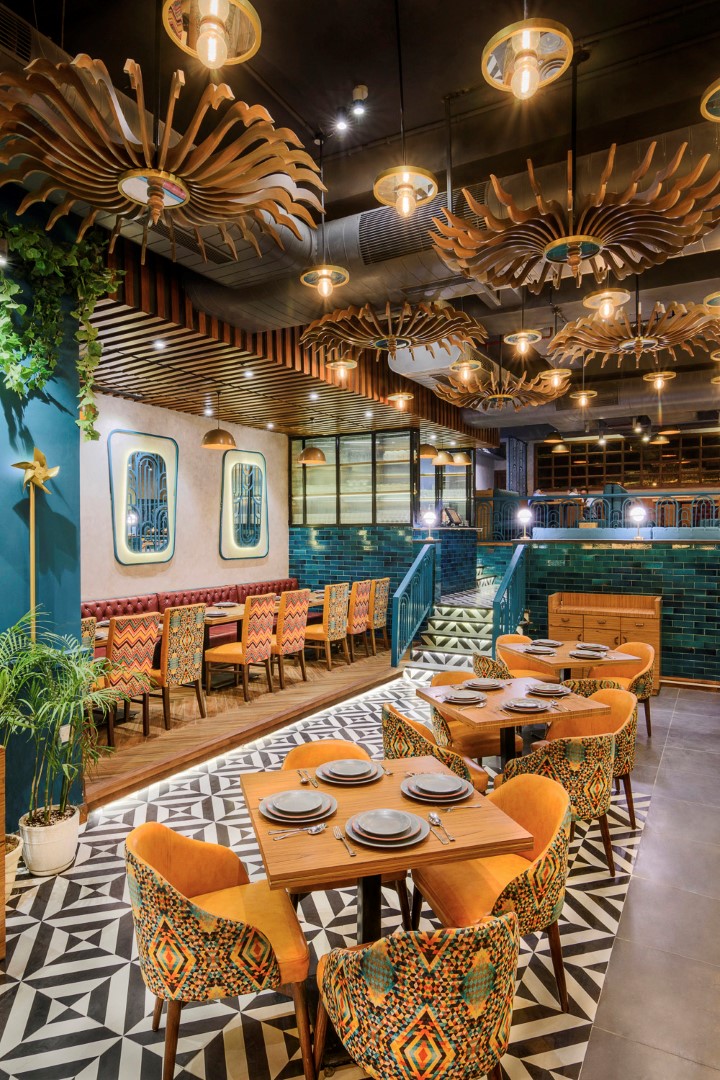 The ceiling in itself is a ginormous art installation which is an abstract reminiscent of a giant wheel, one of the prime focal points at fetes. Multi-faceted surfaces in conjugation with reflective mirrors, fluted glass, and gold detailing formed the prime identity of the project.
FACT FILE:
Firm- Design Ethics Architecture Studio
Title of Project- Daler
Indoor Area(FOH + BOH)- 2100 sqft.
No. of Covers- 96
Project status-Built
Project Category- Interior Design
Execution Time- 45 days
Principal Architects- Ar. Poulomi, Ar. Jatin
Location- Rajouri Garden, New Delhi
Photo Credits- Satish Kumar
About Firm:
At DE studio, we all come to work every day because we love to get involved in the design process. We offer design solutions based out of unbiased perspective and strive to inculcate essential aspects by putting ourselves in the shoes of the end-user. We give thoughtful insight into our daily experiences. We aim to impact people's lives in tiny, meaningful ways. We believe in the transformative power of illustrations and their ability to simplify communication, elevate the experience, engage and inspire people.
Every design studio has a story to tell. Ours has just started and it is already pretty interesting. We involve ourselves in both core Architecture as well as Interior Design. We came into being somewhere in the middle of 2016, with a hunger to work, grow and connect. Since then, we have had the pleasure of working with various wonderful clients and in varied sectors – Residential, Hospitality, Retail, Offices and more.