&nbsp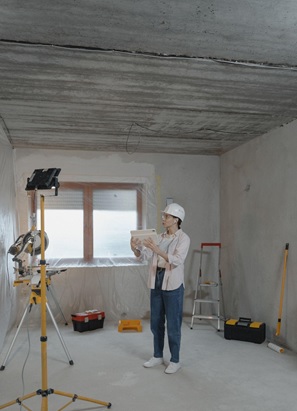 Most homeowners wouldn't even think twice if afforded the option to expand their living space. The general cost of real estate belongs to the highest level of expenses for almost anything in this world. People save money for years, if not decades, to purchase a house. Yet, many have to do with rented apartments for life. Astute planning, however, can solve this issue and make your home even more valuable than it was before.
Converting your garage into a suitable living space can do you a world of good. Certain areas and neighborhoods can be extremely expensive for purchasing even the smallest of houses. In such cases, having a garage is a blessing, as it can be converted into a beautiful bedroom or a guest room with some effort and planning. In fact, a substantial amount of money can be made if you rent it out after the renovation. Read this article for an in-depth discussion on facts to consider before deciding to convert your garage into living quarters.
Is a Government Permit Required?
A change in the initial blueprint of a structure mostly requires a permit from the local government. This varies between cities and states, along with the procedure and cost associated with it. You need to get accurate information about the permit requirements for changing your garage structure. The Zoning Department of a city is the place where you can usually get all the necessary information on this.
Make sure you have a concrete plan of your intended design before submitting your permit, as the city officials need to thoroughly analyze the legitimacy of the design and ensure that legal steps have been followed in the process of renovation to avoid structural damage. Do not forget that converting your garage into a living room increases the total square footage of your home – as well as increasing payable taxes in the process. Each city or locality has its own building codes that need to be followed strictly.
Does It Raise the Value of Your Property?
Converting your garage into living quarters inevitably raises the value of your property, even after compensating for the lost garage space. However, this totally depends on the amount of effort and money you need to spend on renovation. Taking professional help from remodeling contractors is a viable option that can reduce most of the hassle on your end. If hired, they can take all the necessary measurements and complete the entire process for you.
Meticulous planning needs to be done, as any customization in the structure is a permanent change for most homeowners. If you own a personal vehicle and live in a locality where owning a car is mandatory, such a conversion might not be a smart choice. Having a place to keep your vehicle is more important than having an extra bedroom in such a case. Furthermore, an owner opting to sell the property down the line would also not benefit from this change, as a living room in the garage space is not an ideal house setup. Make sure you perform all these calculations prior to initiating any garage conversion steps.
Do You Need the Storage Space?
Garages mostly serve as storage spaces for families that do not own a personal vehicle. If they do, the space is utilized for keeping the car. You can use other areas of your house, like the attic or basement, to store your tools and equipment that are usually stored in the garage. If the house is located in an area with moderate climatic conditions, it is possible to park the car outdoors without any significant problems. Colder areas experiencing major snowfall every year are not ideal to keep the vehicle outside, while the garage is converted into living quarters. You can also build a basic carport outdoors to accommodate the vehicle and renovate the garage as a living space.
Furthermore, standard garage spaces are usually large as they are capable of housing at least one to two vehicles. Imagine the amount of living space you can generate if you utilize the entire garage! For houses with massive garages, one vehicle can still be stored after the conversion if the design allows – which we recommend in such instances.
Can You Afford the Renovation?
We have finally come across the most crucial aspect of garage conversion: affordability. The cost of completely renovating a garage and transforming it into a living room can vary greatly depending on the garage space, cost of necessary materials, permit requirements in the neighborhood, etc. The total cost can reach tens of thousands of dollars, which might pose a problem for people initiating the project without a proper plan.
Converting a garage into a bedroom requires the mandatory installation of an entry door and a window as per the laws in most locations. This can be an expensive affair. Add the costs of electrical and plumbing work, and you have yourself a mammoth amount to pay already. Insulation is required for homes situated in colder parts of the country. If you want the newly created bedroom to look and feel like one, apply wallpapers or paint on the walls and ceiling. Extensive planning is necessary to predict the approximate amount of expenses required before applying for the permit or starting the renovation work.
Final Words
If everything goes smoothly, we believe converting an unused garage into a living space is worth it. Your garage is yours to use. Money has already been paid for it or is being paid every month. Keeping a major portion of your house (the garage) empty or as a dumping ground for tools and equipment is a big waste. Proper utilization of these unexploited spaces is a smart move that can ensure the maximum utilization of resources.