Contemporary Style Apartment Interior With Blues And Greys | Anushka Contraactor
The brief was to have 'clean and neat lines' and 'no projecting handles'. They wanted a maintenance-free home. Colour palette played an important role in this project as the husband favored the colour blue but also wanted to incorporate his wife's love for greys. They wanted to convert one bedroom into an entertainment/ guest bedroom which also connects with the master bedroom through a window opening between the rooms.
Visit: Anushka Contraactor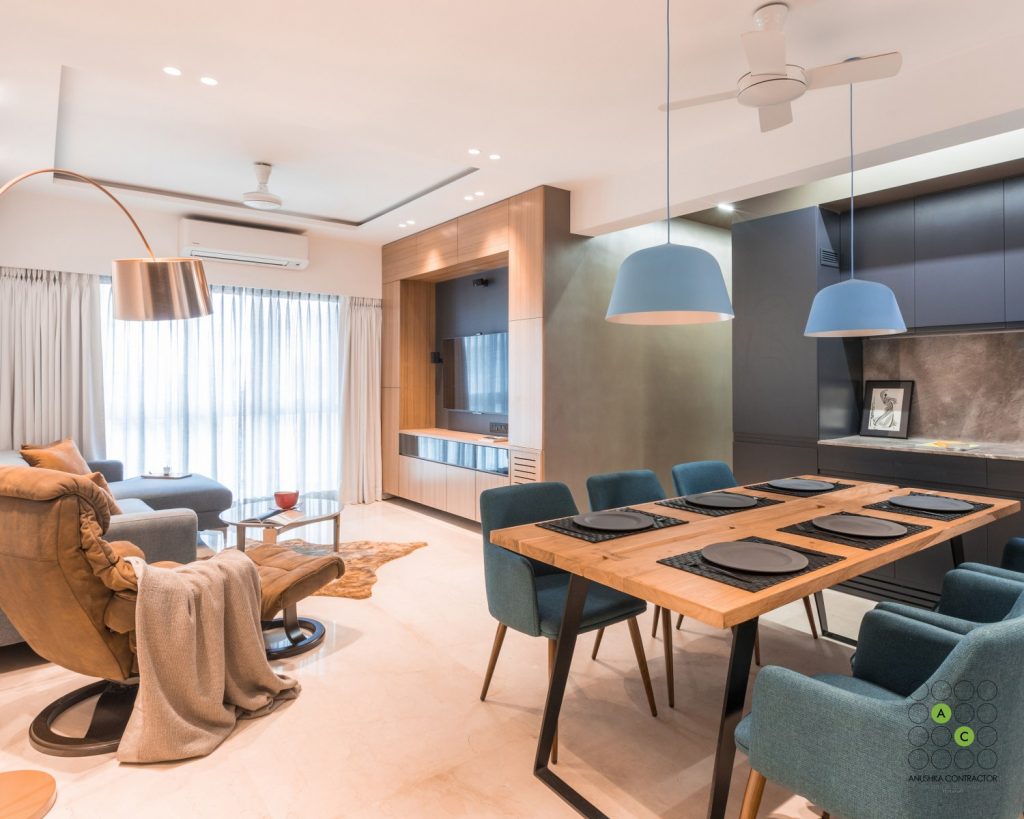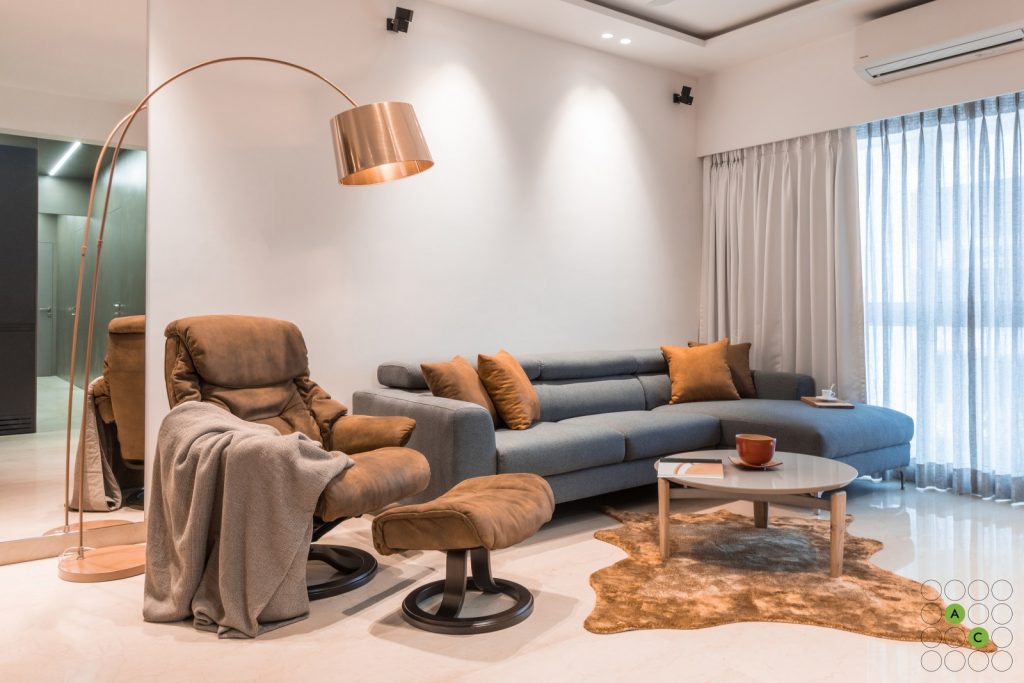 When our clients came to us with a vision they had for their new apartment, they were clear with their requirements of colour themes, placements, etc. which helped us understand the contemporary style that would make their ideas and ours work together.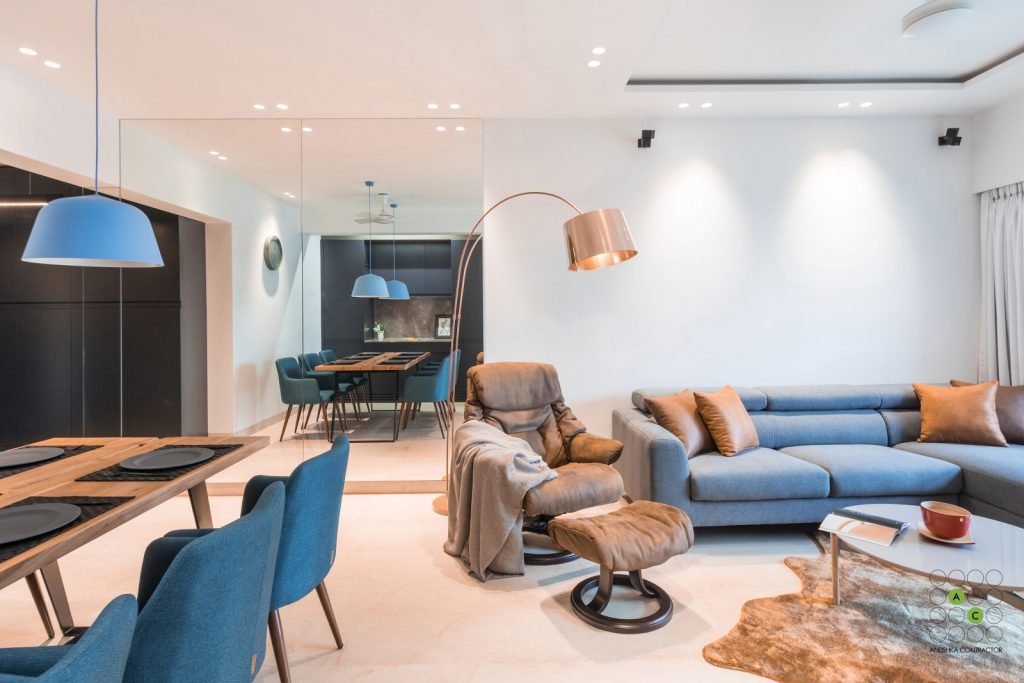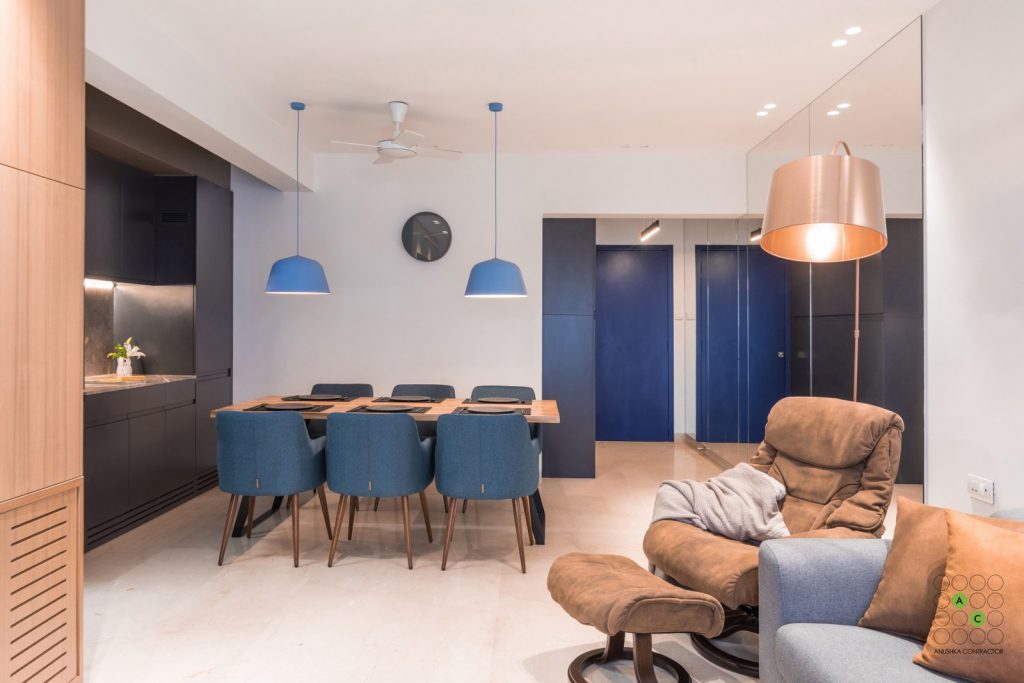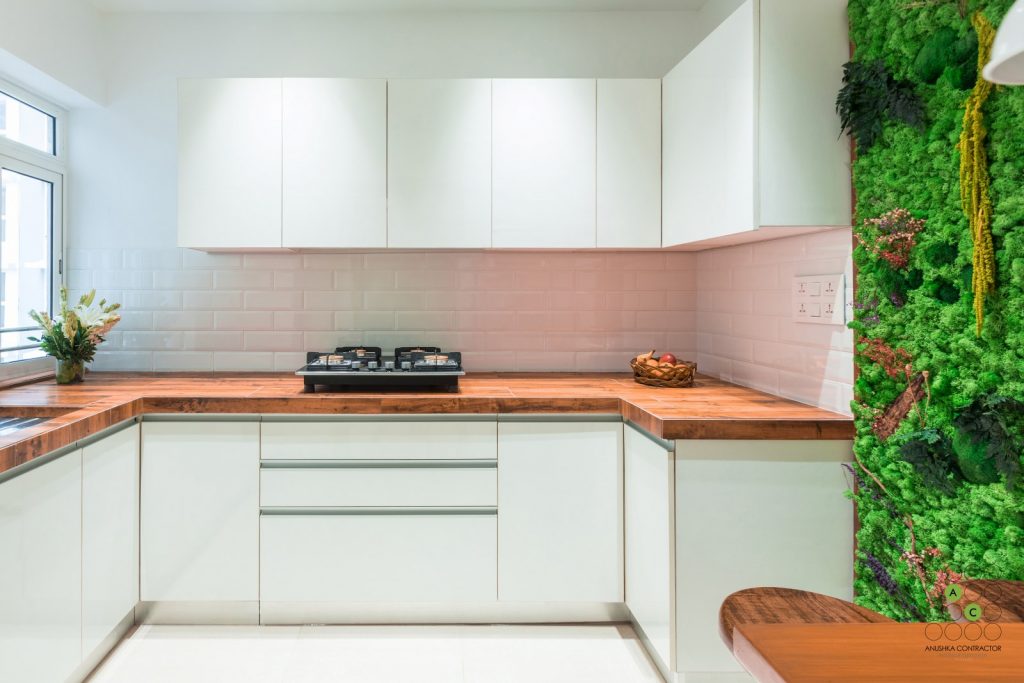 My design language has always been practical with a contemporary style. My client's thoughts and ideas were on similar lines but they wanted their home to reflect themselves which inspired us to experiment and create something different in the end.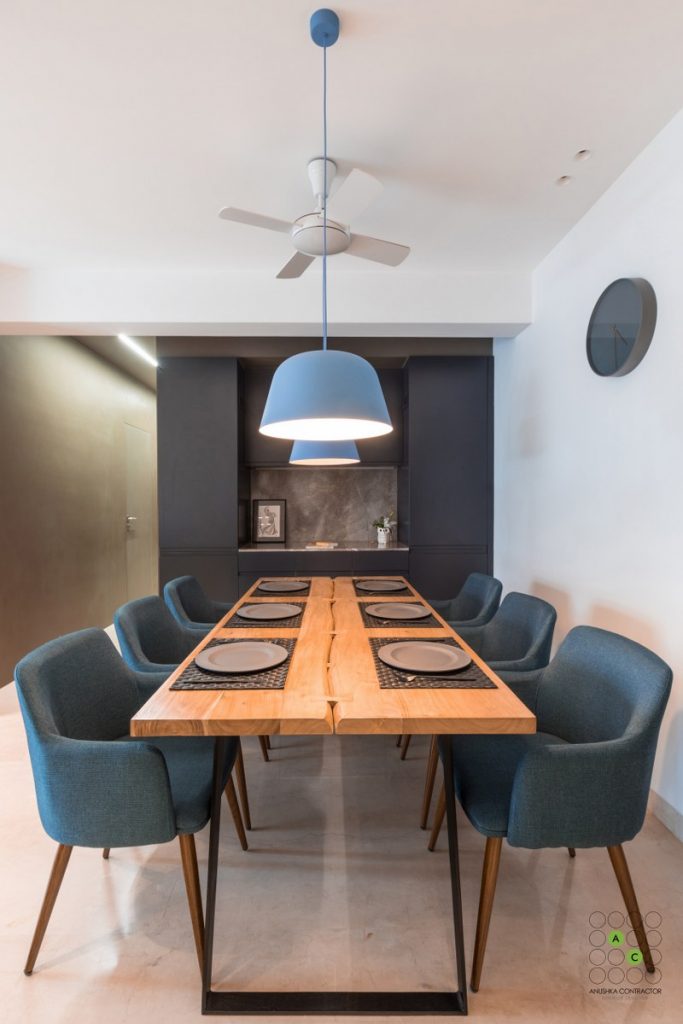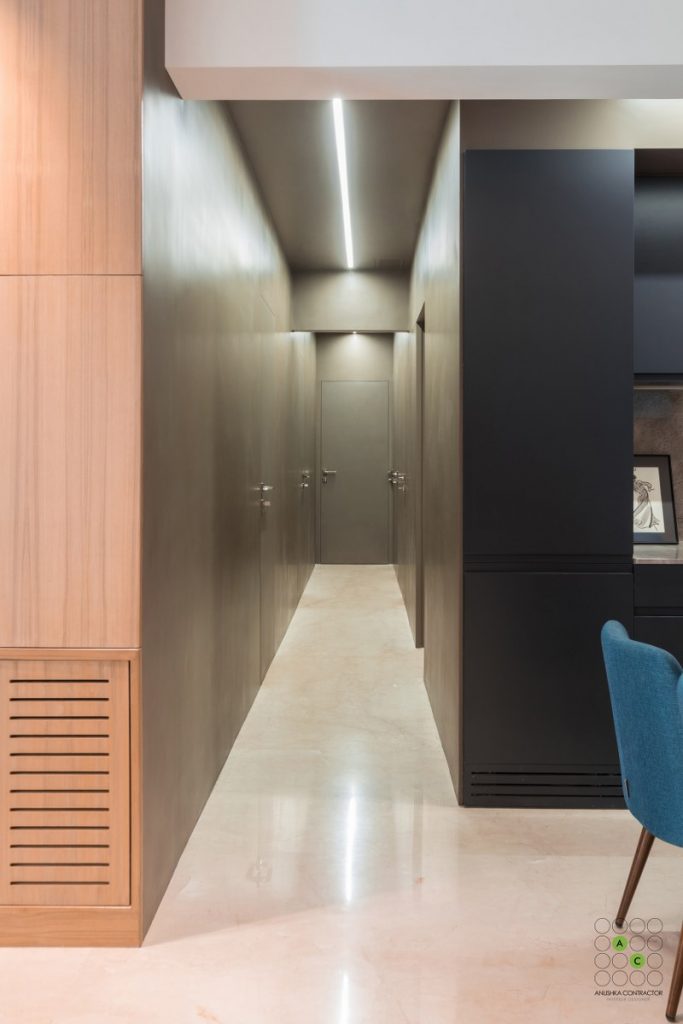 Our clients wanted enough storage in each space which was a necessity but they also wanted the units to be hidden. The hidden elements in the living-dining area are the bar which has two built-in refrigerators, then we created a clean flushed look with the doors in the passage which leads to all the bedrooms & common bathrooms. The entertainment/ guest bedroom & master bedroom also have hidden closets in their room.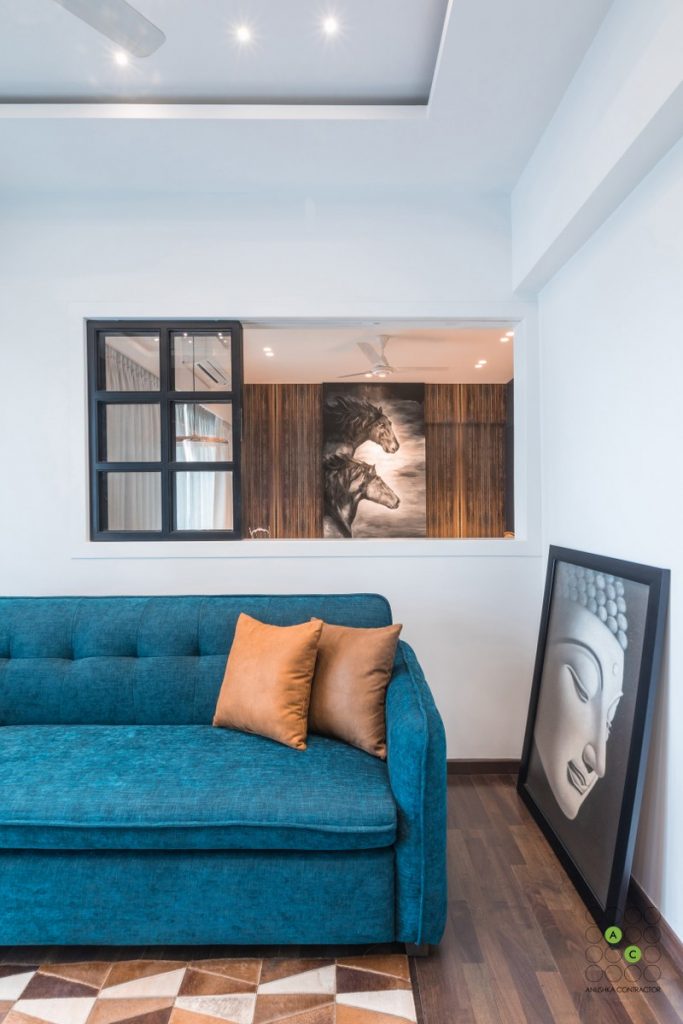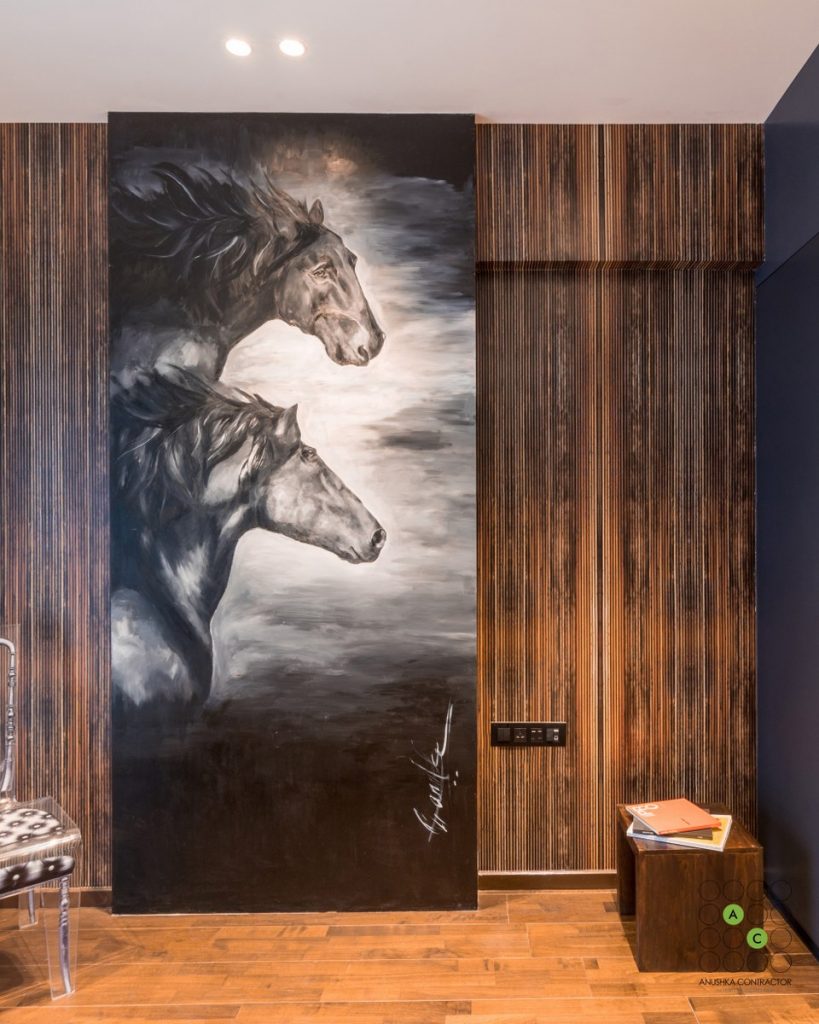 There was no view to this apartment, natural light in every room was an issue due to the next-door building blocking theirs. We've used sheers and curtains in neutral shades that don't overpower the area and does the job of giving some light to space. Our design describes experimenting with restrictive color combinations and keeping it simple with a touch of luxury. My clients were clear in their thoughts from day one and I had the freedom to experiment and design which was a good deal.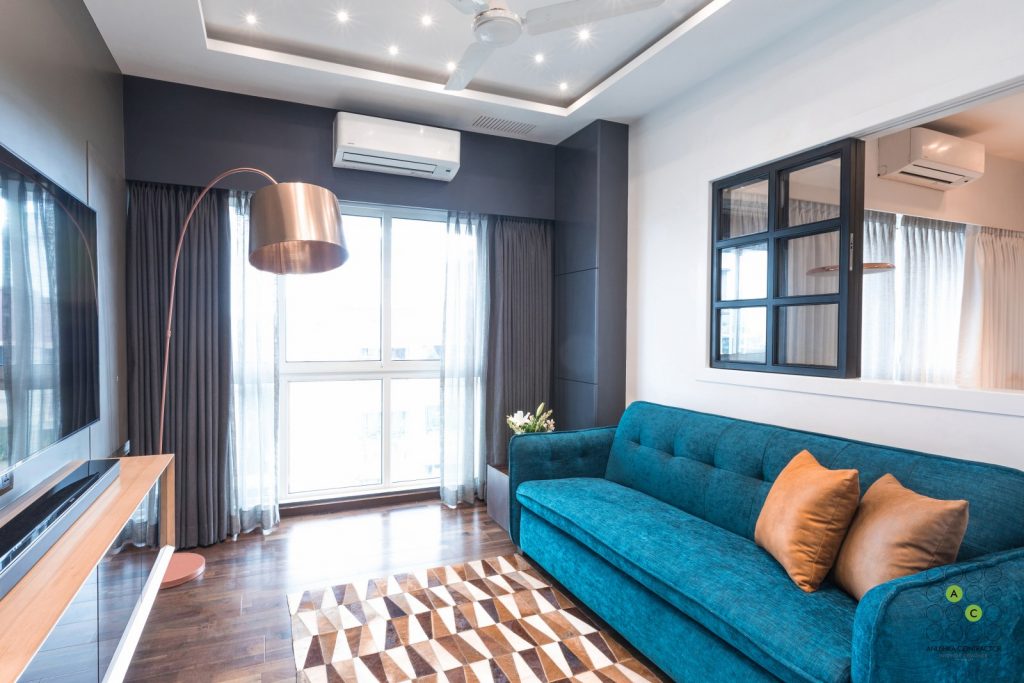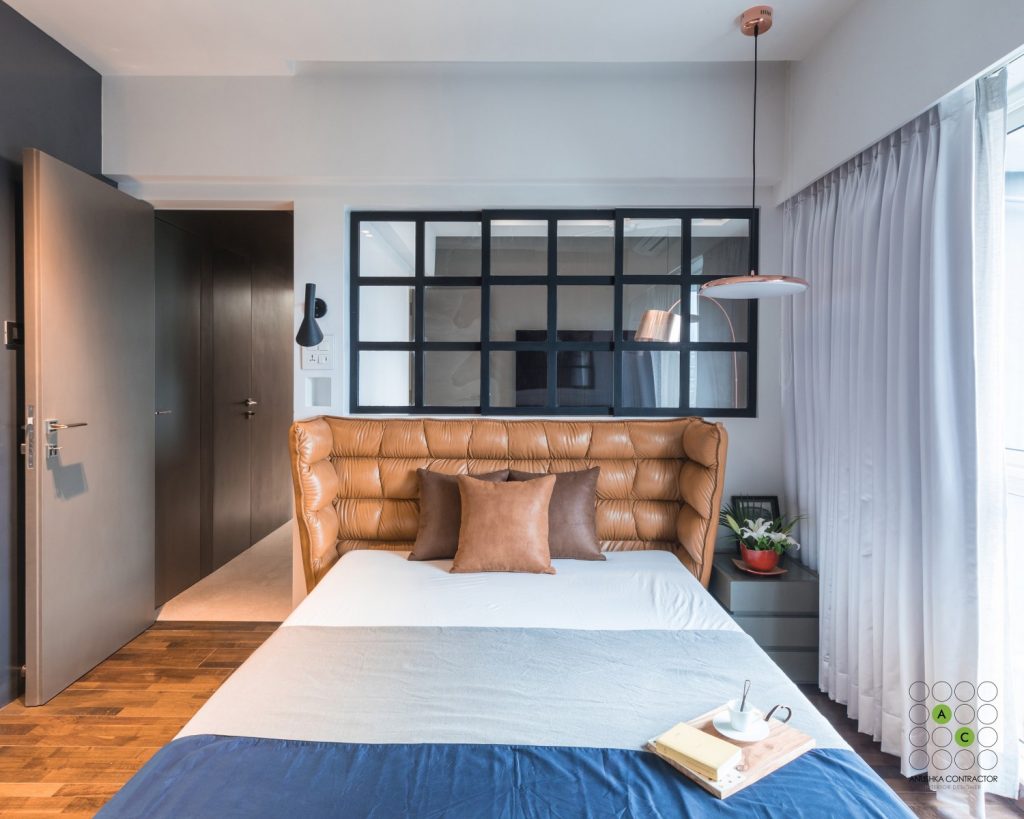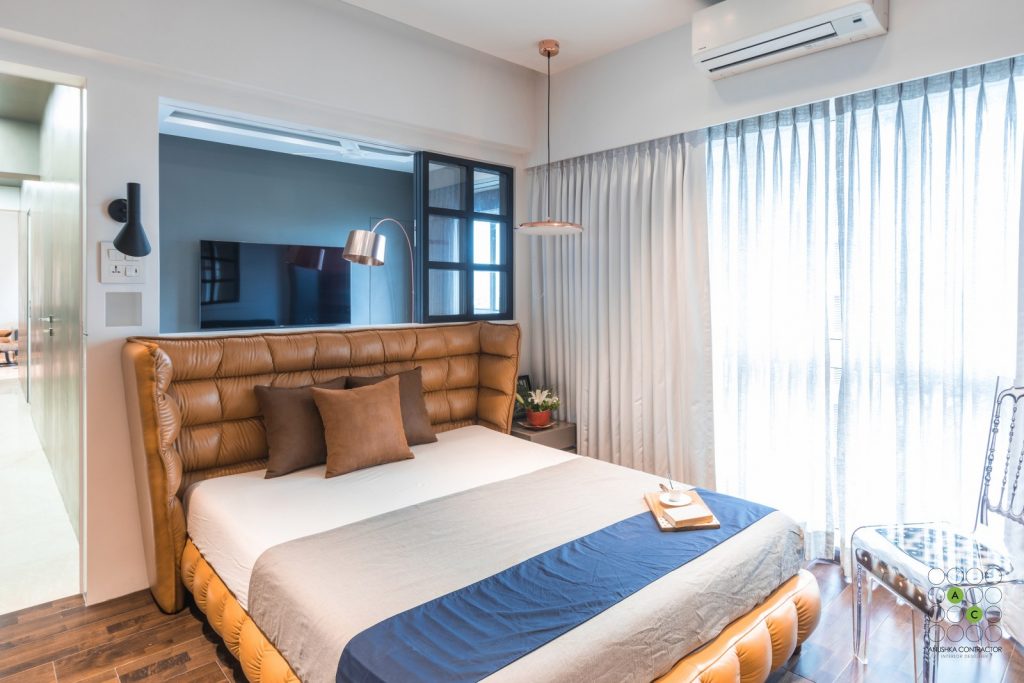 The majority of the furniture elements are all hidden. Because of the seamlessness and clean-lined design, seems like certain items are missing but they are all hidden. For instance, in the dining area, we have created a hidden bar with two built-in refrigerators on either side, our clients show off this area while entertaining their guests. Room sizes were a challenge and placing all the furniture in every room as per the client's requirement while planning.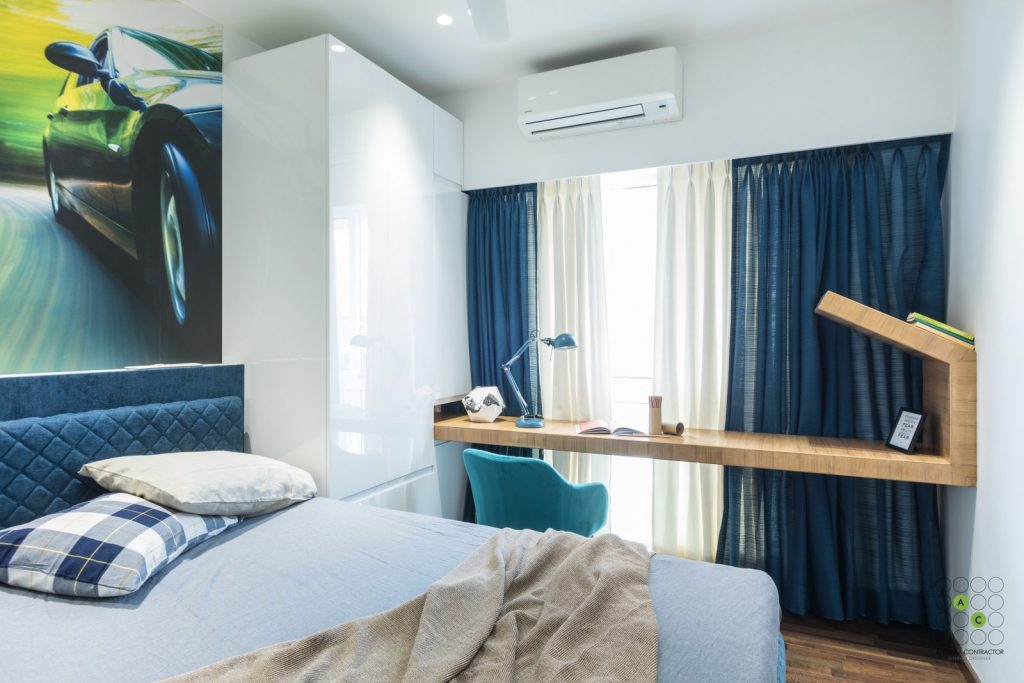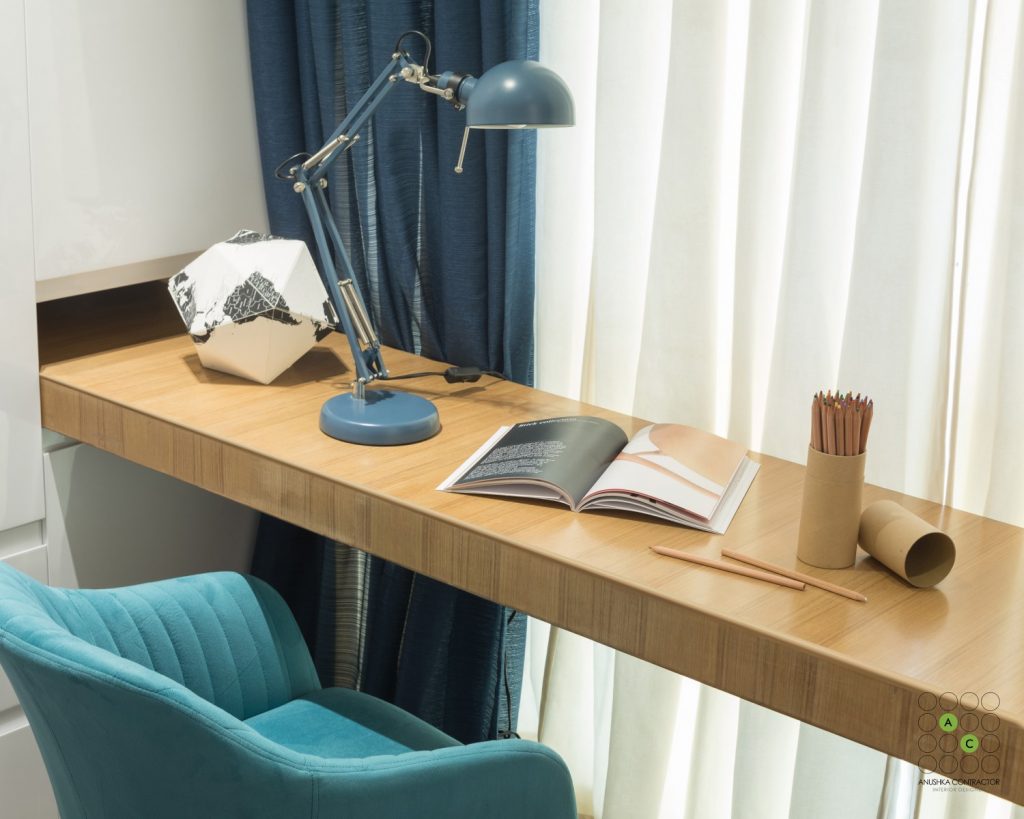 This project has been very interesting and was approached differently. Our clients wanted their space to be with colours and the feel. The execution was challenging with the restrictive ideas from them but we achieved the look we all had envisioned. The process was typical, beginning with layouts and options. Several discussions and conflicts in thoughts on space planning. Hints of colours were required in every room as per Vastu. We created one element in each room with the colours. Finally, we could put them all together.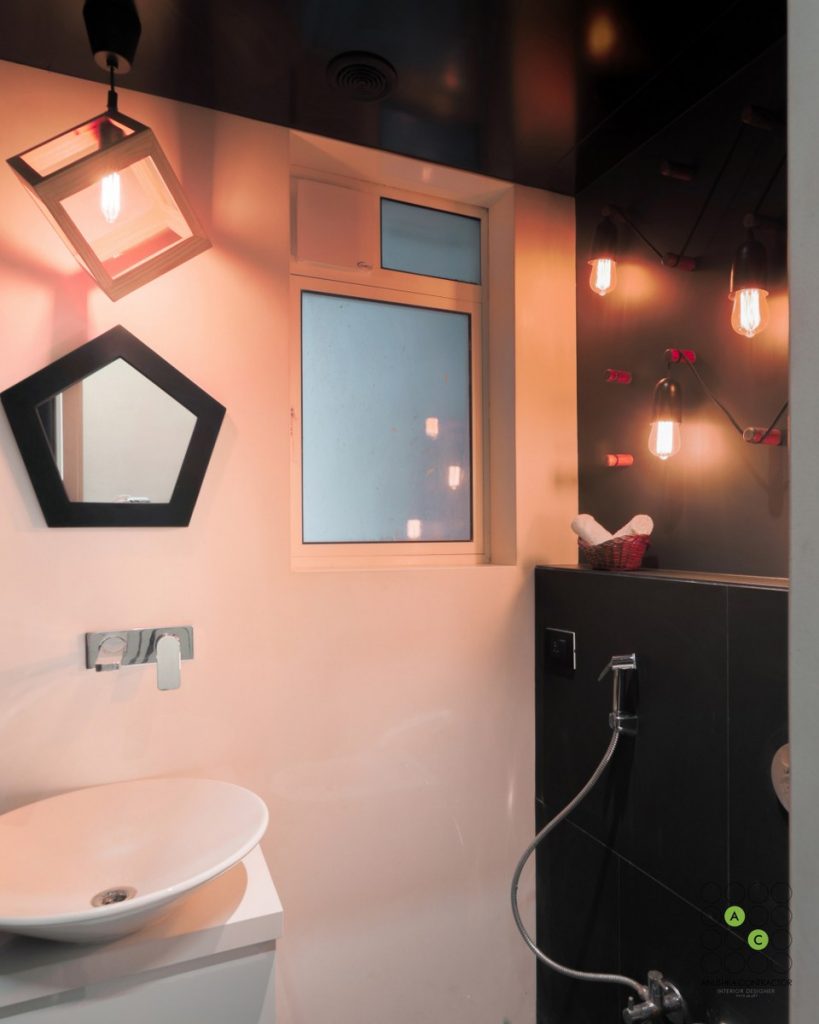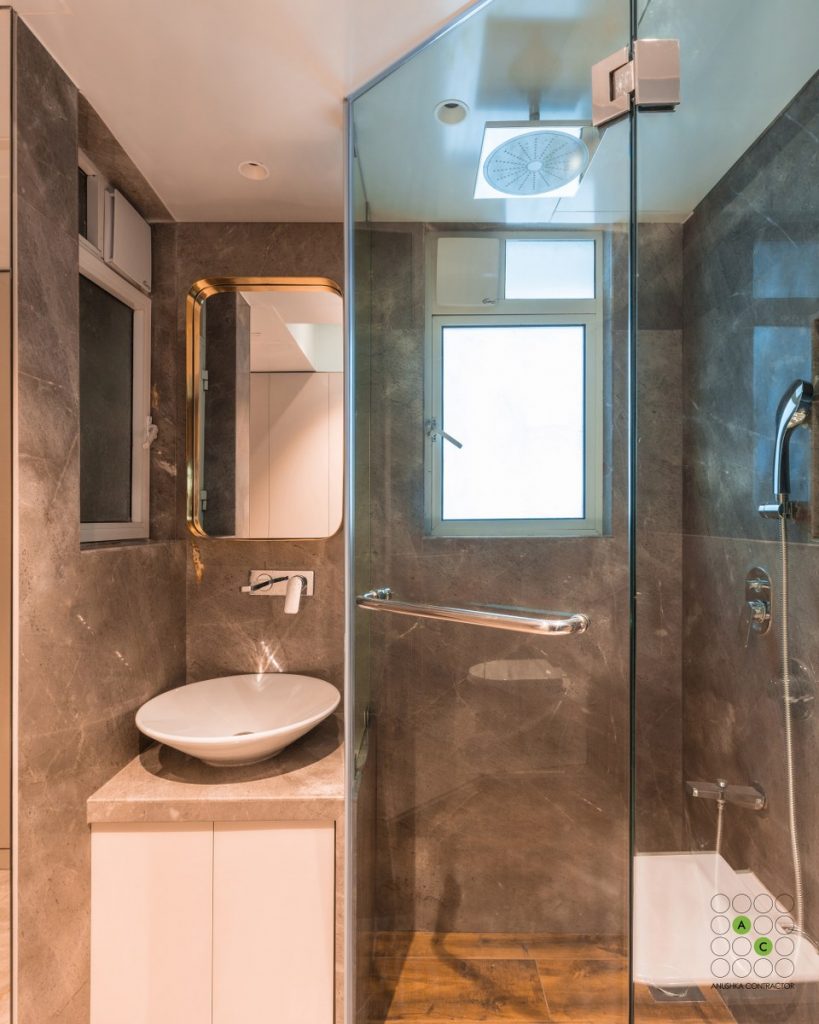 Experimenting with many shades of grey and other colour combinations. A clear vision from clients and trusting us to bring it to life.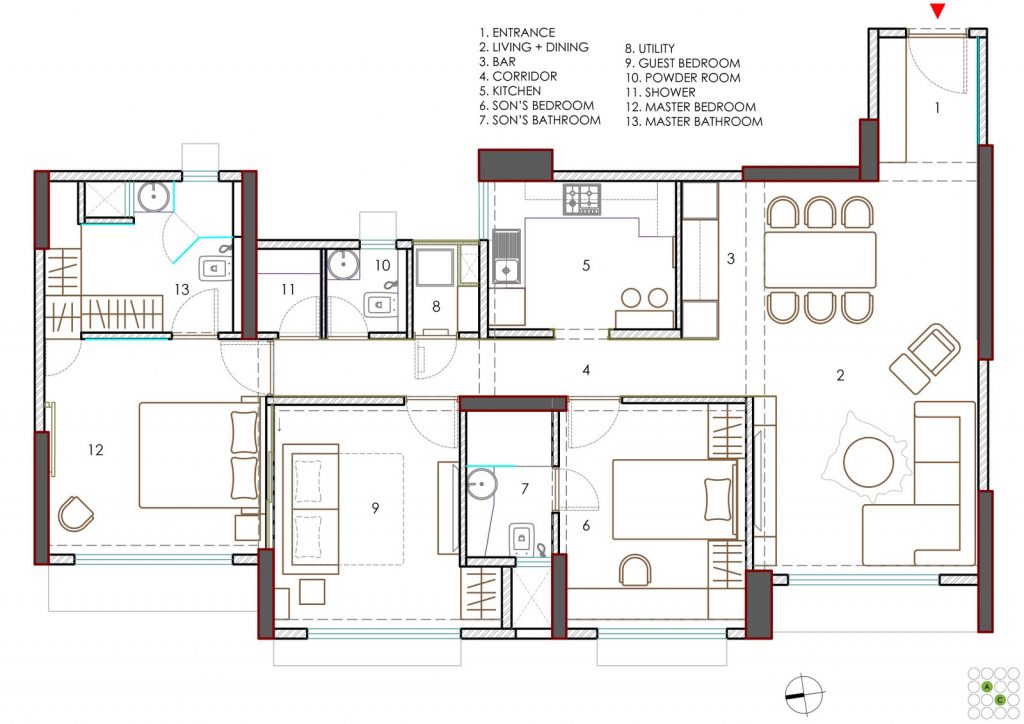 FACT FILE:
Designer – Anushka Contractor
project Type – Residential apartment
Size of Apartment – 1710 sq. ft
Year- 2018
Location – BKC, Mumbai, India
Photography by- Sagar Padwal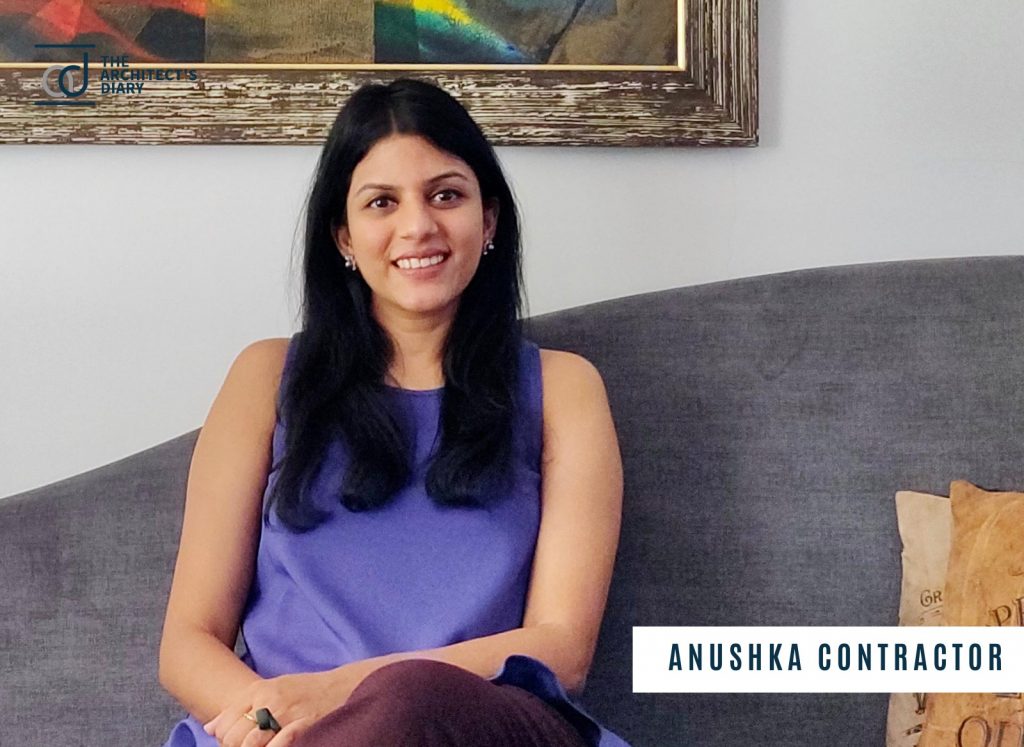 ABOUT DESIGNER-
Anushka Contractor – An Interior & Furniture Designer From Mumbai, Who Has Been Working Since The Age Of 19 (2008) After Graduating From The Prestigious Rachana Sansad School Of Design. She Has Gained many experiences Directing In Luxury Residential, Commercial, And Public Space Interior Design. Though Her Specialty Lies In Designing Furniture, She Never Shies Away From Taking Up Challenging Projects To Push Her Boundaries. She Has Been Honoured With Many Prestigious Awards.
Known For Her Contemporary Style With A Classic Touch, Anushka's Main Influences Come From Europe, And Along With Her Urge To Visit Europe, She Wishes To Showcase Her Creative Skills And Expand Her Reach In The Field Of Interior Design.
Website: Anushka Contraactor
Facebook: Anushka Contraactor
Instagram: Anushka Contraactor