&nbsp
The market is flooding with tiles and tiling options and so is the internet! With an avalanche of product options available, it gets really difficult to choose the right and the best one for you. There is always this constant fear of finding a better one after making the purchase. In such a competitive market there is always going to be some brand that would give you 'your' kind of satisfaction and a few factors majorly will be making up that brand. Further narrowing it down, the answer for all the product needs lie in just one word- SERVICES. And, not all companies heartily focus on it.
Here I am to share my personal experience with one such tile manufacturing company whose ethos are truly lined with user friendliness and customer satisfaction. They have all the tools that one can think of for making selecting, purchasing and procurement be a hell of a lot easier.
We recently renovated our home and I needed a floor tile for the same. My busy schedule makes an online hunt more convenient. I had made up my mind already about choosing tiles over marble because of their additional advantages namely easy maintenance, spill-resistance and non-porosity. It felt like a marathon on the internet until I landed at a sweet spot. I came across this company called Orientbell tiles.
They happen to have an immense range of tiling options with undeniable designs and finishing options. Digging deep into the brand, I was truly impressed by their flawless image of over 40 years of customer satisfaction. No wonder they are one of the largest manufacturers of Ceramic and Vitrified tiles. The website helped me shortlist my preferences. I chose a marble tile and the products that I found appropriate were PGVT ONYX Super White and PGVT Fog Onyx Beige. I downloaded a high resolution product image to be double sure of my shortlisting. I loved the design, color and pattern of the tiles but what I wasn't sure of was its feel. Bingo! They had it solved with their remarkable service called Order A Sample. 
Unfortunately, there is no OrientBell showroom in my city and in fact, there felt no such need. It turned out that their website was as capable as a physical Orientbell tile store. I just had to follow a few steps that the website guided me through.
Firstly, I checked the availability at my pincode and went through the other tools to get the gist of them. The most impressive one was the TRIALOOK where I had to upload my room's picture and it would virtually show how the tile would look in my particular setup. I had also tried the 'Laying patterns' tool to check for the grout and tile laying pattern. I then went on to calculate the number of tiles through the 'Tile Calculator' and further, went to request a quotation from the tools available.

Of all the tools, the best of them for me was- 'Order a Sample Tile'. This is something I had never heard before. I was really impressed by the efforts they were taking to make tile purchasing so convenient. Would they really send tile samples at my doorstep for me to be thorough about the tile? This was commendable. I clicked on the option 'Order A Sample'.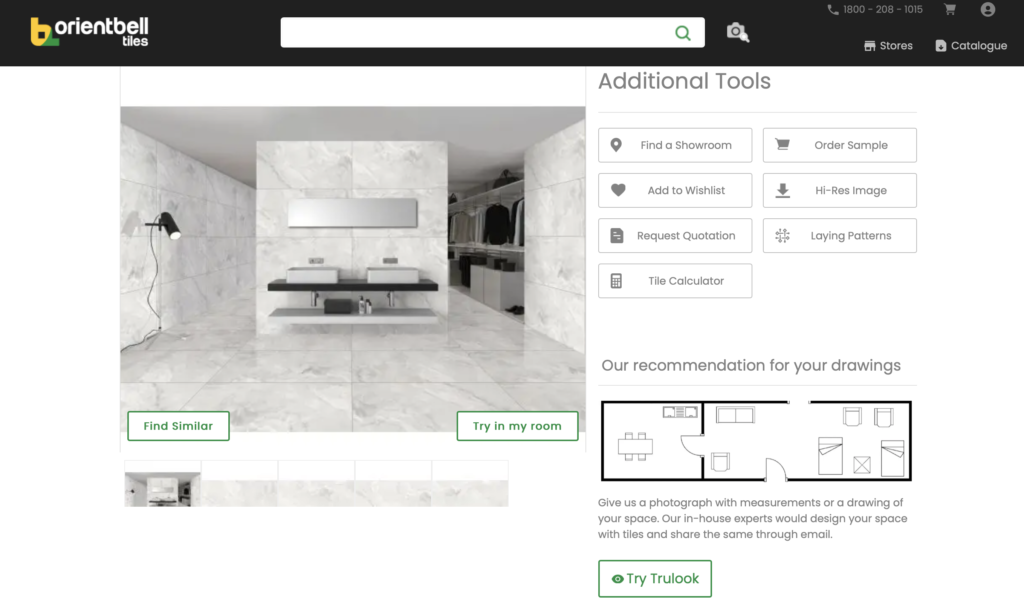 I was asked to log in or sign up in case I was a new Customer. I clicked on 'Create an Account' since I didn't have an existing account with them. Then I had to add all my personal details usually required to create an account. Now I was Logged in with my account on Orientbell.

I then went onto the product pages that I needed a sample for. I clicked on the Order a Sample Tile Option for each category and added the two tile samples to the cart.
Here I was done adding the two sample tiles to my cart. I was further taken for verifying my shipping address, order summary and then to the review and payments page. I did all the needful and Voila! I was done. My order for sample tiles was successfully placed.
I received my tile samples within a few days and they were very close to the way they appeared on the website. I was truly impressed by the tile design and feel. I had made up my mind then and there about penning down my experience with Orientbell to help the fellow buyers. As a designer and a customer, this is a company I would recommend for tile purchasing not only for their products; more for its services and customer friendliness. Moreover they have their team always ready to help us, you can connect with them on WhatsApp on – 8750711111.