&nbsp
Athulyam- Abode Achieves An Ambiguous Character With The Creative Play Of Lines, Planes & Solids | 3 Square Design
An "ATHULYAM"apartment in Vertis Tower, located in Ahmedabad is a surreal 4 BHK property designed in a vast arena of 2089 square feet (super build-up-3500 approx.). It is spacious with delightful frontal greens entrance having Travertine stone cladded within vertical grass gives a perfect glimpse to the foyer. The Main door enters to deliver an experience of a towering vestibule, having Concrete finish texture & veneer grooved in half-right-angle form along with elephant mural frame giving a reflection to Lord Ganesha.
Visit: 3 Square Design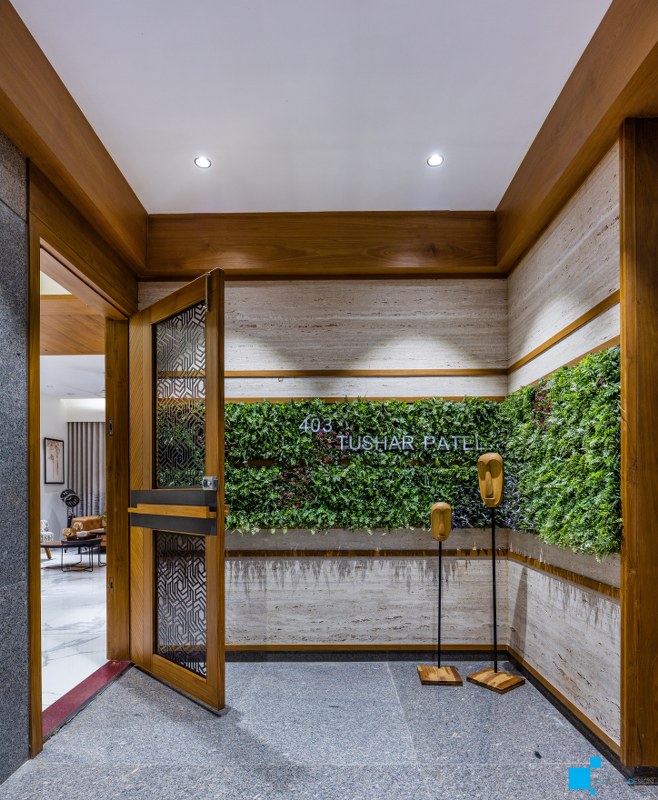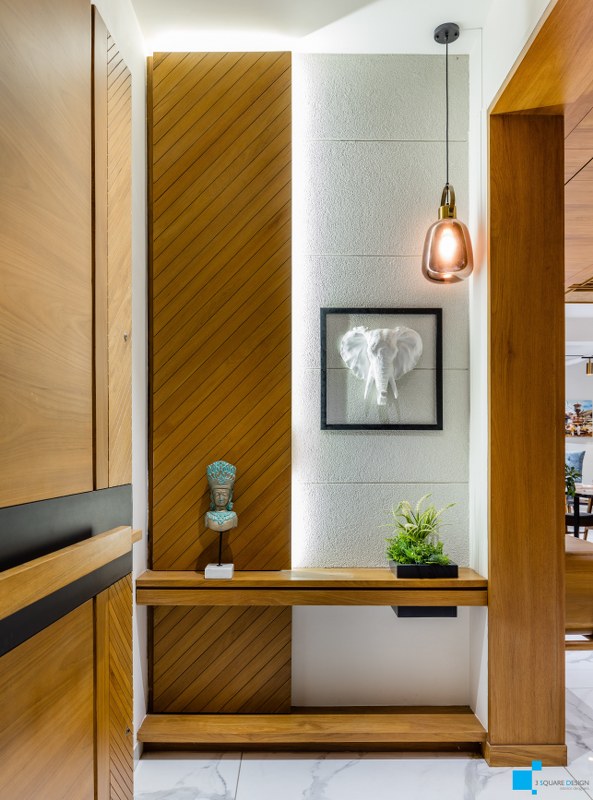 To further Ornament, the main space divide into 2 parts, Formal & Informal living. Formal living space bounced with a bluish-colored sofa along with a multicolored fabric high back chair having the frontal LCD unit cladded in Black-rose Italian with wooden strips in background balance the hidden door in the paneling.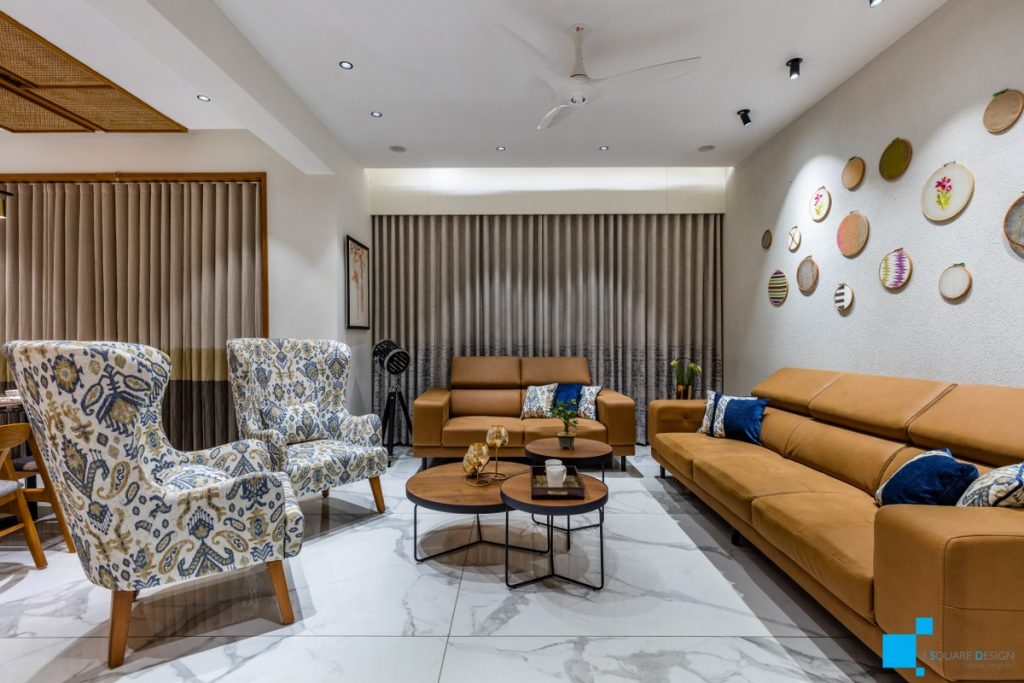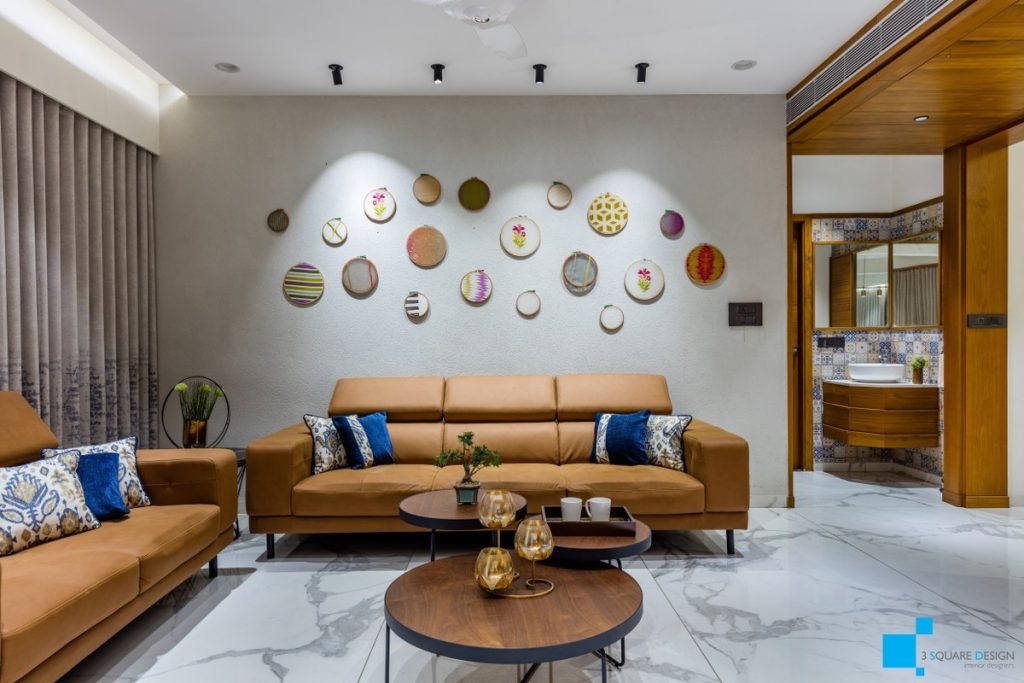 Where Informal living space grounded with leather sofa with twin multicolored printed chairs preparing the perfect proportion of value & design. A customized on-site console unit having storage assembled from teak wood having curved corner edges with round-shaped vertically wooden legs having the" NETAR JAALI "shutters giving the perfect inspiration of heritage style in a contemporary manner.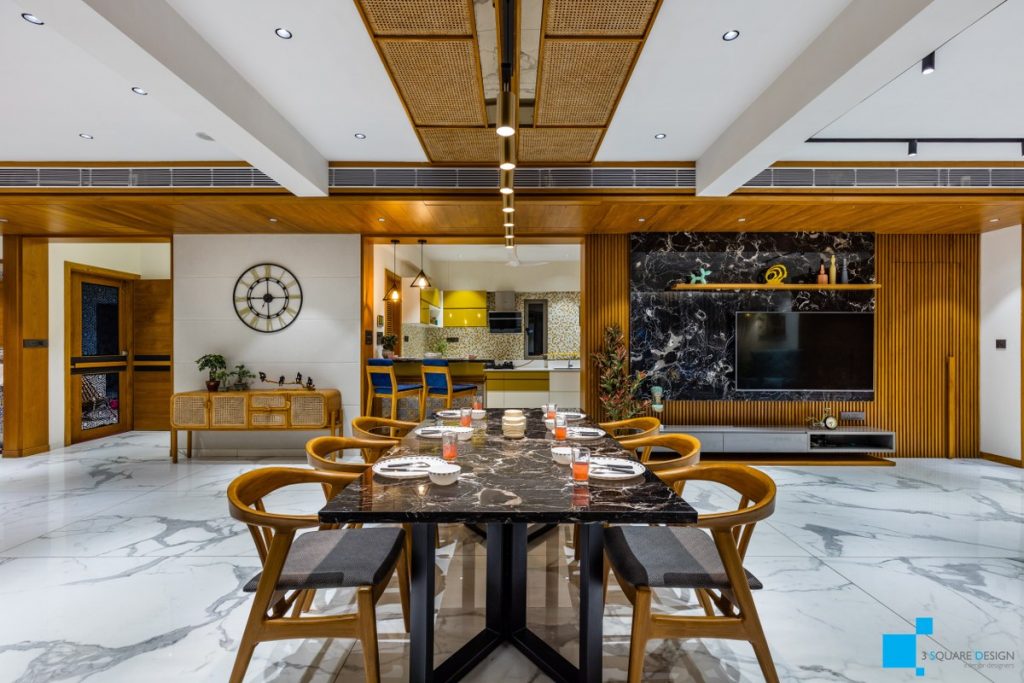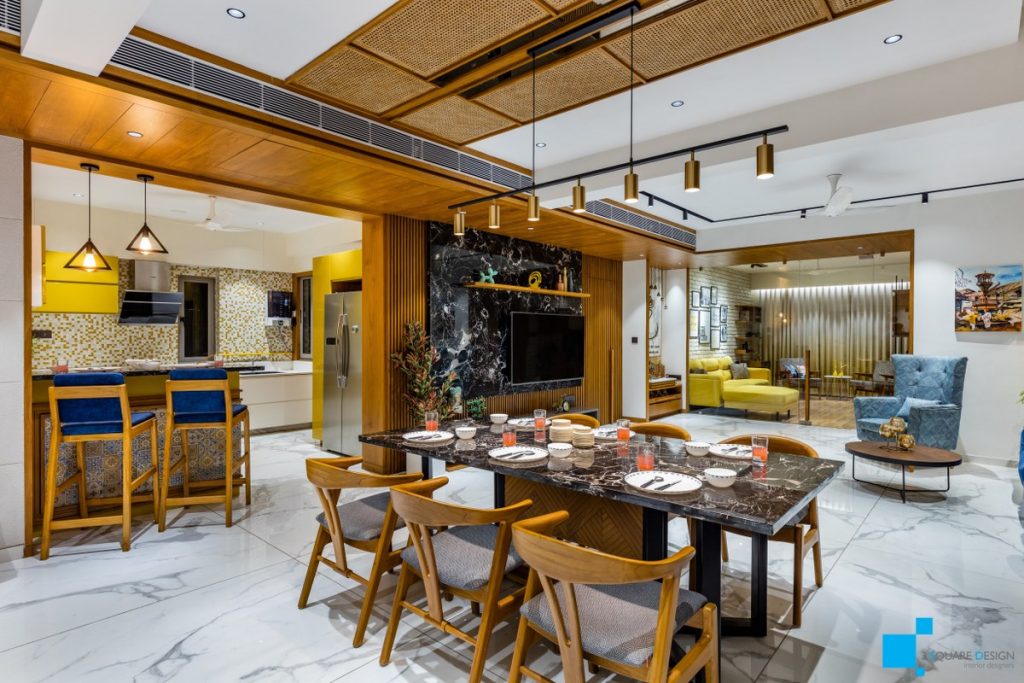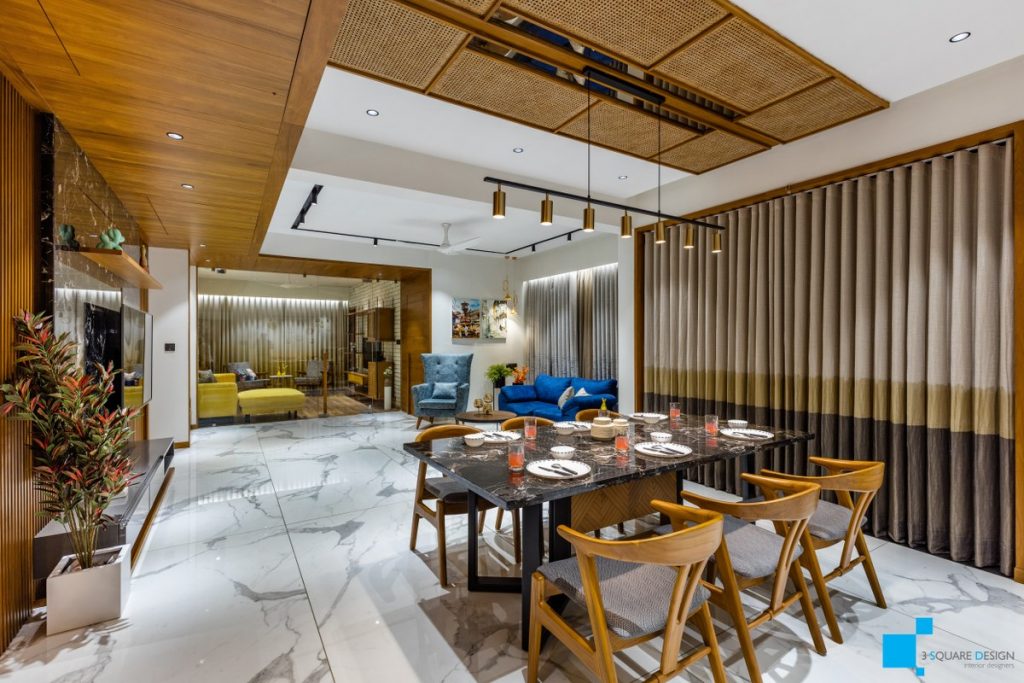 The Dining Area locate in-center of both living areas. An Italian stone dining having the wooden ceiling composite with "NETAR JAALI "and teak wood frame along with horizontal strip hanging light flashes directly on it influencing the Sober character of the design.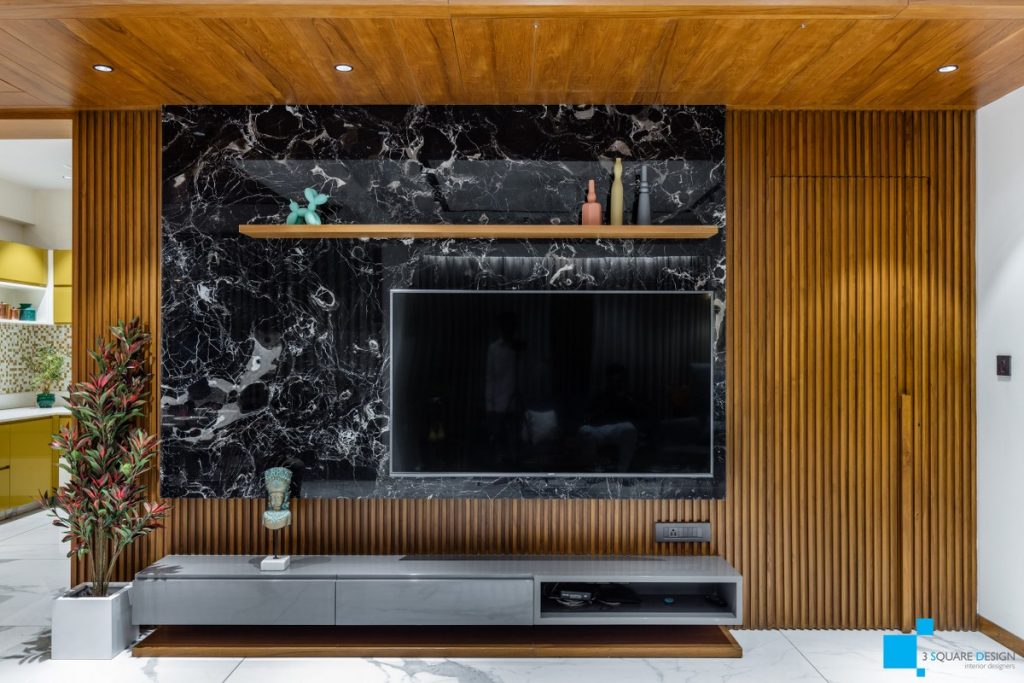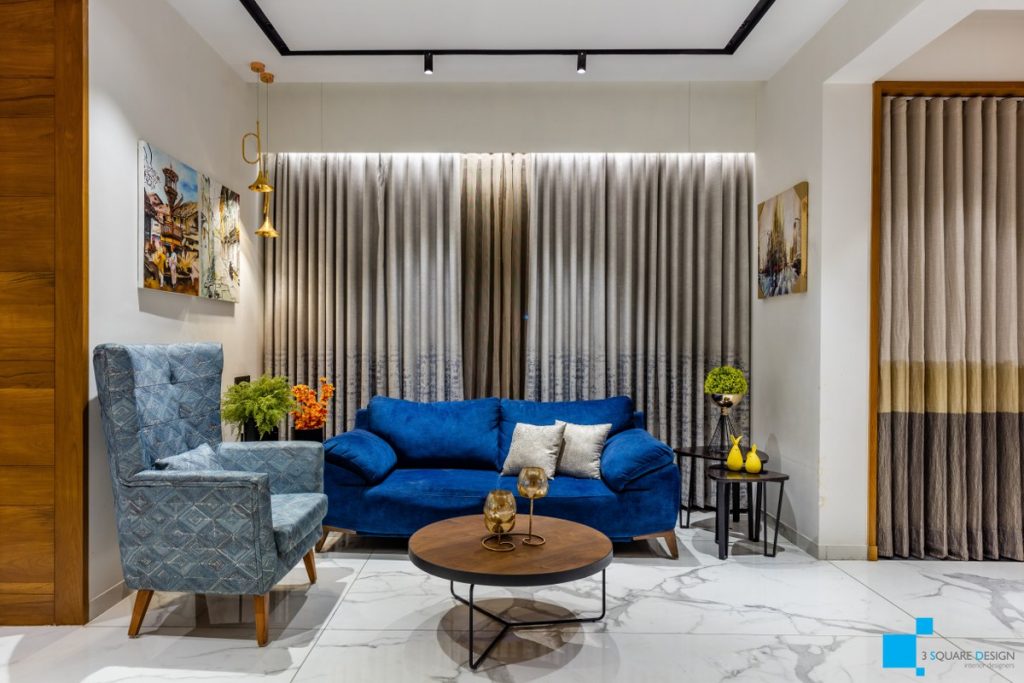 The Apartment portrays a very interesting strategy of using wood. The polished wood, in the form of battens, planes, and solid takes shape to frame the openings, highlights the walls & ceilings, and to accentuate a niche or a territory. It enhances the perceptual quality of the space. The Puja Area is very effortlessly designed to have the Italian tile cladded in the background with crafted Sanskrit mantra within an apt storage unit located at the side of the Entertainment area.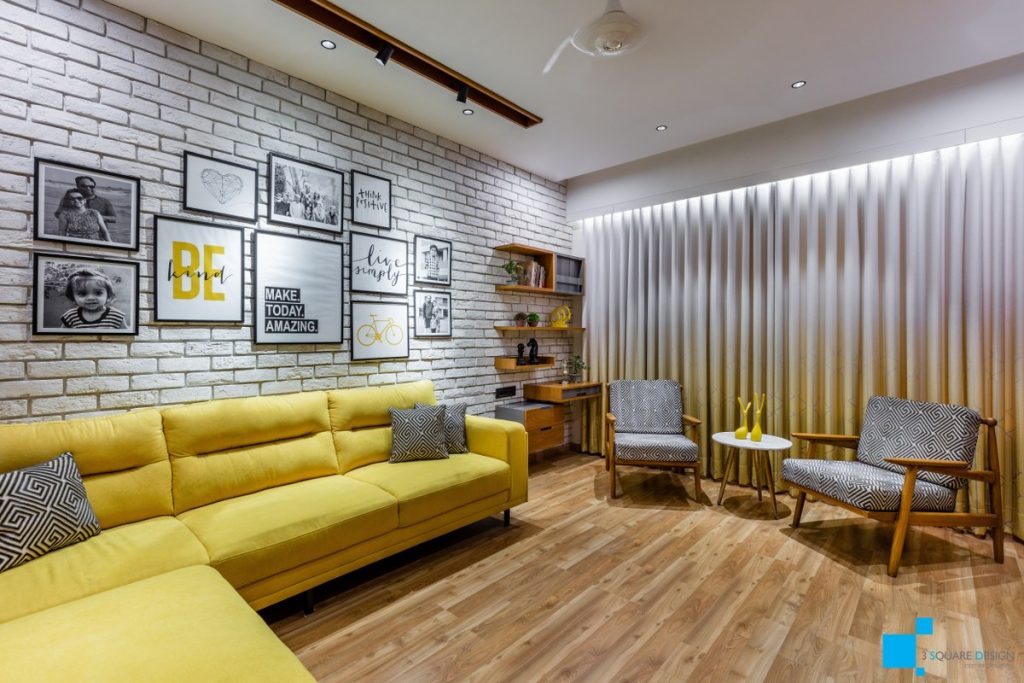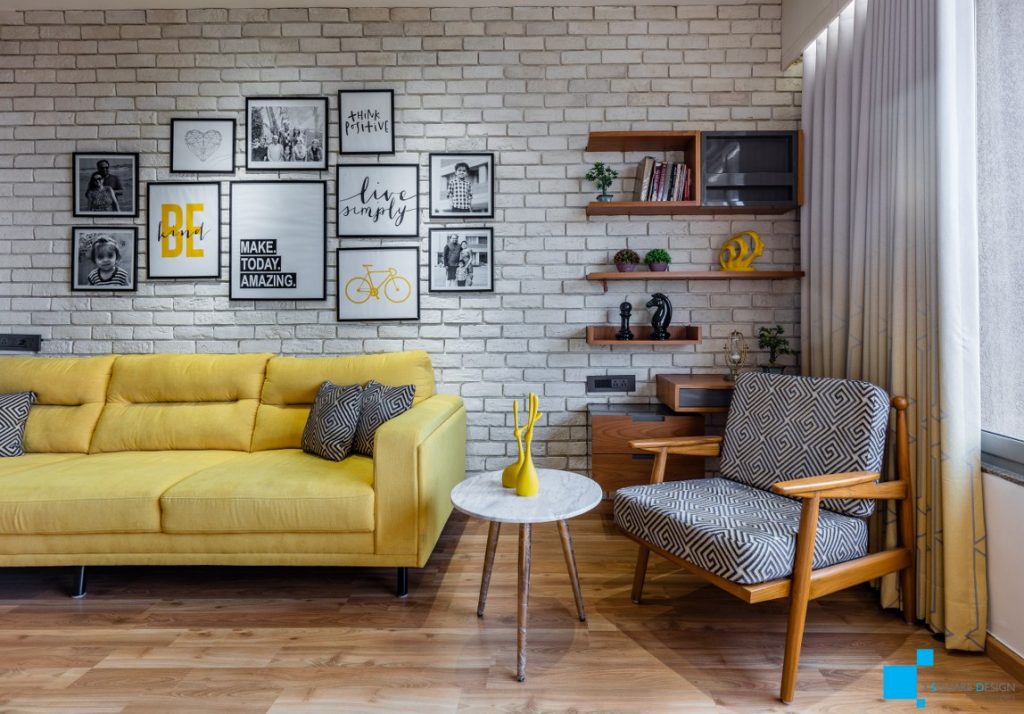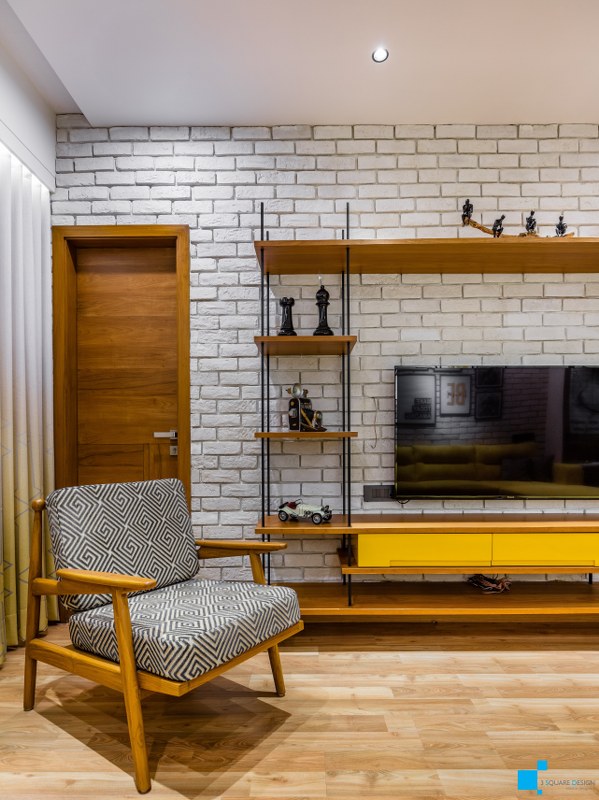 An Entertainment Area having the wooden floor with Exposed brick cladded parallel walls which parted with glass panels. Where one wall has the attractive collage frame composition of typography & portraits, another wall has showcase designed by juxtaposing cuboids, the TV console can be narrowed down to a cubical geometry with a bunch of drawer's storages. The showcase taking the shape from metal square bars within storage area along with Veneer foiled shelves to form a display.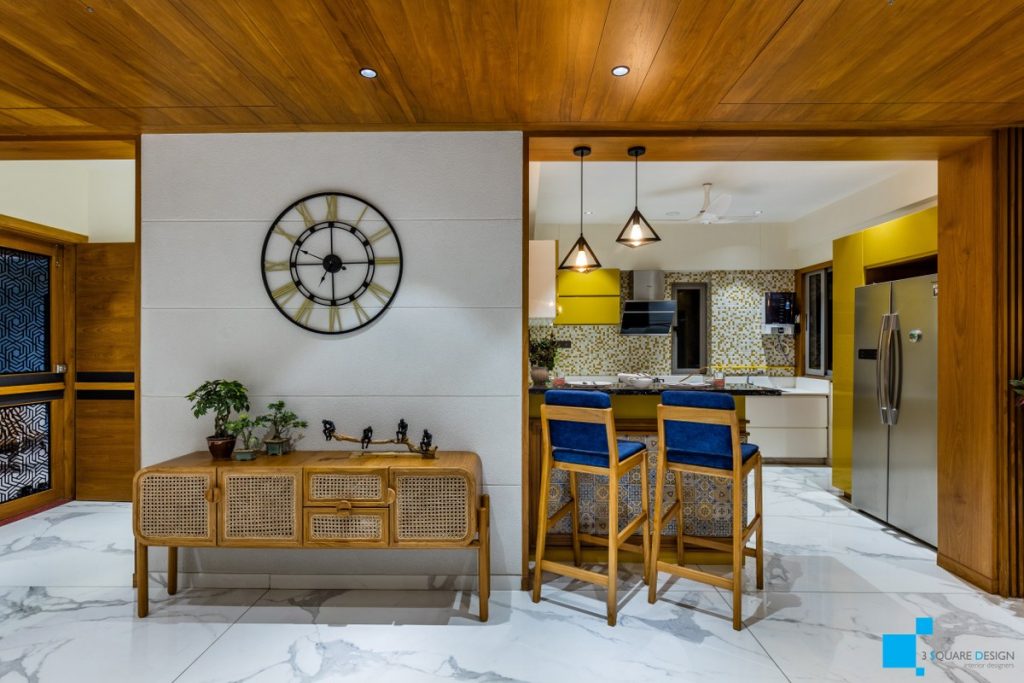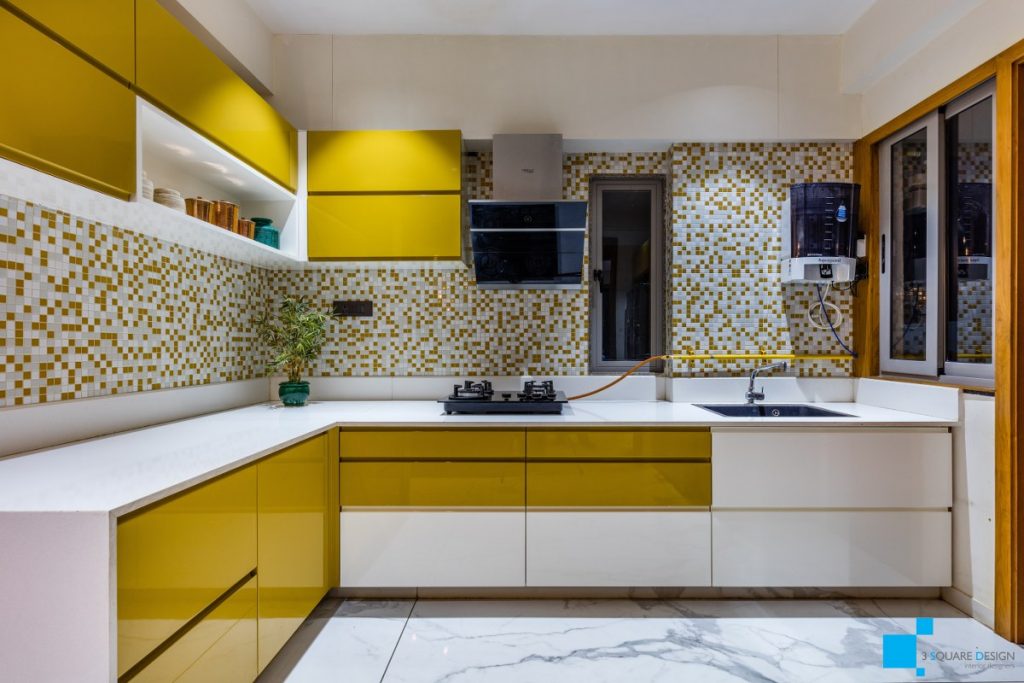 The Kitchen is flamboyant space. The use of each color horizontally makes it looks wider. The use of mosaics ceramics cladded in the background with composition of furniture color shows the emphasis on the details which functionally & aesthetics has given to the design.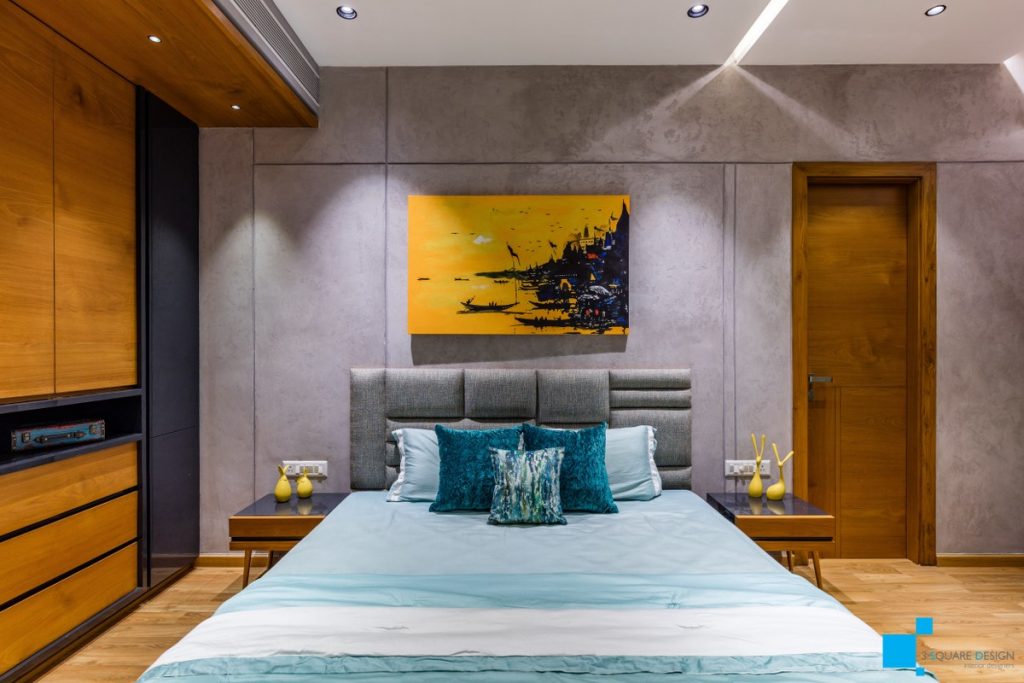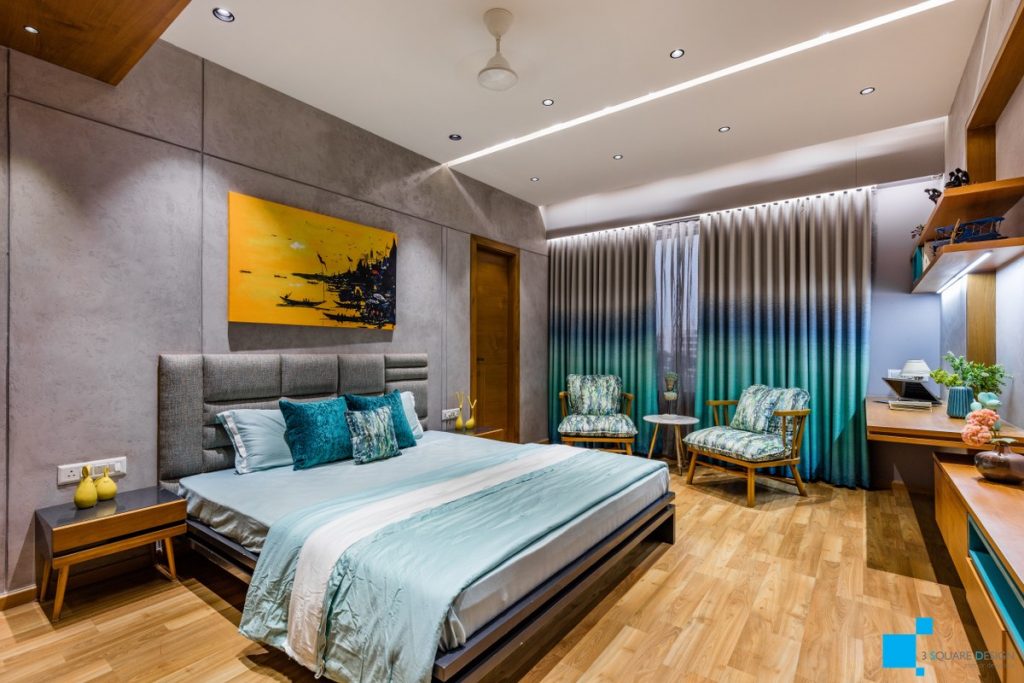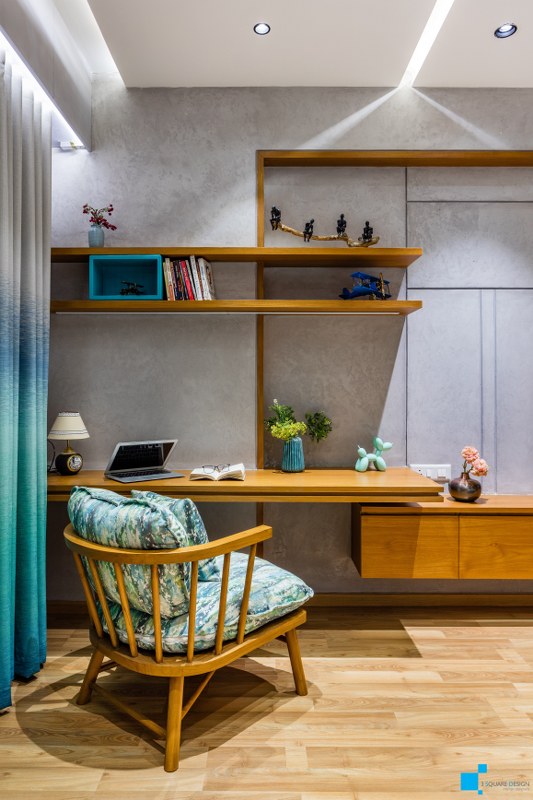 The Parents' bedroom designed in a simple form with colorful canvas paintings on a background that hanged over the MDF strips below the bed. The bed semi-coated with leather giving comfort in height to the aged person. The LCD unit moiled in MDF and color giving simple form to it with strips composition parallelly.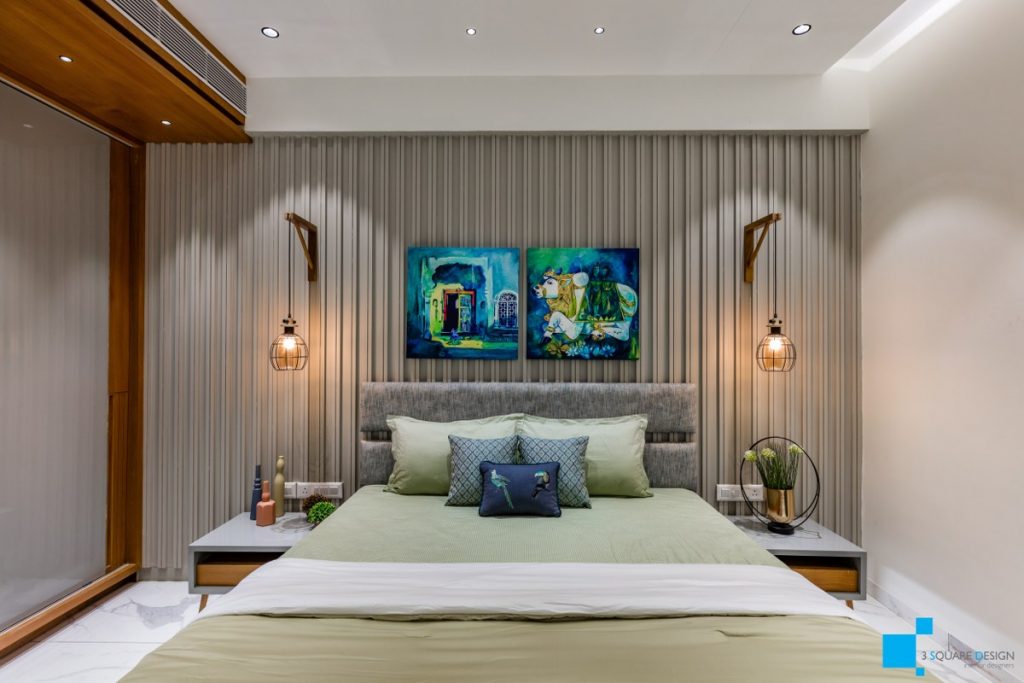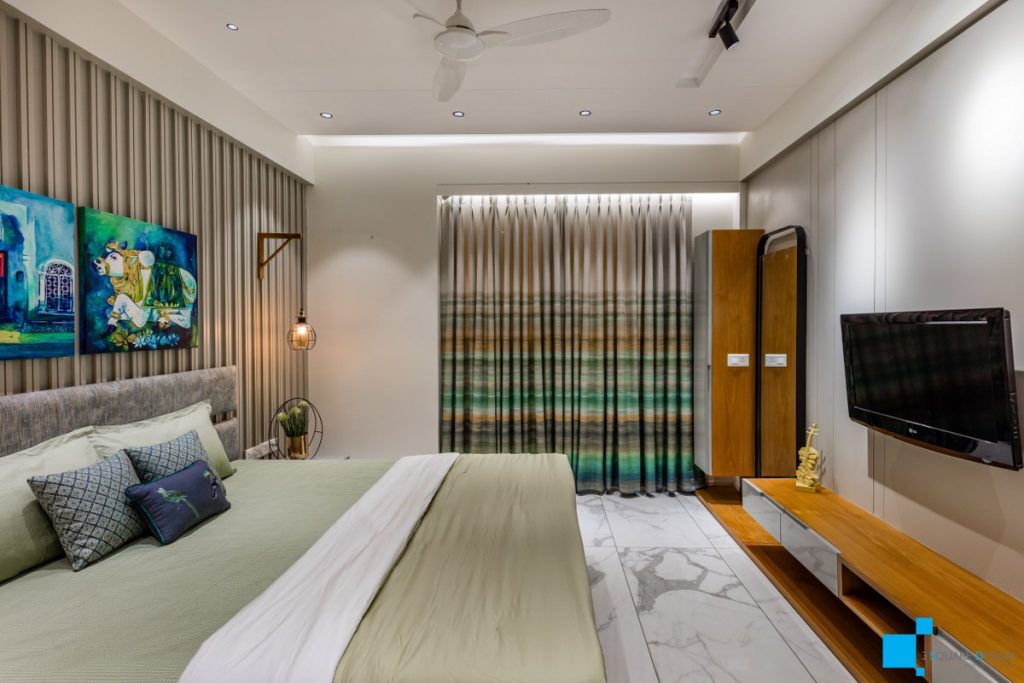 Moving forward to Master Bedroom, walls having Concrete finish texture with grooving patterns giving one the feel of an adobe within an adobe. The bed in the room is modest with planes being extruded from MDF having PU color on it on a Concrete finish texture surface further encased by canvas frame within lime art forms. With just the creative play of lines, planes, & solids, the abode achieves an ambiguous character to justify every demand and need of a client.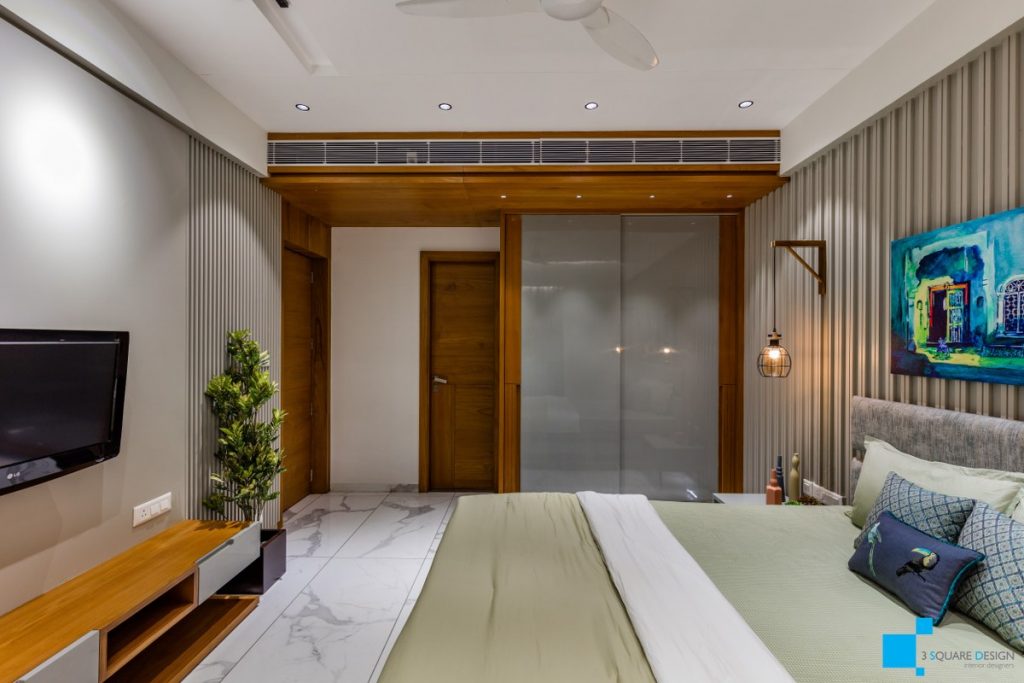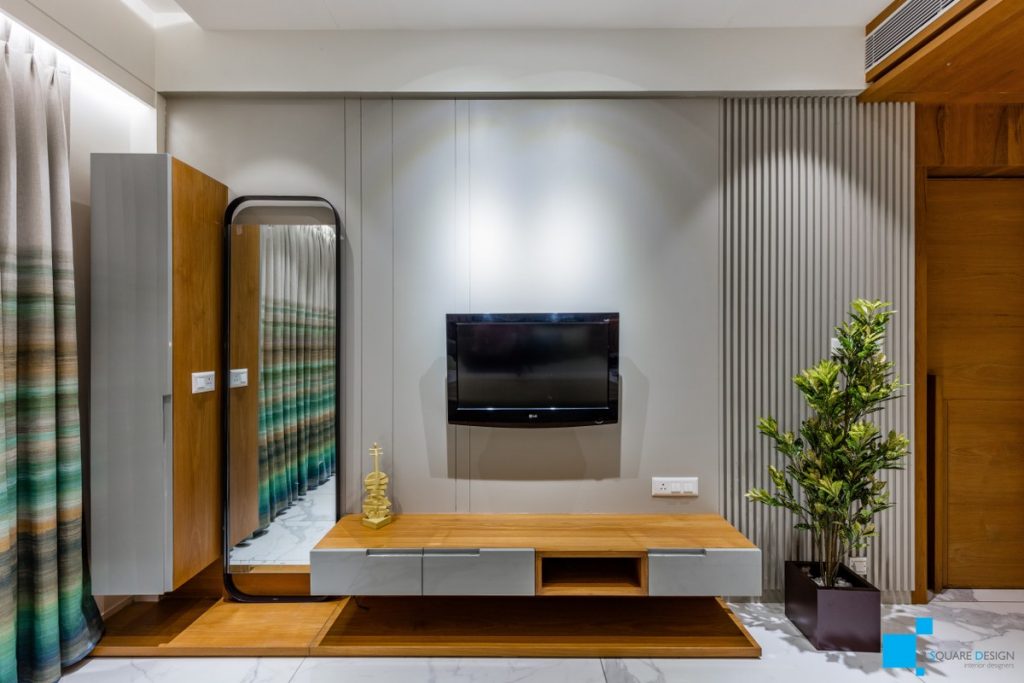 FACT FILE :
Firm: 3 Square Designs
Client Name: Mr.Tushar Patel
Project Name: Athulyam Apartment
Project Type: Residential
Location: Science City Ahmadabad
Area: 2089 sq.ft. carpet area (super build-up-3500 approx)
Principal Designer: ID Vishal Patel, ID Bhavya Patel, ID Hardik Donga
Photography: Inclined Studio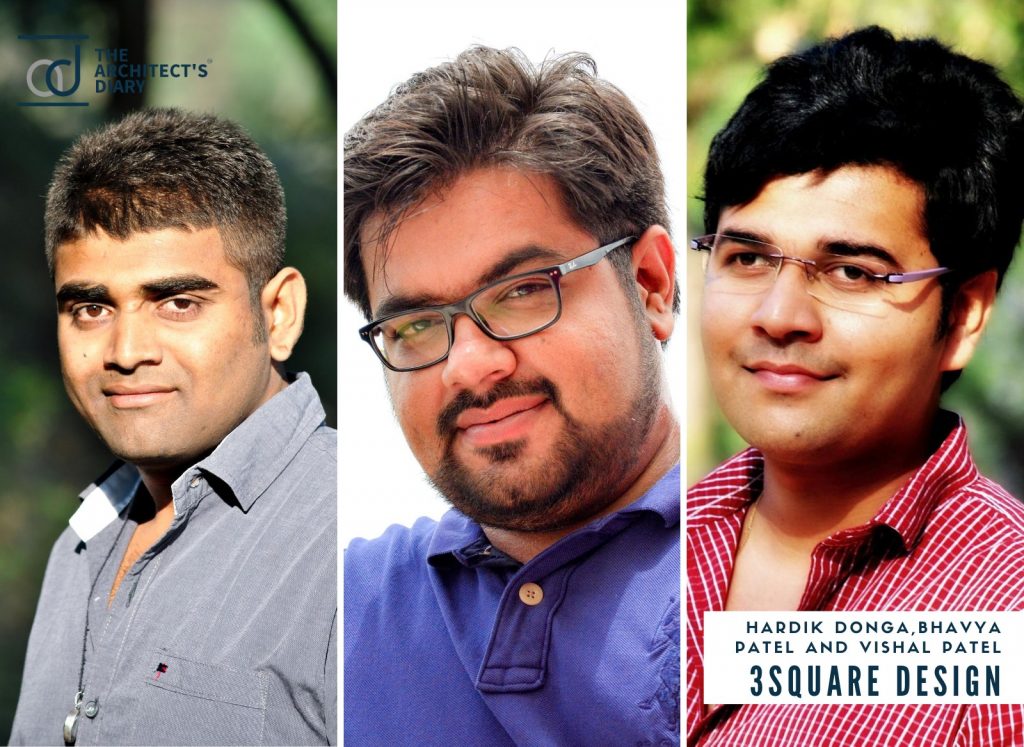 About the Firm:
3 Square Design is an Ahmadabad based Interior design Consultancy Company incorporated in the year 2012. Armed with a trusted team of interior design experts with over 7 years of accumulated expertise coupled with its expansive portfolios. 3 square design is a spurning creation uniquely with its practical and fashion-forward ideas. Our Team at 3 square believes in communication and care for our clients, rather it is small or big projects. We design to deliver the best for everyone. Believing in achieving the best quality, we utilize and work with a carefully selected pool of professional suppliers and manufacturers who deliver the finest materials from furniture to fabrics. With experience in both the commercial and residential projects, our ranges of clients include restaurants, offices to apartments, and landed properties. At 3 Square design, we approach each project with an aim in mind and individuality. Design is our forte.
Facebook link: https://www.facebook.com/3squaredesign/
Instagram link: https://www.instagram.com/3_square/