&nbsp
Apartment with Loft-Style Interiors And Energizing Vibes | 16th Avenue Interiors
A minimal loft-style interior that was neither too modern nor too vintage but just a cross-over of the neutral color palette with a pop of color to enliven it.
When spaces get curated by bringing in the best of both the worlds- exterior and interior, they start to live! Here is a 3BHK apartment by 16th Avenue Interiors, Ahmedabad that picks a fresh concept of a loft-style interior designing beautifully weaving in the true spirits of the sun and wind. A couple and their two young adults envisaged a minimal loft-style home that was neither too modern nor too vintage but just a cross-over of the neutral color palette with a pop of color to enliven it.
Visit: 16th Avenue Interiors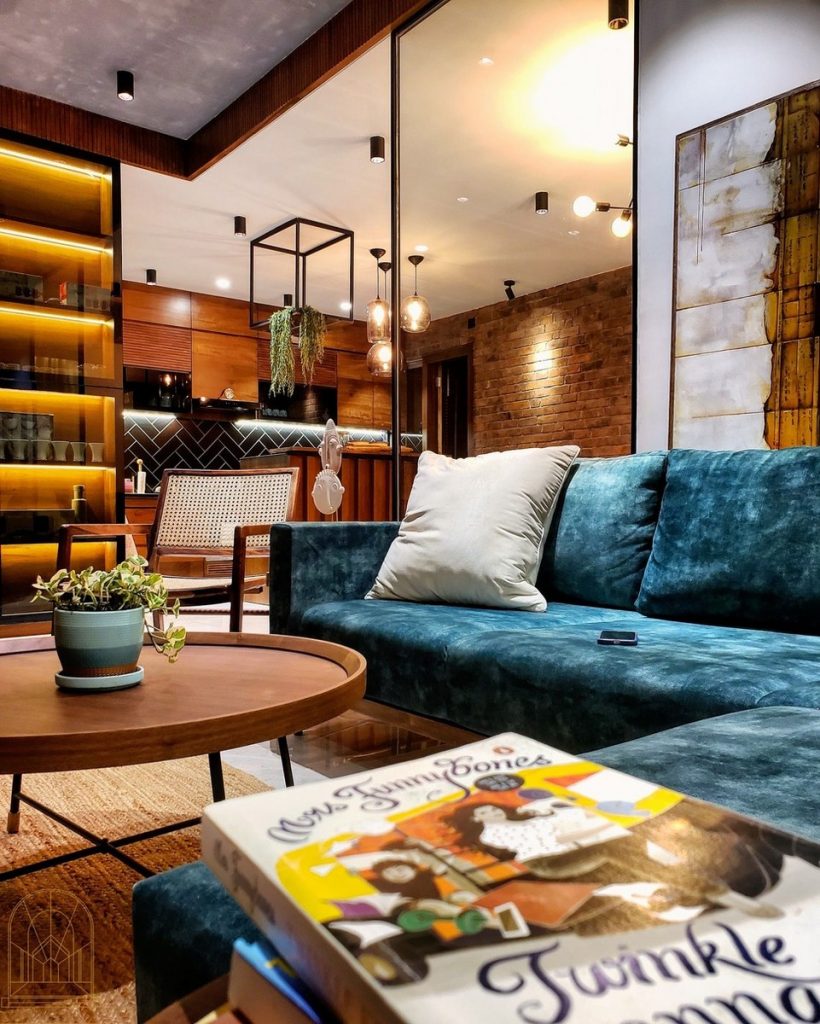 It need not have too many storages or heavy furnishing or wall paneling but should be abundantly spacious. The designers calibrated experimental materials with a major play of bricks, exposed finishes, and natural wood. And the outcome- mindbogglingly modern, eclectic, bold, and true-spirited.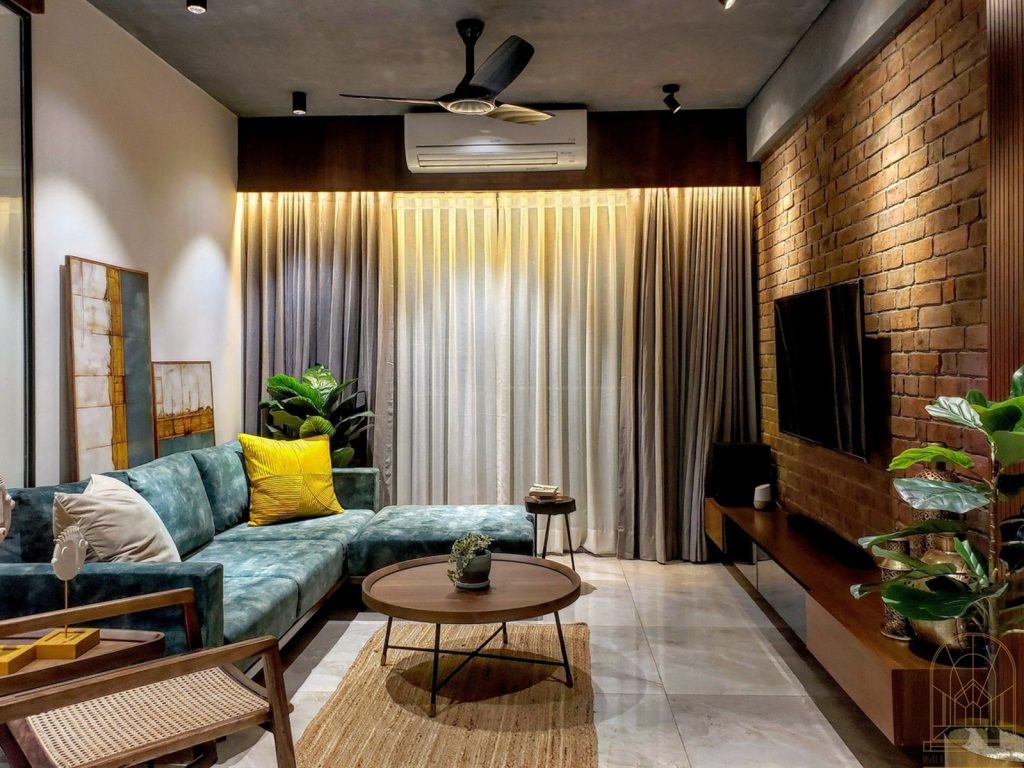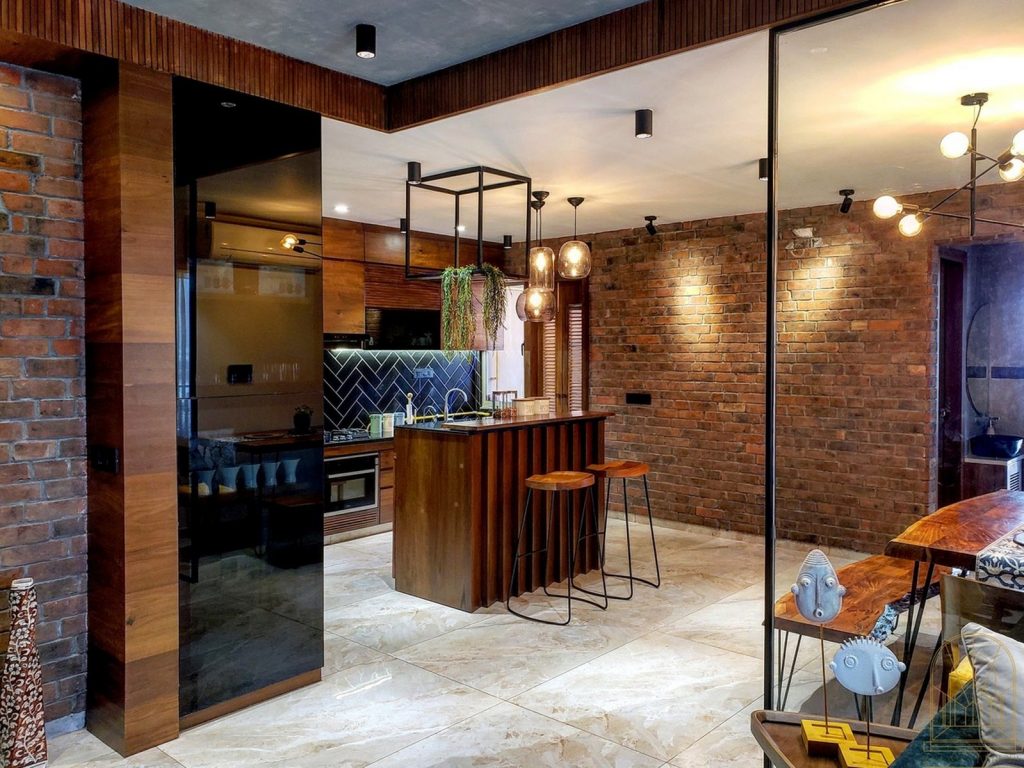 The apartment is an open plan layout with unpartitioned spaces making it look more spacious and intertwined. Rustic tones and exposed finishes for the walls and ceiling steal the show. The living room has a minimal bearing with its plain pastel curtains, grill blue sofa, and the classic style- minimal tea-poi. It is the magic of the exposed brick wall and plastered ceiling that imbibe the core rustic theme to the arena. Moreover, the perfect warm lighting and apposite art pieces adjourn that exceptional homey bliss.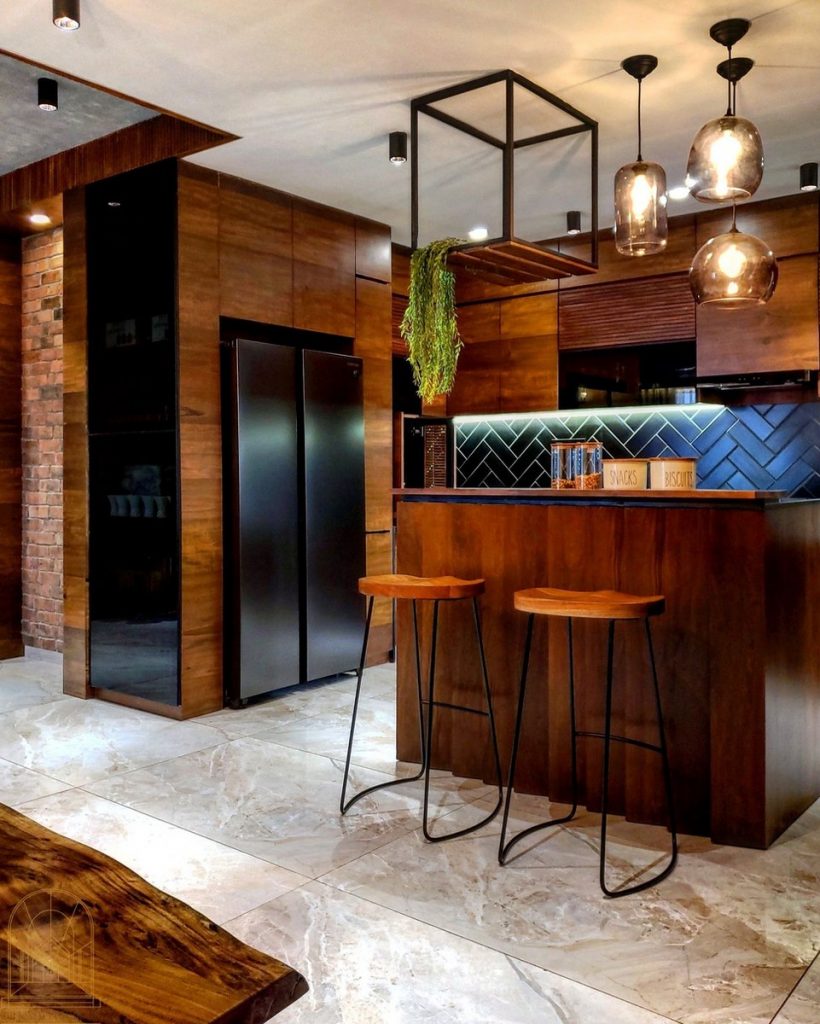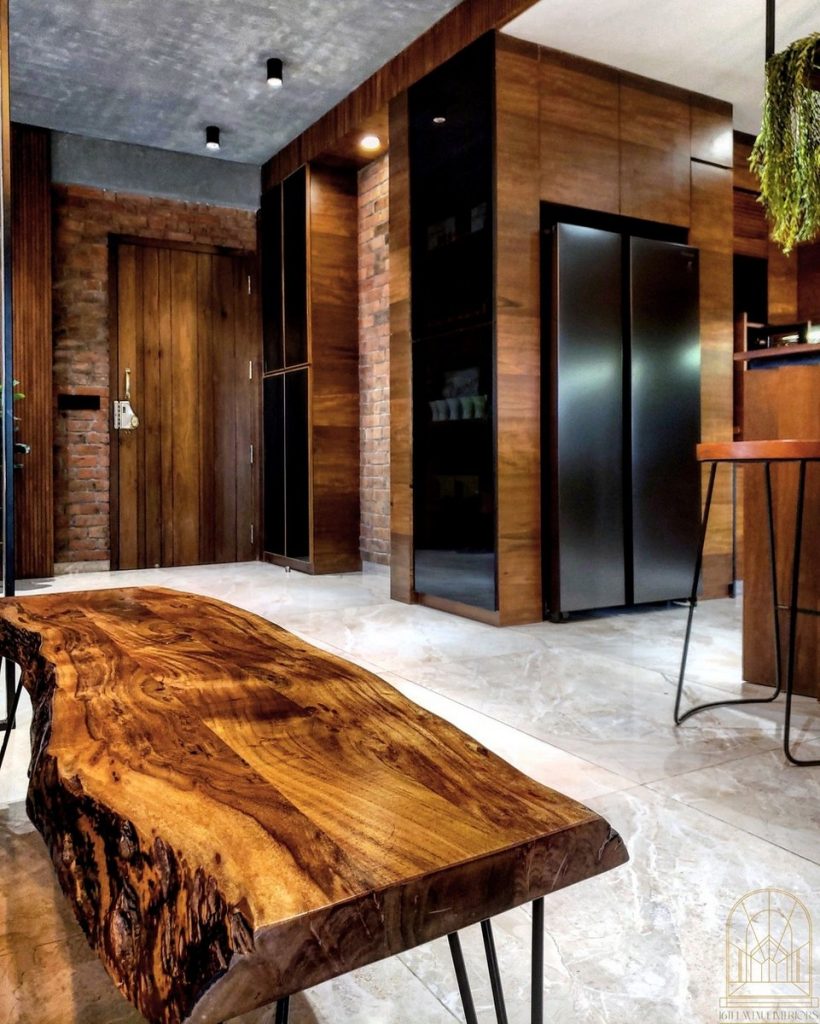 The kitchen is given equal design attention as the other spaces. This cooking area is truly delightful and snug- with its warm aesthetic appeal propelling one to devote just a few more minutes in here. It has a balanced composition of overhead wooden storages, herringbone dado wall in black, and a chevron-styled high wooden center table.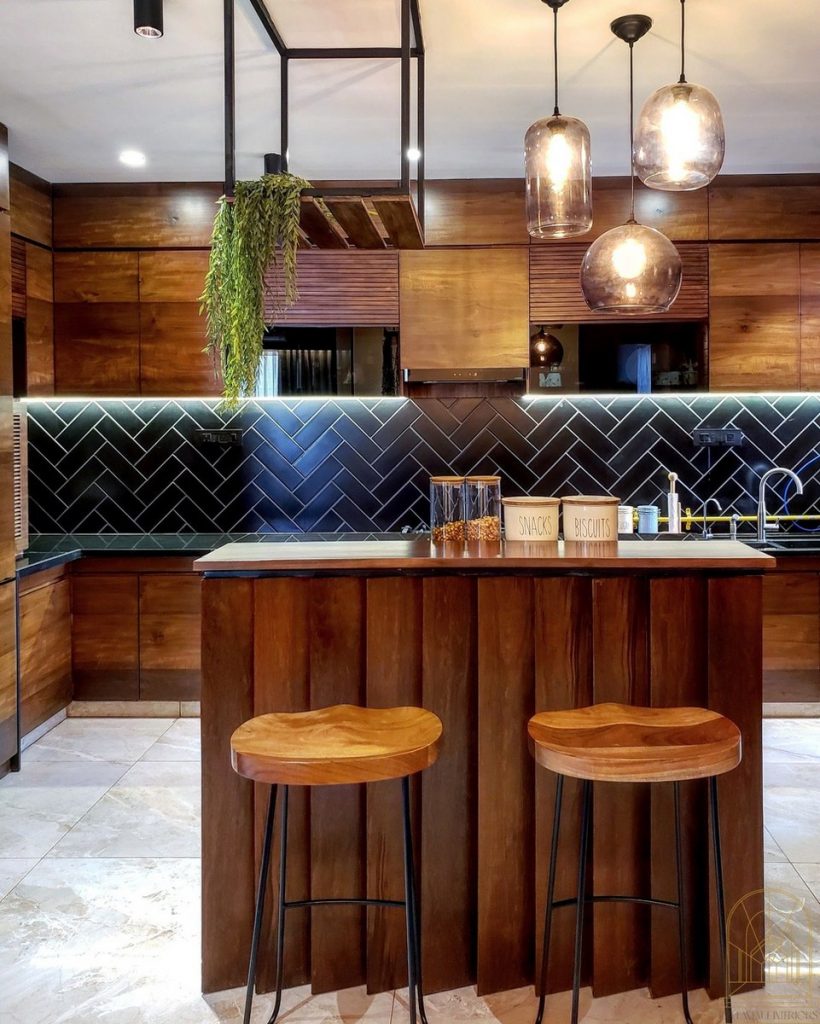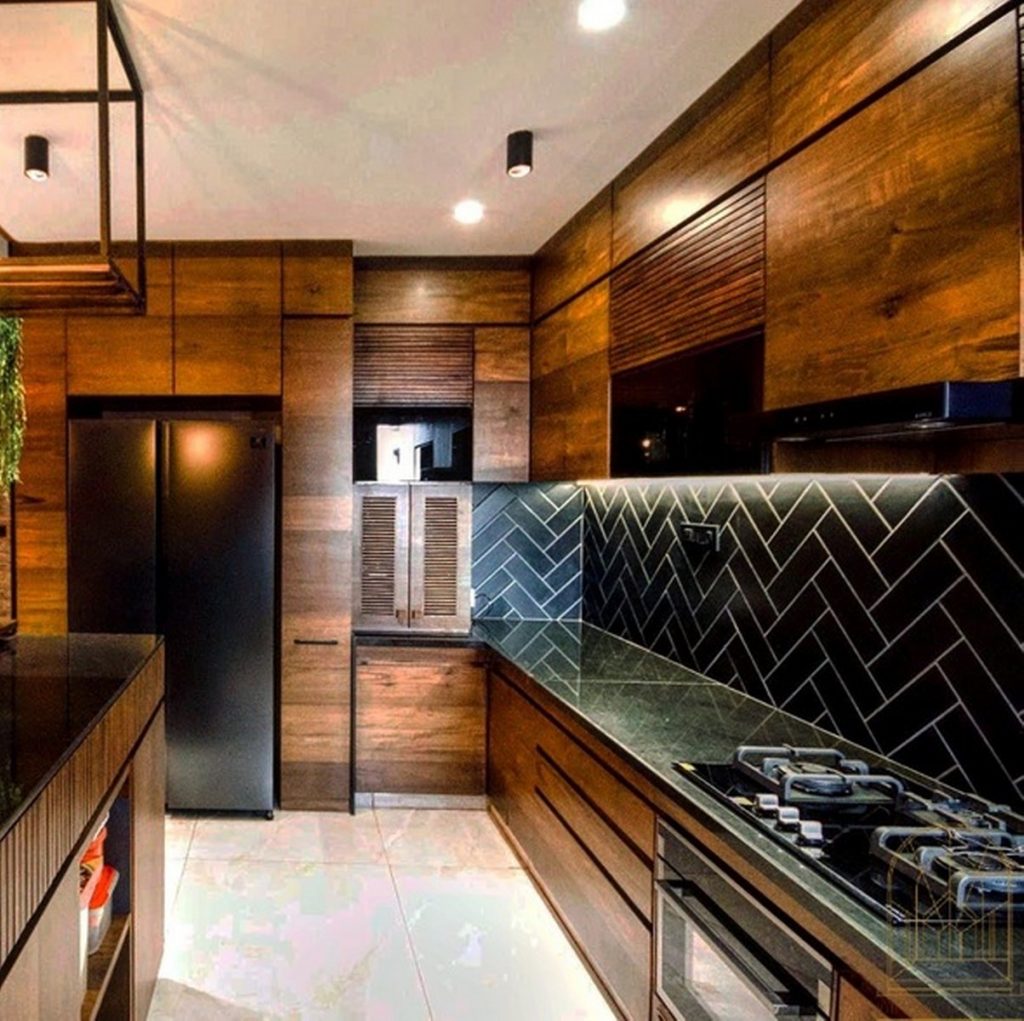 Warm spot-lights on the main exposed brick wall accord a young and urbanized vibe to the kitchen and also, the apartment. A specialized fabricated overhanging with its greens centralize the space with its diligent twist. The cornered dining table and the wooden bench stick to the minimal concept with its slender metal legs balancing the horizontal wooden surfaces.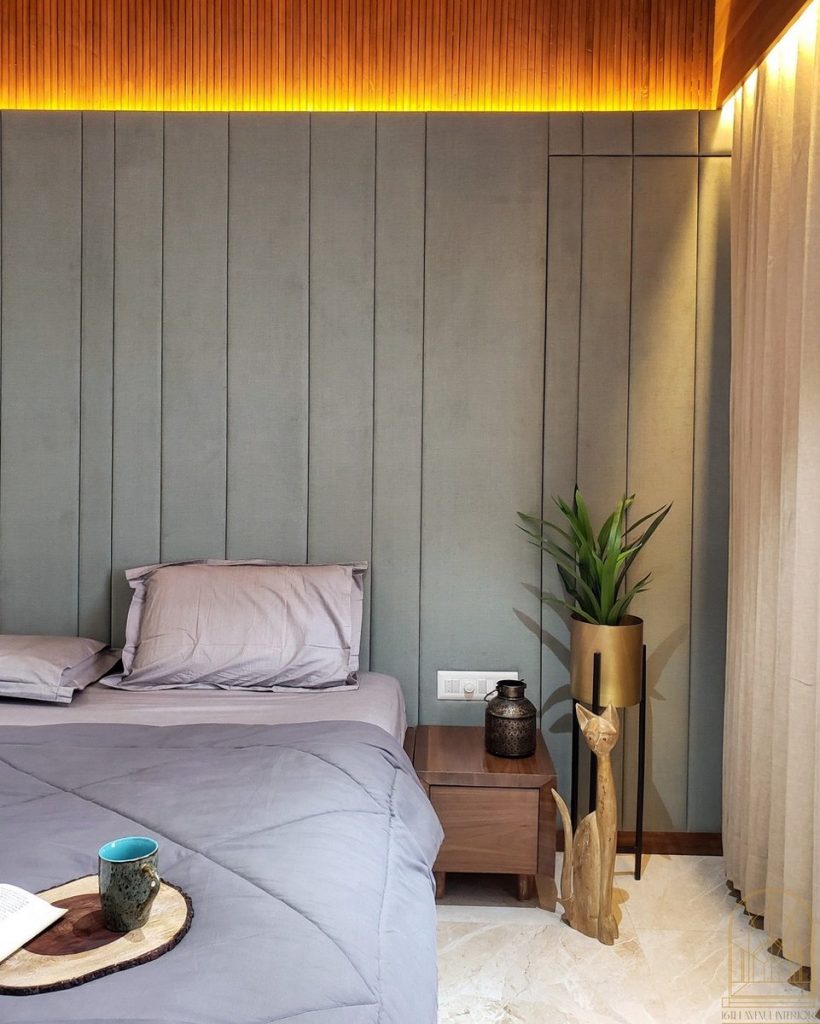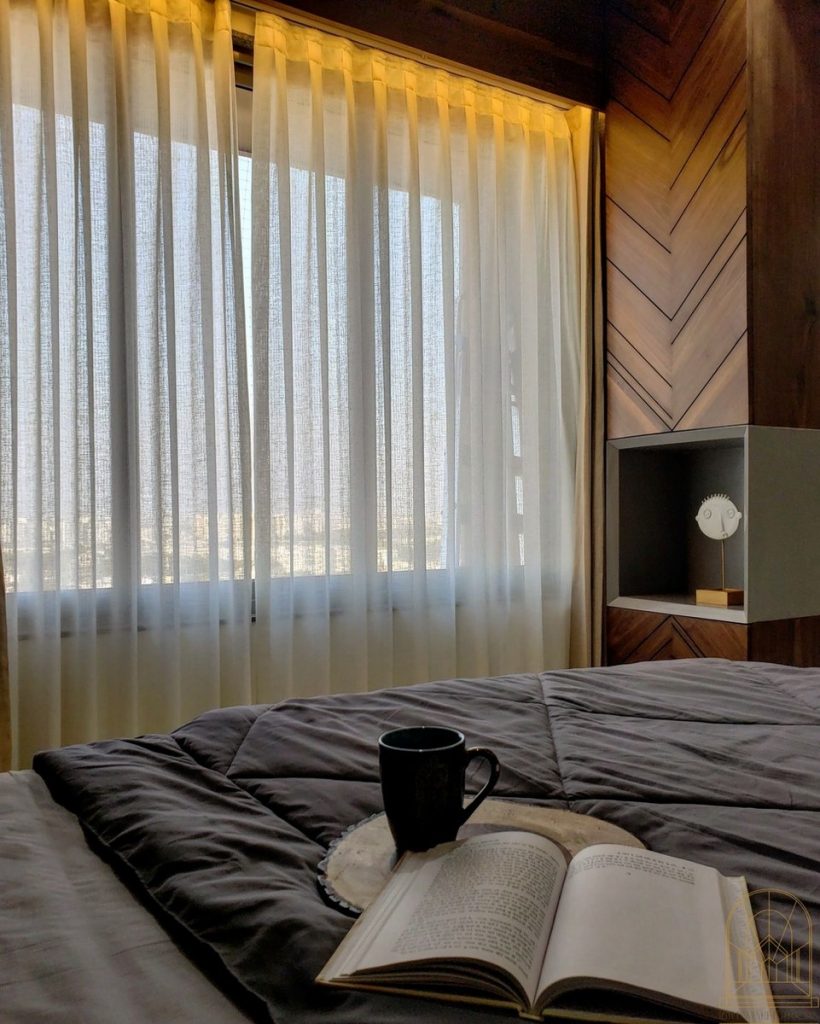 The master bedroom is infused with sober fabric paneling and peaceful linen blinds against the fluted overhead wood panel. It is snug and warm with its chic approach, elegant styling, and neat detailing. Just like other spaces, functionality, and efficiency have attained the utmost attention here as well. This gleaming setup speaks for itself in multitudes by borrowing ambient natural light and thus, emitting a blissful aura.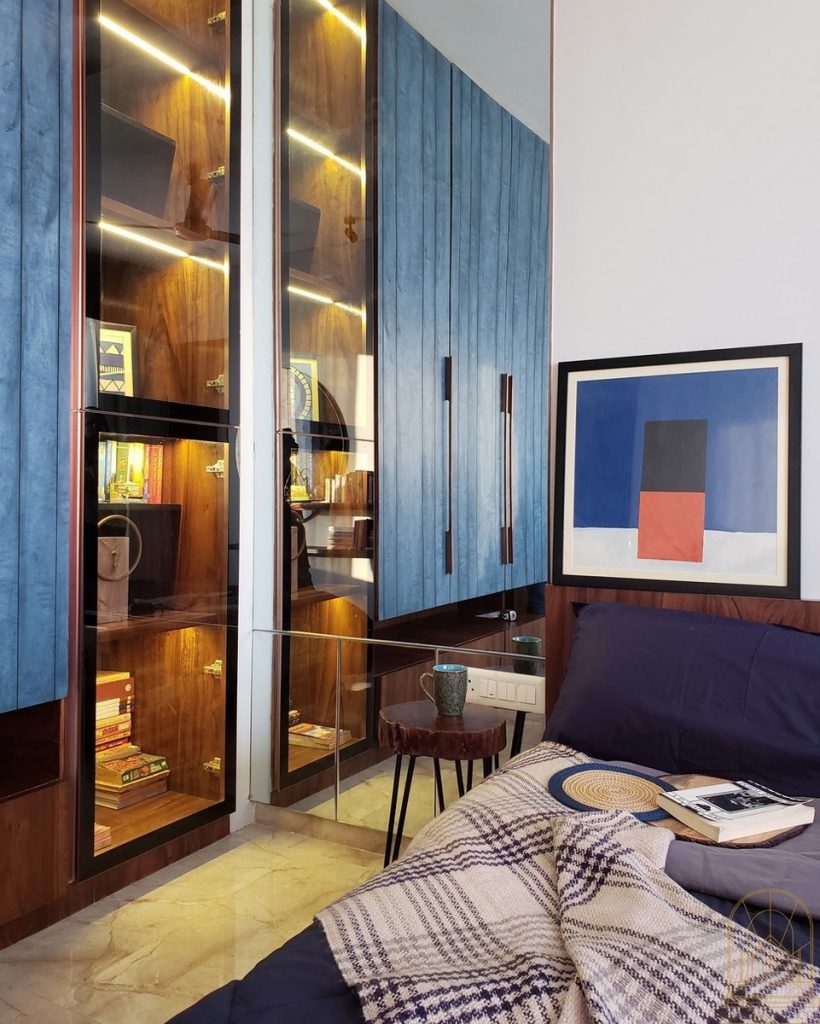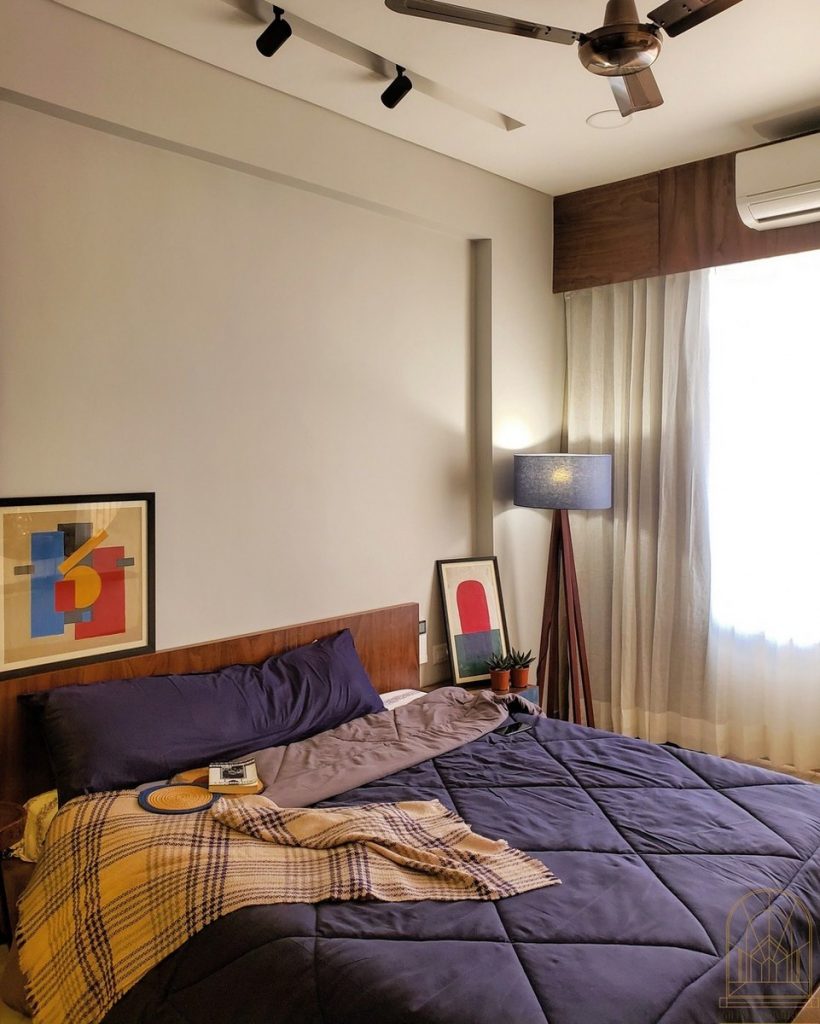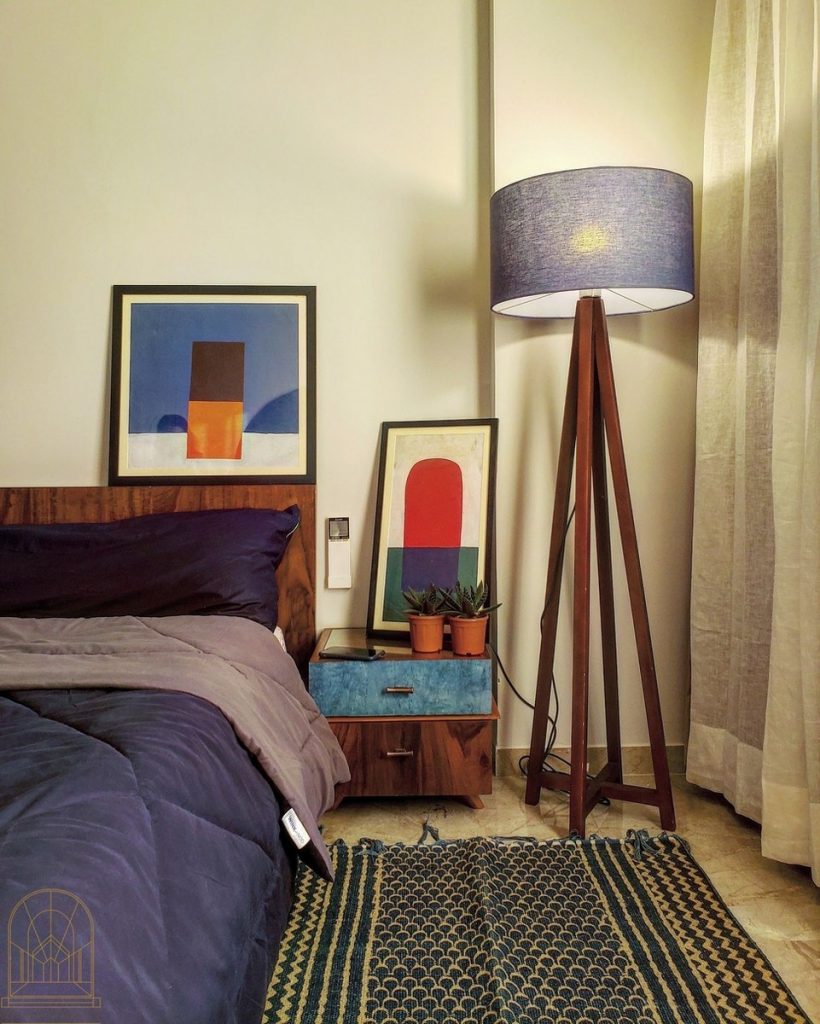 Lively, vibrant, and airy- one would be a little taken away by the daughter's bedroom with its design approach. A minimal bed, the serene linen blinds, and quirky art pieces gesture a contemporary look. The energizing rustic blue finish for the cupboard extends to the ceiling imparting the spirited mood to the room. It makes the most beautiful space in the house with the sun casting its mesmerizing spell during the dawn.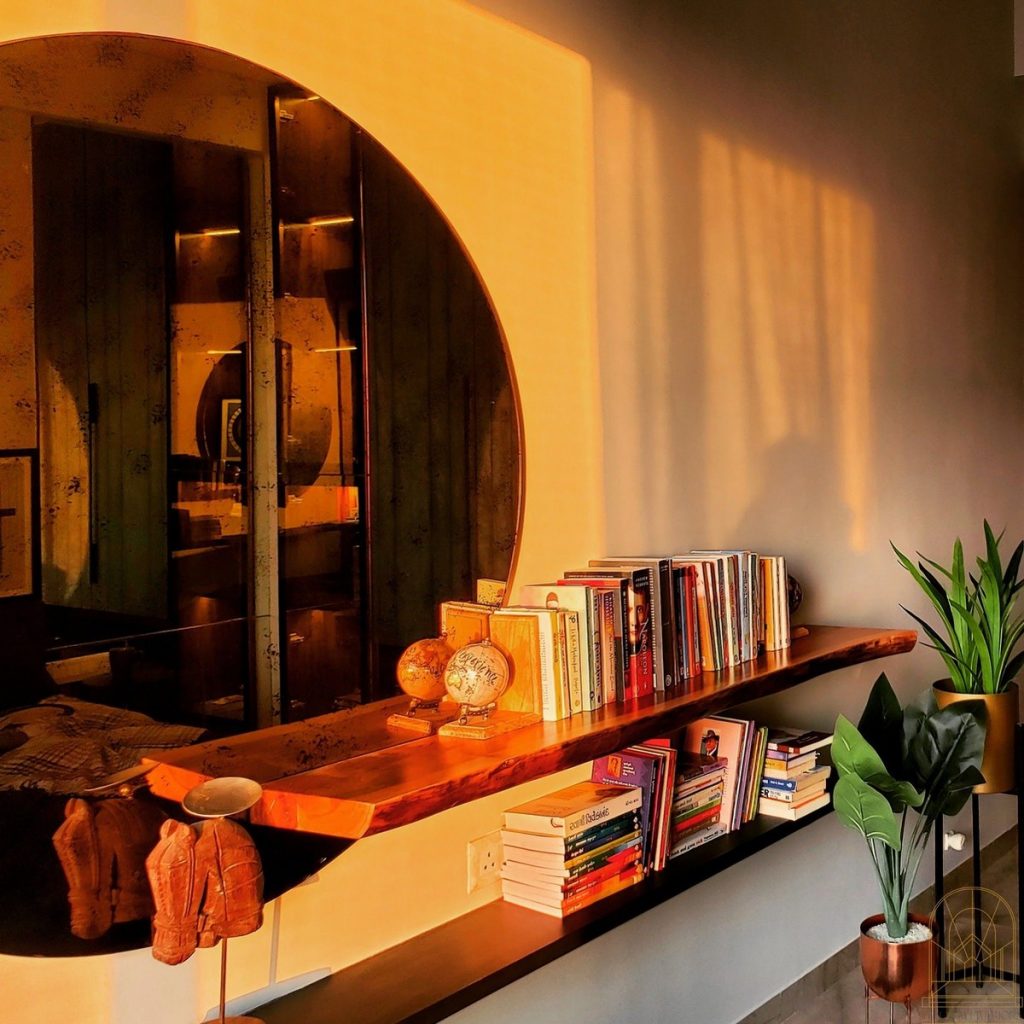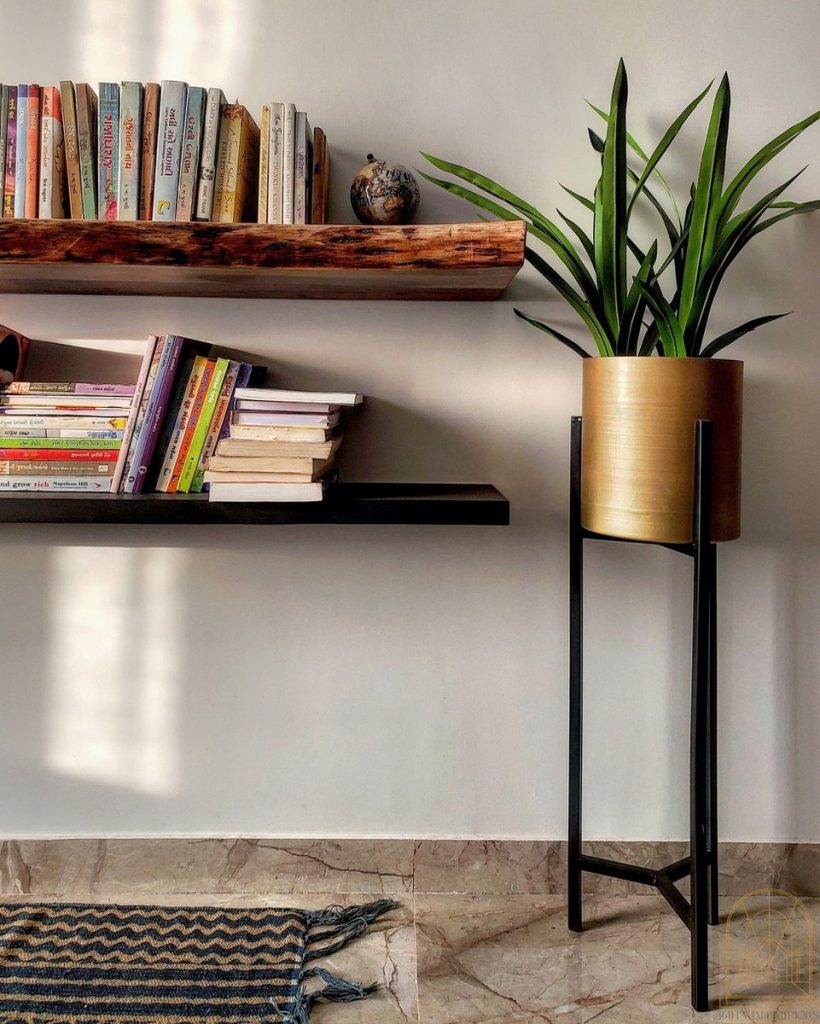 To interact with the setting sun, the plain white wall surfaces a circular mirror and an augmenting bookshelf addressing the user's ardor for reading. Furthermore, sensitive artificial lightings appropriate every detailing- including the wooden shelves beside the cupboard.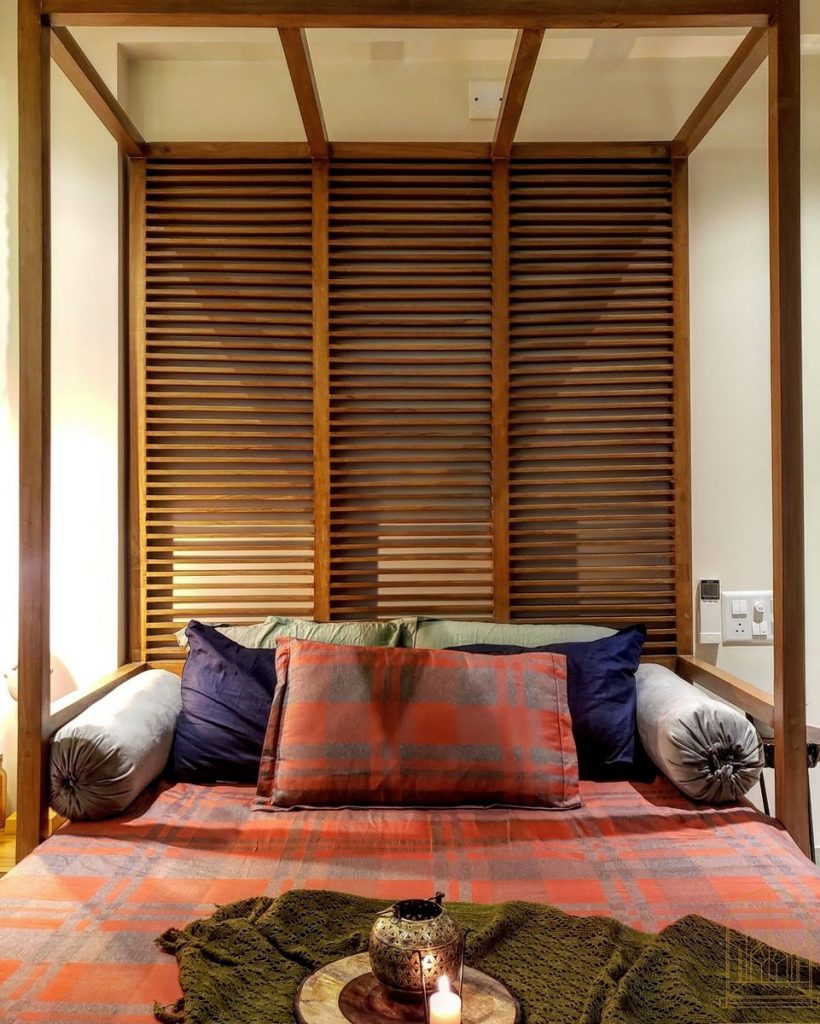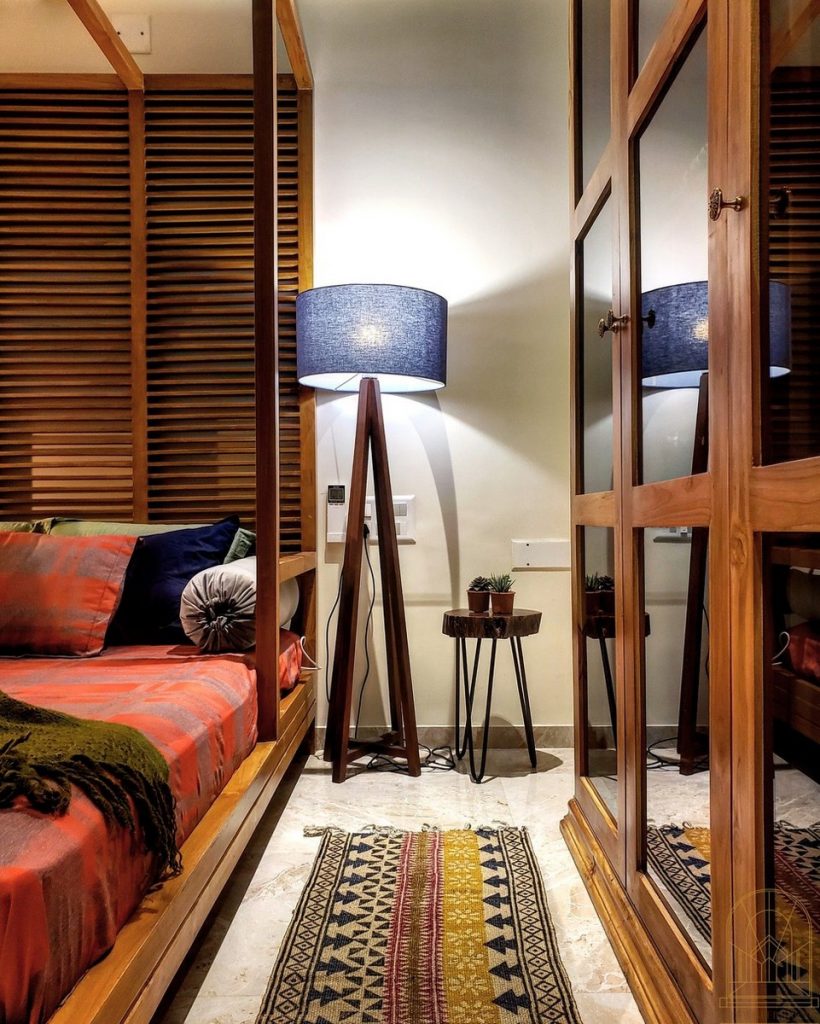 The son's bedroom is acquainted with ample polished natural wood. Here is a cozy poster bed with a vintage style almirah gridded with mirror installations- which in turn magnifies the feel of this artful space. The chief thematic element of enticement is the high vintage console that serves as a perfect desk, TV console, and a statement piece against the pastel wall. It was refurbished with various finishes to lock onto this rugged rustic one with the old world's charm. A lot of exploration and amalgamation of materials and textures has been successfully balanced in here.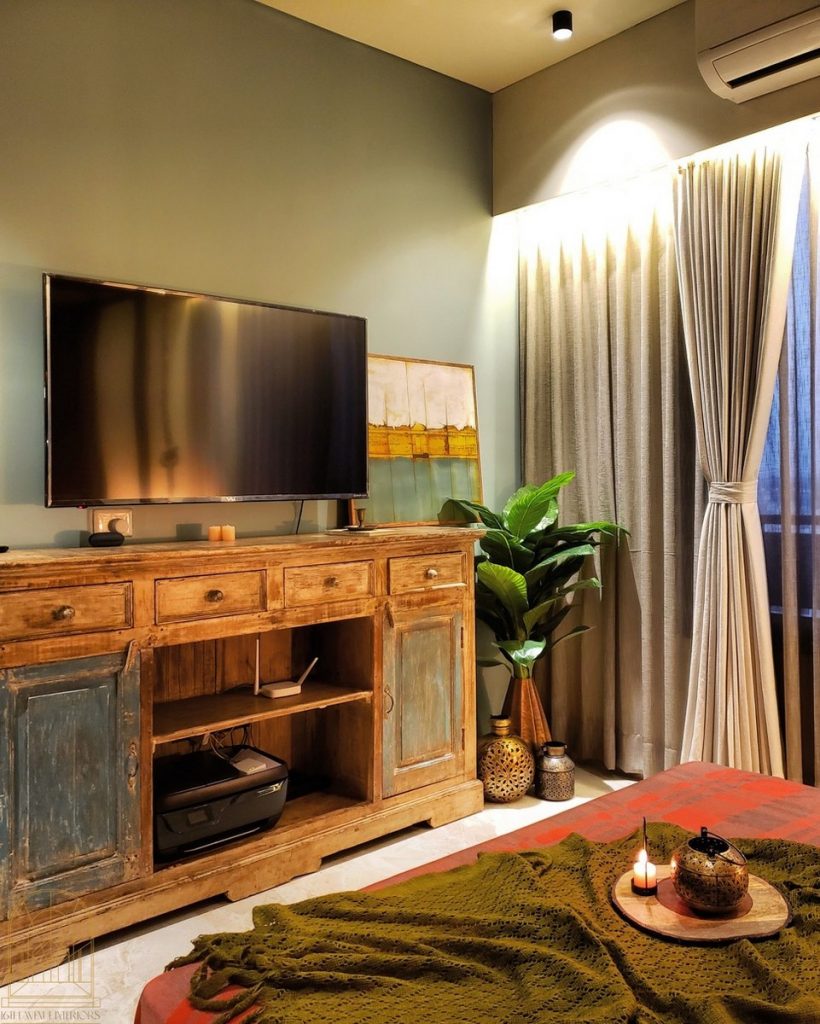 This apartment truly translates all the essences of the client's envisaged space into a diverse and avid stay. It successfully appends to the desires of all the family member and thus handover an exquisite visual delight!
FACT FILE:
Firm: 16th Avenue Interiors
Project Type: Residential Apartment
Project Name: 'The Brick House'
Location: Ahmedabad
Year built: Year 2020
Area: 1500 SQFT
Principal Architect: Dimple Motiani & Meetali Mehta
Photograph courtesy: Dimple Motiani & Meetali Mehta
Text Credit: Megha Hirani
About Us:
16th Avenue Interiors is a Young Design Firm Led By Dimple Motiani and Meetali Mehta, two extremely curious women who believe that "The Spaces you Live in, Must Live Inside You". At 16th Avenue Interiors, we believe that a Lifestyle revolves around Design and that Design is whole and not a subset of anything. 16th Avenue Interiors aims to create meaningful timeless spaces that are bespoke and elevate the lifestyle of their clients to bring in peace, harmony, and a sense of luxury through its designs. The Firm's motto is simple- Creating Beautiful Spaces that are responsive to its users and are true to them- Functionally, Aesthetically, Emotionally.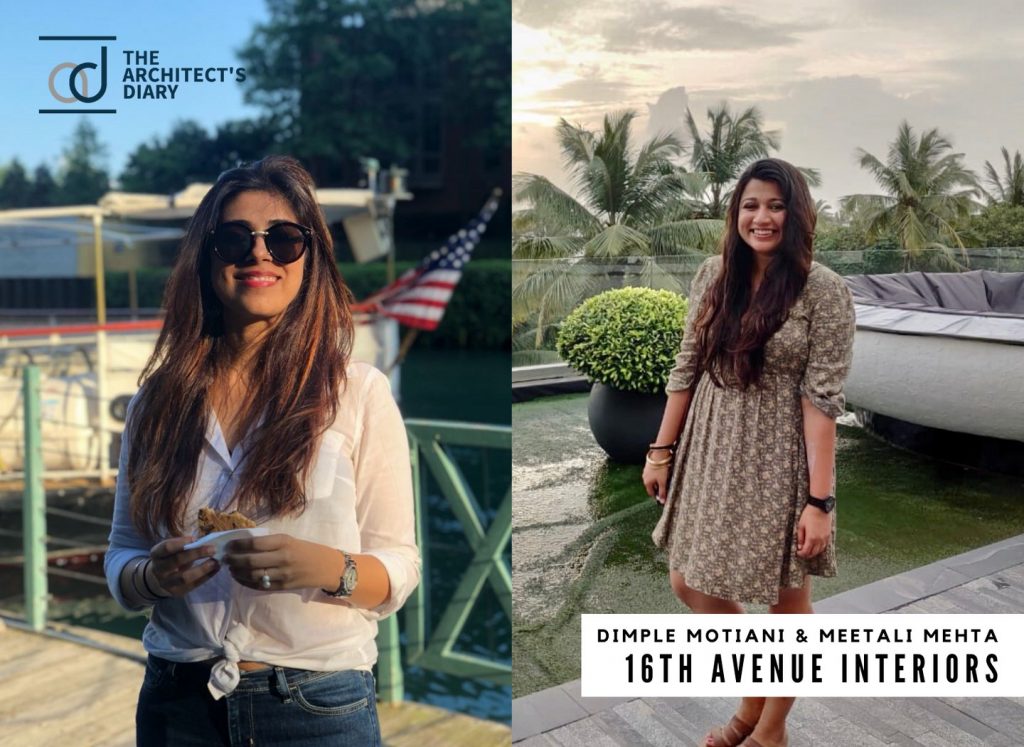 Facebook: https://www.facebook.com/16thAvenueInteriors/