Apartment Interior Themed On Eclectic & Modern Classic | Magic Houz
This apartment is designed to meet the desires and needs of each family member in mind. We believe a home must be a reflection of one's persona. The plan of this apartment is the combined living-dining space with small puja area and bedrooms follow in line with the master bedroom at the end of the passage. The client, a family of five, was very much clear about what they wanted. Understanding the family needs was more important, but keeping aesthetic in the focus. We designed the whole apartment on the "Eclectic & Modern Classic" theme keeping it sophisticated yet luxurious.
Visit: Magic Houz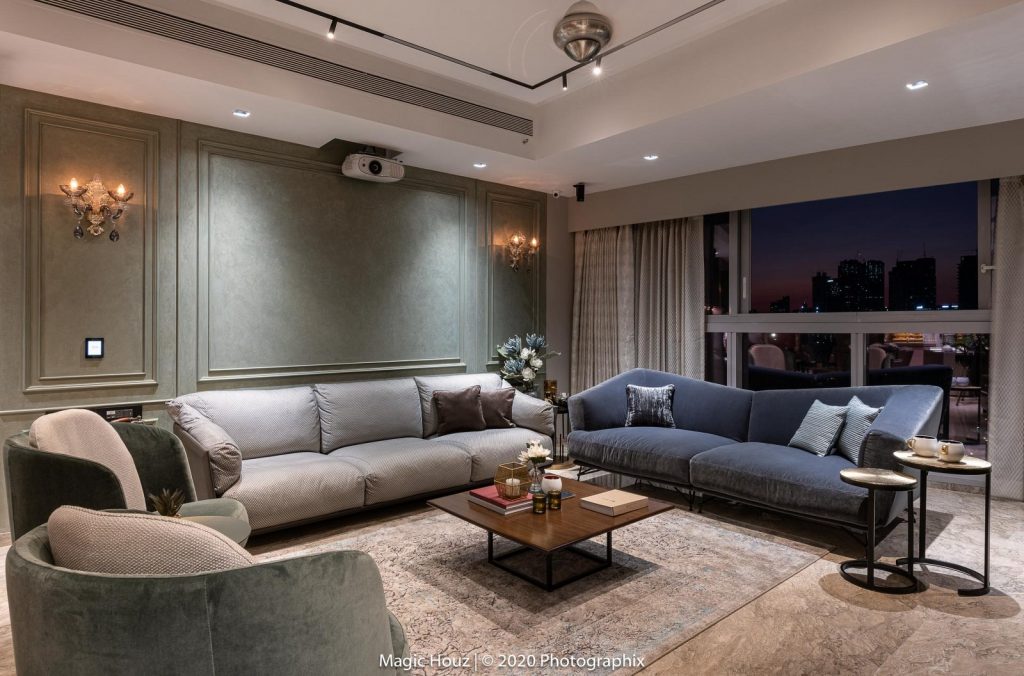 Today's time demands customization in each and every corner. So, we took the 'mix and match' approach. The firm super-specializes in styling and curating of furniture along with accessories and lighting from the best companies in Italy, all tailor-made to fit the requirement. So, the apartment is the amalgamation of luxurious Italian furniture along with some accents from Indian companies.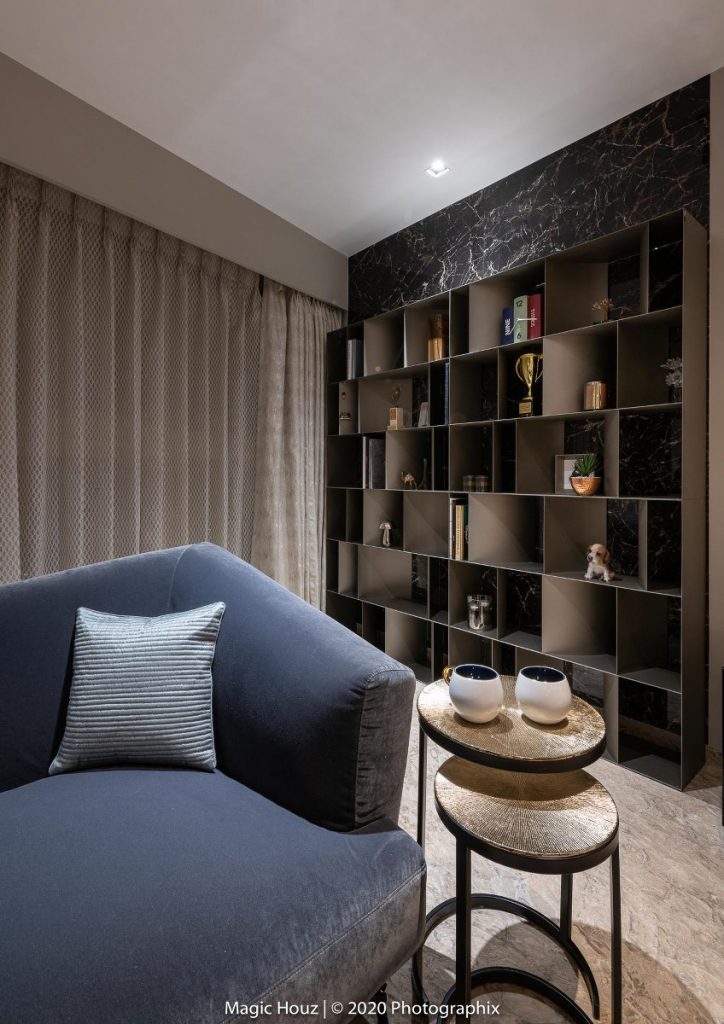 Each space is a reflection of their aspirations for a modern and luxurious lifestyle. With Italian furniture, we successfully created a luxurious environment. Individual bedrooms reveal more intimate tastes. Materials and design are perfectly balanced by using different textures & chic hues.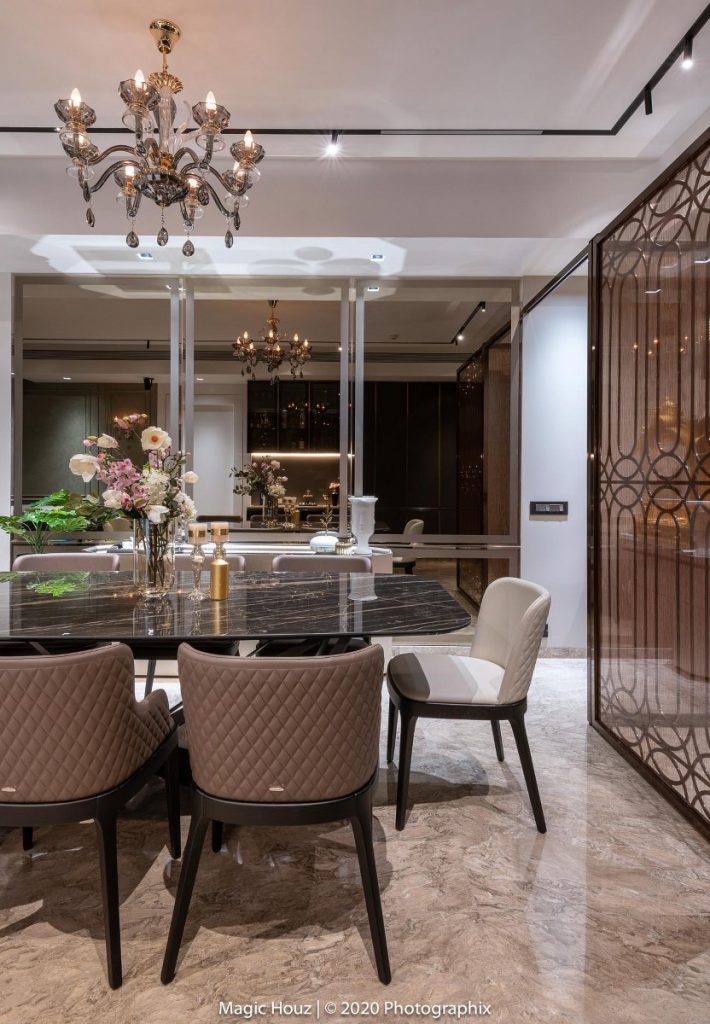 Living Room and Dining
Being a part of the film and legal industry, the client and his family are actively social and love to host guests frequently hence the living & dining room is designed for decent social interactions. The furniture positions of the room were carefully planned to accommodate a large number of guests. A 3-seater sofa with chaise longue and 2-armchairs from Ditre are faced with each other to create an intimate setting. The exquisite brushed bronze finished bookshelf in the corner is from Cattelan Italia and makes that corner astounding.
In this space, we started with grey, brown, and bronze tones and added the green hues in the armchairs and sofa-back wall to break the monotony of the space and make it look inviting. The dining wall is paneled with a bronze-finish mirror to create spaciousness and a sense of grandeur. The gorgeous dining table & chairs with it and the sideboard in the brushed bronze finish are from our eternal love Cattelan Italia.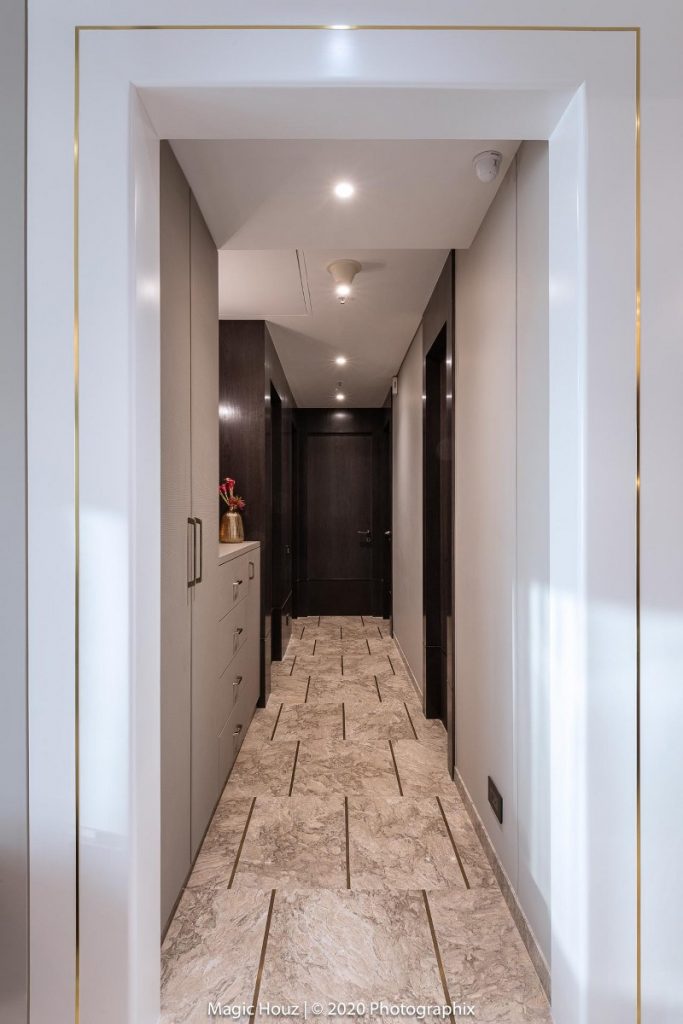 Daughter's Bedroom
The client wanted her room to be brighter and more colorful. So, we used the wallpaper you can see on the bed-back wall is from Wall&deco that the client and we fell in love with. We used similar tones in the bed which from Le comfort, the armchair one of our favorite pieces from Bonaldo, and wardrobe keeping tv unit with dresser and bedside stand in neutral tones like grey and white.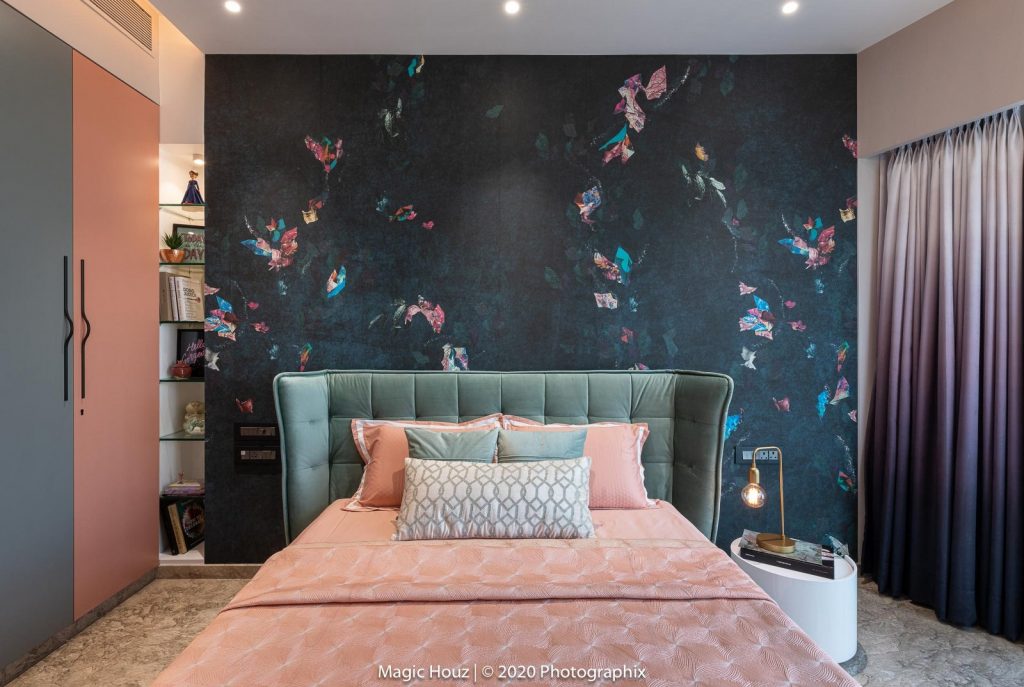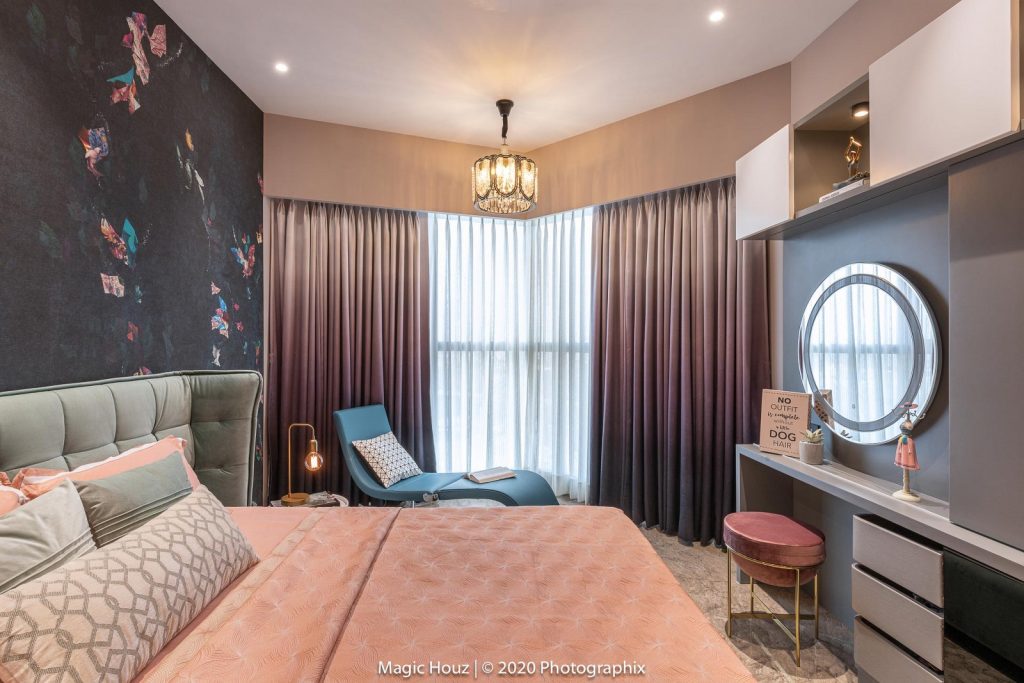 Taking a risk with color is a big step, but it paid off incredibly. Balancing a bold color with neutrals and repeating the color are two keys to success. The curtains have an ombre pattern that dressed it up just so.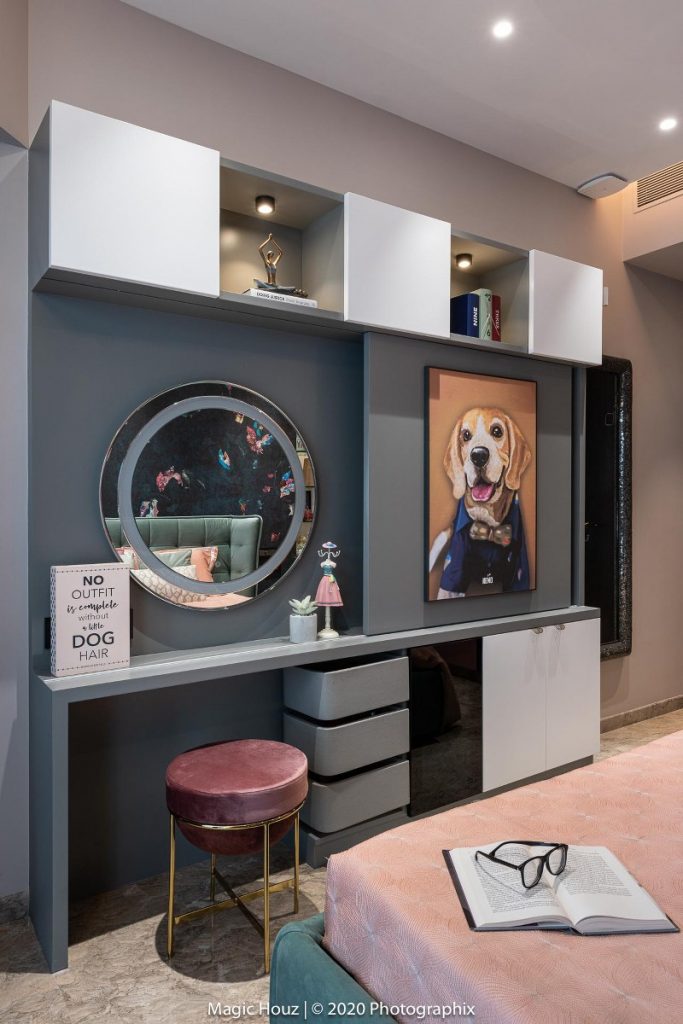 Mother's Bedroom
This bedroom has a warmth to it. It was conceptualized on the neutral tones like sandy shades on walls, wardrobe, and the bed which is a perfect environment for relaxation. To add a splash of the colour, we put bold-vibrant rustic colored with gold finish geometric-patterned in it in one of the corners of this bedroom which is contrasting beautifully with the look.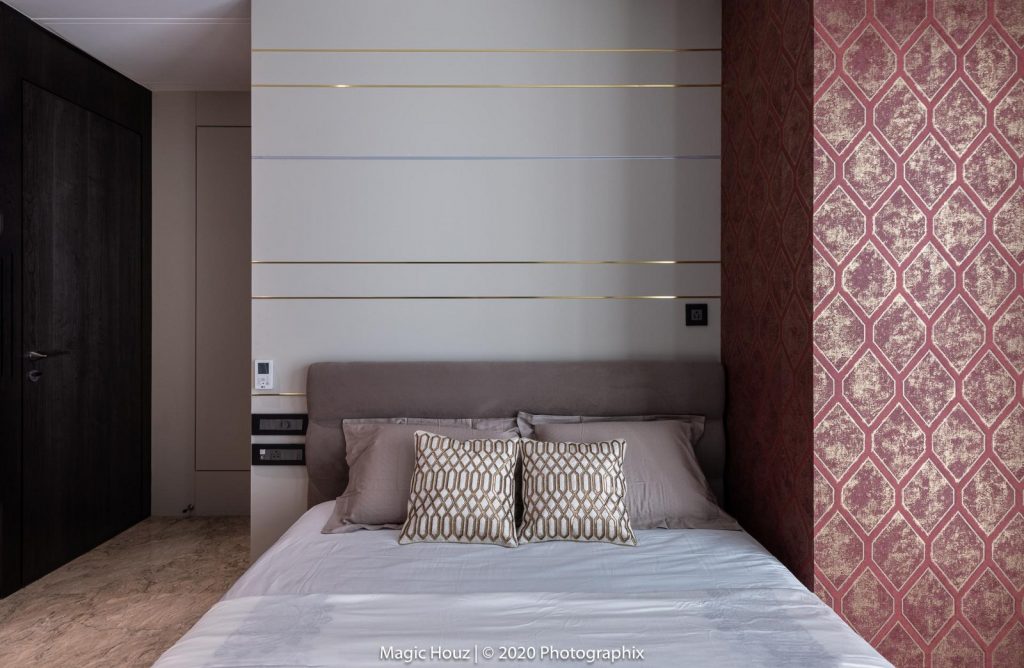 Master Bedroom
Unlike the other rooms, the master bedroom is a bright, beautiful sun-kissed space. One being Advocate, so we went for a high-end luxury approach. The eye-catching design detail lies in the molding of the wall paneling. With the modern classic theme, white is a popular choice. So, we played with shapes and textures using the color pearly white on wardrobes and the main wall.
The stunning bed and bedside stand from DV Homes bring the perfect design melody to the bedroom, with velvet fabric and beveled bronze finish mirror, making the bedroom experience more splendid.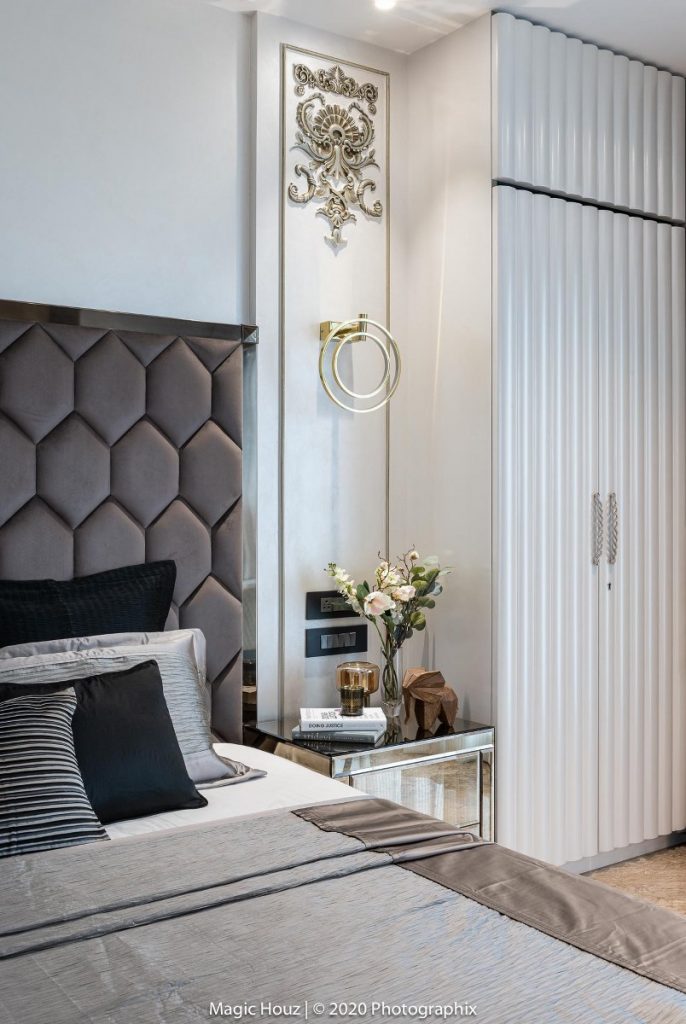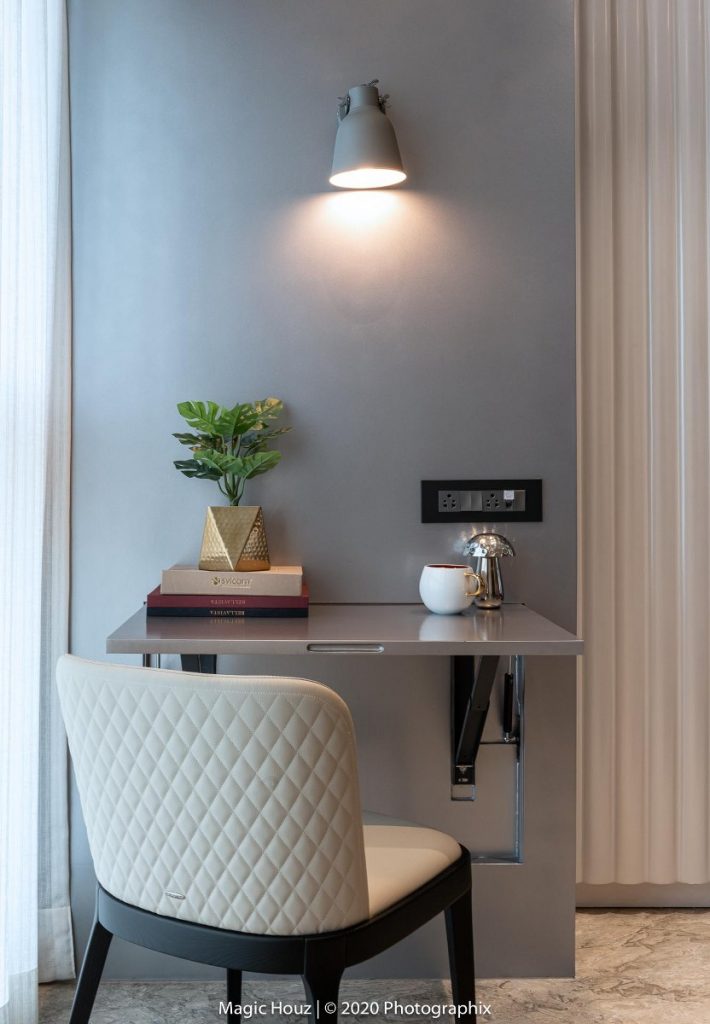 Son's Bedroom
Being a film director, the client wanted his room to be the splash of colors and materials. This bedroom has a rainbow of hues. One of our favorite materials/texture is Sabulator Soft paint (pearl finish paint) from Val Paint made its appearance as the finish on the upper half of the bed-back wall. .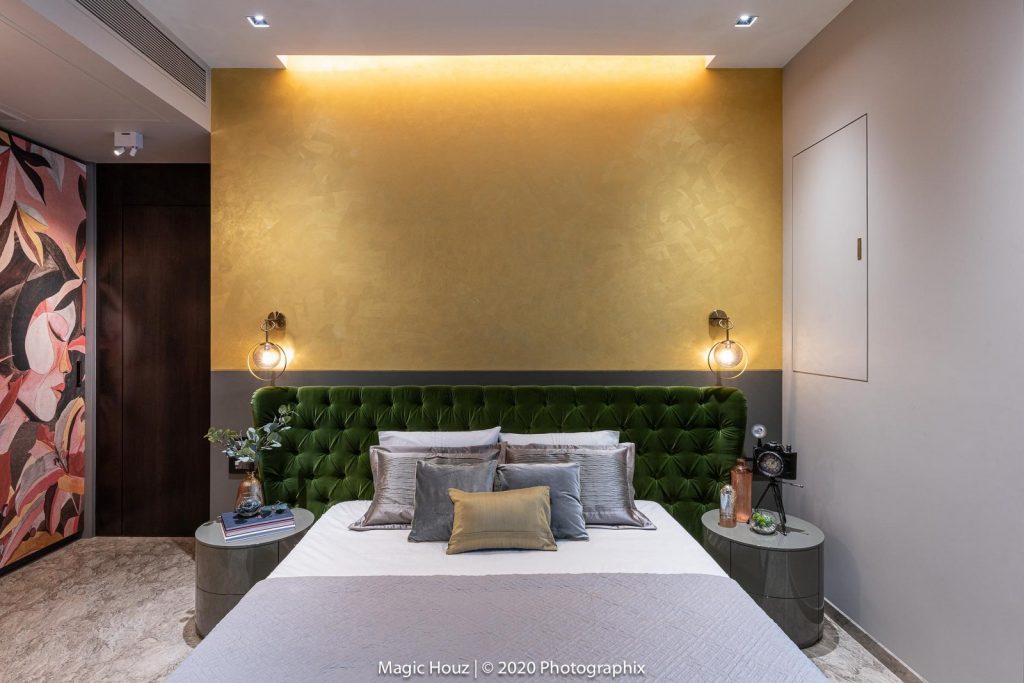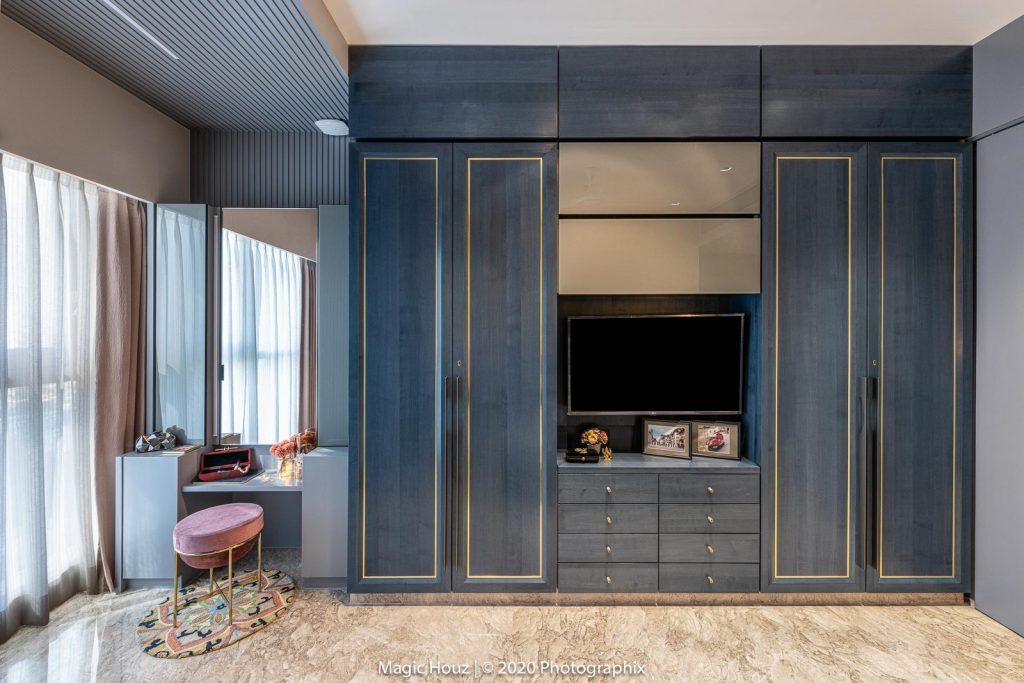 The wardrobes in this room are made in such a way that they become a statement piece. In the entrance wardrobe, we used a significant Wall&deco wallpaper on shutters which is acting as an oversized artwork for space. The wardrobe against bed is finished in dyed blue veneer while the bed from Bolzan is upholstered in fresh green velvet fabric which has a clean, light design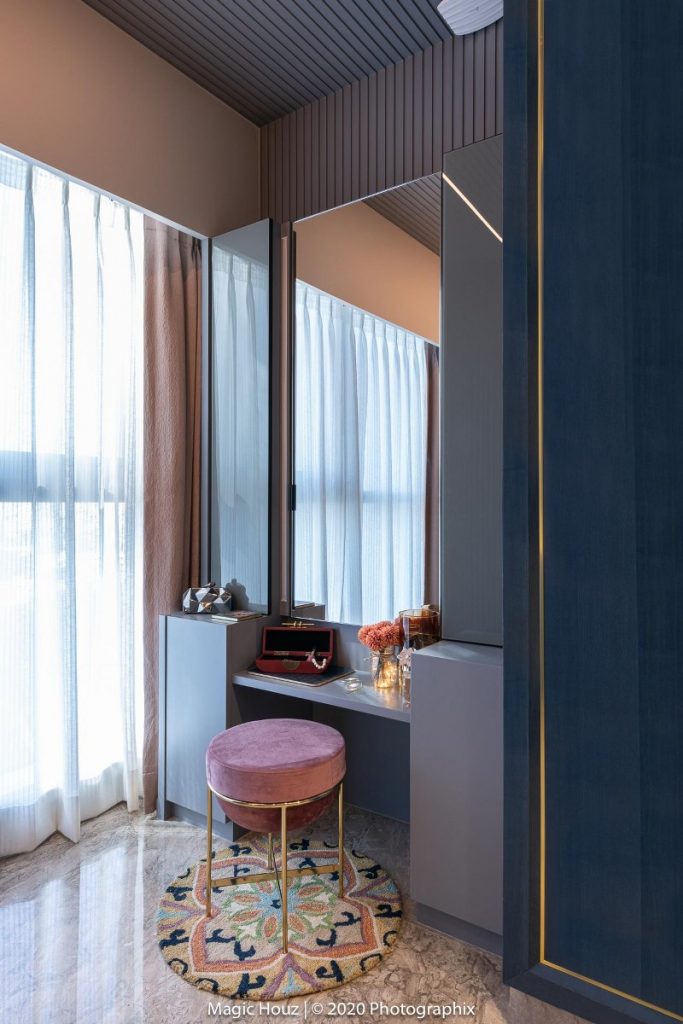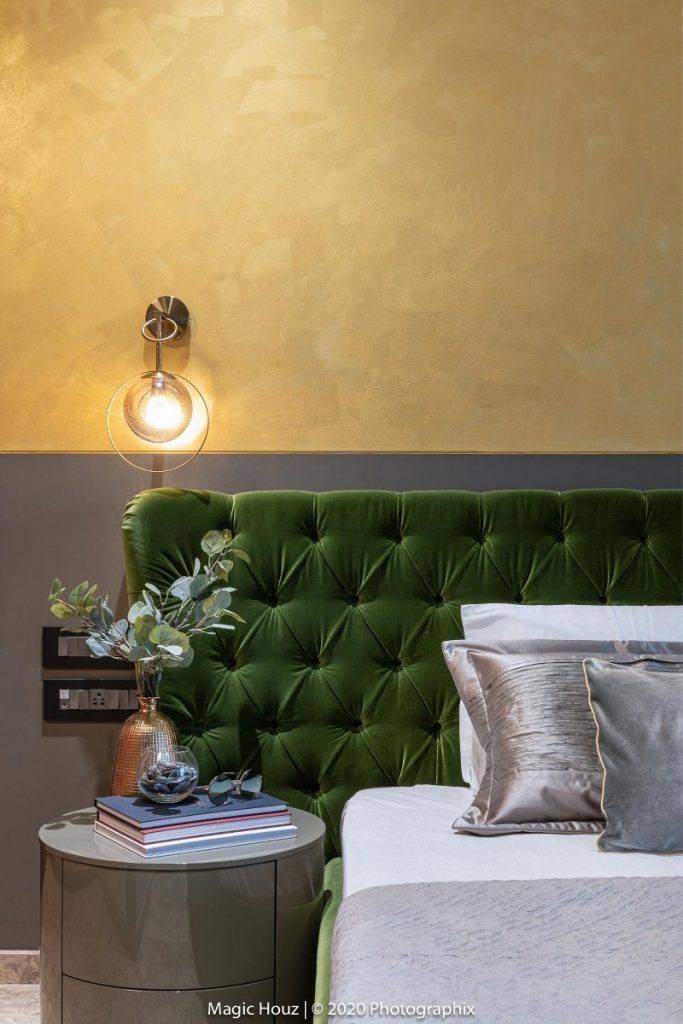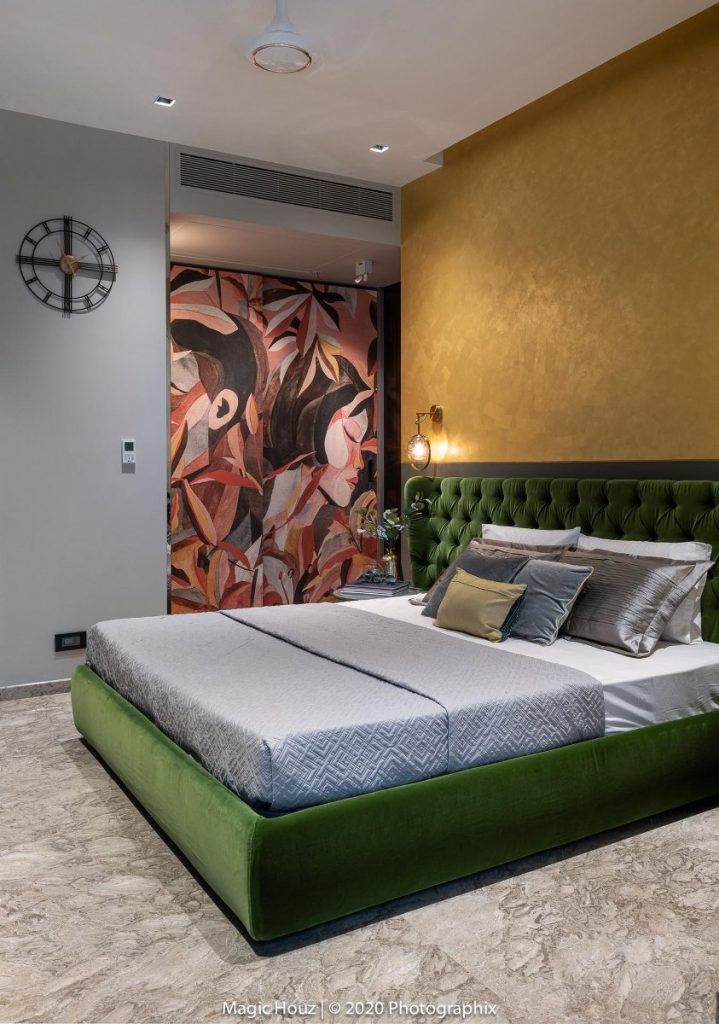 Kitchen
Like other spaces, the kitchen too has its own color scheme which is bold and beautiful. The shutters are covered in rose-gold finish and the white statuario marble on countertop and backsplash to control the drama and make it look luxurious.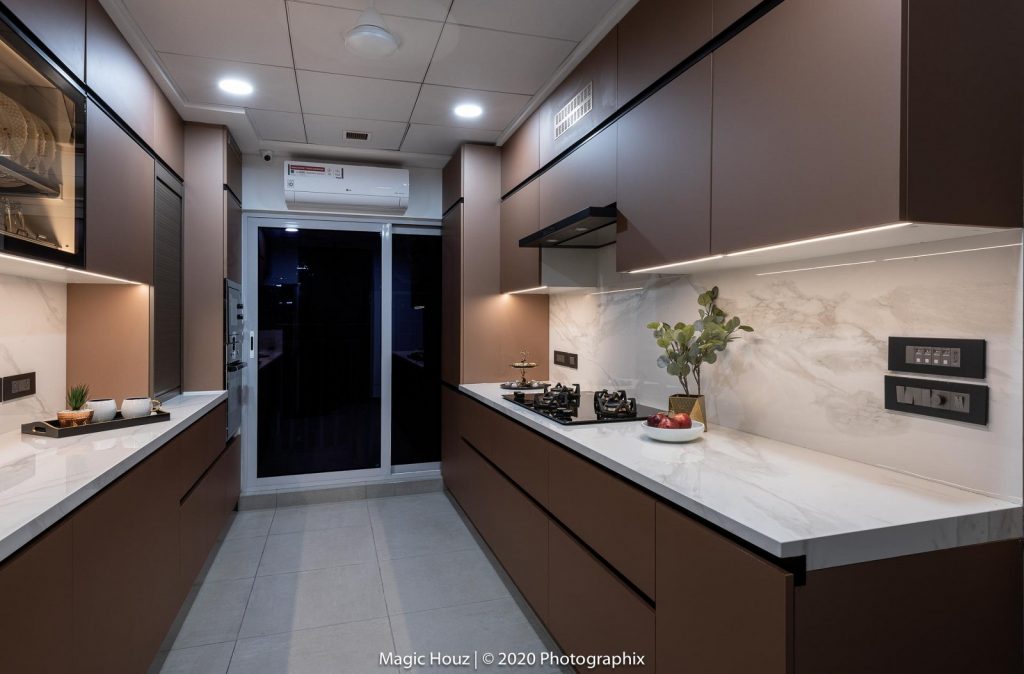 Bathrooms
All bathrooms were neutral-toned. To cut the dullness, we designed all vanities in such a way that it became the focal point of the space. We used striking colors and gold-black finish for a profile, mirror, lights to add a dramatic touch to it.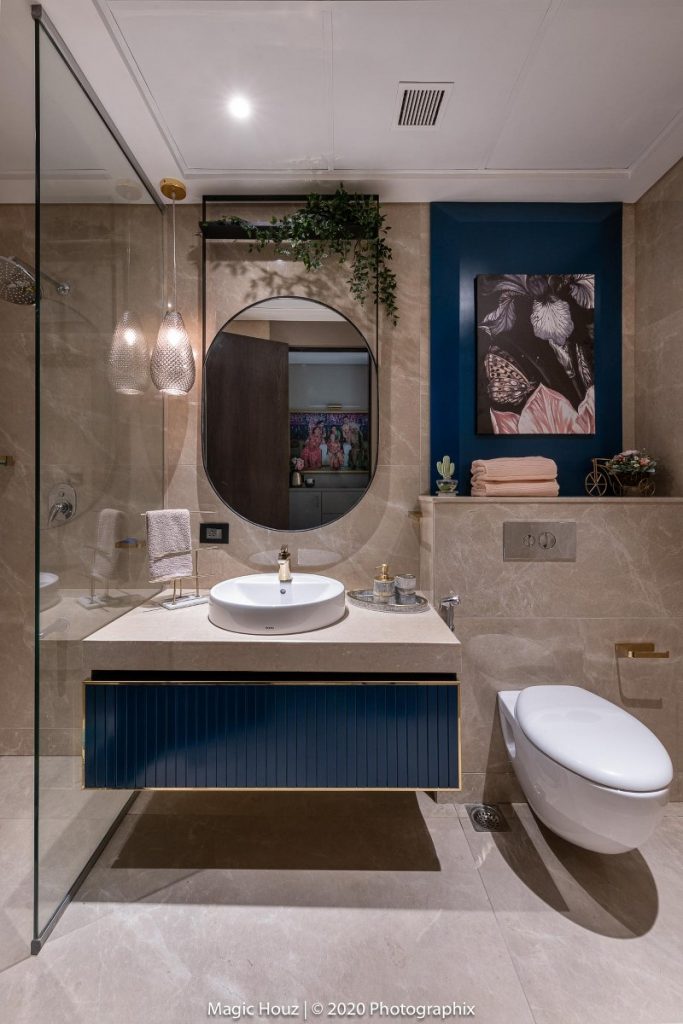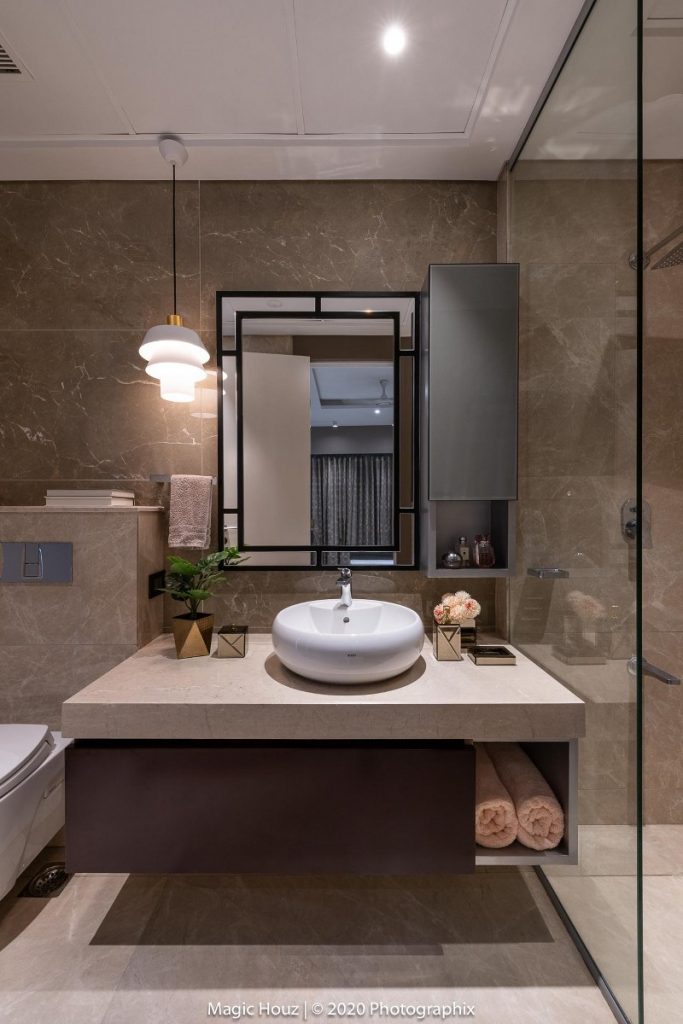 FACT FILE:
Interior Design: Magic Houz , Nashik.
Project Location: Island City Center by Bombay Dyeing, Wadala.
Apartment Area: 2100 Sq.Ft.
Designers: Ar. Sara Shah, Ar. Nilay Shah, and Ar. Rasika Ghode
Italian Furniture Supplier: Prinitalia (Italy) and Magic Houz.
Photographer: Photographix India.
Facebook: https://www.facebook.com/magichouz/
Instagram: https://www.instagram.com/magichouz/
About Magic Houz :
Magic Houz is a boutique design studio, co-founded by the dynamic duo, Ar. Nilay Shah & Ar. Sara Shah. After acquiring their Masters in Design degree from Domus Academy, Milan (Italy) their love for classic modern design led to extensive research on European design & styling.
Through their work you see a unique amalgamation of the two best cultures of the world, bringing out an original fusion of Indo-Italian design and culture. Their design philosophy features a refined use of materials, sophisticated symmetry, coupling order with a burst of colors, and strong silhouettes.