&nbsp
An Outlandish Residence with a Warm Zestful Vibe | J Architects
An outlandish and minimal residence that is picturized for its iconic appearance and warm zestful vibes. Its Interiors is curated by a Vadodara-based firm, J Architects for a small family of a young couple and their parents. It is meant to explicate amidst its pastel color palette in a way to add a vibrant aesthetic with its exemplary semblance.
Visit: J Architects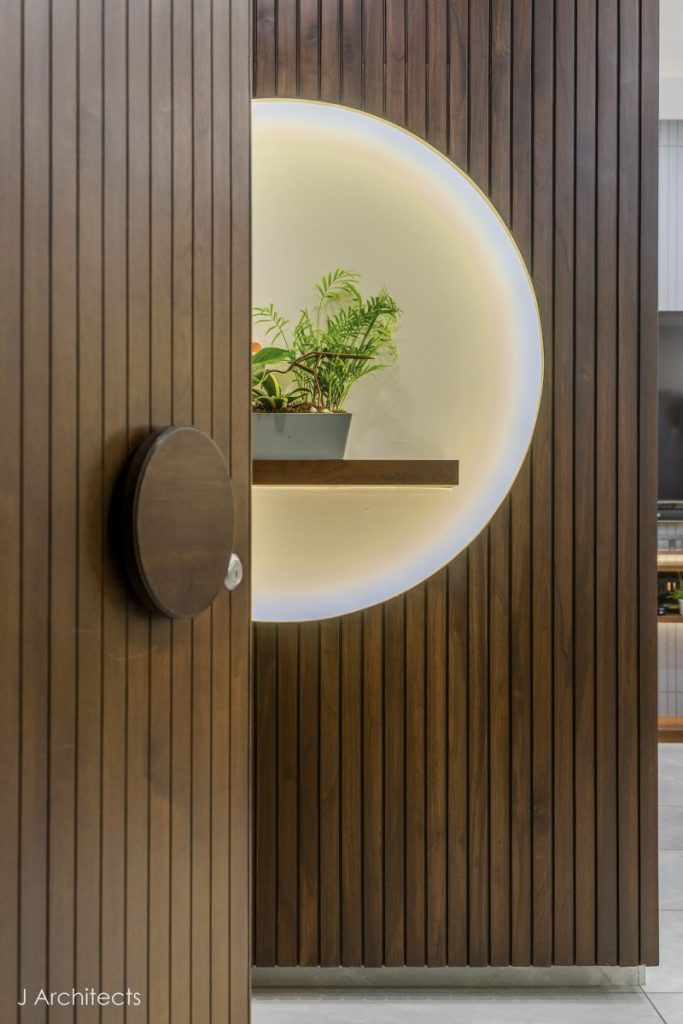 A double-height rectilinear space welcomes one with a warmly lit foyer appearance. A simplistic veneer framing and circular wall mount piece of Lord Ganesha culminates its richness against the gray wall texturing. Further inside, vertical teak wood battening exemplifies the first impression with a backlit circular recession. This wall battening extends to the ceiling reverberating a cordial aura in the vestibule.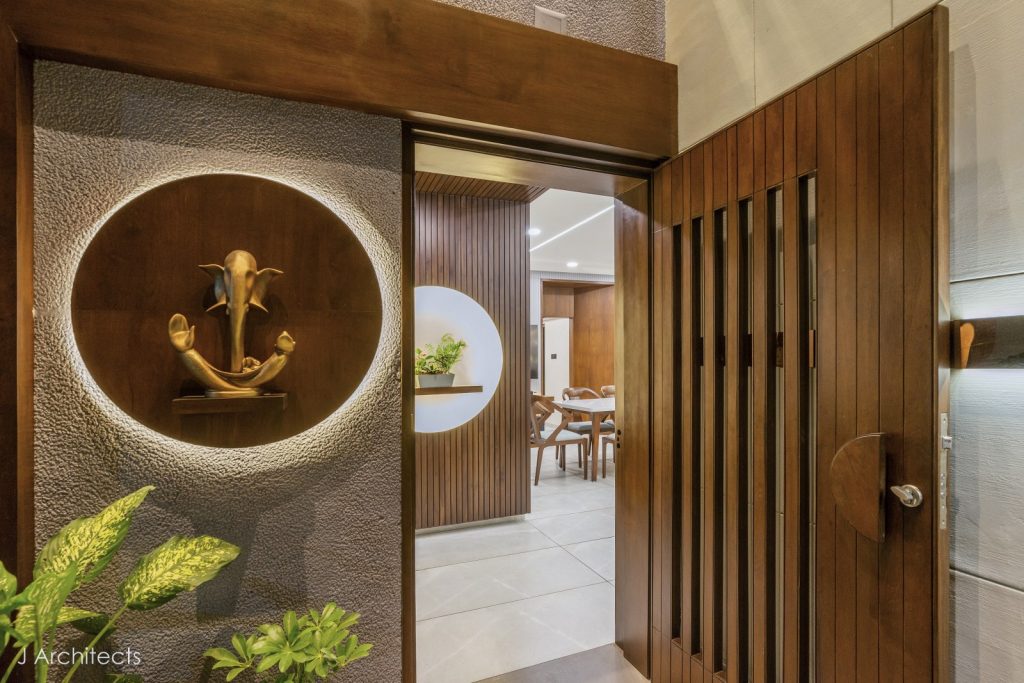 This two-storey residence accommodates a living, dining kitchen, puja room, parents' room and, a powder toilet on the lower floor. Although sharing the same space, the living and dining preserve their identities through their color and material palette.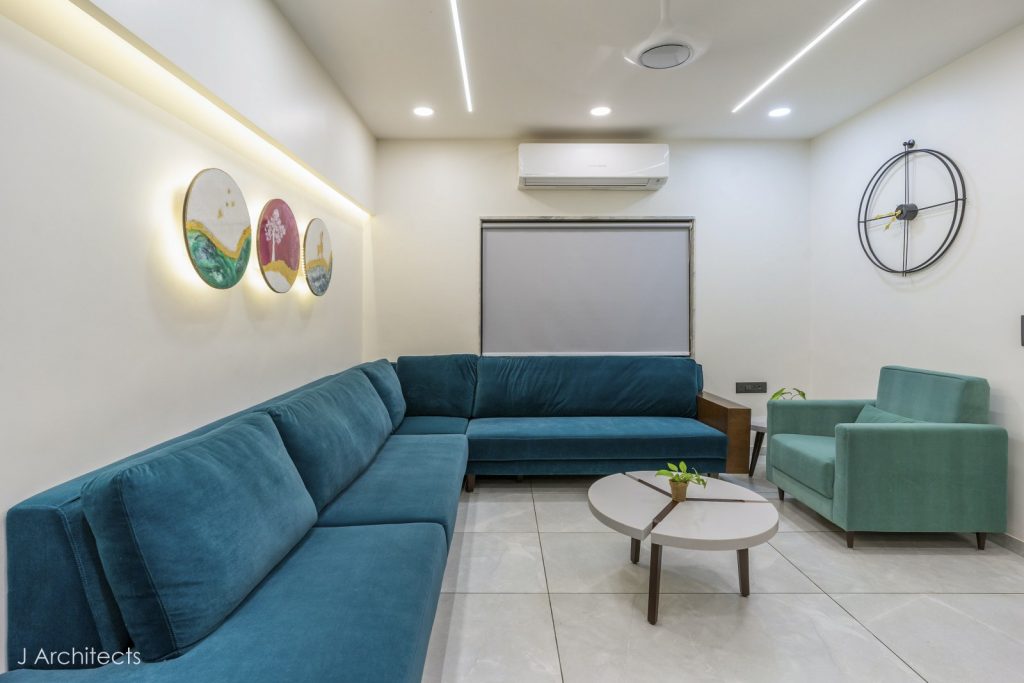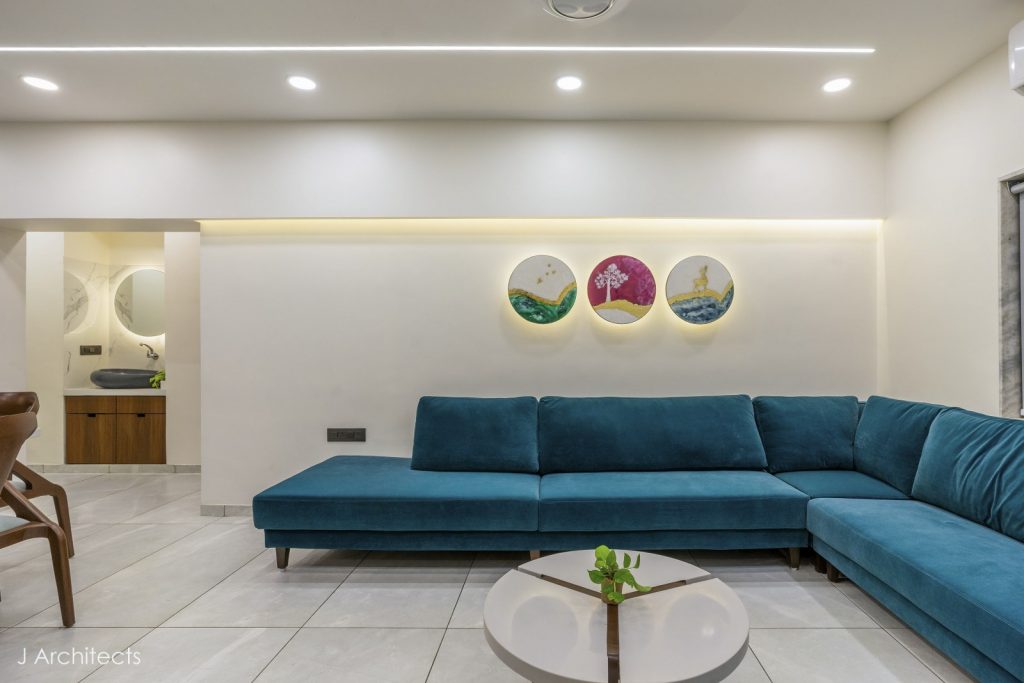 The living is lined with plush sofas in their vibrant hues in tones of blue and teal. It helps instills that jazziness and comfort in here. The walls are left plain to be enhanced by the rich resin artworks and an abstract wall clock.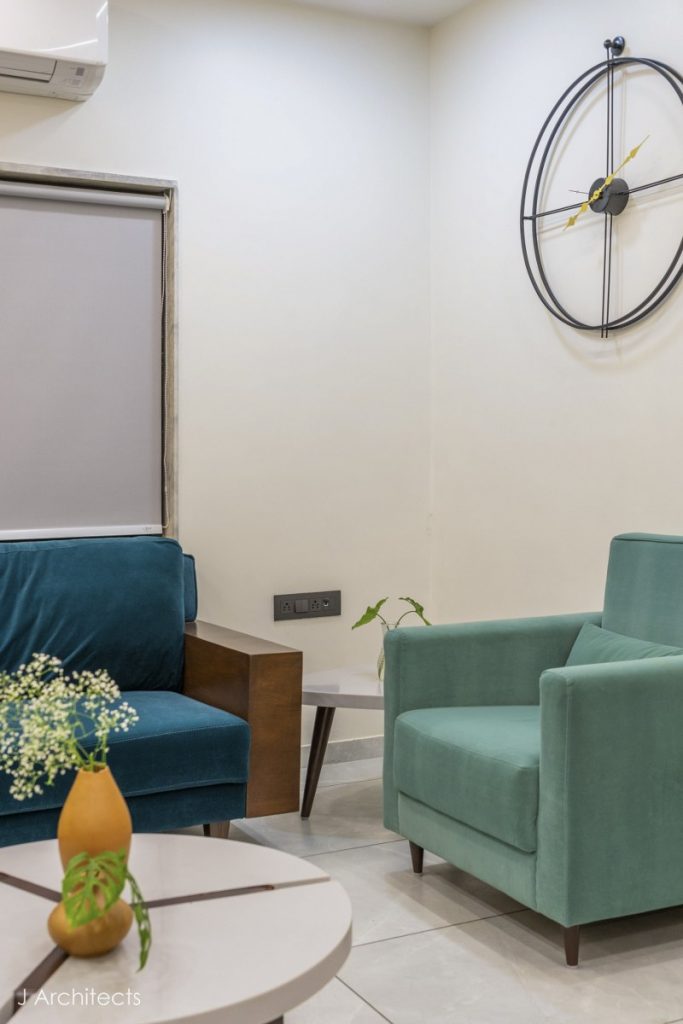 The dining is in closer proximity to the kitchen. The artful wooden polished chairs and a Corian top is chosen for this centralized dining table. Vertical grooving for the highlighter wall enhances the outlook which also multitasks with its TV unit and an angular kitchen door framing. With their minimal intervention and reflective surfaces, the kitchen is designed to accommodate all the utilitarian aspects while also enhancing its spatial characteristics.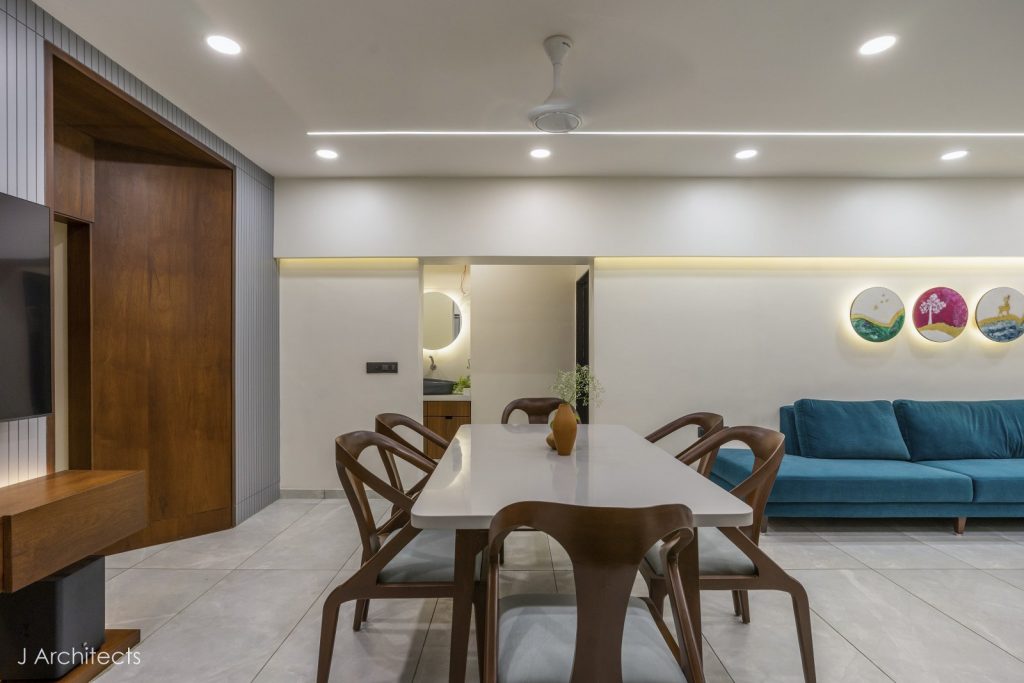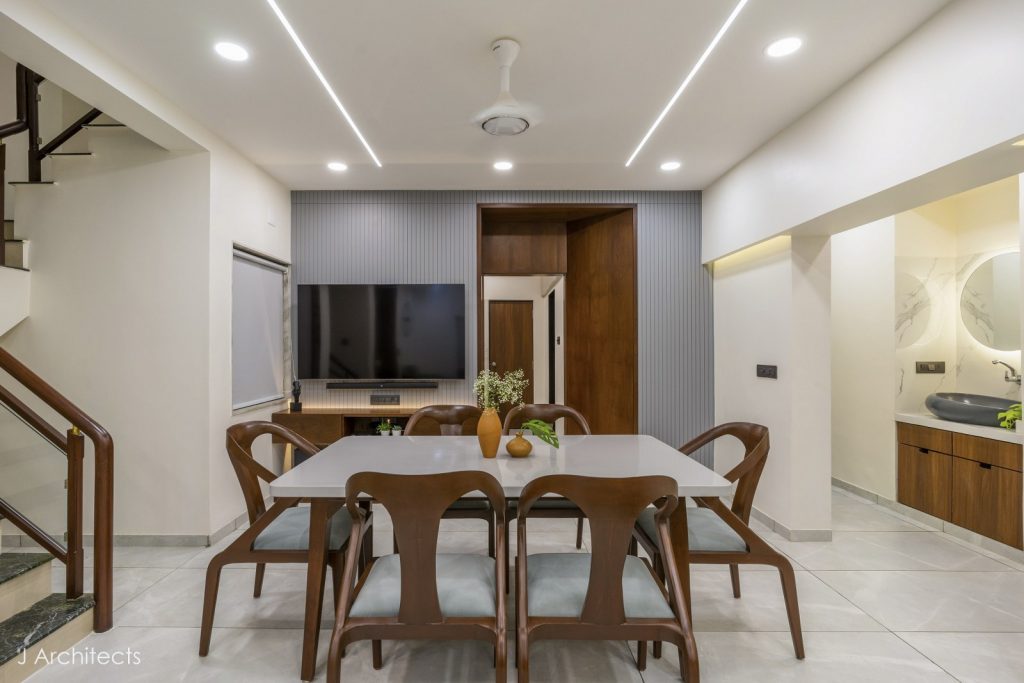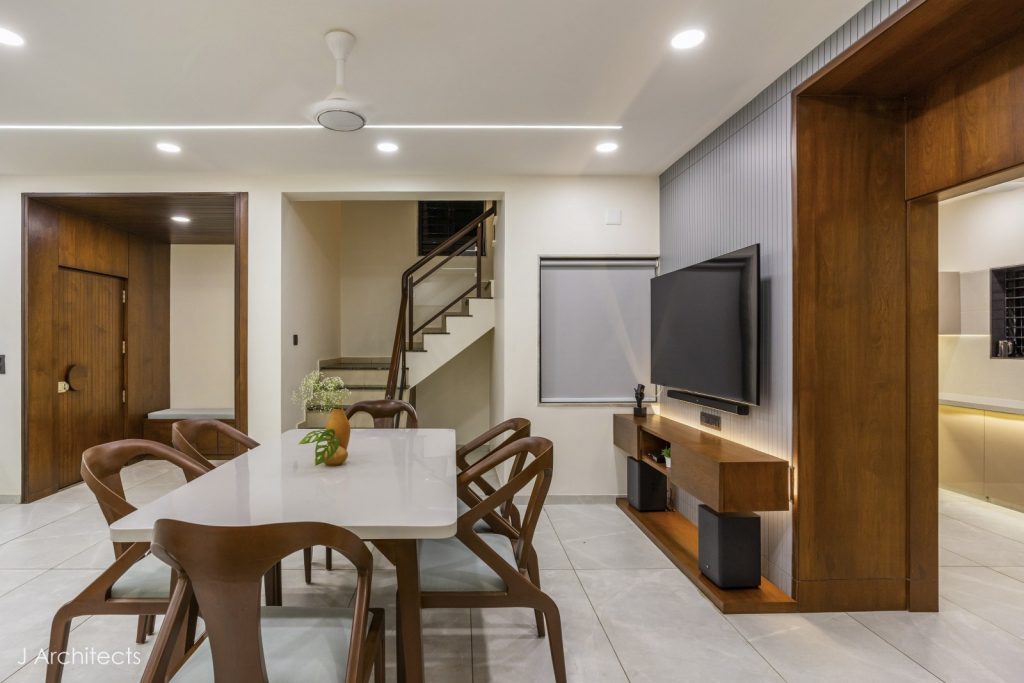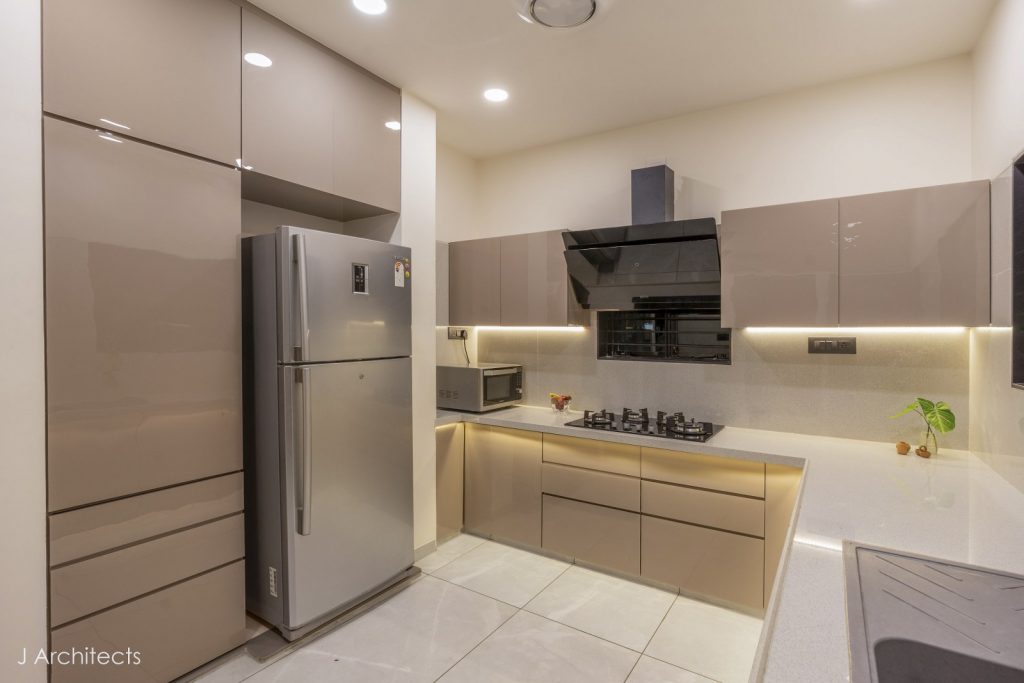 A light color palette that goes with the Quartz stone platform has been set against a complimenting glass acrylic sheet and profile lights.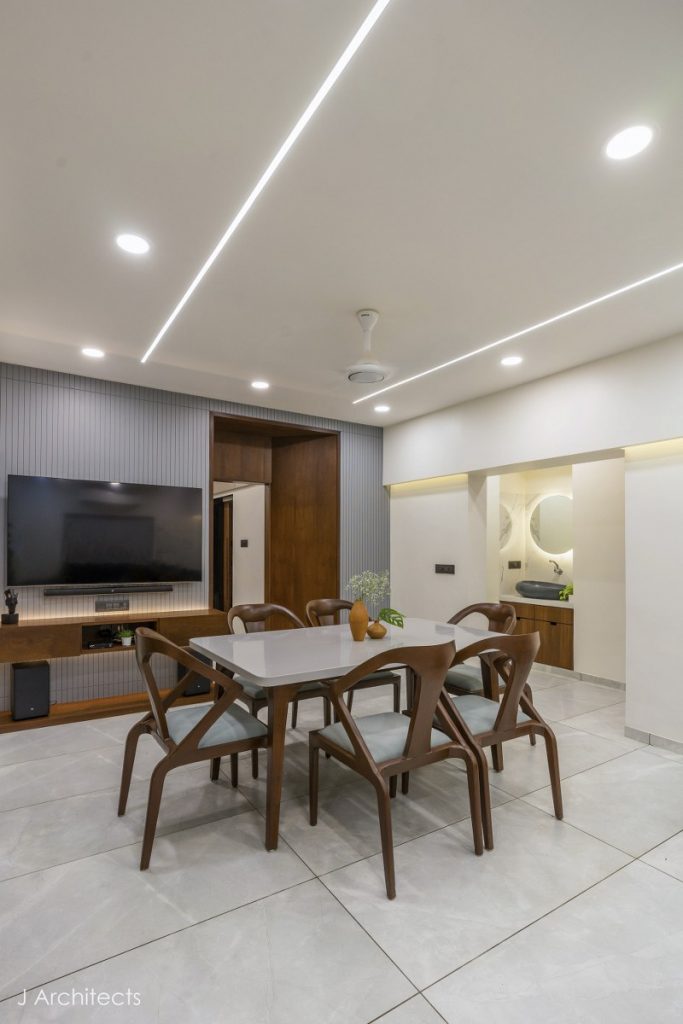 A temple has to be a space that surpasses all the stressful vibes and emits soothing energy. With this intention, the puja room is left raw to allow the window to play its part over the subtle walls, furnishings and, the rear wall lotus cutouts. The temple has a unique design with an intertwined simplicity and sophistication.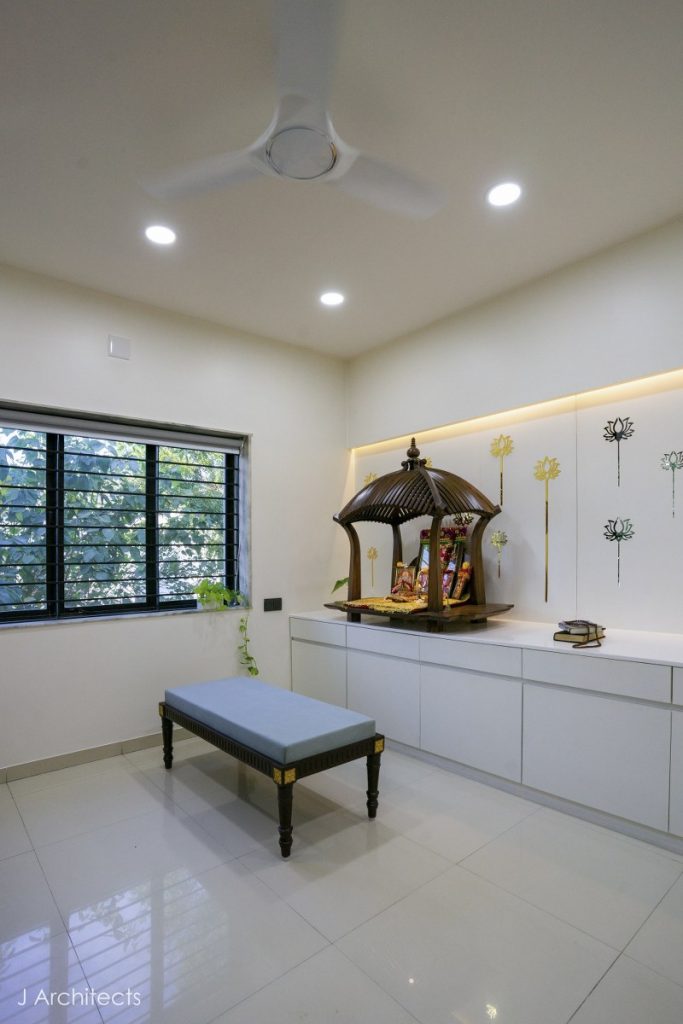 A grey, beige and, teal color palette is administered in the parents' bedroom on the lower floor. This palette is dramatically used over various surfaces to retain a vibrancy as well as a soothing experience in the space. To further enhance the design elements and colors, elaborative profile lights are affixed along their boundaries.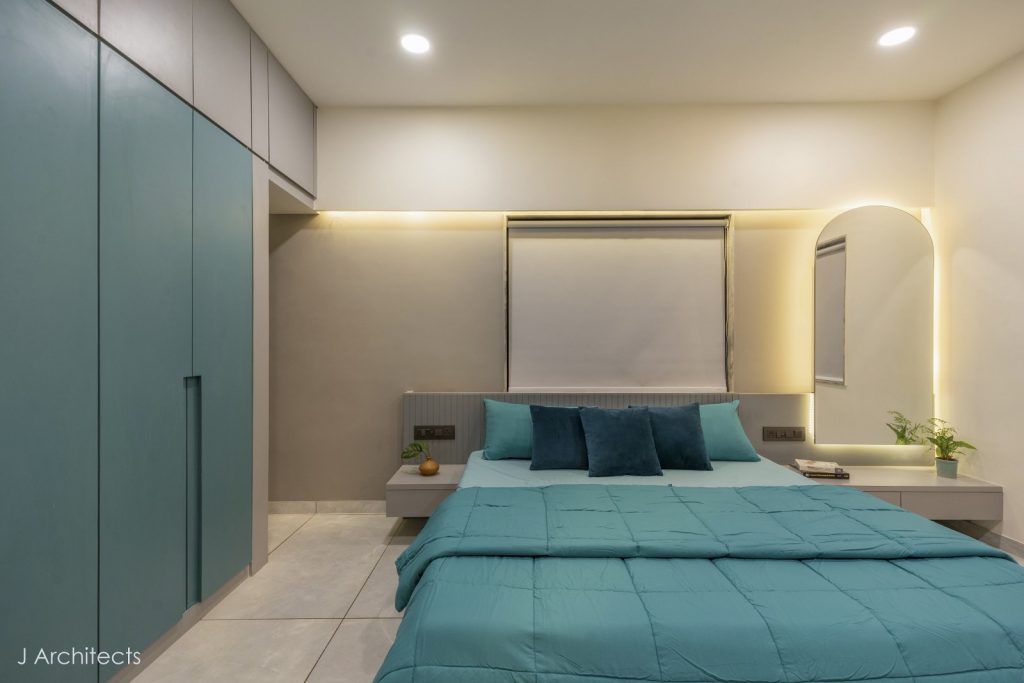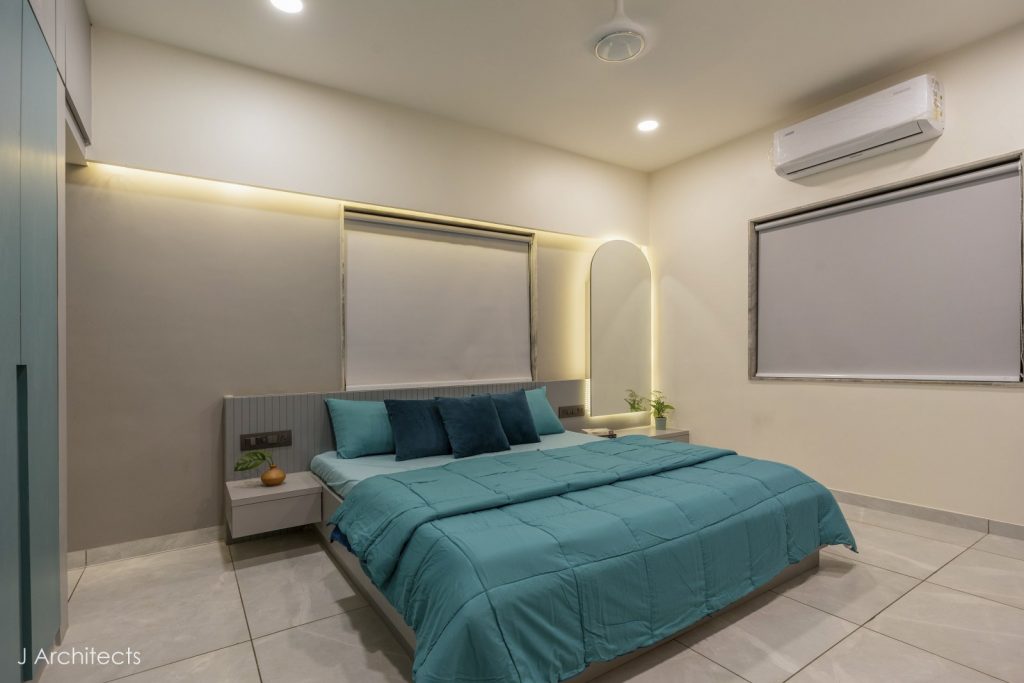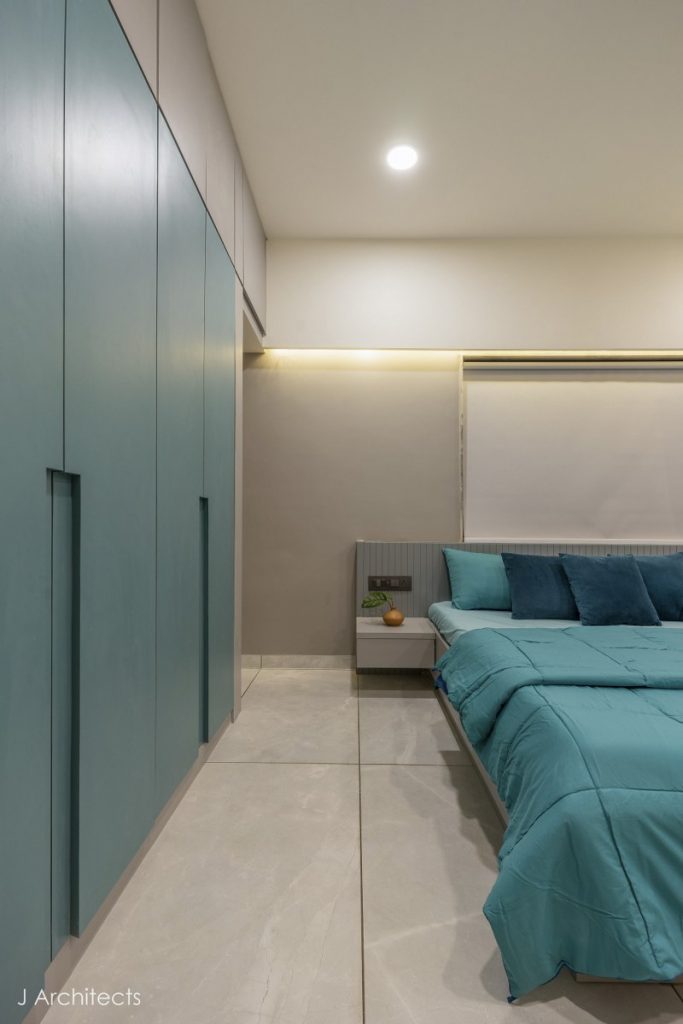 The upper floor accommodates three bedrooms- a master, a son's bedroom and, a guest bedroom. The common space is designed with a seating arrangement and a TV unit to also multitask with the blinds that can be pulled down to create a separate area. A spirited environment is nurtured with a grey, yellow and, blue color palette. This abode showcases an interesting play with the patterned floor and wall tiles in the powder toilet which is indeed artistic and playful at the same time.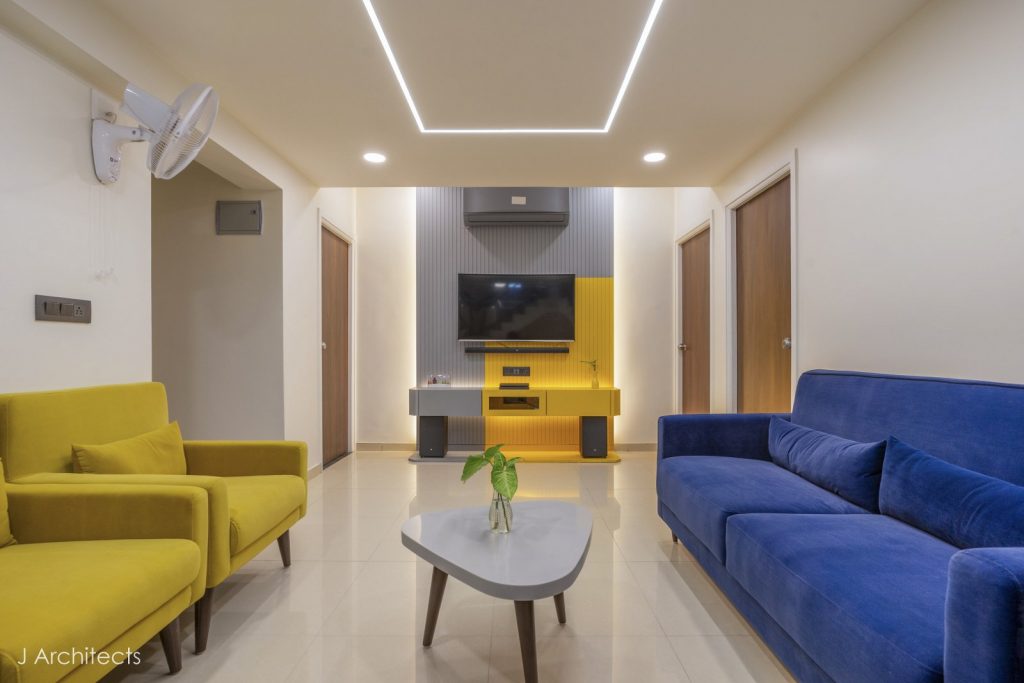 The master bedroom is lavish and minimal with a dominant shade of blue to work as a cynosure of youthfulness. With its flushed beige wardrobe unit, the spatial design looks neat and absolute. The ceiling is left minimal with the profile light to enhance the dimensionality of the space.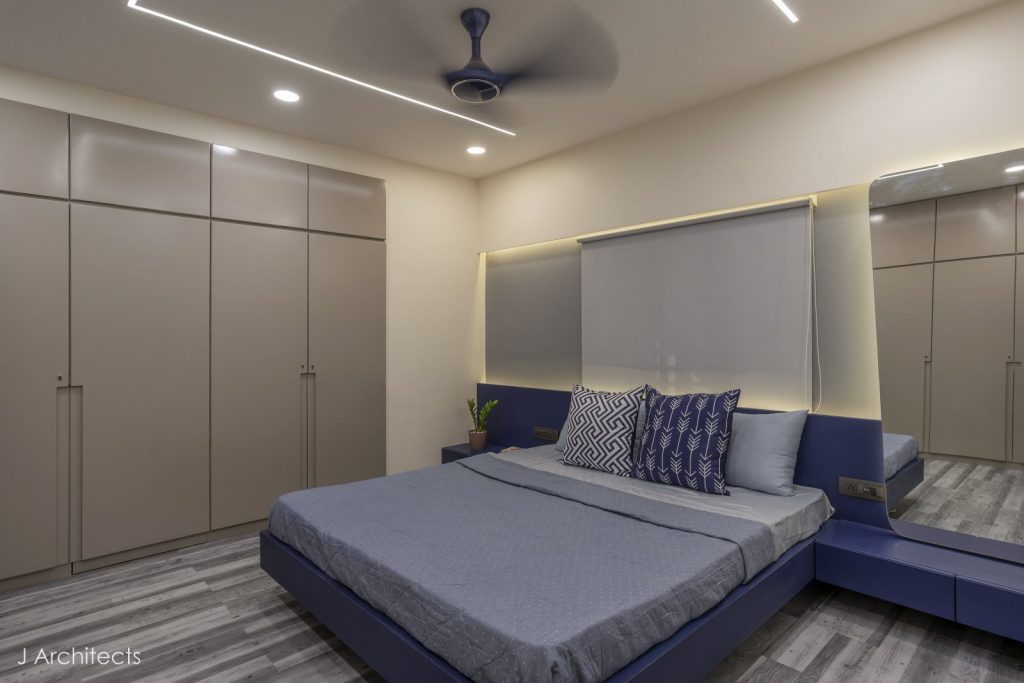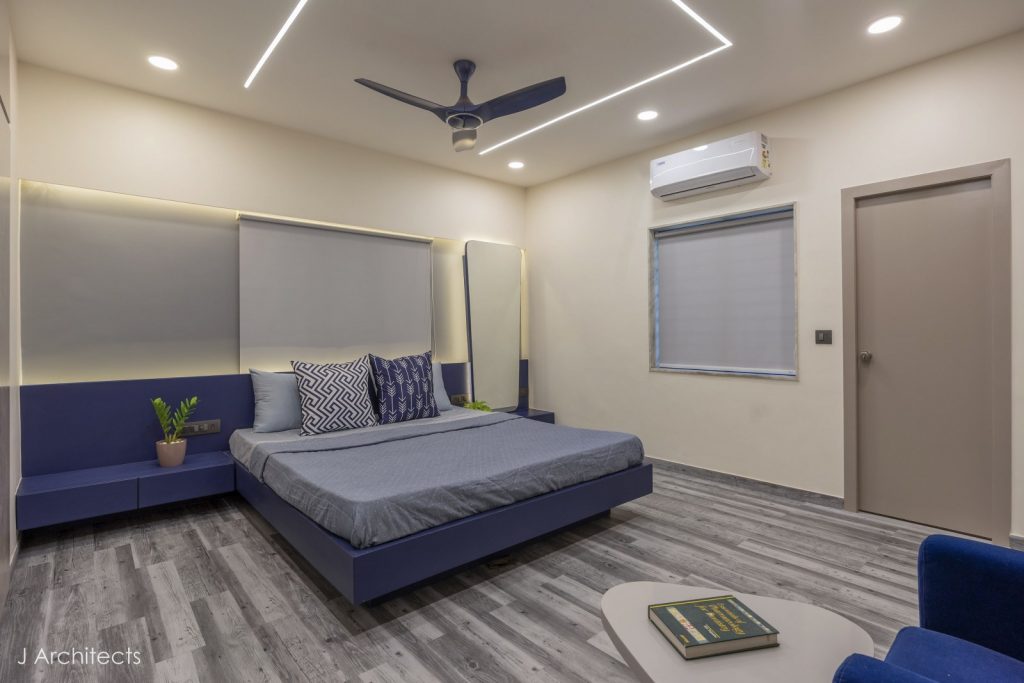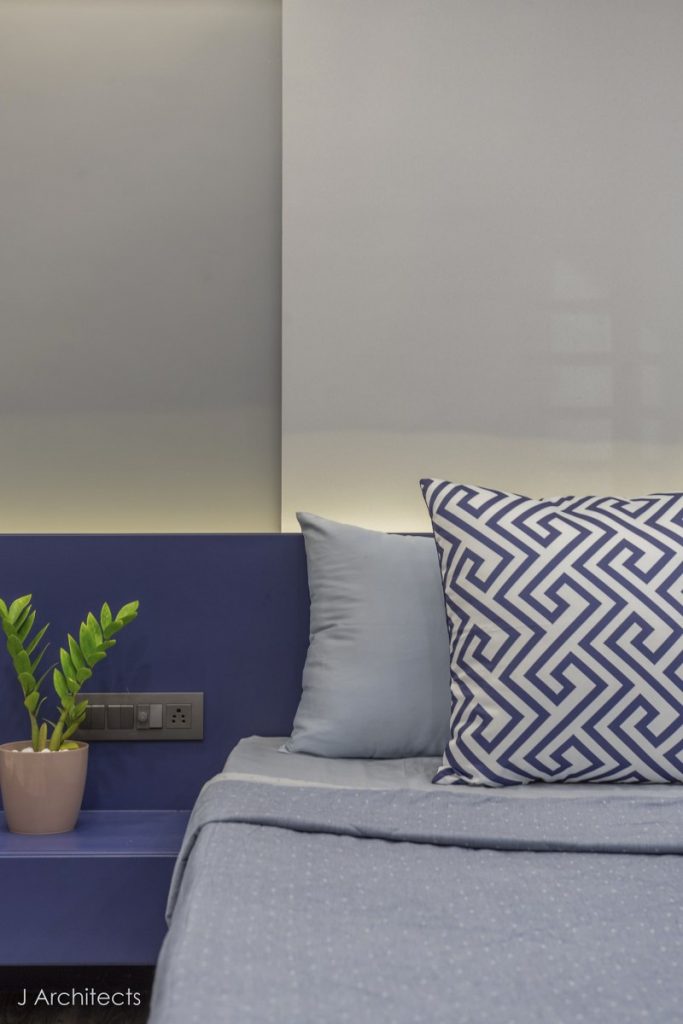 The brother's bedroom is highly spirited with a bent approach. It is outlined to expel a private and rhythmic nature of space with its racing theme. A wooden flooring takes over the spatial appearance here. The brown brick wall texturing against the grey furnishing and a circular mirror ensemble a complete outrun of an electrifying mood.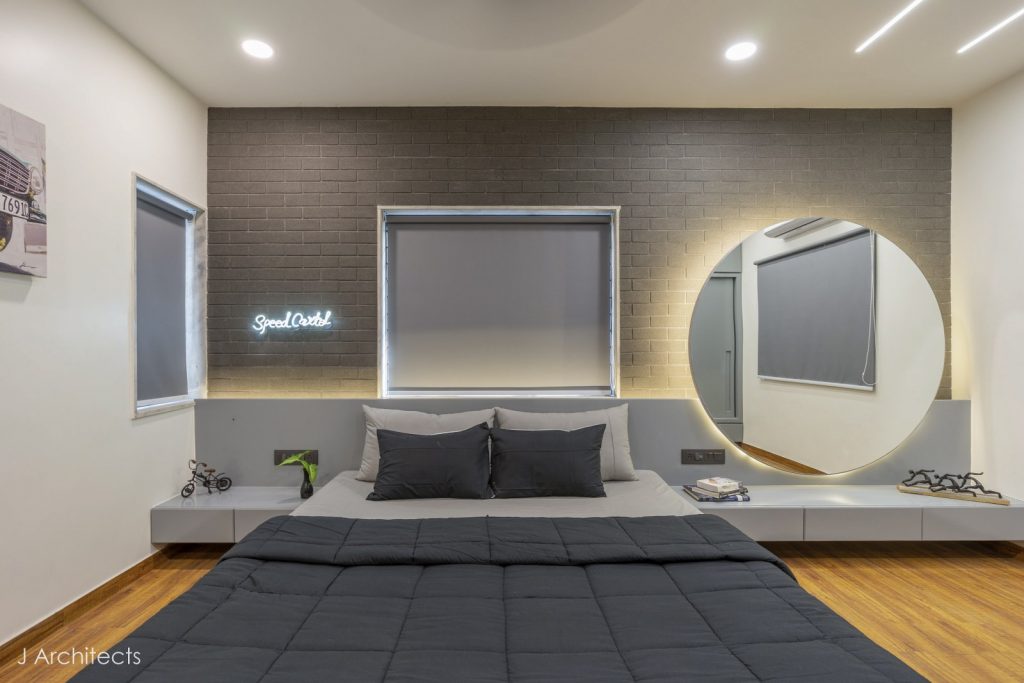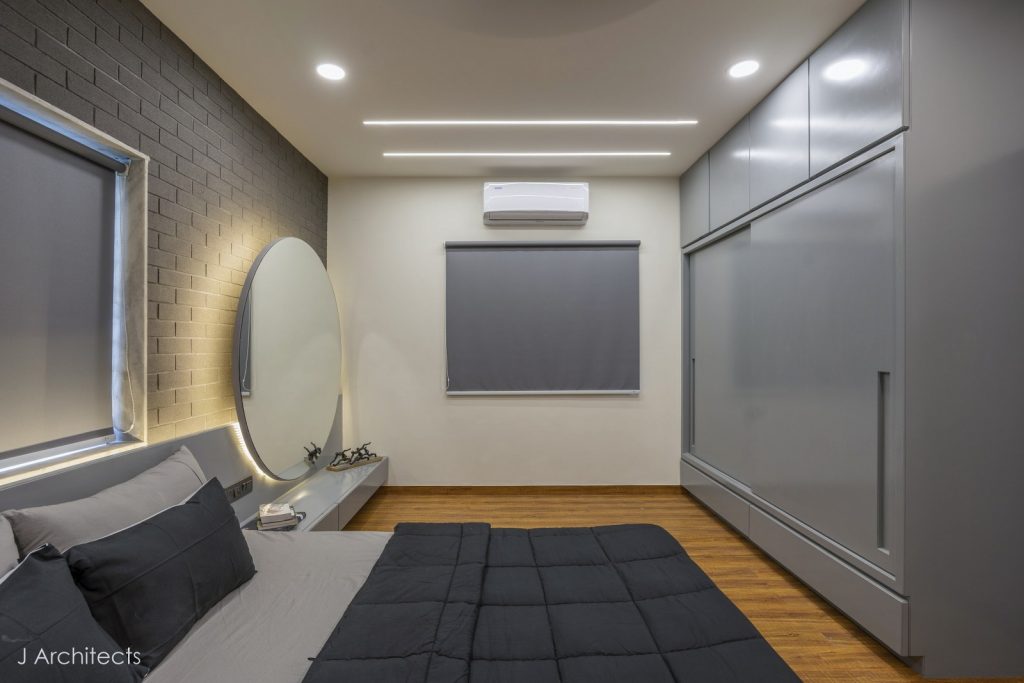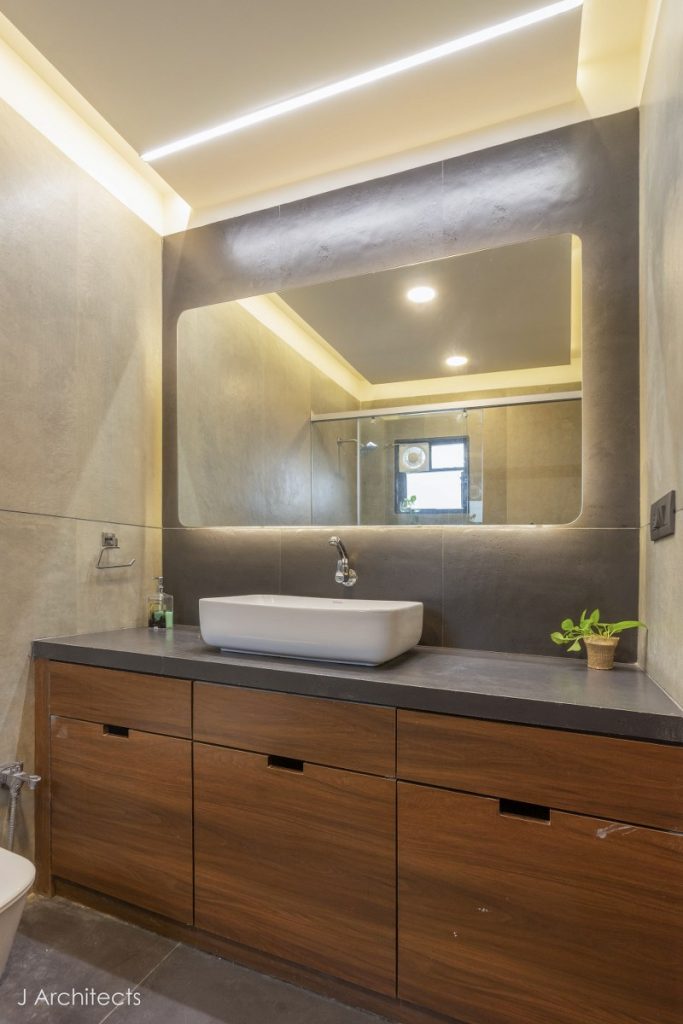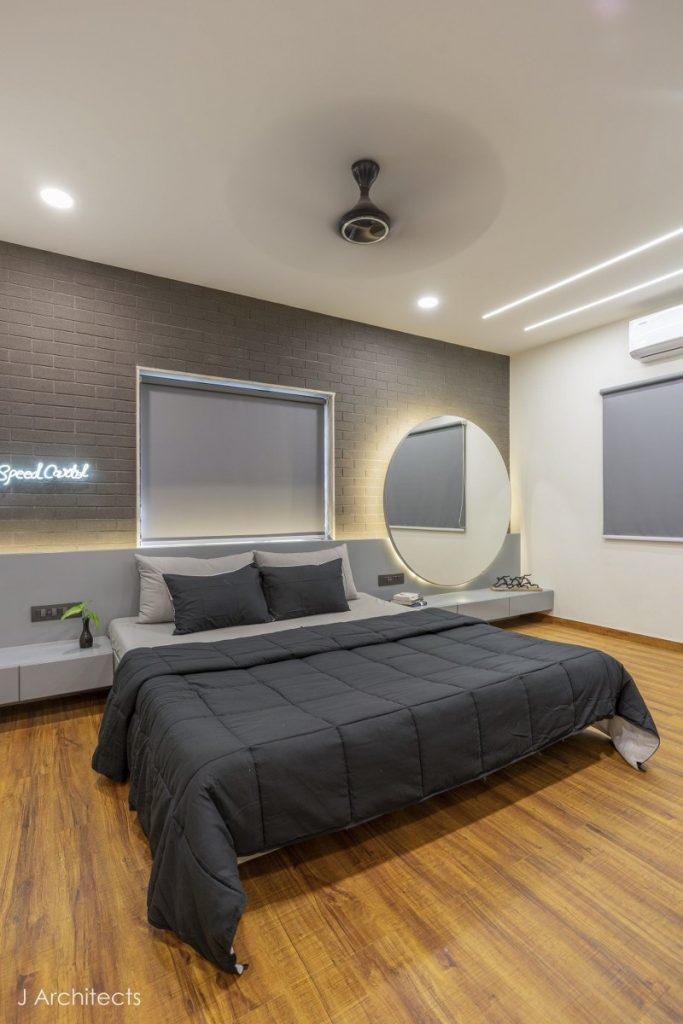 A beige-mustard color theme with their complimenting tones set the aura in the guest bedroom. Here, the design is neat and minimal with clear lines and convenient partitioning. The rear wall is enhanced with vertical plaster grooves in white itself. Yet again, minimalistic and a brisk outlook!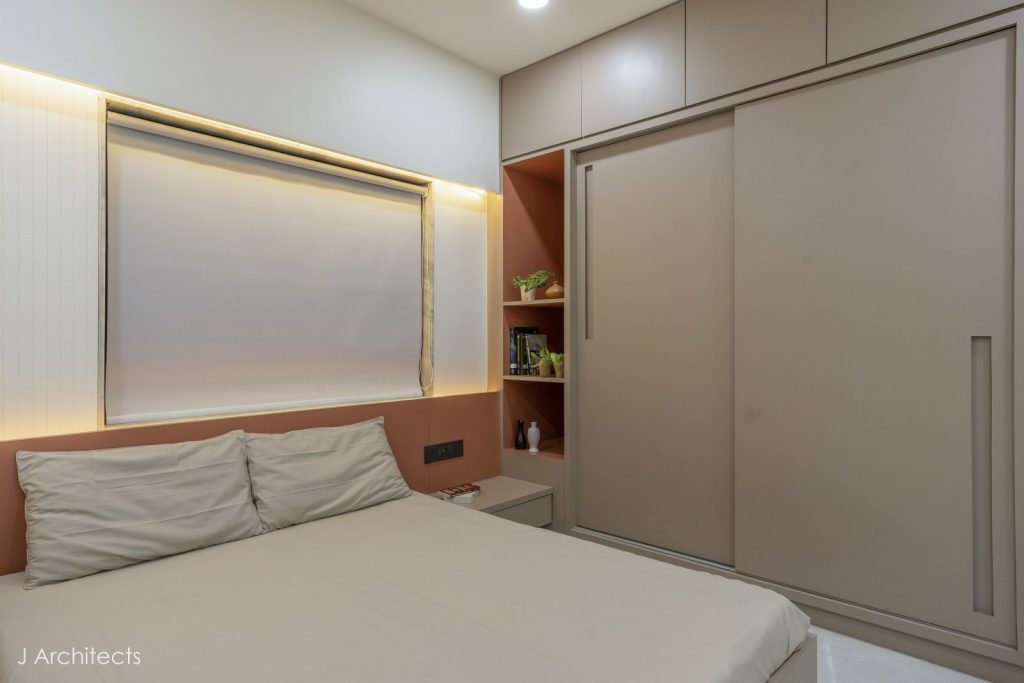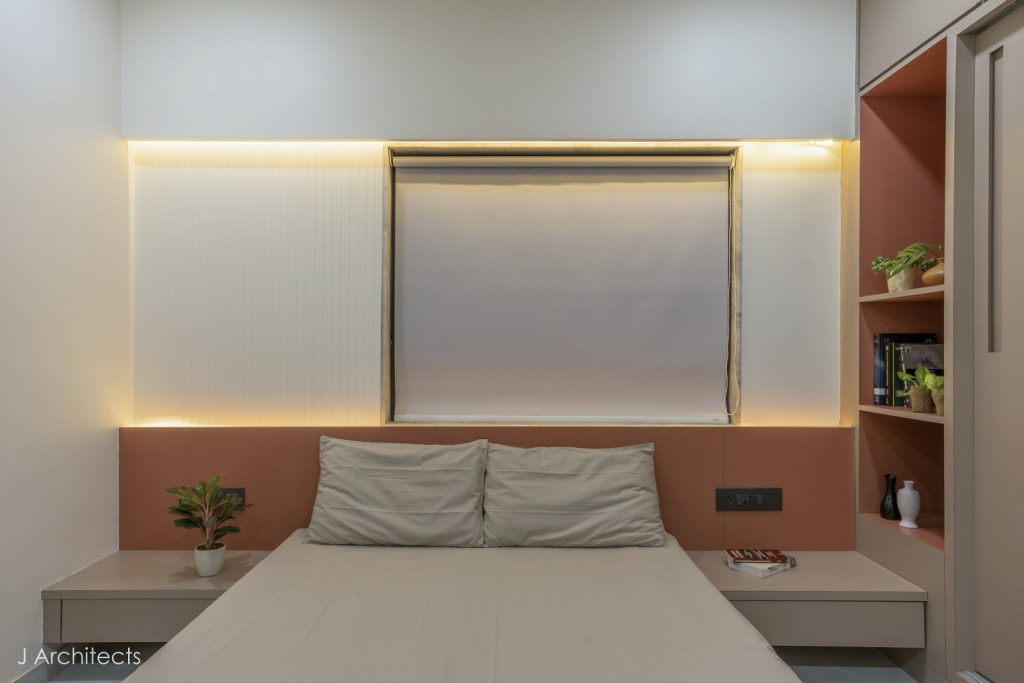 This residence indeed juxtaposes a wholesome approach with its augmented color and material palette. In all, it expels an iconic appearance with its vibrant hues and minimal conceptualization!
FACT FILE:
Designed by:  J Architects
Project Type: Residential Interior
Project Name: MR. Anil Chauhan's Residence
Location: Karelibaug , Vadodara
Year built: 2020
Size: 2350 sq.ft.
Project Cost appx: 35 lac
Principal Architect: Ar. Jay Thakkar
Photograph courtesy: Shutterspace
Text Credit: Megha Hirani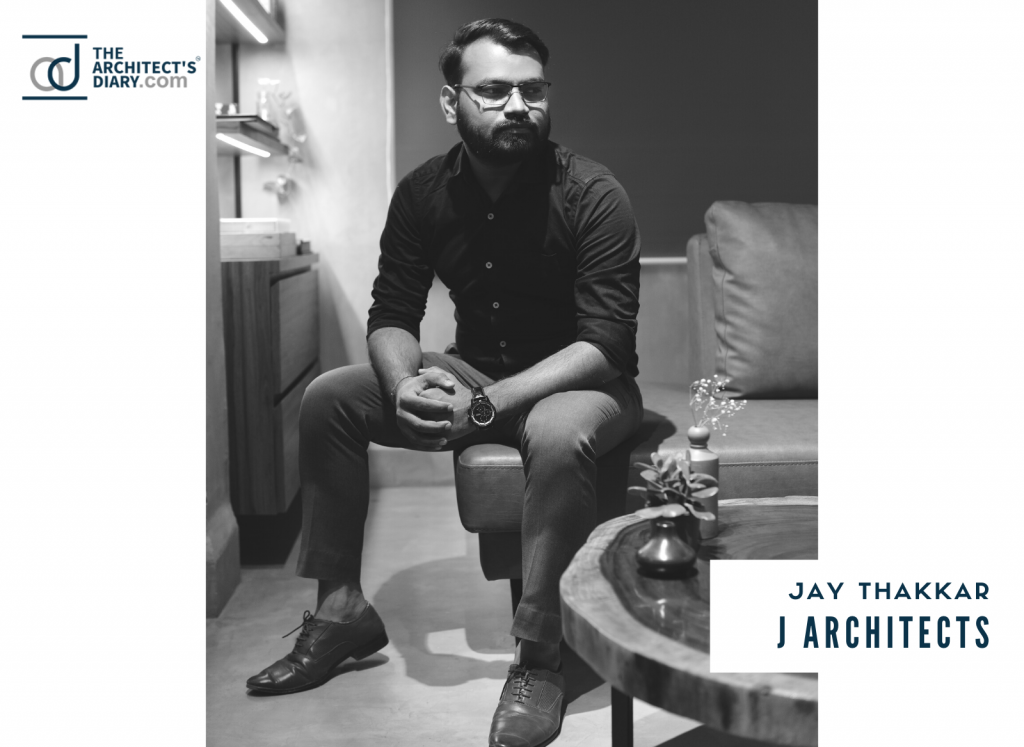 Facebook : https://www.facebook.com/J_-Architects
Instagram : https://www.instagram.com/j_architects_/