&nbsp
Mattresses are available in a very wide range which differs in shapes, sizes, material, pricing, quality, etc. They are one of the crucial parts of home decor and hence, should be well researched before purchasing. Sleeping on a mattress that is not suitable for one's health can lead to serious health issues such as drowsiness, severe back pains, weak immune system, and many more therefore mattresses play a vital role in health. The sleep quality of mattresses declines with time which sometimes may not be very evident.
Mattress shopping online has become very popular in current times. The variety available online is endless from memory foam to pocket spring to pillow tops and so on. Often luxurious/premium brands aren't available in specific localities but they are available online.
POINTS TO CONSIDER WHILE BUYING A MATTRESS
FOCUSING ON COMFORT
People should prioritize comfort over everything else. It is not necessary that an expensive mattress would bring along comfort with itself. The material used firmness, and the size of the mattress determines the comforts of a mattress. Moreover, comfort level varies from person to person, and also in brands, the most comfortable mattress of one brand would be a medium-level comforting mattress in another.
READ CUSTOMER REVIEWS WHILE BUYING ONLINE
Reading customer reviews always results in benefits. It narrows down the wide market range and gives a more practical idea regarding mattresses.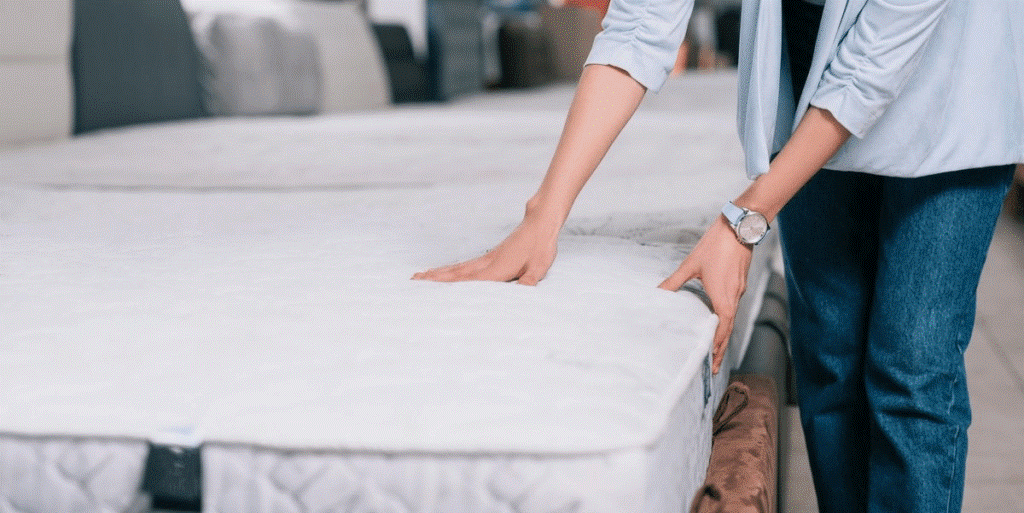 RIGHT SIZE BEDSTEAD
Mattresses have various sizes designed according to different body shapes and the number of people sleeping in such as King-sized or California king mattresses (made for partners and for master bedrooms) or Queen-sized (suitable for an individual person).
The incorrect size of a mattress would cramp up the room.
ADJUSTABLE AIR BEDS
These are safer options to buy online as the firmness/softness can be adjusted using a remote. But these can sometimes go out of budget line as they are expensive.
BRAND LABELS(FIRMNESS/SOFTNESS)
Firmness labels cannot be relied upon completely as these defer from brand to brand. An extra firm mattress of a brand may not be equivalent to another brand and it can be in the medium-firm range.
FIRMER IS NOT BETTER: Excess firmness can cause pains and uncomfortable pressure points, and prevent maintaining the correct natural curve while sleeping.
SOFTER IS NOT BETTER: Excess softness can cause sag in the back causing severe back pains and poor posture.
WARRANTY
Customers should consider buying mattresses which has a longer warranty. The longer the warranty, the better deal it is for the customers as they can try sleeping in and figuring out the best for themselves.
BODY TYPE
Body shape, age, and health issues all should be kept into consideration while buying a mattress as body resistances changes with time due to age. Hence, people should opt for softer beds at a young age and in old age, they should go for firm beds.
TESTING THE MATTRESS
While purchasing a mattress one should test it by touching, smelling, and lying down on the mattress before purchasing it. There shouldn't be any gap between the mattress and the customer's back. Mattresses that hold the spine firmly should be given priority.
WIDE RANGE OF MATTRESS
Mattresses have a wide range such as latex, memory foam, innerspring, air beds, waterbeds, etc, so one must explore all the ranges before purchasing.
BOTTOM LINE
Mattresses are a one-time investment that should be chosen wisely as it has got a lot to do with one's well-being in long run. Apart from reviews, the material used in a lot many factors should be considered while buying them. An expensive or exclusive mattress wouldn't mean the best for a person, it varies from person to person depending upon their age, size, shape, number of people sleeping in, etc.