A Vibrant Apartment With The Azure Of Lavishness | The Crossboundaries
While some homes are soft, subtle spaces, few others stimulate excitement, a constantly pulsating energy, and a rare brightness! Apartment IX, at Splendora, Vadodara designed by The Crossboundaries, is one such lavish residence; a safe haven with an electrifying appeal.
Visit: The Crossboundaries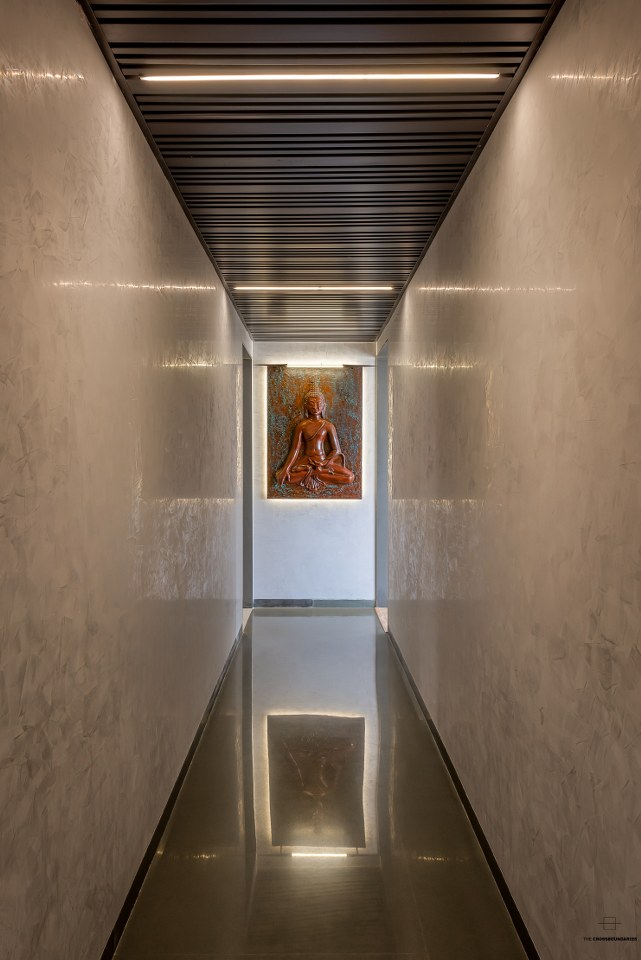 Upon moving into the 9th-floor apartment, the clients, a middle-aged couple with 2 sons, imagined an efficient yet dramatic and vibrant apartment for themselves, where each space is a reflection of personality and pizzazz!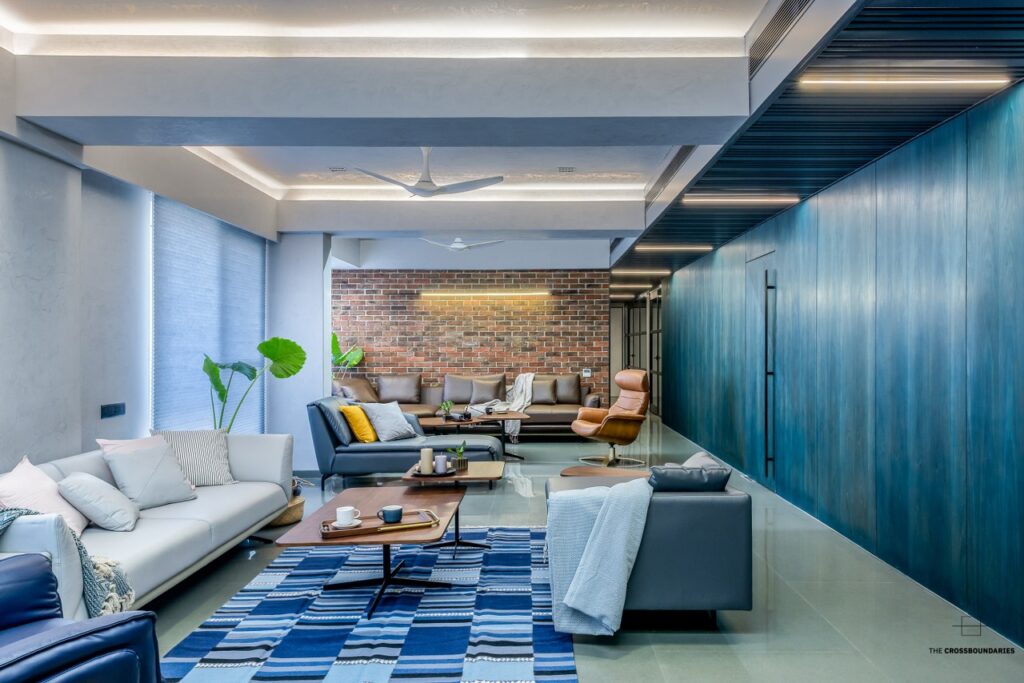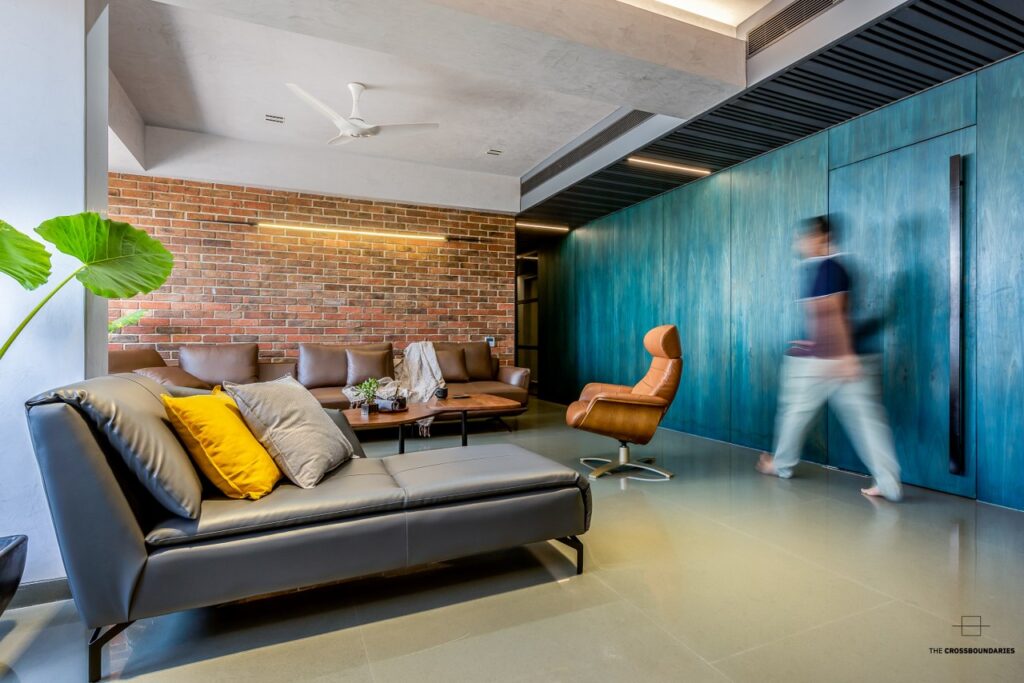 Laid out along a linear plan covering 5000sq.ft, this 5BHK apartment opens up into a large common central family area, with bedrooms on either end. Beginning from the entrance foyer, spaces unfold as if dipped into a calm, azure patina, with tranquil shades of blue overlapping one another. An embedded panel tempered with exposed brick defines the foyer and entrance vestibule, around which an accented blue veneered surface extends into the main living areas. The family seating area, a formal drawing-room, and dining space flow into one another, but each with a distinct formality and aura.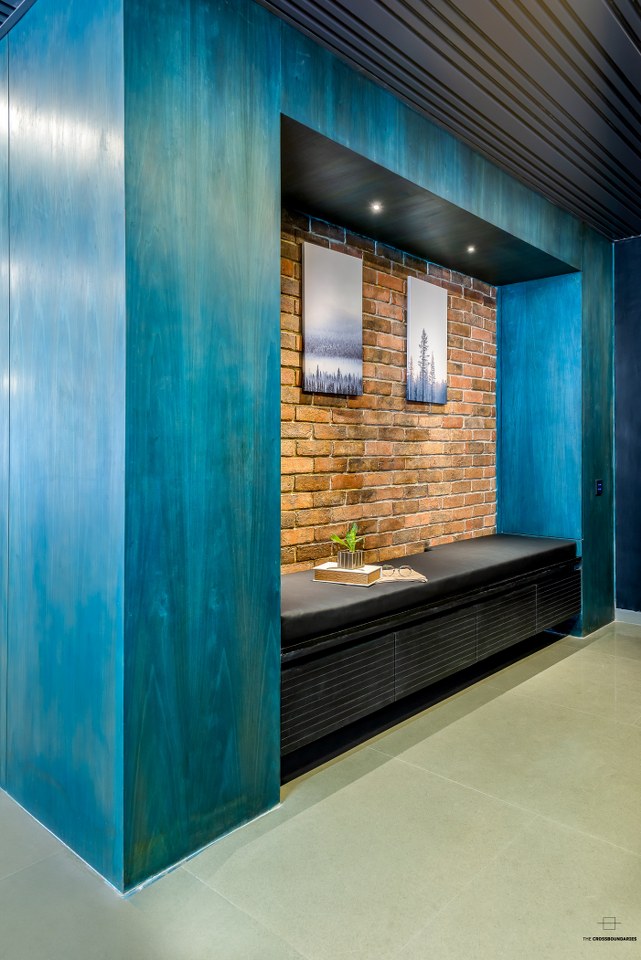 On a search for the unconventional and the visually uncommon, the designers created a custom mood board and a palette of exciting colors, materials, and themes for each space. Textured whites, exposed brick, and steel greys play out in undertones, washed in abundant natural light and overlooking the distant horizon. In the common family and living areas, comfortable recliner chairs, plush lounge sofas, a set of mint green dining chairs and an 8 seater dining table from Olvii Furniture together create a sense of ease, with an upscale formality. A low-height crockery cabinet in battened wood distinguishes the dining area from the seating, while also matching well with the inbuilt metal and wood crockery and bar cabinet against a brick wall.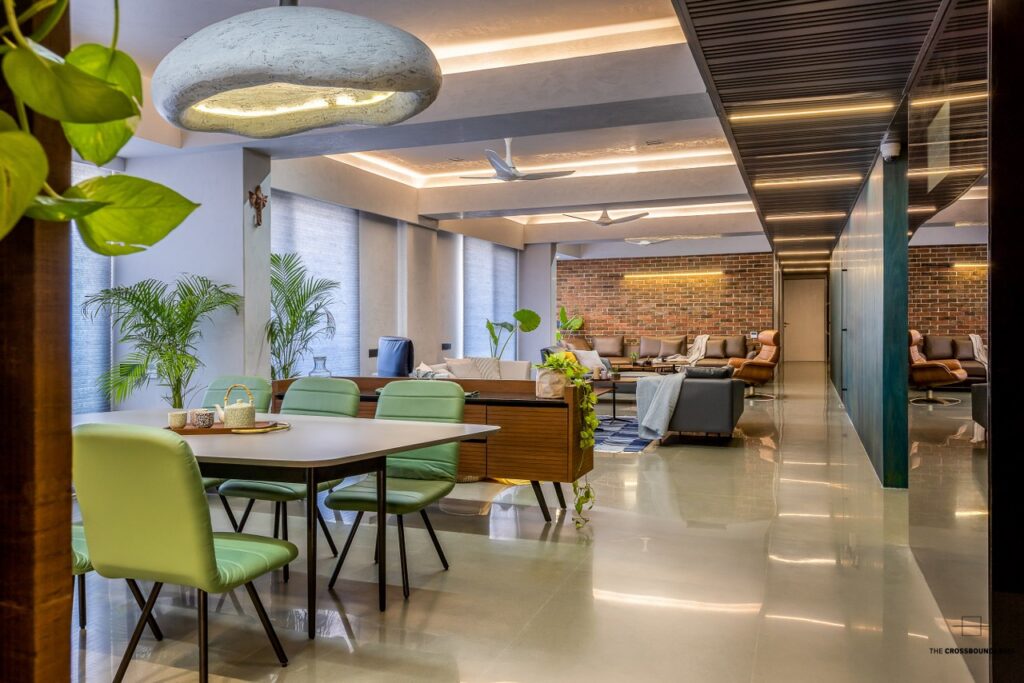 The grooved veneer panels, combined with fluted glass shutters, are delicately held up by slender MS pipes, reaching up to the grey stucco plastered ceiling. Against this backdrop of clean lines and rustic finishes, a large light floats overhead. Making the light source invisible, yet washing the space in a warm glow, this custom-designed fabricated light piece is an ode to the free-form of exploration and design interests!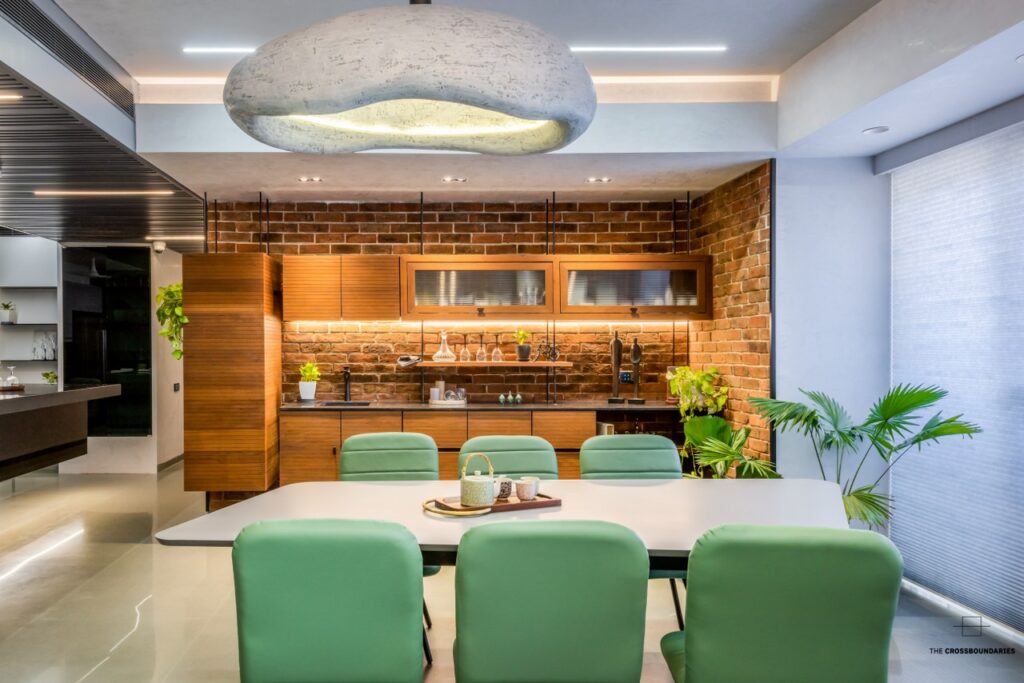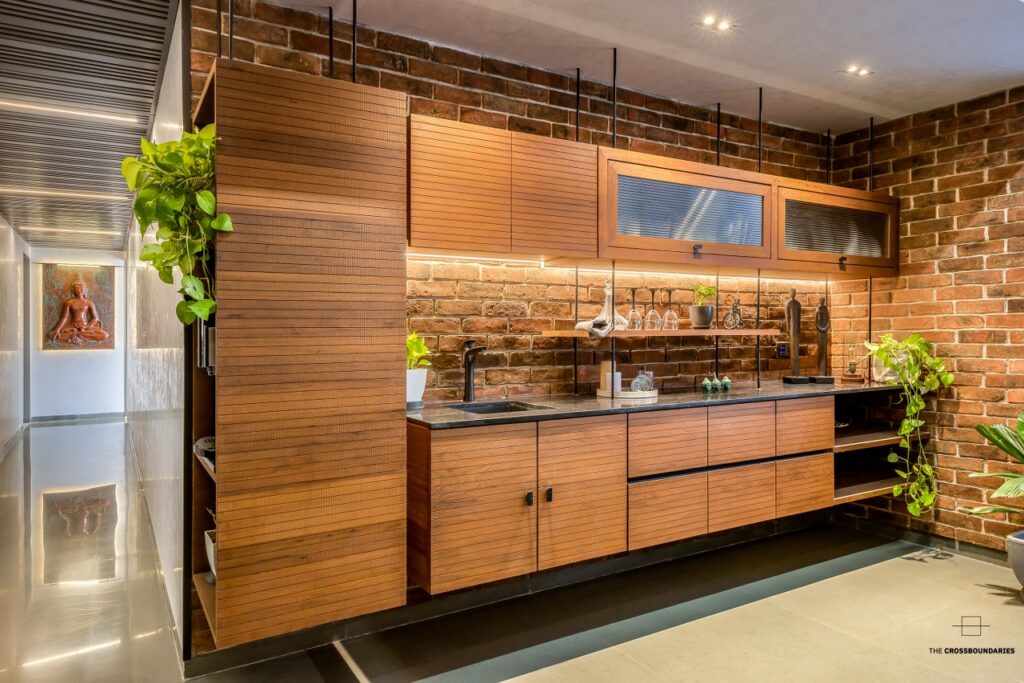 Adjacent to the dining area, the kitchen is a crescendo of glamorous, stunning finishes and dramatic moments. A central island platform,cladded in glossy black stone is cantilevered as if suspended without gravity. The kitchen is fitted with Nolte modular systems and enveloped in black back painted glass, meeting client requirements completely. Including the kitchen, the entire home is highly automated and built-in with smart systems for lighting, cooling, etc.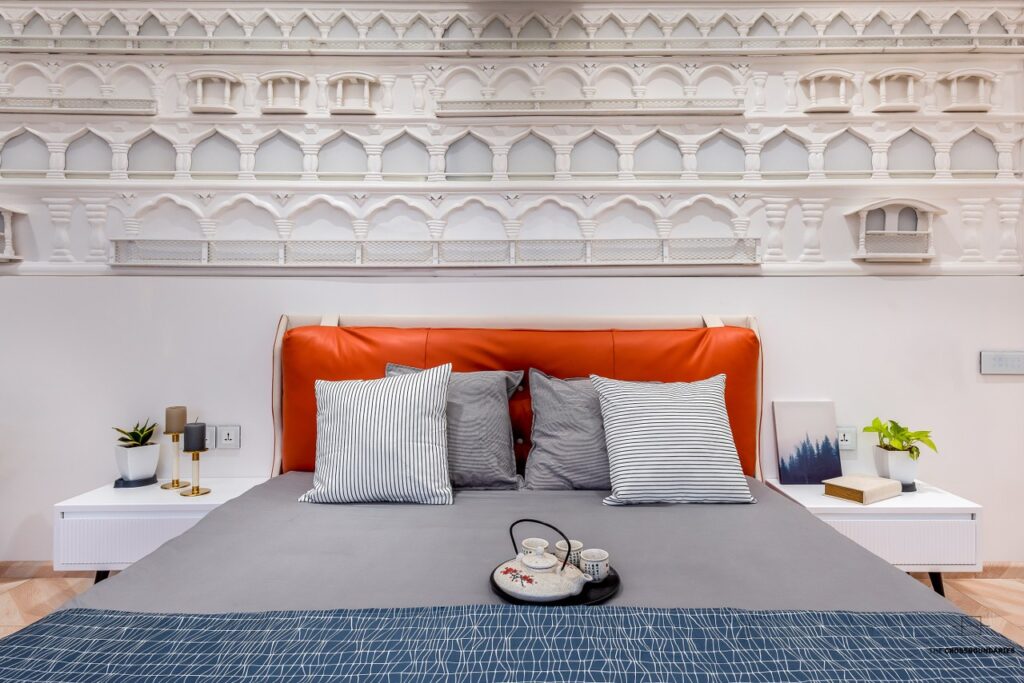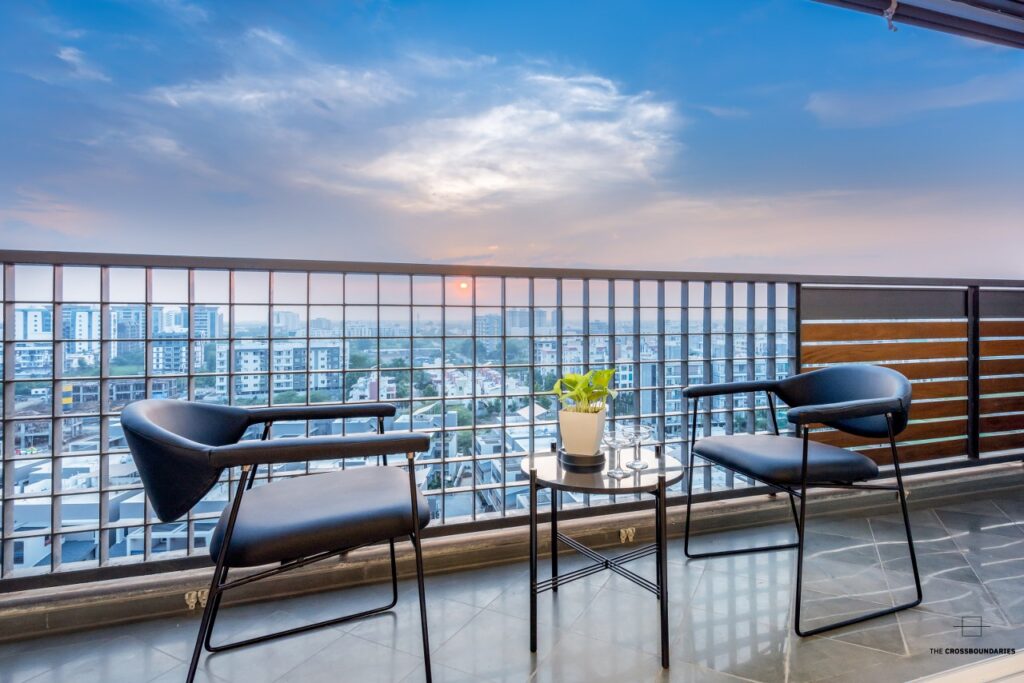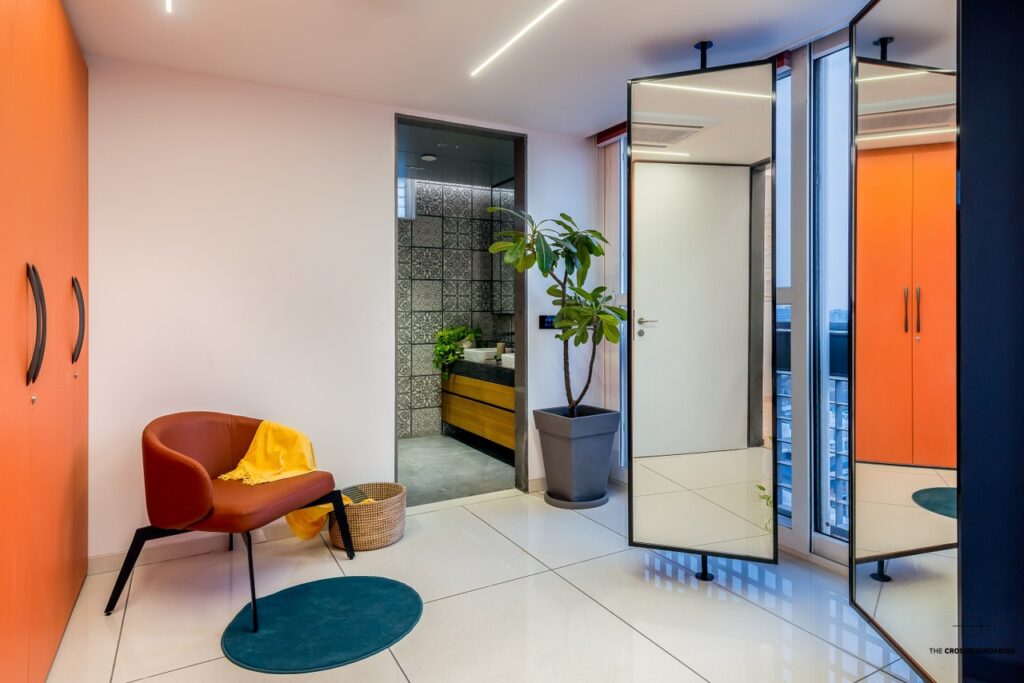 Near this area, the Master Bedroom and Parents' Bedroom form a private zone of their own. Along with a distinct flooring of wooden board parquetry, the Master bedroom enjoys large uninterrupted views through a linear balcony too. One end of the linear room boasts a dark grey stucco wall, while a wardrobe space is built on the other end. The panel of custom-made artwork in casted fiber, above the bed headboard, exhibits an interesting element of traditional arches; a collage of jharokhas, chattris, and decorative sthambhas, painted in white, with inbuilt mood lighting. A notable element within the dressing area is the custom-designed 'Dancing Wardrobe' is an inventive combination of storage and mirror space, swiveling on a thin vertical pipe!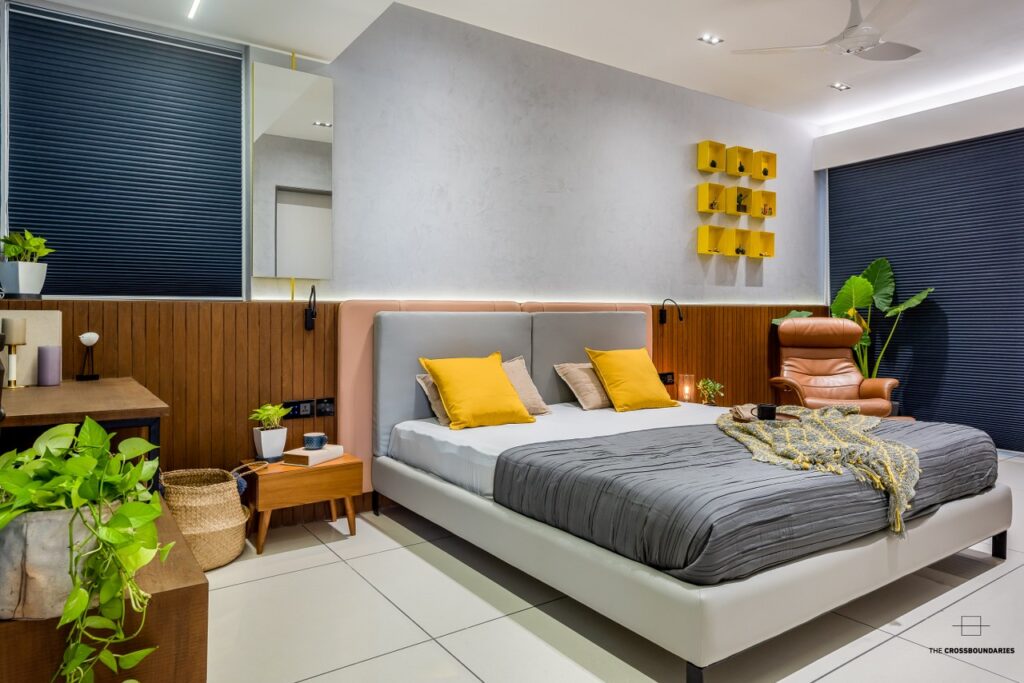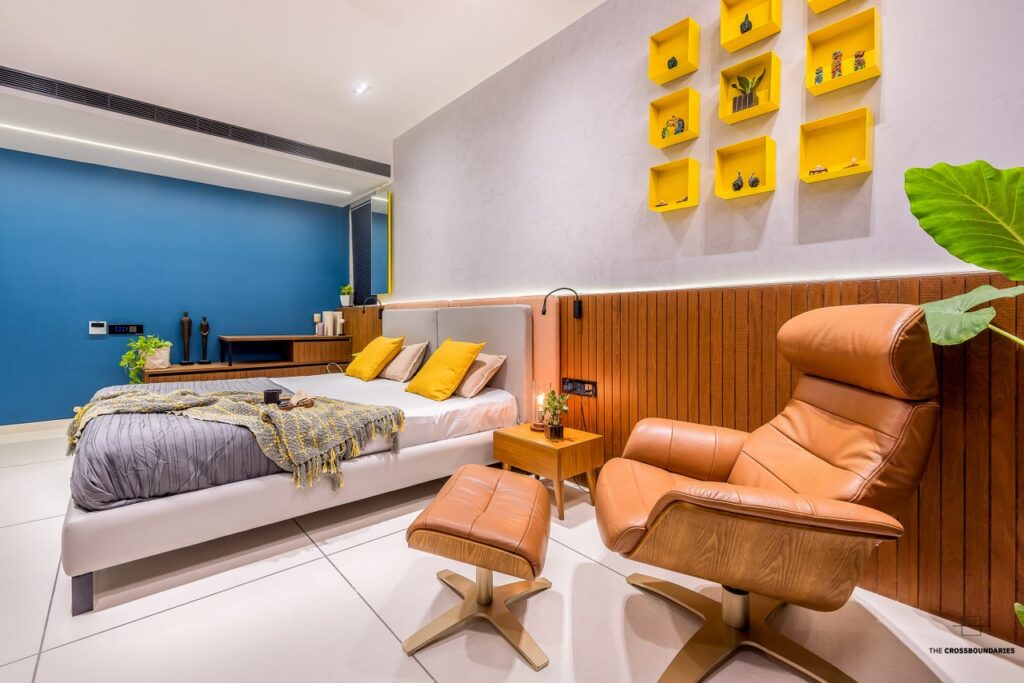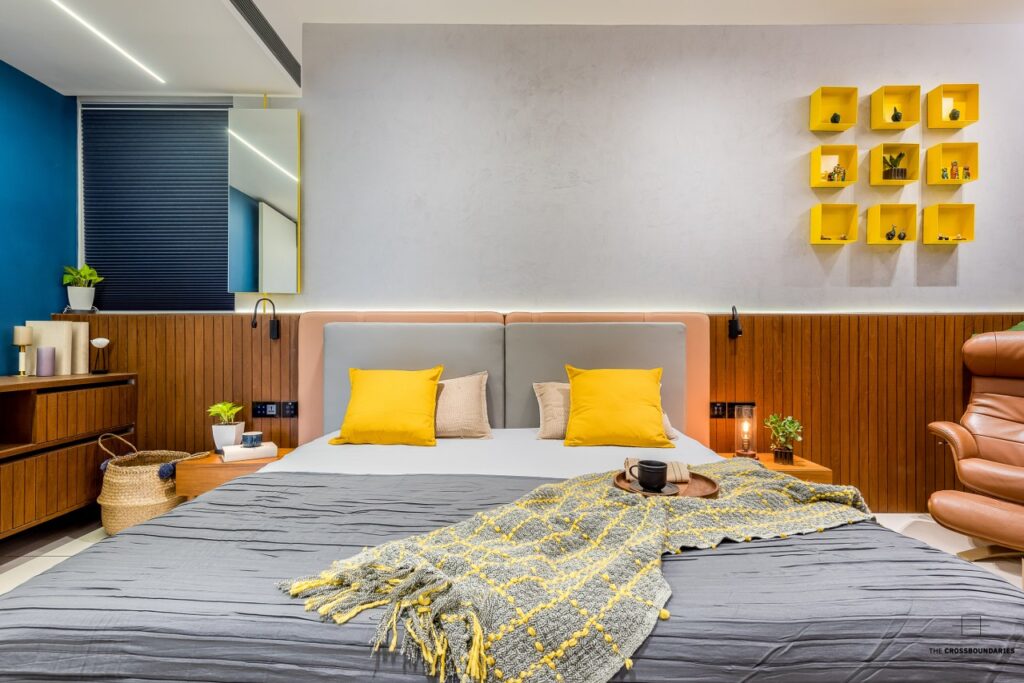 The parents' bedroom is less dramatic and more subdued, but equally functional and layered with multiple storages and utilities. Space is finished in light grey stucco all across, except on one highlighted Prussian Blue wall. 9 yellow MS boxes, above the plush bed, are open storage as well as a wall decor element.
Across the linear floorplate, towards the other end with sons' bedrooms and an entertainment zone, a metallic grey overhead panel of Hunter Douglas metal ceiling guides the way. This horizontal layer deftly conceals the AHU of the central A/C system and maintenance shafts, while also creating a sense of unbroken linearity.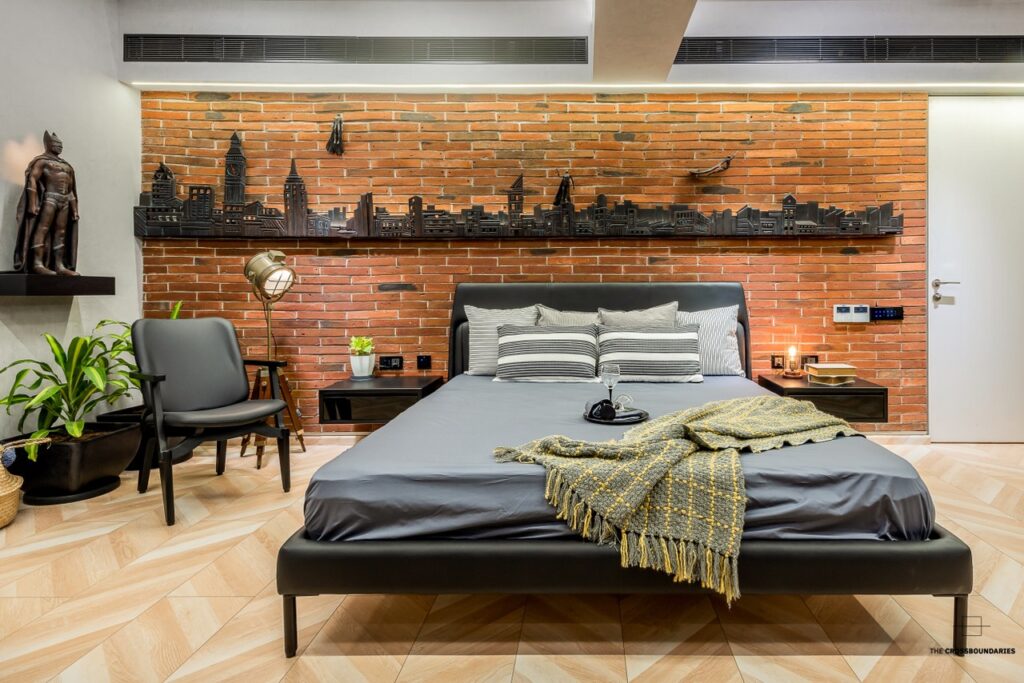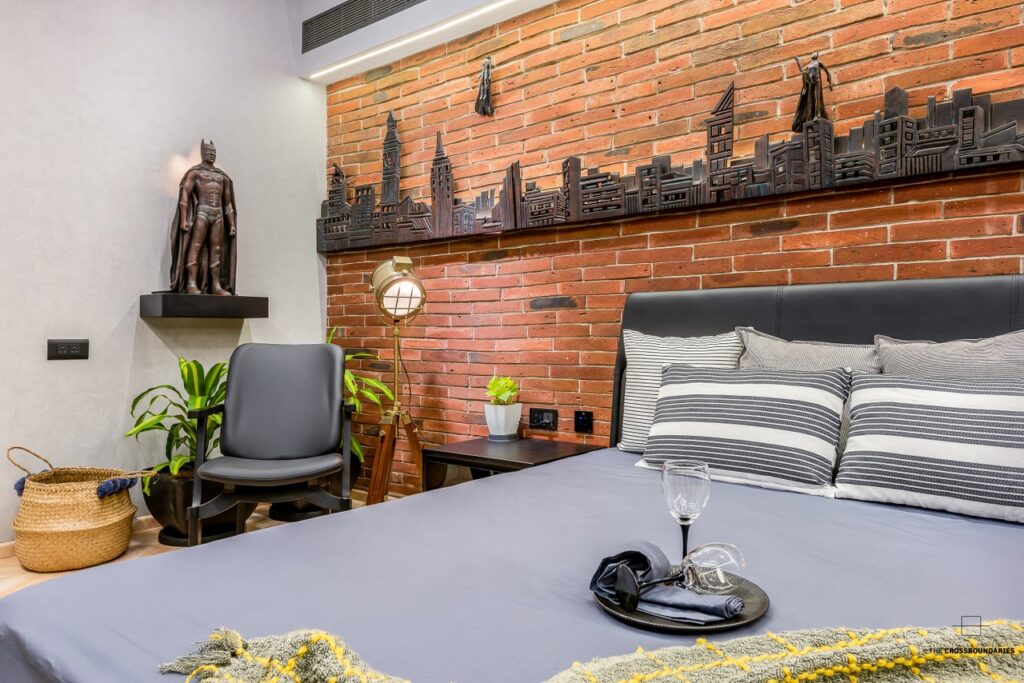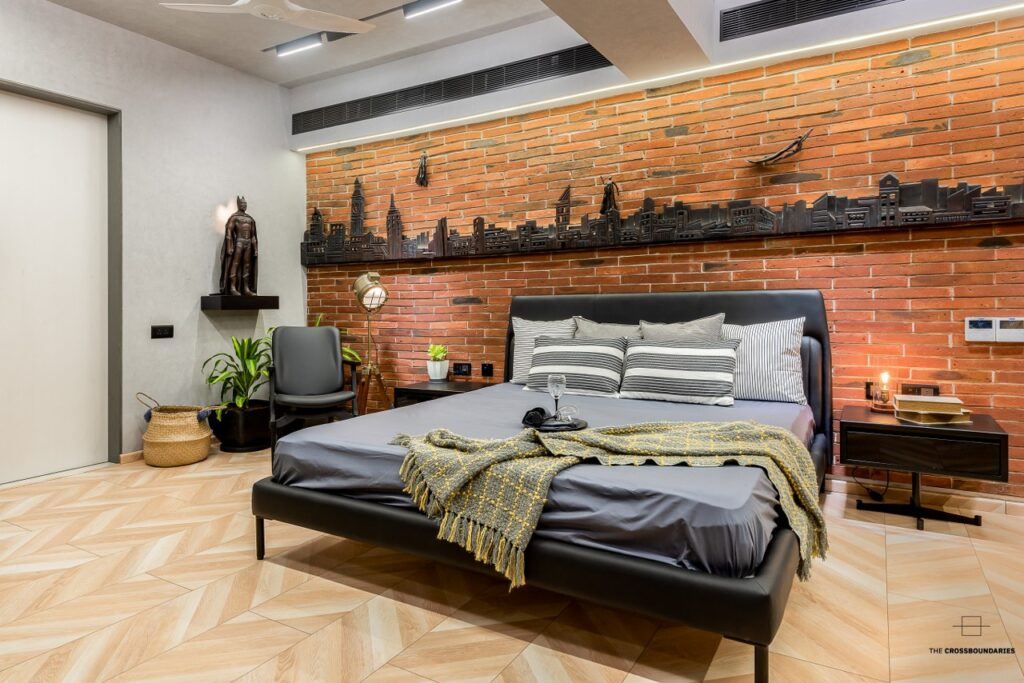 One bedroom, inspired by the world of Batman, evokes elements and images of the imaginary Gotham City through custom-designed art pieces. A warm, rustic palette of exposed brick, lined with edgy artwork depicting Gotham's impressive skyline becomes the perfect backdrop for this space. A composition of sleek metal rods and open and shut wooden shelving is custom-designed in the lounge corner.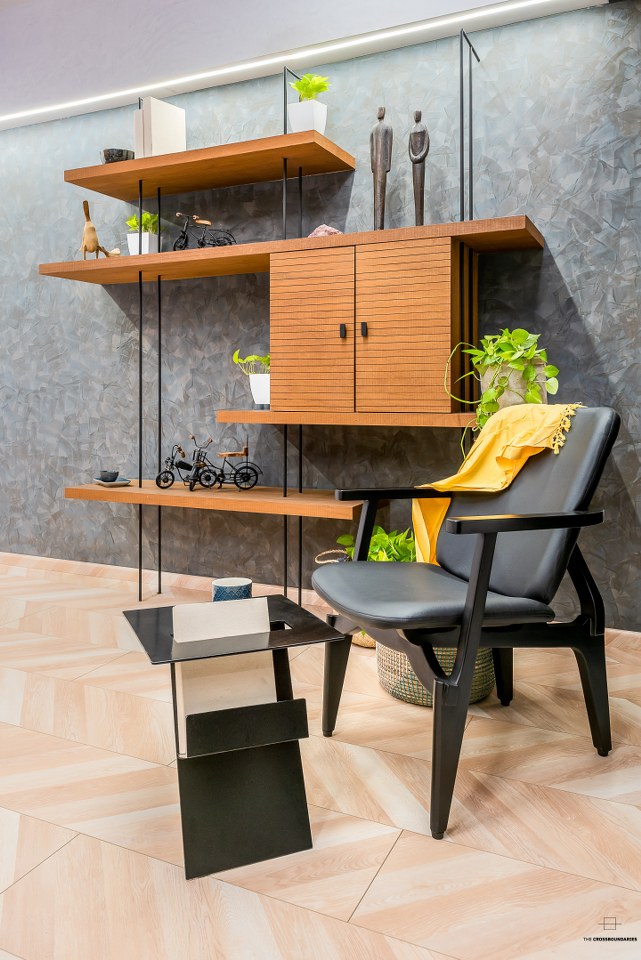 Steeped in sheer luxury, the walk-in wardrobe extends into the open bath area, overlooking the city skyline. The freestanding white bathtub, placed centrally on an elevated platform, enveloped by a black marble platform and surfaces is the epitome of luxurious living! Peppered with fresh greens and lifestyle lighting pieces, these spaces have been designed to keep splendor in sight.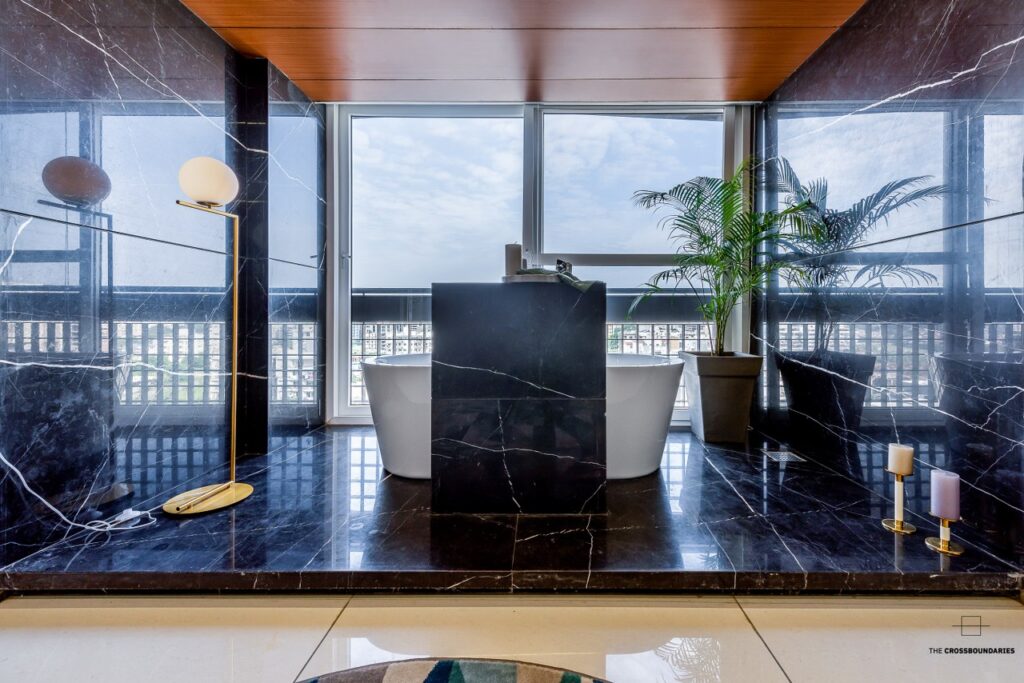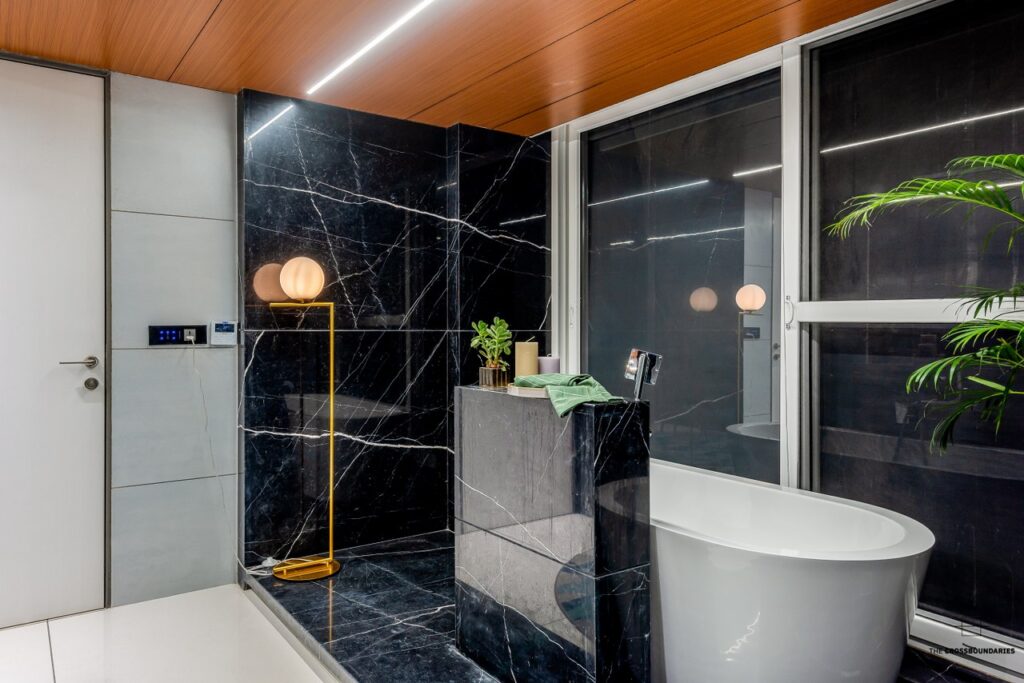 On the other hand, the bedroom across is an exploration of utility and a myriad of finishes, held together by a bold palette. Shades of blue dominate the space, through vertical surfaces of storages, or as a horizontal element above the headboard. Powder-coated in blue, aluminum box pipes are arranged neatly, while the backdrop is framed with veneered sheets.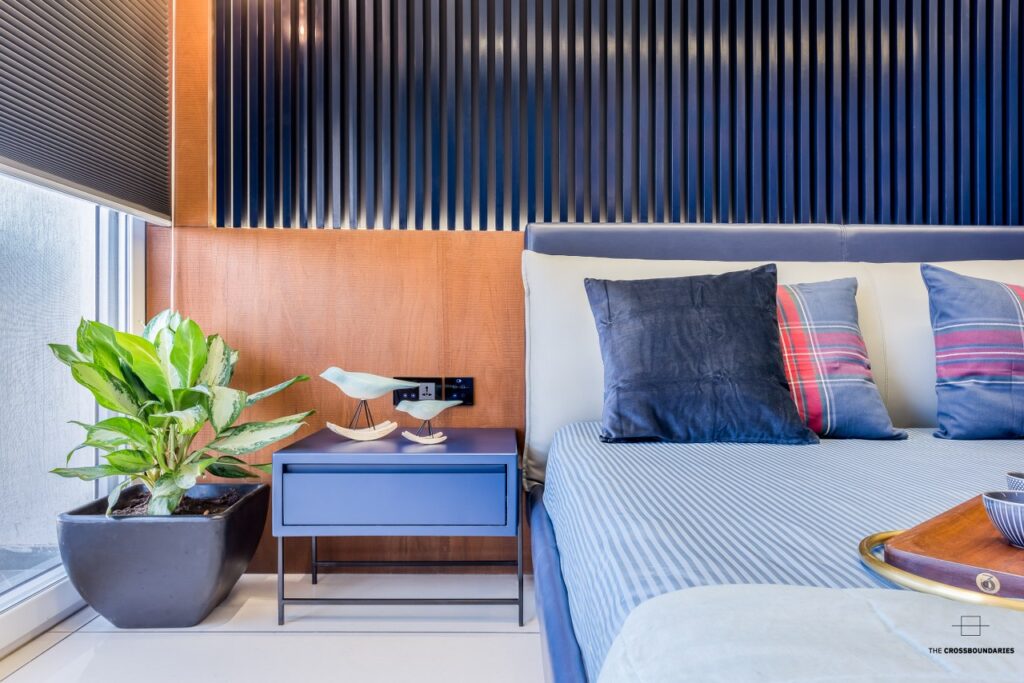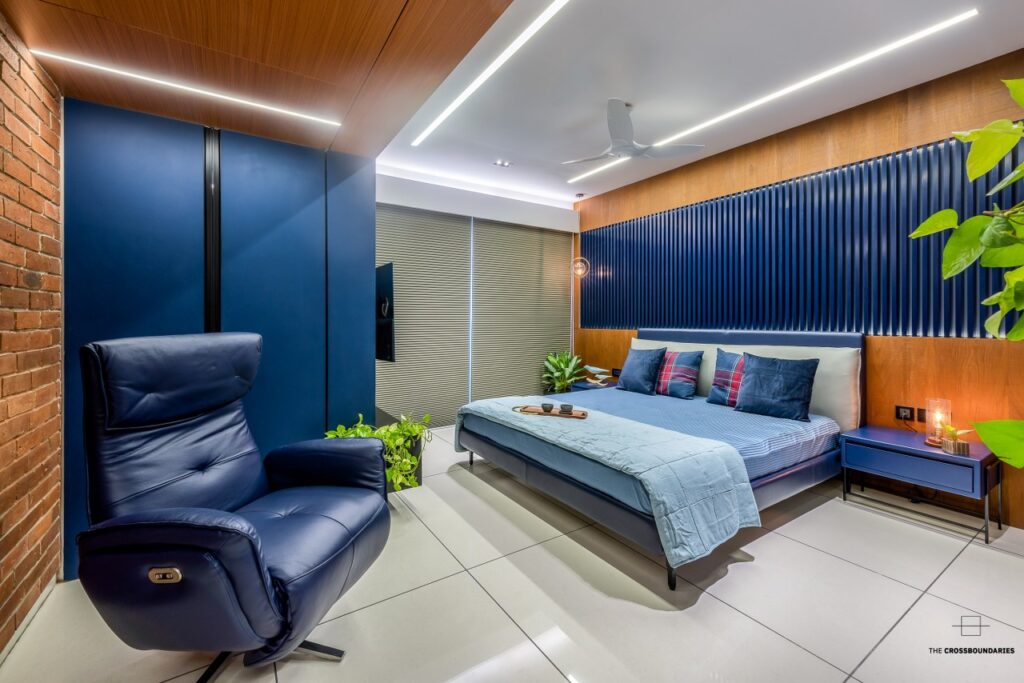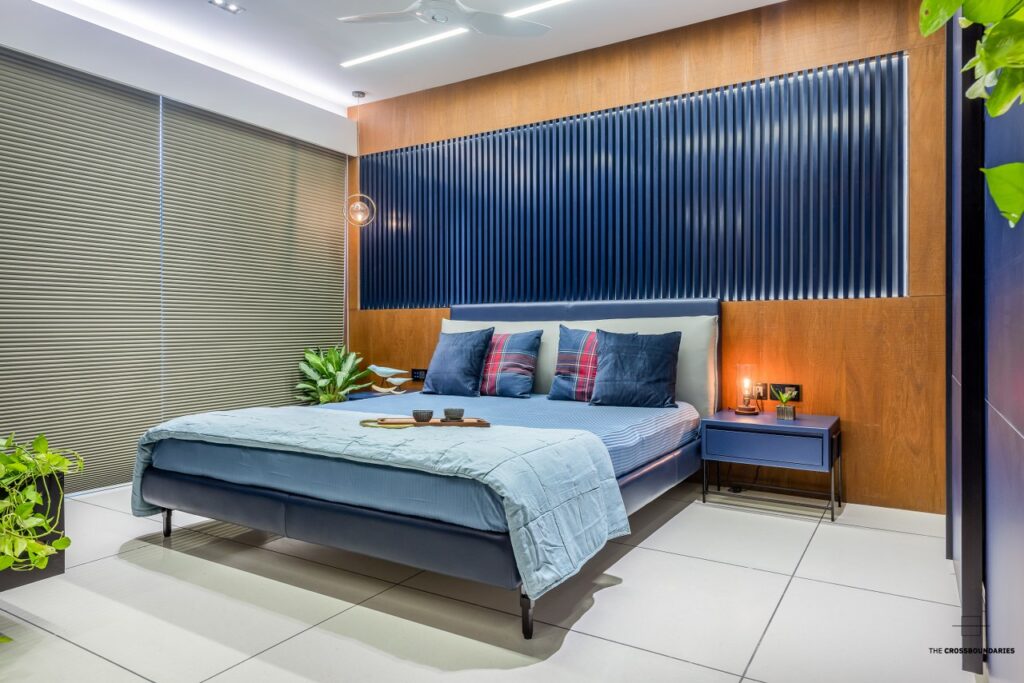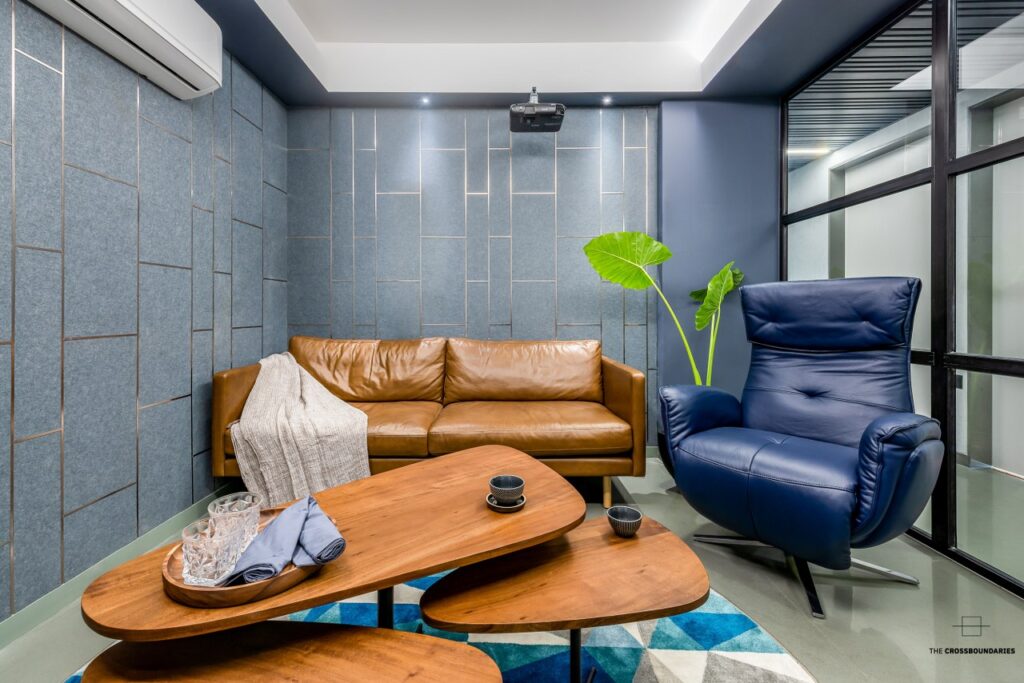 A hint of the exposed brick wall brings a warm glow to space and is neatly offset by a matt blue and black TV unit panel. The entertainment cove, another exploration in azure, is neatly cladded in acoustic panels, with t-spacer rods to accentuate joints. The transparent glass doors allow for openness and visual connectivity. A contrast to the invigorating vibe around the house, the pooja room, bathed in textured white is a space for solitary contemplation and worship. In response to the client's devotion to a particular deity, space holds a singular sculpted idol, placed on a pristine white base with a subtle grey backdrop. A series of custom-designed fiber-casted hand gestures, signifying various traditional mudras dot the walls, bringing an element of playful calmness to this immaculate space.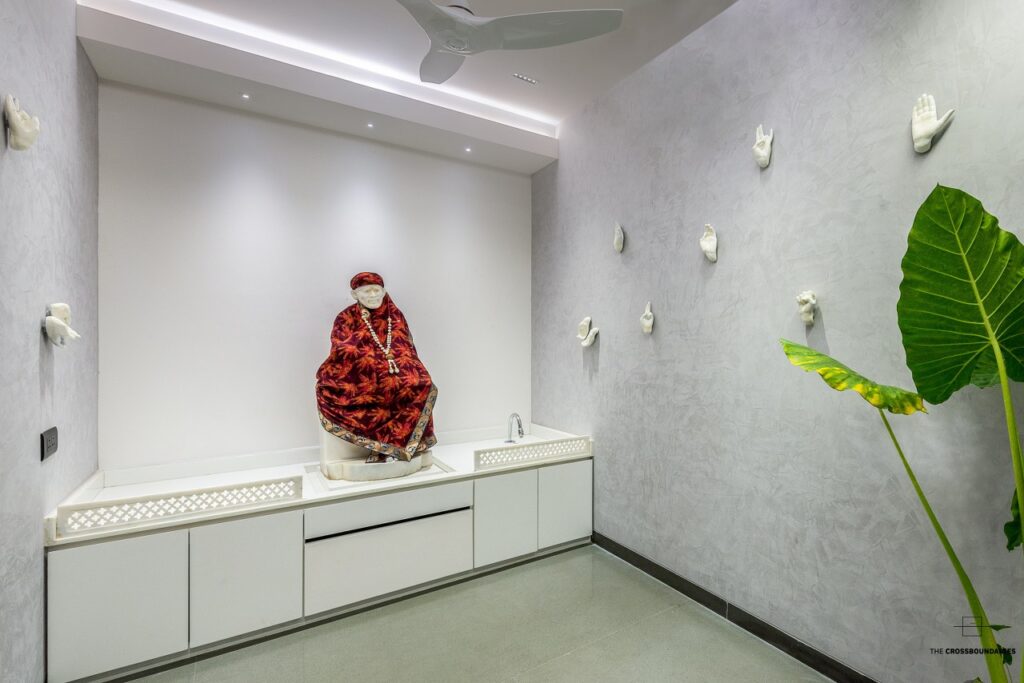 Fact File:
Designed by: The Crossboundaries
Project: Apartment IX
Project Type: Residential
Year of Completion: 2021
Area: 5400 sq.ft.
Location: Vadodara, Gujarat
Design Team: Forum Jariwala, Rishabh Prajapati, Sanket Prajapati, Vijay Dabhi, Nidhi Vyas, Hardik Dholu, Priyank Mistry, Khushboo Gunjal, Shailesh Boghani, Harsh Boghani
Photography: Ashish Chokroborty (cross clicks)
Text: Niharika Joshi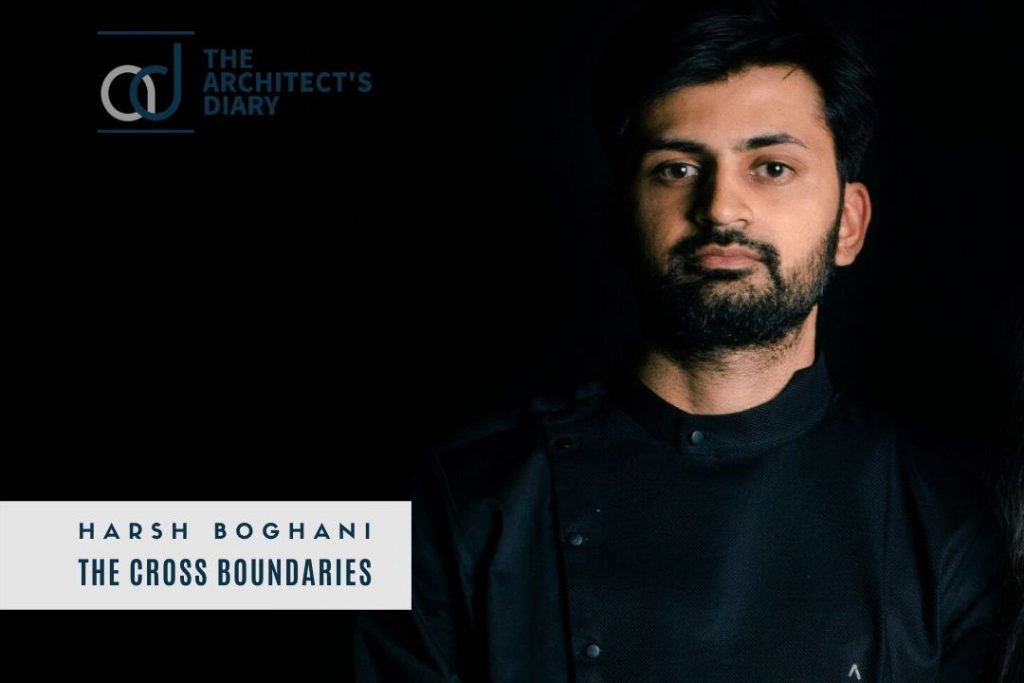 Website: http://www.thecrossboundaries.com/
Facebook: https://www.facebook.com/thecrossboundaries/