A Residence Designed In Kerala Encompassing Balanced Play Of Geometric Forms | i2a Architects Studio
The highlights of the 'INCLINED HOUSE' are its well defined tilted drop away from the roof and the balanced play of geometric forms. The client Mr.Subeesh A.S, settled abroad, wished for a simple yet elegant house for his nuclear family. Positioned perfectly in a lively residential area amidst lush greenery and civic activities, the design ideology serves as a response to its immediate surroundings and state. Given the tightness of the site, the design embraces the vistas in and around the site. The design objective encompasses the use of crisp and clear lines throughout the house in the elevation and interior spaces.
Visit: i2a Architects Studio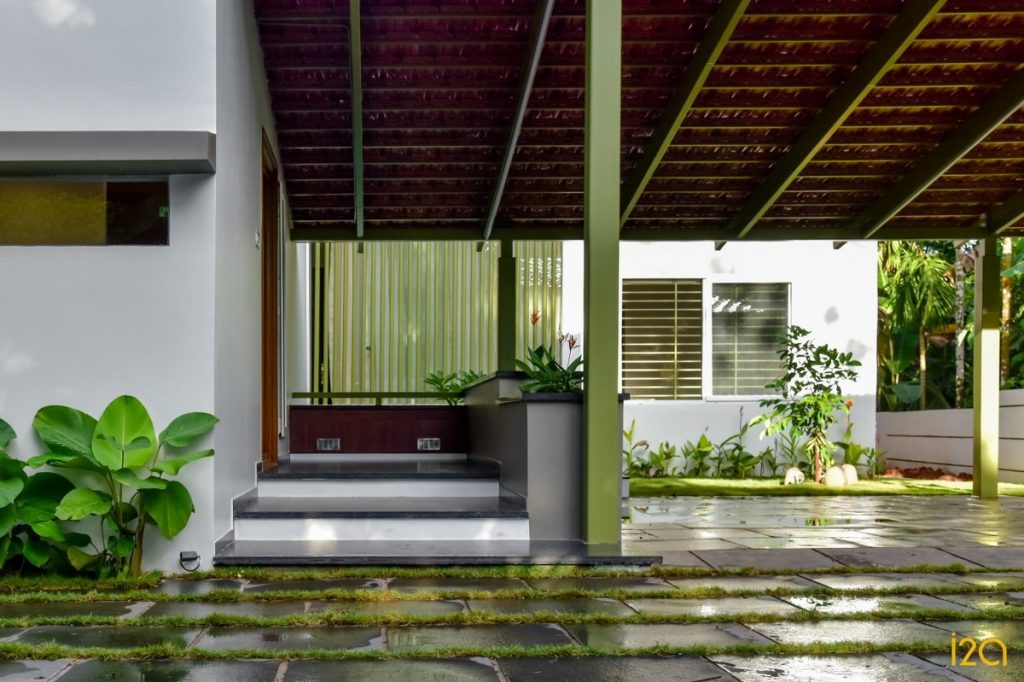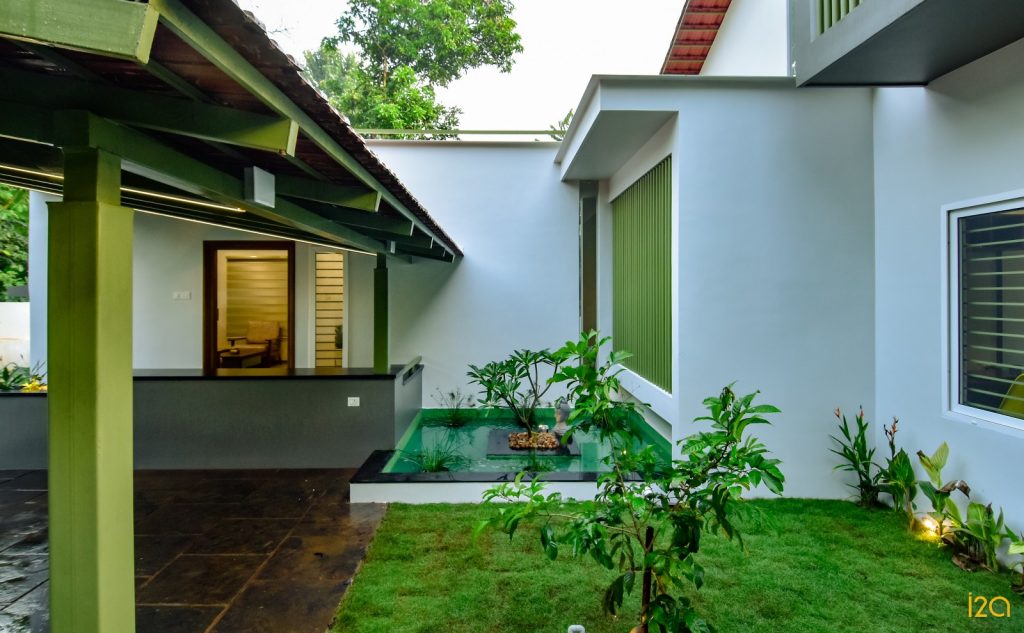 The house includes 3 bedrooms, a family and formal living room, dining area abutting a dry courtyard, kitchen, and a pooja space with a reading corner. The tight programming methodology used for the sit out, living room, dining room, kitchen, and staircase, expresses itself in an uninterrupted design-flow forming a near contiguous space but with fine fluency. Water court behind the sit out acts as an in-between dynamic space that allows microclimatic interventions and brings in a sense of serenity and warmth into the adjacent interior pooja and reading space.

&nbsp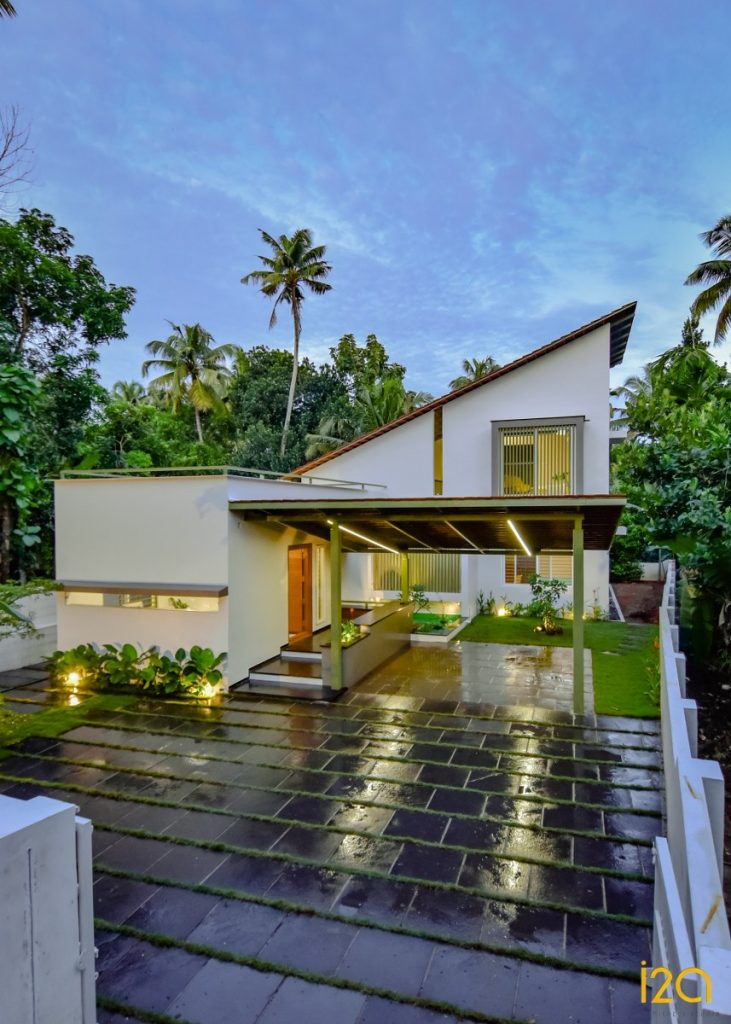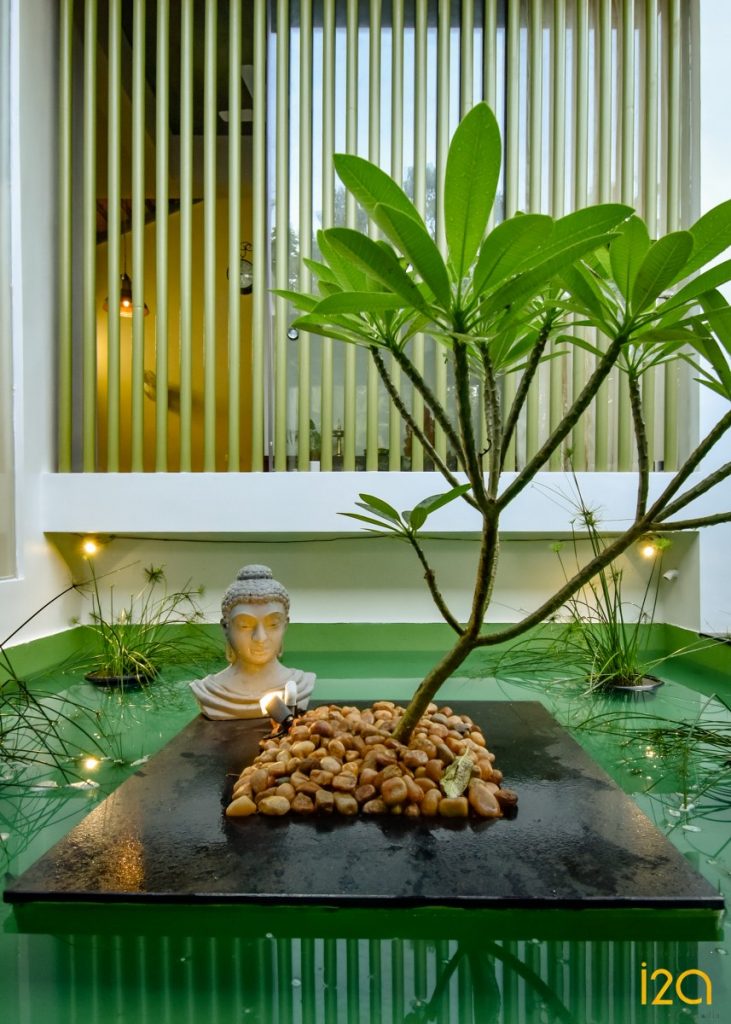 The interior spaces are further tied together by a double-height volume above the dining room and staircase, bringing in a sense of expanse to the central zone of the building. The stairs reflect a minimalistic approach deployed for the handrails using simple GI tubes painted green which contrasts the exposed tile roofing over the dining area. The space underneath the stairs is converted in to an internal courtyard, bringing in the landscape to the indoors as well.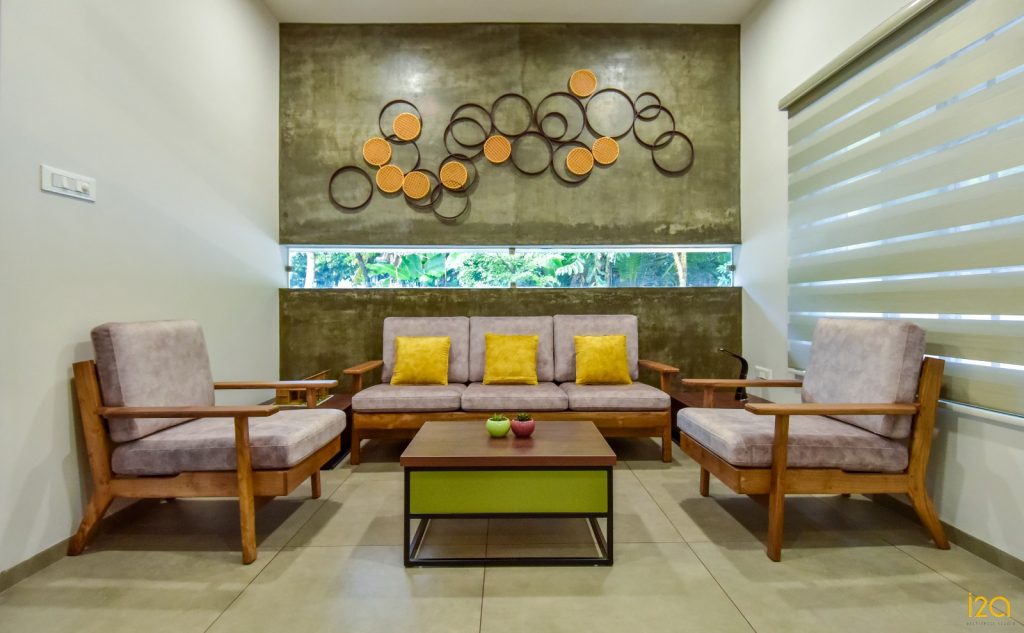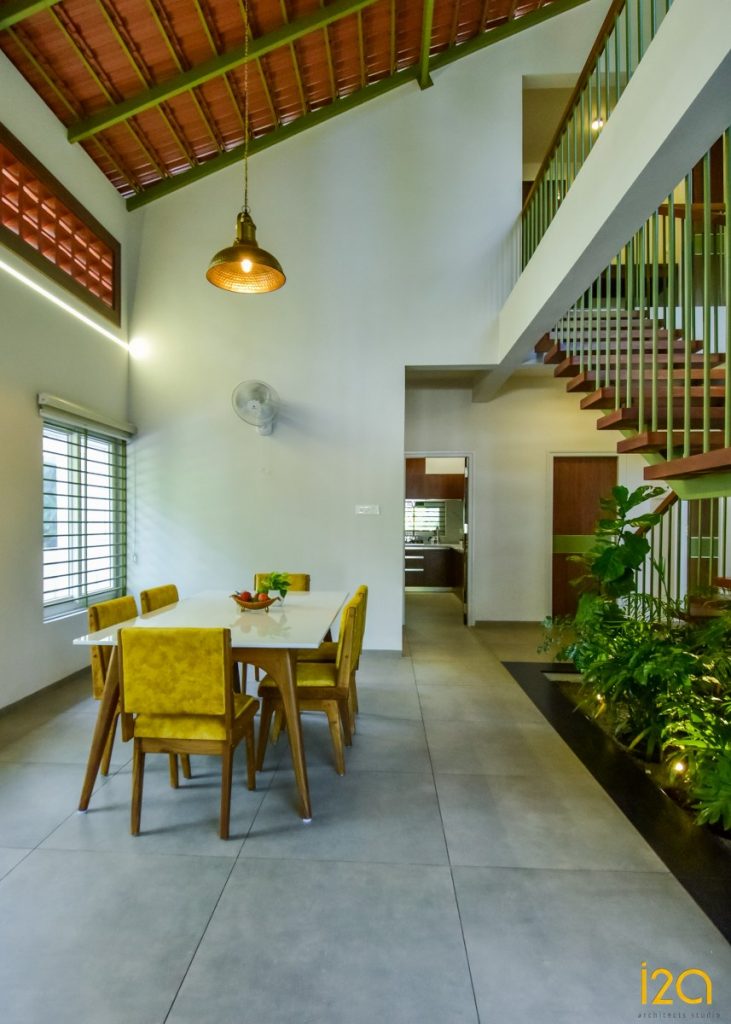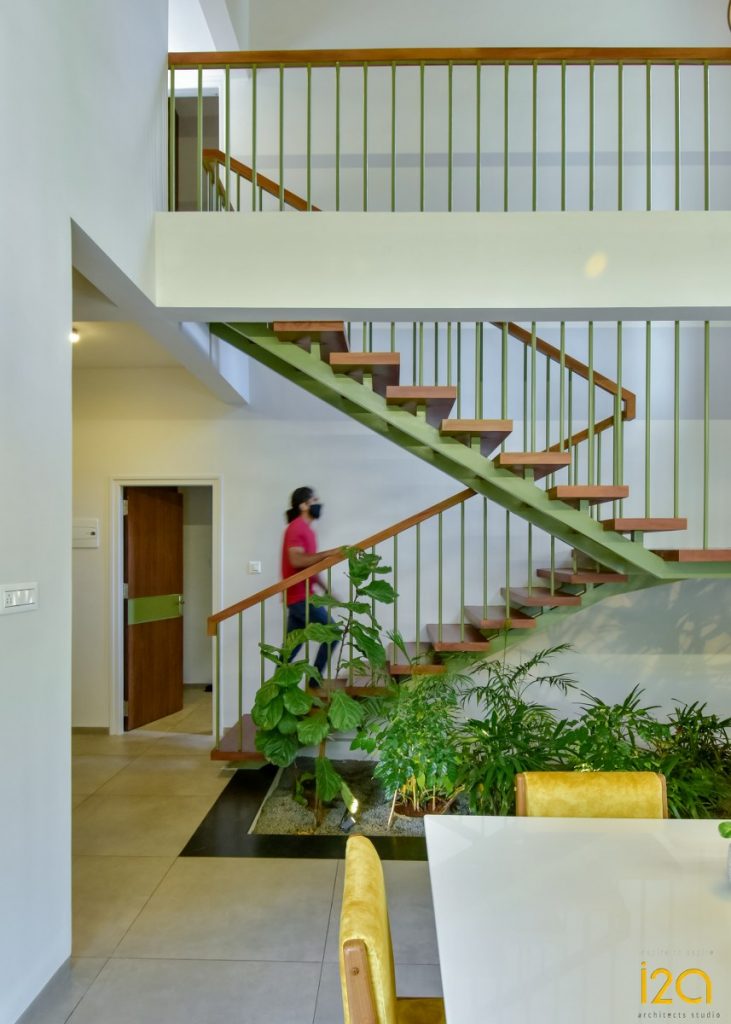 The Master Bedroom opens out to a cantilevered reading space, allowing for free entry and passage of light and breeze. It incorporates safety grills painted green, giving it a soft visual appeal to what is typically an obtrusive safety feature.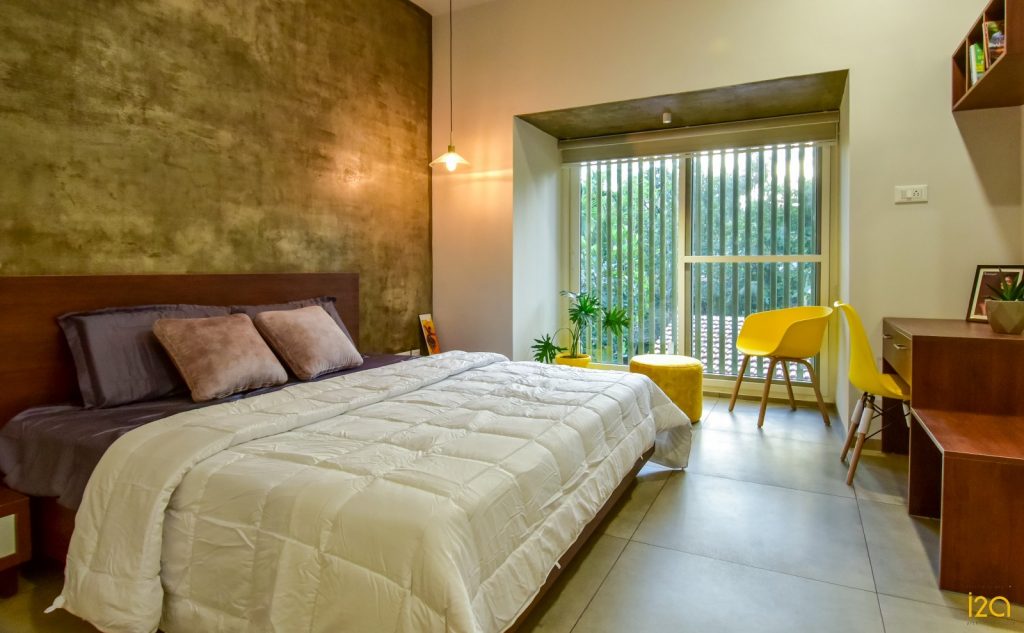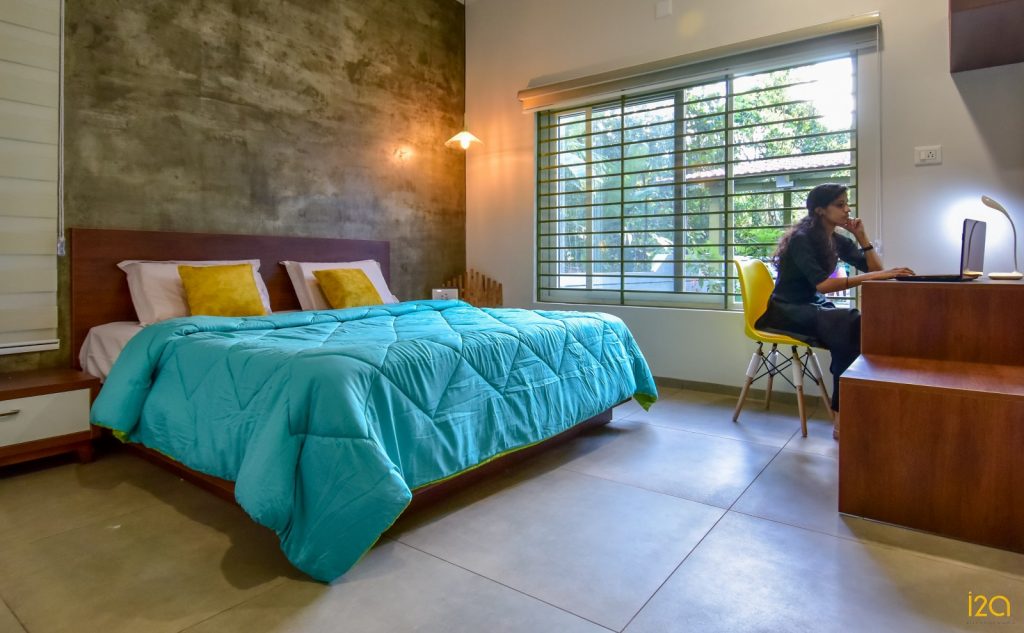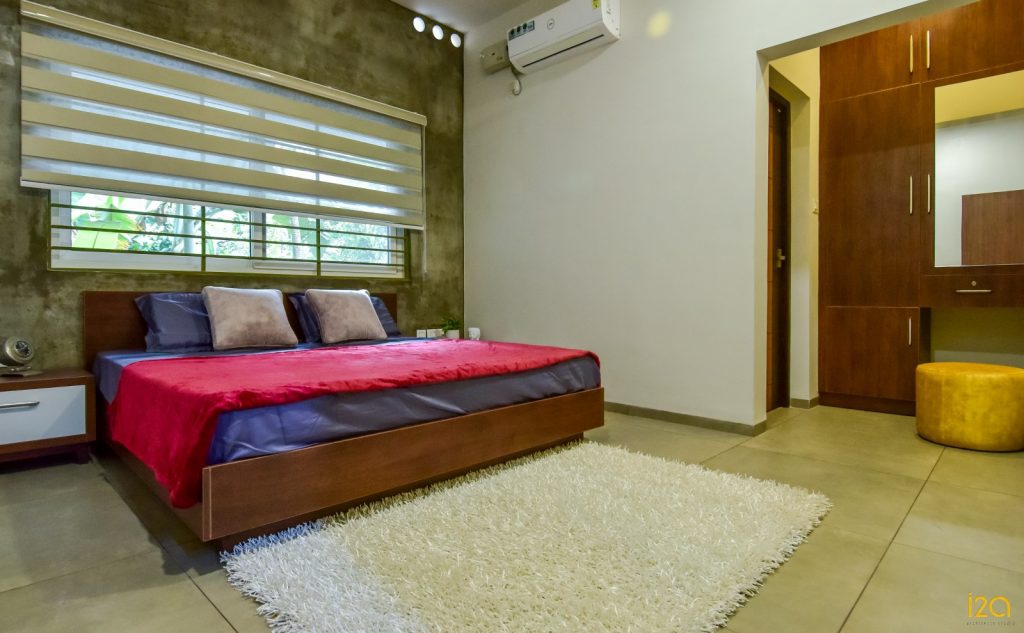 The material catalogue used in the interior justifies the purpose along with the clever mix of texture and patterns in agreement with minimalistic furniture details and layouts. The polished concrete on the opposite end serves to complement the earthy brown roof tiles breaking the monotony. A color palette of yellow, white and greys are chosen for the house interiors. Tint of green, borrowed from the landscape adds to the quality of the interiors.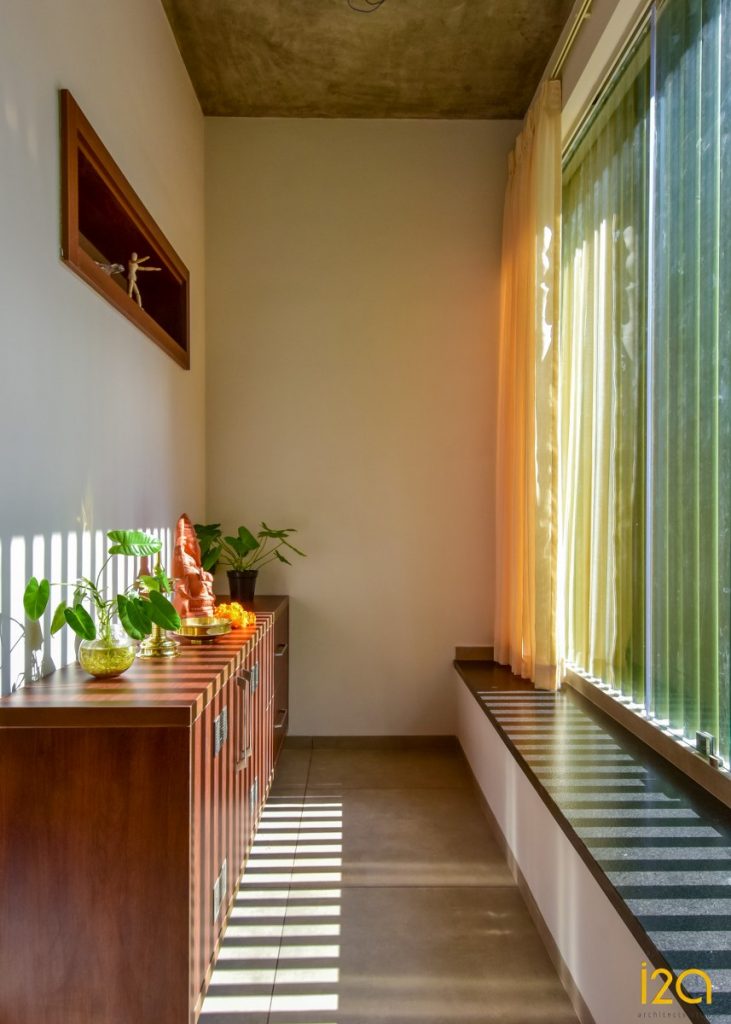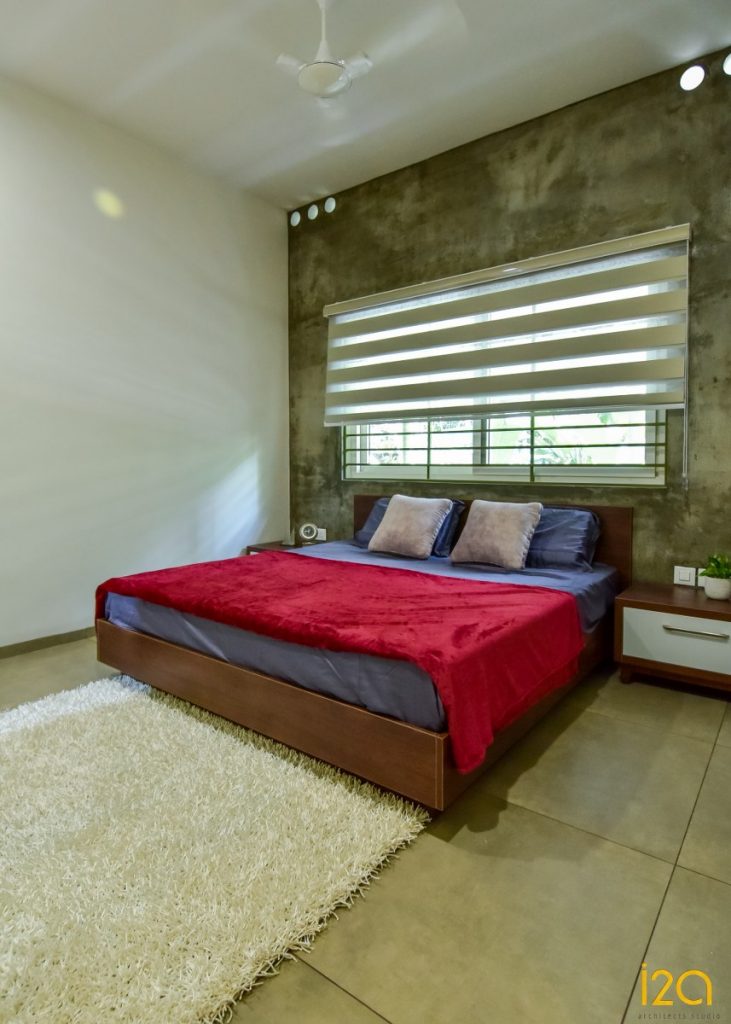 The building stands strong on its own with minimal architectural features. The character of the house is generated by the inclusion of an off-form solid mass that dramatically cantilevers over the spaces underlying the inclined roof.
FACT FILE:
Firm: i2a Architects Studio
Project: Inclined House
Project Area:185sq.m
Project Completion: October 2020
Location: Thrissur, Kerala
Architects: i2a Architects Studio, Thrissur, Kerala
Design team: Ar.ManurajC.R, Er.Amalsuresh
Clients: Mr.Subeesh & family
Photo Credits: Ar.Midhul K.M
Text Credit: Anmarita Sijish
Website: https://www.instagram.com/i2aarchitects/
Facebook: https://www.facebook.com/i2aarchitectsstudio
Instagram: https://www.instagram.com/i2aarchitects/

&nbsp